Recently, I found myself in the market for a new camera bag and was leaning towards a backpack. But I didn't want something that screamed 'camera backpack.' Nor was I excited by the prospect of a big, bulky pack loading me down. Whatever I went with had to be lightweight and flexible enough to handle a variety of camera setups, could function as a good travel case without a camera, and had to look good. After considering a few options, I pulled the trigger on the Everyday Backpack from Peak Design.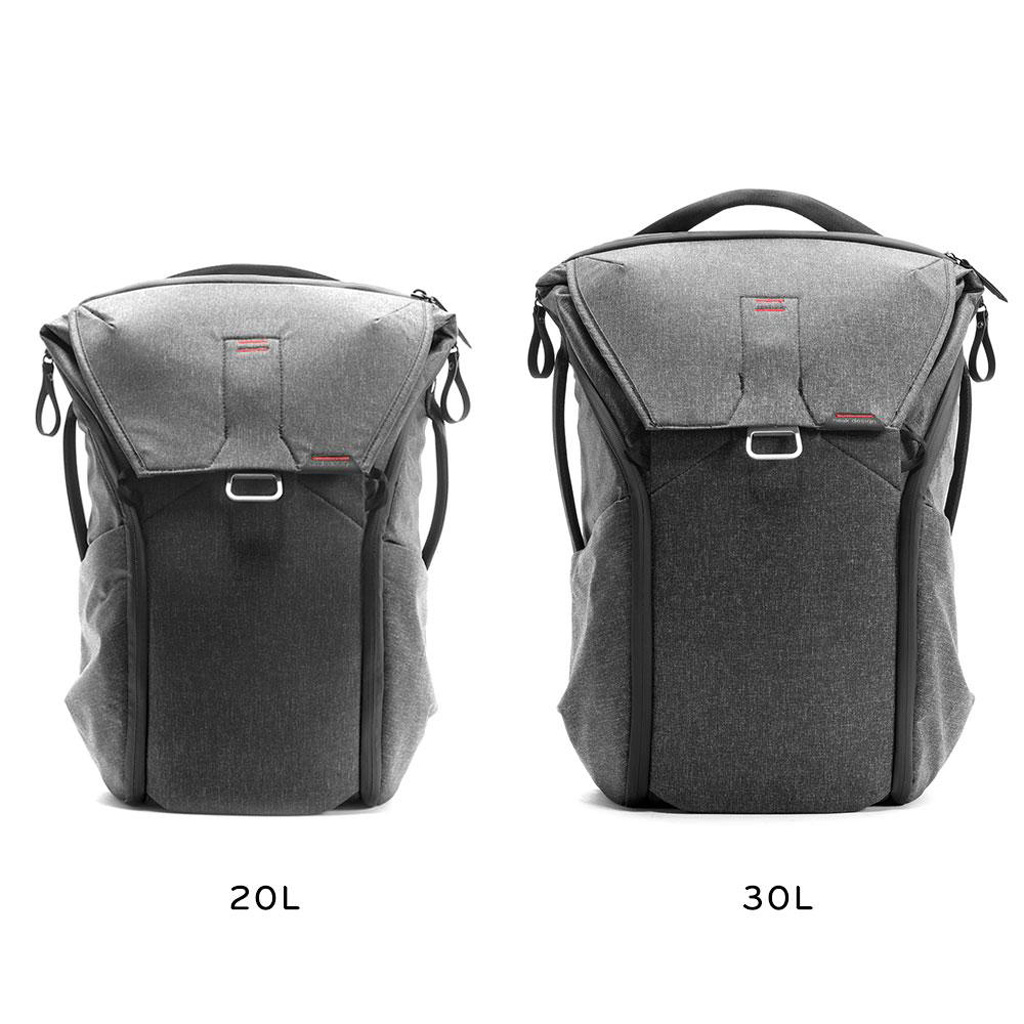 The Everyday Backpack comes in two sizes – a 20-liter ($259) and larger 30-liter ($289). I went with the 30-liter as it seemed the best fit for my kit.
Initial Impressions
Right off the bat, this is a sharp looking bag. With its clean and fashionable design, the backpack is equally suited for walking around the city or hiking on the side of a mountain. Sleek and urban-chic, but tough and utilitarian.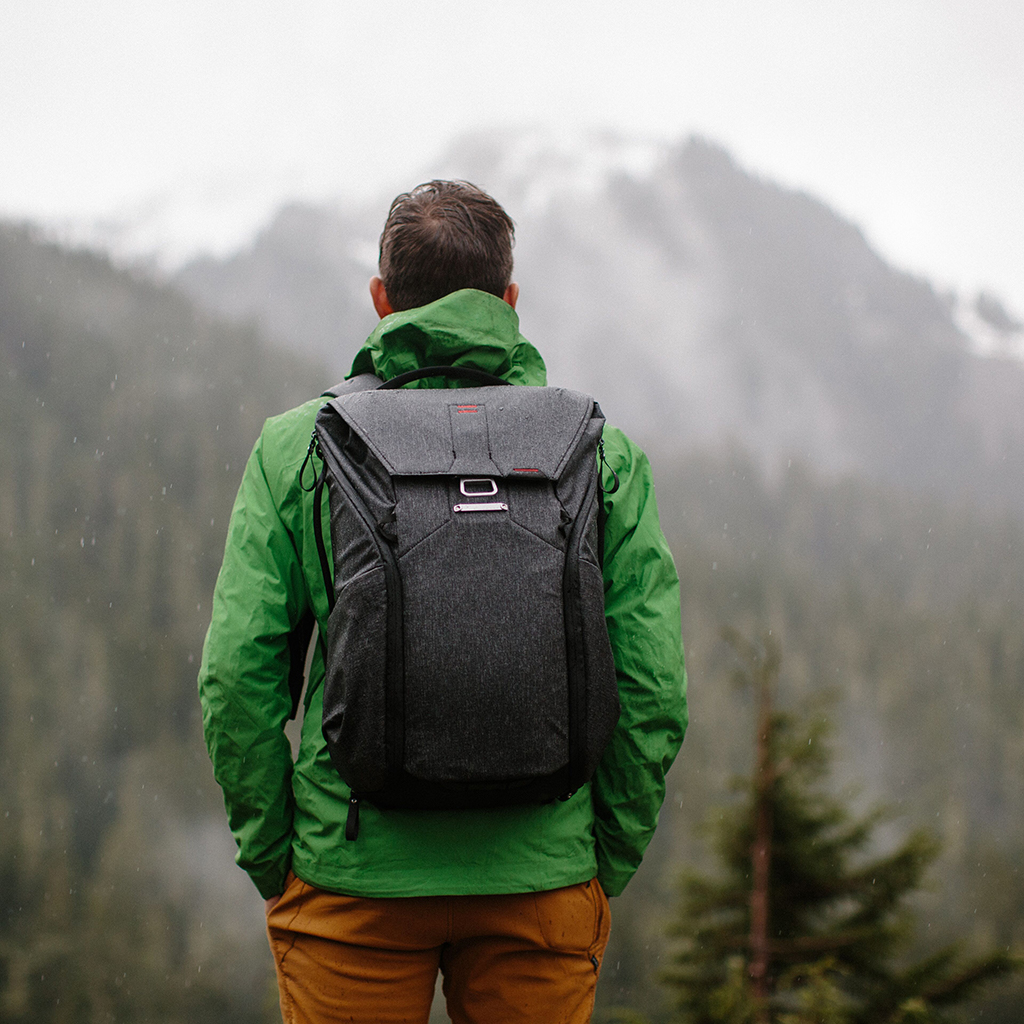 Clearly, the Peak Design Everyday Backpack is first and foremost a camera bag, but I've also found it incredibly capable for traveling. Loaded with features rarely found in other bags (and I've had my fair share through the years), this stylish and functional pack is in a league of its own.
And, because the bag doesn't look like a camera bag at first glance, I don't have to worry as much about being an obvious target for theft. The added piece of mind is a great bonus, especially when traveling with a full Leica SL kit.
Materials and Build
The bag is constructed from an ultralight waxed 400D nylon synthetic canvas with a DWR coating and features a poly-spun mixed twill interior with compression-molded high-density EVA foam dividers. All the hardware is either die-cast or stamped anodized aluminum with a sandblasted finish and a protective clear coat. Combined with the self-sealing zippers, the attractive and weatherproof outer material keeps the wet out and makes this bag ready for just about any outdoor adventure. The hardware feels great to the touch, zippers are smooth, and everything is extremely well put together.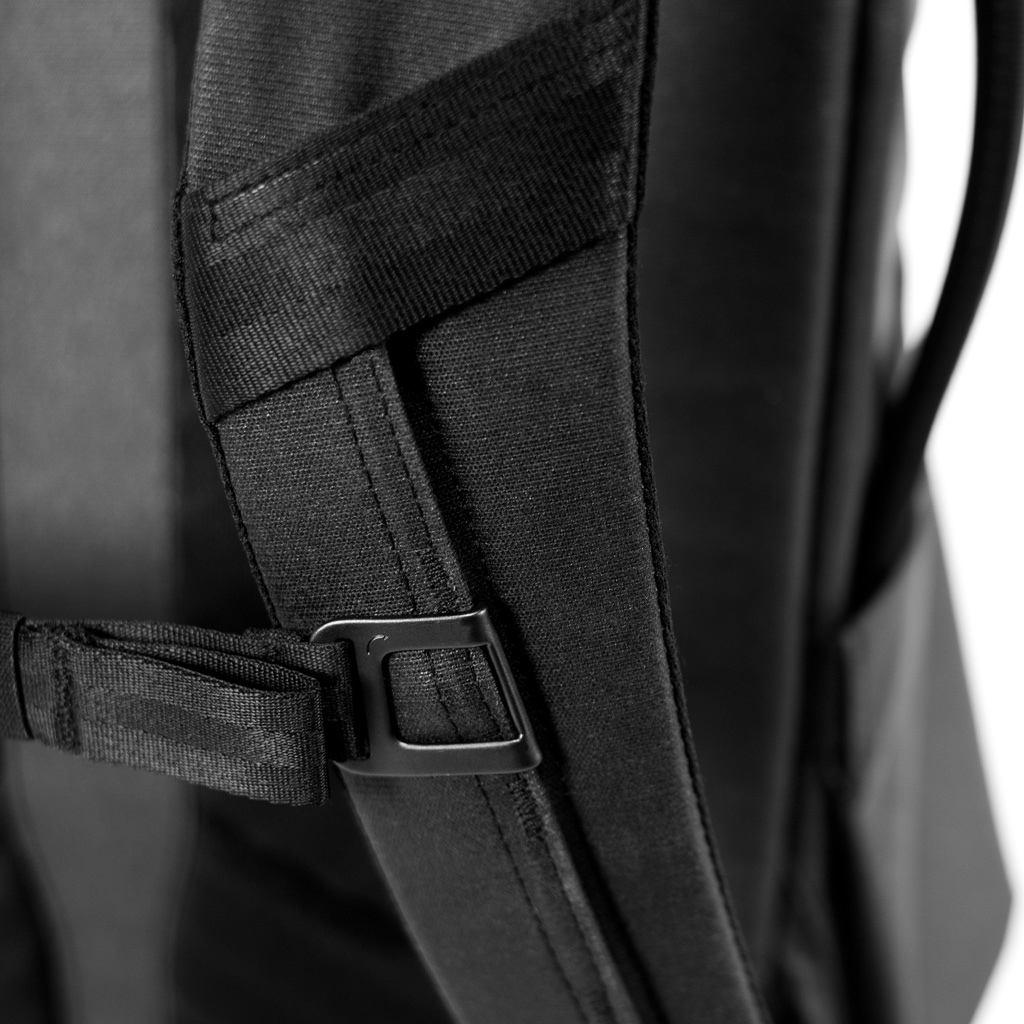 At 3lbs (1.4kg) for the 20L or 3.5 lbs (1.6 kg) for the 30L, the Everyday Backpack is lightweight yet not flimsy. Its compact dimensions mean that it not only fits in any international overhead bin, but also slides under the seat. Yes, even the larger 30L size.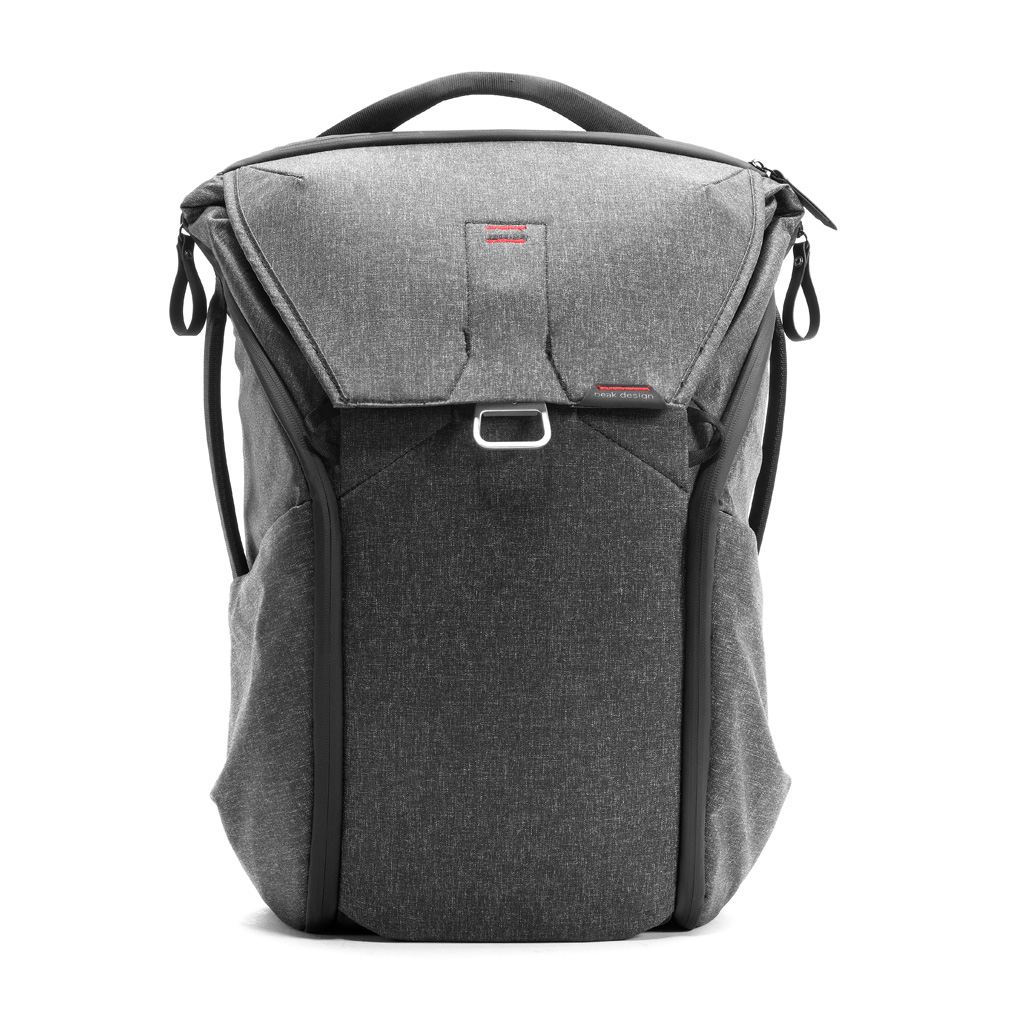 Design
One of the elements exclusive to the Everyday Backpack is the unique flap closure mechanism of the main compartment. It looks just like a traditional "flap over" backpack, but with zero zippers or drawstrings to keep it closed. Peak Design has developed their own patented latch system, which they call the MagLatch.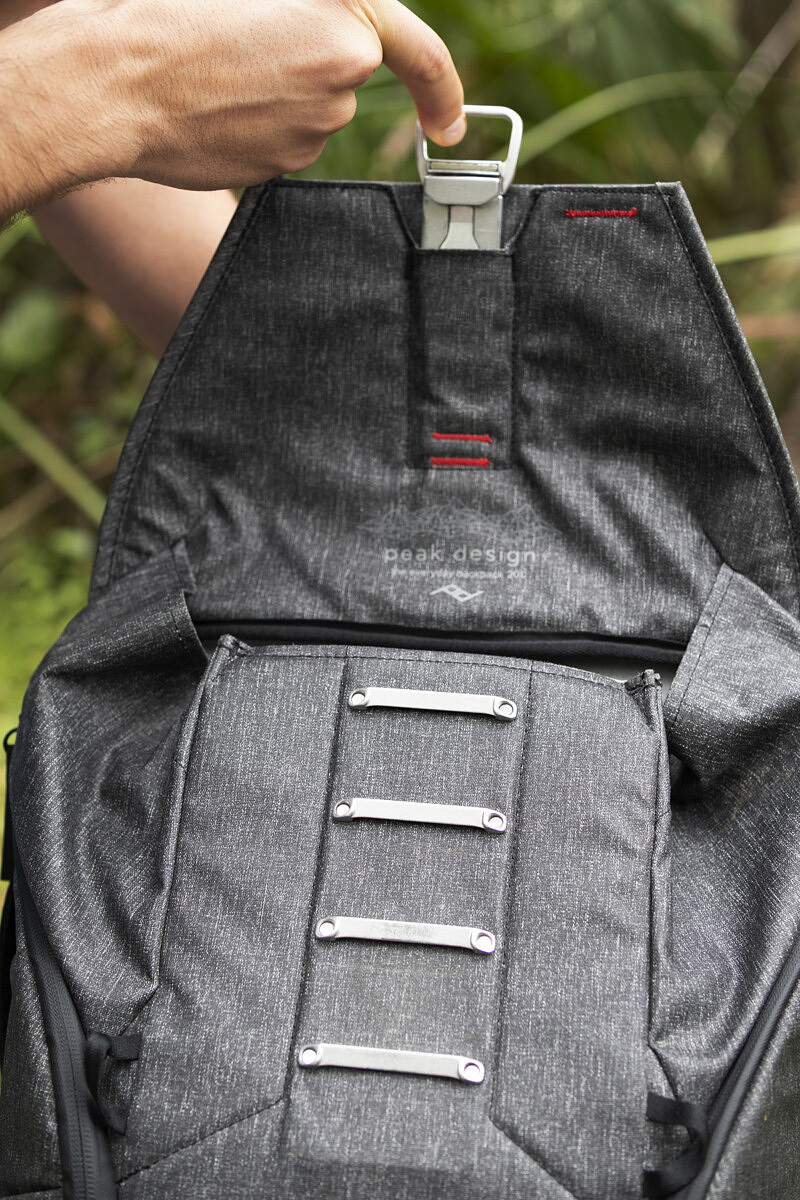 The flap has a magnetic, metal clip that latches onto one of four anchor bars on the pack. To open, just pull down on the latch handle. Locking is even simpler – it usually clicks itself into place. The system allows you to easily adjust how tight the top flap is, depending on how much you put in your backpack. Setting the latch at different positions will also change the interior volume. On the larger bag, the pack will be 22L when using the bottom latch, and 30L attached to the very top bar.
Keeping the back in mind
I have been dealing with back problems for years, something I should have probably addressed with physical therapy but opted not to. Nagging back issues have always made it difficult to find a camera bag that was comfortable enough to take hiking.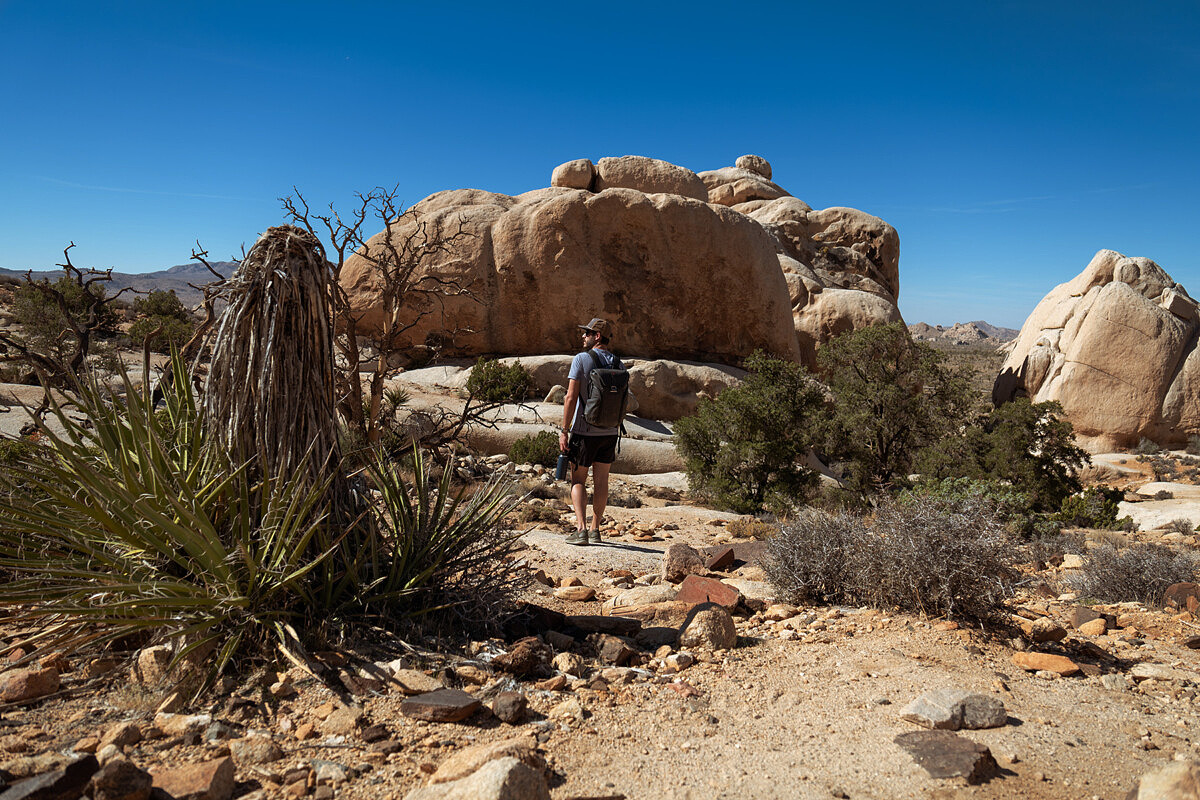 This bag comes equipped with a waist belt and sternum strap, features you'll find in most adventure packs. But one detail that separates the Everyday backpack from the others is the articulating shoulder straps. These smartly designed straps are adjustable to conform to various shoulder widths. While primarily designed to fit different builds, I've found another application. If I feel one part of my shoulder starting to get sore, simply moving the straps into a different position alleviates that pressure point. For me, and with my back issues, the articulating straps are a game changer.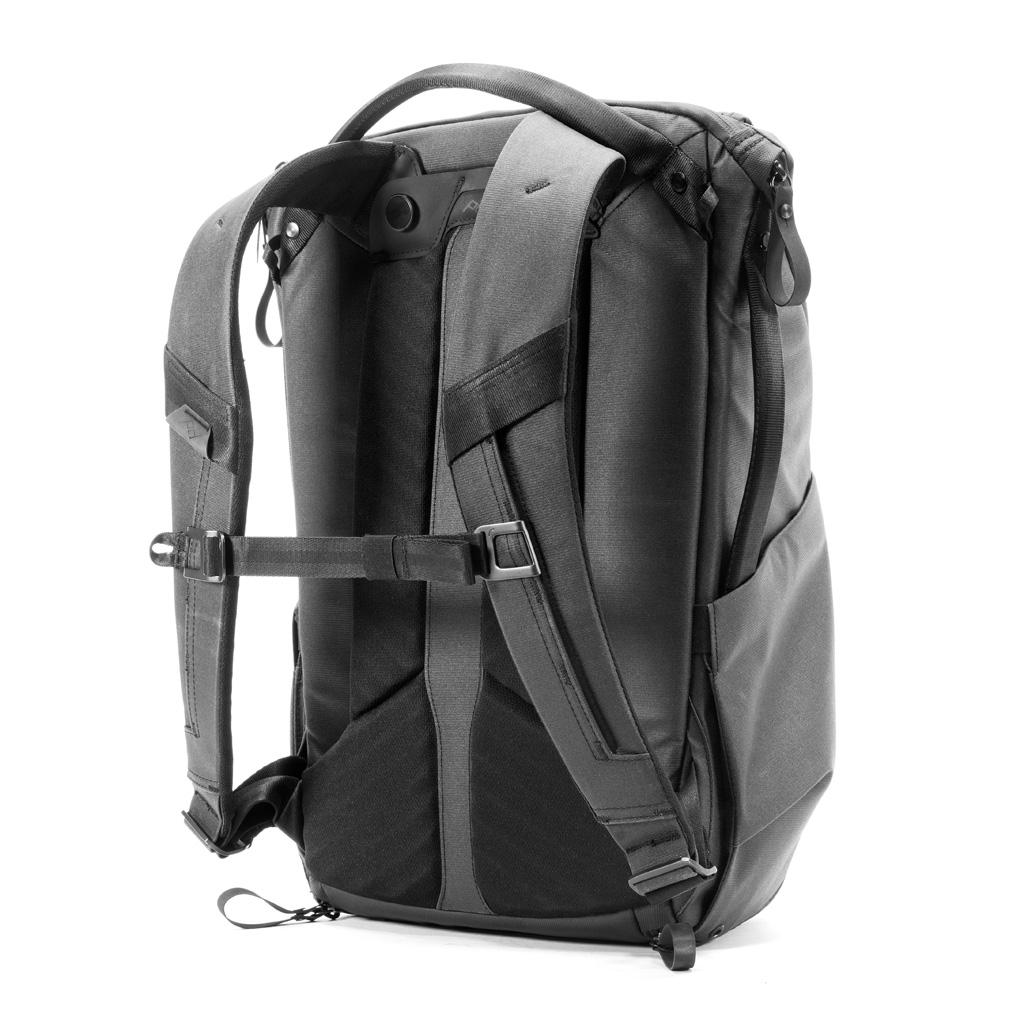 Stowed in two small pockets for storage, the waist belt could easily be missed. But I love that the straps packs away so discreetly. Most hiking bags have large, bulky waist straps that hang on the side when not in use with no way to tuck them away. Peak Design dared to think differently. In doing so, they kept the sleek aesthetic look that makes this bag so appealing. This belt, combined with the sternum strap that reaches across your chest, helps prevent back pain when you're carrying a loaded bag all day.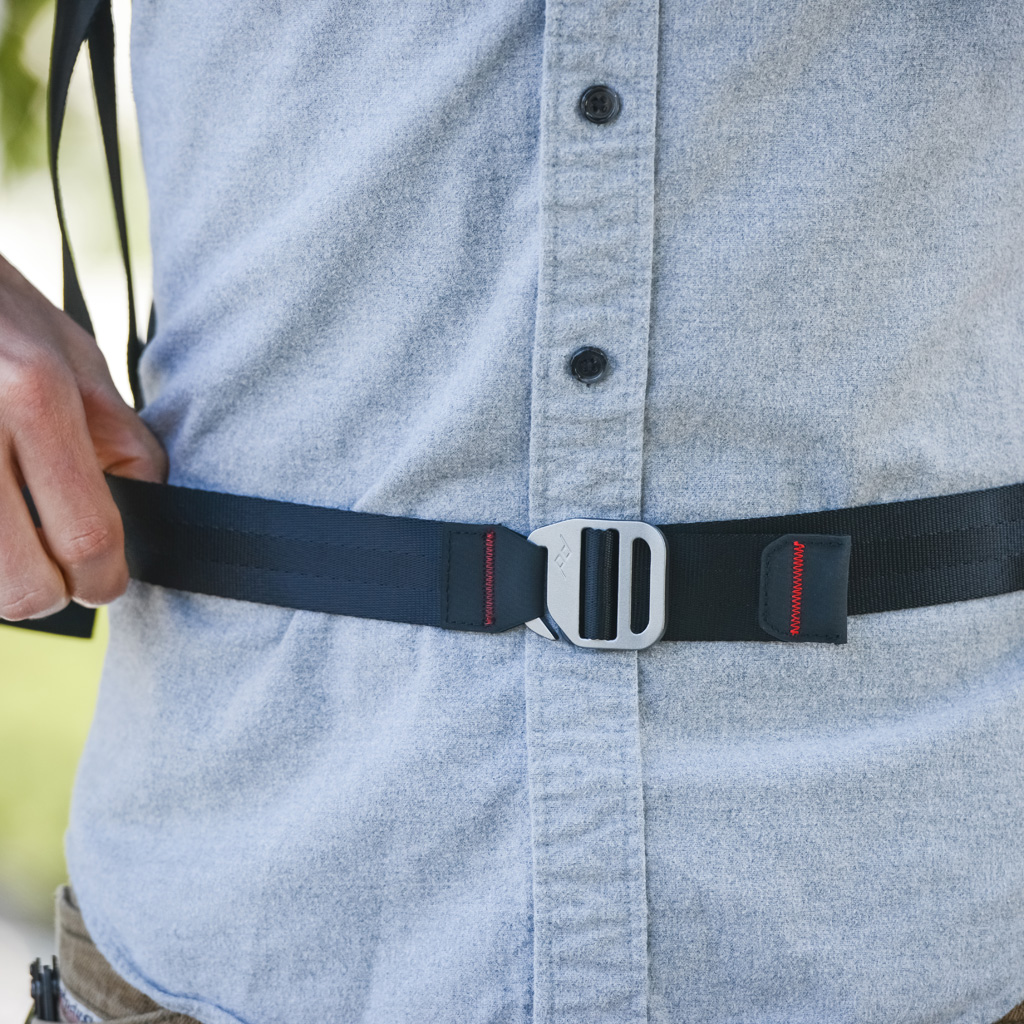 Obviously, the Everyday Backpack is primarily made to be carried on your back, but you've got several other ways to handle it, no pun intended. The pack has three carrying straps, one on the top of the bag and one on each side, making for easy grab-and-go regardless of orientation. This makes traveling with it much more convenient, from carting it briefcase style while working up the aisle to your seat at the back of the plane on a full flight to extracting it from a crowded overhead bin when deplaning.
There's also a luggage sleeve running vertically on the back, allowing the pack to rest securely on top of a rolling suitcase. For those times when you realize you're going to be late for your connecting flight and need to run a forty-yard dash across the terminal, simply slide the backpack onto your rollaboard. Instead of your bag swinging wildly side-to-side as you sprint past the food court, it's securely attached to your luggage, which may or may not have just run over some other hapless traveler's toes. But hey, you made your flight.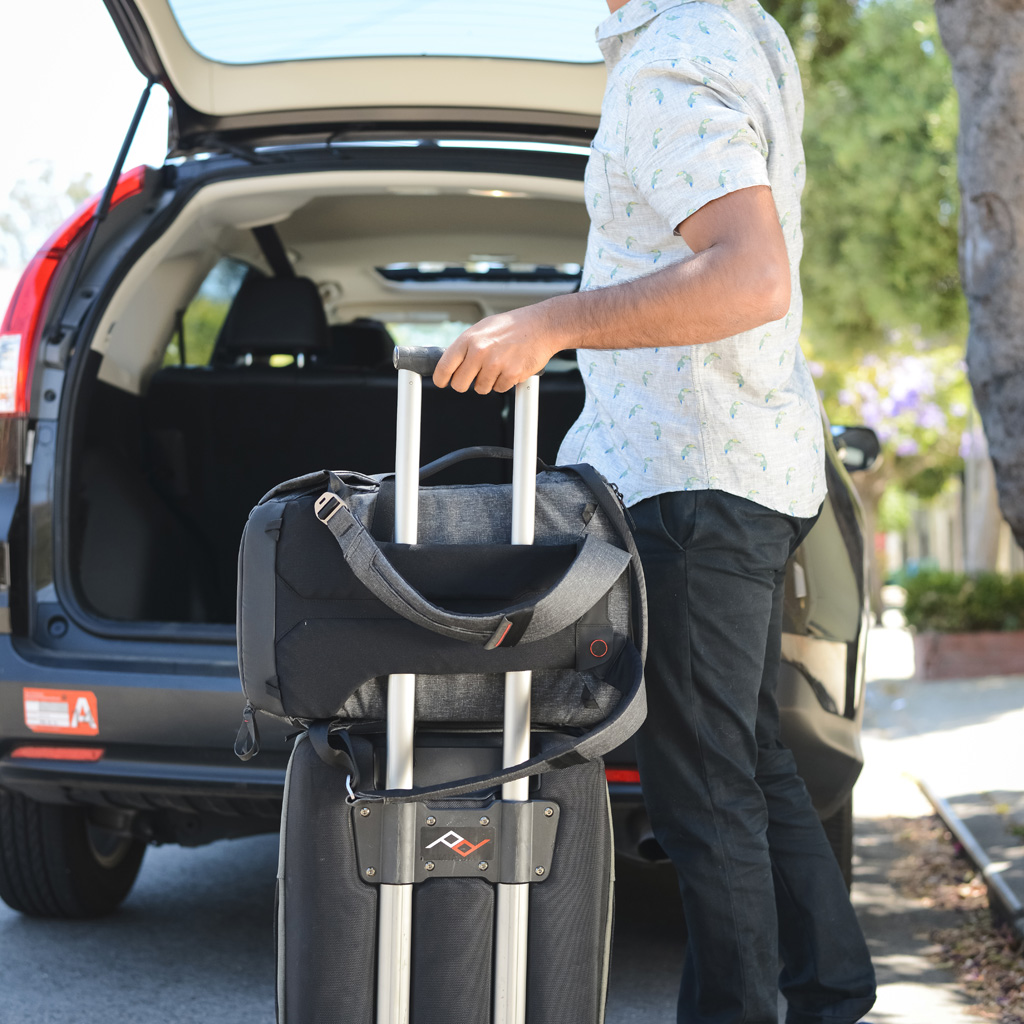 More storage than a U-Haul
I recently went on a fly-fishing camping trip to Colorado and was planning to take some pictures and video of the trip. At first glance, I had serious doubts about squeezing my entire SL kit in this bag. But after giving it the old college try, I was pleasantly surprised. Due to the intuitive FlexFold shelving unit system, I was able to completely customize the interior of the bag to fit all my gear, including a Leica SL body, 24-90mm and 16-35mm SL zooms, a Leica CL with an 18mm lens, a pair of Leica 8×32 Ultravid binoculars, and my DJI Mavic Air drone. Then I managed to fit all my accessories such as extra batteries, SD cards, a portable phone charger, a small Siuri 025X tripod, and my Yeti water bottle. And that's just what I had in the main compartment of the bag!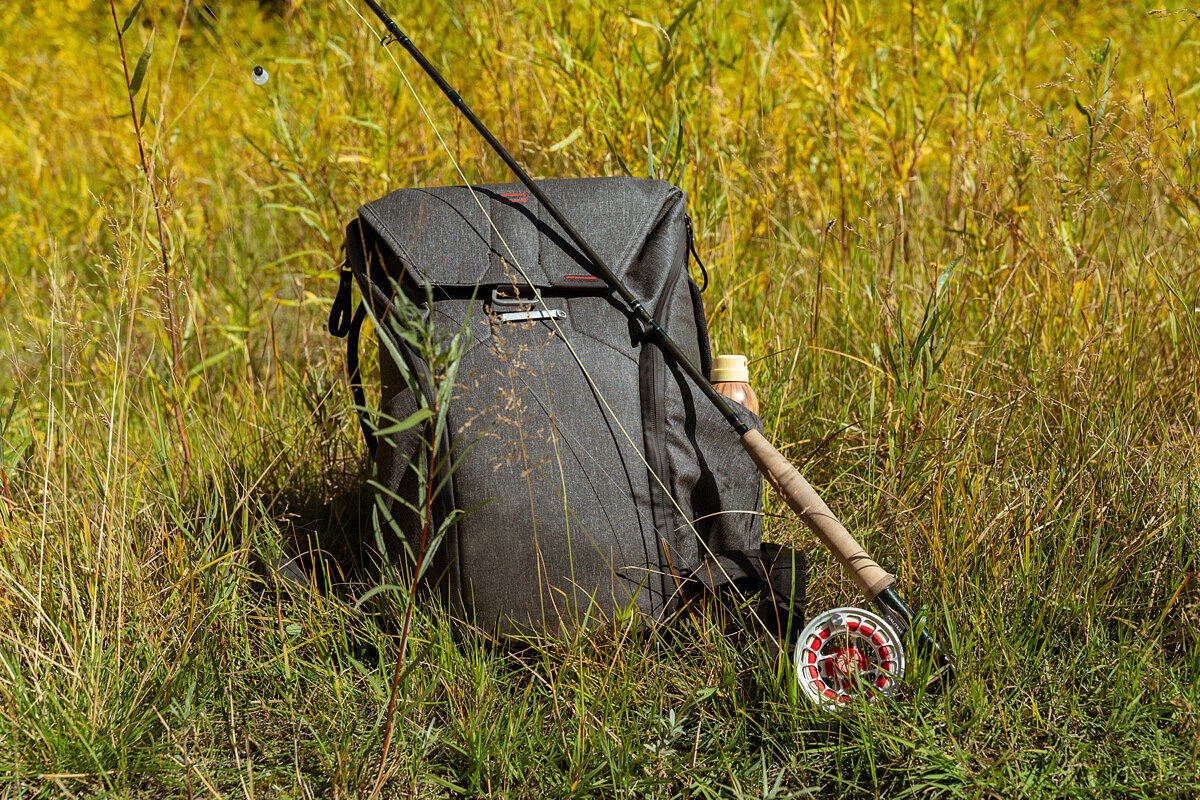 The Everyday Backpack has a dedicated area for your laptop and electronics. On the back side of the bag, a top zipper opens to a full-length compartment. At the top, there's a small pouch which is perfect for storing cables and chargers. Past that pocket you'll notice two sleeves, one sized for a 13" laptop and the other for an iPad. A full-on 15" laptop will squeeze in the larger sleeve, but you'll be sacrificing the possibility to throw in an iPad as well.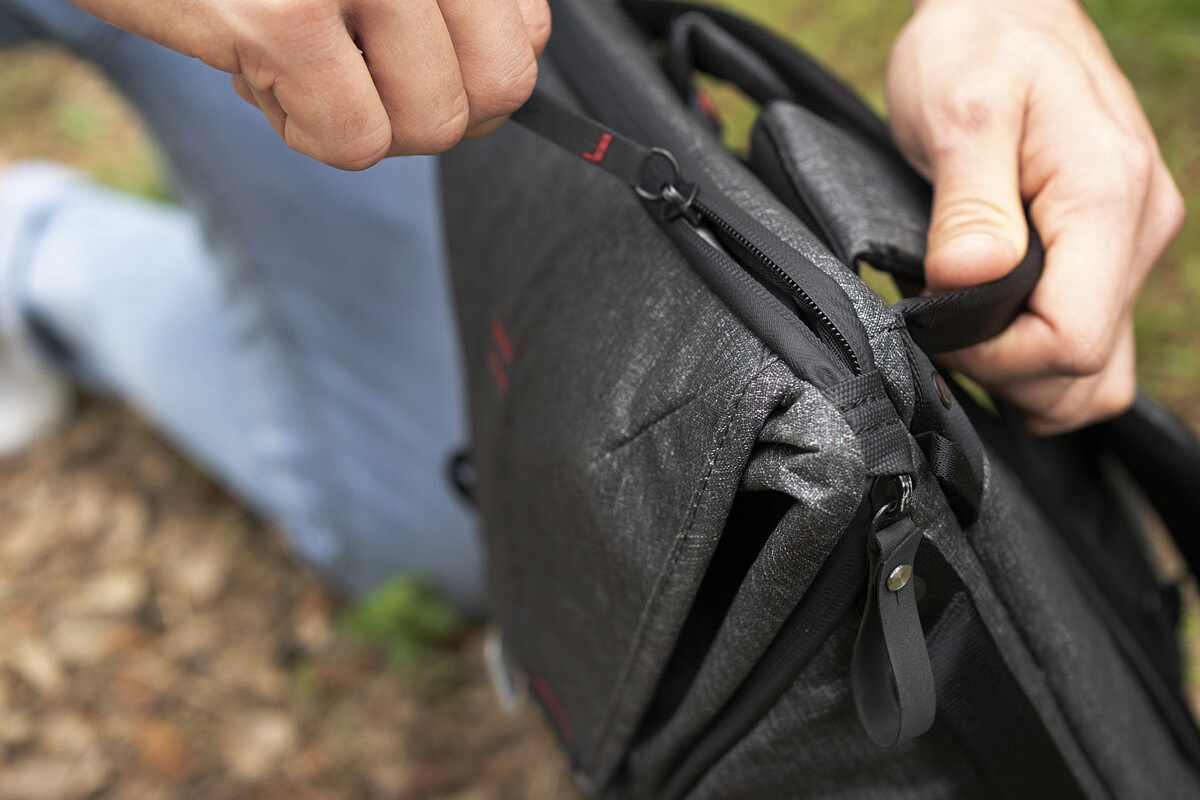 The backpack has three points of entry to get at the main compartment. At the top of the bag, a MagLatch-secured flap provides access to the top pocket, and possibly the whole bag depending on how you set it up. A hidden magnetically sealed pocket sits just beneath the top flap, and is the perfect spot to conceal high value goodies like your wallet, phone, passport or cash.
Running down the left and right side of the bag, two side flaps allow easy access to equipment. This design lets you get at your gear without having to fully remove the pack. Just slip off one of the shoulder straps, swing the bag around in front of you and use the side zipper to expose the contents.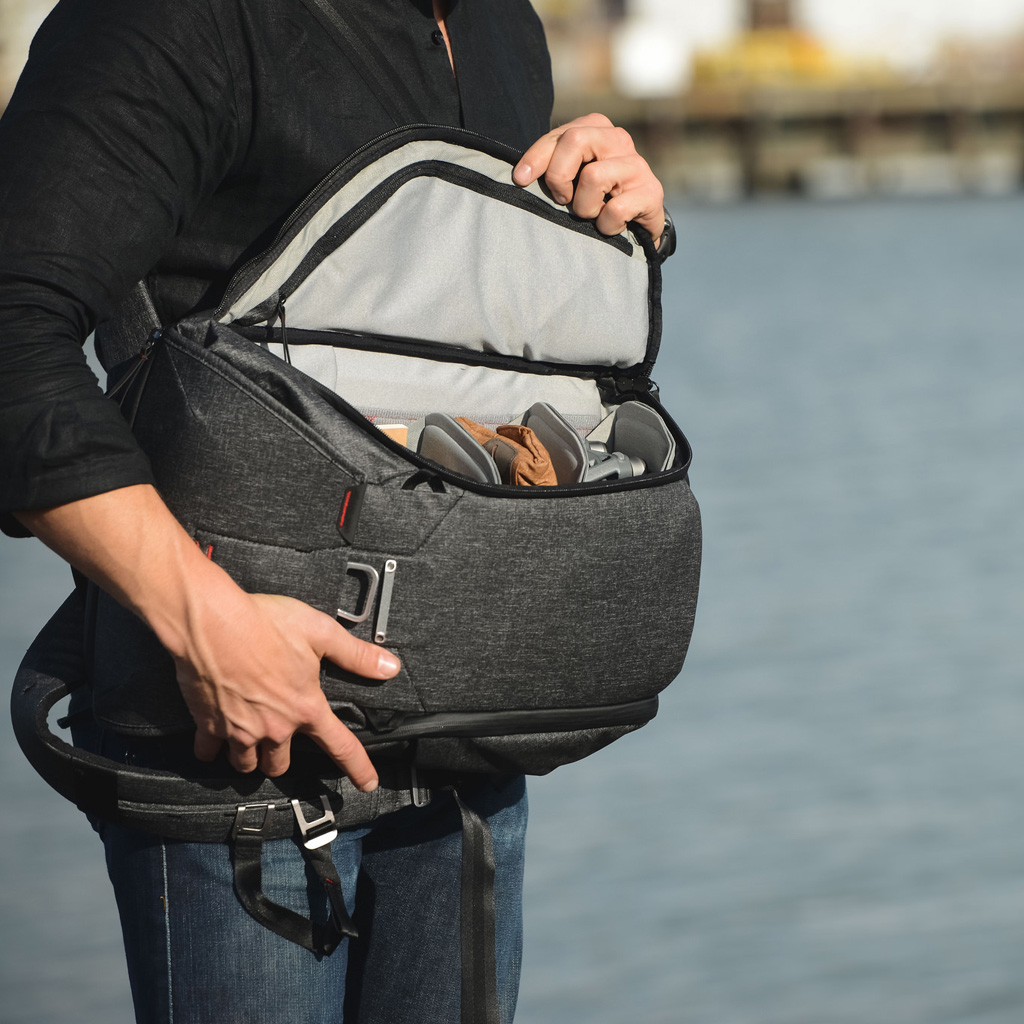 An array of organizational pockets lines the inside of the side flaps, with all the contents secured by a full-length zippered lining. These are perfect for memory cards, extra batteries, cables, lens wipes, small tools, business cards, etc.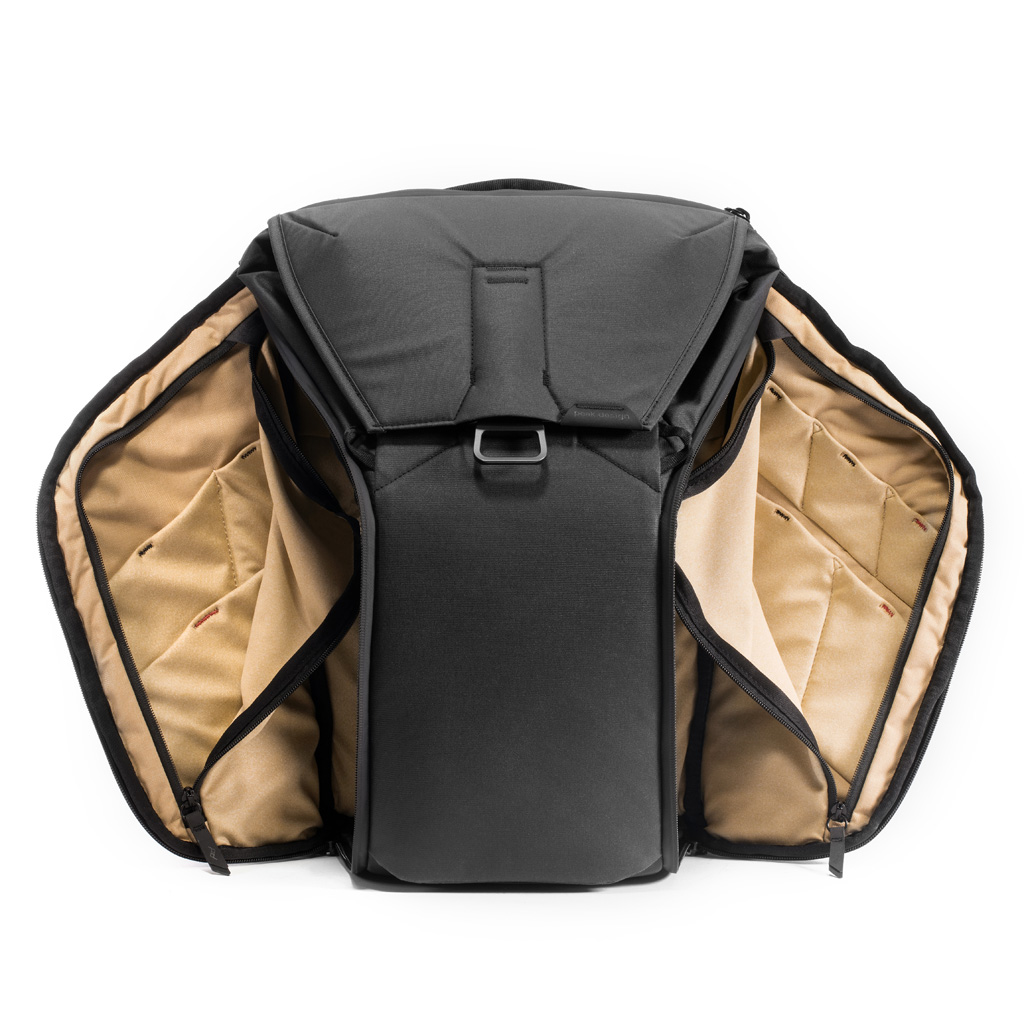 You can reach through the whole bag from either side, making it easy to find what you're looking for. You can also re-arrange the three interior FlexFold shelving/divider units. Besides being able to customize the way the shelves fit within the bag, either vertically or horizontally, each shelf has dividers that you can either prop up or keep flat. This lets you section the space into larger and smaller areas for different sized items.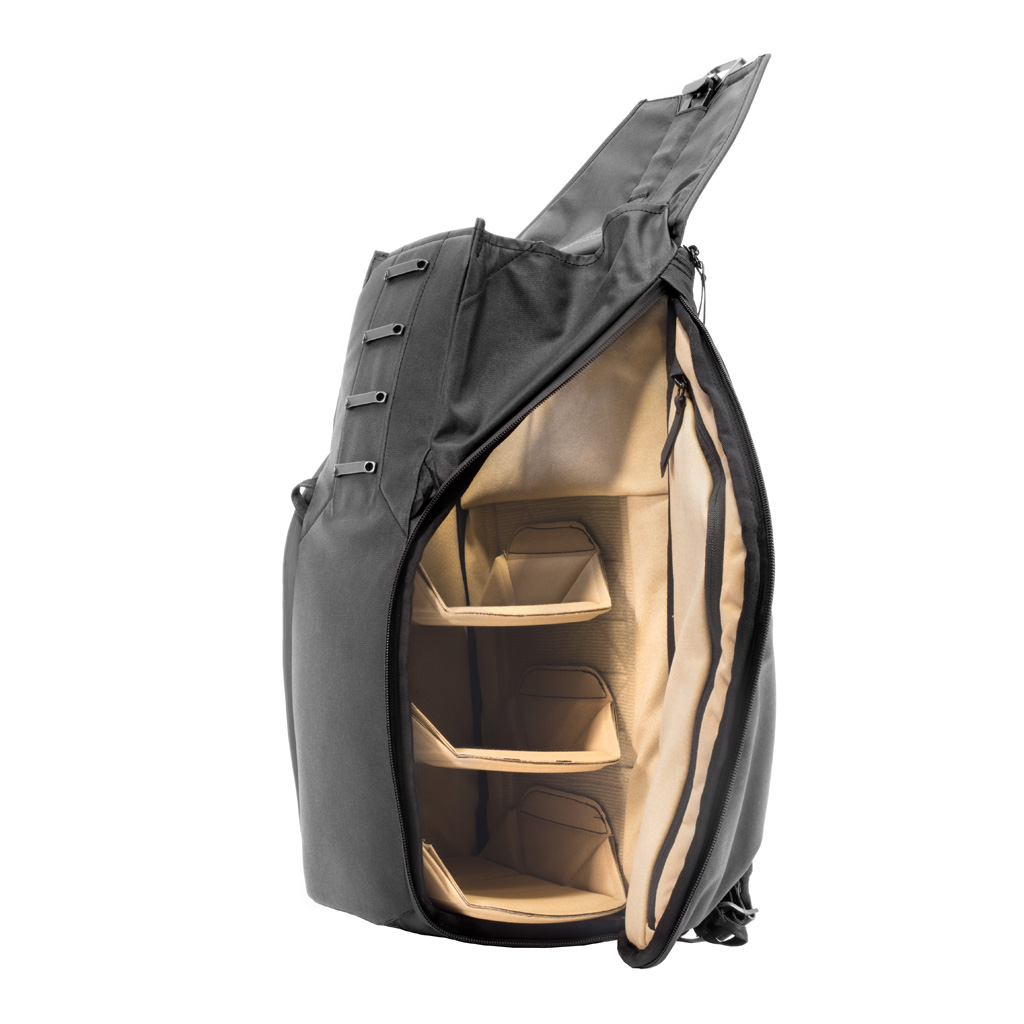 On the outside of the bag, two large side pockets lay flat against the bag, but can expand with elastic to fit large water bottles or a compact tripod. Keep in mind that if do you use the outside pockets, access to the main compartment through the side flaps will be hampered.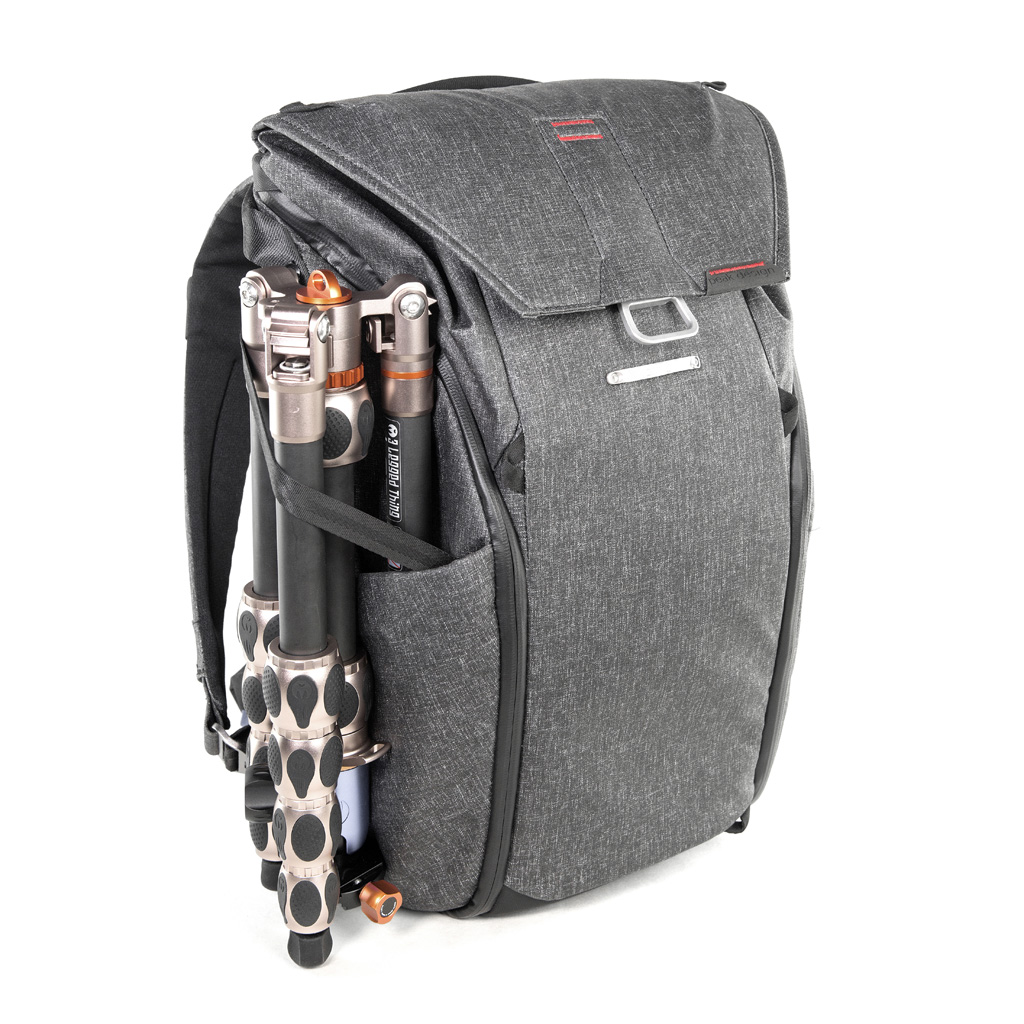 And if you need even more capacity, you can use the included system of four configurable tension straps. These let you carry larger, bulky items on the outside of the pack, like a puffer jacket, rain shell, tripod, hiking poles, yoga mat, or whatever you might be hauling for the day. Like other elements, the tension straps hide out of sight when not in use. Two live in the side pockets, while the other two stow in a small magnetically sealed compartment. For full flexibility, the straps can be unknotted and moved to any of the ten attachment points around the outside of the bag, letting you cinch down just about any item.
With its unique divider design, the bag is extremely customizable and deceptively spacious. I really like being able to access everything so easily, no matter if I'm wearing the pack or it's laying on the ground.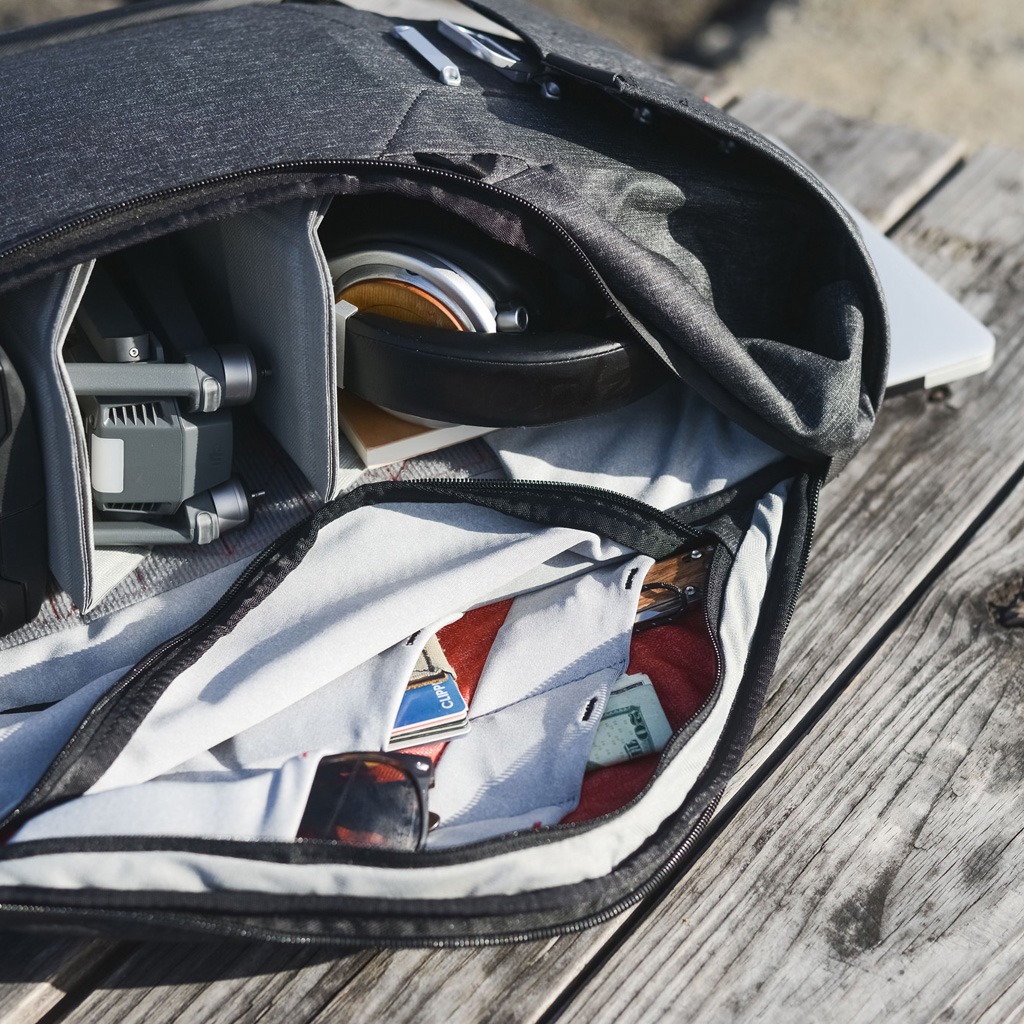 Nothing is Perfect
Even with everything the Everyday Backpack does well, there is always room for improvement. Two areas that I think could be addressed are the top pouch and the waist belt.
Filling the top pouch area to the brim makes keeping the MagLatch clipped down a challenge. If the latch comes loose, items could either fall out of the top of the bag or just make it easier for someone to reach in and take something. Besides the security concern, having the top of the bag open to the elements compromises the weather resistance. And let's face it, an overstuffed pocket with a flap hanging open definitely takes away something in the looks department. An easy solution is to simply not stuff this pouch to the point of failure, but I'd like to see some additional gusseting or perhaps a slightly modified method of closure.
My other issue is the waist belt comfort. When I'm carrying around a lot of equipment, I find that the small strap could be a bit more robust. On hiking packs and larger camera backpacks, waist belts can do wonders, helping to more evenly redistribute the load away from your shoulders and onto your hips. I appreciate Peak Design's goal to hide straps away when not in use, and I understand that this means having to use smaller straps. But perhaps they can figure out a way to have larger stowaway pockets for slightly beefier straps. A little extra width on the belt could offer significantly more comfort.
In Conclusion
The Everyday Backpack by Peak Design packs a lot of punch for your buck. This is one of the most functional backpacks I've ever used. It looks great in any setting yet is extremely durable and robust. With weather sealing, a completely customizable gear compartment, plenty of carry options, laptop and tablet sleeves, and a ton of space for all your equipment, this bag is capable of handling anything you throw at it. If you are looking for a highly functional, versatile, and comfortable backpack that will last you a long time, look no further.