Last spring, my colleagues and I at Leica Store Miami published an article called What's in Our Camera Bags, where we individually laid out our gear bags and showed you how and what we shoot. Since then, a lot has changed. We've hired new staff, new cameras and lenses have been released, and individual shooting styles have evolved.
We've also realized that we each have more than one gear setup. You wouldn't bring the same camera on a bare-bones hiking trip as you would on a fashion shoot. You're unlikely to shoot wildlife with the Leica M, and you probably wouldn't grab a Leica S for discreet street shooting. This is the photographer's dilemma: there just simply isn't one camera that does it all. Different cameras and lenses serve different purposes.
So, here we are a year later, sharing with you yet again "what's in our bag."
Scroll through or click the quick links below:
---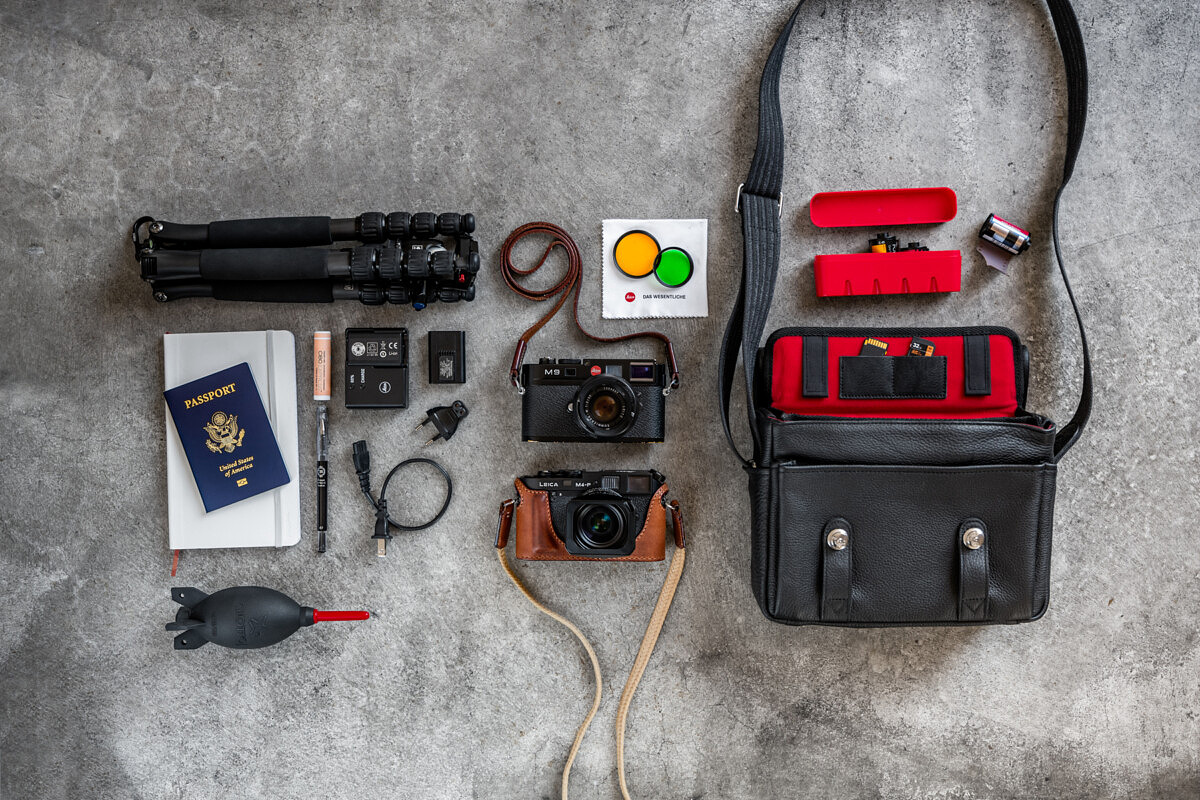 Kirsten's Rangefinder Bag
Kirsten Vignes has been a Leica Specialist with Leica Store Miami since 2012. She's originally from Minnesota, but much prefers the sunshine and warmth of South Florida. Kirsten loves photography, which she studied at Rochester Institute of Technology, graphic design, traveling the world, movies with mythical creatures, chasing non-mythical creatures (birds) and, of course, coffee. Read some of Kirsten's articles here.
When we decided to re-visit the "In Our Bag" idea again, I immediately knew what I was going to share this time around: the gear I actually own (or some of it anyways). As a Leica Store Miami employee, I have access to the entire range of Leica equipment, and I can honestly say I use a wide spectrum of Leica gear. I use the CL with 35mm Summilux-TL to do environmental product photos for our Instagram page, the V-Lux (Typ 114) for birding, the Leica SL (Typ 601) with M lenses for the occasional wedding, the beloved Q and M cameras for street and travel, the Leica D-Lux 7 for an evening out with friends, and the Leica S for those once-in-a-lifetime landscapes.
But what do I actually own? I'm glad you asked.
CAMERA – LEICA M9 & M4-P RANGEFINDERS
The first Leica I bought was the iconic M9, the original full-frame digital rangefinder. It was 2013, the M (Typ 240) had been released, and we were in the process of selling off all of our old M9 demo cameras at Leica Store Miami. When I was given the instruction to box up the last M9 to be listed and sold, I just couldn't do it. The M9 and I had been through quite a bit. It had documented my first year living in Miami: the neon lights, the turquoise waters and the new friends I had made. It had traveled with me to Argentina and kept me company as I sipped wine in Mendoza, went horseback riding with gauchos, and took in the breathless beauty of Iguazú Falls. Call it an impulse buy, but I had to have it.
And, I still shoot with it today. I know, I know. It's a ten-year-old camera with ten-year-old technology, terrible ISO performance (by today's standards anyhow), and a laggy user interface. But, there's just something about those M9 colors and the clunky yet endearing sound of its shutter. I've been tempted to trade-in towards the current M10 (especially with current used prices), which to Leica's credit, has a comparable color output and feel as the M9. At the end of the day though, I just can't part with my M9. I'll be honest, it spends a lot of time in a drawer these days, but I do reach for it for those times when I want to take things slow. It's reminiscent of shooting film. Its limitations force you to slow down and really think about and appreciate a scene before firing the shutter.
This brings me to my most recently-acquired Leica: an M4-P analog rangefinder. Over the years, I've toyed with the idea of buying a film M. After all, it is the ultimate M experience – the most "das Wesentliche" of all the M's. For someone who's just starting to dabble in the film world, the M4-P is an affordable and functional option. The Canadian-made rangefinder comes in at half the price of a used M6, and, unlike a used M3, doesn't require cumbersome goggles when shooting a lens wider than 50mm.
Both used digital and analog M cameras are a great way to get in the Leica M system. A lot of people starting out are intimidated by Leica's price tag, but with a little research and patience, you can get into the M system for a reasonable price.
LENSES – 50MM SUMMICRON F/2, V4 & 28MM SUMMILUX-M ASPH F/1.4
I've always been a 50mm shooter. I like being able to isolate pieces of a scene and create a very graphic and intentional image. When I set out to buy a used 50mm, I came across the 50mm Summicron-M f/2 Version 4. The V4 50mm Summicron-M is optically identical to the current V5 standard Summicron-M, but has a different barrel construction. Like my M4-P, the V4 Summicron was built in Canada. Because Canadian-made Leica's are less desirable in the used market, it's easy to pick one up at a significantly lower price than their German-made counterparts. For someone looking to get into a used M and not break the bank, look into Canadian-made glass.
I've always complemented my 50mm with my Leica Q (Typ 116)'s 28mm Summilux-M. These days, I've been trying to focus more on rangefinder photography, so the Q gets left at home more often than it's used to. For those who want to shoot with a rangefinder and aren't interested in the autofocus Q, Leica offers four different 28mm M-mount lenses: the Summaron-M f/5.6, the Elmarit-M f/2.8, the Summicron-M f/2.0, and the Summilux-M f/1.4, which is pictured here on my M4. (This I borrowed from the store and is more of a wish list item. My collection of M lenses is a work-in-progress.) In digital, we're spoiled with incredibly high, clean ISO's. If a lens only opens up to f/2.8, no problem, just boost the ISO. With film – and the M9 for that matter, a fast aperture such as a f/1.4 Summilux is more critical, especially in low light situations. On top of that, the 28mm Summilux-M is the most recently-designed 28mm M lens. Of the entire 28mm M lineup, it delivers the most corner-to-corner sharpness.
BAG – OBERWERTH HARRY & SALLY (BLACK/RED)
The photographer's other dilemma: there is no perfect camera bag. Different shooting occasions call for different bags. My bread n' butter bag is the Oberwerth Kate (You can see my video review on the Kate here.), however, when I'm just kicking around town and have a smaller setup, I carry the Oberwerth Harry & Sally. The Harry & Sally is part of Oberwerth's casual line and is made of the same soft, tumbled leather as my Kate. It fits a small two-body rangefinder setup perfectly.
Another clever feature of Oberwerth bags is the built-in SD card pockets. I can usually double stack them and fit four extra cards at a time. This eliminates the need to carry a separate SD card wallet.
CARRYING STRAPS
I like a soft, thin strap that I can wrap around my wrist to double as a wrist strap. A smaller, softer strap also packs easier and takes up less space in my bag. Pictured here on the M9 is the Arte di Mano Comodo Neck Strap in Rally Volpe, and on the M4 is the Arte di Mano Waxed Cotton Neck Strap in Barenia Tan.
FILTERS
When shooting black and white film or the Leica M Monochrom, filters are essential. In a digital color file, you can easily adjust the color channels to achieve a desired look. With film or a Monochrom file, you have to use a physical filter over your lens. I always keep a Leica Orange filter on hand to darken skies and brighten skin tones, as well as a Leica 4-Stop ND filter to be able to shoot wide open in daylight.
EXTRAS
I always carry a notebook and pen when shooting analog. Unfortunately, film doesn't record metadata, so I try to make a point to jot down my exposure settings while shooting.
A huge travel game-changer for me has been the discovery of short power cables and plug adapters. I leave the exaggeratedly-long power cables that come standard with most cameras and chargers at home, and swap them out for 1-foot power cables. When I travel to Europe, I use a European plug adapter, eliminating the need for a separate adapter.
The tripod and blower ball pictured here don't fit inside the Harry & Sally along with the other stuff, but I wanted to show them because they are part of my setup. The Giottos blower ball is a must with an interchangeable lens system. Never be caught off guard without a way to clean your sensor.
My Sirui T-025SK Carbon Fiber Tripod is always on hand. If I'm traveling, it's in my suitcase. If I'm driving around town, it's in the back seat. I might not always have it on my physical person, but it's never far away. It folds up to just 12 inches, weighs less than a pound and has traveled all around the world with me.
Some of Kirsten's M-system shots:
---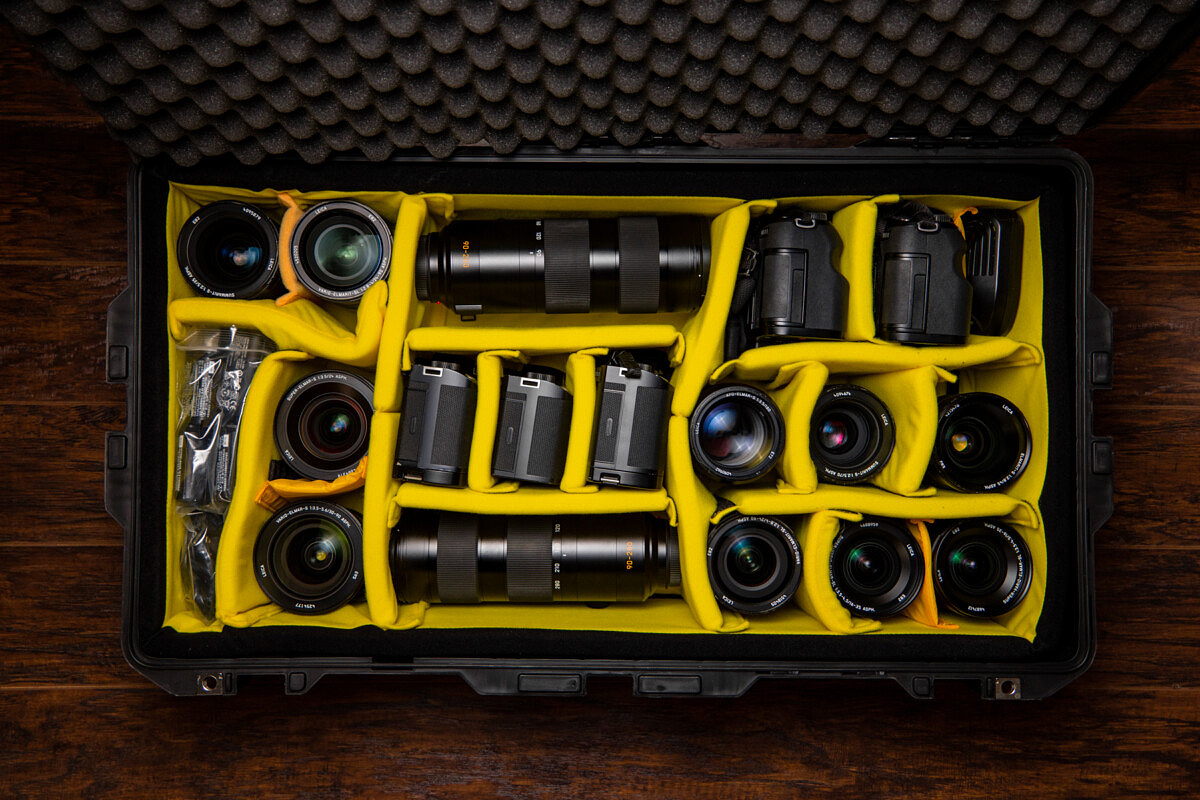 David's Workshop Case
David Farkas is a self-admitted Leica junkie and an avid photographer since he was seven years old. He owns and operates Leica Store Miami in beautiful Coral Gables, Florida with his wife Juliana. David has years of experience shooting with just about every Leica camera and lens made within the last few decades. He loves exploring far-flung landscapes as much as discovering a new city, as long as he's got a camera in hand. Check out David's camera reviews, technical articles and show reports here.
CAMERAS – LEICA S and LEICA SL
I still shoot most of my serious landscape work with the Leica S007 and a clutch of S lenses. If you want to see what's in my landscape backpack, the MindShift Rotation 180 Professional, check out last year's What's in Our Bag article. Why do I still shoot the same camera and lenses? Quite simply, the S was the best system last year and remains so today. Why fix what isn't broken? Incredible dynamic range, luscious color, edge-to-edge sharpness and intuitive handling make the Leica S System a landscape photographer's dream setup.
So, rather than rehash the same info this time around, I figured I'd show you guys my other case when traveling to far-off, exotic destinations. Often, I'm leading or co-leading landscape photography workshops for Leica Store Miami Photo Adventures, and one of the perks that we provide is an ample selection of loaner Leica gear. Leading up to a trip we'll conduct a consultation with each participant to see what he or she is shooting, what camera they are planning on bringing with them and what gear they might want to try out during the adventure. Based on the wish list, and availability, we work to get each attendee the camera and/or lenses they've requested. And for twelve people, that can be a lot of gear.
CASE – PELICAN AIR 1615
The Pelican Air 1615 is the largest checked baggage size allowed by airlines, measuring in at 72 linear inches (the sum of L + W + H). Staying under this size means that we can avoid oversize luggage handling and associated hassle. Looking like a large, somewhat shallow suitcase, the 1615 has robust fold-out carry handles on three sides, a slide-out trolley handle and sturdy wheels. The fully waterproof and shockproof cases provide piece of mind both when checking on airplanes, as well as when carting them around in some quite wet and muddy locations.
And yes, I did say "cases." We routinely carry two of these cases with us, usually fully loaded. In the one pictured above, you can see three complete SL kits and two full S007 kits, with an arsenal of SL and S lenses, along with plenty of extra batteries. Out of sight are the quick release plates, straps, and other accessories required for shooting that we also cart along. In its displayed configuration, this Pelican case tips the scales at around 70 lbs, the limit for international checked luggage. Sometimes we're able to simply check the cases without issue, but often we face overage charges on both cases, on multiple flights. But for us, being able to have the depth and selection of gear for our workshop attendees is paramount, so the added expense and 140 lbs of extra luggage is worth it.
MUST HAVES
Plastering the outside of these cases, on all sides, are a variety of "Fragile" and "Handle with Care" stickers. As protective as the Pelican cases are, we still don't want baggage handlers competing to see who can drop them the furthest. The cases are secured during transit with two metal TSA combination locks using steel wire through the dual security loops on the 1615. We usually carry a couple extra in case they are damaged or cut by customs. Most of the time, there will be an inspection notice inside the cases upon our arrival. And we often get pulled aside in US Customs when returning. Just another small price to pay for our fantastic workshop attendees.
Some behind-the-scenes shots from our workshops:
Some of David's recent workshop images:
---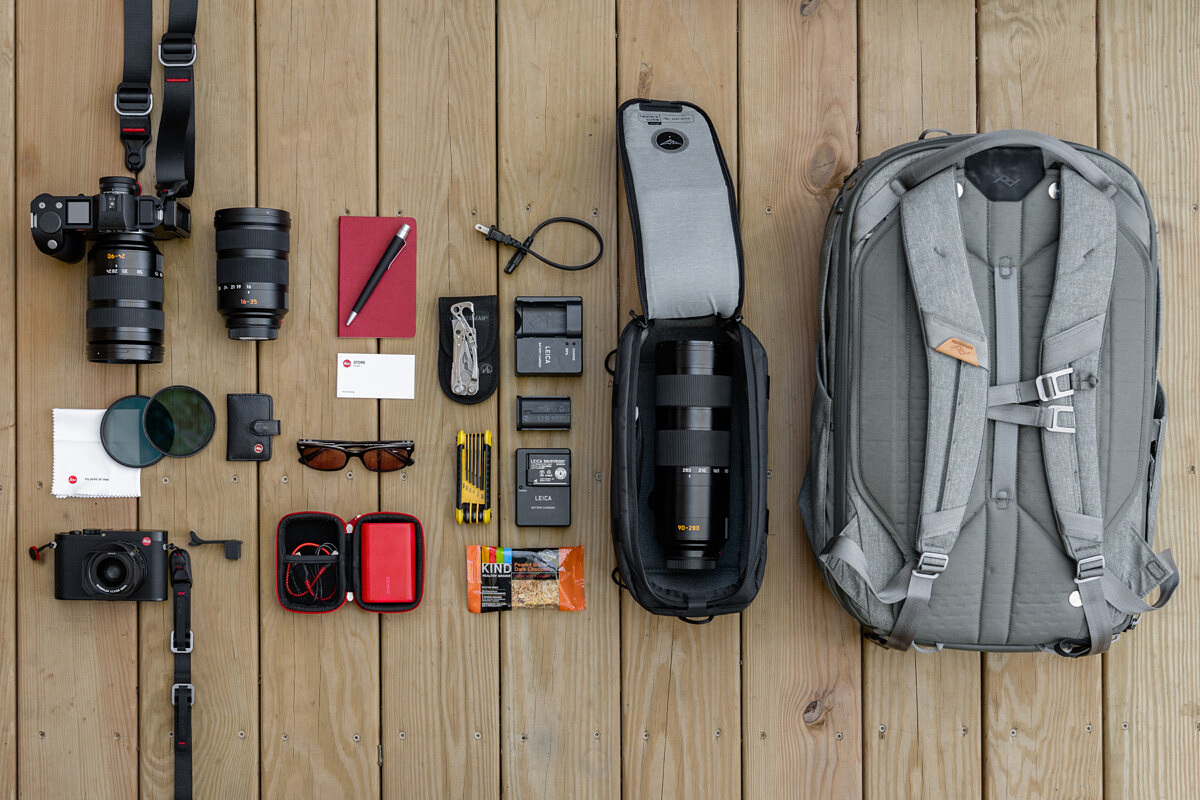 Peter's Workshop Bag
Peter Dooling heads up the Leica Store Miami Photo Workshops program, planning and leading workshops around the globe. When he's not helping people improve their photography in exotic destinations, he's spending time with his family and taking his adorable Golden-doodle Sam for long walks in the woods. Peter used to live in Miami, but now resides in Carrboro, NC, where they have all four seasons, and hills.
CAMERAS – LEICA SL & LEICA Q
For most of our destination photo workshops, I like to bring the Leica SL along with the SL 16-35mm, 24-90mm and 90-280mm lenses. These three lenses are super sharp, come with image stabilization and cover just about any photographic situation that I might encounter on a photo workshop. I used to think that zoom lenses were a compromise, but these lenses are nothing of the sort. The 16-35mm and the 24-90mm are my go-to lenses for landscape photography and the 90-280mm is great for compression, details and wildlife.
I always sling my Leica Q (Typ 116) over my shoulder for behind the scenes shots of our workshops. The Q comes with an amazing 28mm f/1.7 Summilux lens attached, which is great for street and travel photography. For a change of pace, I can shift to macro mode for detail shots and closeups. The autofocus is lightning quick and accurate, which makes it a great tool when you're on the move.
BAG – PEAK DESIGN TRAVEL BACKPACK 45L
I recently started using the Peak Design Travel Backpack 45L in Sage. It fits the SL with all three zoom lenses, the Leica Q, my Arc'teryx Beta AR Gore-Tex shell and all of my accessories. It features top, side, front and rear access via intuitively placed weatherproof zips. With all the travel that I do, I love that this bag is weatherproof and meets international carry-on size requirements. It has plenty of pockets to help keep my gear organized and it can expand from 35L to 45L, which makes it versatile for my trips.
CARRYING STRAPS – PEAK DESIGN
Like any photographer, I've tried my fair share of straps. My new favorites are the Peak Design Slide Lite Camera Strap (in black) for the SL and the Peak Design Leash Camera Strap in black for the Q. The seatbelt-style nylon webbing is very comfortable and I've really grown to love the Anchor Link quick connect system.
FILTERS
On our landscape photography trips, I always take a filter kit that includes a B+W 82mm F-Pro Kaesemann High Transmission Circular Polarizer MRC Filter, a Schneider 4″ filter holder, 4-stop and 6-stop Schneider Platinum IRND filters, and 4-stop Schneider GND filters in soft edge.
TRIPOD
For the last few years I've been using Gitzo GT3543L legs, which are a great balance of size, weight, height and strength. I also use the Gitzo GH3382QD Series 3 Center Ball Head, which is reliable, compact and easy to use. Finally, I use a Really Right Stuff L Bracket for the SL which allows me to shift to a vertical composition quickly and easily. The Gitzo head offers native Arca-style plate compatibility, so no adapters are needed to mount my RRS bracket.
EXTRAS
I always bring an extra battery or two (SL & Q) when I travel because I never want to miss a shot. I also like to bring the Plug Adapter (Angled) and the 1-Foot Power Cord for Battery Chargers to save space. A few indispensable Leica Microfiber Lens Cloths are always in my bag to clean my lens, viewfinder and LCD in the field. I use a Giottos Q Ball Blower Bulb to blow dust and dirt off of the camera, lenses, filters and sensor. When the bulb doesn't do the job on my sensor, I'll use the Eyelead Sensor Cleaning Kit. I'll bring at least four 64GB Transcend 600x SDXC cards with me along with a Samsung T5 external hard drive to back up my images. I also carry a Leatherman Skeletool, a multi hex wrench, and an Anker Powercore 10000 charging unit.
PRO TIP
One of the main things that I tell our customers on landscape photography trips is to look for your shot before setting up your tripod. It may sound like a simple thing, but I always find better, more creative compositions when I'm not locked down on my tripod.
Some of Peter's workshop images:
---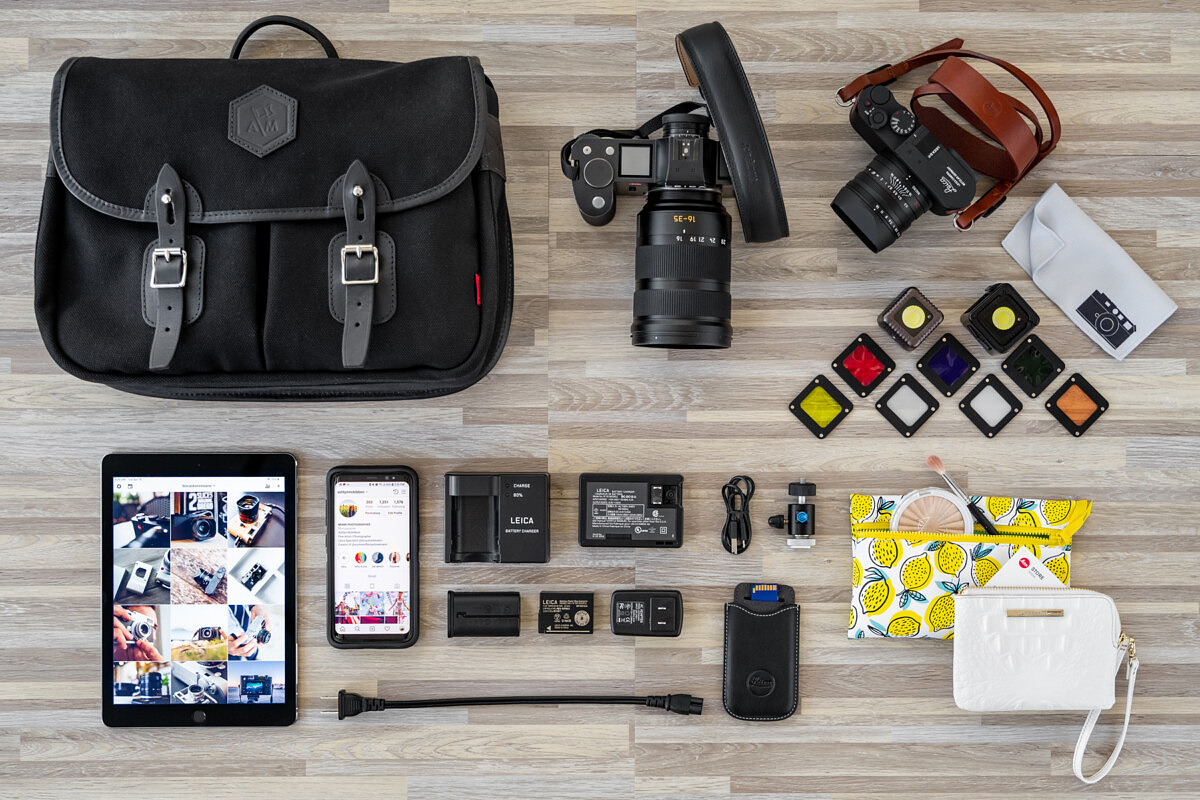 Ashlyn's Fashion Bag
Ashlyn McKibben is part of the Leica Store Miami team in Coral Gables, where she is not only a Leica camera specialist, but also curates gallery exhibitions and organizes events. Ashlyn is a recent New Hampshire Institute of Art grad with a Bachelor of Fine Art in photography. During school she received formal training in several different mediums including film processing, darkroom printing, film scanning, and other hands-on processes. Ashlyn has participated in fine art exhibitions and competitions since the age of 13, winning several awards along the way. And, she's got an adorable little dog named Beans who sometimes comes to work with her.
CAMERAS – LEICA Q-P & LEICA SL (TYP 601) W/ 16-35MM
For as long as I remember, I've always been a 50mm shooter, but this past year my tastes have changed. Lately, my go-to cameras are the Leica SL (Typ 601) with the Leica Super-Vario-Elmar-SL 16-35mm f/3.5-4.5 ASPH
and the Leica Q-P. Both of these setups feature wide angle lenses, but function completely different for me.

When I am photographing portraits with the SL and the 16-35mm, I can capture the full environment, which is an important part of the image to me. Despite its extremely wide field of view, the 16-35mm delivers a tack sharp image with barely any distortion, and its minimum focusing distance of just a few inches lets me move in closer to my subject. Shooting portraits with wide lenses has traditionally been considered by many as a big no-no, but I've never been one to stick to the status quo. If you feel your portraiture getting a little stale, I suggest giving it a try! Shooting at a low angle gives visual power to your subject and adds a new dynamic to your photographic style.

Recently, I have also found myself photographing shows and events in the underground Miami music/art scene. Here, the Leica Q-P has proven to be the best camera for the job. The ability to open up to a fast aperture of f/1.7 gives me the flexibility to shoot in dark spaces, and the Q-P's stealthy matte black finish and omission of the iconic red dot makes people unaware of both me and my Leica.
BAG – ADAM MARELLI X CHAPMAN CAMERA BAG
I could joke about how I love this bag because it comes personalized with my initials "A.M.", but the Adam Marelli x Chapman Camera Bag obviously functions beyond that. Leather has never been my first choice in camera bags simply because of the additional heft. This lightweight canvas bag easily fits everything I need on-the-go. Even after loading up with the photographic essentials (extra SD cards, batteries, and chargers), the Chapman bag leaves me enough room to bring my other essentials such as wallet, phone and makeup for quick touch-ups…on myself or my subjects. The two pockets on the front make fore easy organization. I stash my "photo" essentials on the left, and "other" essentials on the right. For added security, the top flap clips to the two outside pockets.
Lastly, I love the masculine and sleek look of this bag, even more as a woman. We're all about breaking conventions, right? Purse who?
EXTRAS
Whenever I am shooting, I keep a set of Lume Cube LED lights and colored filters on hand. I photograph mostly in available light, and I would much rather carry these small LEDs over standard flash units. With a few fun colors, a set of diffusers, and a warm tone gel filter, I'm able to manipulate whatever light I am working with, or simply add extra punch to the image. Rounding out my lighting kit is a small rotating, hot shoe mount for the cubes just in case I want to have the light directly on the subject.
I always keep an extra battery for each system on hand. During indoor shoots, I've got a battery on the charger when possible. To minimize space, I swap the charging cable that comes with the SL for a shorter, 1-foot power cable. Extra power is important but so is extra memory. Typically, I'll have two SD cards in the SL, one in the Q-P, and two or three additional in my Leica leather SD card holder, which can also double as a wallet if pressed on space.
I use an iPad for social media coordination and sequencing (Favorite App: Preview for Instagram curation.), and it fits perfectly inside the Chapman – right between the camera insert and the actual bag. When traveling, I like to remove the lens from the SL body and place each piece in its own slot. This gives you more space to add additional odds and ends as needed.
Some of Ashlyn's fashion shots:
---
Josh's Car Photos Bag
Josh Lehrer has been with Leica Store Miami since 2010 and is as obsessed with Leica as he is with fast cars and his Golden Retriever, Enzo. He particularly enjoys obscure and vintage Leica gear and is probably the only person to use the Leica S for photographing car shows. Learn more about Josh here.
CAMERA – LEICA CL
Since the Leica SL (Typ 601) came out in late 2015, it's been my primary camera for automotive photography. I just love the viewfinder, the resolution and the lens lineup. But in the back of my mind I always knew that if something smaller and lighter came along that could give me a similar level of flexibility and quality, I would want to incorporate it into my workflow. Being a bit of a "full-frame snob" I could have easily dismissed the Leica CL, but I quickly learned that that the APS-C camera was far more powerful than its small size let on. Especially when firmware version 2.0 was released, giving the CL that final bit of polish. While the CL kit is a relatively recent addition to my arsenal, it's quickly become my go-to.
My favorite lens by far is the Summilux-TL 35mm f/1.4 ASPH, which offers performance on par to any top-shelf M-system lens. When things need to be kept compact and discreet, the Lux goes away and out comes the Elmarit-TL 18mm f/2.8 ASPH. Barely bigger than a body cap, I can stash the CL and 18mm combo in a coat pocket and no one is the wiser.
BAG – ONA BOWERY
I currently own not one, but two ONA Bowery bags, and that doesn't include the third one I gave away when a friend simply had to have it. It is simply the perfect size for my CL kit. I keep extra dividers at the bottom so I can adjust the interior of the bag as needed, and I love that the strap is removable. This allows me to use the Bowery as an insert in a larger bag and also to swap out straps when I need something more substantial.
EXTRAS
No car photographer worth his salt would be caught without a polarizer so I've always got a B+W 60mm Kaesemann Circular Polarizer MRC Filter mounted on the 35 1.4 TL. A few other useful bits include the Thumbs Up EP-CL which gives me maximum stability, and my handy Nitecore charger to keep batteries topped off while away from wall power. Plus, I wouldn't go anywhere without my Red Dot Wear brand Micro-suede Lens Cleaning Cloth and Eyelead Sensor Cleaning Kit, since I have a tendency to swap lenses quite a lot.
TIP:
Don't just slap any neck strap on the CL. Pick something narrow and flexible, so you can wrap it around the lens when you put the camera away, or in your pocket. I like a well-worn leather strap without a shoulder section.
Some of Josh's car photos:
---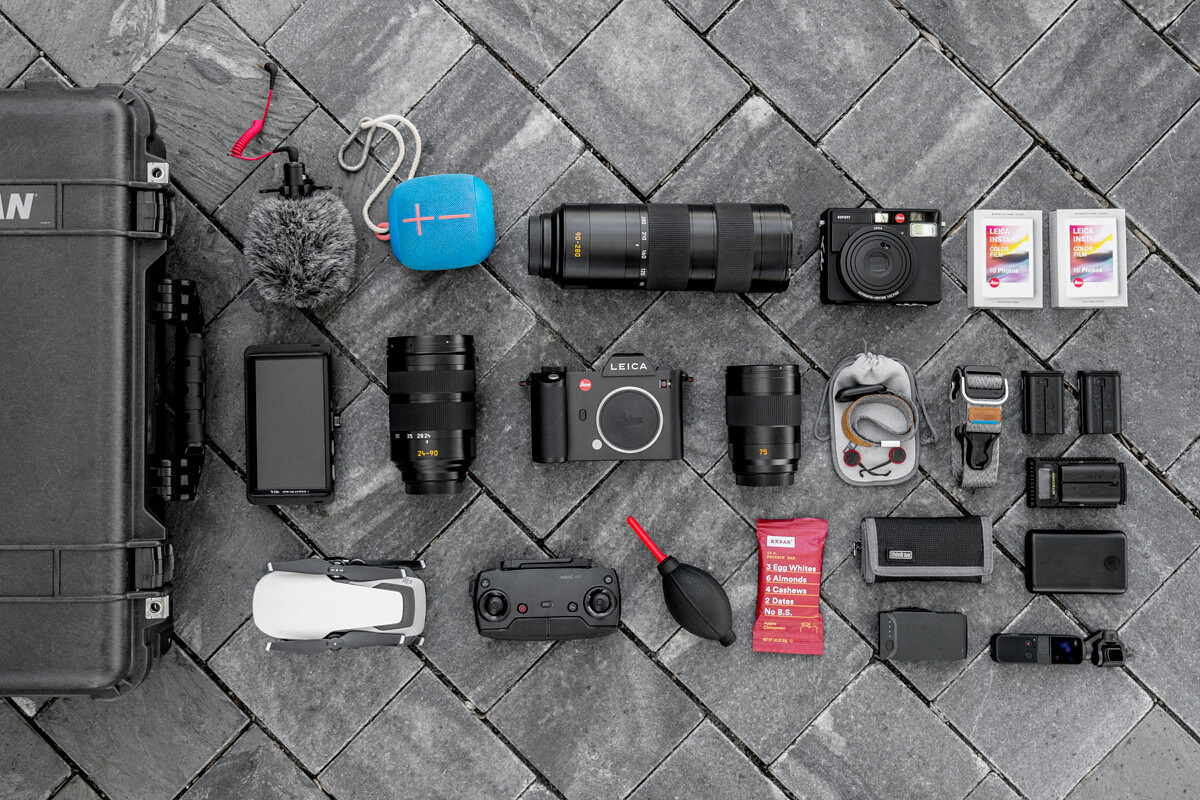 Victor's Professional Gig Case

Victor is not just another photographer. He's an artist, dreamer, poet, storyteller, digital wizard, regular run-of-the-mill magic wizard, free thinker, misfit, and at times lone wolf, especially when he is hungry. It's in your best interest that he goes off on his own. When he's not getting photo bombed by beautiful people, you can find him out capturing images of the fish he catches.
CAMERA – LEICA SL (TYP 601) & LEICA SOFORT
Before starting at Leica Store Miami in June of 2018, I was a full-fledged Nikon shooter. That all changed the first time I used the Leica SL (Typ 601) for one of my photo assignments. Since then, the SL has quickly become my favorite camera for any sort of production shoot, big or small. Some of the key features on the SL that I've grown to love include the gorgeous, high resolution 4.4 megapixel electronic viewfinder, the way the camera body feels in my hands, and the minimalistic approach to the menu system. The SL is simple, yet powerful, and handles like a well-tuned machine.
Usually, when I'm on a commercial job, my go-to lenses are the 24-90mm and 90-280mm zooms, along with the 75mm APO-Summicron. But when traveling, I prefer to leave the larger SL glass at home and just take M lenses with an M-Adapter L. On my recent trip to Wetzlar to tour the factory (humble brag) I packed the Leica 50mm APO-Summicron-M and the Leica 28mm Summilux-M. The smaller form factor of the SL paired with M lenses makes an ideal travel kit. Although you lose autofocus capability with the all-mechanicall M lenses, the EVF is so clear and bright that manual focusing is a breeze.
When working for a client, I depend on the native L-mount SL lenses. Being a fashion and lifestyle photographer means that most of the time my subjects are frequently in motion. The quick-focusing motors on the native SL lenses give me the confidence to nail focus every time.
The other camera I like to take on my production shoots is the Leica Sofort. Talent and clients alike both get a real kick when I pull this little guy out on set. Today, we all want instant gratification, which is exactly what the Sofort delivers, but in a more tangible way than the ever-ubiquitous iPhone snap. I can shoot fun behind the scenes pics or just pass the camera around, which helps fill in the downtime between setups. Plus, everyone loves to share those instant photos on their social media.
BAG – PELICAN 1510
When tackling big jobs using the native SL lenses I always use a Pelican case. Leica makes a great hard case for the S system with custom inserts for specific lenses., making it easy to pack up and identify what equipment you have with you. I'm hoping that Leica comes out with a dedicated SL-System hard case once all the new Summicron-SL lenses are released. That would be awesome! Looking your way Stefan Daniel…
One addition I would recommend to any hard case is the Pelican Photographer's Lid Organizer. This pops right into the top part of the lid with just four small screws, and keeps all my batteries, cables, and other accouterments organized.
EXTRAS
You never know whether you'll have access to power on set or on location, so I err on the side of being over-prepared. Even though I pack three extra batteries per camera body, I also don't leave the house without my SL Nitecore charger. This compact and portable charger plugs into any USB wall outlet plug or USB -equipped battery bank. I prefer this charger over the standard Leica one due to its smaller size, along with the handy LCD screen, which displays the precise charge level on the battery. It can even read the health of the battery and let you know if it has reached the end of its useful life and needs to be replaced.
Another useful accessory that's always in my bag is the Think Tank SD Pocket Pixel. I have accumulated so many SD memory cards that keeping track of them all is a challenge. With this well-designed card wallet, I can keep all my cards organized. My system is simple; when a card is turned label-side down, the card is full and needs to be downloaded. If the label is showing, then I know the card is backed up, empty and ready to be used.
KNICK KNACKS & SNACKS
If you know me, then you know I love to listen to music whenever possible, especially on set. The right music can set the mood for a shoot. Thankfully, I was able to find a Bluetooth speaker with great battery life. The UE Boom Waterproof speaker can play for 8 hours, serving up solid rhythmic tunes that keep your eardrums tingling all day. Another tidbit about me: while I'm on set I tend to forget to eat lunch. That's why I always pack a snack bar.
The last two pieces of equipment that I always bring on set with me are my DJI Mavic Air and DJI Osmo Pocket. Having aerial drone shots really adds to the production value of a campaign. You can take breathtaking overhead shots from the air and grab some dynamic video footage at the same time. Combining the footage from my drone with my stabilized handheld Osmo camera, I can deliver a mini 30 second to 1-minute video for the client of the whole shoot. While usually unexpected and often a surprise, this extra touch is always appreciated. Sending along a cool video really helps set me apart from my competition.
Some of Victor's professional work:
---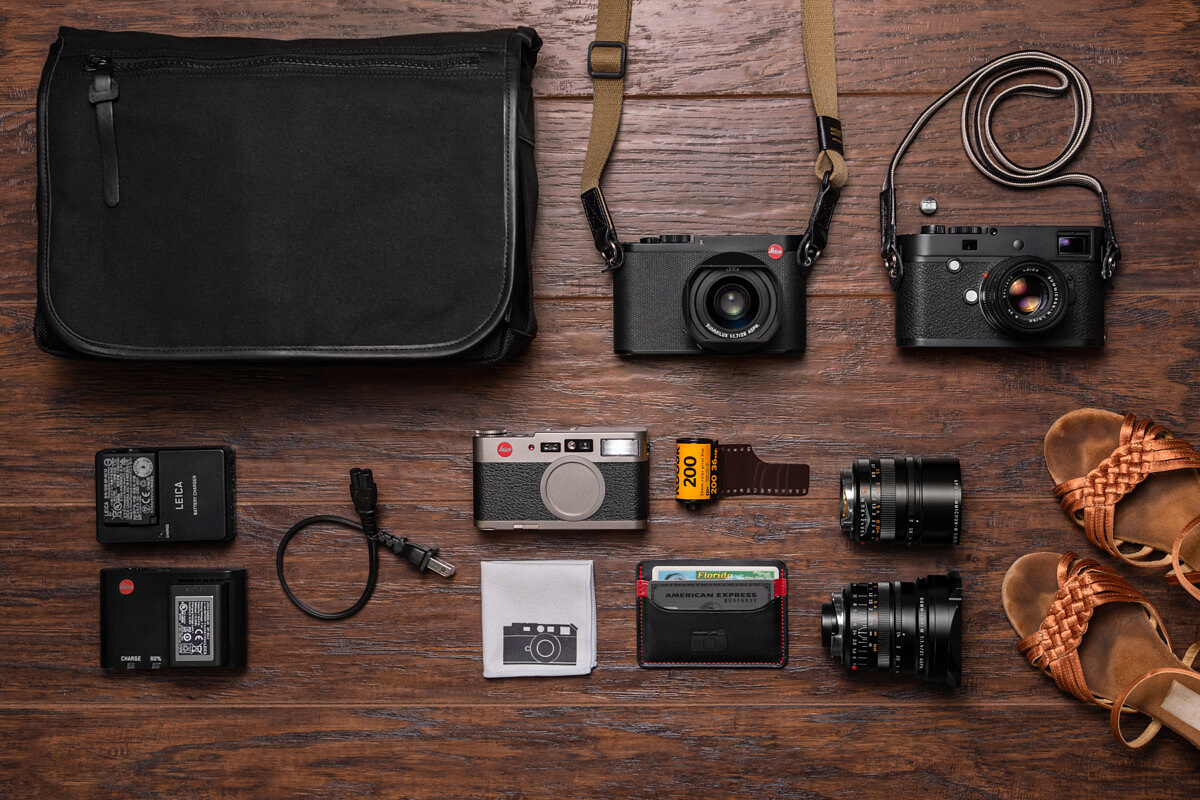 Julie's Dancing Bag
Juliana loves documenting her various adventures and travels with family and friends. She considers herself to be less a photographer who travels, and more a traveler who takes pictures. Having grown up in the American Southwest, she loves hiking, rock climbing and spending time in the outdoors. She also enjoys traveling abroad, exploring new destinations and checking out quirky and notable sites from her Atlas Obscura.
CAMERAS – Leica M Monochrom, Q & CM
My newest obsession is ballroom dancing. After months of learning the various dances and practicing some routines, I participated in my first competition. My primary interest was obviously the dancing, but watching the other competitors between my heats, I quickly realized the opportunities for photography.
LEICA M MONOCHROM – Most professional dance photographers approach these competitions like any other sport, using big DSLRs with long zoom lenses. Given the multi-colored stage lighting, boldly styled gowns, and not wanting to carry a huge camera setup with me as a competitor, I decided to try my hand at using the M Monochrom. My working theory was that shooting in black and white would reduce the visual "noise" and allow the viewer to focus on just the composition and form of the dancers.
With the camera choice out of the way, I worked on piecing together a lens kit. The 21 Lux, 50 Cron and 75 Cron can capture everything from wide shots that encompass the whole dance floor to beautifully rendered portraits from across the room.
My other obsession is rock climbing. Having used the M Monochrom at ballroom dance competitions, and being pleased with the results, I figured why not use it in another completely unlikely scenario? For this application I'm usually only carrying the body and the 50 Cron. Yes, it is a lot of trial and error, but the keepers I get are satisfying enough to keep dealing with the frustration. Worth it. And in the end, I feel like I am becoming a better M photographer.
LEICA Q (TYP 116) – The Q (Typ 116) is a permanent resident of my bag, my go-to camera for travel photos of family and friends, which is by far my favorite subject matter to shoot. I don't do anything fancy with it, merely documenting mine and my family's life. Simple and intuitive to use, I can hand it to almost anyone if we want a group shot of everyone. Once it becomes more available, I may eventually change to the Leica Q2, but the original Q is already an amazing camera. If it isn't broke, don't fix it.
LEICA CM (MY VERY FIRST LEICA) – Fifteen years ago, my husband-to-be gifted me a Leica CM for our upcoming wedding and honeymoon trip to Europe. I used the camera for everything for almost five years before our toddler enthusiastically dragged it off a table to its demise. Unfortunately, when I sent it in for repair, I received the almost never expected response from Leica AG repair, which was that they had run out of replacement parts! It has been my one and only true disappointment with Leica. Over the years I have followed listings on Ebay and come close to replacing it several times, but never followed through. Now, fifteen year later, one day after our fifteen-year anniversary, I was "gifted" another Leica CM! Not by my husband this time, but by Josh, our used Leica expert, who many of you may know. He had finally been offered one for sale that was working and in great condition, so he surprised me by buying it. I've added it to my bag and can't wait to start shooting with it again.
BAG & EXTRAS
These days I am carrying the Artisan & Artist ACAM7100. I love that this bag fits everything I need to carry, yet is extremely lightweight. In the past, I have been drawn to smaller, leather bags. But as my photo kit has grown, I needed to start looking for a bigger bag. The weight of the leather combined with the weight of my gear has proved to be a bit uncomfortable. The ACAM7100 provided an ideal solution. Made of canvas and nylon, it weighs less than leather bags of comparable size. There are plenty of pockets to accommodate a lens cloth, my RDW wallet, along with extra batteries and chargers for both cameras. And the contrast of the red interior with the body and lenses make finding everything easy.
The straps on my cameras are also from Artisan & Artist. I went with the ACAM312BKSL for my monochrome because, well, it's monochrome, and I like the harmony. It's also very comfortable and lightweight.
Browse Julie's dancing bag…
---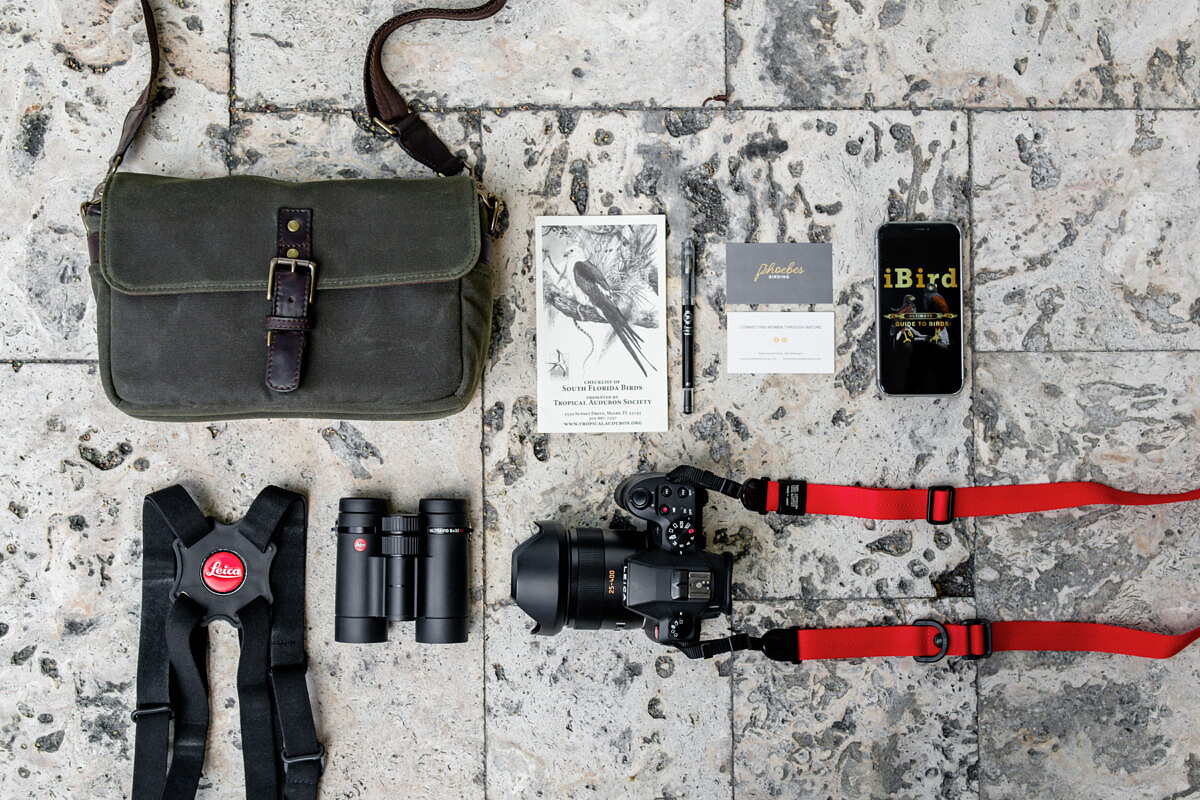 Kirsten's Birding Bag
Over the last couple years, Kirsten Vignes has become an avid birder. Through Leica Store Miami's partnership with the local Tropical Audubon Society, she's met an amazing group of local, female nature enthusiasts, and together they've started an all-women's birding group called Phoebes Birding.
CAMERA – LEICA V-LUX (TYP 114)
I've dabbled with large digiscoping and full-frame camera setups for bird photography over the years, but, at the end of the day, I always come back to the Leica V-Lux (Typ 114). With its 20MP 1-inch sensor and 400mm optical zoom, the V-Lux outputs rather stunning results – without causing back problems. I wrote a review about the V-Lux a couple years ago, and I have never stopped using it. In fact, I recently picked up a used one for myself. It's lightweight, and when doing something active like birding, it's nice to not be weighed down with heavy equipment.
BINOCULARS – LEICA ULTRAVID 8X32 HD-PLUS
My go-to binocular is the Leica 8×32 Ultravid HD-Plus. It's the smallest, full-size binocular. I get a wide field of view with a comfortable viewing experience, all in almost-compact package. They're small enough to throw in a camera bag or a suitcase, but large enough for extended use during a full-day of birding. (Read my full breakdown of Leica binoculars here.)
BAG – ONA BOWERY (OLIVE)
The ONA Bowery has become a staple camera bag for many photographers. Turns out, it makes a great birding bag too! It's the perfect size for a pair of bins and a V-Lux – in fact it's the bag that's actually included in the V-Lux Explorer Kit. It's simple and spacious, with just enough pockets to keep you organized.
CARRYING STRAPS
On the V-Lux I use the Artisan & Artist* Easy Slider. As its name suggest, you can easily adjust the length to switch between carrying your camera cross-body or around your neck.
For my Ultravids, I use the Leica Slide & Flex Bino-System strap. With this harness, I barely notice my bins are there. I can wear them for an entire day of shooting and never suffer from neck fatigue.
EXTRAS
I'm not a big "lister", but I do always have a local Florida field guide or checklist, as well as the iBird app (available on iOS and Android) handy to help identify and learn more about the birds I'm spotting.
Some of Kirsten's birding images:
---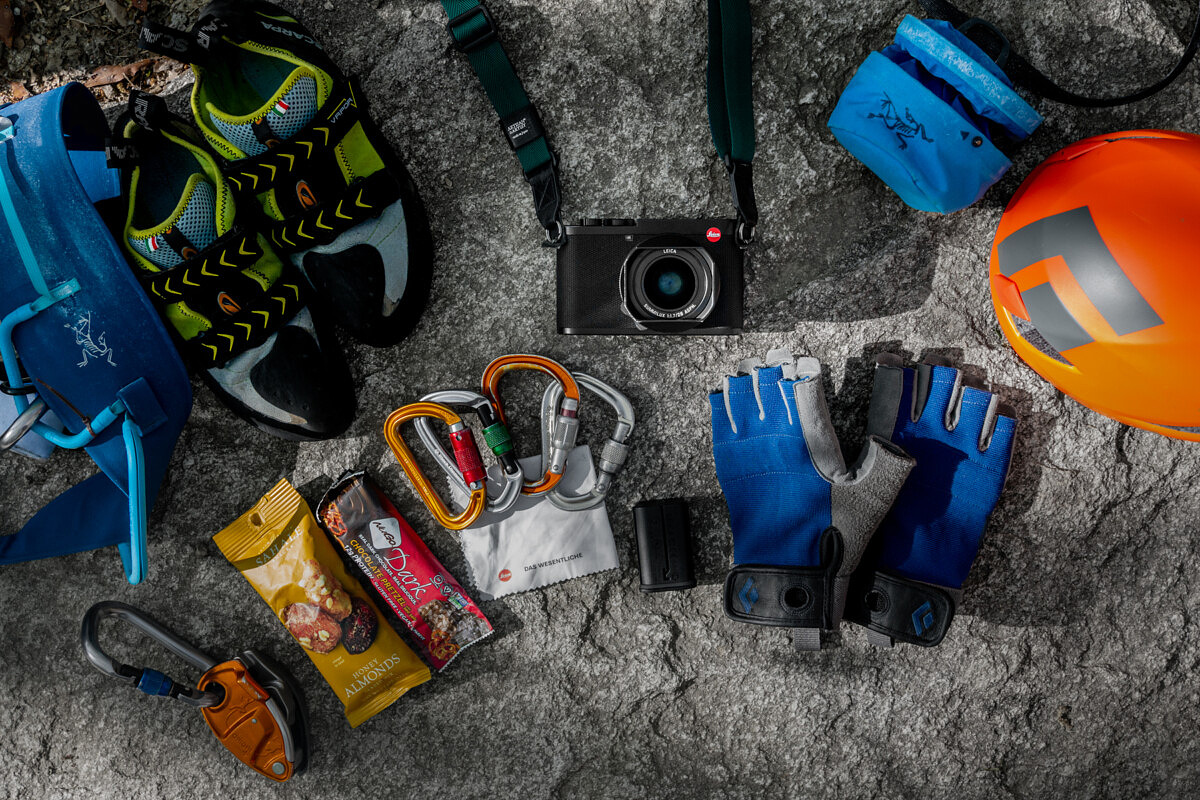 David's Climbing Setup
While photography has always been my first love and driving passion for as long as I can remember, my wife and I have more recently gotten into rock climbing. We've always had a love for the outdoors and try to lead an active lifestyle. And you may wonder why we chose to take up rock climbing in one of the flattest states in the country, hours from anything resembling a legitimate boulder. Thankfully, one of the best indoor climbing gyms, Project Rock, is just 15 minutes from our house. When I'm not off traveling, we head to the gym two to three times a week to get our climb on.
The gym is great, but the big room beckons – that's the one with mountains and trees and blue skies. Just as we must make pilgrimage to Utah or Colorado for our winter ski adventures, so too must we venture off to various climbing destinations. So far, we've hit crags in North Carolina, Tennessee, Utah and Maine, with many more spots on our list like Red River Gorge in Kentucky or the Whites in New Hampshire.
CAMERA – LEICA Q2
Most climbers just climb. But not me. Not content with quick snaps on my iPhone, I feel that the views afforded to me by the nature of our elevation high above the tree line calls for a real camera. I've taken the Leica CL with an 18mm pancake on a few of these trips, but on our last outing to Asheville and the Pisgah National Forest, I upped my game with the new Leica Q2. Sporting a flexible 28mm f/1.7 Summilux lens affixed to a full frame 47-megapixel sensor, the Q2 offers speed, flexibility and absolute image quality in a still compact package. With resolution to spare, I'm able to use the digital zoom feature to crop without carrying additional lenses like I would with other systems.
STRAP – ARTISAN & ARTIST* ACAM E25R EASY ADJUST + BLACK DIAMOND CARIBINER
And while the camera performs amazingly well, you'll probably notice the lack of a bag for the in-my-bag shot. That's because I don't climb with one. Using the Artisan & Artist* ACAM E25R Easy Adjust Strap, I secure the Q2 crossbody, with the camera resting just behind my left hip. To keep it from swinging into the rock as I climb, I employ an extra Black Diamond Positron locking carabiner, clipping the base of the camera strap to a gear loop on my climbing harness. This 'biner is on the lighter side and works perfectly keeping the camera in place. When I want to take a shot, either while on belay or at a rest position along the climb, I just unlock the screwgate, swing the camera around in front of me, and snap away. The Easy Adjust strap has enough length that I can get the EVF up to my eye without compromising the added security of keeping it slung across my torso. When finished shooting, I just swing the camera back to hip level and lock into place. Occasionally, I might scrape the lens shade into the rockface depending on my position relative to the wall, but the camera itself is almost always out of harm's way. Really, the biggest shock is seeing the black Q2 covered in climbing chalk from my hands. But due to the Q2's weather and dust sealing, I'm not worried. A quick wipe down or even rinse with a water bottle back in the parking lot does the trick and the Q2 is ready for some after climbing brews and bites.
EXTRAS
Besides the Q2, I make sure to keep an extra battery in the stash pocket of my climbing pants. On some longer multi-pitch routes, you can't physically get back to your main hiking backpack for hours. And let's face it, you never want to top out with a dead battery. Also in my pocket is a quickly accessible lens cloth for wiping off any dust, chalk or debris during the climb. When shooting into the sun for some dramatic angles of fellow climbers, a bit of dust on the front element can result in some nasty flare.
SNACKS
Just like taking an extra battery for my camera, the human body needs some mid-route fuel too. Climbing can burn about 500 calories per hour. So, I'll toss an energy bar and a bag of almonds into my chalk bag for a pick-me-up along the way. On longer climbs, we usually take a tiny backpack with water, a Peanut Butter sandwich and some fruit. After two hours of climbing, nothing tastes as good as that sandwich while looking out from the top of the final pitch.
CLIMBING GEAR
For the climbing itself, I use an Arc'Teryx harness, Arc'Teryx chalk bag, Scarpa Vapor climbing shoes, a Petzel Grigri Plus assisted belay device, a range of Black Diamond carabiners, a Black Diamond ATC Guide, Black Diamond belay/rappel gloves and a Black Diamond Vector helmet to protect my noggin.