My colleagues and I are often asked "What do you shoot with?"and what we take with us when we shoot (not to mention how we choose from a seemingly limitless number of camera bags). Being exposed to the full line-up of Leica gear on a daily basis, we have a solid grasp of the different systems Leica offers, and what works best for each kind of shooting situation. With summer travels upon us, we've put together a quick "In My Camera Bag" guide, so you can see what we are shooting with and how we pack. 
Scroll through or click to quick links below.
---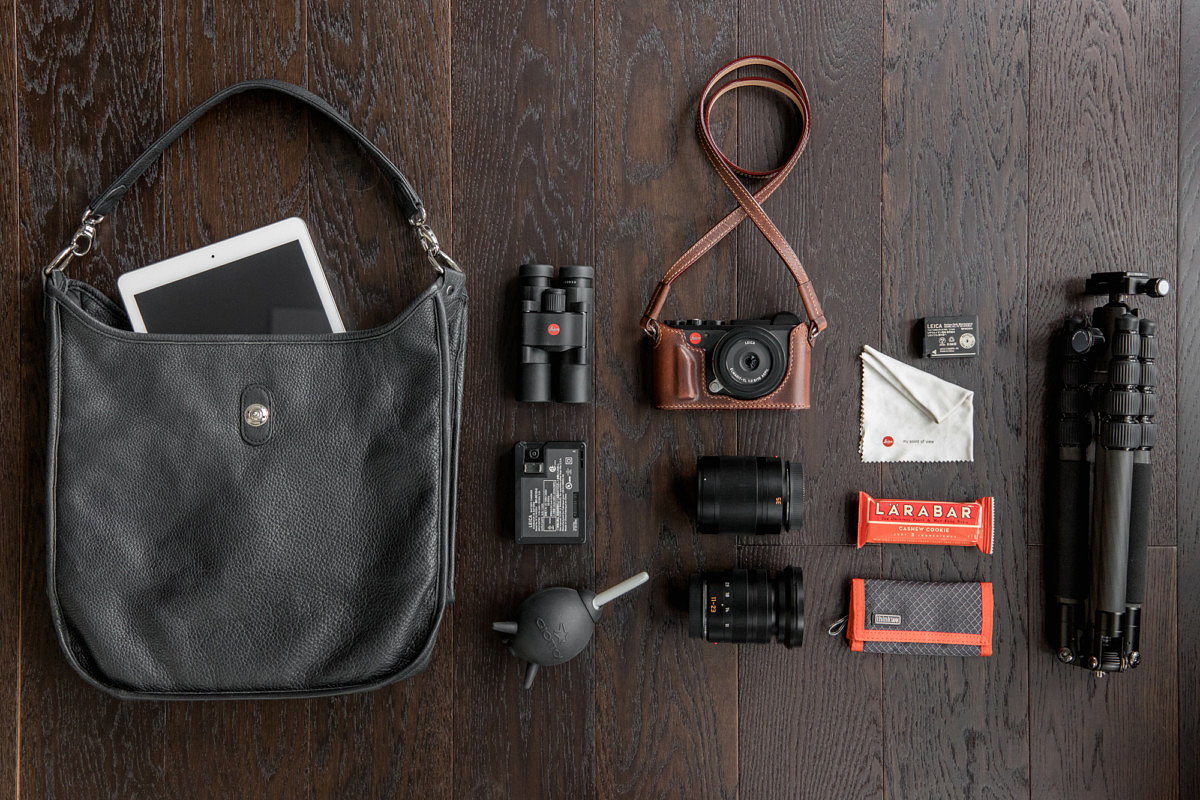 Kirsten – Leica CL
Kirsten Vignes has been a Leica Specialist with Leica Store Miami since 2012. She's originally from Minnesota, but much prefers the sunshine and warmth of South Florida. Kirsten loves photography, which she studied at Rochester Institute of Technology, graphic design, traveling the world, movies with mythical creatures, chasing non-mythical creatures (birds) and, of course, coffee. Read some of Kirsten's articles here.
Camera
For the past couple years, my travel setup has been the Leica Q, either solo, or accompanied by an M with a 50mm. But lately, my go-to camera has been the Leica CL. The CL is incredibly compact and offers a variety of lenses, and at 24 MP, I'm not sacrificing resolution.
My staple lens for the CL, is the 35mm Summilux-TL f/1.4 (50mm equiv.). I can't live without a 50mm, and the Summilux-TL gives the equivalent full-frame 50mm's a run for their money in terms of sharpness and bokeh. The second lens is the 11-23mm Super-Vario-Elmar-TL. This is a lens that took a while to grow on me as I'm generally not into zoom lenses. The 11-23mm is sharp at every focal length and shows minimal distortion at even the widest angle. At 11mm (18mm equiv.) I can shoot architecture and landscapes, then zoom into 23mm (35mm equiv.) and jump right into street photography. If I were to bring a third lens, it would be the 60mm Macro-Elmarit-TL (90mm equiv.). It's great for focusing on little details as well as portraits and close-distance wildlife. 
Bag
I use the Kate by Oberwerth. As a woman, I like a camera bag that can double as a purse, or vice versa. The removable camera insert makes it easy to transform from a functional camera bag to a stylish everyday carry-all. See my full video review on the Kate here.
Binoculars
Call me a nerd, but I rarely leave the house without a pair of binoculars. I don't think people realize how incredibly useful a pair of compact binoculars is when traveling.  From museums and architecture to nature and cityscapes, binoculars lets you get a better look at the world. I like the Leica 10×25 or 8×20 Ultravid BCR Compact Binocular for a super slim pair, or the the Leica Ultravid 8×32 HD-Plus Binocular for a full-size pair that doesn't sacrifice too much space in your bag. 
Tripod
"The best camera is the one you have with you." I think this common phrase could easily be applied to tripods as well. If a tripod is too large or heavy, it's going to spend more time in the hotel room than out in the field with me. I've been using the Sirui 025x for several years, and it's traveled with me all over the world. With a folded length of 12 inches and weighing only 2 pounds, I can easily fit it in my Kate.
Extras
I usually travel with two extra batteries per camera. I never know how many outlets a hotel room is going to have or how much time I'll have to charge up. Better safe than sorry. A little trick for Leica Q and CL owner's: the Leica V-Lux (Typ 114) takes the same battery, the BP-DC 12. The charger that comes with the V-Lux is cordless, using a flip down prong instead. Pick up a V-Lux charger, eliminate a cable and save space in your bag.
My CL sports an Arte di Mano half case. It not only protects my camera, it adds grip, making the camera feel more secure in my hand.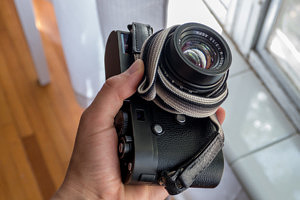 I store my memory cards in a Think Tank SD Pocket Pixel. It allows me to hold up to nine SD cards and I can clip it to a buckle or loop within my bag so I don't lose track of it. 
Tip
Pick small, flexible straps. You can wrap them around your lens or camera body and save on space in your bag (right). Some of my favorite straps are Arte di Mano's Comodo and Waxed Cotton straps, as well as Artisan & Artist's ACAM312N and ACAM301N braided silk straps.
---

Peter – Leica Q & M Monochrom (Typ 246)
Peter Dooling heads up the Leica Store Miami Photo Workshops program, planning and leading workshops around the globe. When he's not helping people improve their photography in exotic destinations, he's spending time with his family and taking his adorable Golden-doodle Sam for long walks in the woods. Peter used to live in Miami, but now resides in Carrboro, NC, where they have all four seasons, and hills. 
Cameras
My favorite cameras for travel photography are the Leica Q (Typ 116) and the Leica M Monochrom (Typ 246). I love the combination of color and black and white points of view. The Q comes with an amazing 28mm f/1.7 Summilux lens attached, which is great for street and travel photography. For a change of pace, I can shift to macro mode for detail shots and closeups. The autofocus is lightning quick and accurate, which makes it a great tool when you're on the move. On the Monochrom, I like the Leica Summicron-M 35mm f/2 ASPH because of its diminutive size and the sharp, punchy images it produces. The Monochrom never ceases to amaze me; it resolves so much detail for a camera its size. As my friend Richard Sexton says, "It's like a pocket 4×5."
Bag
I've been using the ONA Bowery for years. It's very small, easy to carry, and has quick access to everything I need. The Bowery doesn't look like a camera bag, which is exactly what you want when you're traveling. The waxed canvas construction looks great, repels rain, and the strap is very comfortable.
Strap
I have been preaching about the benefits of the Artisan & Artist ACAM E25R Easy Adjust Straps to anyone who'll listen. They are truly function-over-fashion straps, but in my opinion, nothing beats them for run-and-gun photography. This strap might as well be welded on to my Q because I never take it off. There is a quick cinching mechanism that allows you to tighten the camera close to your body when you're not taking pictures. That way, the camera doesn't bounce around while you're on the go. I also like the Artisan & Artist 312N Silk Neck Strap on the Monochrom. It's a beautiful strap that's incredibly soft and super easy to wrap around your wrist while shooting.
Thumbs Up
The Thumbs Up EP-SQ and the Thumbs Up EP-10S- Black never come off of my cameras. These little pieces of metal are my favorite accessories for rangefinder-style Leica bodies like the Q and the Monochrom. Because these cameras lack a grip for your forefingers, they require a fair amount of pressure to hold them. Using a Thumbs Up allows your thumb to carry the majority of the camera's weight, which really helps with hand fatigue when you're out shooting all day. As an added bonus, their small dimensions don't add much size or weight to the camera.
Color Filters
I really like using color filters with the Monochrom. They transpose color values to shades of grey, which can improve your images at the time of capture. The use of a Leica orange filter, for example, will darken a blue sky to give your image a more dramatic look.
Extras
I always bring an extra battery or two (Monochrom & Q) when I travel because I never want to miss a shot. I also like to bring the Plug Adapter (Angled) and the 1 Foot Power Cord for Battery Chargers to save space when I travel. The indispensable Leica Microfiber Lens Cloth is always in my bag to clean my lens, viewfinder and LCD.
Tips
Only carry what you need. I used to feel like I would miss out on a shot if I didn't bring every lens in my kit. Now I try to limit my choices and bring the bare necessities. This allows me to really get to know different lenses and focus on my surroundings.
---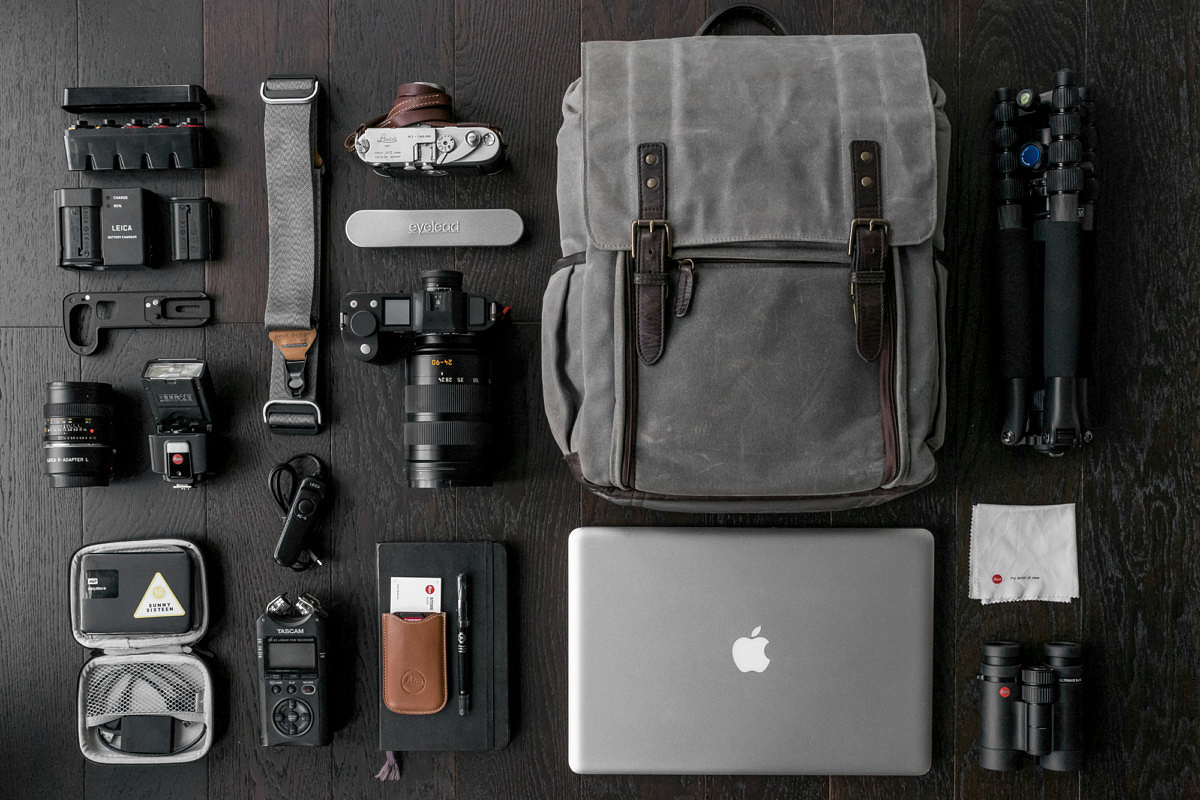 Colin – Leica SL
In his two years at Leica Store Miami, Colin McKinley has been bitten hard by the Leica bug. A recent graduate of the University of Miami's Frost School of Music in Media Production, Colin is a talented sound engineer. But don't overlook his photography and videography skills. He blends his two creative worlds seamlessly by producing music videos and photographing artists and bands. Outside his professional work, Colin loves landscape and street photography, which he does during his frequent travels. 
Camera
My camera of choice is the Leica SL, usually paired with the outstanding 24-90mm zoom lens. I also like to carry a fast prime lens, in this case a 50mm Summilux-R with an R-to-L adapter, and an SF-40 Flash unit for professional work.
For my personal work, I love to shoot on my old Leica M3. I usually shoot with 50mm lenses, so the M3's 0.91x finder is a real treat to use.
Bag
The Camps Bay backpack from ONA goes with me everywhere. It is extremely well-made, has enough space for both my digital and analog camera systems, and can still hold my 15" Macbook Pro and all the accessories that go with it: charger, external drives, headphones, etc.  I also appreciate the discrete, understated design; I feel safe carrying my expensive gear in a bag that doesn't look like a camera bag.
Strap
I tried so many camera straps before I finally arrived at Peak Design.  The PD "Slide" camera strap is a perfect match for the SL. It is versatile, extremely strong, and the unique quick-release anchor system makes it easier than ever to quickly switch over to a wrist strap.
Binoculars
If you've never had the pleasure of looking through Leica's world-class binoculars or scopes, I highly recommend checking them out. The 8×32 Ultravid HD+ binoculars make for a perfect travel companion, thanks to their light weight and compact dimensions.
Tripod
The Sirui A-1205 is a fantastic carbon-fiber tripod to bring with you when traveling.  It is compact and lightweight, but strong enough to keep the SL stable in fair weather conditions.
Extras
I like to bring the Leica SD Card Holder to carry my extra cards.  This travel-friendly accessory is crafted from high-quality leather that is soft to the touch, and is available in two colors.
Tips
There is an L-bracket Baseplate for the SL made by Really Right Stuff (RRS), which works extremely well with the Peak Design Strap.  If you attach the Slide strap to the strap lug on the baseplate instead of the normal strap lug on the top corner of the camera, the SL will hang vertically, with the lens resting securely on your leg.
---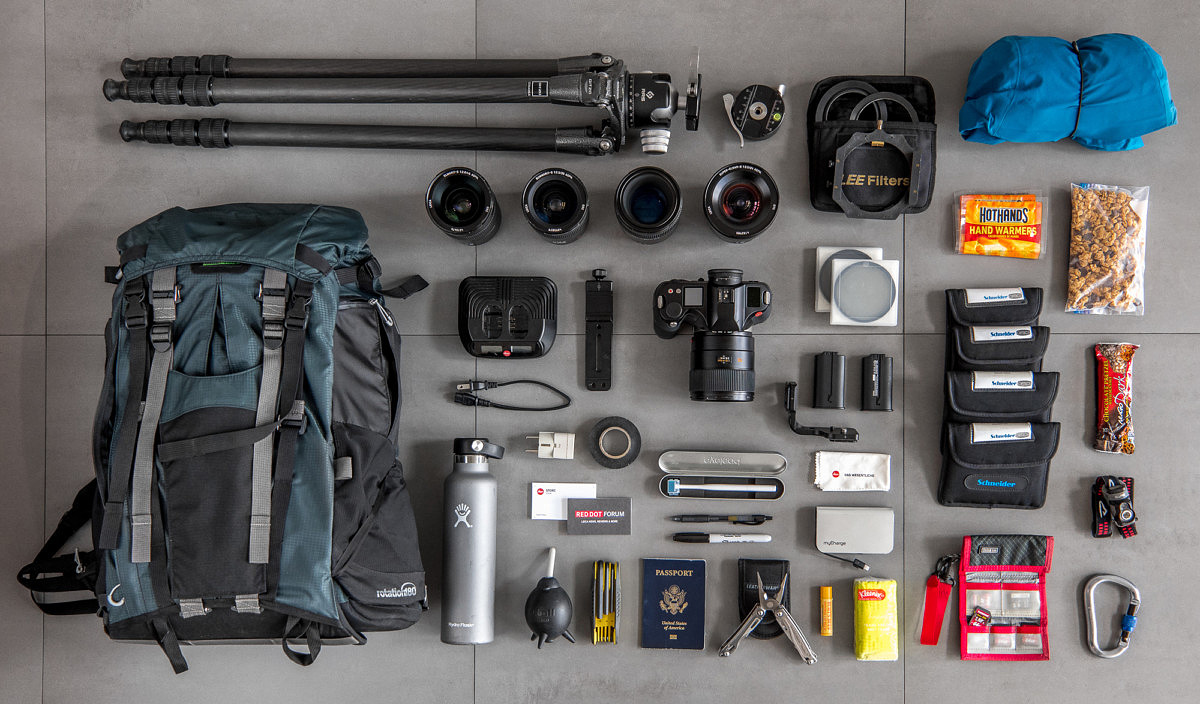 David – Leica S
David Farkas is a self-admitted Leica junkie and an avid photographer since he was seven years old. He owns and operates Leica Store Miami in beautiful Coral Gables, Florida with his wife Juliana. David has years of experience shooting with just about every Leica camera and lens made within the last few decades. He loves exploring far-flung landscapes as much as discovering a new city, as long as he's got a camera in hand. Check out David's camera reviews, technical articles and show reports here.
Camera
This is my serious landscape kit, so the Leica S (Typ 007) does all the heavy lifting. With 15.5 stops of dynamic range, a 37.5 MP medium format sensor and a rugged body, I depend on the S to capture all the grandeur nature has to offer. For lenses, I like to cover a wide variety of subjects, so I carry more than I should. In the bag are the 24, 30, 45, 70 and 120 S lenses. I absolutely love the color and detail from this system and the ergonomics and weather sealing let me work in everything from darkness to pouring rain with ease.
Bag
Like my colleagues, I've gone through so many different bags over the years, in search of "the one." I recently replaced my old Kata Bumblebee photo backpack with the MindShift rotation180° Professional 38L and really like it. This bag really hits a lot of the right notes. It's spacious enough for me to fit an S and five lenses, along with my filter kit, various tools, snacks and extra layers. The straps have ample padding and even fully loaded, doesn't leave me with sore shoulders or a stiff back.
The MindShift is designed with many elements of backpacking packs, such as stash pockets for a rain jacket, hip pockets for quick access items like batteries or tools, substantial waist straps to transfer the load to your hips, a gear loop for attaching carabiners, and even pocket for a full 2 liter hydration bladder. The bag also has a neat trick, which is that the bottom section of the backpack, the one on the waist belt, swings around 180 degrees like a fanny pack, allowing me to access lenses without having to remove the whole pack. This is great when I'm hiking a trail and need to swap my wide out for a tele and don't want to slow my pace.
Cleaning
Shooting in the filed and changing lenses as often as I do is a recipe for a dusty sensor. I use a Giottos Q Ball Blower Bulb as a first line of defense, blowing dust and filaments off the sensor. If I still have stubborn dust at the end of the day, I'll use the Eyelead Sensor Cleaning Kit to give it a more thorough cleaning. And I always have at least one or two Leica lens cloths to keep lenses and filters sparkling.
Tripod
My number one, can't leave home without it accessory is my trusty Gitzo GT3543XLS 3-Series Systematic tripod with Relly Right Stuff BH-55 ball head and RRS Panning Clamp Adapter. The tripod is a monster, capable of standing 7 feet tall fully extended and holding up to some nasty wind. I've taken it all around the world, submerging it in oceans, rivers, lakes, mud, dust, you name it. And to mount the camera, I use a Really Right Stuff L-bracket for the S. This allows me to go vertical without needing to tilt the ball head over, creating a much more stable platform over the center of gravity. Works like a charm for shooting panoramas as well.
Filters
I also take along a full filter kit for landscape photography, which includes B+W circular polarizing filters in E72 and E82, a Schneider 4″ filter holder, 4-stop and 6-stop Schneider Platinum IRND filters, and 4-stop Schneider GND filters in both hard and soft edge. If you want to read more about filters and how I use them, check out my article here: Essential Filters for Landscape Photography
Power and Memory Cards
Of course, I make sure to carry two extra batteries for the S along with the Pro Charger and 1-foot cord. The Pro Charger lets me charge two batteries at the same time, which is great when you only have a few hours to sleep before catching the next sunrise. Two batteries can get me through a really full day, so the third battery is really just insurance. And if the trip takes me outside the US, I have a mains power adapter plug. To make sure I have enough space to capture a full trip's worth of image, I carry four 64GB Transcend 600x SDXC cards in my ThinkTank Pixel Pocket Rocket case.
Tools
My head lamp gets used quite often. After shooting until last light following a sunset, you can quickly find yourself alone, having to negotiate a bumpy trail in the dark. It's nice to have light. I've even used it for light painting in a pinch. Along the lines of preparation, I always carry a Leatherman Sidekick multi-tool, a multi hex wrench, a small roll of electrical tape, a climbing carabiner and myCharge phone juice pack. You can fix almost anything with this combo, from torn pants to a broken tripod leg and keep your phone charged for days.
Extra Layers
Lastly, even on the nicest of days, my trusty Arc'teryx Beta AR technical shell gets rolled up and tucked in the front pocket of my backpack in case the weather turns nasty. If there is a chance of things cooling off, I'll also add in my Arc'teryx Cerium LT light down jacket. This combo, as part of a solid layering system, lets me take full advantage of the beauty of dramatic weather without having to suffer as a result of it. Read more here: What to Wear: The Definitive Clothing Guide for Landscape Photography
Tips
Besides being prepared for the weather, by taking along lightweight technical layers, always make sure to have a packet of single-use hand warmers in your bag. For those times you find yourself with frozen hands, something so small can make such a huge difference.
My 24oz Hydroflask is awesome for either keeping water cold, or coffee hot for hours on end. Nothing beats having some nice hot coffee when you're standing in the freezing cold, waiting for the light. I also make sure to take a couple snacks with me, to keep my energy level up and hunger at bay. I would always rather get the shot of a lifetime than have to stop shooting just to have a meal. Granola trail mix, nuts, or an energy bar are easy to fit in the bag and eat on the go.
---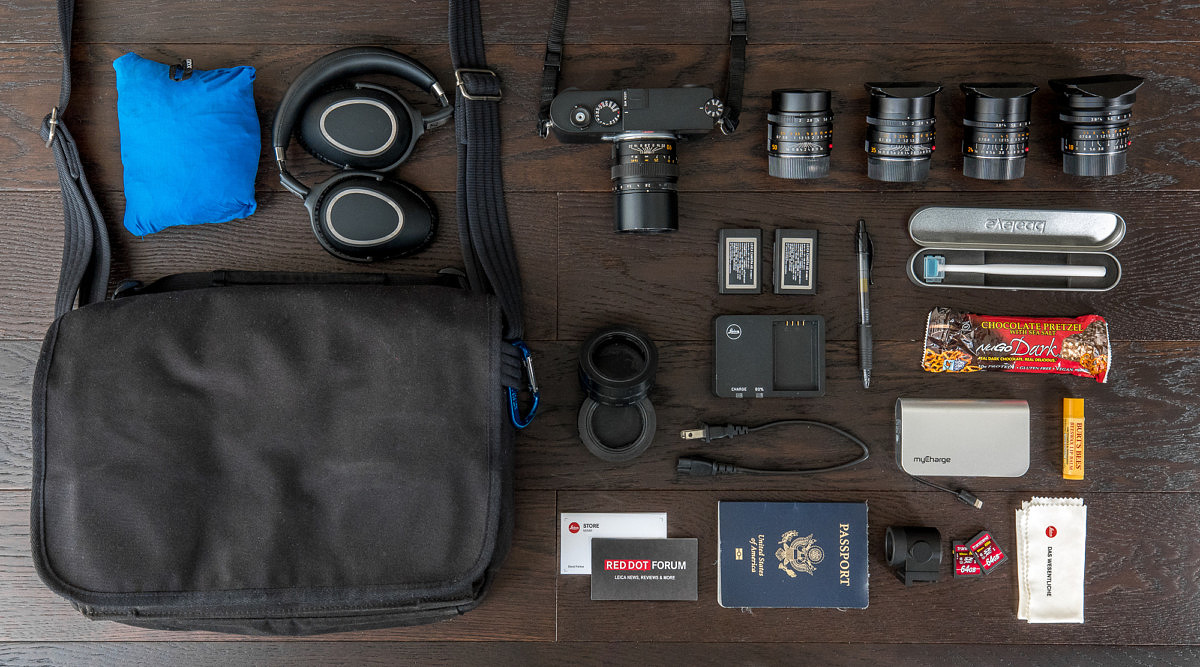 David – Leica M10
Camera
For travel and urban photography, the Leica M10 is hard to beat. Compact size, big performance. And it just puts a smile on my face every time I go out and shoot with it. The M10 becomes an extension of me as I wander around a new city. For lenses, I try to balance coverage, speed and weight. On the wide side, for interiors and architecture, I love the 18mm Super-Elmar-M ASPH and the 24mm Elmar-M ASPH. Compact and bitingly sharp. My most used lens is my 35mm f/1.4 Summilux-M ASPH. Such a perfect travel companion. When I go out to dinner when traveling, I'll often just take the M10 and 35 Lux with no bag. For portraits and details, I rely on the exceptional 50mm APO-Summicron-M and my trusty 90mm Elmarit-M.
Bag
There is nothing fancy about my Think Tank Retrospective 7 in black. It's understated and as basic as it gets. But I love it's functionality. Plenty of room for my kit, super lightweight, very comfortable padded strap, and a good amount of pockets. Gotta have pockets.
Cleaning
I change lenses fairly regularly, so dust can be an issue. The Eyelead Sensor Cleaning kit works great on the easily accessible M10 sensor. For lenses, I've always got a Leica Lens Cloth in my pocket.
Power and Memory
As always, I'm a big believer in carrying extra batteries and a charger in your bag. I've been in situations where the shooting has been so good that I've drained two batteries before lunch. Usually, you can find an outlet in most restaurants or cafes, so I'll pop a battery on to charge while I eat a bite or get a coffee. The 1-foot short cord takes up much less space in the bag.
For memory cards, I have one 64GB Transcend 600x SDXC in the camera and one extra in my pocket. Even with my heavy shooting, two cards will usually cover me for a good week of travel.
EVF
While some purists might disagree, I love using the Visoflex 020 EVF on the M10. Focusing and composing become much more precise. By flipping it up 90 degrees, I can use it like a waist level finder, which is much more discreet on the street.
Extras
In urban environments, there are many more opportunities to grab a bite, an espresso, a gelato, etc. So, I don't typically fill my bag up with snacks or water. That being said,  I will usually throw in an energy bar just in case.
I tend to rely on my phone when traveling, pulling up maps, looking for cafes, checking travel plans, using Google translate, etc., so I make sure to carry a rechargeable juice pack to keep the phone topped up. My favorite is the myCharge, which has flip-out prongs for charging and built-in cords for iPhone and Android.
My Sennheiser PXC 550 Bluetooth Noise Cancelling headphones are great for  listening to music. Or just eliminating the background rumble  while on a train or airplane. The rechargeable battery last for days, and I can always give it a quick boost from the myCharge.
Lastly, I sometimes carry an emergency wind/rain shell. Folded up into its own pocket, the Arc'teryx Squamish hoody only weighs a few ounces but can be a lifesaver if the wind picks up and temperatures drop. For places with big temperature swings between day and night, or sunny and shady, I will clip my Arc'teryx Cerium LT down jacket in its stuff sack to the outside of the bag.
Tips
M lenses are compact and most camera bags are usually designed for larger lenses. Use the OP/TECH back-to-back M caps to stack two Leica M lenses to fit into one standard lens slot in your bag. I carry two for my standard M kit, meaning I have the 35 Lux on the body, and two stacked lens combos, the 18+24 and the 50+90 in the Retrospective 7.
---

Juliana – Leica D-Lux and X-U
Juliana loves documenting her various adventures and travels taken with family and friends. She considers herself to be less a photographer who travels, and more a traveler who takes pictures. Having grown up in the American Southwest, she loves hiking, climbing and spending time in the outdoors. She also enjoys traveling abroad, exploring new destinations and checking out sites from her Atlas Obscura.  
Cameras
The Leica D-Lux 109 is my standard go-to when traveling. A nice combination of simplicity and flexibility, the D-Lux is capable both outdoors in full light as well as in low light situations thanks to its large M4/3 sensor and fast f/1.7 lens. The camera is compact and light, so I don't feel weighed down when I'm out and about. To keep a good, one-handed grip on the camera, I like to use the Arte Di Mano half case. And the red rope strap included with the new D-Lux Explorer Set is comfortable and soft, not to mention stylish.
Although not as feature-rich as the D-Lux, the Leica X-U is a pure adventure camera. If I'm planning an outing to the beach, or expecting inclement weather while traveling, I love the peace of mind I get by taking the X-U. Fully weather sealed, shock resistant, and submersible up to 50ft, the X-U can keep up with me on most undertakings. I recently carried it while canyoneering in Utah and didn't have to fuss with putting it in, and taking it out, of a dry bag every time we encountered a water obstacle in the slot canyons, nor did I have to worry about mud, sand or grit on the trail. For sailing on the lake, snorkeling, or other deep water activities, Leica makes a floating strap so you don't have to worry about the camera becoming sunken treasure. Usually, though, I have the Leica Neoprene Outdoor Wrist Strap on the X-U, which keeps it secure and close at hand.
Binoculars
I recently started carrying binoculars with me everywhere! I never realized how often I wished I could see something in the distance and the Leica Trinovid HDs in 8×32 offer just the right balance of magnification, brightness and size. They're are perfect to have to have when hiking the mountains, trekking in the city, sailing, climbing or just being a passenger on a road trip.
Bag
The Artisan & Artist* ACAM 7100 is fantastic for my travel kit. It features very durable cotton canvas construction which is much lighter weight than other leather bags the same size. I also don't have to worry about the bag getting wet as I would with a leather bag. The Artistan bag has plenty of  space and extra pockets to fit everything I need, and the wide carrying strap just gets more comfortable with age.
Extras
I keep a lens cloth in my bag at all times for keeping the LCD and lens clean. And, since I prefer to carry only one bag at a time, my camera bag also does double duty as a purse for carrying my ID, credit cards and cash.  In this case the Leica SD and Credit Card Holder comes in very handy. Extra batteries for the D-Lux and X-U makes sure I'm not out of juice mid-adventure. 
Tips
The D-Lux Explorer Set also comes with an auto-cap. If you've got the regular version of the D-Lux, make sure to pick up one of these caps. It automatically opens when you turn the camera on and self-closes when you turn it off. This protects the lens and you never have to worry about losing the lens cap.
To clean the X-U after a bout with salt water or a sandy beach, rinse the camera for around ten minutes in a bucket filled with cool tap water. Of course, make sure the camera is completely dry before you open up the battery/SD access door.
---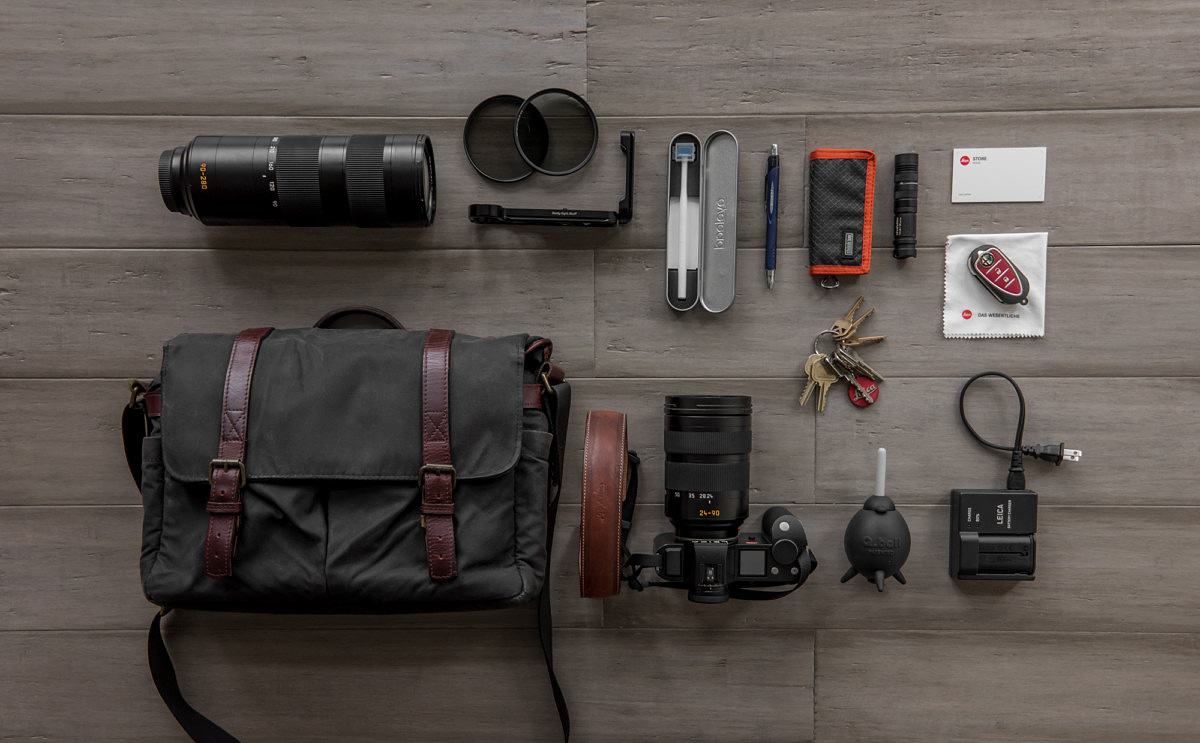 Josh – Leica SL
Josh Lehrer has been with Leica Store Miami since 2010 and is as obsessed with Leica as he is with fast cars and his Golden Retriever, Enzo. He particularly enjoys obscure and vintage Leica gear and is probably the only person to use the Leica S for photographing car shows. Learn more about Josh here.
Camera
In my world, the perfect setup is the Leica SL with the 24-90 and 90-280mm lenses. For my automotive photography, I love the compression of space when working at the long end of the 90-280 and how it allows me to isolate small details. The lens is razor-sharp wide open and image stabilization is always there to keep my shots steady. The 24-90 comes in handy when I am in a tight spot or when I am looking to incorporate some landscape shots. You'll notice I don't carry lens hoods. If you ask me, they just get in the way!
Bag
The ONA Brixton is perfect for me. It fits the SL with the two zoom lenses, plus all my accessories, while still maintaining a low profile since it looks like a classy messenger bag. The big interior pocket is perfect for documents and spare memory cards too. You can even re-wax the canvas if you want to refresh the look after a few years of use.
Filters
To save me time when I swap between the two zoom lenses, I carry an 82mm polarizer for each one. In my kit is one B+W 82mm F-Pro Kaesemann High Transmission Circular Polarizer MRC Filter (which has a bit tighter feel to the ring that I prefer on the 24-90 so it does not adjust by accident) and one Leica E82 Circular Polarizer  (which is a bit looser than the B+W to adjust) that I use on the 90-280.
Cleaning
To keep my gear clean, I employ a few handy tools. First and foremost is my trusty Leica microfiber lens cloth for cleaning LCD screens (and my glasses). A Giottos Q Ball Blower Bulb gets surface dust off lenses, filters and the SL's sensor. When the sensor needs a bit more attention, that's when I'll give it a deeper cleaning with the Eyelead Sensor Cleaning Kit.
Extras
Since I can't stand the long, unwieldy power cable you get with the SL, I've always got a 1 Foot Power Cord with me for the battery charger. The Think Tank – SD Pixel Pocket Rocket keeps all my SD cards organized and I can keep a business card in there too (with spare cards tucked into a side pocket of the Brixton). My keys, flashlight and pen find homes in the other pockets around the bag, and I'll usually keep the spare SL battery in my pants pocket for quick access.
Tips
Really Right Stuff makes a fantastic L-bracket for the SL, which makes tripod use far easier and gives you a secondary attachment point if you prefer a hand strap over my Arte di Mano Sughero Neck Strap. I always keep a few extra bag dividers at the bottom of the Brixton, which not only provide additional protection for my gear but also allow me to change how the bag is laid out depending on what I may be bringing along with me that day!
---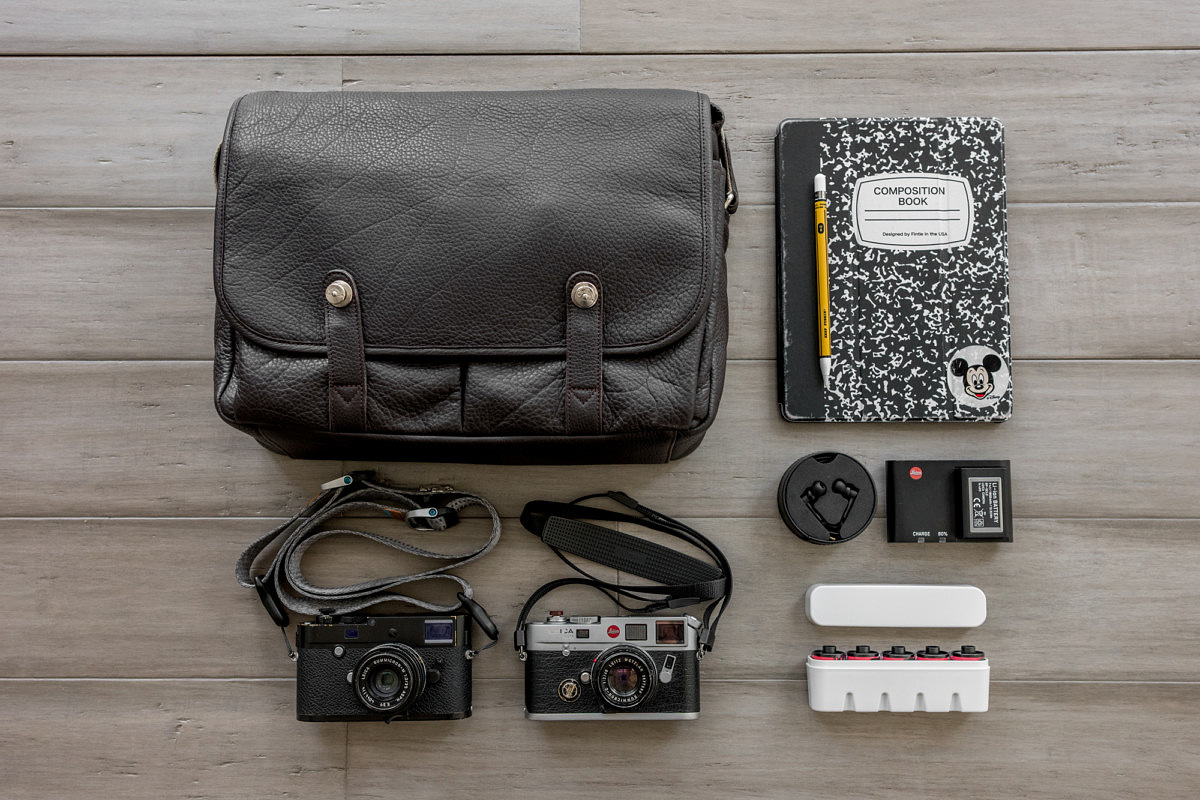 Luis – Leica M
Luis Mora has been with Leica Store Miami for 3 years and a Leica photographer for more than a decade. A little more than obsessed with analog photography and vintage cameras, he's especially fond of his M6 and 40mm Summicron-C. See some of Luis' work here. In addition to being a gifted photographer, Luis is also a talented graphic artist, who designs Red Dot Wear, Leica Store Miami's line of Leica-focused apparel and accessories. 
Camera
I like simplicity, sometimes having too many options deters me from actually taking out my camera and shooting.  I usually carry two cameras with me, one lens per camera.  It takes the guessing game out of what gear I'm using and I can apply all that extra mental energy into my photography.  I carry around an M-P (Typ 240) with a 35mm Summicron and my trusty M6TTL with a 40mm summicron from 1973.
Bag
I've gone through many many bags, but the one that's captured my full attention lately has been the Oberwerth William.  It's perfect for a casual day out, but it dresses up really well. It's highly functional and the build quality is wonderful. I don't carry around a laptop when I'm shooting but the William easily fits a 13" MacBook and I've personally squeezed a 15" in there.  I normally carry around my 10.5" iPad Pro.
Extras
I always have at least one spare battery with me and a charger,  the front pockets of the William are perfect for holding those.  I'm one of those people that loves shooting with soft releases, so the M6 always has a wooden Artisan Obscura soft release to keep the vintage vibes going and I try to keep the M-P sleek with a Leica M soft release. Besides that I'll usually carry a Japan Camera Hunter half case stocked with Streetpan and a pair of Master & Dynamic Headphones, because a little shooting soundtrack is always necessary.
Tip
Go out and shoot.