Today, Leica has announced its highly anticipated third-generation Leica Q all-in-one full-frame digital camera. The new Leica Q3 stays true to the concept embodied in the popular Leica Q2, while adding some welcome and innovative updates. The new model keeps the same basic exterior styling and exceptional 28mm f/1.7 Summilux ASPH lens with macro mode, but gets some serious upgrades under the hood, along with a few interface tweaks.
Inside, a new 60-megapixel BSI CMOS sensor paired with a next-generation Maestro IV processor turns out images with 14-stops of dynamic range, with the option of variable resolution DNG files along with expanded digital zoom options. Equipped with a massive 8GB of buffer memory, the Q3 can crank out up to 15 fps bursts. The Live View experience is enhanced further, with both a refreshed 5.76 million dot OLED EVF and tiltable 1.84 million dot rear LCD touchscreen.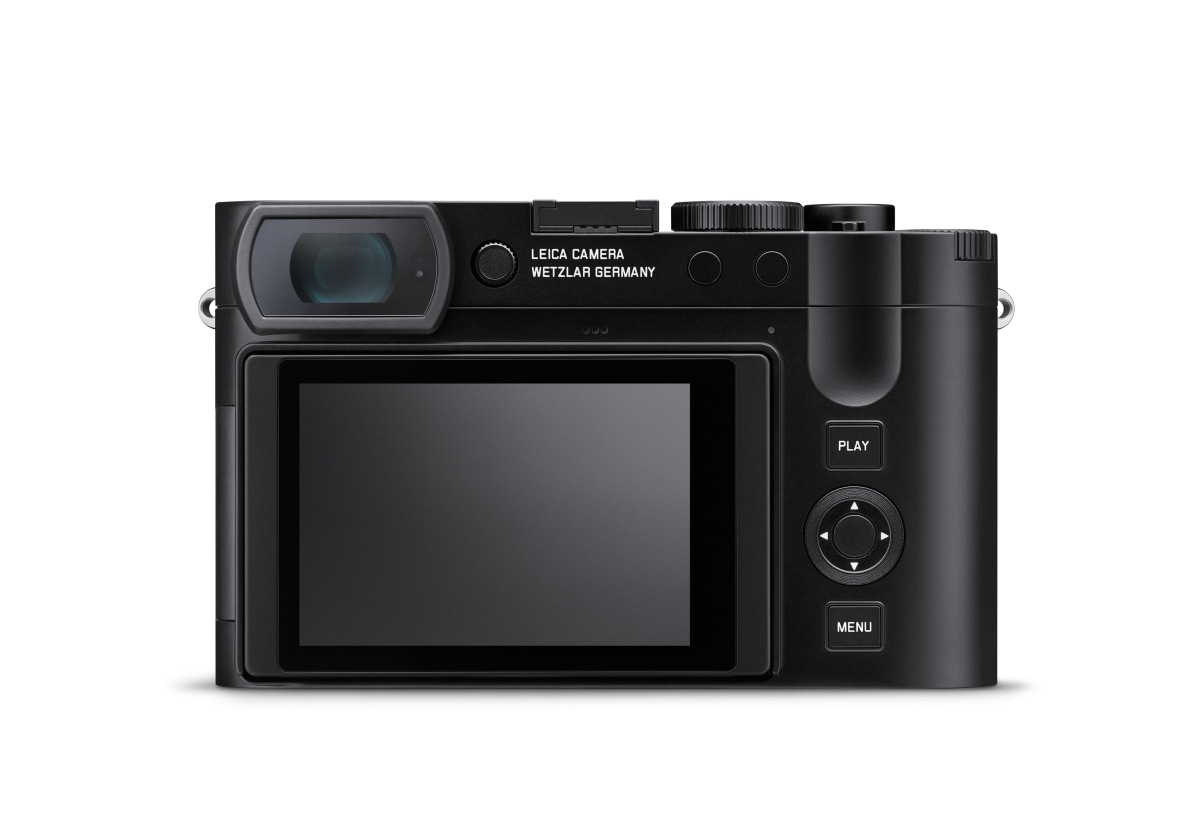 The autofocus system is all new, featuring a hybrid approach using both contrast and phase detection, meaning quicker and more precise focus. For video users, the Q3 becomes the first camera in the Leica portfolio to offer up to Cine8K recording and ProRes support. The added USB-C port allows for in-camera charging and data transfer, while the HDMI connector enables the use of external video recorders.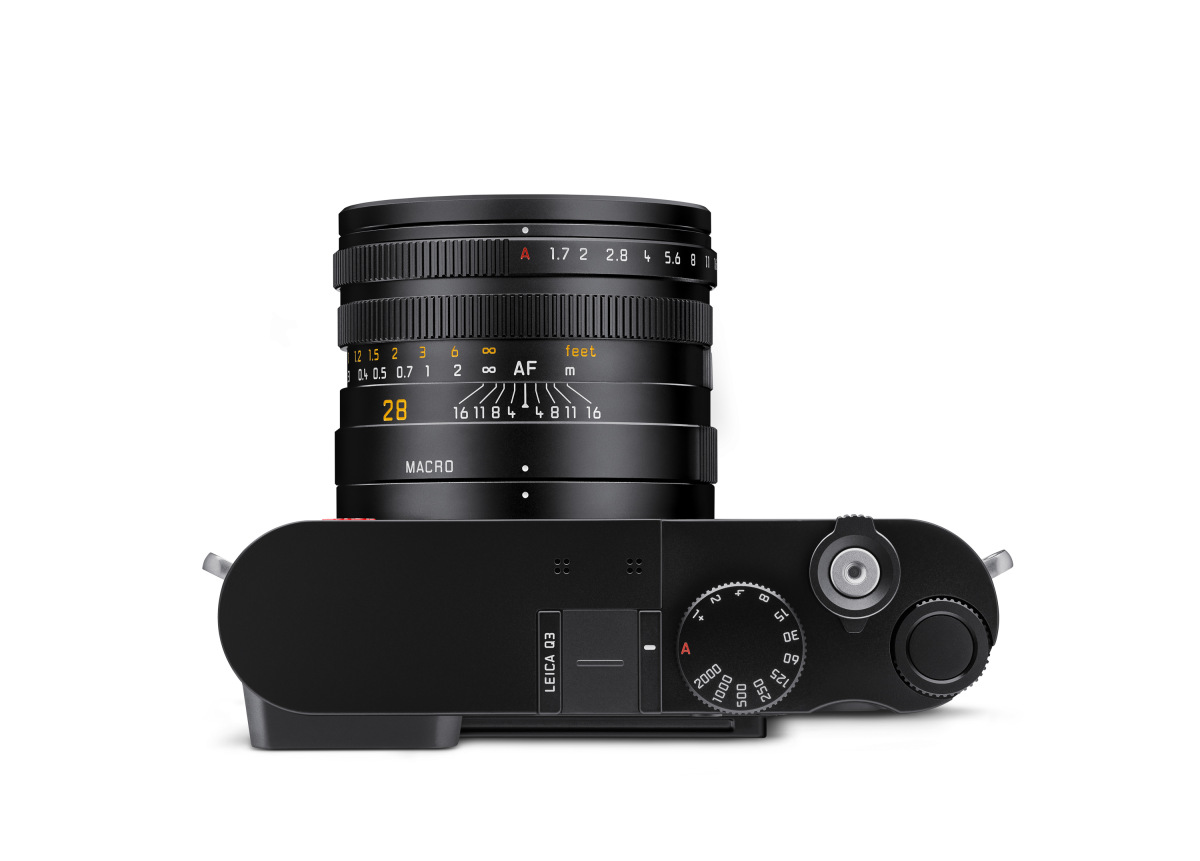 60 Megapixel BSI CMOS Sensor
Headlining the changes, the Leica Q3 is now packing a cutting-edge 60 megapixel BSI CMOS sensor. With an ISO range of 50-100,000 and 14-stops of dynamic range, this chip delivers next-level image quality.And if it's anything like the one in the M11, expect a bump in low light performance along with the increased resolution. This is made possible by utilizing BSI technology.
Back Side Illuminated sensors move the supporting electronics to the rear of the chip, allowing for significantly more photosensitive surface area and shallower pixel wells, resulting in no sacrifice versus a lower-resolution traditional design sensor with electronics in the top or middle substrate layers.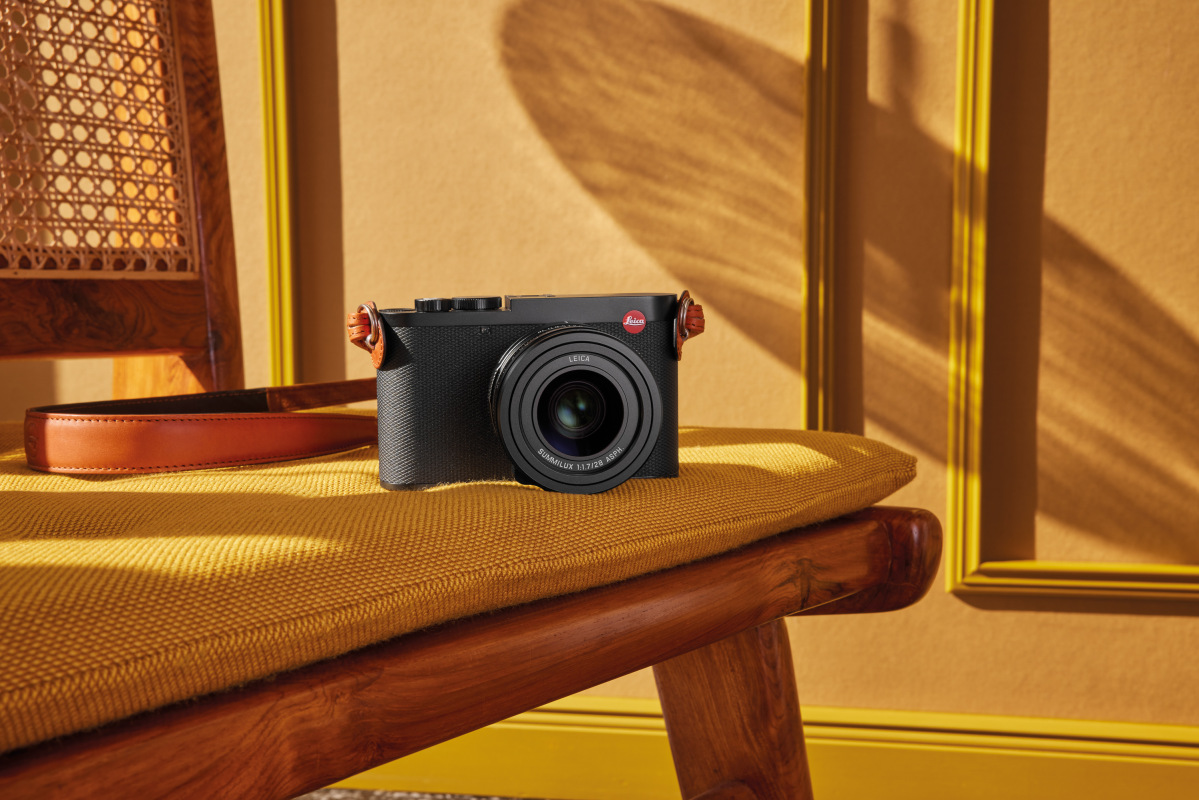 With the increase in pixel count, Leica has expanded the digital crop modes from 35mm up to a 90mm equivalent. While the resulting 6MP images at 90mm might be a bit light on pixels, the 39MP for the 35mm is not. Even 19MP at 50mm equivalent is quite usable. If you do use the crop modes, the on-screen review will show the cropped images, but rest assured that the DNG recorded to the SD card still contains the uncropped, full image off the sensor so you can tweak later.
Triple Resolution
Also borrowed from its M counterpart, the Q3 now offers triple resolution technology. Select L-DNG for full 60MP images, M-DNG for 36MP and S-DNG for 18MP files. While dropping the resolution of the sensor won't results in any improvement to low light ability, it will reduce file size and increase burst depth. Just as in the M11 and M11 Monochrom, we generally recommend sticking with full-res L-DNG for highest image quality.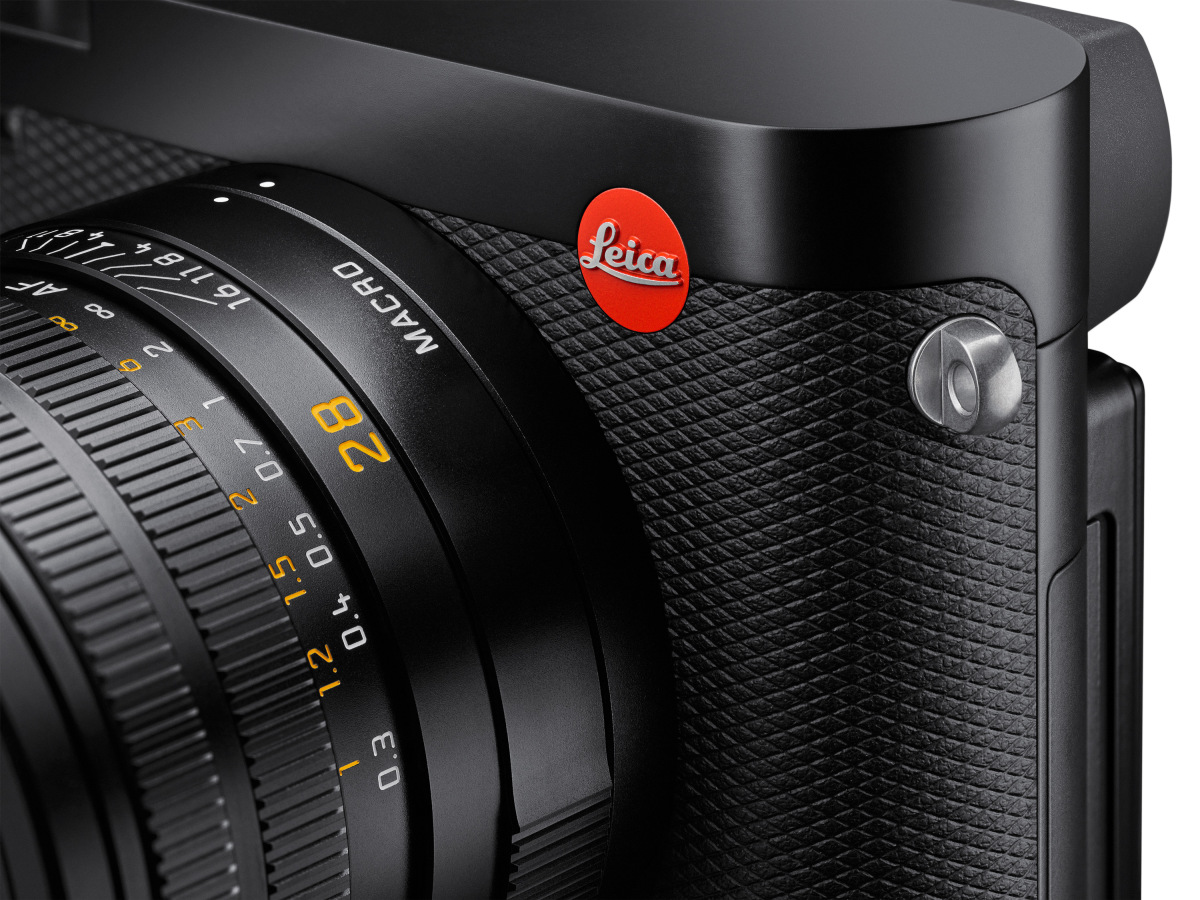 Maestro IV Processor + 8GB Buffer
Making its debut, the next-generation custom Maestro IV processor boasts some serious horsepower. The Q3 ups the already-decent 10 fps maximum burst rate of the Q2 to a blazing 15 fps, despite the resolution increase. And with a generous 8GB of buffer memory, expect burst depths between 63 images at full bore up to 164 shots when shooting at a more modest 2 fps. Regardless of how you shoot, you'll never have to wait for the camera to keep up.
Upgraded video with up to Cine8K
Now possible with the beefy new processor and BSI sensor, the Leica Q3 is the first in the lineup to shoot 8K video. And not just standard 16:9 8K. The Q3 can film in the more cinematic 17:9 Cine8K in 10-bit. For those not up on video standards, this means that the diminutive Q3 can record a whopping 35 megapixels at 30 frames per second. If 8K is overkill, the camera supports C4K up to 60fps and FullHD up to 120fps. And while currently limited to FullHD, the Q3 is also the first Leica to record internally to ProRes 422HQ.
New Autofocus with Contrast and Phase Detection
Debuting on the Q3 is an all-new hybrid autofocus system. Employing both traditional contrast detection as well as a phase detect with 315 fields, depth mapping and AI-driven subject recognition, the AF is faster and more accurate than ever. Eye/Face/Body + Animal Detection works remarkably well, and assures sharp focus even for moving subjects.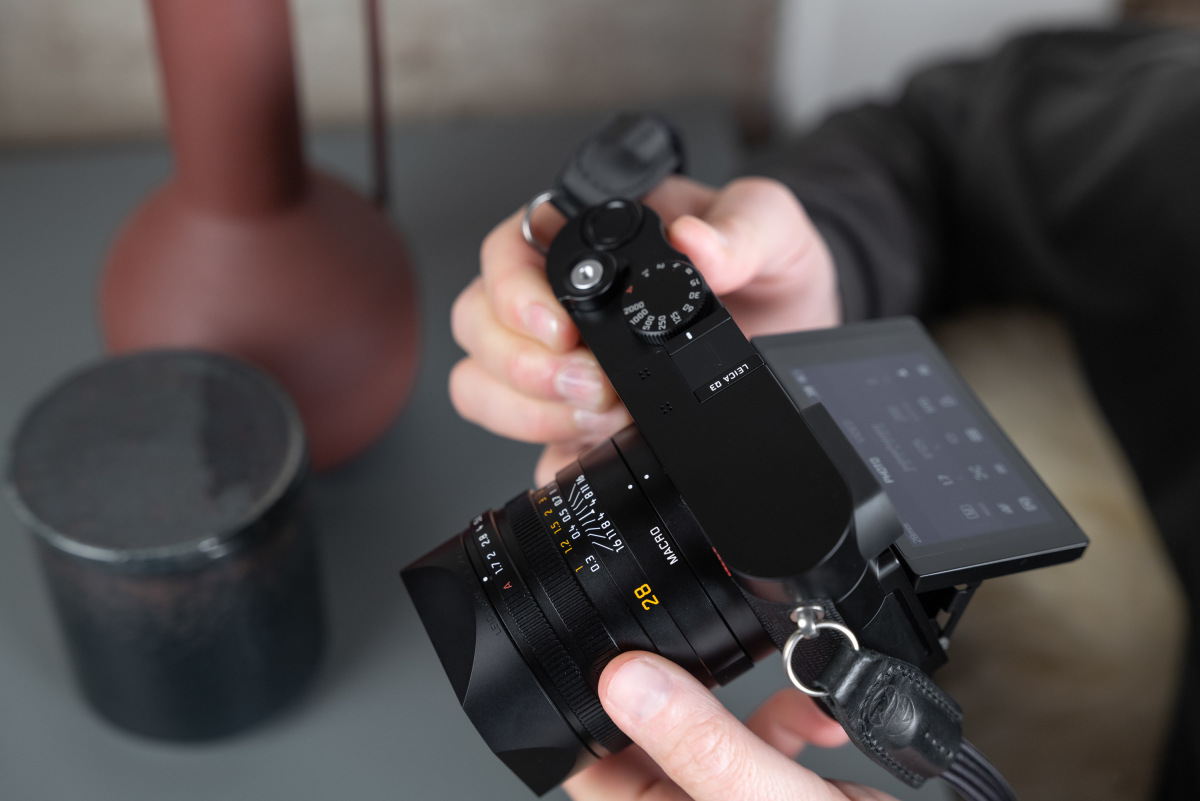 New EVF
With a 56% increase in resolution, the new built-in 5.76 million dot OLED EVF is simply stunning. Crisp, clear and smooth, the viewfinder manages to provide an SL2-level experience in a significantly smaller package. And with a 120fps refresh rate, generous eye relief, and easy-to-set diopter the EVF is one of the most notable upgrades.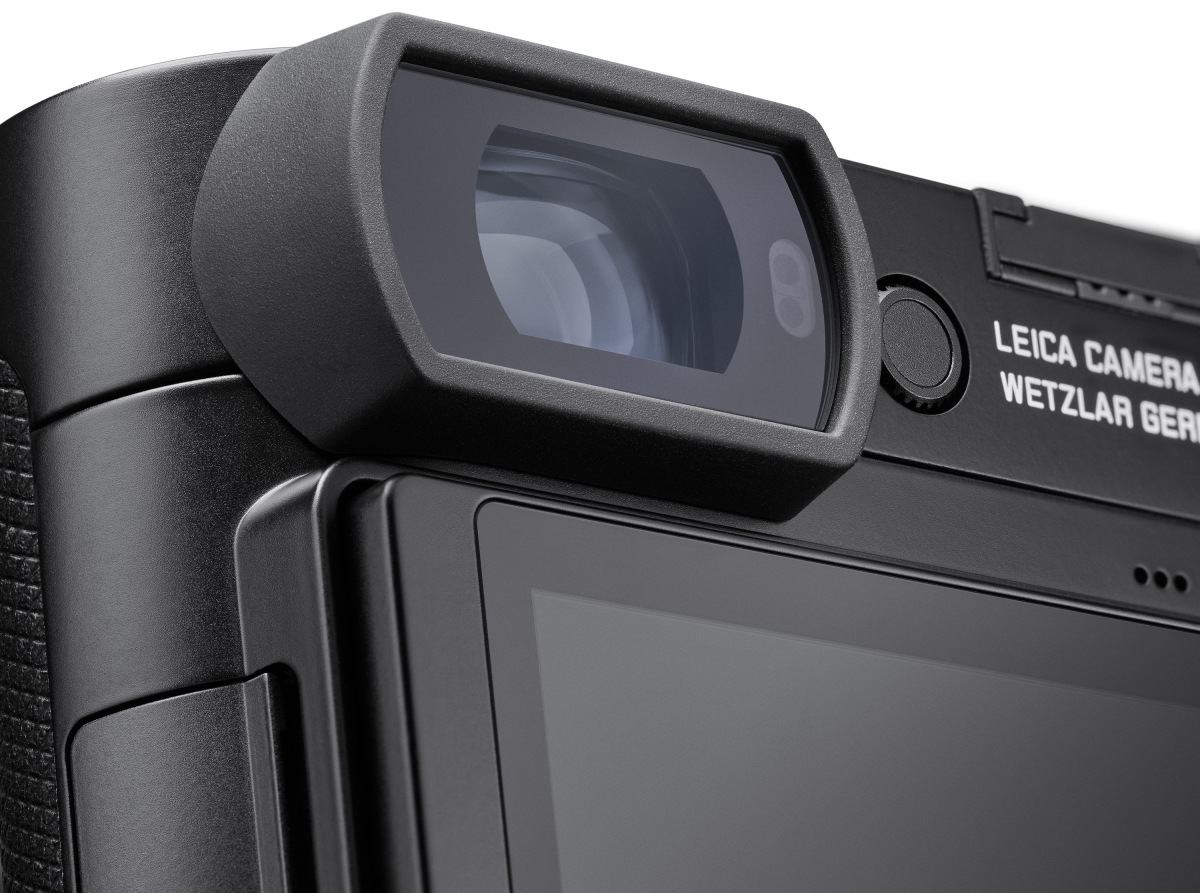 New tiltable rear LCD screen
In a major departure for Leica, the Q3 now sports an articulating rear LCD. Titling upwards and downwards, the screen offers additional flexibility for off-angle shooting. Whether holding overhead or close to the ground, the screen proves to be a useful addition. The LCD touch panel itself gets upgraded as well, now clocking in at 1.84 million dots, a 76% bump from the Q2.
Revised control layout
In order to accommodate the new titling screen mechanism, the left-side buttons have been eliminated and moved to the right of the screen. Now just a PLAY button and MENU button flank the top and bottom of a four-way direction pad with central FN button.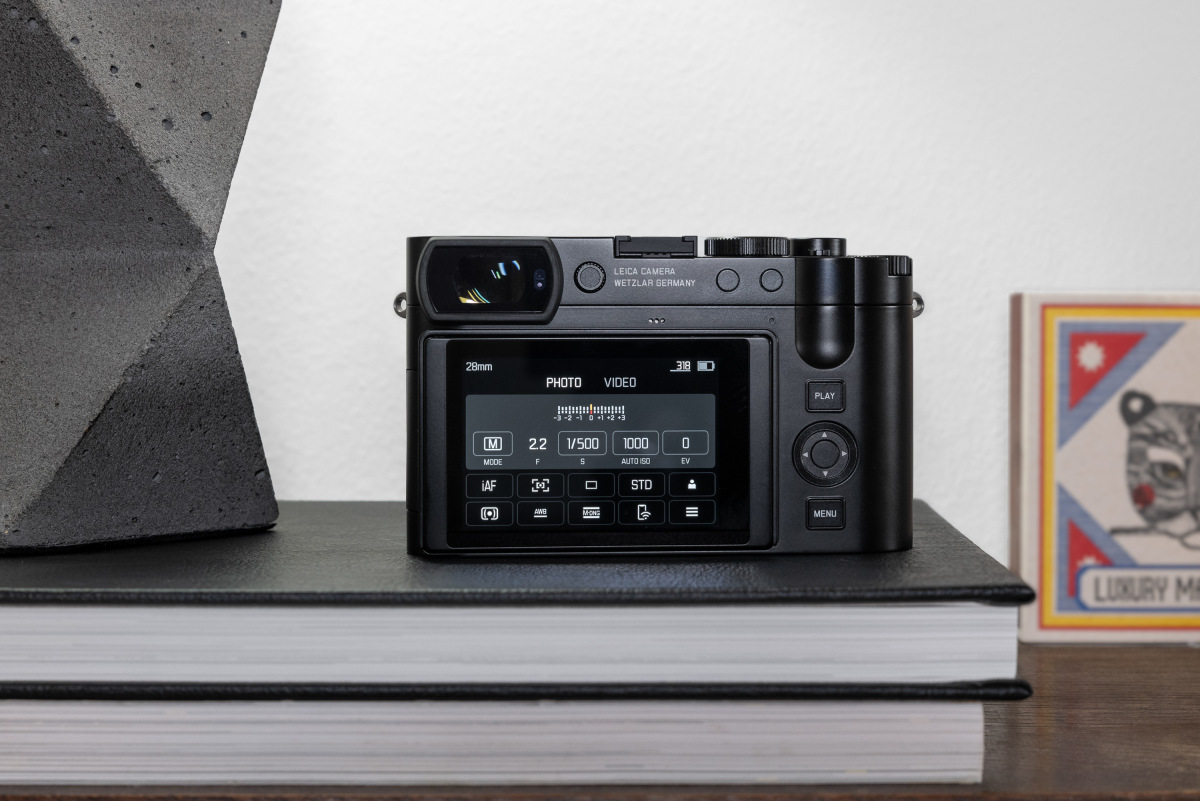 But even though it appears there is less tactile elements, Leica has expanded the number of custom function buttons to four. In addition to the central one in the D-Pad, there are two at the top rear and one in the middle of the top thumb dial. As with all other Leica models, a long press on any of these buttons lets you set the function, with a short press to activate. While the change of layout will take some getting used to, the Q3 truly offers single-handed use with all buttons falling under your right thumb. Also noteworthy is the inclusion of a threaded shutter release, which means you can customize your Q3 with a wide variety of soft releases – just like an M.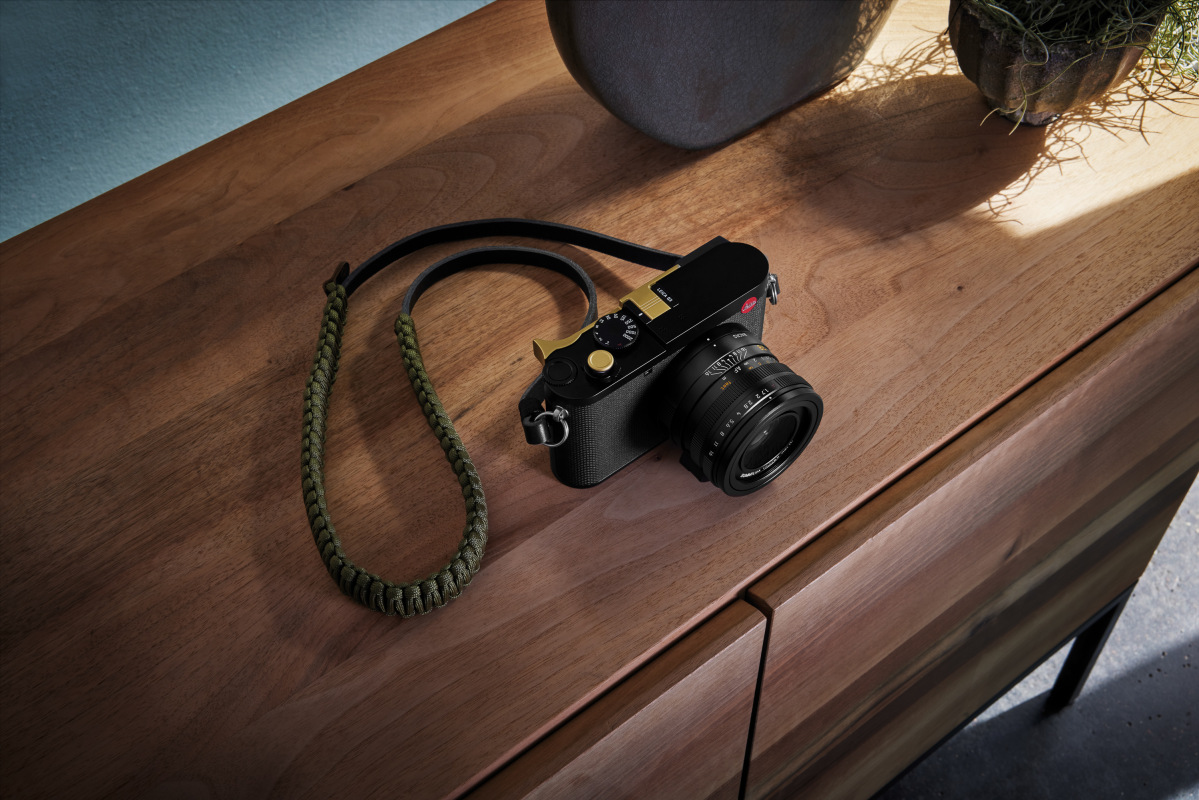 USB-C and HDMI Ports
The Q3 brings back physical connections to the Q System. An HDMI (Type-D) port gives options for recording video to an external recorder or capture device, like using the Q3 as a B/C cam in studio, as a lightweight gimbal-mount camera or maybe just as a really nice webcam for Zoom calls.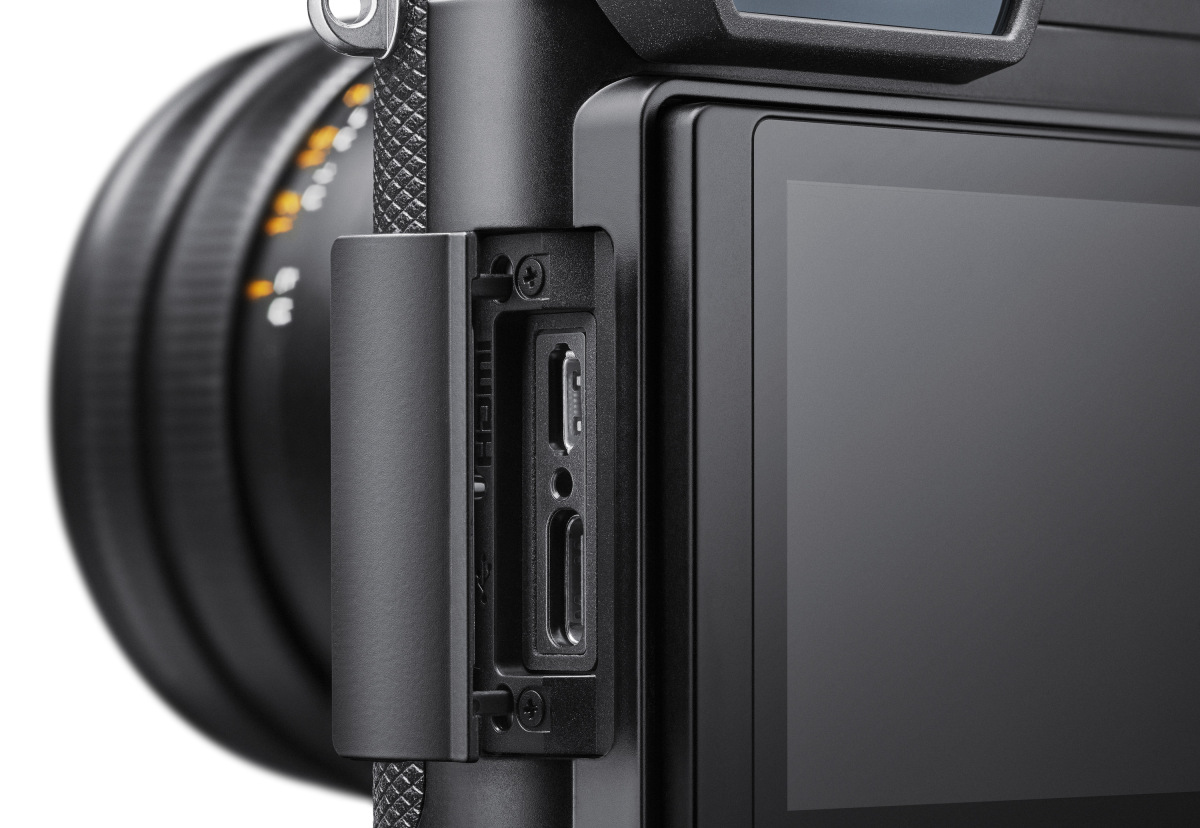 And just as with the M11, the USB-C port allows for charging on the go with a portable powerbank, using the camera as a second charger while traveling or for transferring photos to a computer or Apple mobile device. Supplied with a certified MFi USB-C to Lightning cable, transferring photos to an iPhone or iPad with the Leica FOTOS app is quick and easy. Or use a standard USB 3.1 Gen 2 cable to connect to a computer, either in PTP mode for tethered shooting or in Mass Storage to copy files directly to Windows or Mac.
Upgraded Wi-Fi Speed
But you don't need a cable to enjoy rapid transfers to your mobile device. By incorporating MIMO beam forming technology, the Q3 boasts 10x faster wireless speeds. Where DNG files could take 20 seconds or more to transfer from the Q2, the Q3's even larger images take a mere two seconds. Even browsing all of your pictures on the SD card from FOTOS feels snappy and responsive.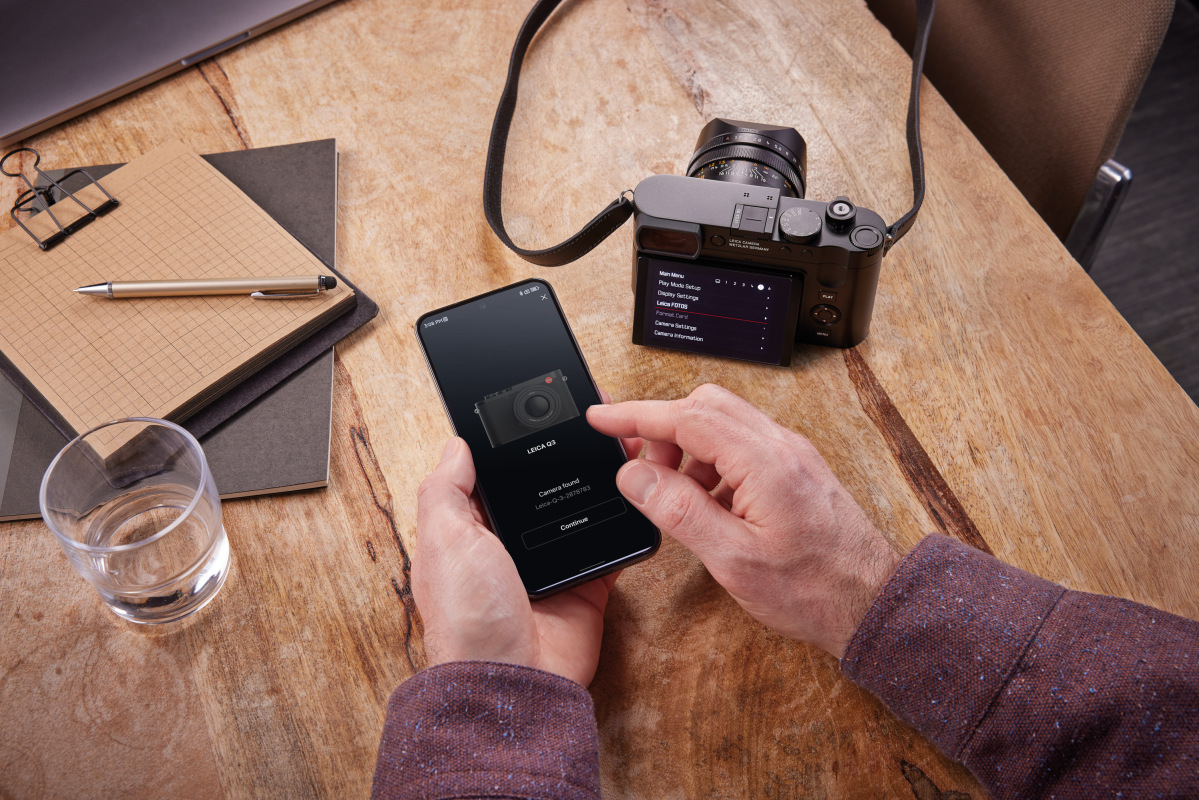 New Wireless Charging
Along with charging over USB-C, by using the Q3's optional handgrip accessory, the camera can be charged wirelessly on a Qi inductive charging mat. Designed with convenience in mind, the Q3 can be left on its charging mat so it's always fully charged and ready for action.
New Battery
Physically the same dimensions as the BP-DC4 used in the Q2 and SL2, the newly introduced BP-DC6 has 2200mAh on tap for the increased performance of the Q3. The camera is still backwards compatible with the previous 1860mAh battery, but will have reduced battery life and will limit video functions to 4K. We'd recommend upgrading to the new battery as it becomes available. And yes, the higher capacity BP-DC6 will work with the Q2, SL2, SL2-S and SL601.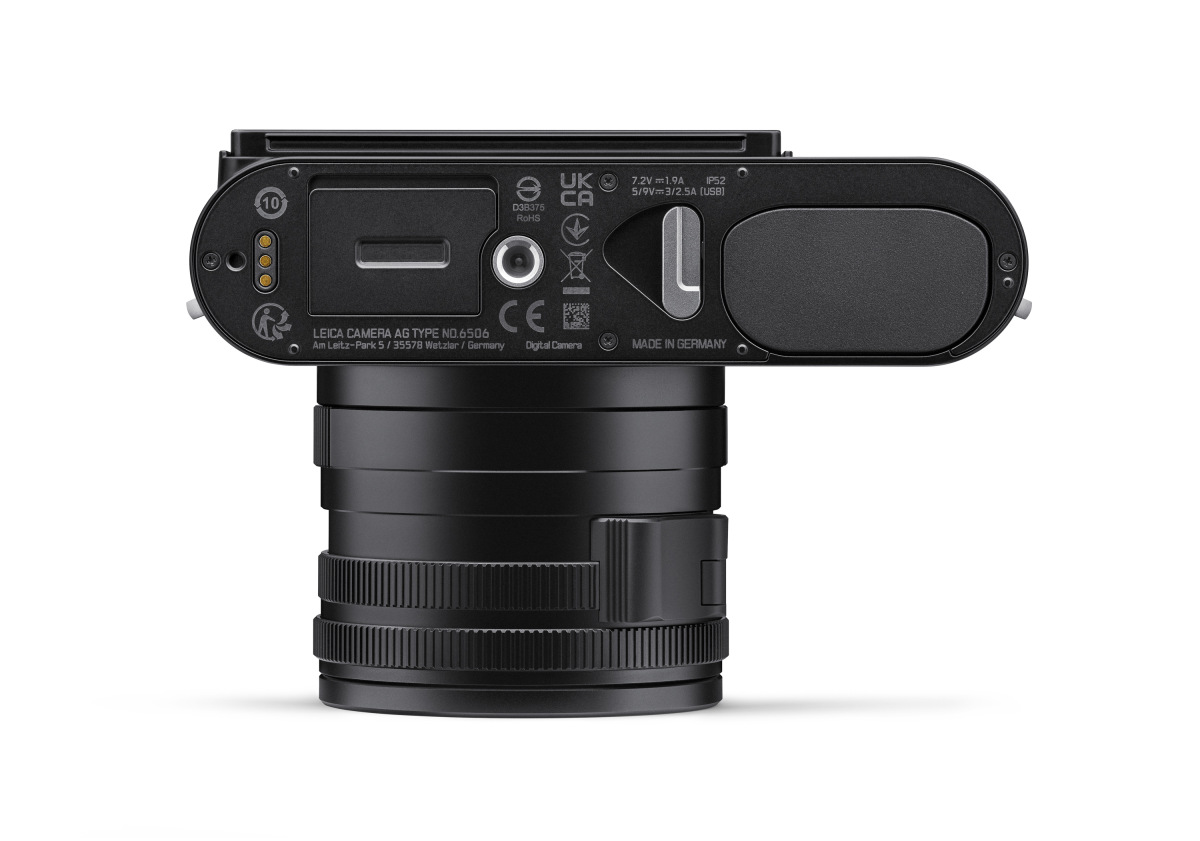 Summary of New Features
First ever 60MP BSI CMOS Sensor with Triple Resolution Technology in a Leica Q camera, allowing for 14 stops of dynamic range and digital zoom options up to 90mm
New Maestro IV Processor with 8GB of buffer memory
New state of the art Hybrid Autofocus system with Contrast and Phase Detection autofocus with eye, face, body and animal tracking
New tiltable backscreen with 76% increase in resolution compared to the Leica Q2
New EVF with 56% increase in resolution compared to the Leica Q2, now identical resolution and framerate as the Leica SL2 & SL2-S viewfinders
New Ports: HDMI for video recording & USB-C for charging and data transfer
8K resolution output and ProRes video support
New battery with 18% more power than previous generation
First ever full-frame camera with wireless charging capabilities
10x faster wireless transfer speeds to the Leica FOTOS app with embedded MIMO Technology
IP52 Weather Sealing Certification
New Accessories to customize the look and feel of the Leica Q3
Handmade in Germany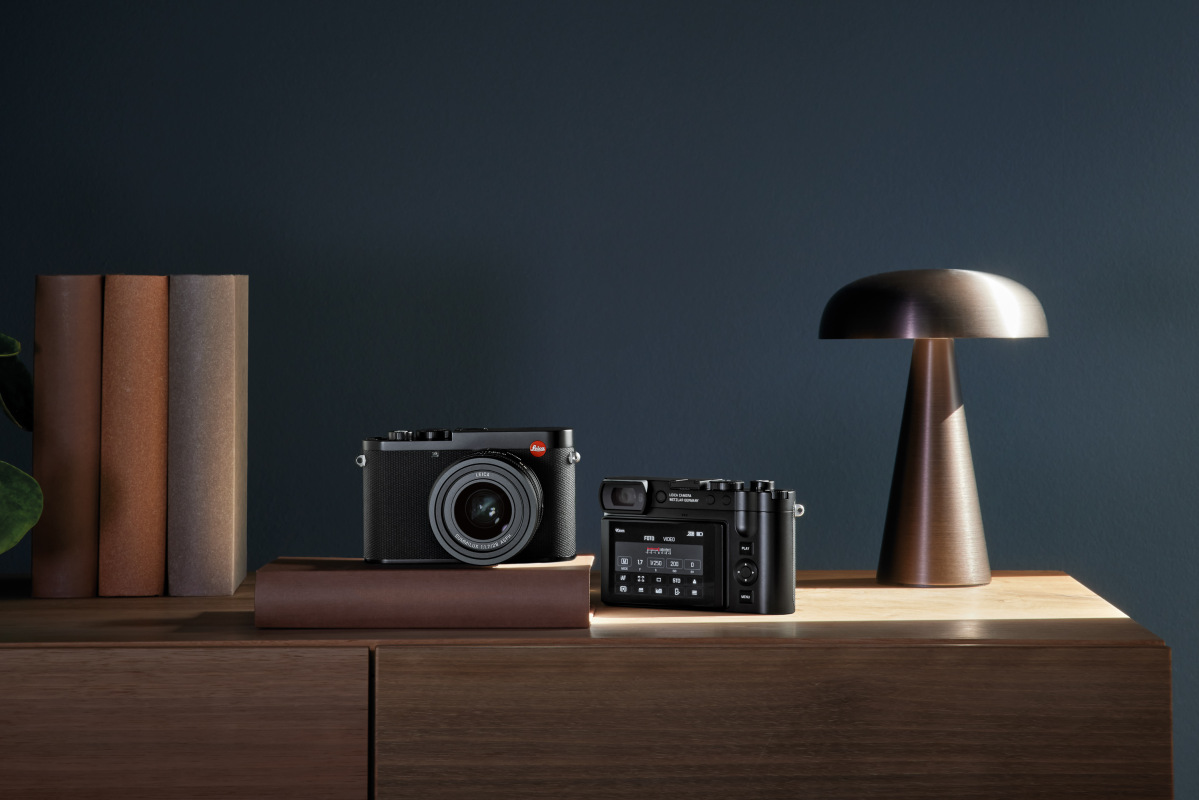 Pricing, Availability and Ordering
Initial deliveries of the Leica Q3 will start within the next week for a price of $5,995. As with any major Leica camera launch, supply will be extremely limited for a number of months. If you are interested in ordering the Q3, you can do so at Leica Store Miami by clicking the button below, calling 305-921-4433 or sending an email to info@leicastoremiami.com. If you are interested in trading in any other Leica gear towards the purchase of the Q3, you can indicate so on the pre-order form.
Sample Images
Leica was nice enough to supply some sample images from the Q3. We'll be doing our own testing now that the camera is out, but after diving into these files, we're extremely impressed. Wonderful color and tonality. Exceptional detail and sharpness. And impressive high ISO results, even up to ISO 50,000. Be sure to click on the images to see a larger view.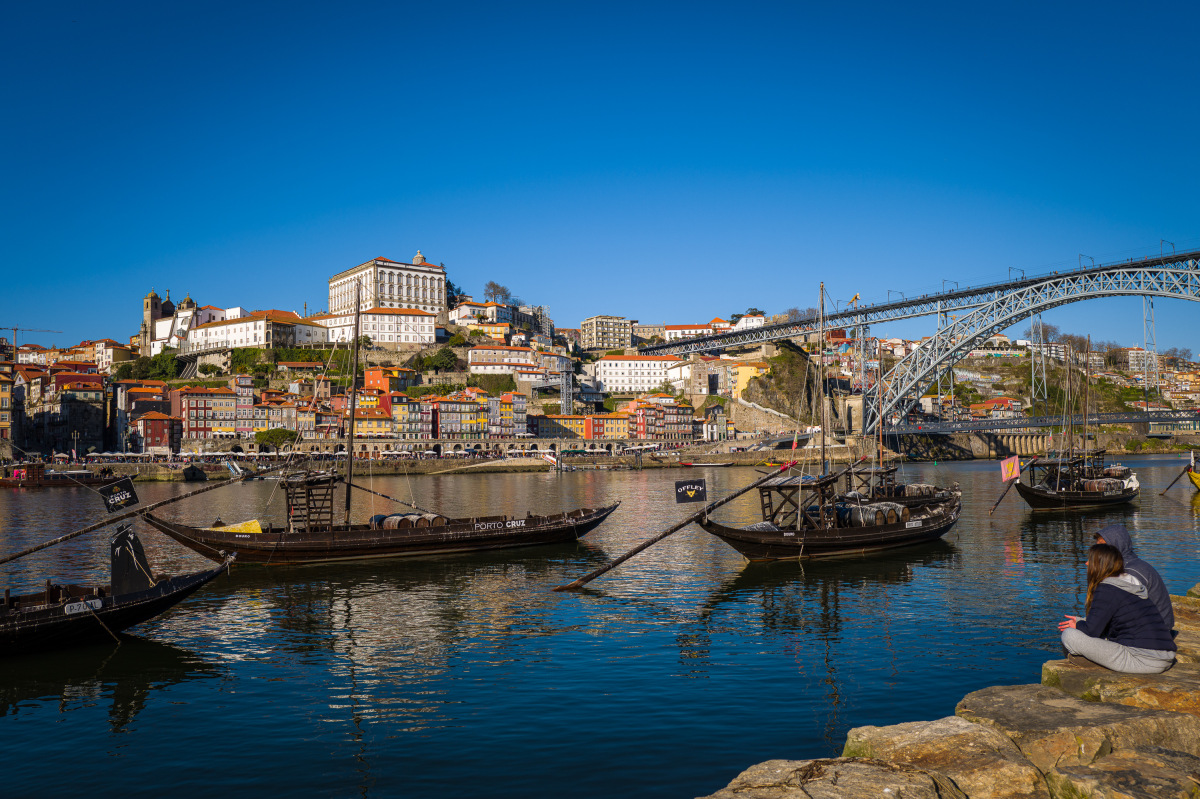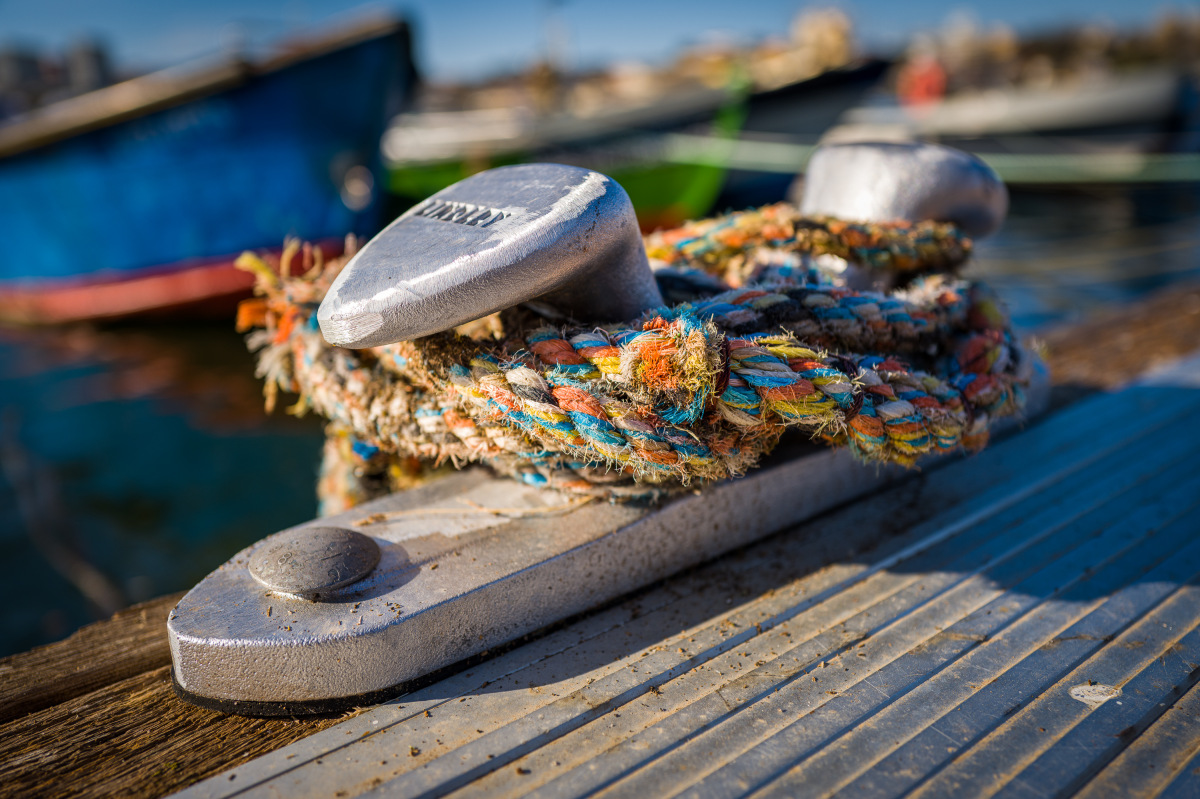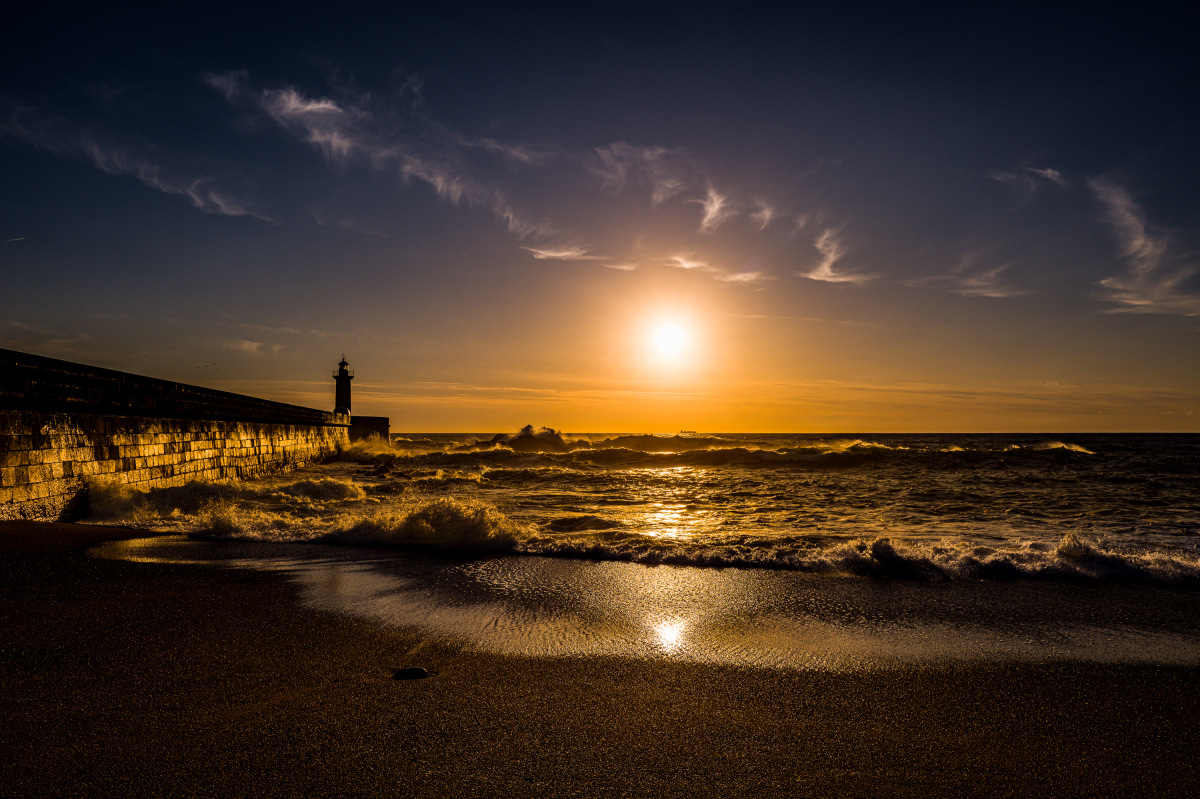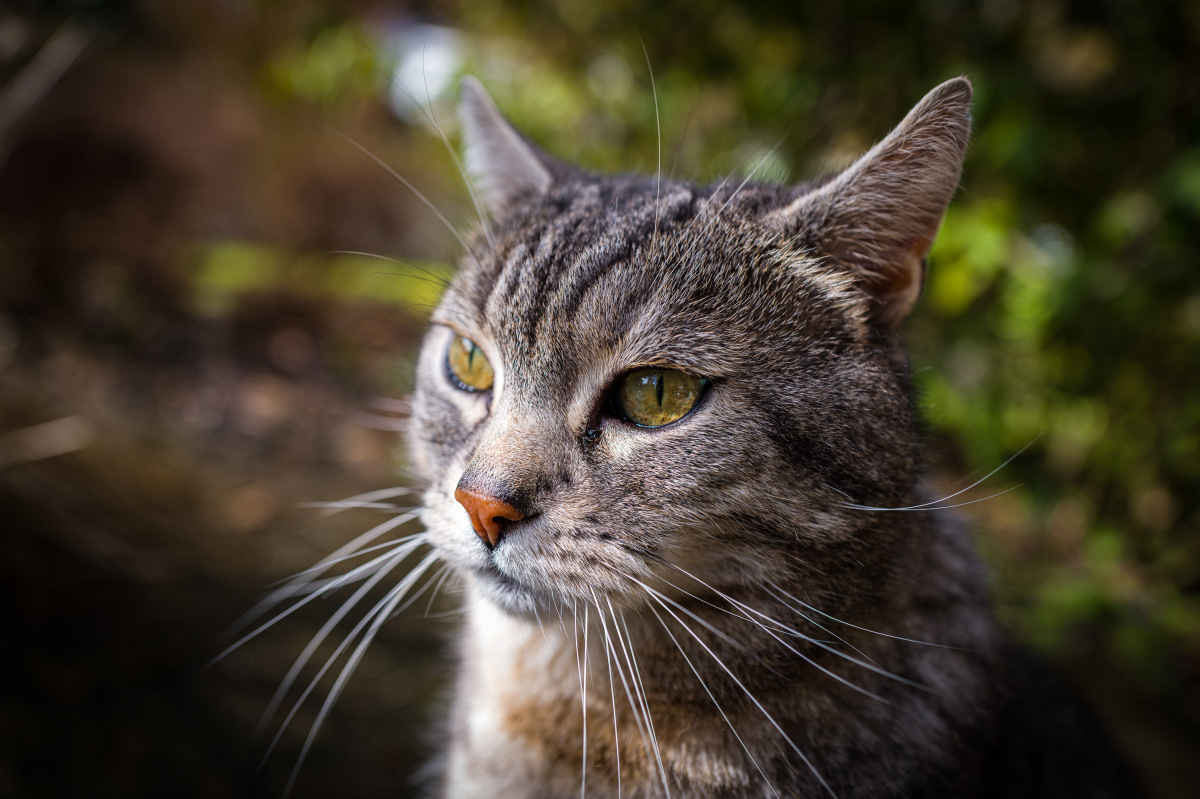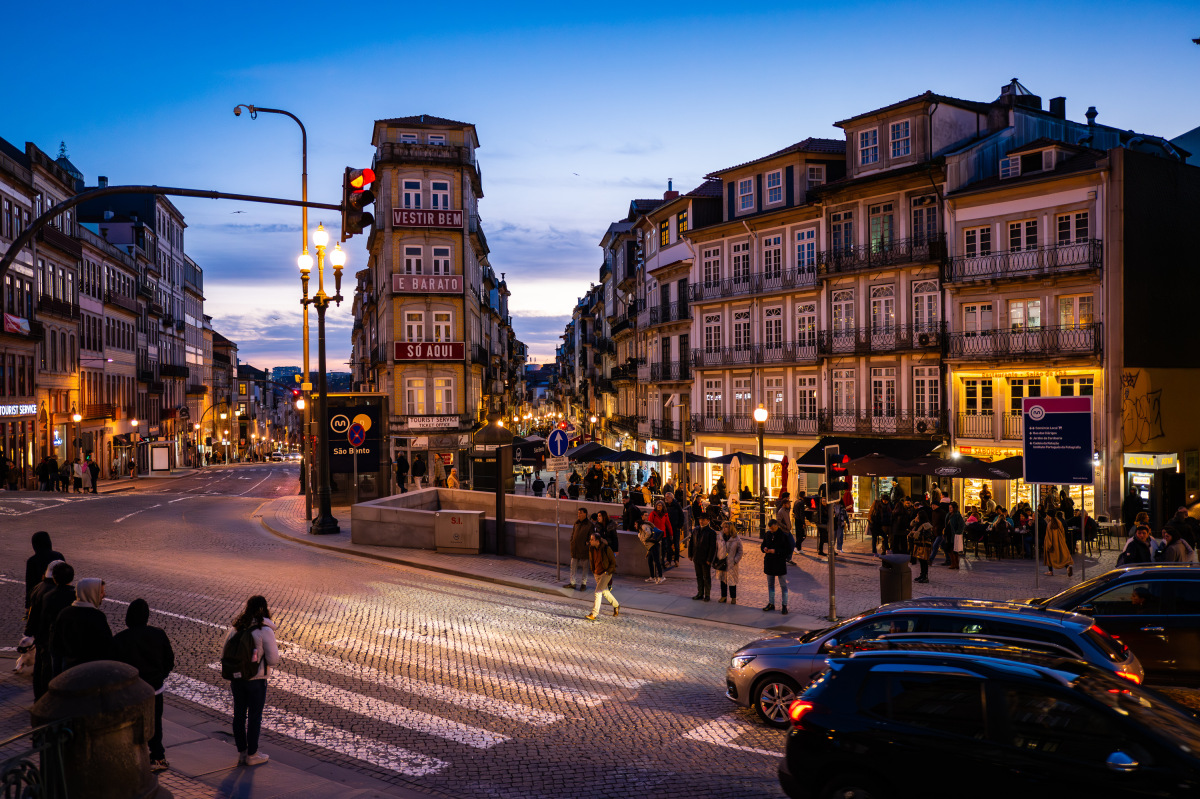 Compared to Q2
| | | |
| --- | --- | --- |
| | Leica Q3 | Leica Q2 |
| Sensor | 60.3 MP CMOS BSI | 47.3 MP CMOS |
| Processor | Maestro IV | Maestro III |
| Digital Zoom | 28 / 35 / 50 / 75 / 90mm | 28 / 35 / 50 / 75mm |
| LCD Screen | 3" TFT monitor (1.84 mil. pixel), touch, tiltable | 3" TFT monitor (1.04 mil. pixel), touch |
| EVF | OLED, 0.5" 4:3, 5.76mp | OLED, 0.5" 4:3, 3.68mp |
| ISO Range | 50 – 100,000 | 50 – 50,000 |
| AF System | Contrast & Phase Detection AF, DFD | Contrast Detection AF |
| HDMI / USB-C | Yes (Type-D 2.0) / Yes (USB-C 3.1) | No / No |
| Inductive Charging | Yes, via optional handgrip | No |
| Battery | 2200mAh (BP-SCL6) | 1860mAh (BP-SCL4) |
| Variable Resolution | Yes | No |
| Video | FHD, 4k, C4K, 8K, MP4 + MOV, .h265, ProRes (1080p) | FHD, 4k, C4k, MP4 + MOV |
| Function Buttons | 4 | 2 |
| Bluetooth / MFI | Yes / Yes (10x faster transfers) | Yes / No |
Press Release
Leica Camera AG introduces the 3rd generation of the successful Leica Q cameras, the Leica Q3. High-quality craftsmanship, a timeless and sleek design, and simple operation make this family of fixed focal length full-frame cameras stand out. The new Leica Q3 camera delivers perfect photo and video results; equipped with one of the fastest lenses on the market with integrated macro mode and an extensive selection of new features, representing the next evolutionary step in this unique camera segment.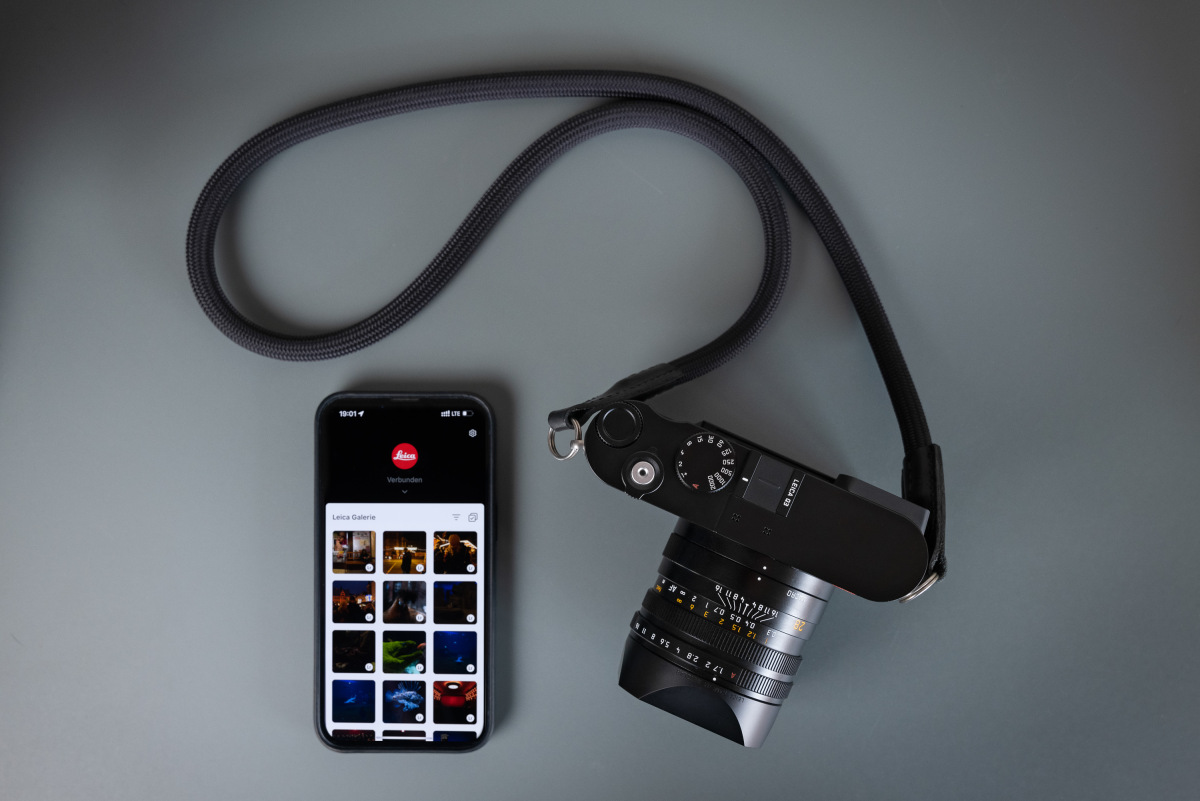 At the heart of the Leica Q3 is the new BSI-CMOS sensor with Triple-Resolution- Technology. With a choice of resolutions between 60, 36, or 18 MP, raw images can be created using the DNG format while JPEG files provide a perfect look, straight out of the camera. When shooting with 60 MP, even the finest details and structures are captured. Shooting with 36 or 18 MP allows faster camera operation, longer image sequences, and smaller file sizes. The Leica Q3 uses the entire size of the sensor for all resolutions with a sensitivity range of ISO 50 to 100,000, while the latest generation of the Maestro Series processor with L2 Technology ensures excellent operating speeds.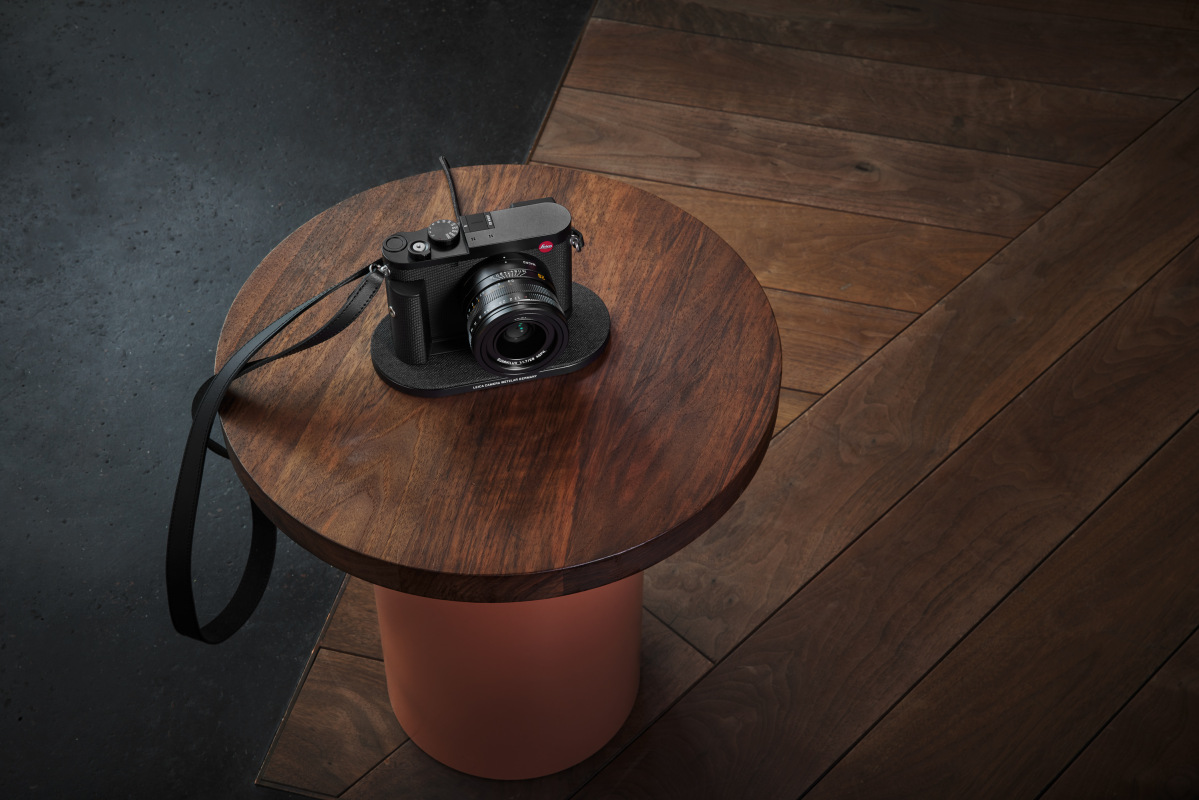 The fast Leica Summilux 28 mm f/1.7 ASPH. is an optical masterpiece. With its integrated macro mode, it allows close-up shots from a minimum focusing distance of 6.69 inches. In combination with its high-resolution sensor, this 3rd generation Q family member also offers an extended digital zoom. This allows creatives the opportunity to crop to the focal lengths of 28, 35, 50, 75 mm, and now also 90 mm. Two new and practical assistants, Leica Perspective Control (LPC) and Leica Dynamic Range (LDR), also ensure perfect JPEG images without any post-processing.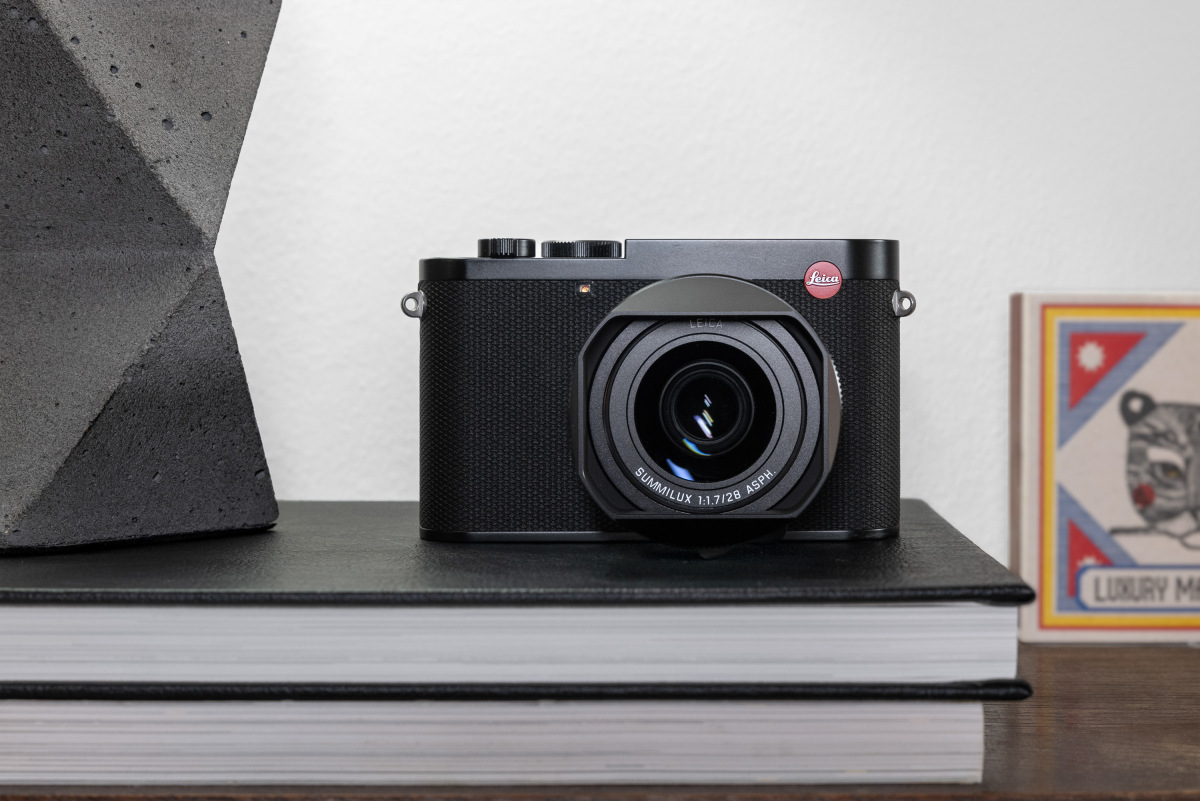 A significant development has also been made to the autofocus system of the Q3. A new hybrid autofocus system with phase detection ensures extremely fast, accurate focusing and tracking of objects, people and pets. In addition to the high-precision contrast autofocus, the DFD system and phase detection autofocus, combined with intelligent subject recognition, supports the capturing of sharp and brilliant images, all displayed crisply and clearly on the new 5.76 MP OLED viewfinder.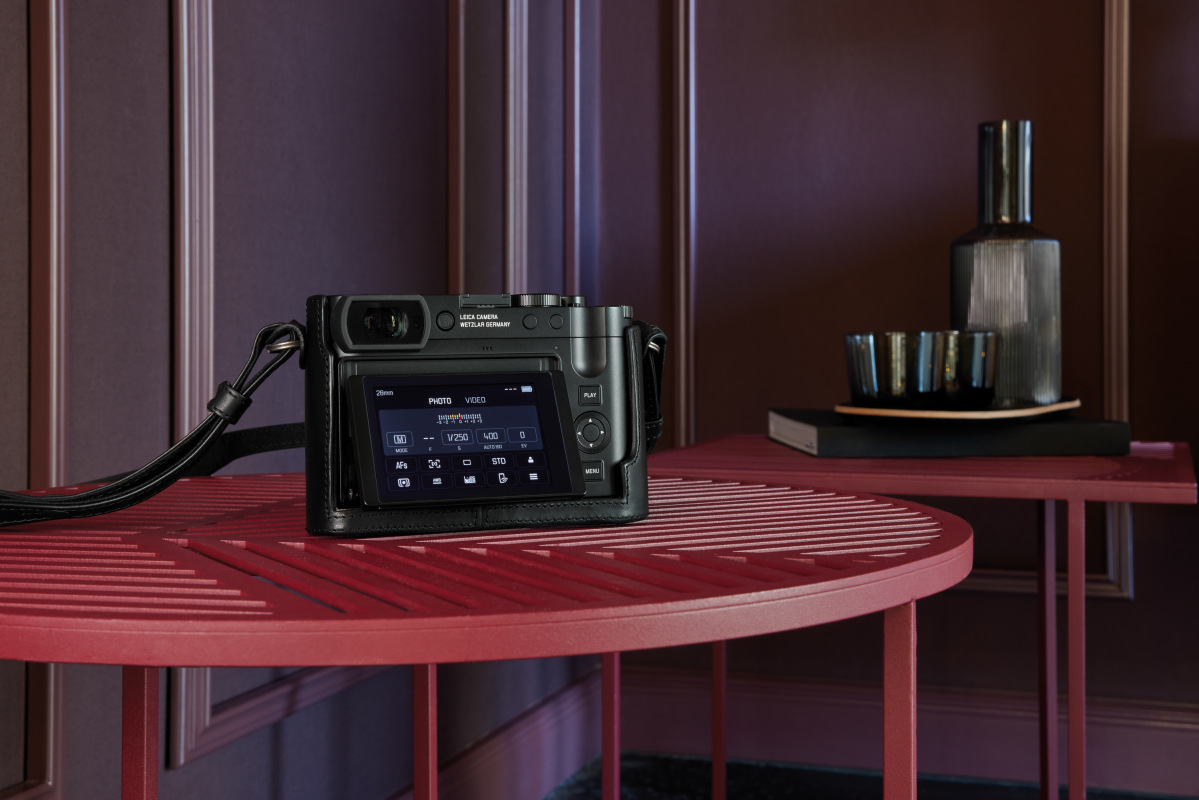 The new tiltable 3-inch high-resolution touchscreen with a high-quality tilting mechanism provides unique viewing angles and offers even more creative opportunities when taking photos and videos. Additionally, even with the movable display, the Leica Q3 still provides protection against dust and spray water thanks to its IP52 certification.
The Leica Q3 continues to impress with its seamless and fast connectivity via Bluetooth and Wi-Fi. The camera is equipped with advanced Multiple Input Multiple Output (MIMO) technology, which has increased the transfer speed to the Leica FOTOS app by up to 10 times compared to the previous model, taking mobile creative workflow to the next level. With a stable connection and high data transfer rates to the Leica FOTOS app, videos can now be loaded from the camera to a smartphone, and special 'Leica Looks' can be imported onto the camera for beautiful JPEG images. Various connection modes from 'Eco' to 'Performance' improve the mobile workflow and energy management of the Leica Q3. The Apple certification "Made for iPhone® and iPad®" accessory and the included Leica FOTOS cable, make the Leica Q3 the ideal tool to express the creative vision of users working with it daily.
With the ability to record video at 8K resolution combined with the highly efficient codecs such as H.265 and Apple's ProRes, the powerful Leica Q3 now meets the needs of all content creators. The connection of external devices such as gimbals, powerbanks and display recorders is secured directly via the USB-C and HDMI ports. Tethered shooting with Capture One or the Adobe Lightroom plug-in is also supported via the USB-C cable connection and further enriches the fields of application for this compact digital camera.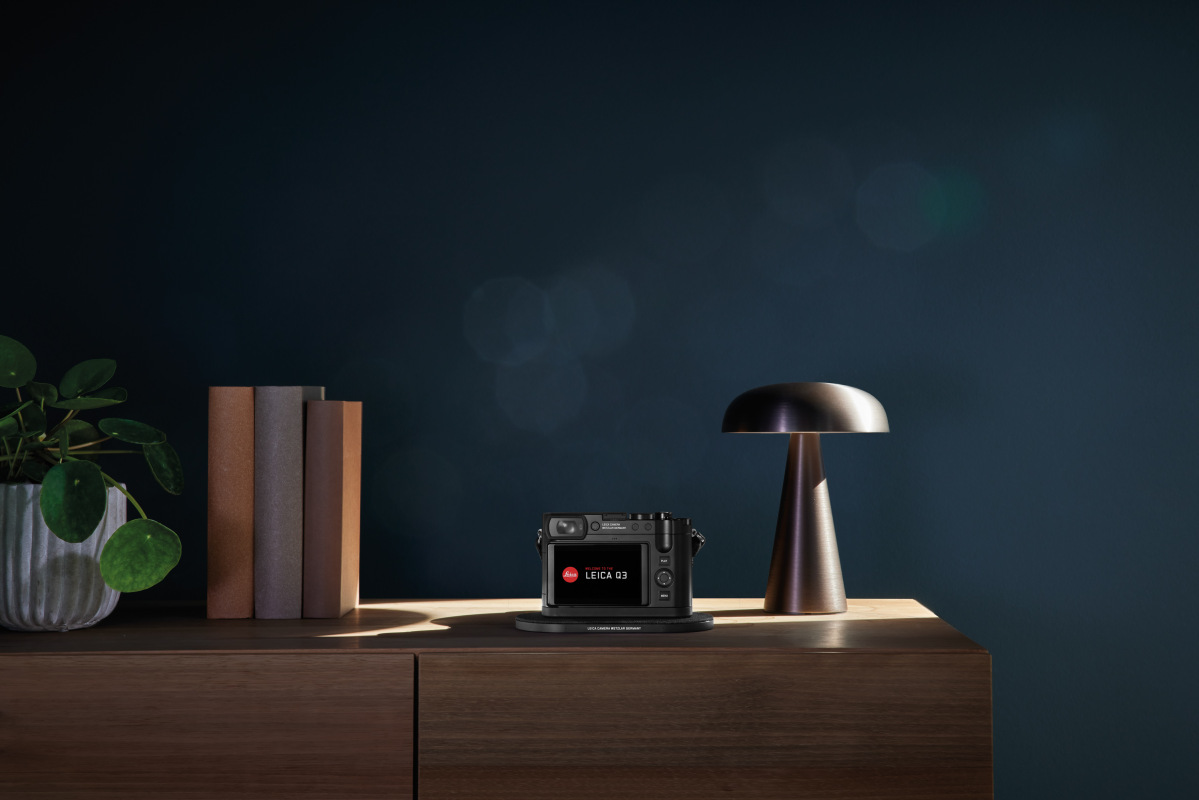 Wireless charging is also now possible with the new Leica Charging Pad and separate camera handgrip. This stylish charging pad and many other Qi-compatible devices conveniently recharges the new powerful BC-SCL6 battery of the Q3.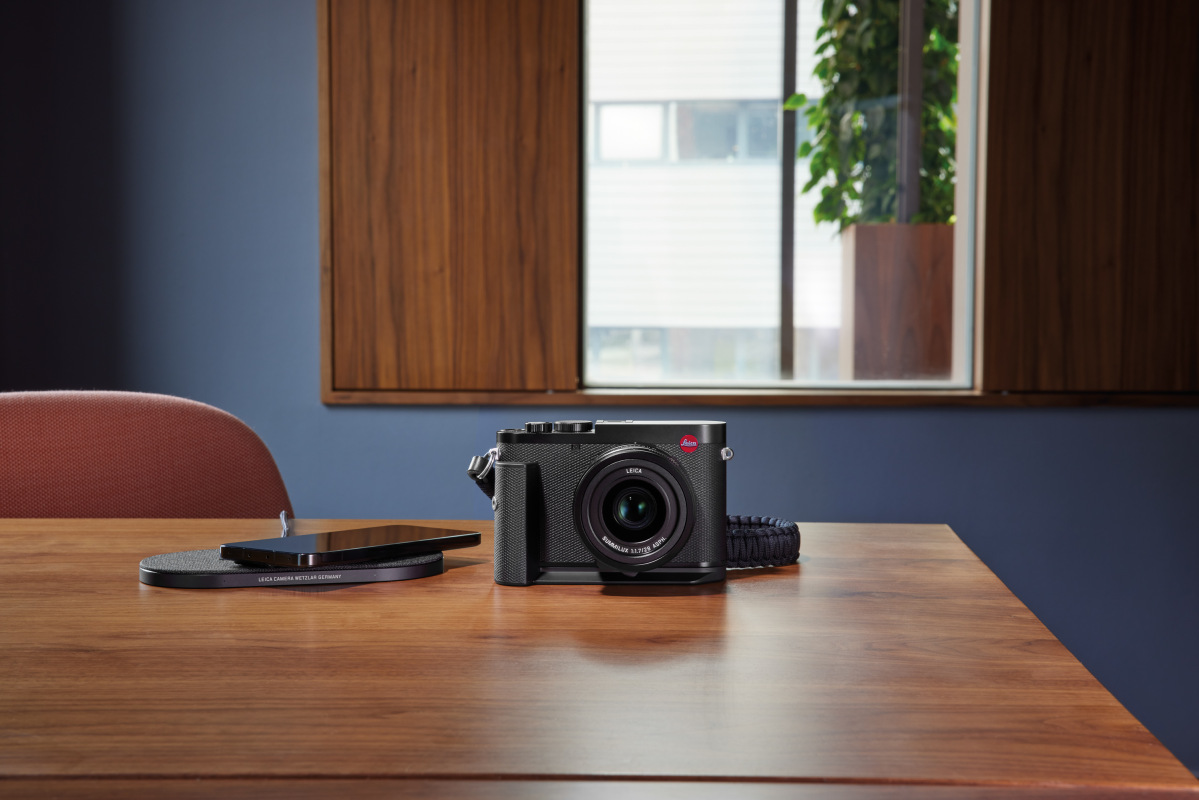 The Leica Q3 offers photographers and videographers four different function buttons which provide extended customization of the camera, while the new accessories offer versatility in the look and feel of this creative tool. Leather protectors, lens caps, retro- look lens hoods, thumb rests, soft release buttons and flash shoe covers are also available in three different colors variations.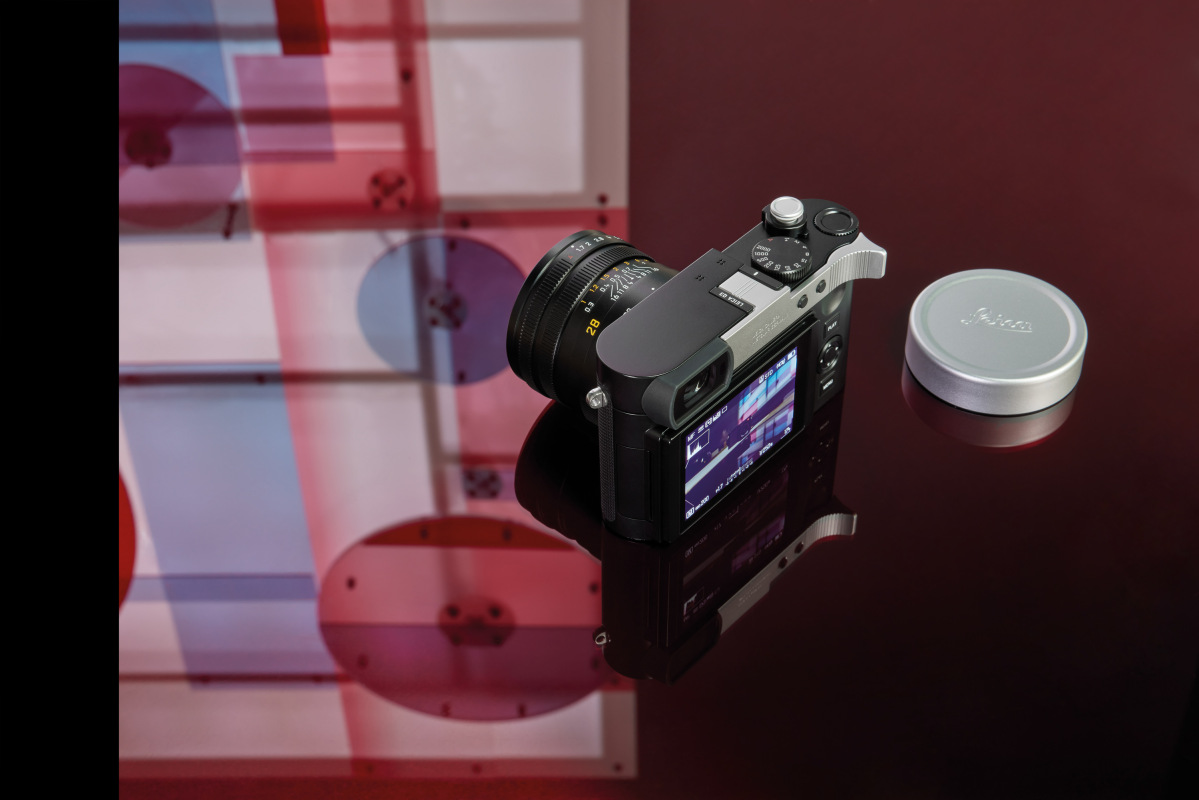 Tech Specs – Photo
Designation
Leica Q3
Camera type
Digital 35mm compact camera
Type No.
6506
Order No.
19080 EU/US/CN, 19081 JP, 19082 ROW
Buffer memory
8 GB
Frame Rate & Buffer Depth
15 fps: 63 DNG, 63 DNG + JPG, 67 JPG
9 fps: 70 DNG, 66 DNG + JPG, 76 JPG
7 fps: 74 DNG, 69 DNG + JPG, 83 JPG
4 fps: 83 DNG, 72 DNG + JPG, 104 JPG
2 fps: 164 DNG, 88 DNG + JPG, 947 JPG
Storage medium
UHS-II (recommended), UHS-I, SD/SDHC/SDXC memory card
Material
Full metal housing: magnesium die-cast, leather covering, protection type IP52
Operating conditions
0°C to +40°C
Interfaces
ISO accessory shoe with additional control contacts for Leica flash units, HDMI jack Type D, USB 3.1 Gen 2 Type C up to 10 Gbps
Tripod thread
A 1⁄4 DIN 4503 (1⁄4") with stainless steel in the base
Dimensions
130mm wide, 80.3mm high, 92.6mm deep
Weight
Approx. 743 g/658 g (with/without battery)
Sensor
CMOS sensor, 62.39 MP/60.3 MP (total/effective)
Processor
Leica Maestro IV
Filter
RGB color filter, UV/IR filter, no low-pass filter
File formats
Photo: DNG™ (raw data), DNG + JPG, JPG (DCF 2.0, Exif 2.31)
Image resolution
DNG™
L-DNG: 9520 x 6336 pixels (60.3 MP)
M-DNG: 7404 x 4928 pixels (36.5 MP)
S-DNG: 5288 x 3518 pixels (18.6 MP)
JPG
L-JPG: 9520 x 6336 pixels (60.3 MP)
M-JPG: 7392 x 4928 pixels (36.4 MP)
S-JPG: 5280 x 3512 pixels (18.5 MP)
File size
DNG™: approx. 70 MB, depending on resolution and image content

JPG: depending on resolution and image content
Color depth
DNG™: 14 bit, JPG: 8 bit
Color space
Photo: sRGB
Lens
Leica Summilux 28mm f/1.7 ASPH, 11 lenses in 9 segments, 3 aspherical lens areas
Lens filter thread
E49
Digital zoom
Approx. 1.25x (equiv. to 35 mm)
Approx. 1.8x (equiv. to 50 mm)
Approx. 2.7x (equiv. to 75 mm)
Approx. 3.2x (equiv. to 90 mm)
Crop Modes
28mm: 60 MP
35mm: 39 MP
50mm: 19 MP
75mm: 8 MP
90mm: 6 MP
Image stabilization
Visual compensation system for photos and video recordings
Aperture range
f/1.7 to f/16 in 1⁄3 EV increments
Viewfinder (EVF)
Resolution: 5,760,000 dots, 120 fps, magnification: 0.79x at aspect ratio: 4:3 / 0.76x at aspect ratio: 3:2, frame coverage: 100%, exit pupil position: 20.75 mm, setting range -4/+2 diopter, with eye sensor for automatic switchover between viewfinder and LCD panel, time delay 0.005 s
LCD panel
3" TFT LCD, approx. 1,843,200 dots, 384 ppi, aspect ratio 3:2, touch panel
Shutter type
Mechanical central shutter or optional electronic shutter
Shutter speeds
Mech. shutter: 120 s to 1⁄2000s
Electro. shutter function: 1 s to 1⁄16000 s
Flash Synchronization: up to 1⁄2000 s
Shutter button
Two-stage (1st stage: Activation of the camera electronics including autofocus and exposure metering, 2nd stage: Taking the picture)
Self-timer
Delay time: 2 s or 12 s
Drive Mode
Single, Interval Shooting, Exposure Bracketing
Continuous shooting
2 fps / 14 bit / AF
4 fps / 14 bit / AF

Automatic settings (exposure settings in operating modes P/A/S, automatic white balance and autofocus) are implemented individually for each frame.

7 fps / 14 bit
9 fps / 12 bit
15 fps / 12 bit

Automatic settings (exposure settings in operating modes P/A/S, automatic white balance and autofocus) are implemented for the first frame, and are then applied for each subsequent frame in the same picture series.
Focus range
30 cm to ∞
With macro setting: from 17 cm
Focus mode
Automatic or manual (With manual setting: optional magnifying glass function (Auto Magnification) and edge marking (Focus Peaking) available as focus assist)
Autofocus system
Hybrid-AF due to combination of contrast metering, depth mapping, and phase comparison metering with AF metering points in the sensor.
Autofocus modes
Intelligent AF (autonomously selects AFs and AFc), AFs, AFc, AF setting can be saved, optional Touch AF
Autofocus metering methods
Spot (can be shifted), Field (can be shifted and scaled), Multi-Field, Zone (can be shifted), Eye/Face/Body Detection, Eye/Face/Body + Animal Detection, Tracking
Autofocus metering fields
315
Exposure metering
TTL (exposure metering through the lens), with working aperture
Metering principle
Exposure metering is done by the image sensor for all exposure metering methods
Exposure metering methods
Spot, Center-Weighted, Highlight-Weighted, Multi-Field
Exposure modes
Program AE mode (P)
Aperture-priority mode (A): manual aperture setting
Shutter-priority mode (S): manual shutter-speed setting
Manual (M): manual setting for shutter speed and aperture
Various fully automated variants (Scene Mode): AUTO, Sport, Portrait, Landscape, Night Portrait, Snow/Beach, Fireworks, Candlelight, Sunset, Digiscoping
Exposure compensation
±3 EV in 1⁄3 EV increments
Automatic bracketing
3 or 5 frames, graduations between shoots up to 3 EV, in 1⁄3 EV increments additional optional exposure compensation: up to ±3 EV
ISO sensitivity range (Photo)
Auto ISO: ISO 100 to ISO 100,000
Manual: ISO 50 to ISO 100,000
White balance
Automatic (Auto), default (Daylight, Cloudy, Shadow, Tungsten, Flash), manual metering (Gray card), manual color temperature settings (Color Temperature, 2000 K to 11500 K)
Flash unit connector
Via the accessory shoe
Flash sync time
1⁄2000 s, slower shutter speeds available, automatic changeover to TTL linear flash mode with HSS-compatible Leica system flash units if sync time is undercut
Flash exposure metering
Using center-weighted TTL pre-flash metering with Leica flash units (SF 26, SF 40, SF 58, SF 60, SF 64) or with system-compatible flash units, remote controlled flash SF C1
Flash exposure compensation
SF 40: ±2 EV in 1⁄2 EV increments
SF 60: ±2 EV in 1⁄3 EV increments
Microphone
Stereo
Speaker
Mono
WLAN
WLAN function for connecting to the Leica FOTOS app. The Leica app is available from the Apple App Store™ or the Google Play Store™.
2.4 GHz (EU/US/CN)
IEEE802.11b/g/n: channel 1–11 (2412–2462 MHz)
5 GHz Client mode (indoor use only)
IEEE802.11a/n/ac: Channel 36–64 (5180–5320 MHz)
5 GHz Access point + client mode
IEEE802.11a/n/ac: Channel 149–165 (5745–5825 MHz)
Bluetooth
Bluetooth 5.0 LE: Channel 0–39 (2402–2480 MHz), maximum output (e.i.r.p.): 10 dBm
GPS
Not available everywhere due to country-specific legislation; can be added via the Leica FOTOS app. Data is written to Exif header of the picture files.
Menu languages
English, German, French, Italian, Spanish, Portuguese, Russian, Japanese, Traditional Chinese, Simplified Chinese, Korean
Rechargeable battery (Leica BP-SCL6)
Lithium-ion rechargeable battery, rated voltage: 7.2 V (DC); capacity: 2200 mAh (min.), 350 shots (based on CIPA standard, with All Displays Auto Off = 5 s); manufacturer: Panasonic Energy (Wuxi) Co. Ltd., Made in China
Charger (Leica BC-SCL4)
Input: AC 100–240 V, 50/60 Hz, 0.25 A, automatic switchover; output: DC 8.4 V 0.85 A; manufacturer: Salom Electric (Xiamen) Co., Ltd., Made in China
Charging via USB
During operation: 9 V/3 A (min. 27 W)
With camera switched off: 5 V/1500 mA (2.5 W or greater)
Wireless Charging
Optimal performance with 9 V chargers (10 W Charging Pad required)
Rated values for input voltage/power
7.2 V 2.3 A (battery), 5 V 3.0 A / 9 V 2.5 A (USB)
Tech Specs – Video
Video File Formats
MP4: h.265, AAC, 48 kHz/16 bit
MP4: h.264, AAC, 48 kHz/16 bit
MOV: h.265, LPCM, 28 kHz/24 bit
MOV: h.264, LPCM, 28 kHz/24 bit
Video Length
Max: 29 minutes
Video Resolution
C8K (17:9): 8192 x 4320
8K (16:9): 7680 x 4320
C4K (17:9): 4096 x 2160
4K (16:9): 3840 x 2160
FHD (16:9): 1920 x 1080
Video frame rate/bit rate
MOV C8K 
(recording to SD)
29.97 fps: C8K 4:2:0/10 bit, h.265, L-GOP, 300 Mbps
25.00 fps: C8K 4:2:0/10 bit, h.265, L-GOP, 300 Mbps
24.00 fps: C8K 4:2:0/10 bit, h.265, L-GOP, 300 Mbps
23.98 fps: C8K 4:2:0/10 bit, h.265, L-GOP, 300 Mbps
MOV C8K 
(HDMI output without HLG/L-Log and without recording to SD)
29.97 fps: 8K 4:2:0/8 bit, h.265, L-GOP, 300 Mbps
25.00 fps: 8K 4:2:0/8 bit, h.265, L-GOP, 300 Mbps
24.00 fps: 8K 4:2:0/8 bit, h.265, L-GOP, 300 Mbps
23.98 fps: 8K 4:2:0/8 bit, h.265, L-GOP, 300 Mbps
MOV C8K 
(HDMI output with HLG/L-Log or during recording to SD)
29.97 fps: C4K 4:2:2/10 bit, h.265, L-GOP, 300 Mbps
25.00 fps: C4K 4:2:2/10 bit, h.265, L-GOP, 300 Mbps
24.00 fps: C4K 4:2:2/10 bit, h.265, L-GOP, 300 Mbps
23.98 fps: C4K 4:2:2/10 bit, h.265, L-GOP, 300 Mbps
MOV 8K 
(recording to SD)
29.97 fps: 8K 4:2:0/10 bit, h.265, L-GOP, 300 Mbps
25.00 fps: 8K 4:2:0/10 bit, h.265, L-GOP, 300 Mbps
24.00 fps: 8K 4:2:0/10 bit, h.265, L-GOP, 300 Mbps
23.98 fps: 8K 4:2:0/10 bit, h.265, L-GOP, 300 Mbps
MOV 8K 
(HDMI output without HLG/L-Log and without recording to SD)
29.97 fps: 8K 4:2:0/8 bit, h.265, L-GOP, 300 Mbps
25.00 fps: 8K 4:2:0/8 bit, h.265, L-GOP, 300 Mbps
24.00 fps: 8K 4:2:0/8 bit, h.265, L-GOP, 300 Mbps
23.98 fps: 8K 4:2:0/8 bit, h.265, L-GOP, 300 Mbps
MOV 8K 
(HDMI output with HLG/L-Log or during recording to SD)
29.97 fps: 4K 4:2:2/10 bit, h.265, L-GOP, 300 Mbps
25.00 fps: 4K 4:2:2/10 bit, h.265, L-GOP, 300 Mbps
24.00 fps: 4K 4:2:2/10 bit, h.265, L-GOP, 300 Mbps
23.98 fps: 4K 4:2:2/10 bit, h.265, L-GOP, 300 Mbps
MOV C4K
59.94 fps: 4:2:2/10 bit (SD & HDMI), h.264, ALL-I, 600 Mbps
50.00 fps: 4:2:2/10 bit (SD & HDMI), h.264, ALL-I, 600 Mbps
48.00 fps: 4:2:2/10 bit (SD), h.264, ALL-I, 600 Mbps
*24.00 fps: 4:2:2/10 bit (HDMI), h.264, ALL-I, 600 Mbps
47.95 fps: 4:2:2/10 bit (SD), h.264, ALL-I, 600 Mbps
*23.98 fps: 4:2:2/10 bit (HDMI), h.264, ALL-I, 600 Mbps
29.97 fps: 4:2:2/10 bit (SD & HDMI), h.264, ALL-I, 400 Mbps
25.00 fps: 4:2:2/10 bit (SD & HDMI), h.264, ALL-I, 400 Mbps
24.00 fps: 4:2:2/10 bit (SD & HDMI), h.264, ALL-I, 400 Mbps
23.98 fps<: 4:2:2/10 bit (SD & HDMI), h.264, ALL-I, 400 Mbps
MOV 4K
59.94 fps: 4:2:2/10 bit (SD & HDMI), h.264, ALL-I, 600 Mbps
50.00 fps: 4:2:2/10 bit (SD & HDMI), h.264, ALL-I, 600 Mbps
48.00 fps: 4:2:2/10 bit (SD), h.264, ALL-I, 600 Mbps
*24.00 fps: 4:2:2/10 bit (HDMI), h.264, ALL-I, 600 Mbps
47.95 fps: 4:2:2/10 bit (SD), h.264, ALL-I, 600 Mbps
*23.98 fps: 4:2:2/10 bit (HDMI), h.264, ALL-I, 600 Mbps
29.97 fps: 4:2:2/10 bit (SD & HDMI), h.264, ALL-I, 400 Mbps
25.00 fps: 4:2:2/10 bit (SD & HDMI), h.264, ALL-I, 400 Mbps
24.00 fps: 4:2:2/10 bit (SD & HDMI), h.264, ALL-I, 400 Mbps
23.98 fps: 4:2:2/10 bit (SD & HDMI), h.264, ALL-I, 400 Mbps
MOV FHD
119.88 fps: 4:2:2/10 bit (SD & HDMI), h.264, ALL-I, 400 Mbps
100.00 fps: 4:2:2/10 bit (SD & HDMI), h.264, ALL-I, 400 Mbps
59.94 fps: 4:2:2/10 bit (SD & HDMI), h.264, ALL-I, 200 Mbps
50.00 fps: 4:2:2/10 bit (SD & HDMI), h.264, ALL-I, 200 Mbps
48.00 fps: 4:2:2/10 bit (SD), h.264, ALL-I, 200 Mbps
*24.00 fps: 4:2:2/10 bit (HDMI), h.264, ALL-I, 200 Mbps
47.95 fps: 4:2:2/10 bit (SD), h.264, ALL-I, 200 Mbps
*23.98 fps: 4:2:2/10 bit (HDMI), h.264, ALL-I, 200 Mbps
29.97 fps: 4:2:2/10 bit (SD & HDMI), h.264, ALL-I, 200 Mbps
25.00 fps: 4:2:2/10 bit (SD & HDMI), h.264, ALL-I, 200 Mbps
24.00 fps: 4:2:2/10 bit (SD & HDMI), h.264, ALL-I, 200 Mbps
23.98 fps: 4:2:2/10 bit (SD & HDMI), h.264, ALL-I, 200 Mbps
MOV FHD Slow Motion
Sensor:
119.88 fps: 4:2:0/10 bit (SD & HDMI), h.265, L-GOP, 100 Mbps
Recording/Playback:
29.97 fps: 4:2:0/10 bit (SD & HDMI), h.265, L-GOP, 100 Mbps

Sensor:
100.00 fps: 4:2:0/10 bit (SD & HDMI), h.265, L-GOP, 100 Mbps
Recording/Playback:
25.00 fps: 4:2:0/10 bit (SD & HDMI), h.265, L-GOP, 100 Mbps
MOV FHD ProRes
59.94 fps: 422HQ, ProRes, 454 Mbps
50.00 fps: 422HQ, ProRes, 378 Mbps
29.97 fps: 422HQ, ProRes, 227 Mbps
25.00 fps: 422HQ, ProRes, 189 Mbps
24.00 fps: 422HQ, ProRes, 182 Mbps
23.98 fps: 422HQ, ProRes, 181 Mbps
MP4 8K 
(recording to SD)
29.97 fps: 8K 4:2:0/10 bit, h.265, L-GOP, 300 Mbps
25.00 fps: 8K 4:2:0/10 bit, h.265, L-GOP, 300 Mbps
23.98 fps: 8K 4:2:0/10 bit, h.265, L-GOP, 300 Mbps
MP4 8K 
(HDMI output without recording to SD)
29.97 fps: 8K 4:2:0/8 bit, h.265, L-GOP, 300 Mbps
25.00 fps: 8K 4:2:0/8 bit, h.265, L-GOP, 300 Mbps
23.98 fps: 8K 4:2:0/8 bit, h.265, L-GOP, 300 Mbps
MP4 8K 
(HDMI output during recording to SD)
29.97 fps: 4K 4:2:2/10 bit, h.265, L-GOP, 300 Mbps
25.00 fps: 4K 4:2:2/10 bit, h.265, L-GOP, 300 Mbps
23.98 fps: 4K 4:2:2/10 bit, h.265, L-GOP, 300 Mbps
MP4 4K
59.94 fps: 4:2:0 / 10 bit (SD & HDMI), h.265, L-GOP, 100 Mbps
50.00 fps: 4:2:0 / 10 bit (SD & HDMI), h.265, L-GOP, 100 Mbps
29.97 fps: 4:2:0 / 8 bit (SD & HDMI), h.264, L-GOP, 100 Mbps
25.00 fps: 4:2:0 / 8 bit (SD & HDMI), h.264, L-GOP, 100 Mbps
23.98 fps: 4:2:0 / 8 bit (SD & HDMI), h.264, L-GOP, 100 Mbps
MP4 FHD
59.94 fps: 4:2:0 / 8 bit (SD & HDMI), h.264, L-GOP, 28 Mbps
50.00 fps: 4:2:0 / 8 bit (SD & HDMI), h.264, L-GOP, 28 Mbps
29.97 fps: 4:2:0 / 8 bit (SD & HDMI), h.264, L-GOP, 20 Mbps
25.00 fps: 4:2:0 / 8 bit (SD & HDMI), h.264, L-GOP, 20 Mbps
23.98 fps: 4:2:0 / 8 bit (SD & HDMI), h.264, L-GOP, 24 Mbps
ISO sensitivity range 
(Video)
Auto ISO: ISO 100 to ISO 100,000
Manual:ISO 50 to ISO 100,000