There has been a lot of excitement at the show around Leica's two new compact cameras, the Leica D-Lux (Typ 109) and the Leica V-Lux (Typ 114). Admittedly, there is tons of excitement around pretty much all of Leica's 20-something new products presented here at Photokina, but for these two cameras we are seeing perhaps the largest upgrade from their predecessors. Both cameras have gotten major heart transplants, sporting sensors much larger than we usually see in cameras of this size.
I've used almost every generation of D-Lux and V-Lux and they have always been very capable cameras, offering great features, easy operation, lasting value and, above all else, great image quality. The new D-Lux and V-Lux cameras have raised the bar way, way higher with regards to absolute image quality, ease of operation and feature set.
I spoke with the product manager for these compact cameras, Peter Kruschewski, to gain a little more insight and take a closer look at these new models.
D-Lux (Typ 109)
The new D-Lux has a heft that belies its size. Pick it up and immediately you know this isn't a plastic fantastic point and shoot. Rather than the half plastic/half metal build of the D-Lux 6, the new Typ 109 features an all-aluminum construction that is as durable as it is sleek. Even with its small form factor, the camera conforms nicely in the hand and has a little rubber thumb pad for extra grip. Multi-selector mode dials and the like are now replaced with direct exposure controls like shutter speed and exposure compensation dials on the top plate, with aperture and focus rings on the lens. The dials have solid detents and the focus ring is smoothly damped, giving a nice analog-type feel. Peter explained that the M-like control layout was a direct effort to make this generation of D-Lux (the 7th!) the truest to Leica DNA yet. And, I think on this front, Leica has succeeded. Straightforward controls have always been a hallmark of Leica.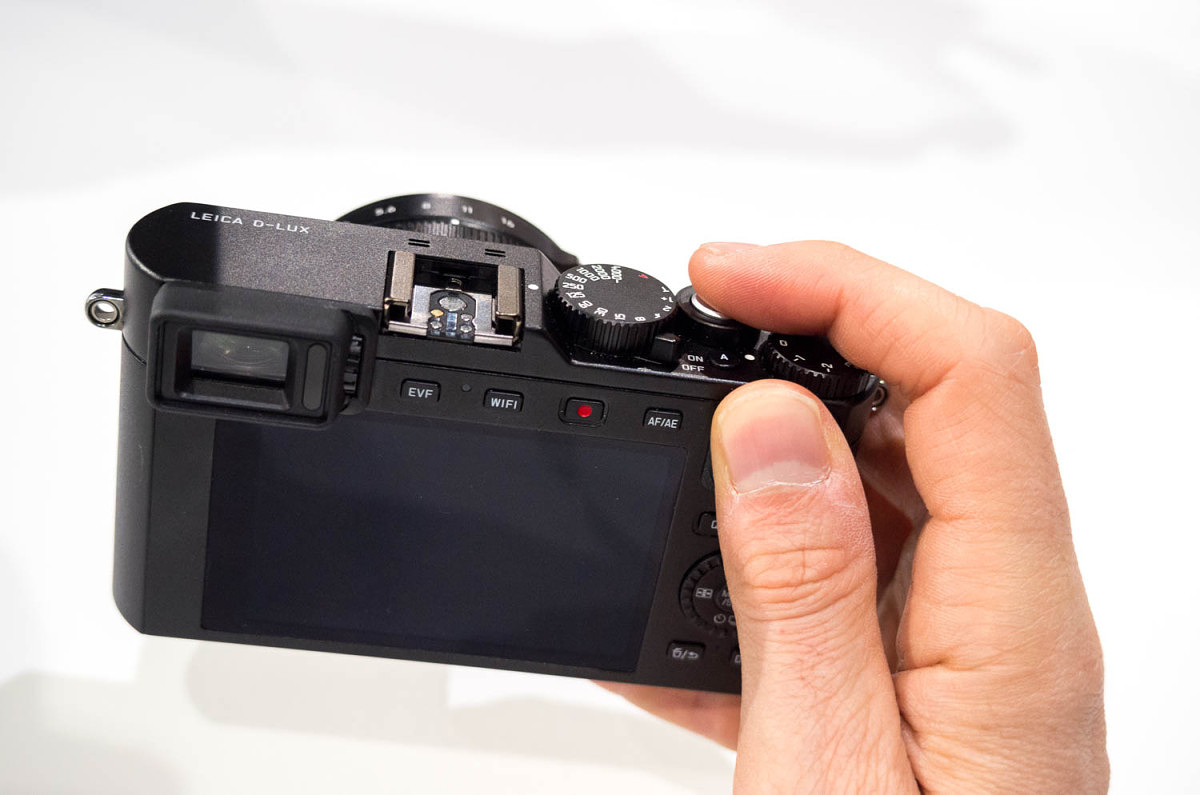 The 12.8 MP micro 4/3 sensor in the D-Lux is 5x larger than the 1/1.7" sensor used in the D-Lux 6. To put this in perspective, Leica's top of the line S System has a sensor that is 60% larger than full frame 35mm. The quality differences between the S and even the excellent M 240 (a full frame model) are readily apparent. The D-Lux's chip is now 500% percent bigger. This is a really big deal.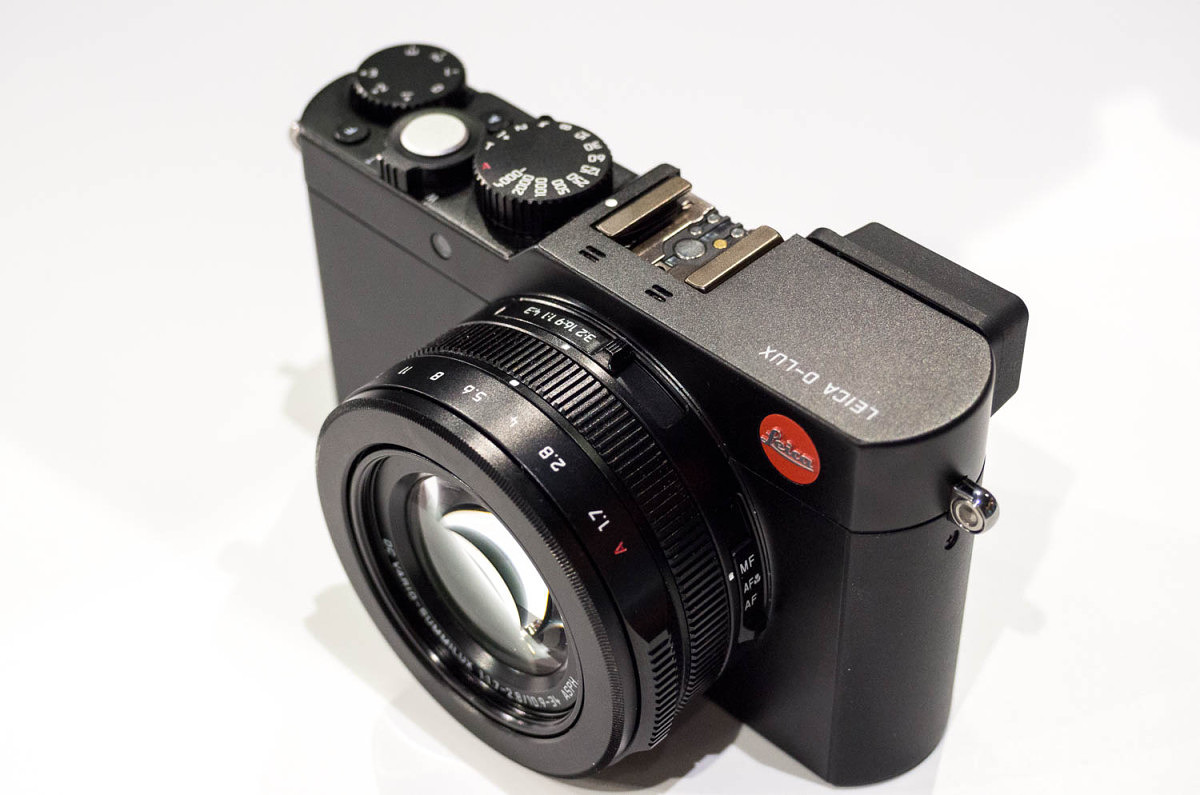 The two main advantages that a larger sensor will bring is improved low light performance and more creative freedom by allowing more depth of field control. Pictures will look more three dimensional with foreground subjects popping off the background. And, rather than struggling to take a clear picture at ISO 800 like on most compact cameras, I'm told this new model will excel at ISO 6400. Of course, if you want to see how far you can take low-light shooting, there are settings all the way up to 25,600.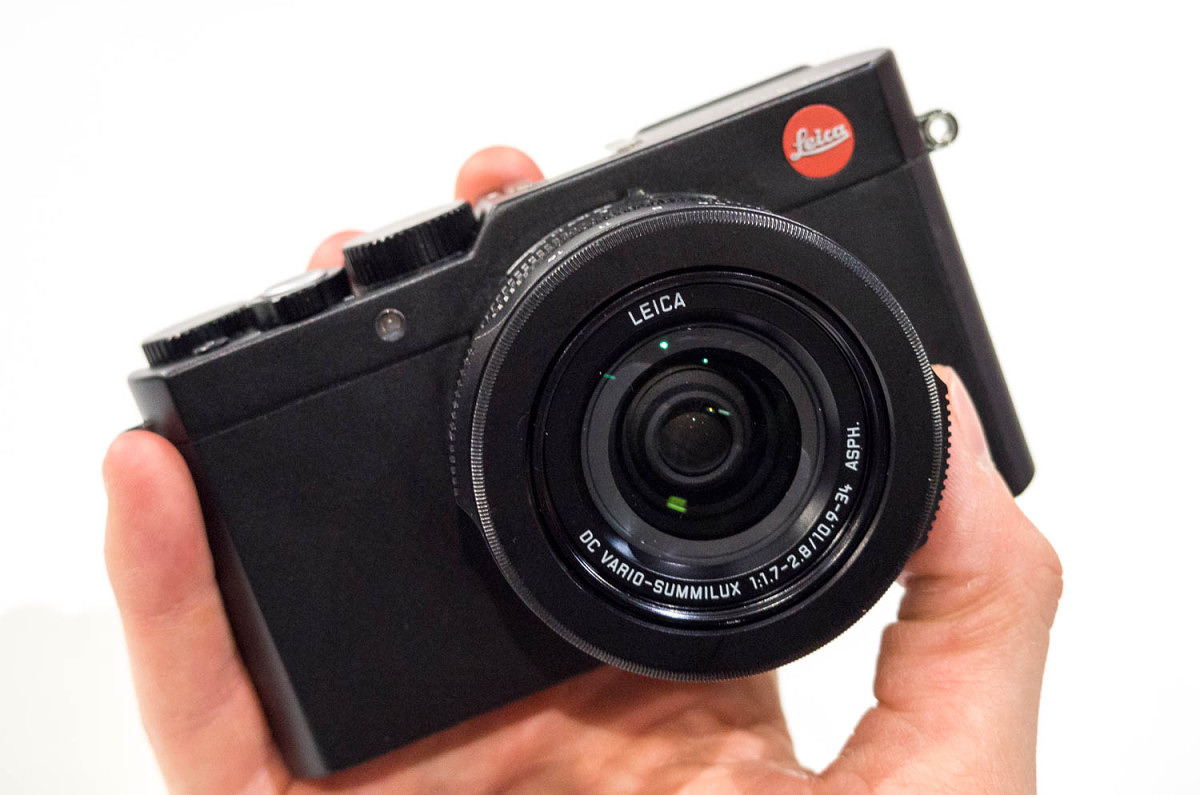 Along with a larger sensor, you usually need a bigger lens. Somehow, the optical engineers at Leica have managed to keep the size of the lens down while still offering a great focal length range of 24-75mm (equiv) and very generous maximum aperture of f/1.7 – 2.8. According to Peter, yes, some sacrifices had to be made in lens design, such as limiting the long end of the range to 75mm vs. 90mm and going to f/1.7 rather than f/1.4. The goal was to keep the quality level and specs as high as possible, while keeping the size to a minimum. And, even though the DC Vario Summilux lens is larger on the Typ 109, it matches up quite nicely with the slightly beefier body. For those using filters, the D-Lux now accepts an E43 filter size, the same as used with the X Vario and the new X Typ 113.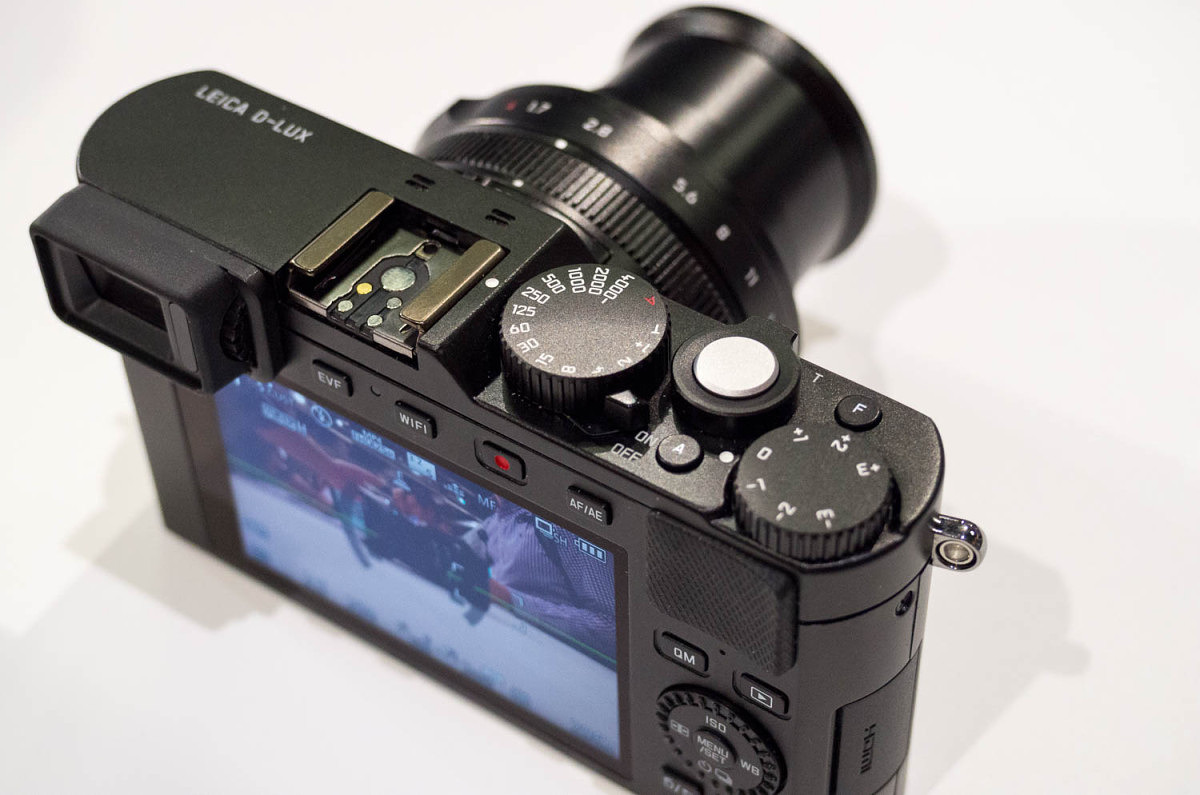 Also making its way to a D-Lux camera for the first time is a built-in, high resolution 2.8MP EVF. The EVF activates automatically when you place it up to your eye. A built-in finder has been requested by customers for some time, and now, Leica has found a way to incorporate it. Peter thinks that the built-in EVF is a defining feature of the Typ 109, and was extremely pleased that they were able to physically fit in to the camera, especially considering its compact size and other component requirements. Looking through the EVF is a real treat. Clear and bright with a fast refresh, this viewfinder is top rate with class-leading resolution and clarity.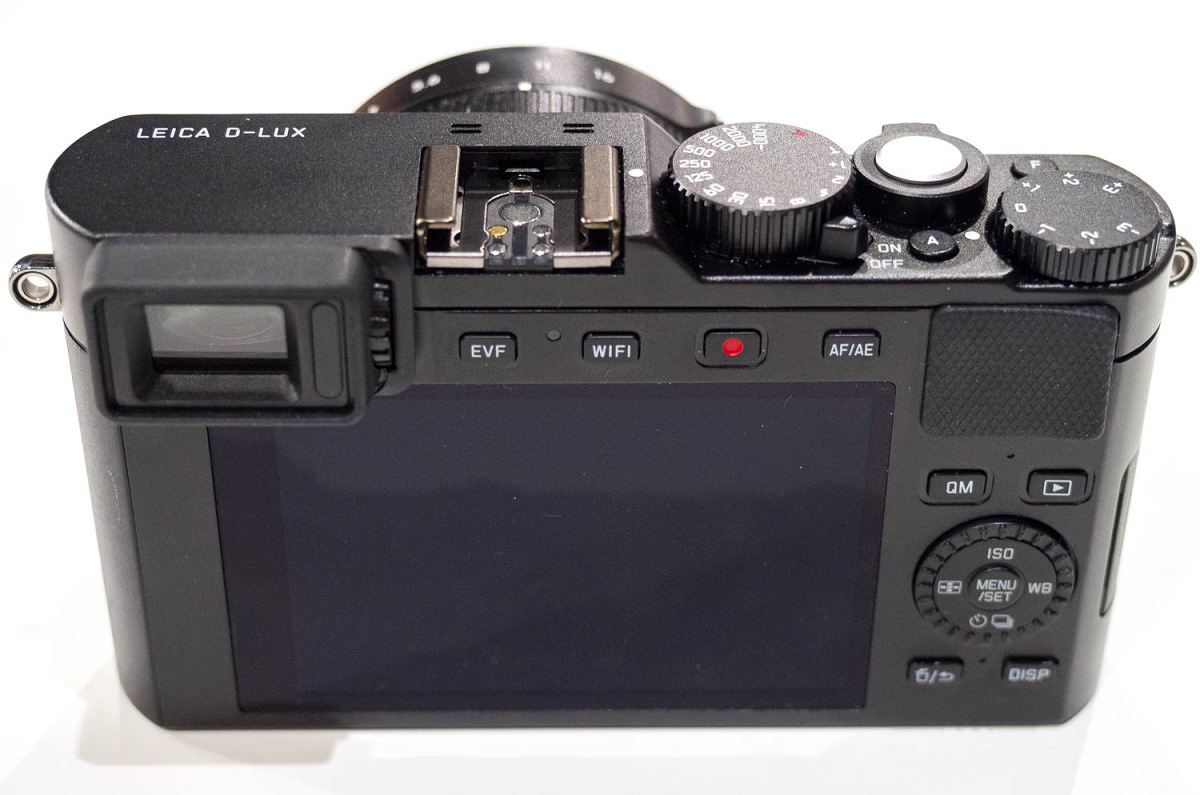 Of course, not everything was able to be fit in the new body. Perhaps because there was just no more space inside the packed chassis, or maybe to make the camera more system-like, there is no built-in pop-up flash. Instead, a small CF D hot-shoe mounted flash is provided with the camera. It's cute and reminds me a little bit of the old single-use cube flashes, but it's not made of clear plastic nor is it single use. You needn't worry about batteries; the flash is powered by the camera. The other reasoning for omitting a built-in flash is that with such great low light performance and a fast f/1.7 lens, there are very few situations that you might actually need a small flash.
For video enthusiasts, there's a lot to love. The D-Lux brings 4K video to the table with high-quality encoding up to 100 Mb/s. The 4K video area is slightly cropped from the full frame as it is 1:1 pixels for maximum quality with no down sampling. The active area isn't too much smaller, so the resulting lens factor is about 1.5x, meaning that your 24mm wide angle turns to roughly a 35mm and 75mm at the long end goes to about 100mm. All-in-all, not a bad trade-off if 4K is your thing.
For remote camera control, instant review and image sharing, you can connect to your phone or tablet with WiFi. A new feature is that by using a phone with NFC (Near Field Communications), the camera and the phone will take care of setting up the correct WiFi settings for you. Very cool feature.
Rounding out some of the new features is focus peaking, visible on screen or in the EVF and a new high speed shutter setting, which takes the fastest shutter speed from 1/4000 sec on the D-Lux 6 to a crazy fast 1/16,000 sec by way of a new high-speed electronic shutter. And while you may not be able to freeze the flight of a bullet through an apple, you won't need an ND filter to shoot wide-open at f/1.7, even on the sunniest of days.
One last note, for those upgrading to the new D-Lux, please note that the battery is not the same. Due to the increased power needs of the larger sensor, a new high-capacity battery, the BP-DC15-U is now required.
V-Lux (Typ 114)
The V-Lux has seen some pretty sizeable upgrading as well. The sensor has also gotten a sizeable boost both in terms of physical size and resolution, now sporting a 1" 20 MP CMOS chip. While not quite as large as the micro 4/3 sensor in the new D-Lux, the V-Lux's 1" chip is 5x larger than that used in the V-Lux 4 and should see the same relative performance improvements found in the D-Lux, like better subject separation and improved low-light capabilities.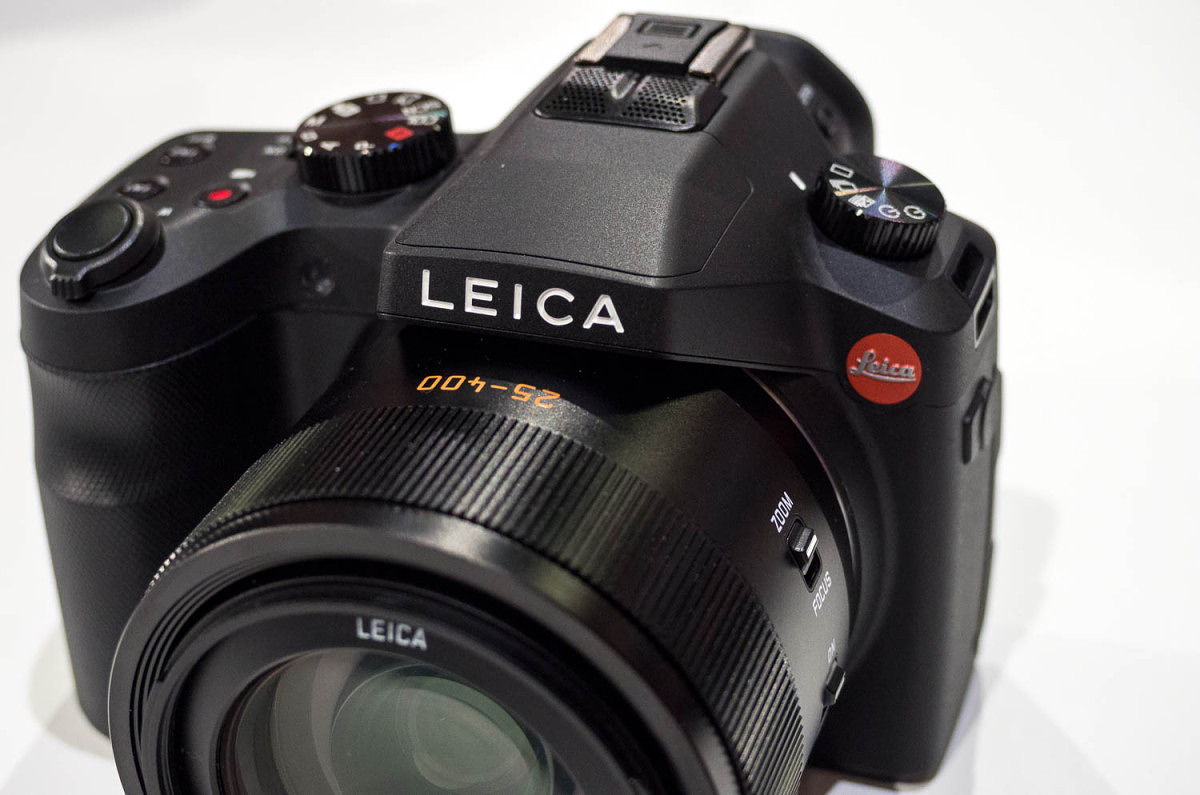 Peter called the new Typ 114 the "Swiss Army Knife of digital cameras." He doesn't seem too far off the mark here. In spite of the huge increase in sensor size, the V-Lux still boasts a 25-400mm f/2.8-4 zoom with image stabilization and incredibly fast autofocus. And I mean really fast. It used to be accepted that for sports you really needed a DSLR with a long zoom to capture action, and that a compact all-in-one camera fell short. Not so with the V-Lux. The AF is smoking fast, able to move that big lens from 2m to infinity in a blink of an eye (if said blink took 0.2 seconds). The camera can shoot at a blazingly quick 12 fps and, just like the D-Lux, now has shutter speeds up to 1/16,000 sec.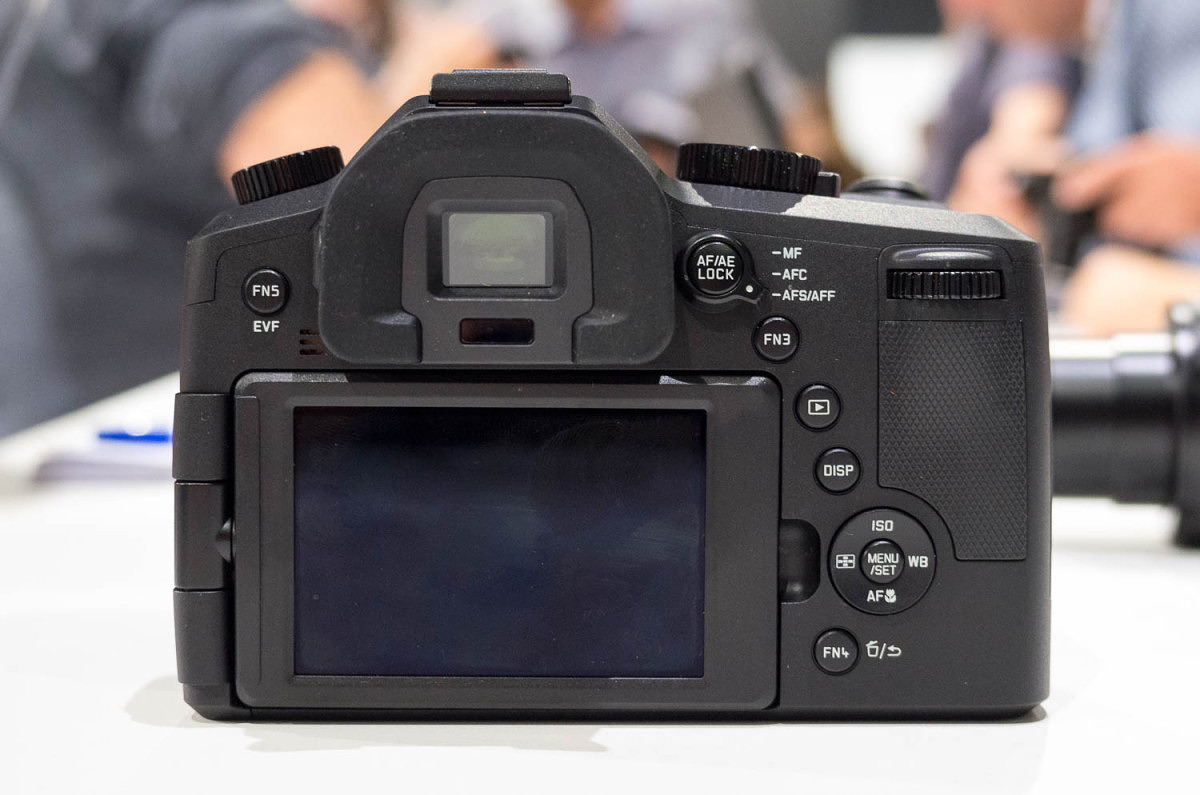 And, with 4K video on board, you can shoot even faster if you need to. Because each frame of 4K video weighs in at 8MP, and because you can capture 30 frames of this resolution every second, a new technique for action is to pull still frames from high resolution video. On FullHD, each frame is only 2MP, hardly enough for anything but online use. But, with 8MP, even prints like 16×20" can be expected. And, because the capture size is smaller than the full sensor, you can get an effective 600mm focal length for these action sequences. Of course, this technique isn't without trade-offs. You'll be giving up RAW which will limit your post-processing options and you won't get the full 20MP image. But, if you really want to catch a cheetah bounding across the plain while on safari, it's worth at least trying.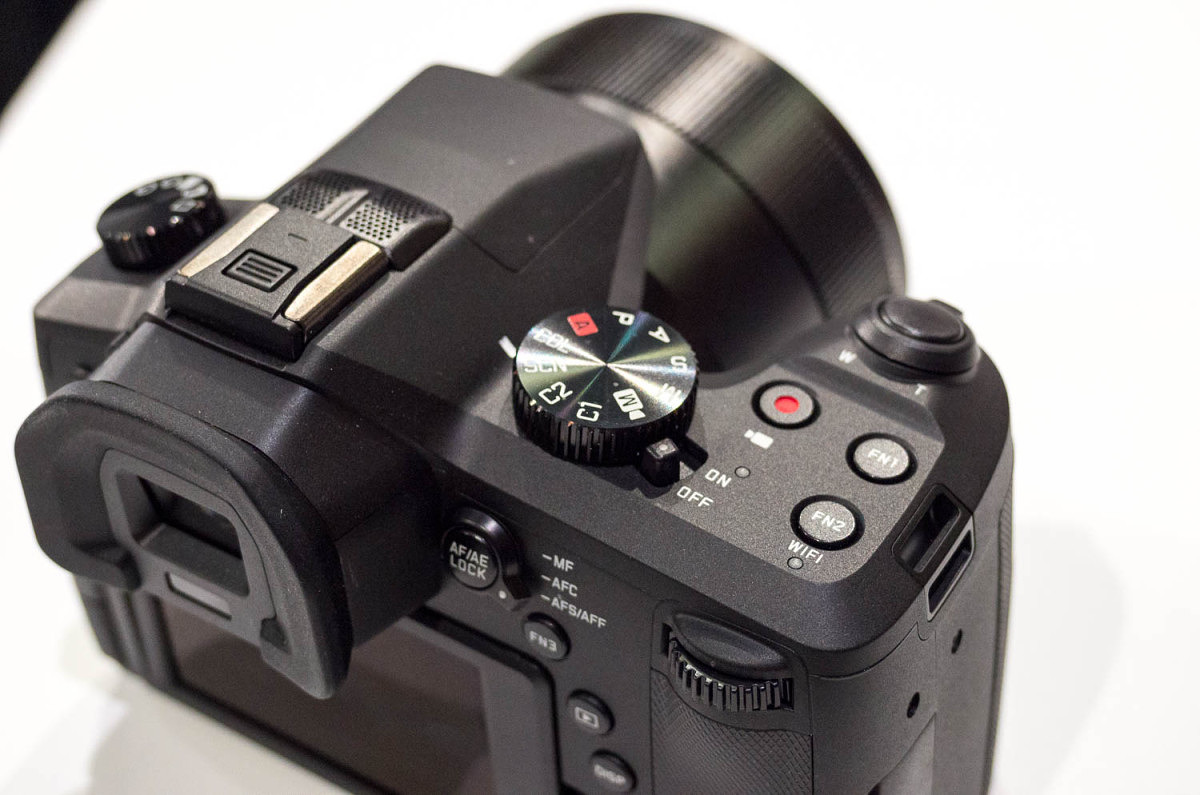 With the bigger sensor, low-light performance should be improved and as such, the ISO range has been expanded from a 3200 max up to 12,800. My guess is that optimum maximum ISO will be somewhere in the 1600 – 3200 range.
While the V-Lux 4 featured a built-in EVF and a rear LCD, both have gotten nice upgrades. The EVF is now a 2.4MP OLED type and the screen gets a full 920K pixel resolution, same as the D-Lux. Both are crystal clear with smooth and fluid live view. And, just like the D-Lux, focus peaking is an option for manual focus assistance.
And, just like its D-Lux brethren, similar WiFi and NFC can be found here too. All you need is the free Leica app on your iPhone or iPad and you're off to the races.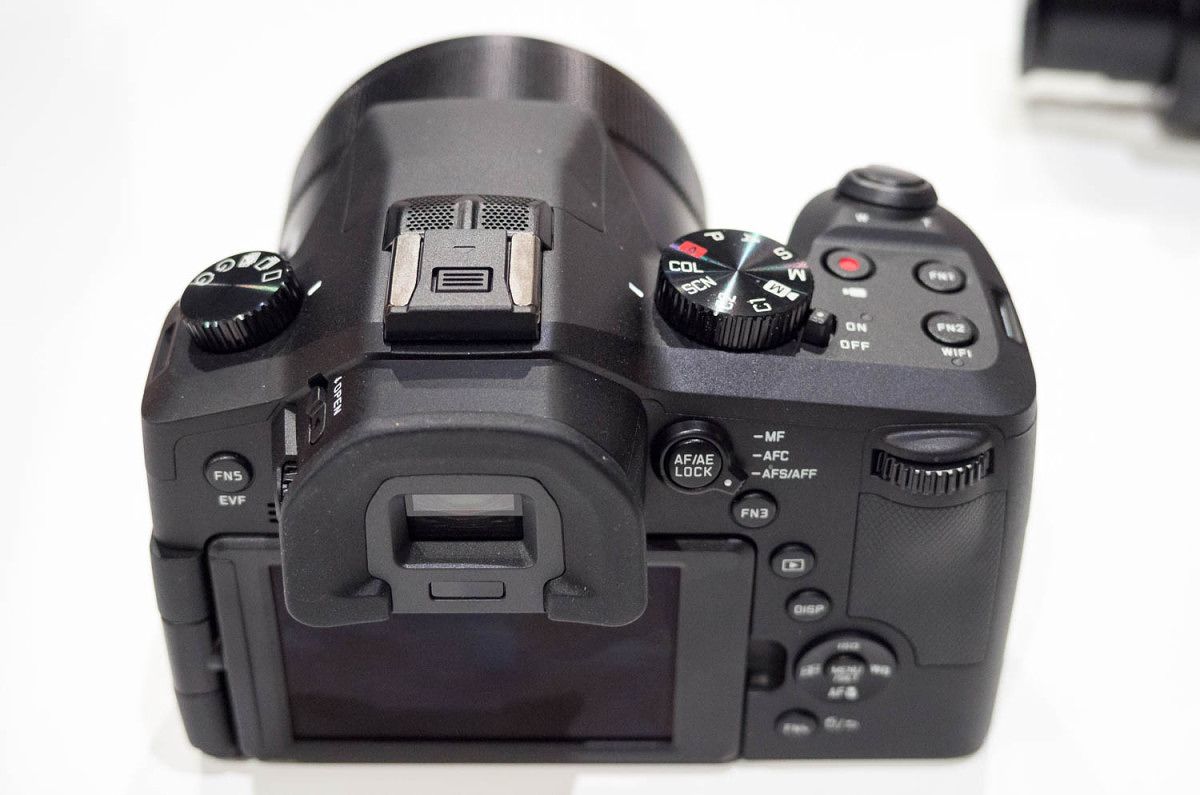 Besides just the internal modifications, the new Typ 114 has had more notable changes from V-Lux 4. It is larger but not much heavier. The increased size is need to accommodate the larger sensor and correspondingly larger lens, which now has a front diameter of 55mm. A nice benefit of the thicker lens barrel is the addition of a nice, wide zoom/focus combination ring. There's a small switch on the side of the lens that allows you to toggle the function easily. The only other switch  on the lens is one to control image stabilization. In fact, this more minimal design carries throughout the camera as there are fewer buttons and switches. The result is most certainly cleaner, more streamlined, and ultimately more modern.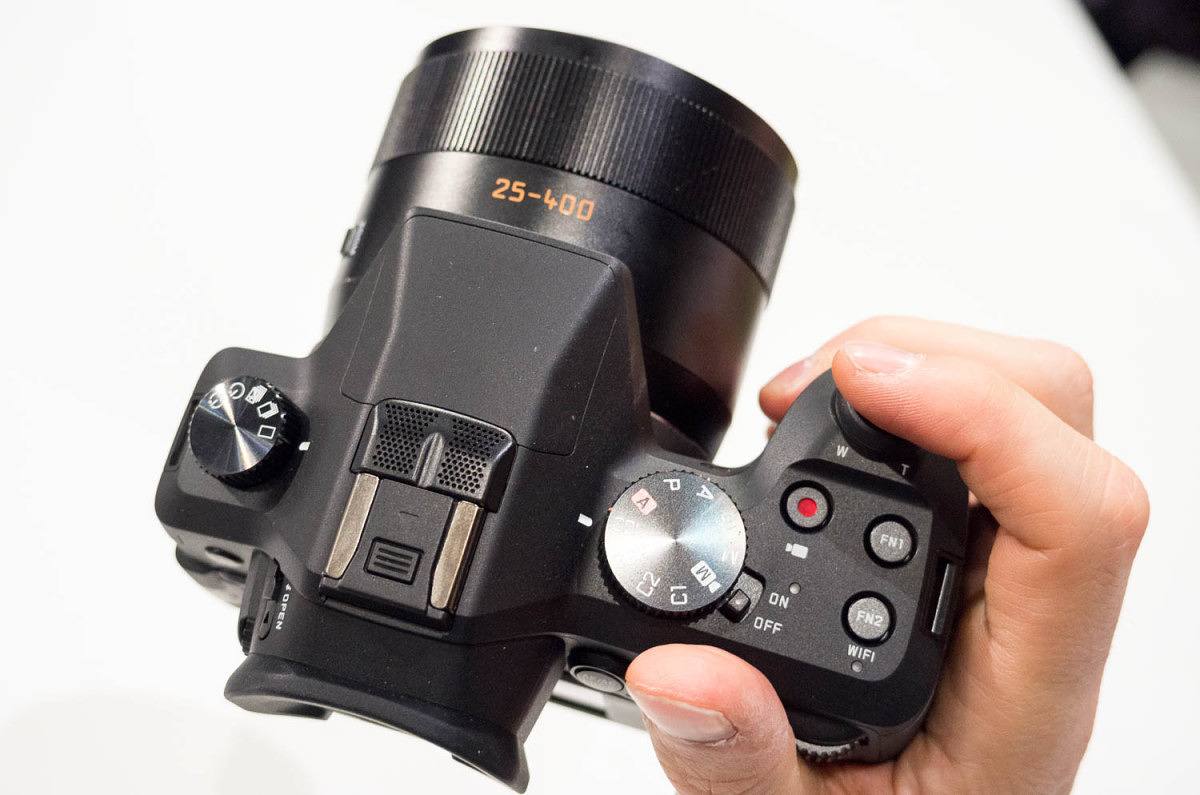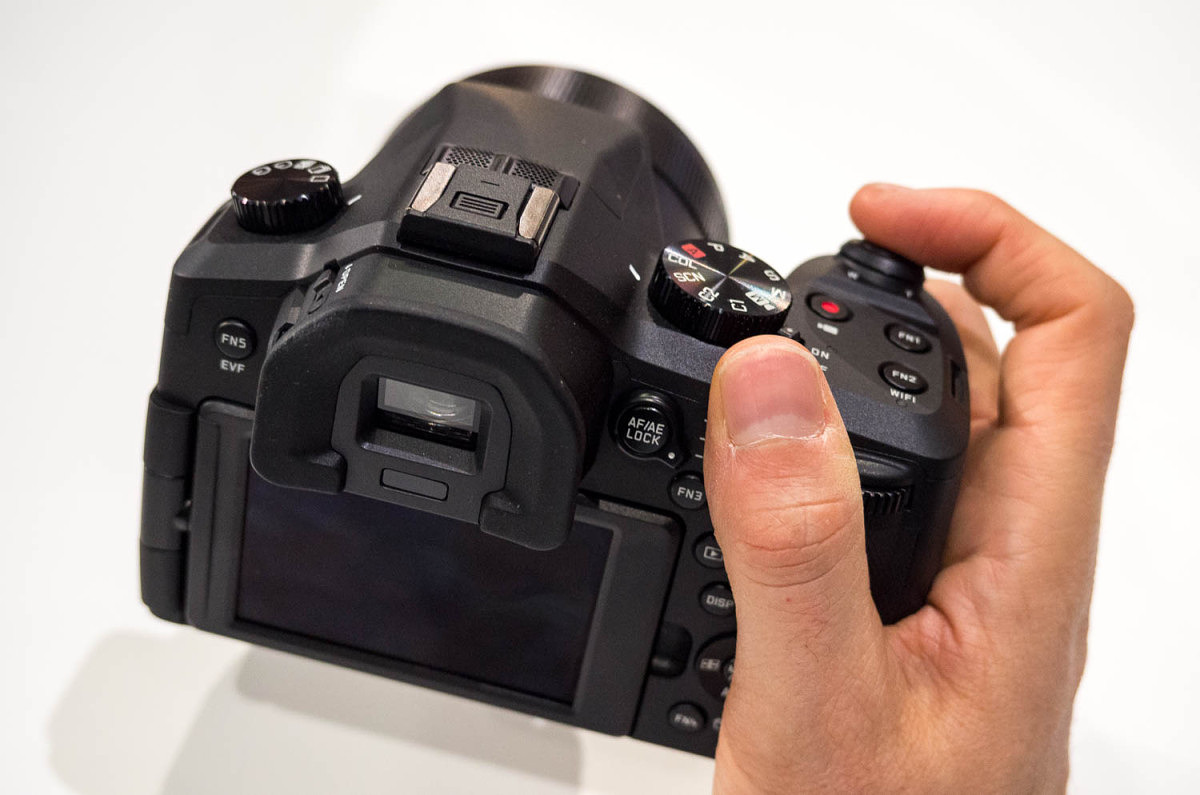 The camera feels very nice to hold. The grip is well-defined and a rubber thumb pad is added for increased ergonomics. Something else you might notice when picking up the camera for the first time is that the EVF/eyecup assembly on top of the camera protrudes from the body and overhangs the rear articulating LCD by at least a good inch. The result is far fewer nose prints on the LCD for the camera and less squished noses for users. Perhaps the most grateful demographic will be left-eyed shooters, who always seem to struggle to find a comfortable viewfinder position.
Overall, the V-Lux (Typ 114) is a very solid evolution from the V-Lux 4. Leica sees it as the perfect camera for vacations, safaris, sports, or just about anything where you need maximum zoom capability with the option of high-speed focus and shooting as well as 4K video.
Unlike the D-Lux, the new V-Lux still takes the same BP-DC12-U battery. So, at least one thing is still the same…
Wrapping up
These two new compact cameras show a direction change for Leica. The under-the-hood improvements are dramatic, much more significant than in any other generational evolution to date, and offer novices and enthusiasts alike so much more bang for their Leica buck. Big sensors, great lenses, high ISO capability, more 3D look, 4K video, WiFi and more, with solid construction and great ergonomics.
These aren't cheap cameras, by any means, at $1,195 and $1,350 for the D-Lux and V-Lux respectively. But, they are perhaps the best value in the entire range. These models are equally well-suited to first time Leica buyers as they are to veteran M shooters looking to augment their arsenal with something a little smaller, as in the case of the D-Lux, or something with more range and speed like the V-Lux.
I think Leica has done a great job of filling in all the gaps in the product range. C, D, V, X, T, M, S. No small feat for a company that had its early struggles with digital photography not that long ago. Now, there is a system for almost every user and every need, at different price points.
The new compacts should start shipping in November 2014 and are available for immediate pre-order from Leica Store Miami.
Update (Sept 23): Just got word that the first delivery of V-Lux (Typ 114) cameras will be available starting this week! Order here.