Today, Leica has announced the V-Lux 5, the successor to the extremely popular V-Lux (Typ 114). With many of the same specifications that made the previous V-Lux such a hit, the V-Lux 5 sports a redesigned body, faster performance, new shooting modes, a larger rear display with touchscreen functionality, USB charging, quicker autofocus, a higher quality EVF, enhanced Wi-Fi with Bluetooth, and more. I'm sure that the added features and speed will come as welcome additions to an already capable superzoom platform.
Let's run through the main aspects of the V-Lux 5 and see where it differs from its predecessor. To see an at-a-glance summary, we've got a handy comparison table below, along with full tech specs. Read on.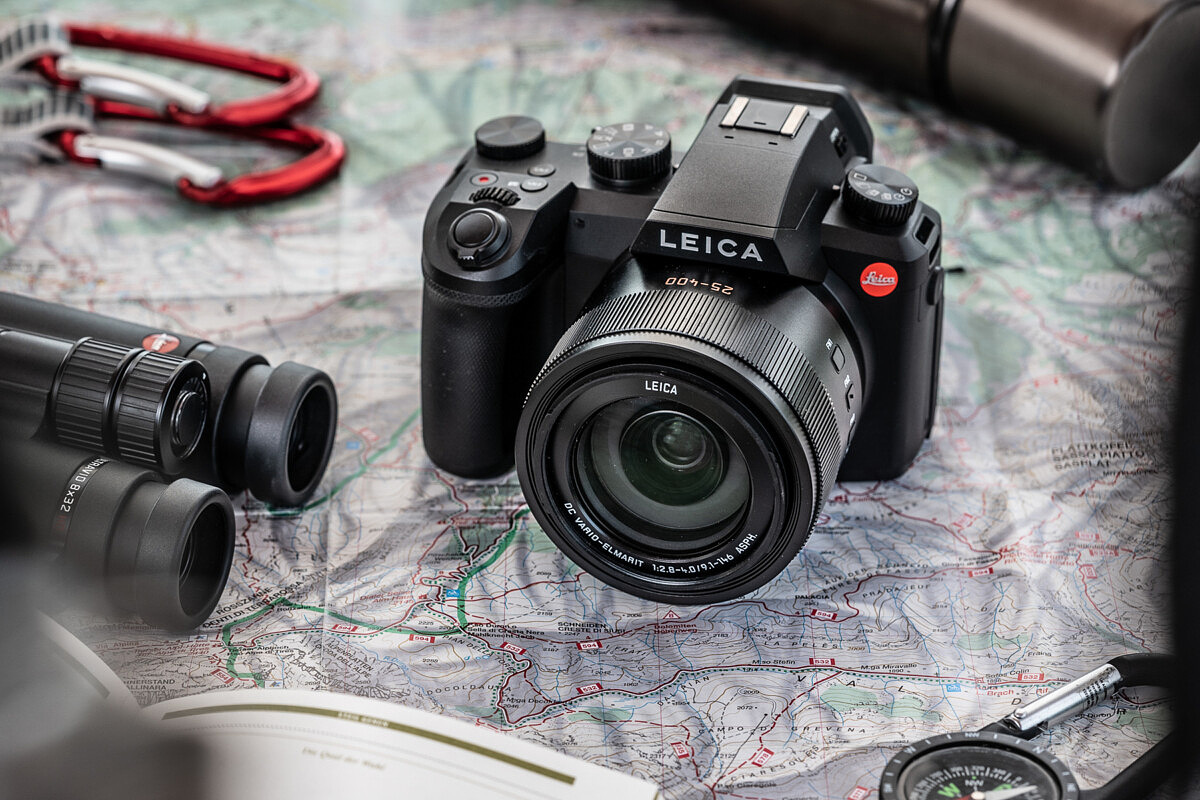 Sensor
At the heart of the V-Lux 5 is a 20 megapixel 1-inch CMOS sensor. We're not sure if this is the same sensor used previously, or an upgraded version at the same resolution. In the former, we honestly have few complaints. In the latter, we'll be curious to see improvements in low light performance.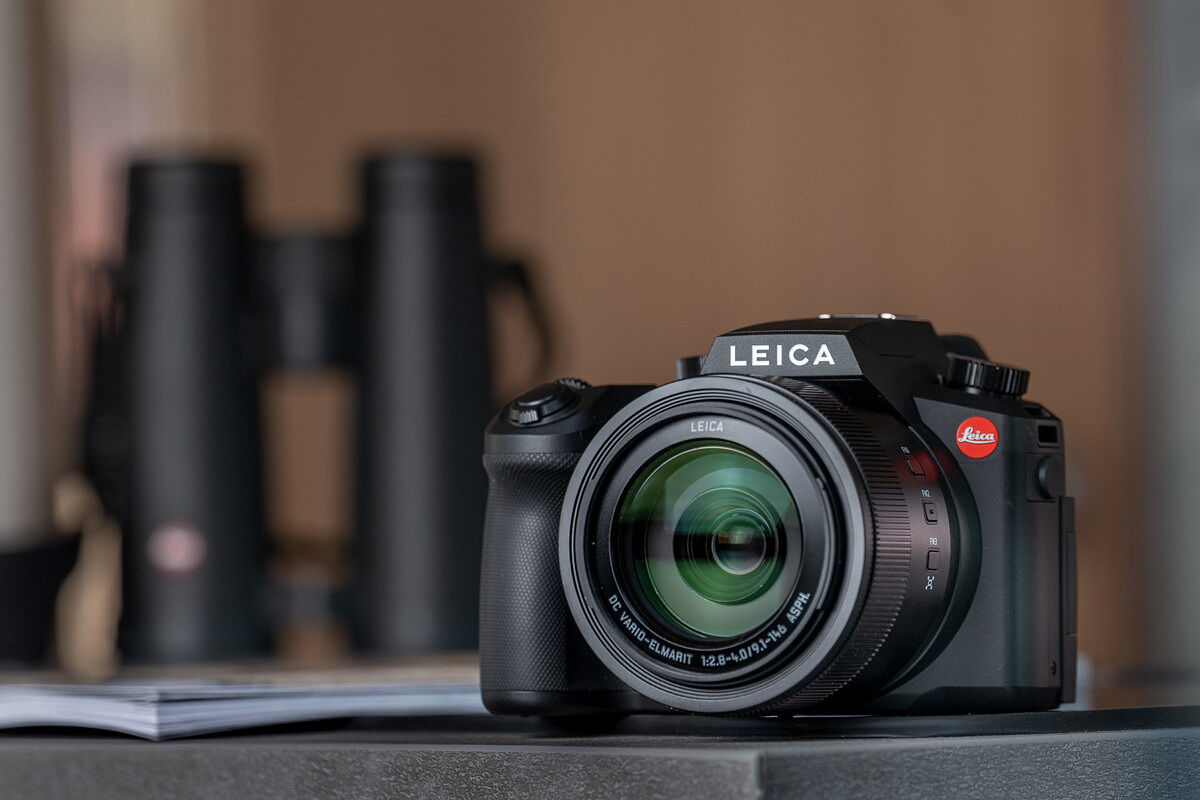 Lens
Bolted to the front is a 16X DC-Vario-Elmarit 9.1-146mm f/2.8-4 ASPH, equivalent to 25-400mm f/2.8-4 in full frame. Perhaps the defining aspect of the V-Lux, the lens delivers exceptional flexibility with a wide zoom range coupled with a fast aperture. Autofocus speed has been bumped about 10%, now clocking in around just 90ms to move through the entire focus range. Additionally, minimum aperture has been expanded from f/8 to f/11, allowing some more creative freedom.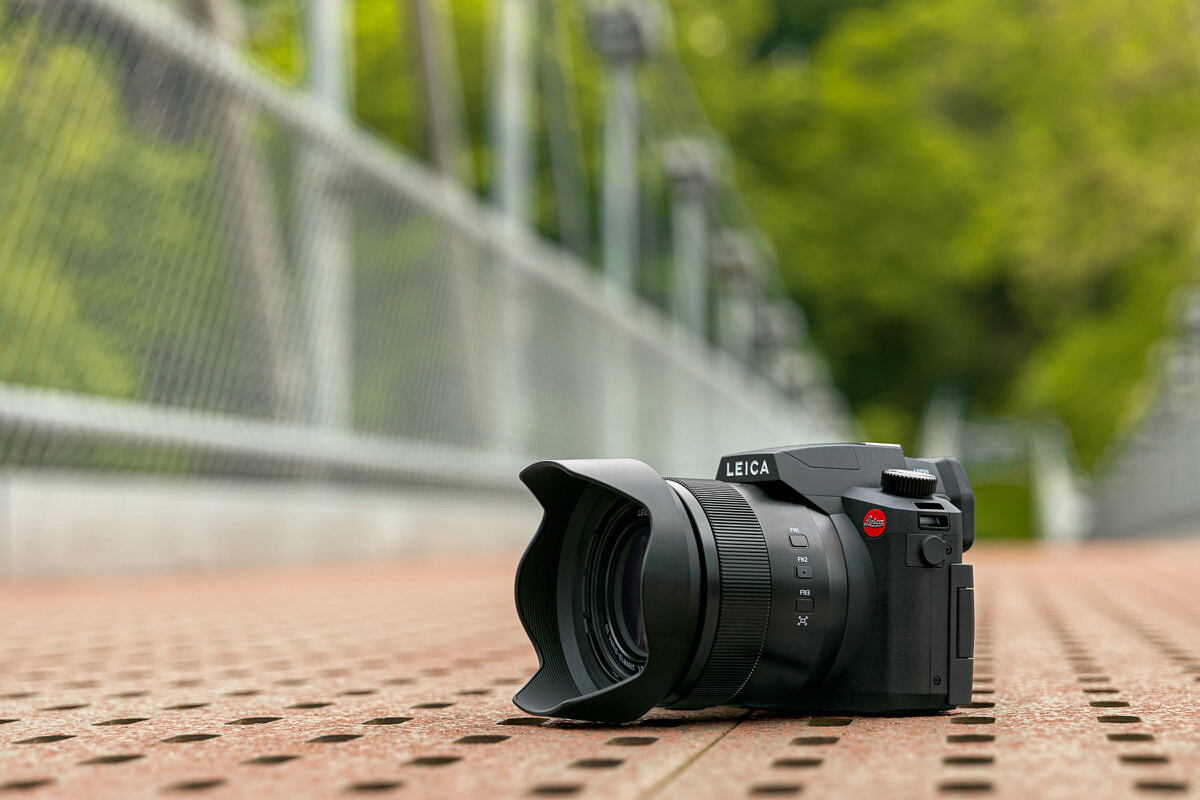 Rear LCD Display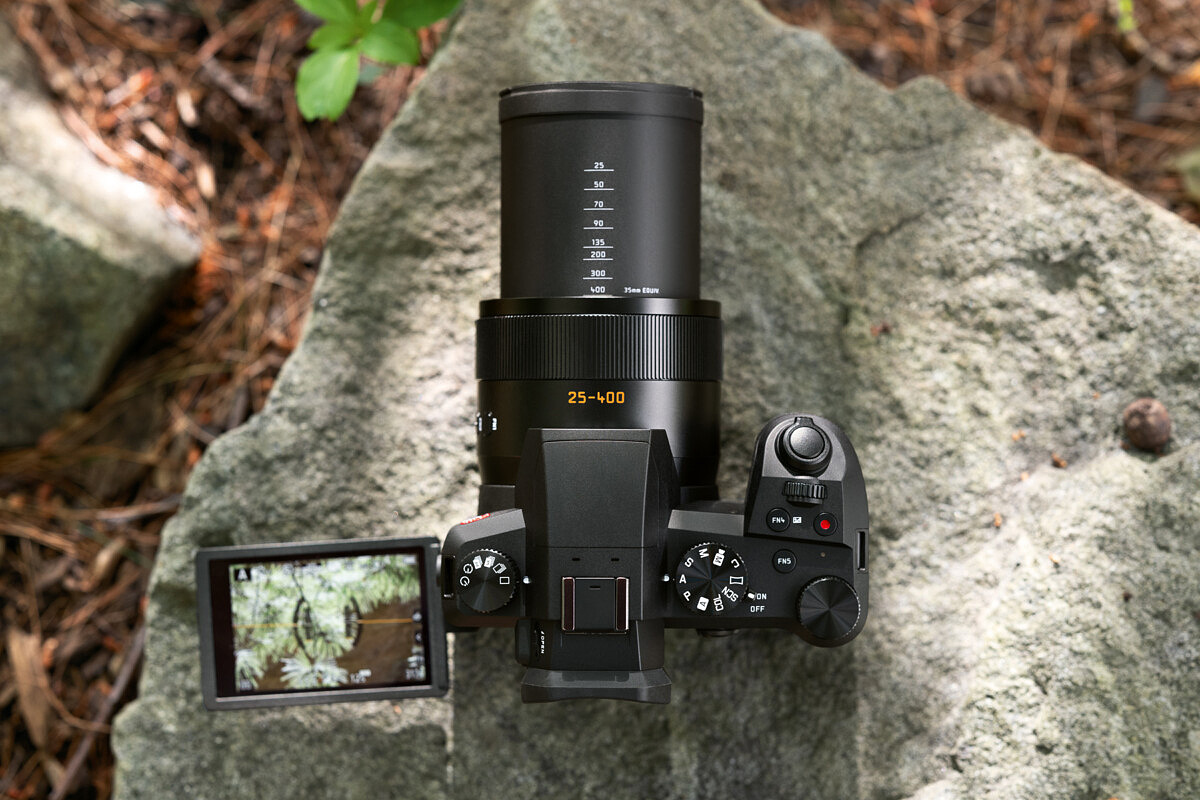 The articulating rear 3-inch LCD receives some nice updates. The screen resolution has been increased from 920K pixels to a hefty 1.24 million. Both brighter and crisper, the screen now also comes equipped with full touchscreen control. Combined with the highly-customizable function buttons on the body, the touchscreen will enable quick, intuitive operation.
EVF
The previous V-Lux already featured a high-res 2.36 megapixel OLED EVF, so the upgrade here is a bit more subtle – but still welcome. Magnification has been upped to 0.74x, resulting in a larger and clearer image with greater eye relief.
Body Design
Starting with the ergonomic body of the V-Lux 114, the V-Lux 5 shows some understated styling tweaks. Rounded edges give way to slightly more angular ones. The rear thumb dial now resides on the top edge of the camera, and a new second control wheel now sits just behind the shutter release. The Zoom/Focus toggle and OIS switches on the side of the lens are replaced with three custom function soft buttons. The camera is also a hair lighter, now weighing just 812 grams.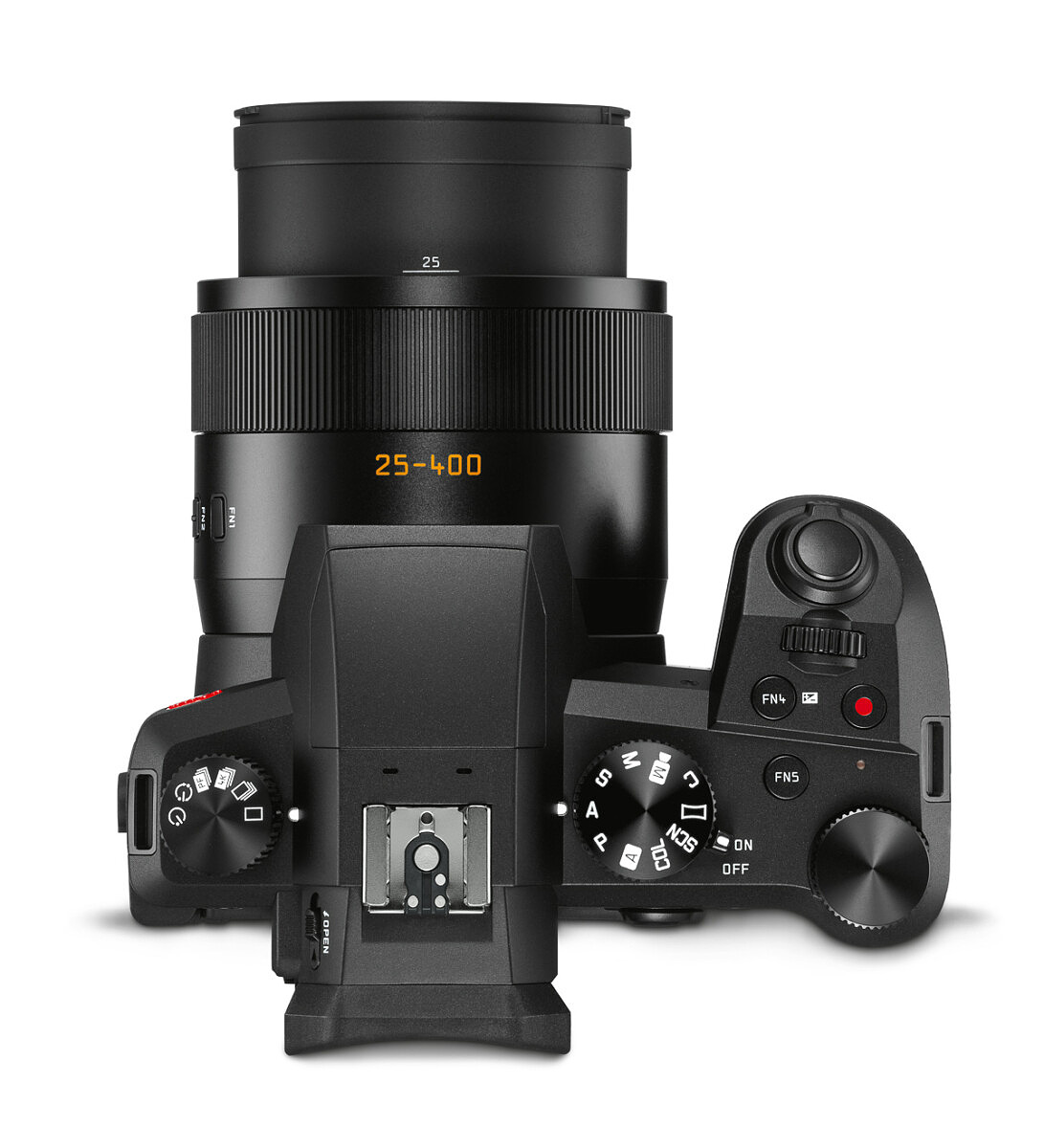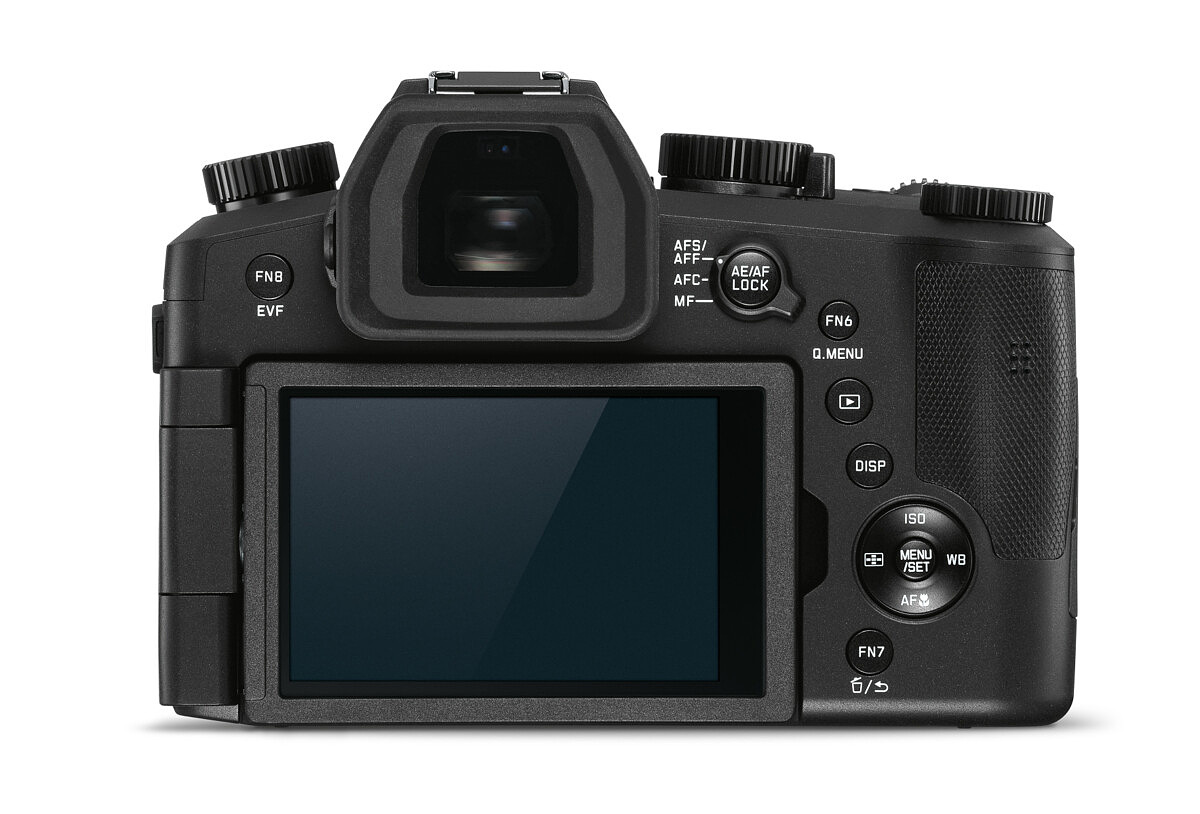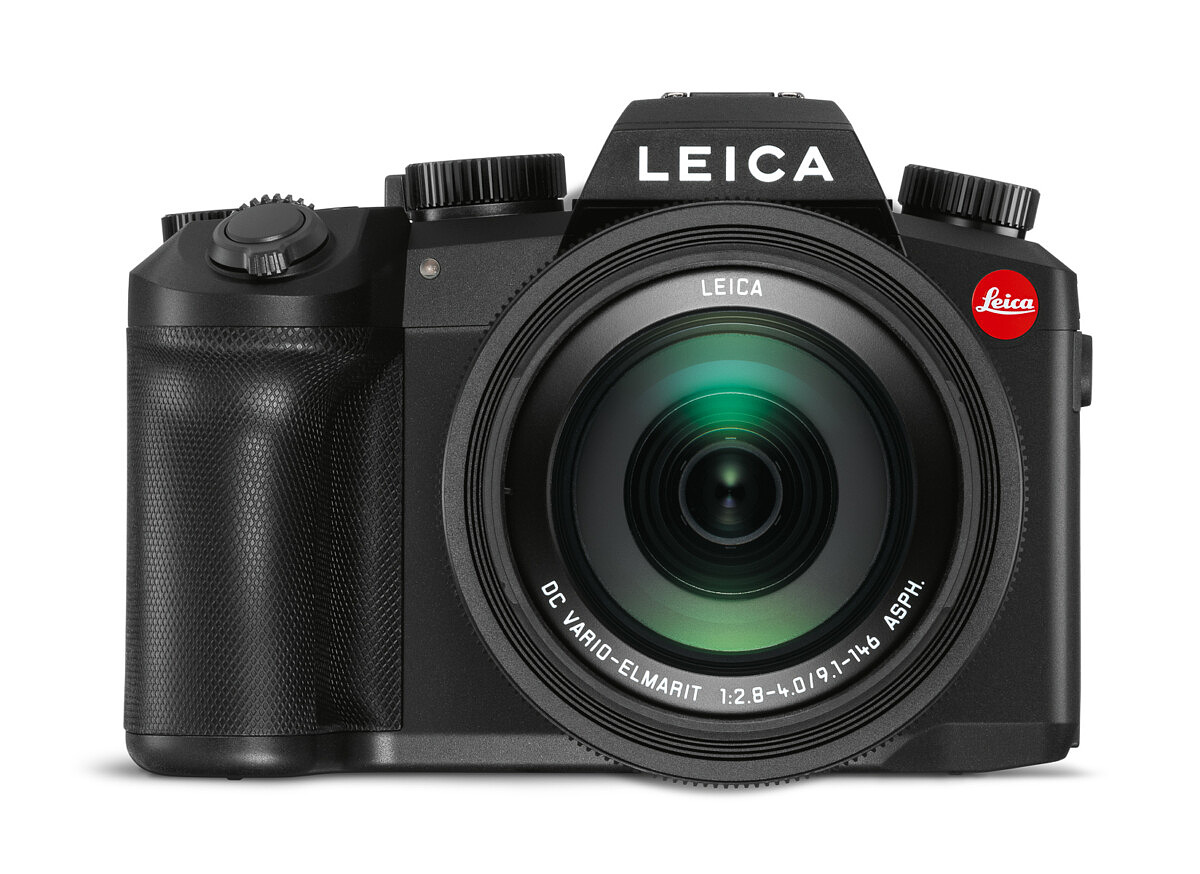 4K Post Focus Modes
We first saw these 4K video modes on the Leica D-Lux 7. Now, useful features like Post Focus and Focus Stacking make their way to the V-Lux 5. Essentially, the camera is using a 30 fps burst of 4K shots, 8.3 MP each, to capture images across a large focus range. You can then use the processing power in the camera to either select a point of focus or stack all the images together for maximum depth of field. This feature is useful for macro and landscape applications and could certainly help when attempting to photograph quickly-moving and unpredictable subjects like kids and pets. Sure, you'll sacrifice a bit of resolution, but it might be worth it.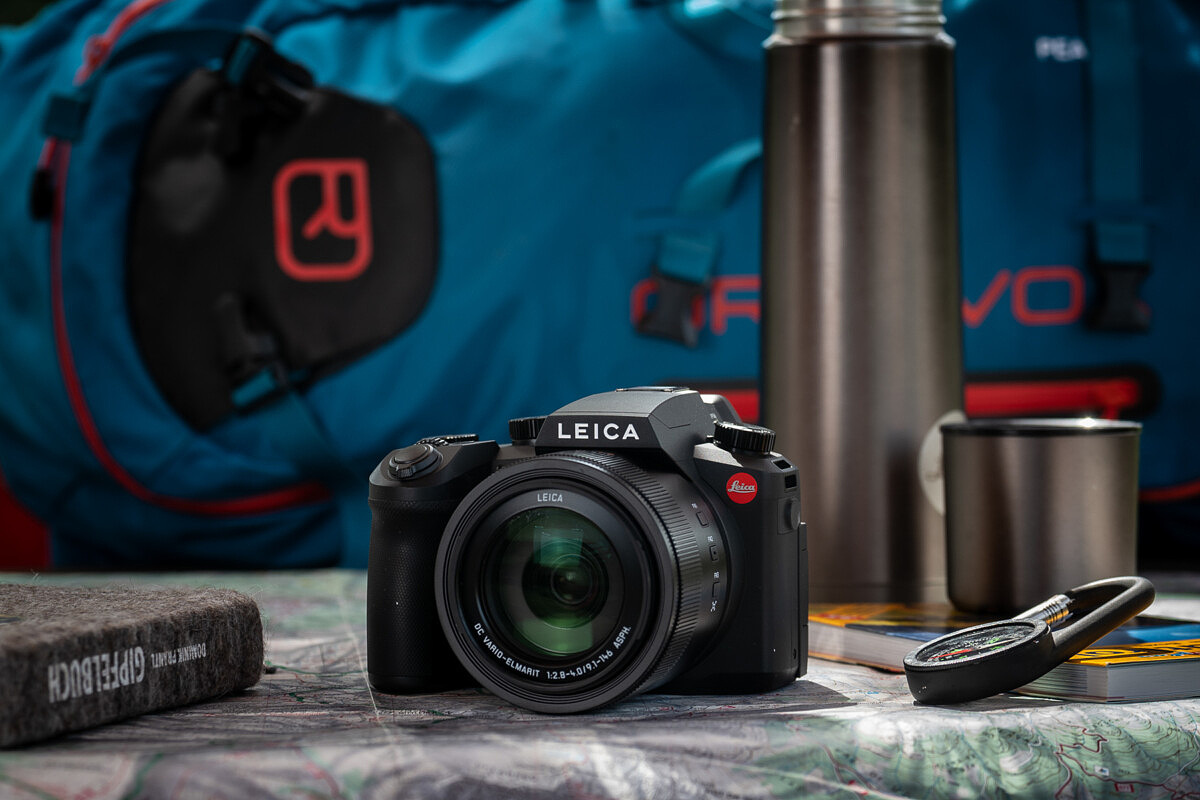 Connectivity
Another upgrade right from the D-Lux 7 is the upgraded Wi-Fi WLAN with Bluetooth. Connection to the Leica FOTOS app is faster, simpler to set up and more robust. For those using the FOTOS app, this will be a significant change.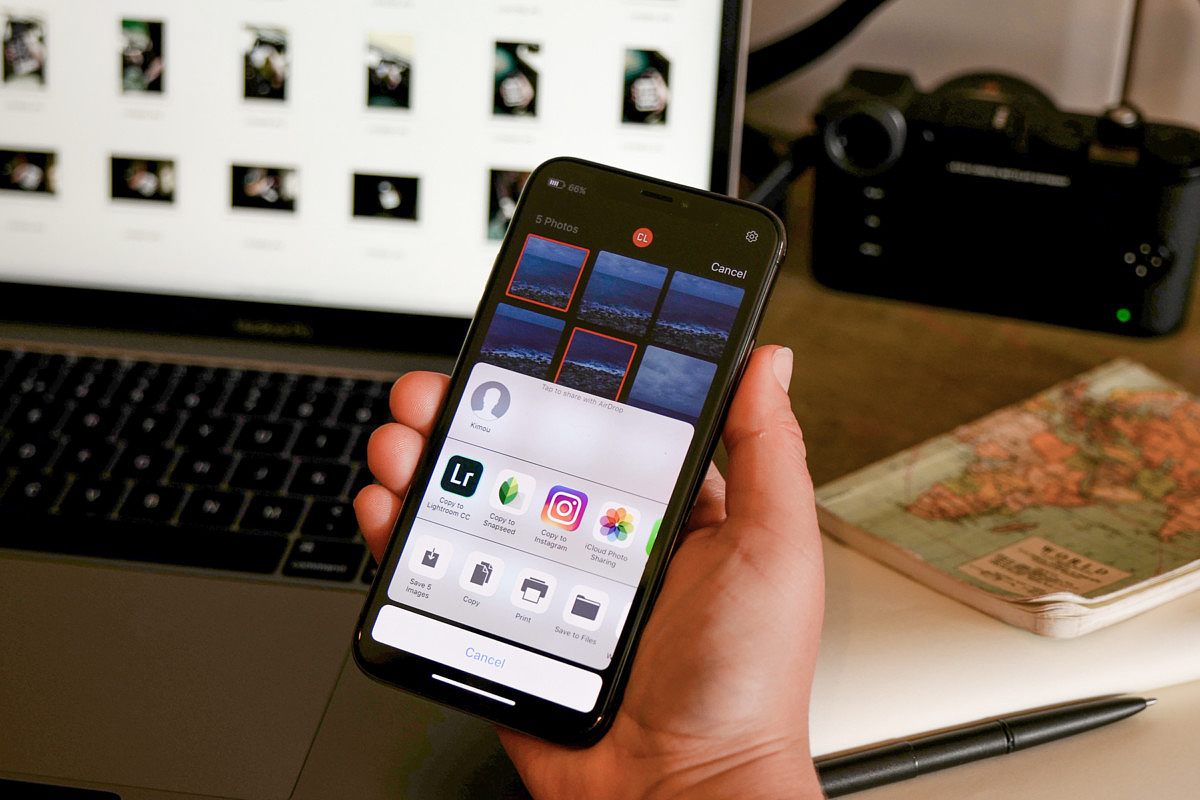 Battery
Thankfully, the new V-Lux 5 uses the same BP-DC12 rechargeable Li-Ion battery that we're use to from the V-Lux 114, Q 116 and CL. If you plan on trading in a V-Lux 114, hold onto those extra batteries. And if you don't already know, you should get a Nitecore USB charger so you can charge on the go. It's one of my favorite accessories. With the V-Lux 5, you also gain the ability to charge the battery in the camera over micro USB. Personally, I'd stick with the external USB charge solution, but options are always nice to have.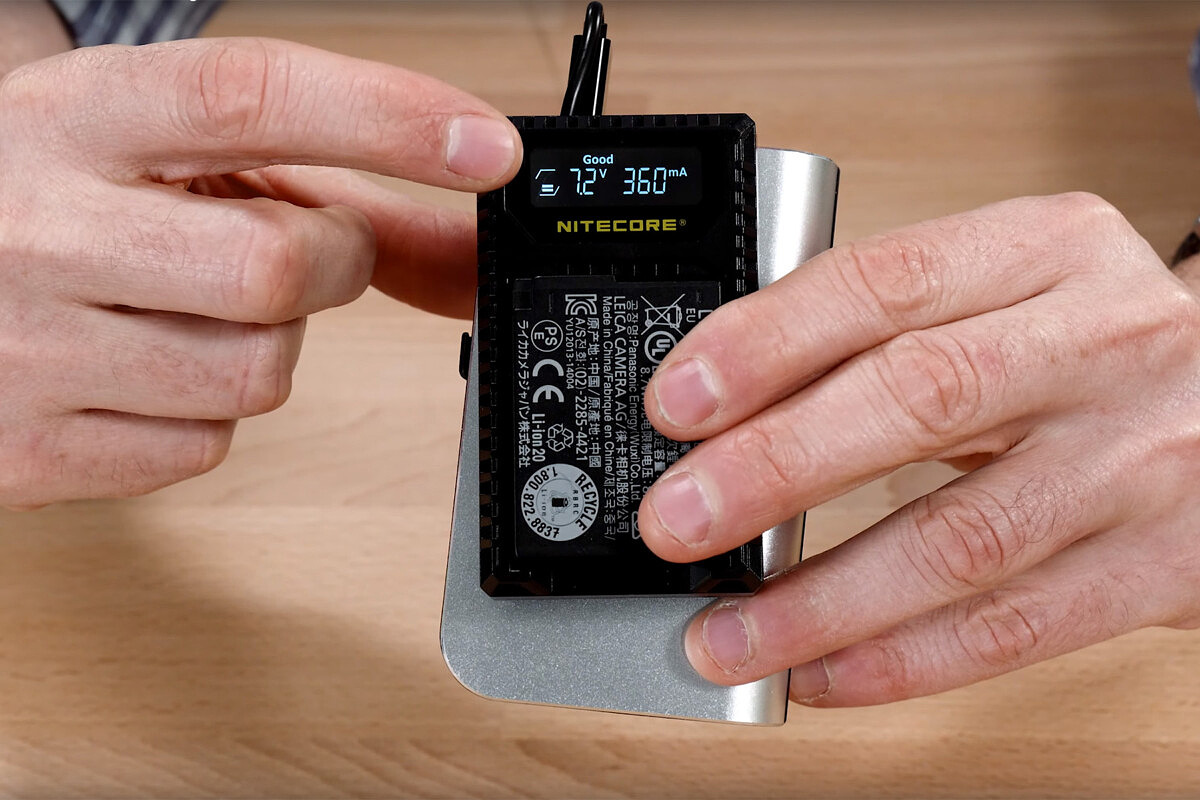 Compared to V-Lux (Typ 114)
| | | |
| --- | --- | --- |
| | | |
| | | |
| | Elmarit 24-400mm f/2.8-4 ASPH | Elmarit 24-400mm f/2.8-4 ASPH |
| | 3 inch, 1.24 million pixels | |
| | | |
| | | |
| | | |
| | | |
| | | |
| | Yes, for easy Wi-Fi connection | |
| | | |
| | | |
| | | |
| | Yes | |
| | 812 grams | |
Pricing, Availability and Ordering
The V-Lux 5 should be available within the next few weeks for a price of $1,250. If you are interested in ordering the new Leica V-Lux 5, you can do so at Leica Store Miami, by calling them at 305-921-4433, emailing info@leicastoremiami.com, or simply by clicking the button below.
Tech Specs
Camera
Leica V-Lux 5
Lens
Leica DC Vario-Elmarit f/2.8–4/9.1 -146 ASPH., 35 mm camera equivalent: 25 – 400 mm 15 elements in 11 groups (5 aspherical lenses/8 aspherical surfaces/4 ED lenses).
Optical Image stabilization
Yes
Zoom (Optical/digital/ intelligent
16 x/4 x/32 x
Focusing
Modes
Normal / Macro
AF Metering Modes
Face, eye detection, tracking, 49-area, 1-area (flexible/scalable), custom multi, pinpoint
Focusing Range
AF
30 cm/1' (at 9.1 mm)/1m/3'3" (at 146 mm) to ∞
AF Macro/MF/Snapshot
3 cm/1 3/16" (at 9.1 mm)/1m/3'3" (at 146 mm) to ∞.
Sensor
1" MOS with 20.9 MP (effective pixels 20.1MP)
Resolution
Still image
4:3 format:
4864 × 3648 (17.5 M) (L),
3456 × 2592 (9 M) (M),
2432 × 1824 (4.5 M) (S).
3:2 format:
5472 × 3648 (20 M) (L),
3888 × 2592 (10 M) (M),
2736 × 1824 (5 M) (S).
16:9 format:
5472 × 3080 (17 M) (L),
3840 × 2160 (8 M) (M),
1920 × 1080 (2 M) (S).
1:1 format:
3648 × 3648 (13.5 M) (L),
2592 × 2592 (6.5 M) (M),
1824 × 1824 (3.5 M) (S).
Video
MP4:
[4K] 3840 x 2160 4K/30p: 100 Mbit/s
[4K] 3840 x 2160 4K/25p: 100 Mbit/s
[4K] 3840 x 2160 4K/24p: 100 Mbit/s
[FHD] 1920×1080 FHD/60p: 28 Mbit/s
[FHD] 1920×1080 FHD/50p: 28 Mbit/s
[FHD] 1920×1080 FHD/30p: 20 Mbit/s
[FHD] 1920×1080 FHD/25p: 20 Mbit/s
[HD] 1280 x 720 HD/30p: 10 Mbit/s
[HD] 1280 x 720 HD/25p: 10 Mbit/s
Recording File Formats
Still image
RAW/JPG
Video
MP4. Recording time: max. 29 minutes
Audio
AAC (2 channel)
Exposure Control
Exposure Modes
Snap Shot, P, A, S, M, creative video, C1 (custom), C2 (custom), scene guide, creative control
Exposure Compensation
Increments: 1/3 EV steps, setting range: ± 5 EV. (+/-3 EV for motion picture)
Auto AE Bracketing
3, 5, 7 frames in 1/3, 2/3 or 1 EV step, max. ± 3 EV
Scene Modes
Clear portrait, silky skin, backlit softness, clear in backlight, relaxing tone, sweet child's face, distinct scenery, bright blue sky, romantic sunset glow, vivid sunset glow, glistening water, clear nightscape, cool night sky, warm glowing nightscape, artistic nightscape, glittering illuminations, handheld night shot, clear night portrait, soft image of a flower, appetizing food, cute dessert, freeze animal motion, clear sports shot, monochrome, panorama
Creative Control Modes
Expressive, retro, old days, high key, low key, sepia, monochrome, dynamic monochrome, rough monochrome, silky monochrome, impressive art, high dynamic, cross process, toy effect, toy pop, bleach bypass, miniature effect, soft focus, fantasy, star filter, one point color, sunshine
Metering Modes
Intelligent multiple, center-weighted, spot
White Balance
Auto, daylight, cloudy, shade, incandescent, flash, 4 manual settings, color temperature (2-axis adjustable)
ISO Sensitivity
Auto/i. ISO/80, 100, 200, 400, 800, 1600, 3200, 6400, 12500, 25000* (*extended ISO) (Changeable to 1/3 EV step)
Shutter Speeds
Still image
Approx. 60s – 1/4000 s (mechanical shutter), approx. 1 s – 1/16000 s (electronic shutter). Bulb: approx. 120 s.
Motion Picture
Approx. 1/30 s – 1/16000 s (NTSC model), approx. 1/25 s -1/16000 s (PAL model), approx. 1/2 s -1/16000 s. (Creative video M mode/MF mode)
Continuous Shooting
[ AFS] SH: 50 frames/sec*, H: 12 frames/s, M: 7 frames/s (with Live View), L: 2 frames/s (with Live View.) (*Electronic shutter only)
Flash
Integrated pop-up flash
Flash Modes
Auto, Auto with pre-flash (red-eye reduction), Auto with slow sync and pre-flash, on, of
Flash Range
30 cm – 13.5 m (Wide/ISO Auto), 1.0 – 9.5 m (Tele/ISO Auto)
Self Timer
2 s/10s/10 s (3 images)
Monitor
3.0" TFT LCD, resolution: approx. 1,240,000 pixels, Image field: approx. 100%, aspect ratio 3:2
Touchscreen
Yes
Articulating 
Yes
Viewfinder
0.39" OLED live viewfinder Resolution: approx. 2,360,000 pixels, Image field: approx. 100%, aspect ratio 4:3, Diopter setting: -4 to +4 dptr, Magnification: approx. 0.74x with 50mm lens at ∞; -1.0m-1
Microphone
Stereo
Speaker
Monaural
Memory Cards
SD / SDHC* /SDXC* memory cards, *UHS-I/UHS Speed class 3
Interfaces
USB 2.0, Macro-HDMI (Type C), AV output, power adapter connector (2.5mm), microphone (3.5mm). WIFI: IEEE 802.11b / g / n / 2412 MHz – 2462 MHz (1-11 channel) / WPA / WPA2 / Infrastructure Mode / WPS / Wi-Fi Direct / Wi-Fi button Bluetooth Version 4.2 (Bluetooth Low Energy (BLE) [USB / CHARGE] USB 2.0 (High Speed) micro B socket
Wi-Fi Compliance standard / Encryption

IEEE 802.1 lb/g/n (standard wireless LAN protocol), Wi-Fi compliant WPATM/WPA2TM

NFC Compliance standard

ISO/IEC 18092 NFC-F (Passive Mode)

Operating Temperature/Humidity
0 °C to 40 °C (32 °F to 104 °F) / 10% to 80% RH
Rechargeable lithium-ion battery
Leica BP-DC12
Voltage/Capacity
7.2 V/1200 mAh (360 images, CIPA standard).
Dimensions
(W x H x D)

137 X 98.5 X 130.7 mm (5.39 x 3.88 x 5.15 inch)

Weight

778 g without battery, 812 g with battery

Printer Compatibility
PictBridge, DPOF
Software

90 day trial subscription to Adobe® Creative Cloud Photoshop & Lightroom®

Scope of Delivery
Digital camera, battery, AC-Adapter, USB cable, neck strap, lens cap with string, lens hood, hot shoe cover, instructions, guarantee card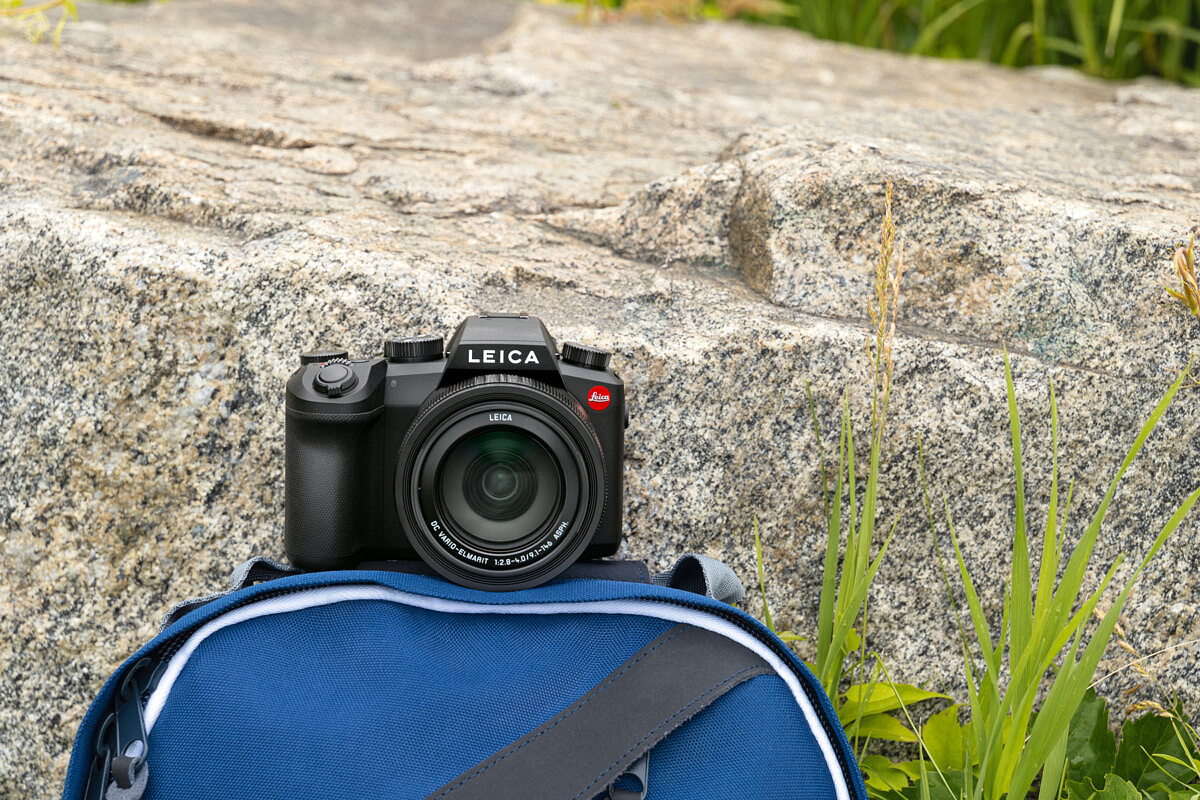 Press Release
Leica V-Lux 5
The Superzoom Camera For Explorers
Leica Camera introduces the latest addition to its line of premium compact cameras, the Leica V-Lux 5. Whether traversing the globe, capturing family memories, or catching a summer music festival, the V-Lux 5 is the perfect companion to take everywhere and capture subjects both near and far in amazing quality. Its high-speed autofocus and burst shooting capabilities are quick enough to keep up with any subject or fleeting moment, and the long 25-400 mm equivalent zoom range will get you close to everything you want to see and record – with both still-pictures and 4K video.
The large 1-inch 20 megapixel sensor and incredibly expansive 16x zoom range of the Leica DC Vario-Elmarit 9.1-146 mm f/2.8-4 ASPH. lens make the V-Lux 5 the perfect do-it-all compact camera for any situation. It sports a brand new OLED electronic viewfinder with 2.36 megapixels of resolution for improved color, contrast and power-efficiency. The new 3″ tilt-and-swivel touchscreen display now allows for streamlined ways to control the camera and optional custom functions. And with the capability to charge
the battery in the camera via USB, the Leica V-Lux 5 is the most travel-ready and versatile V-Lux camera to date.
Key Features:
20 megapixel 1-inch sensor
9.1-146 mm (25-400 mm equiv.) f/2.8-4 ASPH. lens
2.36 megapixel OLED EVF with 0.74x magnification
3″ articulating touchscreen with 1.24 million pixels
High-speed AF & 12 fps continuous burst shooting
4K video recording and 4K photo modes
Post-Focus & Focus Stacking modes
Improved battery life
Micro-USB battery charging
Wi-Fi + Bluetooth connectivity with Leica FOTOS
2-year Leica warranty