I have a camera bag problem.
It started out innocent enough – just one or two bags for different-sized camera systems – maybe a backpack for longer hauls and a shoulder bag for the day-to-day stuff. Yet I've now somehow reached the point where I'm contemplating a bigger apartment to accommodate all my camera bags. A dedicated closet would do, or maybe a wall in my office where I could neatly arrange them by color and appreciate their visual aesthetic everyday. We all have our thing, right?
After my most recent camera bag acquisition (I'll get to that later), I realized it's probably high time for another "What's In Our Bag" breakdown. The last peek into our Leica Store Miami staff camera bags was two years ago, and needless to say, a lot has changed.
Leica has rolled out an impressive line-up of new cameras and lenses: the SL2, SL2-S, M10-R, M10 Monochrom and Q2 Monochrom, just to name a few. We've hired new staff: Gabe, a punk-rock gentle giant and wedding photographer, and Jose, who has the most beautiful head of hair this side of the Mississippi and is the man behind the camera during our live Red Dot Forum Camera Talks. Our shooting styles and subject matters have changed quite a bit in the last year too, with many of us putting our travel photography on hold and having to turn to our own backyards for inspiration. While not ideal, COVID-19 challenged our creativity and forced us to see the world through a new lens – perhaps changing the gear in our camera bags along the way.
So, without further ado, I present to you the latest edition of the Leica Store Miami staff's "In Our Bag."
Scroll through or click the quick links below:
---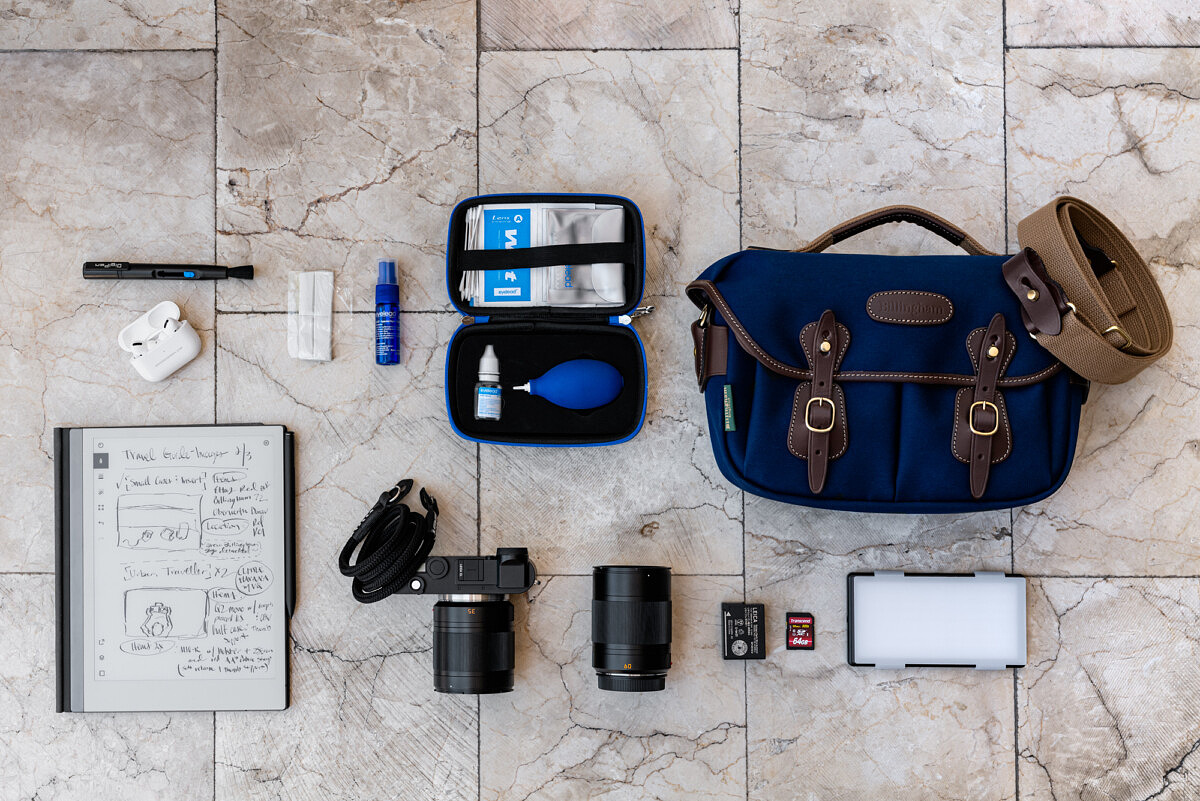 Kirsten's Environmental Product Photography Bag
Kirsten Vignes has been with Leica Store Miami since 2012 and is the resident graphic designer and marketing creative. She's originally from Minnesota, but much prefers the sunshine and warmth of St. Petersburg, Florida, where she lives and works remotely. Kirsten loves photography, which she studied at Rochester Institute of Technology, volunteering with LHSA – The International Leica Society and putting together their quarterly photography journal Viewfinder, traveling the world, movies with mythical creatures, and, of course, coffee. Read some of Kirsten's articles here.
About that camera bag problem… Last year we began carrying Billingham bags, but, I never let myself take too close a look. I knew what the outcome would be: I'd buy one. And, I was right. After a year of ogling from a distance, I finally caved.
BAG – BILLINGHAM HADLEY PRO, SMALL, NAVY
I'm convinced the Billingham Hadley Pro Camera Bag, Small might actually be the perfect small-system camera bag. Bold words, I know. It's the perfect size for a Q kit or an M or CL with a couple of lenses. The two front gusseted pockets are deceivingly spacious – perfect for all your extra bits and bobs such as spare batteries, lens cloths, and keys. On the inside, you can squeeze a small tablet between the insert and the bag itself. The insert, by the way, is removable, making it easy to convert into a functional day bag. The leather buckle closures are adjustable in case you need a little extra height to fit your tablet, notebook, or what have you.
On the back, we've got a weather-sealed zippered compartment for valuables (think Passport, wallet, phone, etc), as well as a luggage strap that fits just peachily over a carry-on handle.
All in all, the functional details of the Hadley Small Pro are thought out to a T. No buyer's remorse here. And it looks so sharp in navy blue with classic brown leather accents.
CAMERA – LEICA CL & SUMMILUX-TL 35MM F/1.4 ASPH + APO-MACRO-ELMARIT-TL 60MM F/2.8
Enough gushing about the bag. Let's talk about the camera setup.
This time around, I was a little stumped on what to write about. During the pandemic, I've been shooting with various M's – just taking snaps around the neighborhood. But, when I looked back over the last couple years, I realized I was forgetting the obvious: product photography.
If you follow @leicastoremiami on Instagram or receive our weekly newsletters, you've probably seen the myriad environmental Leica product images. From coffee shops to mountain tops, I've photographed Leica cameras and lenses in just about every scenario possible. Every trip I take, every cute little café I pass, I'm always scoping out and trying to sneak in an environmental product shot. As our full-time graphic designer and marketing creative, I am creating new content every chance I get.
And what camera do I use for that, you ask? The Leica CL.
Take a look at our Instagram feed and nearly every image you see was taken in-house with the Leica CL and Summilux-TL 35mm f/1.4 ASPH. It's been a reliable workhorse for the past few years. Lightweight, low-profile, and its 24 megapixel CMOS sensor is perfect for web resolution files.
The Summilux-TL 35mm f/1.4 ASPH (50mm equiv.) is a gorgeous product photography lens. With a f/1.4 minimum aperture and close focusing down to 0.3m (just 12 inches), it allows me to create a nice separation between the subject, background and foreground. The APO-Macro-Elmarit-TL 60mm f/2.8 ASPH is the perfect complement to the 35mm Summilux. It allows me to dial in even closer on little details: red dots, and rangefinders and aperture scales (these are a few of my favorite things!).
ESSENTIALS
I actually went to school for Advertising Photography and have spent countless hours in studio arranging product still lifes (I once spent an entire summer internship helping photograph Target's UP & UP brand of shampoo and windex bottles.) Needless to say, I know how a simple adjustment in studio can save hours later in photoshop: wiping schmutz off a lens, blowing dust out of the grooves of a lens barrel, eliminating strange glares by using a flag or scrim. So, there's always a few must-haves I keep in my bag. First, a blower ball: the Eyelead Mini Air Blower is fantastic and actually packs quite a punch (or should I say gust) for such a little thing. It comes standard as part of the Eyelead Optical Cleaning Kit which clips nicely to my bag via a carabiner and includes a wonderful assortment of cleaning tools, such as lens wipes, antistatic cotton Q-tips, and a lens cloth. I also always carry an extra bottle of the Eyelead Optical Cleaning Fluid, an alcohol-free optical cleaner that is safe for both paint finishes and lens coatings alike.
I also always keep a wad of sticky putty in my bag. I never know when I'm going to have to prop a lens or camera up to get just the right angle.
EXTRAS
Lastly, I recently added the Remarkable II digital paper notebook to my workflow. I use this magically paper-like tablet to keep track of marketing ideas and make product photography shot lists.
And of course, I can't live without my Apple AirPods Pro, which provide my soundtrack for getting in the zone, and also let me touch base my my coworkers hands-free while I'm lining up my next environmental shot.
Some of Kirsten's environmental product photography shots:
---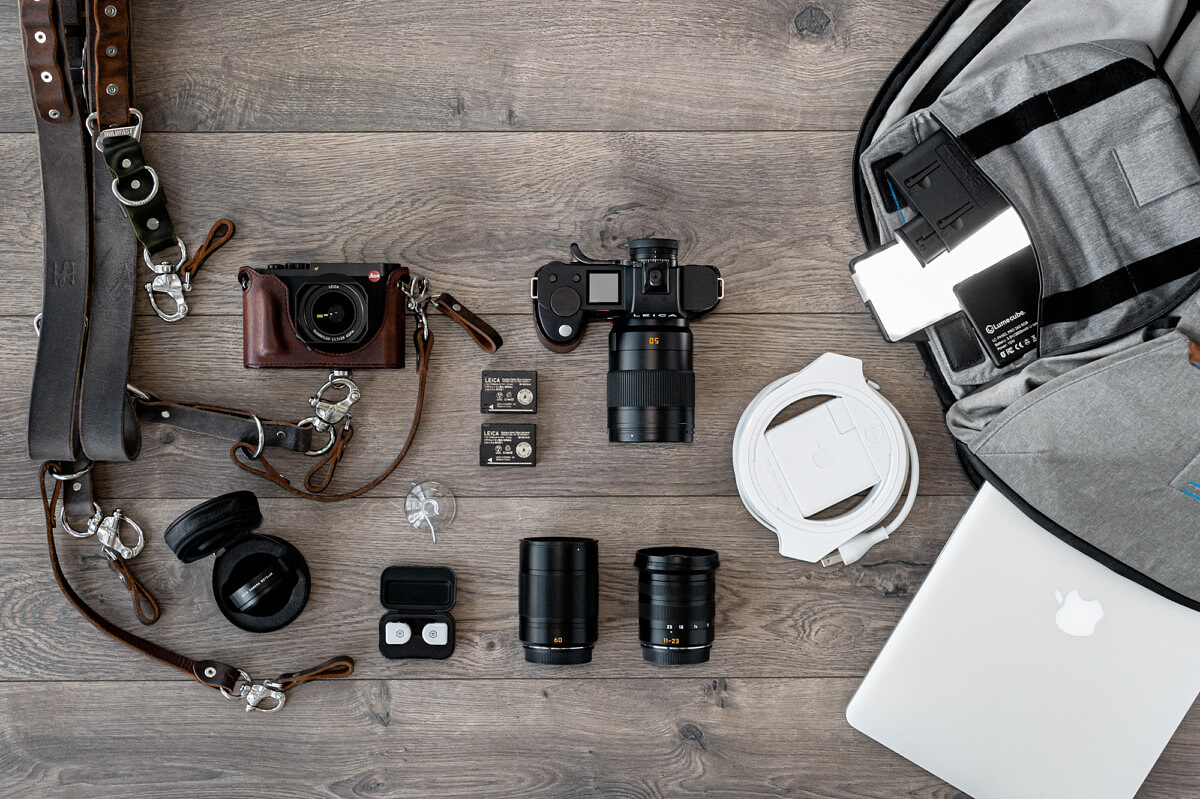 Gabe's Professional Wedding Bag
Gabriel Reyes has been a Leica Specialist with Leica Store Miami since 2019. He's a bilingual Miami native. Gabe studied photography at South Miami Middle School, graphics and web design at Design & Architecture Sr. High, and advertising at Florida International University. Gabe photographs weddings on a weekly basis all over South Florida. On a night off he can be found catching a local band with a camera or guitar in hand.
In a decade of covering weddings, I've carried every kind of bag imaginable. I still own a massive Think Tank Logistics Manager, but the issue with carrying everything I have is that with great options come great complications. Hunting for gear in a bag while a tight schedule gets pushed back is not an option. I need the essentials within reach at all times. This is where Leica's brand virtues and mine align. A Q (Typ 116) lives on my left shoulder all day, while I rely on the SL-System for its incredible versatility. My go-to setup is the Leica SL2 with the stunning APO-Summicron-SL 50mm f/2 ASPH, along with a couple compact but high performance TL lenses, the APO-Macro-Elmarit-TL 60mm f/2.8 ASPH and Super-Vario-Elmar-TL 11-23mm f/3.5-4.5 ASPH.
CAMERAS – LEICA SL2 & Q (TYP 116)
I carry two physical cameras, but there is a third virtual one built into the SL2. Shooting a cropped image in APS-C mode that still yields a high quality 20 megapixels expands my lens choices to include TL glass for lighter weight and a perfect macro lens for shooting wedding rings (more on that later). The Q is a superstar for documentary shooting and has incredible low light performance, so it never leaves my side. Now the SL2 is my workhorse, producing thousands of images every weekend. My favorite thing about the SL2 is the dynamic range. I find myself shooting a white dress with ornate details in harsh lighting all the time, so I underexpose as a rule. The SL2's shadow recovery maintains pleasing color and tone, even when shot 2-3 stops under. Gone are the days when I carried a tripod for a single reception room shot thanks to image stabilization that results in a sharp image with up to a one second exposure. With my 50 APO SL f/2.0 attached to the SL2 I can even shrug off rain and champagne spray, for which I keep a change of clothes in the car.
LENSES – APO-SUMMICRON-SL 50MM F/2.0 ASPH + APO-MACRO-ELMARIT-TL 60MM F/2.8 ASPH + SUPER-VARIO-ELMAR-TL 11-23MM F/3.5-4.5 ASPH
I shoot primes as often as possible. If I could float and phase through walls I would only ever shoot with a 50mm. Like many shooters I come across, I can cover just about everything with a 28mm and 50mm.
The APO-Summicron-SL 50mm f/2.0 is unbelievably sharp, with a steep contrast curve that mimics a lens with a more open aperture. I believe in limits as a catalyst to creativity, and this lens does just that. It shoots 80% of a wedding day with no compromise to quality or framing since I can crop into a 75mm equivalent frame on my SL2 with resolution to spare.
But I also love TL glass for being compact and producing a more manageable file size. The 11-23mm (16-35mm equiv.) covers my environmental portraits, dance floor and venue photos while the 60mm Macro-TL (90mm equiv.) comes out when there is time to set up a tighter ring shot that the Q / Elpro combination hasn't already. And these lenses can take full advantage of the SL2's sensor-based image stabilization as well.
BAG – PEAK DESIGN EVERYDAY BACKPACK 30L, ASH
There are a few bag options in my rotation, but I keep coming back to my Peak Design Everyday Backpack 30L. Peak Design's modular system has survived four of my camera system changes, making it the most versatile bag on the market. Flexible material on the interior side pockets stretch to fit odd shapes like flash triggers while color-coded stitching on interior buttons helps keep fresh batteries or used cards organized. Another feature I enjoy about the 30L is that it fits a 15" Macbook. I use my laptop to backup photos at receptions and display a selection of photos for guests to enjoy while that happens, so having everything in one bag, including power and space for a hard drive, is a huge plus.
CARRYING STRAP – THE MANDO HOLDFAST MONEYMAKER
I am a huge fan of Holdfast straps. They allow me to shoot primes by placing two cameras always within reach to make sure I never miss a moment changing lenses. And they look good too. The combination of leathers and colors with my Arte Di Mano half cases get a lot of compliments from clients and their guests. This limited edition strap is called "The Mando" – as a Star Wars fanatic, I had to have it.
EXTRAS
Over the years a few essentials have become lifesavers for wedding photography. A Peak Design Field Pouch lives on my belt for quick battery or card changes, with two compact Lume Cube Panels for supplemented lighting in a pinch. I carry a tiny suction cupped hook for hanging the wedding dress, along with an Leica ELPRO E52 Close-Up Lens Set for adding to the macro capability of the Q for unique ring shots with a wider angle. Master & Dynamic Bluetooth headphones save my ears later in the night, when I am consistently walking right in front of blaring dance floor speakers. I would use earplugs, but I need to hear guests who might want a quick snapshot, and replacing the Cupid Shuffle with Slayer is my way to keep the energy up after hours of shooting.
Some of Gabe's wedding photography:
---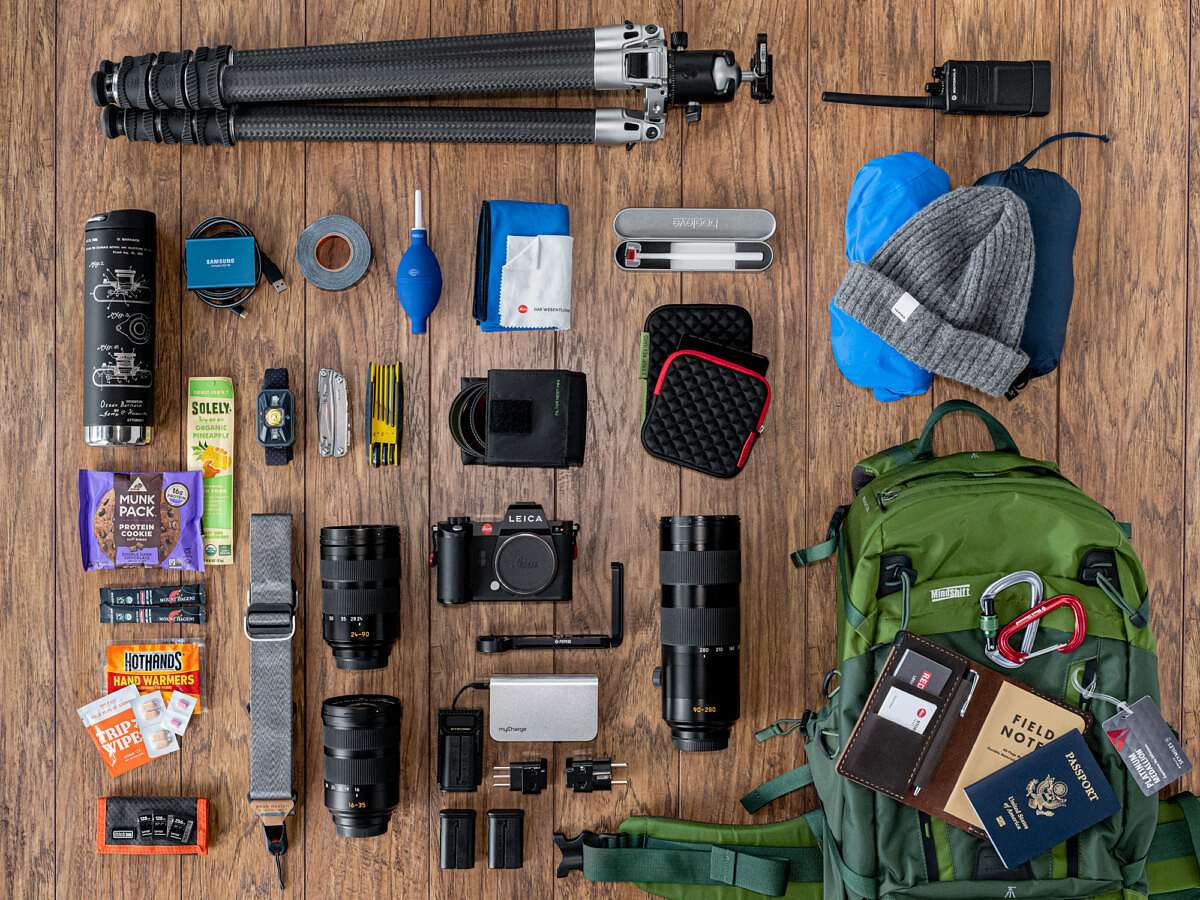 David's Workshop Bag
David Farkas is a self-admitted Leica junkie and an avid photographer since he was seven years old. He owns and operates Leica Store Miami in beautiful Coral Gables, Florida with his wife Juliana. David has years of experience shooting with just about every Leica camera and lens made within the last few decades. He loves exploring far-flung landscapes as much as discovering a new city, as long as he's got a camera in hand. Check out David's camera reviews, technical articles and show reports here.
CAMERA – LEICA SL2
For many years, I worked primarily with the Leica S System for my landscape photography. But ever since first trying out the SL2 at the end of 2019, I've had a hard time not reaching for it. The Leica SL2 is a rugged yet refined tool, with all the tech I could ask for. In-body image stabilization, super high resolution electronic viewfinder, full weather sealing, 47 megapixel CMOS sensor and access to some of the best glass ever created.
Paired with the three Leica SL Vario lenses, the 16-35, 24-90, and 90-280, my kit covers everything from ultra-wide to long telephoto with staggering amounts of detail and gorgeous color rendition. And while I have always been a prime lens guy, these zooms have won me over, offering Leica prime lens quality at every focal length but with unbelievable flexibility.
BAG – MINDSHIFT BACKLIGHT 26
In streamlining my landscape kit to a camera and three zooms, I've also found a new go-to backpack. The MindShift Backlight 26L strikes a perfect balance of light weight, excellent carry capacity and all-day comfort in a package that can even slide under most airline seats and fit into any overhead bin. Like all MindShift backpacks, this one takes design notes from hiking packs, with a substantial waist belt and thick carry straps with plenty of memory foam padding to make even the heaviest loads feel manageable. Despite its compact dimensions, the Backlight 26L has plenty of storage. The camera kit fits easily inside, with room to spare for filters and other accessories. Deep, twin side pockets hold water bottles or a tripod. And the generously sized front compartment accommodates a full-size laptop for editing at night.
CARRYING STRAPS – PEAK DESIGN SLIDE LITE
I absolutely love the Peak Design Slide Strap as well as the Slide Lite, so I have both. For this setup, I've got the wider Slide in ash gray. The strap is super quick to adjust with its dual metal flip latch quick adjusters, and with the simple yet strong Anchors, I can remove or reattach the strap within seconds when mounting and unmounting from a tripod.
CLEANING
Shooting in the field and changing lenses as often as I do is a recipe for a dusty sensor. I use an Eyelead Medium Blower Bulb as the first line of defense, blowing dust and filaments off the sensor. If I still have stubborn dust at the end of the day, I'll use the Eyelead Sensor Cleaning Kit to give it a more thorough cleaning. And I always have at least one or two lens cloths to keep lenses and filters clear. And for bigger messes, I stash a small microfiber camping towel. This does the trick for wiping down gear after getting drenched in rain, snow, or sea spray, and folds down to almost nothing.
TRIPOD
When shooting landscape, I can't be without a tripod. And given the challenging conditions I often find myself in, a larger, more stable tripod is a must. After decades of shooting with my collection of Gitzo sticks, I've made the switch to a newcomer in the tripod space. The Colorado Tripod Company 4-Series Centennial Carbon Fiber Tripod with matching Highline Medium Ball Head is simply a beast of a camera support. Stable, rugged, and beautifully machined out of milled aluminum and lightweight carbon fiber in Denver, Colorado, the combo weighs over a full pound less than my previous Gitzo and Really Right Stuff setup, while increasing the load capacity. Operation is smooth and intuitive. Now, truth be told, this kit is just to hold me over for Colorado Tripod Company's upcoming machined titanium tripod and head, which will further shave weight and increase strength. But for now, I'm definitely not complaining. To mount the camera, I'm using a RRS SL2 L-bracket, which is compatible with the adjustable Arca-style quick release on the Highline head.
POWER & MEMORY CARDS
Of course, I make sure to carry no fewer than three extra batteries for the SL2 along with a Nitecore SL USB charger, as well as the standard charger. With one in the camera and three extras, I am set for a full day…and night…of shooting. Now charging this many batteries at night can become a juggling act. A dual Anker power adapter can juice up the Nitecore and the battery inside the SL2 at this same time, with the standard Leica charger working on a third. And if the trip takes me outside the US, I pack a mains power adapter plug. For power on the go, I carry a myCharge battery pack. With a built-in Lightning connector and a USB-C plug, I can top up my iPhone or even charge an SL battery while in the field, either in-camera or with the Nitecore. For more far flung destinations with no access to wall power, I also have a battery pack with fold out solar panels.
SL2 files are large, even more so if you take advantage of the 187 megapixel multishot mode. To make sure I have enough space to capture a full trip's worth of images, I carry a selection of 128 and 256GB Lexar 1667x UHS-II SDXC cards in my ThinkTank Pixel Pocket Rocket case. And for backing up files from the laptop, I rely on my Samsung T5 SSDs.
TOOLS
My Black Diamond head lamp gets used quite often. After shooting until last light following a sunset, you can quickly find yourself alone, having to negotiate a bumpy trail in the dark. It's nice to have light. I've even used it for light painting in a pinch, and it's waterproof for those rainy outings. Along the lines of preparation, I always carry a Leatherman Sidekick multi-tool, a multi hex wrench, a small roll of Gorilla tape, and a couple climbing carabiners. You can fix almost anything with this combo, from torn pants to a broken tripod leg. And when leading photo workshops, I've got my trusty Motorola VHF long range walkie talkie for communicating with other guides when out of cell phone coverage.
EXTRA LAYERS
Lastly, even on the nicest of days, my trusty Arc'teryx Beta AR Gore-Text Pro technical shell gets rolled up and tucked in the front pocket of my backpack in case the weather turns nasty. If there is a chance of things cooling off, I'll also add in my Arc'teryx Cerium LT down jacket, as well as a merino wool beanie to keep my head warm. This combo, as part of a solid layering system, lets me take full advantage of the beauty of dramatic weather without having to suffer as a result of it. Read more here: What to Wear: The Definitive to Clothing Guide for Landscape Photography.
PRO TIP
Besides being prepared for the weather by taking along lightweight technical layers, always make sure to have a packet of single-use hand warmers in your bag. For those times you find yourself with frozen hands, something so small can make such a huge difference. They work best when paired with some gloves, but also feel great in hand-warmer pockets.
My Red Dot Wear Oscar Barnack Kleen Kanteen is awesome for either keeping cold water cold, or hot coffee hot for hours on end. Nothing beats having some nice hot coffee when you're standing in the freezing cold, waiting for the light. I make sure to take a couple snacks with me, to keep my energy level up and hunger at bay. I would always rather get the shot of a lifetime than have to stop shooting, just to have a meal. Granola, trail mix, nuts, fruit jerky, a meal replacement cookie or an energy bar are easy to fit in the bag and eat on the go. I also carry a couple single serve packets of Mount Hagen organic instant coffee – for when you can't break free to grab your morning coffee. And for the odd pesky headache, or allergy attack, I stash a few single dose blister packs of basic over the counter meds – Sudafed, Tylenol, Benadryl. If venturing much further from civilization, a small first aid kit can be a smart addition. Rounding out my pack, a leather journal cover holds a Fields Notes pad, business cards and my fancy-schmancy Leica pen.
Some of David's workshop images:
---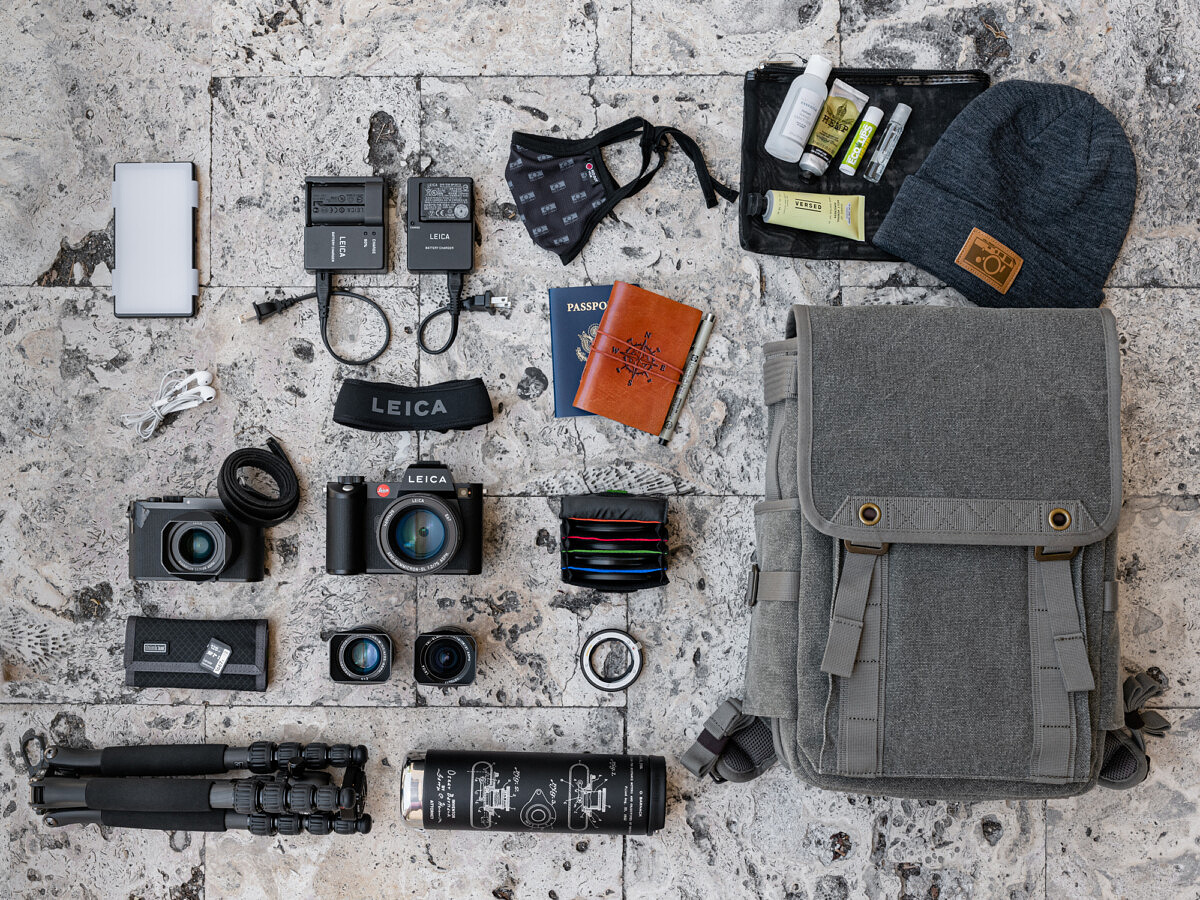 Ashlyn's Carry-On Bag
Ashlyn McKibben is part of the Leica Store Miami team in Coral Gables, working as a Leica camera specialist, curator of gallery exhibitions and an event organizer. Ashlyn is a New Hampshire Institute of Art graduate with a Bachelor of Fine Art in photography, and has participated in fine art exhibitions and competitions since the age of 13, winning several awards along the way. She is also a dog mom to a little chihuahua named Beans who sometimes comes to work with her. 
CAMERA SETUP – LEICA Q (TYP 116) & LEICA SL2 WITH LENSES
Whether I am taking a weekend trip to visit friends or doing a three-week trek around the national parks, my "trip bag" has been the same for the past year. It always consists of the Leica SL2, Leica Q (Typ 116), Leica Wide-Angle-Tri-Elmar-M 16-18-21mm f/4.0 ASPH, Leica Summilux-M 35mm f/1.4 ASPH FLE, and the Leica APO-Summicron-SL 75mm f/2 ASPH.
As a portrait photographer on-the-go, I need to be able to capture my subjects as well as the surrounding environment. Shooting with M lenses on the SL2 instead of native L-Mount glass allows me to be more discreet, gives me more variety of focal lengths, and saves space in my bag. With a range from 16mm all the way up to 75mm, I'm able to shoot anything from landscapes to traditional portraiture and documentary work. During my trips, I'm usually couch surfing with friends and photographing them out in the wilderness, so versatility is key. 
The Leica Q (Typ 116) lives around my neck and has essentially become an extension of myself, always ready for the spontaneous moments, or even to be handed over to a friend to take a quick shot of me on my travels.
BAG – THINK TANK RETROSPECTIVE BACKPACK 15 IN PINESTONE
The Retrospective Backpack 15 Pinestone not only fits all of my gear in its spacious main compartment, but also has a top pouch for other hiking essentials as well as tripod loops for my compact Sirui T-025SK Carbon Fiber Tripod Kit. The backpack doubles as a carry-on bag, as well as a hiking/day pack. I try to load up as minimally as possible, but when setting off on a day of adventuring, there are several necessities that can't be left behind. An added bonus: the Think Tank Retrospective series are constructed from DWR-treated canvas, so I never worry about taking the bag out in the elements. 
EXTRAS
In our last "What's in Our Bag" article I mentioned carrying Lume Cubes and their attachments as an additional source of light. Since then, Lume Cube has released the Lume Cube Panel RGB LED Light which basically does everything in one piece, so you can ditch the accessories and open up room in your bag. I still love the cubes to set up around environmental portraits to give the background an extra dimension, but for trips the RGB Panel is perfect. Essentials like sunscreen, water, snacks, and my pocket sketchbook all fit in the top pouch of the Retrospective. Traveling during COVID has also added a few major necessities to my bag as well, such as masks, hand sanitizer, wipes, etc. Safety is a top priority these days.
Some of Ashlyn's travel shots:
---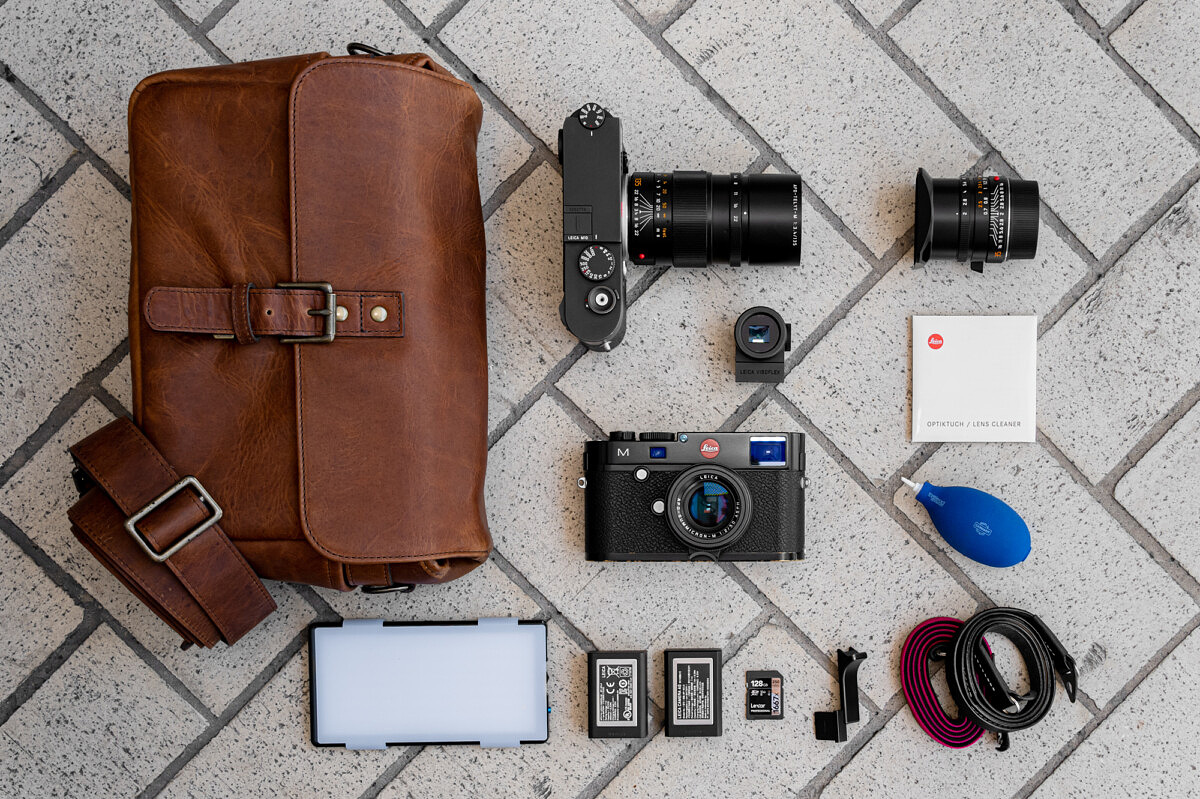 Jose's Documentary Bag
Jose Rovira has been a Leica Specialist at Leica Store Miami since 2019. Always with a camera in hand, he enjoys spending time with his friends and family, his cats, traveling, watching historical documentaries, checking the latest Bitcoin news, and anything having to do with sports. Most importantly though, he's always documenting life.
CAMERA – LEICA M10 & M (TYP 240)
Ever since joining the Leica Store Miami team, I've been very spoiled by having many different camera and lens choices to shoot with. From the simple and intuitive Q system to the advanced features of the SL2, or the incredible image quality and robustness of the S, it's been difficult to pick a favorite. But I fell in love with the Leica M10. The way it looks, sounds and feels makes it a one-of-a-kind shooting experience. The rangefinder focusing mechanism can be challenging, but that's one of the reasons I love this camera. It forces you to be a better photographer and really hone your craft.
Since I also do videography, both for personal and commercial work, I love carrying the M (Typ 240) around to record certain moments. With a 24MP full frame CMOS sensor and the only generation M camera with video capabilities, I can pair it with older Leica lenses to create a vintage look. For me, documenting life can happen anywhere. You don't have to travel across the globe to find interesting subjects or breathtaking landscapes to photograph; life is happening everywhere and there are always great moments to capture.
LENS – 35MM & 50MM SUMMICRONS & 135MM APO-TELYT-M
Since I never know what I will encounter, I'm ready for most anything with my basic three-lens setup. The 35mm Summicron-M f/2 ASPH is small and compact, but delivers outstanding quality. You can create beautiful environmental portraits wide-open, or stop it down to f/8 when shooting street photography and want to make sure you don't miss the moment.
Having a 50mm is a must, and for me there's nothing better than the 50mm APO-Summicron-M f/2 ASPH. Compact and sharp, yes, we all love sharp lenses, but this lens just has a certain magic to it. The "Leica look" is on full display here, as it creates beautiful separation from the subject and the out-of-focus areas.
For telephoto, I've usually shot with 75 or 90mm focal lengths, but lately I've been grabbing the 135mm APO-Telyt-M f/3.4, and it hasn't disappointed. Tack sharp corner to corner, I've used it to shoot tight landscapes and create more compression in my photos. It's also great to shoot portraits and street photography and change things up from the more traditional 35 and 50mm focal lengths.
BAG – ONA BOWERY IN ANTIQUE COGNAC
I like to stay compact wherever I go, so I find the ONA Bowery in Antique Cognac bag a great fit for the M system. Besides my camera gear, I can throw an extra battery, filter and memory card in there and shoot all day long. The dividers are great for keeping my equipment safe from bumping into each other, as well as being easily accessible when I'm on the go.
EXTRAS
I've come to depend upon the Visoflex (Typ 020), especially if shooting in a dimly lit location like a music studio. And using the EVF really helps to nail focus on the 135. Having an air blower and lens cloth is a must, so those will always be stashed in my bag. Another essential M accessory is a thumb support, as it gives me a much better grip when walking around. Unfortunately, I can't use the thumbs support and the Visoflex at the same time, but each has its place. 
Some of Jose's documentary photos:
---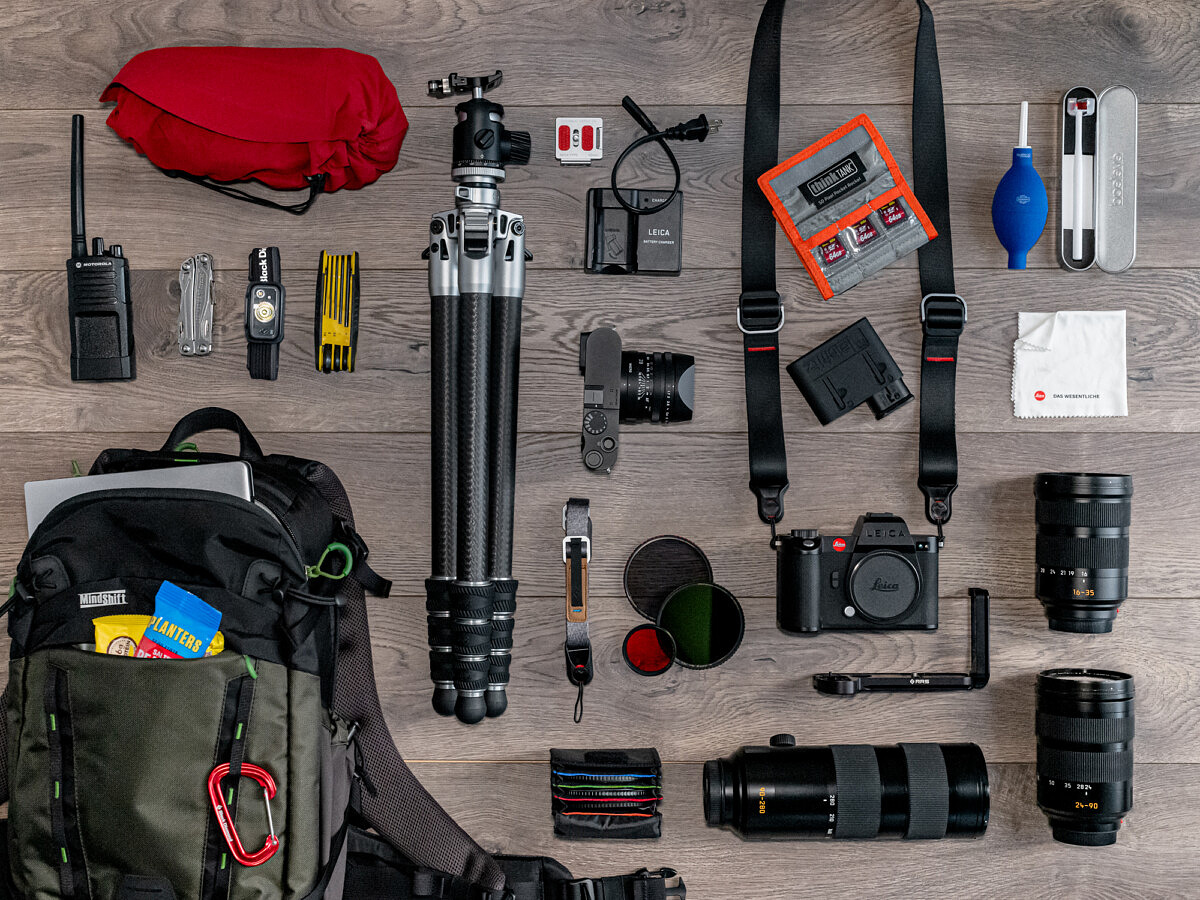 Peter's Workshop Bag
Peter Dooling has been with Leica Store Miami since 2012 and heads up our Photo Workshops Program, planning and leading workshops around the globe. He was born in Philadelphia, PA and received degrees in Geography and Philosophy from the Pennsylvania State University. He fell in love with photography as he traveled the world while working for United Airlines and it has been his passion ever since. When he's not helping people improve their photography in exotic destinations, he's spending time with his wife, two daughters and two dogs in Carrboro, NC.
CAMERA – LEICA SL2-S & Q2 MONOCHROM
I've been using the Leica SL system on our workshops since 2016. The Leica SL2 provided a great resolution bump for landscape photography, and now that the SL2-S has come along, I'm excited to add it to my kit. Its high ISO capability is fantastic for astrophotography and the IBIS works very well in low light situations. My go-to lenses for any landscape expedition are the SL 16-35mm, 24-90mm and 90-280mm lenses. They're tack-sharp, offer low distortion and cover just about any photographic situation that I might encounter. These are the best zoom lenses I have ever used from any camera system. 
The M10 Monochrom and the Q2 are two of my favorite cameras in the Leica lineup. So when the Leica Q2 Monochrom came to market, my dream camera was born! The Q2 Monochrom offers an amazing 28mm f/1.7 Summilux lens, a 47 megapixel black and white sensor, image stabilization and fast autofocus – all in a lightweight, weather-sealed package. I use this camera on landscape trips in Patagonia, street photography workshops in Paris and everywhere in-between. This might be my desert island camera.
BAG – MINDSHIFT BACKLIGHT 26L
I know that Think Tank bags aren't the sexiest on the market, but when it comes to function they just can't be beat. The Mindshift Backlight 26L Backpack is no exception. It's the perfect size for my needs, it's weatherproof and it's just so easy to organize. It fits my SL2-S, my three SL zoom lenses, the Leica Q2 Monochrom, my laptop, my Arc'teryx Beta AR Gore-Tex shell and all of my accessories. As an added bonus, this bag opens from the back panel so you can either swivel it around with the waist belt still attached, or put if face down on the ground keeping the back pad and straps clean and dry. With all of the traveling that I do each year, it really helps that this backpack meets international carry-on size requirements. 
CARRYING STRAPS – PEAK DESIGN
For the last few years, my favorite straps have been the Peak Design Slide Lite Camera Strap (in black) for the SL2 and the Peak Design Leash Camera Strap in black for the Q2 Monochrom. The seatbelt-style nylon webbing is very comfortable and I love the Anchor Link quick connect system. These straps feel good, are easy to adjust and have never failed me.
FILTERS
I always bring a filter kit on our Leica Photo Adventures. Recently, I've been using Breakthrough Filters, including the 82mm X4 Circular Polarizer, the 82mm 6-Stop and 10-Stop ND filters, the 100mm X4 3-Stop GND Soft filter and the X100 holder for square filters. To hold my filters, I love the Think Tank Filter Nest Mini and Filter Nest.
TRIPOD
We just started carrying Colorado Tripod Company tripods and I'm very excited about the brand. I'm using their 2-Series Centennial Carbon Fiber Tripod along with their Highline Small Aluminum Ballhead. I like to cut down on weight wherever possible and this combination does just that. This ballhead weighs only 0.7 lbs and has a load capacity of 50 lbs! Finally, I use a Really Right Stuff L Bracket for the SL2 which allows me to shift to a vertical composition quickly and easily. The ballhead offers native Arca-style plate compatibility, so no adapters are needed to mount my RRS bracket.
EXTRAS
I always bring an extra battery or two for the SL2-S and Q2 inside of a Think Tank DSLR Battery Holder 2 when I travel because it's better to be safe than sorry. Luckily, these cameras share the same BP-SCL4 battery so I only have to bring one charger. I love the Plug Adapter (Angled) and the 1-Foot Power Cord for Battery Chargers to save space. I never leave home without a few microfiber lens cloths which are great for cleaning lenses, LCDs, viewfinders and eye glasses. I use an Eyelead Air Blower to remove dust and dirt from my gear and sensors. For stubborn sensor dust, I'll use the Eyelead Sensor Cleaning Kit. I always bring several Lexar 128GB SDXC UHS-II cards inside of a Think Tank Pixel Pocket Rocket and to back up my images, I use a Samsung T5 solid state external hard drive. I also pack a Leatherman Skeletool, a multi hex wrench, a headlamp w/ red light option, an Anker Powercore 10000 charging unit and a walkie talkie for in-field communication.  
PRO TIP
On landscape photography trips, particularly in colder locations, make sure you keep warm and stay dry. There's nothing like being out in a beautiful location and feeling miserable because you don't have the right clothes. Dress in layers! You won't regret it.
Some of Peter's workshop images:
---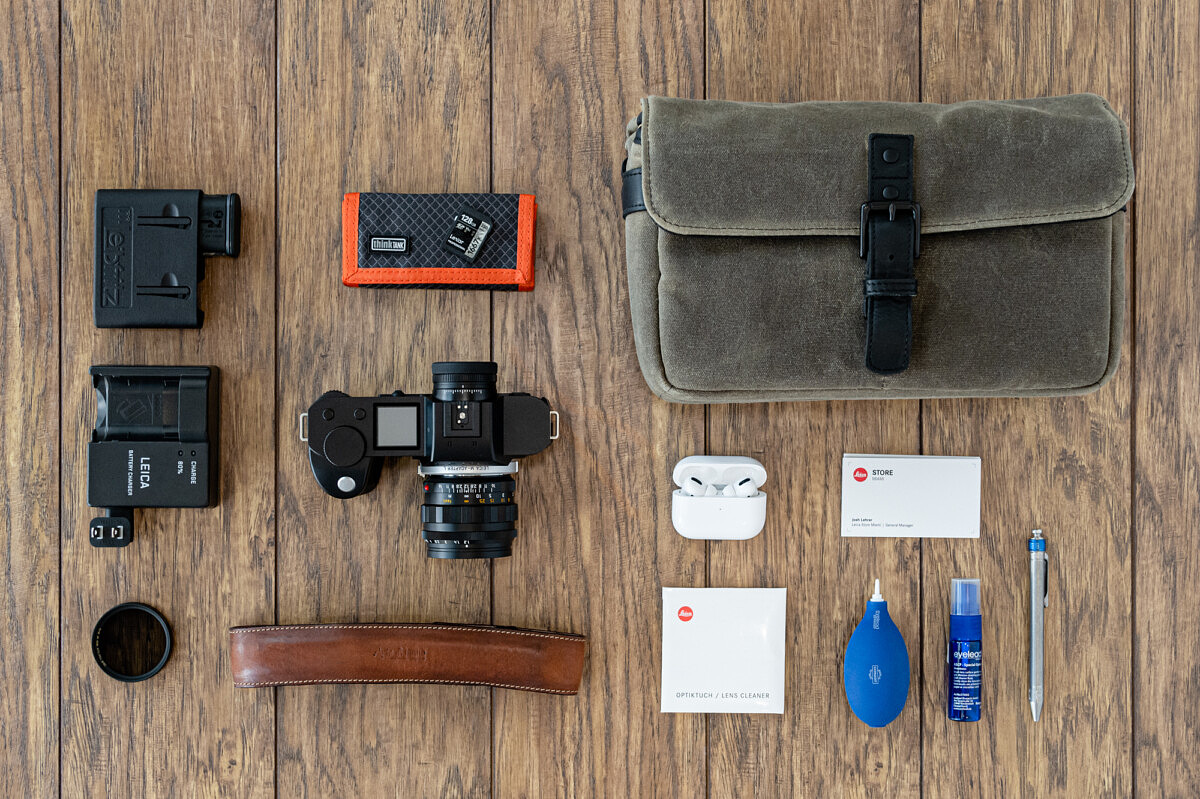 Josh's Car Photography Bag
Josh Lehrer has been with Leica Store Miami since 2010 and is as obsessed with Leica as he is with fast cars, mechanical watches and his Golden Retriever, Enzo. He particularly enjoys obscure and vintage Leica gear and you can catch him as the co-host of our bi-weekly live Red Dot Forum Camera Talk show.
CAMERA SETUP – LEICA SL2-S & NOCTILUX-M 50MM F/1.2 ASPH
In 2021 I felt like switching things up in my kit, and recently starting using the Noctilux-M 50mm f/1.2 ASPH as a car photography lens. I could have easily stuck with the SL2 – that's been my main camera for the past year or so, but I've been attracted to the SL2-S for M lenses, especially in low light. The performance of the viewfinder at sunrise or sunset (where I spend a lot of time shooting) makes critically focusing a lens like the 50mm f/1.2 a breeze.
Will I miss the high-res SL2 files? For almost a decade now I've trumpeted 24 megapixels as the sweet spot for all-around photography, and while I won't complain about the 40+ megapixels found on many of Leica's latest releases, the file size of the SL2-S does indeed speed up my post-production workflow. I won't complain about the insane high ISO performance either.
As I have only just started experimenting with this "new-but-old" Noctilux, I still have much to learn in order to truly master it. The vintage rendering on a modern camera makes for lots of creative potential, and I've even begun to modify my Lightroom editing based around the images this special lens puts out.
BAG – ONA BOWERY
As always, I rely on my ONA Bowery for just about everything. A few years back, I was fortunate enough to snag one of the limited-edition ONA x Japan Camera Hunter Bowery bags (only 230 in the world!) and that continues to treat me well for my one or two lens setups. The SL2-S fits nicely in the bag even with a 24-90mm attached, but for M lenses it is even better, as I can fit all my accessories in there too. The zippered rear compartment of this special-edition bag is perfect for storing my Think Tank – SD Pixel Pocket Rocket loaded with Lexar Professional 1667x 128GB SDXC UHS-II Cards.
EXTRAS
Critically for my automotive work, I always have a circular polarizer attached. Currently I am using a B+W filter, but that is only until the Breakthrough Photography 49mm X4 Circular Polarizer is available again. Regardless of brand, you won't catch me without a polarizer.
Another change for me was finally trying something other than the stock neoprene SL2-S strap, which I've loved since the days of the S2. The Arte di Mano Sughero Neck Strap – Rally Volpe I find "classes" up the camera while still allowing me to hang it around my neck or shoulder for a day of shooting.
I have found the Battery Box, 2x to be extremely handy. Mainly because it is an easy way to keep two spare batteries together in my bag, without them bouncing around or getting lost. I don't want to spend time fumbling around looking for a fresh battery after all. The charge status indicator is a nice bonus. Keeping the compact power-supply theme, a Plug Adapter (Angled) for Battery Chargers takes the place of the messy six-foot power cable that you get with the camera when new.
Keeping everything clean is my 15ml bottle of Eyelead Optical Cleaning Fluid, which I can spray (carefully) right onto a dirty filter or lens and wipe clean with my Leica lens cloth. It evaporates very quickly and will not leave any streaks or residue. But before I wipe anything down, I use my Eyelead Mini Air Blower to remove any surface debris. It's small but surprisingly powerful and doesn't get in the way when I don't need it. Naturally, my Apple AirPods Pro's are always nearby, as is my Grimsmo Saga titanium pen and a small stack of business cards. Because you never know who you will meet when hanging around cool cars!
PRO TIP
I personally prefer using the silver version of the M-Adapter-L because it makes it easy to quickly know if one of my lenses has an adapter attached or not, just by glancing in the bag. I also enjoy the contrast of the silver adapter against the black camera and lens.
For years I was strongly against any type of cleaning fluids for my gear, but the made-in-Germany Eyelead optical fluid has really been a lifesaver. Whether it's an errant fingerprint or stubborn residue that a lens cloth alone won't remove, a quick spray of this stuff and like magic, my gear is clean again!
See some of Josh's car photography..
---