Today, Leica has announced a new addition to the SL-System lens lineup. The Leica Vario-Elmarit-SL 24-70mm f/2.8 ASPH, priced at just $2,795, offers photographers a slightly smaller, lighter and less expensive standard zoom option for the SL. The lens doesn't replace its more established big brother, the benchmark Vario-Elmarit-SL 24-90mm f/2.8-4 ASPH. Rather, this new 24-70mm zoom lens is designed to supplement the roster. By shortening up the zoom range and eliminating optical image stabilization, the new standard zoom comes in at half the price of the 24-90mm. The lack of built-in OIS shouldn't be an issue for anyone using the lens on an SL2 or SL2-S, both of which utilize almost magically effective sensor-based stabilization, also referred to as IBIS. Ultimately, the 24-70mm will be a great option for those looking to get into the SL-System at a more affordable price point while still getting Leica image and build quality.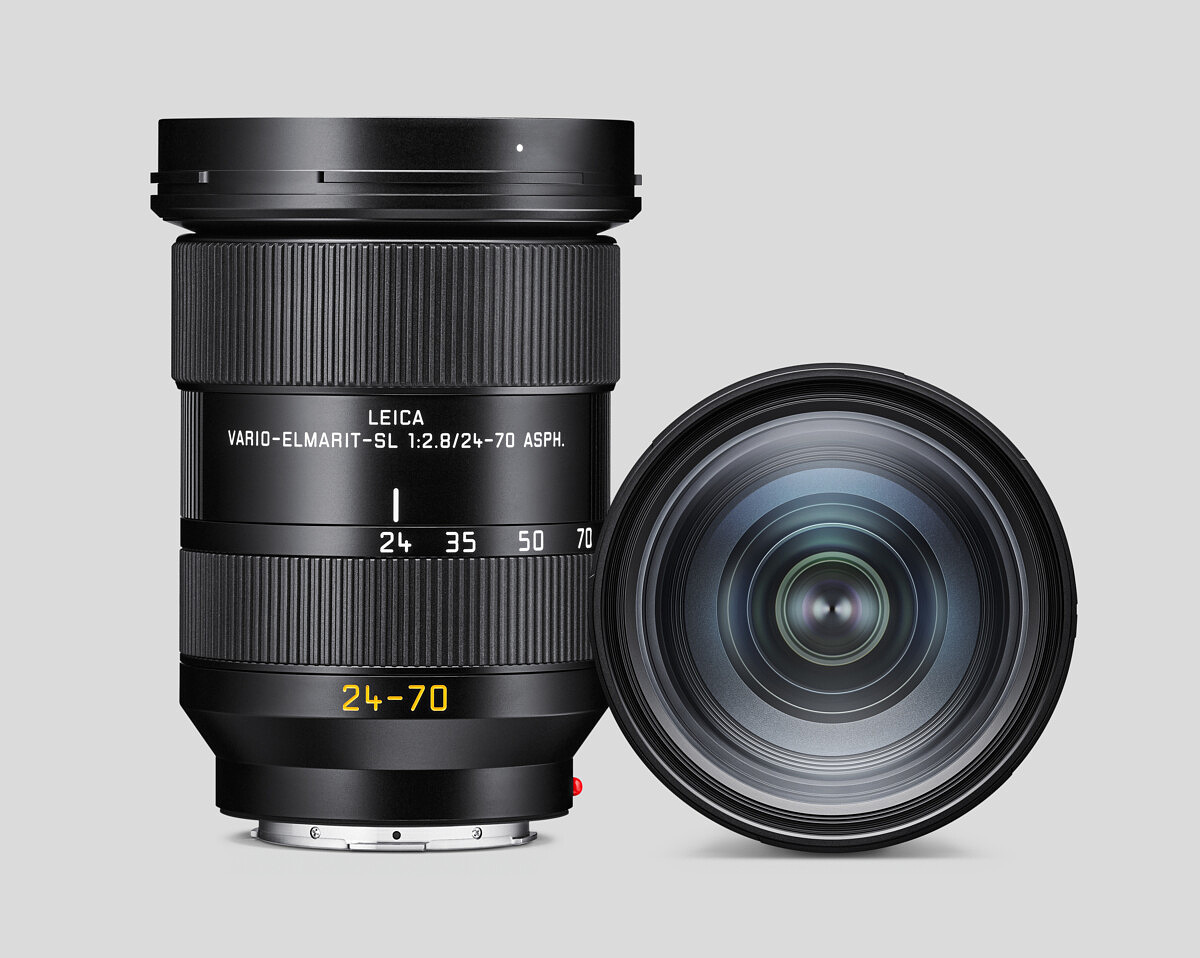 New SL2 and SL2-S Bundles
Leica is also launching two new bundles for even greater savings. By purchasing the lens as a kit with a new SL2 at $8,795 or an SL2-S at $7,195 new purchasers will save an extra $600 versus buying seperately. Clearly, Leica's focus here is to use this lens to establish a more economical entry point for potential SL purchasers. In the past, the only way to hit this price point was either to buy pre-owned or to use third party L-Mount lens options.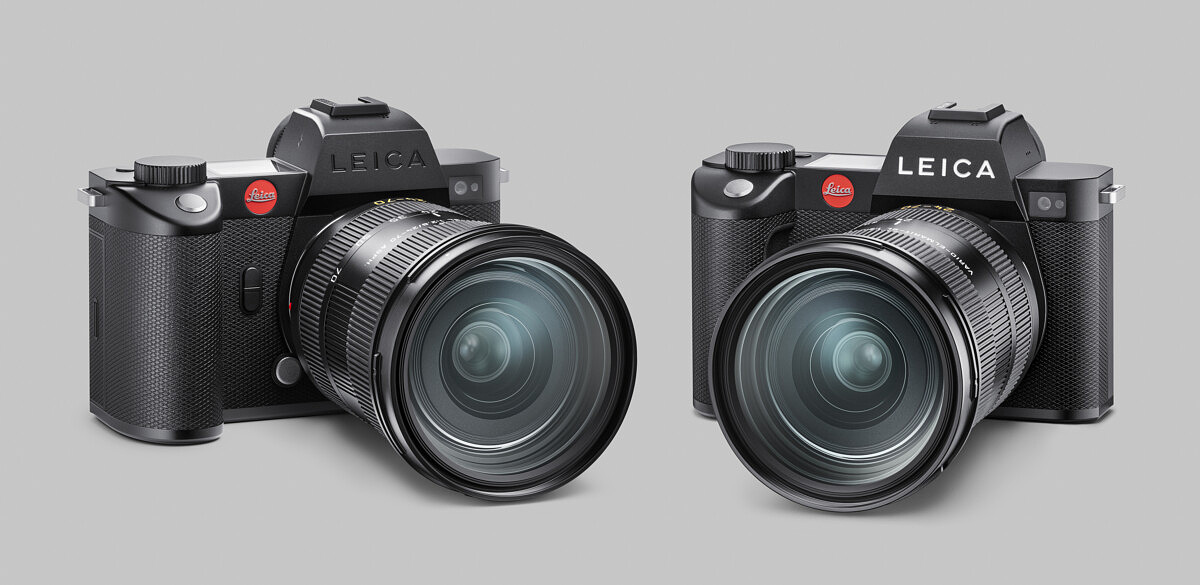 Lens Design
With an advanced optical design consisting of 19 elements in 15 groups, with three aspherical elements, six and aspherical surfaces, the new vario lens offers excellent imaging performance at all focal lengths, distances and apertures. Leica has opted for a single, ultra-lightweight focusing element for quick, precise autofocus. As with all SL lenses, the Vario-Elmarit features all-metal construction with full weather-sealing for even the toughest of conditions. Unlike the current range of SL zooms, this one provides a constant maximum aperture of f/2.8 throughout the entire zoom range. And with a minimum focus distance of just 0.18m at 24mm and 0.38m at 70mm, you'll be able to hone in on the smallest details with buttery bokeh.
Pricing and Availability
The Leica Vario-Elmarit-SL 24-70mm f/2.8 ASPH will start shipping next week for a price of $2,795. Both the SL2 + 24-70 and the SL2-S + 24-70 Bundles will also be available for $8,795 and $7,195 respectively. If you are interested in purchasing the new SL zoom lens or either Bundle, you can do so at Leica Store Miami by clicking the buttons below, calling 305-921-4433 or sending an email to info@leicastoremiami.com.
Sample Gallery
For a look at how the new Vario-Elmarit-SL 24-70mm f/2.8 ASPH performs for real-world photography, take a look at the Leica-supplied sample image gallery below. Make sure to click on the thumbnails for a larger view.
MTF Charts
Taking a look at the provided MTF charts for 24, 35 and 70mm, at f/2.8, f/5.6 and f/8, we can see that depending on focal length, the lens is capable of resolving 40 lp/mm at 70-90% contrast wide-open. Aberrations are well-controlled and sharpness is consistent across the frame, only falling off slightly in the extreme corners. Stopping down only improves resolving power, turning in a solid 80% contrast for 40 lp/mm at all focal lengths. While not quite up to the optical performance of the Vario Elmarit-SL 24-90mm, the 24-70mm isn't too far off.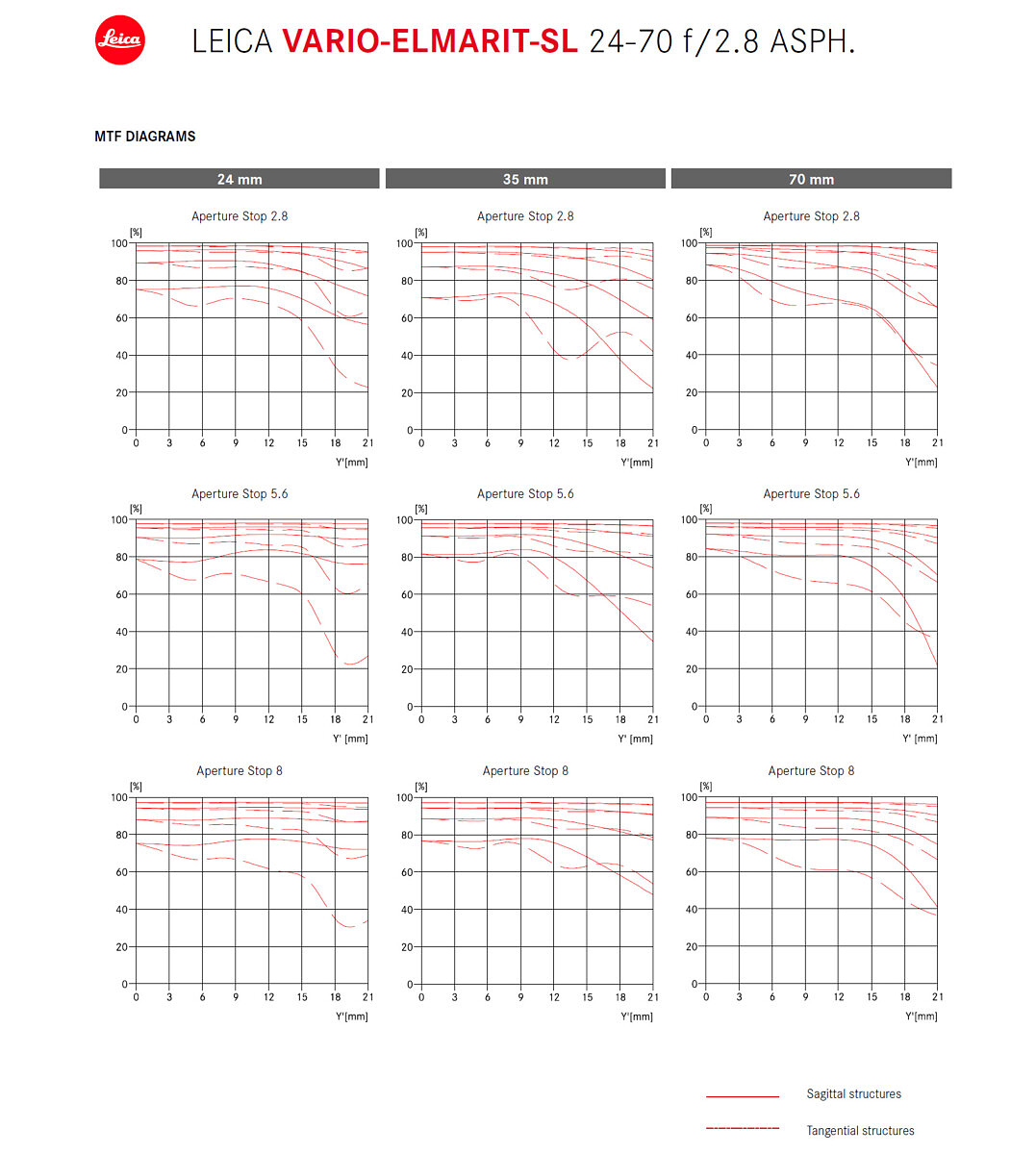 Tech Specs
| | |
| --- | --- |
| Angle of view (diagonal, horizontal, vertical) | 24mm: 82.3°/72.1°/51.8°, 70mm: 35.3°/29.6°/20.0° |
| Optical design | |
| Number of lenses/groups | 19/15 |
| Aspherical surfaces: | 6 |
| Position of entrance pupil | 24mm: 88.6 mm, 70mm: 57.1 mm |
| Working range | 24mm: 0.18m to infinity, 70mm: 0.38m to infinity |
| Smallest Object Field | 24mm: 69mm x 104mm, 70mm: 108mm x 162mm |
| Largest reproduction ratio | 24mm: 1:2.9, 70mm: 1:4.5 |
| Aperture | Electronically controlled aperture, set using turn/push wheel on camera, including half values |
| Aperture setting range | 2.8 – 22 |
| Bayonet/sensor format | Leica L bayonet, full-frame 35 mm format |
| Filter mount | E82 |
| Finish | Black anodized |
| Length to bayonet mount | 123/153mm (without/with lens hood) |
| Largest diameter | 88/97mm (without/with lens hood) |
| Weight | 856/906g (without/with lens hood) |
| Warranty | 2 years |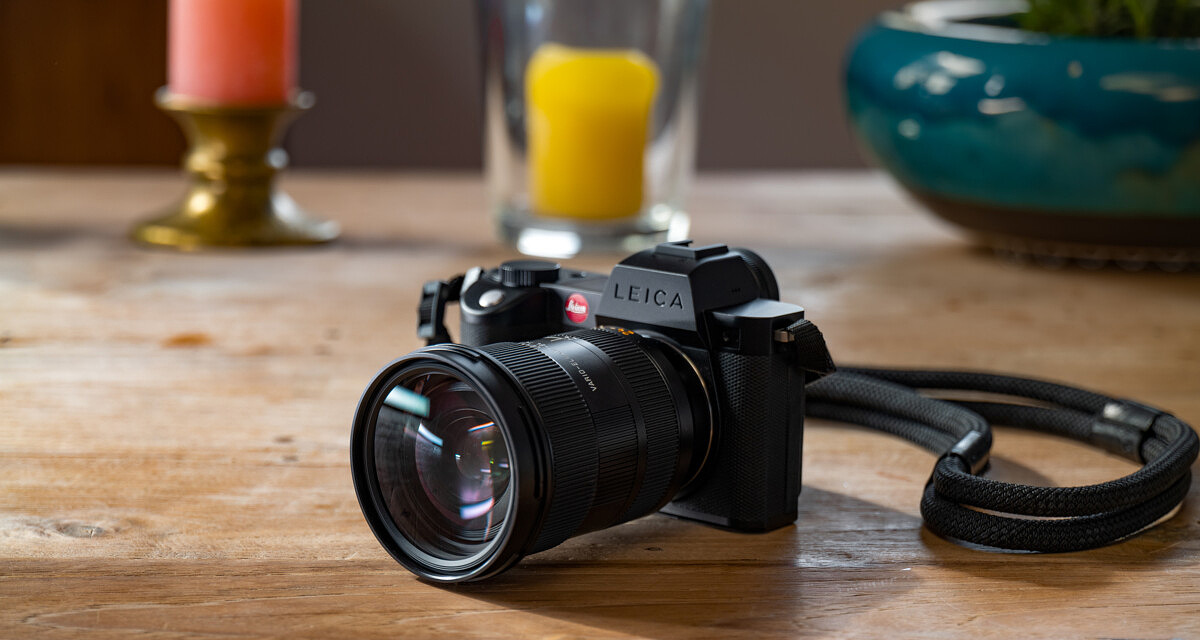 Red Dot Forum Camera Talk Episode
Following the release of the lens, we dedicated an entire episode of our Red Dot Forum camera talk live show to the new 24-70mm Vario-Elmarit-SL ASPH. Check it out below on YouTube. And if you're not already, be sure to subscribe to our channel to be notified of future videos.
Press Release
Leica Releases A New, Universal SL Zoom Lens and Two Bundles Perfect for SL-System Newcomers
May 6, 2021—Leica Camera is expanding the Leica SL lens portfolio with another versatile zoom lens, also launching in two new bundle options with the SL2 and SL2-S. The Leica Vario-Elmarit-SL 24–70 f/2.8 ASPH. is the ideal lens with broad appeal for any photographer given its ability to equally capture reportage, travel, studio, architectural and landscape photography, as well as portraits, close-ups, and video content. With its extensive focal range, consistent maximum aperture of f/2.8, and vast scope of uses, this new addition is a shining example of a lens that can be enjoyed by professionals, enthusiasts and first-time SL-System adopters alike. As a bundle option with the SL2 and SL2-S, the SL-System now becomes an even more viable option for all kinds of users to realize their creative passions.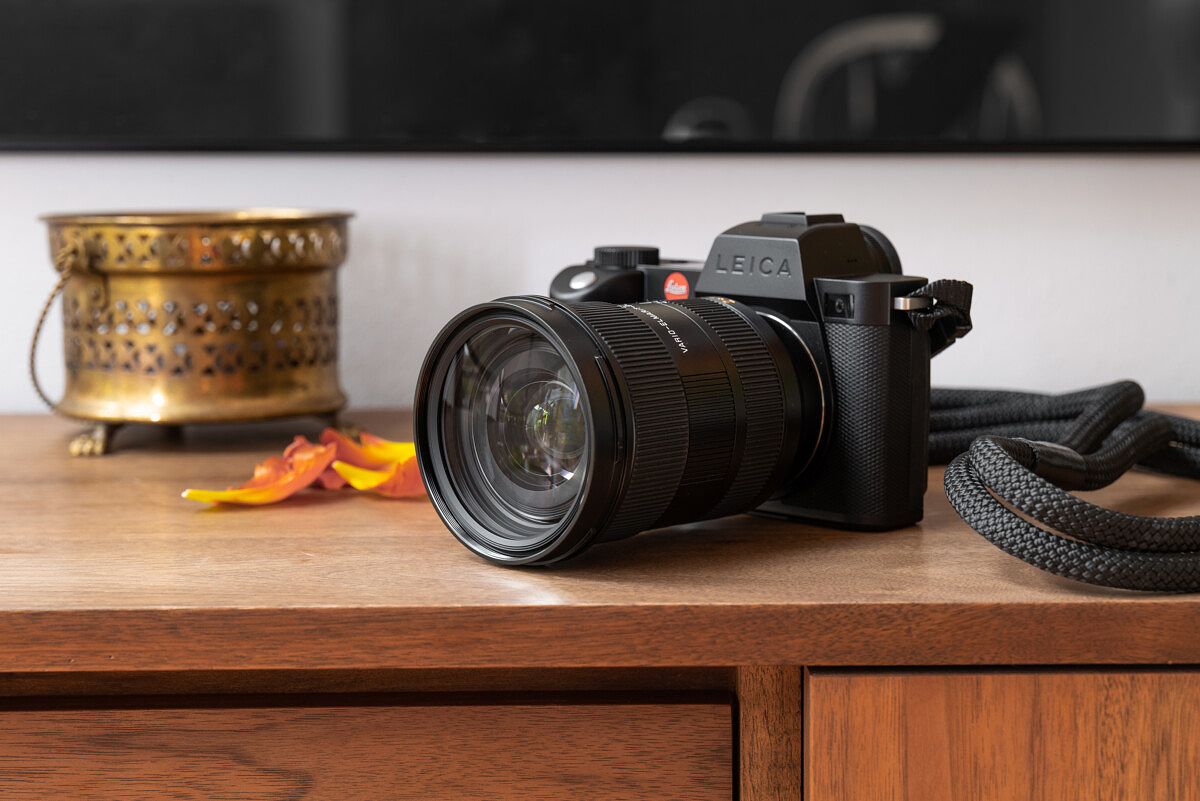 The elaborate Vario-Elmarit-SL 24-70 f/2.8 ASPH. lens design ensures an outstanding optical performance as it is comprised of 19 elements in 15 groups, featuring three elements with aspherical surfaces on both sides. This sophisticated lens also offers an outstanding ability to provide correction of chromatic aberrations across the entire focal range, resulting in a crisp photograph no matter where you zoom. The internal focusing is based on a single, lightweight lens element, and utilizes a silent stepper motor to deliver a fast and precise autofocus. In addition to its lightweight design, the metal body and weather sealing make the Vario-Elmarit-SL 24–70 f/2.8 ASPH durable in any environment, ultimately making it suited for even the rigors of outdoor landscape and adventure photographers or the hustle and bustle of a pro wedding photographer.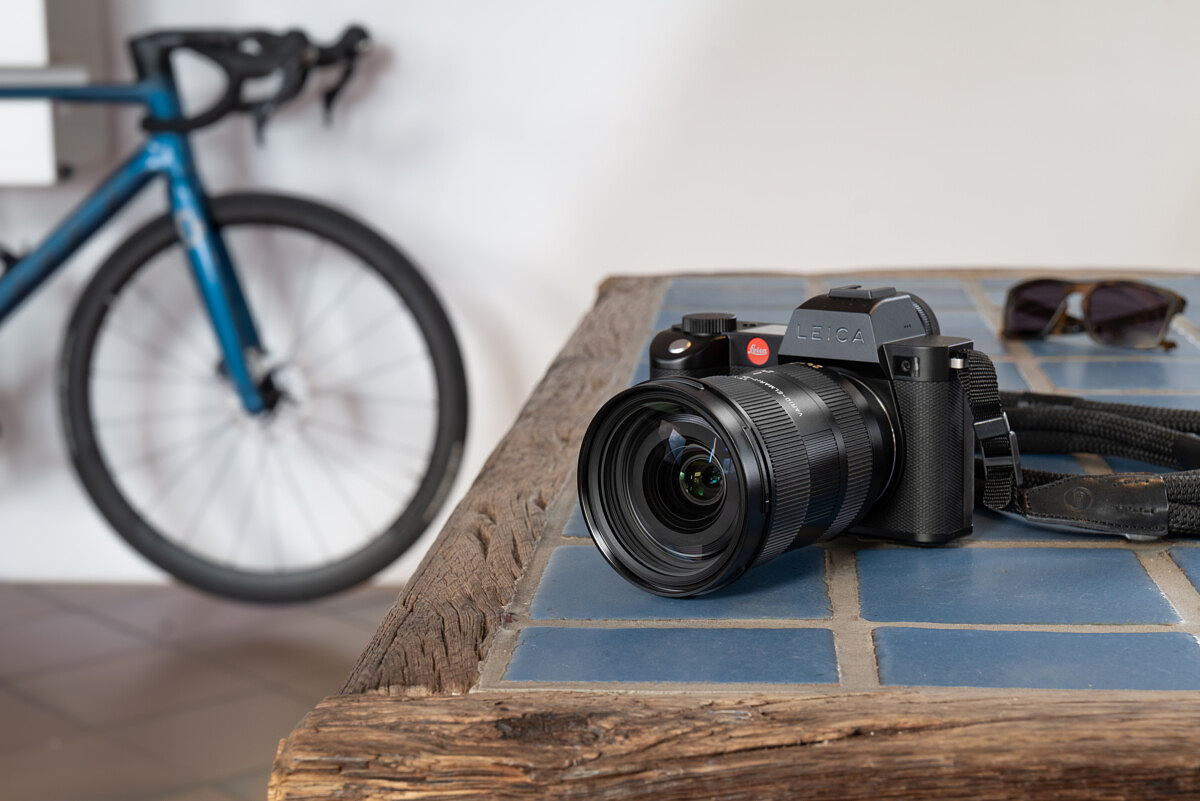 The compact dimensions of the Vario-Elmarit-SL 24–70 f/2.8 ASPH. are made possible by the omission of in-lens optical image stabilization. When the lens is mounted on the SL2 or SL2-S, the camera's stabilized image sensor steps up to the task with highly effective image stabilization while affording the lens its smaller size and lower weight. This makes the Vario-Elmarit-SL 24–70 f/2.8 ASPH. the ultimate tool for both still photography in low-light and video recordings with rock-solid dynamic camera movements. The aperture of the Vario-Elmarit-SL 24–70 f/2.8 ASPH. comprises 11 blades that create a consistently lovely, circular bokeh to make subjects stand out and pop from the background, while its minimum focusing distance ensures exceptionally high-quality images even when shooting at close range. From near to far, low-light to broad sunlight, portraits to fast action, 24 to 70 mm, the new addition to the L-Mount portfolio enables photographers to capture any kind of photo with top-level sharpness and the Leica look.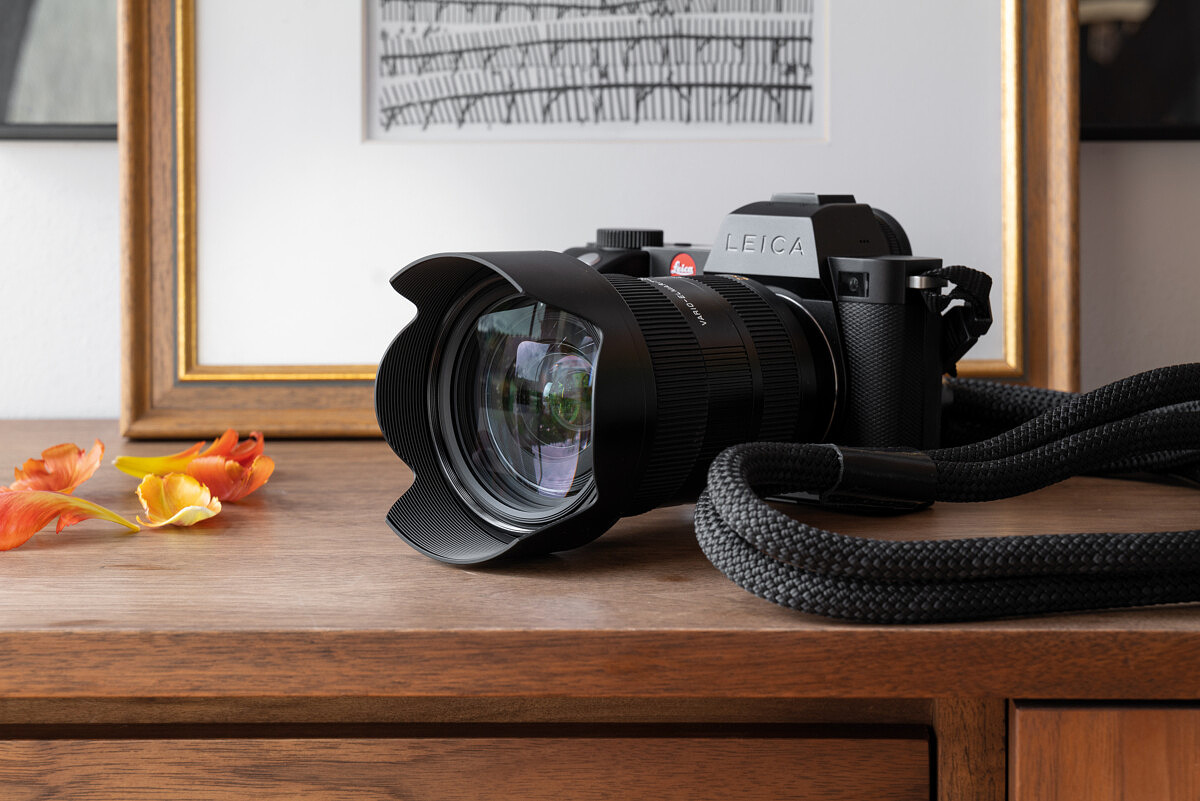 Supplementing the launch of the Vario-Elmarit-SL 24-70 f/2.8 ASPH. lens are two camera and lens bundles, offering the latest of the SL-System at a more approachable price when purchased as a set. Choose either the high-megapixel flagship SL2 or the jack-of-all-trades hybrid SL2-S along with the new 24-70 lens for an even further value proposition, enabling photographers or videographers to pursue their path to creative freedom.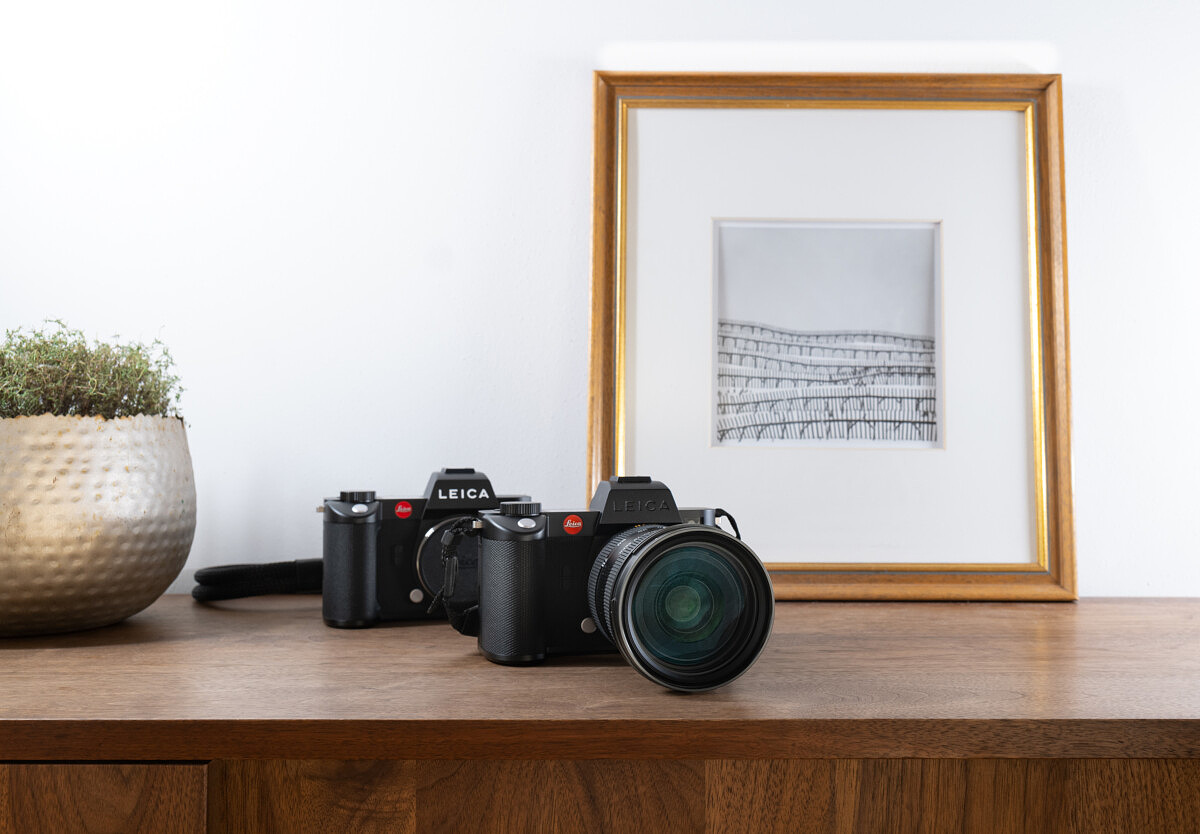 The new Leica Vario-Elmarit-SL 24–70 f/2.8 ASPH. is available to order today at Leica Stores, Boutiques and Dealers for $2,795. The SL2 and SL2-S camera bundles coupled with the new 24-70 are priced at $8,795 and $7,195 respectively – representing a savings of $595 in either bundle.