Today, Leica has announced the Sofort 2, a hybrid instant compact camera. Combining digital capture and analog output, the Leica Sofort 2 offers the fun and spontaneous aesthetic of the original Sofort introduced in 2016, but with far more more flexibility. The camera can take an image and print it out instantly just like the original, shoot and store to a microSD card without printing like a point-and-shoot digital camera, or be used as a portable wireless printer for outputting instant prints from other Leica cameras via the FOTOS app.
Combining a 4.9 megapixel CMOS sensor and 28mm f/2 equivalent lens, the Sofort 2 isn't on par with a 60 megapixel Q3 with regards to image quality or exacting control. But it isn't supposed to be. This is a fun, spontaneous camera for everyday moments.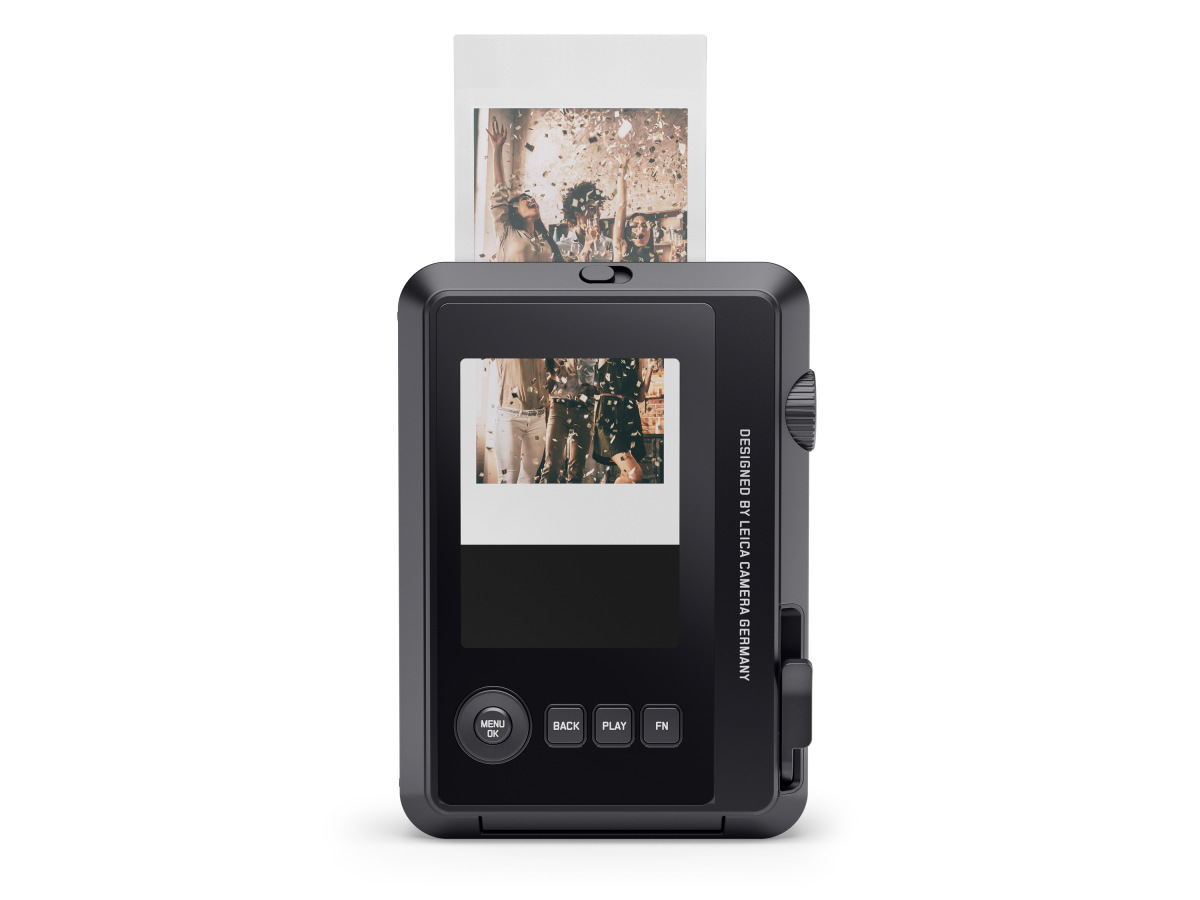 And even though the Sofort 2 isn't capturing images straight to film, the camera houses an LED light printer, and takes the same Sofort film packs as before. So the prints are optically generated rather than by inkjet or thermal, making them look and feel like true analog images.
The Sofort 2 is available in three colors: white, black and red. All variants have the same black backside with rear LCD and familiar three-button controls and direction pad.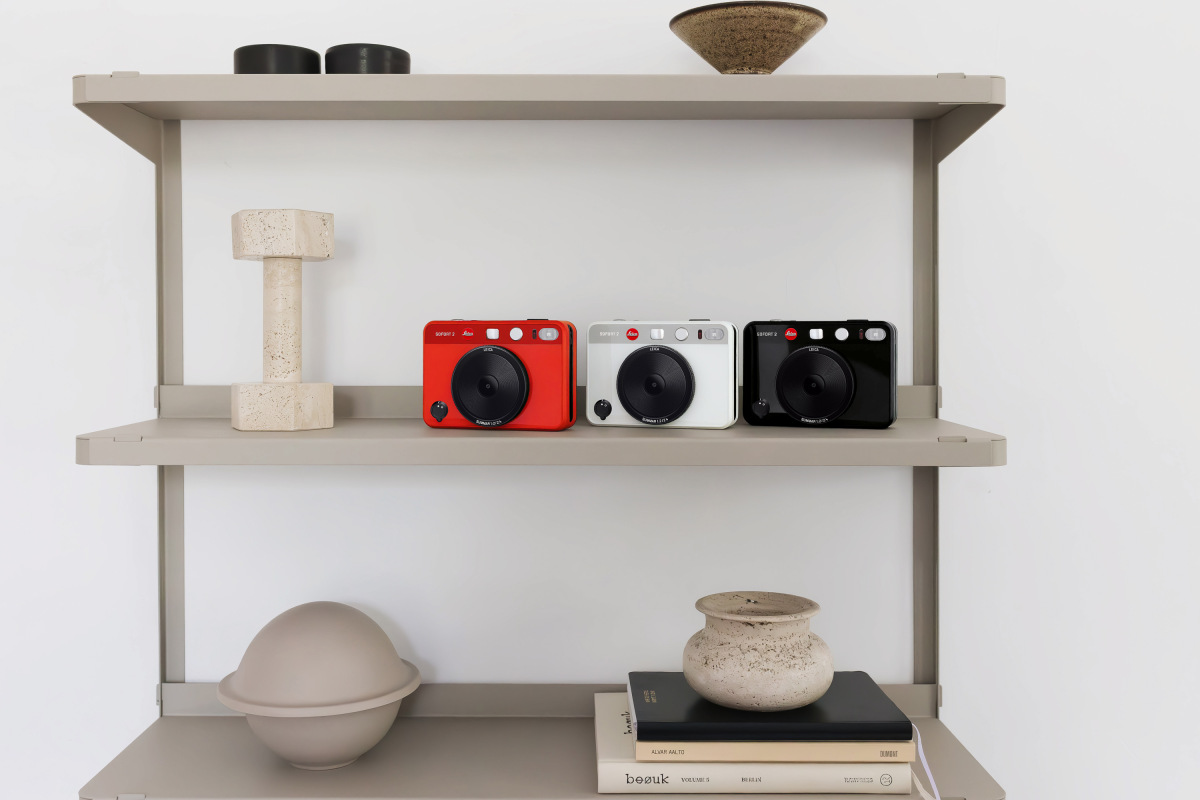 Updates from the original Sofort
The original Sofort was extremely popular and was a ton of fun but had some shortcomings. As a purely analog camera, every shot was printed. And each image could only be printed once, limiting sharing possibilities. The Sofort 2 can print out multiple copies so everyone gets a print. Or, you can print a copy while retaining one for yourself. The camera has a manually operated lever so you can choose which images you want to print. And of course, with a microSD card slot, pictures can be saved for downloading to your computer, sending wirelessly via the FOTOS app, or selecting and printing later right in camera.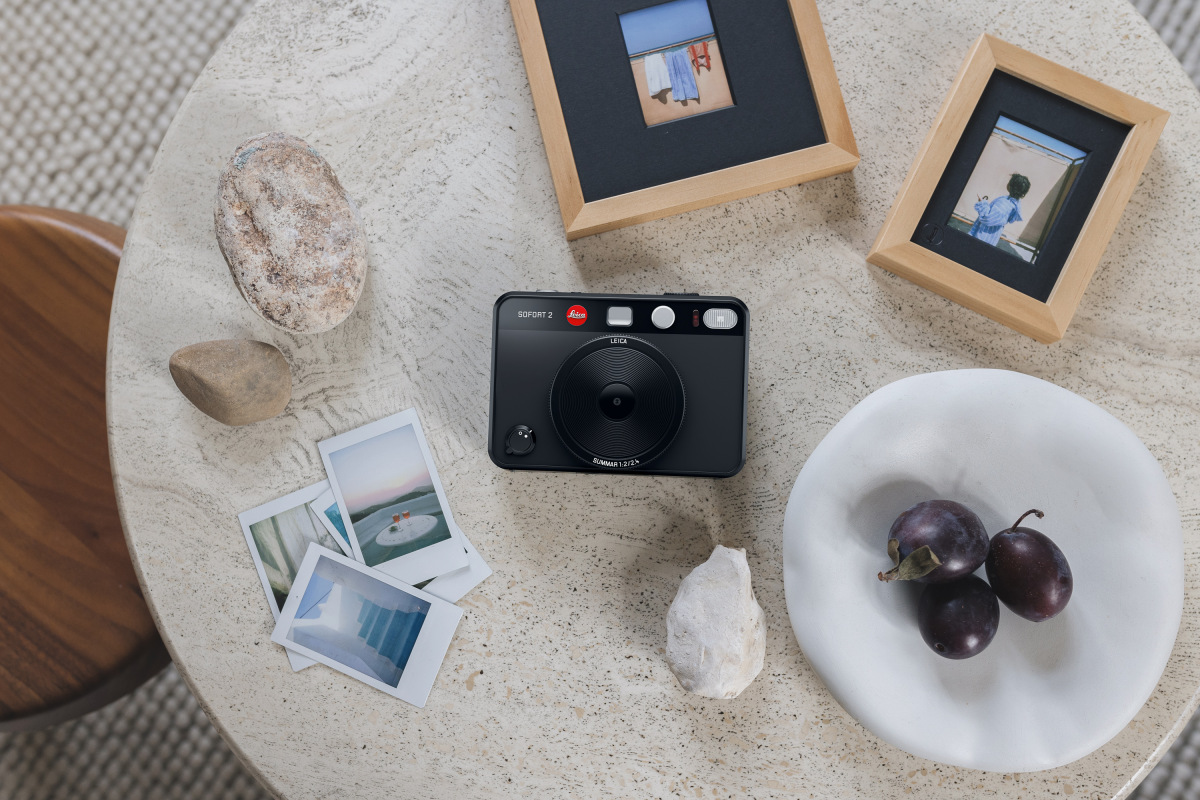 Composition, focus and exposure were also quite basic on the original. Here, we get a modern 3-inch rear LCD for a WYSIWYG preview and autofocus rather than fixed zone focusing. Aperture, shutter speed and ISO are all variable and paired with a 256-zone TTL metering system for accurate exposure. Don't expect too much manual control, though. The Sofort 2 is designed to be simple, so apart from exposure compensation and adjustable white balance, the camera is a fully automatic affair. That also means no DNG files here, just sRGB JPGs. And for quick shooting and sharing, this is perfect.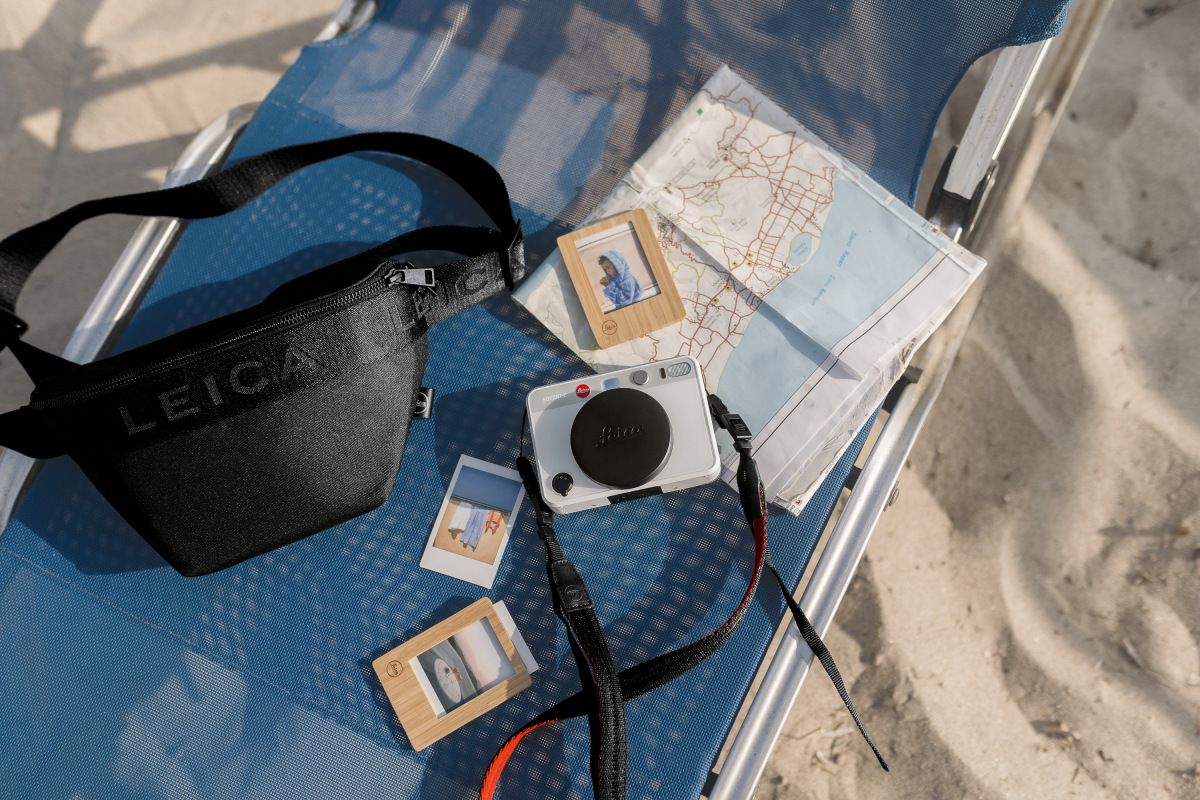 Using with Leica FOTOS App
The Sofort 2 really opens up possibilities when paired with the Leica FOTOS app. Pictures from the camera can be transferred wirelessly to FOTOS and any images in your FOTOS library can be sent from your phone to the Sofort 2 for printing. For example, you could take someone's portrait with your SL, M or Q camera and within moments, give that person a print to keep. This could be awesome for family gatherings, street and travel photography, weddings, and even commercial shoots. The internal rechargeable battery is good for up to around 100 prints, so make sure to stock up on film packs, each of which are good for 10 prints.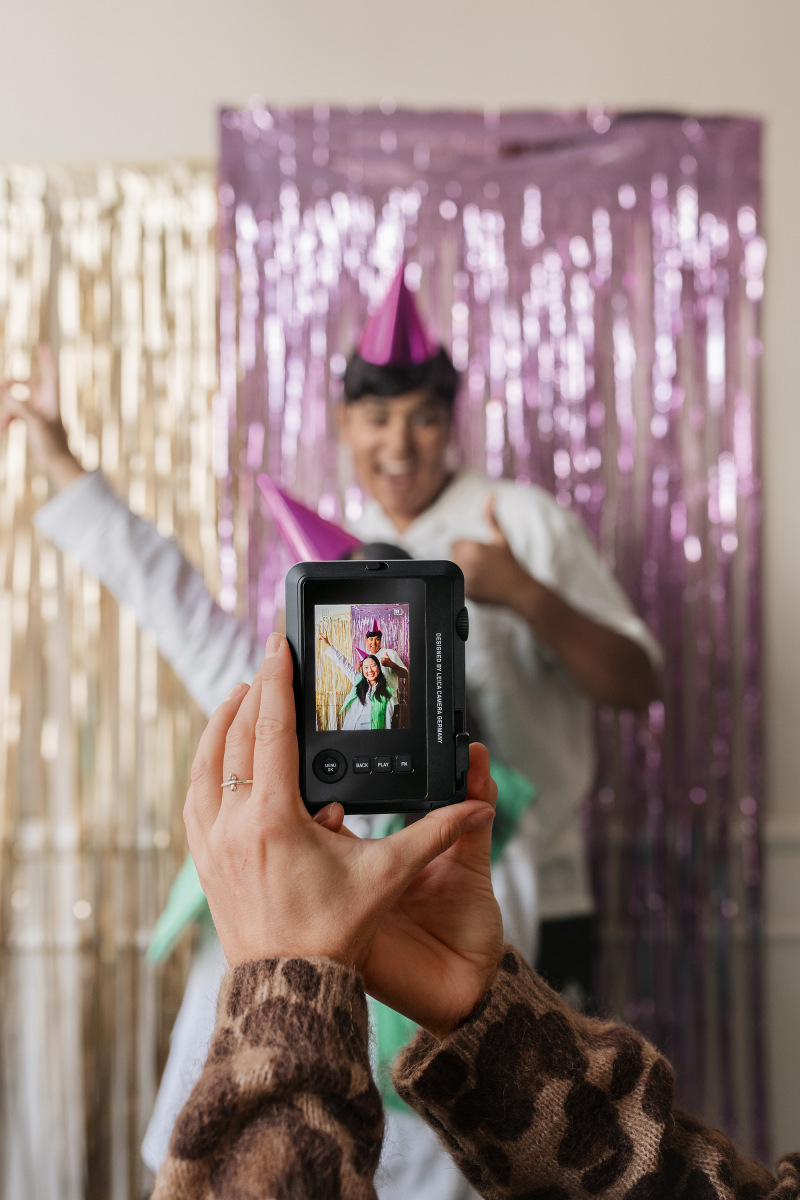 The Leica FOTOS app can also be used as a remote, offering up wireless live view, flash and self-timer control. Another really cool feature is the My Memories gallery within the FOTOS app. Any images that you've printed on the camera will be quickly viewable here.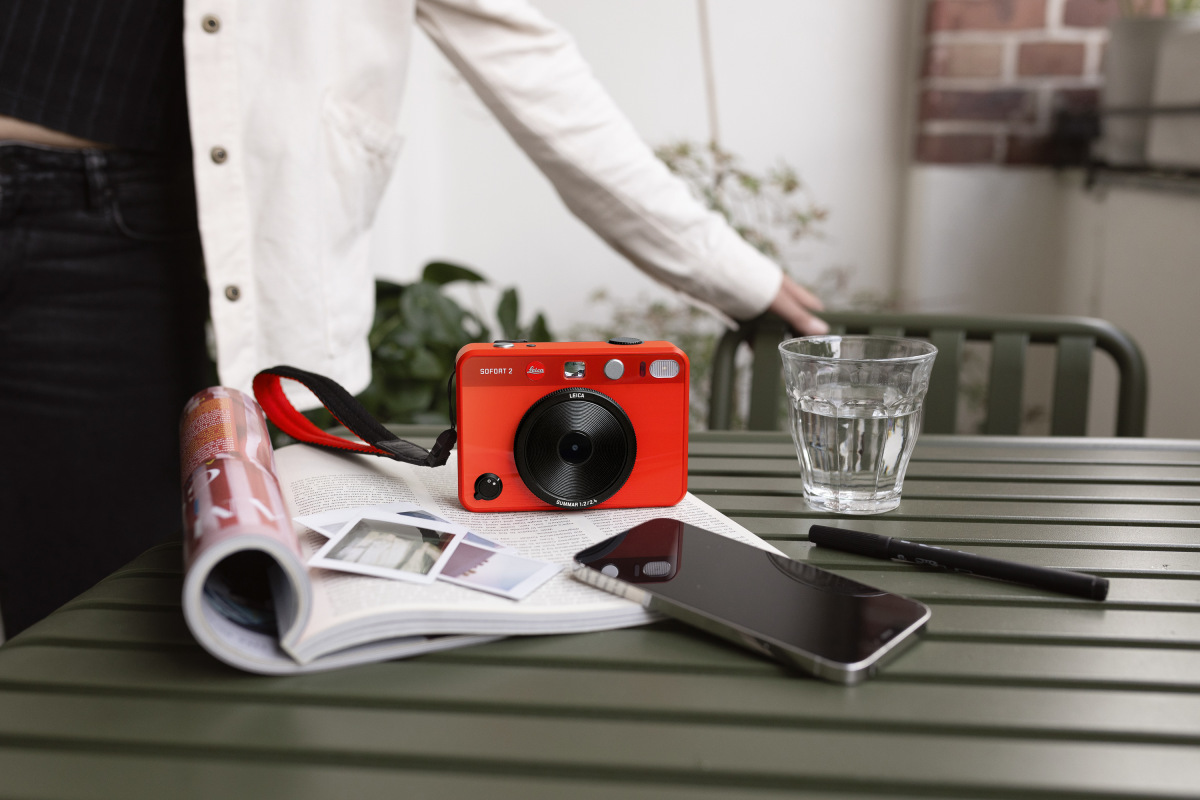 Creative Options
Besides the other advantages of the hybrid digital/analog imaging system in the Sofort 2, the ability for in-camera digital effects also opens up myriad creative options. Ten film styles and ten lens effects can be mixed and matched for 100 different looks.
Film Styles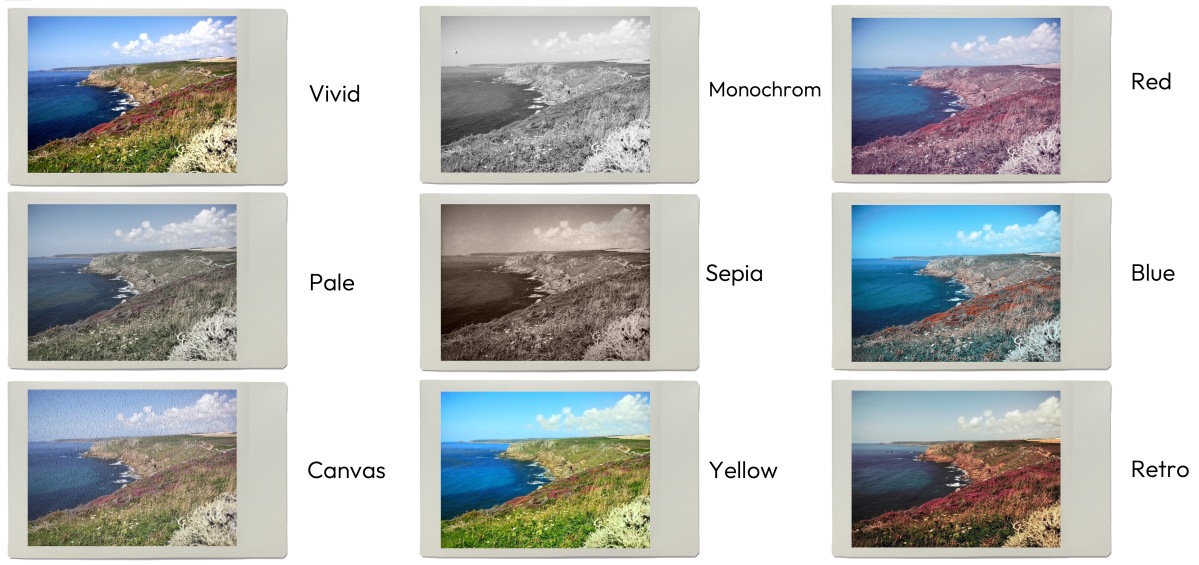 Lens Effects
New Accessories
To go along with the new camera, Leica is also launching a range of new accessories. There are four different carry bags, all made of black recycled polyester, along with wrist and neck straps in gray and red. For the printouts, there are bamboo magnetic picture frame sets, metal storage boxes and a special marker for writing on the prints. And of course, film packs in warm white and neo gold. Check out the full range of accessories here.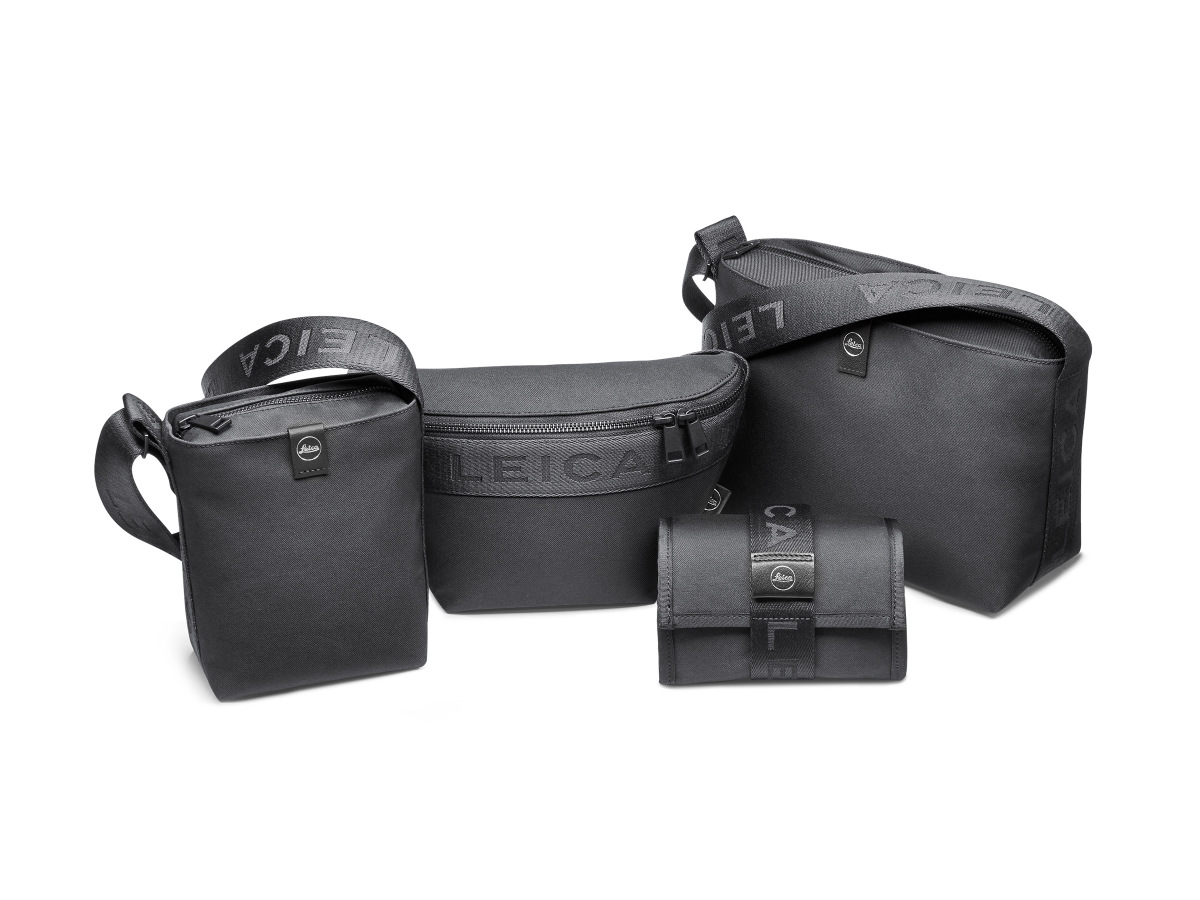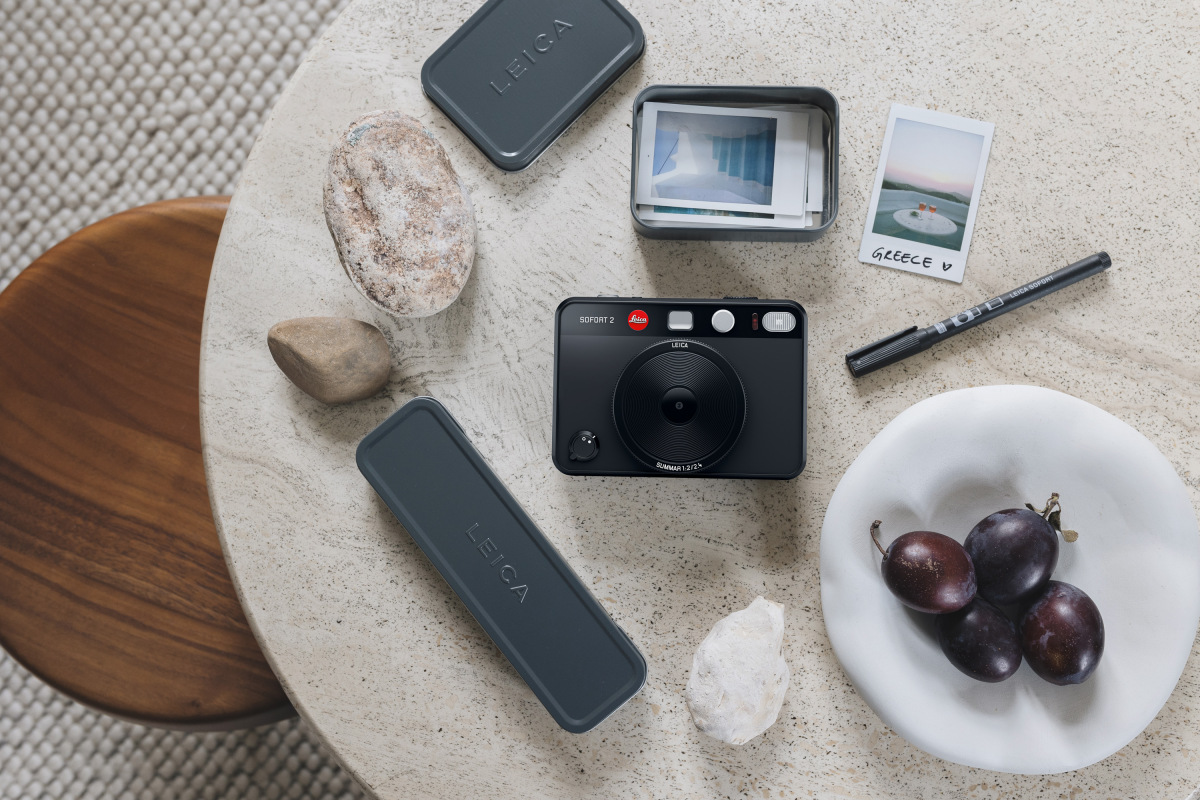 Pricing, Availability and Ordering
Leica Sofort 2 will be available in early to mid November for a price of $389. If you are interested in ordering the Sofort 2, you can do so at Leica Store Miami by clicking the button below, calling 305-921-4433 or sending an email to info@leicastoremiami.com. Accessories can be found here.
Tech Specs
| | |
| --- | --- |
| Designation | Leica Sofort 2 |
| Camera type | Hybrid instant camera with print function |
| Type No. | 8262 |
| Order No. | White: 19188, Red: 19189, Black: 19190 |
| Storage Medium | Internal memory (approx. 45 images), microSD/microSDHC card (approx. 850 images per GB ) |
| Material | Synthetic housing: Polycarbonate frame with polymethyl methacrylate front and back cover |
| Operating conditions | +5°C to +40°C |
| Interfaces | USB 3.1 Gen1 Type-C |
| Tripod thread | A 1⁄4 DIN 4503 (1⁄4") in the base |
| Dimensions | 123mm wide, 87mm tall, 44mm thick |
| Weight | 320 grams (without film pack, with lens cap) |
| Sensor size | CMOS-Sensor, 1⁄5" |
| Filter | RGB color filter |
| File formats | JPG (DCF 2.0, Exif 2.31) |
| Image resolution | 2560×1920 pixels (4.9MP) |
| File size | Approx. 1.2MB |
| Color space | sRGB |
| Lens | Leica Summar 2.4 f/2 (equivalent to approx. 28mm format) |
| Aperture range | f/2 to f/16 (automatic exposure control) |
| Creative function | Normal, Vignette, Soft Focus, Blur, Fisheye, Color Shift, Light Leak, Mirror, Double Exposure, Half-Frame |
| Output options | Images stored in the internal memory and on the inserted memory card can optionally be printed. The last 50 prints will be saved and can be output repeatedly. When the Leica FOTOS app is connected, images can be sent to the camera via app for camera output after printing |
| Output resolution | 1600 x 600 pixels (800 x 600 pixels for output via the Leica FOTOS app) |
| Compatible film packs | Leica instant film pack: Sofort color film pack (mini), warm white: 19677, Sofort color film pack (mini) Neo Gold: 19678, Sofort color film duo pack (mini), warm white: 19679 |
| Output film effects | Normal, Vivid, Pale, Canvas, Monochrome, Sepia, Yellow, Red, Blue, Retro |
| Image output time | Approx. 16 seconds |
| Developing time | Approx. 90 seconds |
| Film pack size | 86 x 54mm (3.4 x 2.1 inches) |
| Image size | 62 x 46mm (2.4 x 1.8 inches) |
| LCD panel | 3" TFT LCD, approx. 460,000 dots |
| Shutter speeds | 1⁄4 – 1⁄8000s (automatic exposure control) |
| Focus range | 10cm to ∞ |
| Focus mode | AFs |
| Exposure metering | TTL 256 split metering, multimetering |
| Exposure modes | Program AE mode |
| Exposure compensation | ±2EV in 1⁄3 EV increments |
| ISO sensitivity range | ISO 100 to ISO 1600 (automatic exposure control) |
| White balance | Automatic (Auto), presets (Daylight, Cloudy, Tungsten, Fluorescent 1, Fluorescent 2, Fluorescent 3) |
| Flash range | Effective range: approx. 0.5m-1.5 m |
| Flash control | Auto/On/Off |
| Bluetooth* | Bluetooth 4.2 LE: 2402–2480MHz, maximum output (e.i.r.p.): 7.79 dBm |
| Menu languages | English, German, French, Italian, Spanish, Portuguese, Russian, Japanese, Traditional Chinese, Simplified Chinese, Korean |
| Internal battery | Lithium-ion battery (internal, non-removable), Made in China; 3.7V, 740mAh, 2.6 W, Approx. 100 instant photographs (with fully charged battery), Charging time approx. 2–3 hours with camera switched off: 5 V/500 mA (2.5W to 5 W) |
| USB power supply | When in standby mode or off: USB charging functionWhen on: USB power supply and intermittent charging |
| Scope of delivery | USB cable, carry strap, quick start guide, lens cap |
Press Release
Leica introduces a hybrid instant camera in an elegant design, available in three colors.
Teneck, October 5th, 2023. Since 1947, instant cameras have offered a new photography experience, which gained cult status, especially in the 1970s and 1980s. Back then, the instantly printed photo symbolized acceleration, whereas in today's fast- paced world, it represents a moment of pause and relief. It's no wonder that the fascination with instant photography is thriving once again, and now, with the Leica SOFORT 2, Leica Camera AG is introducing the second generation of their instant camera. This hybrid camera seamlessly combines fleeting digital moments with the enduring analogue world.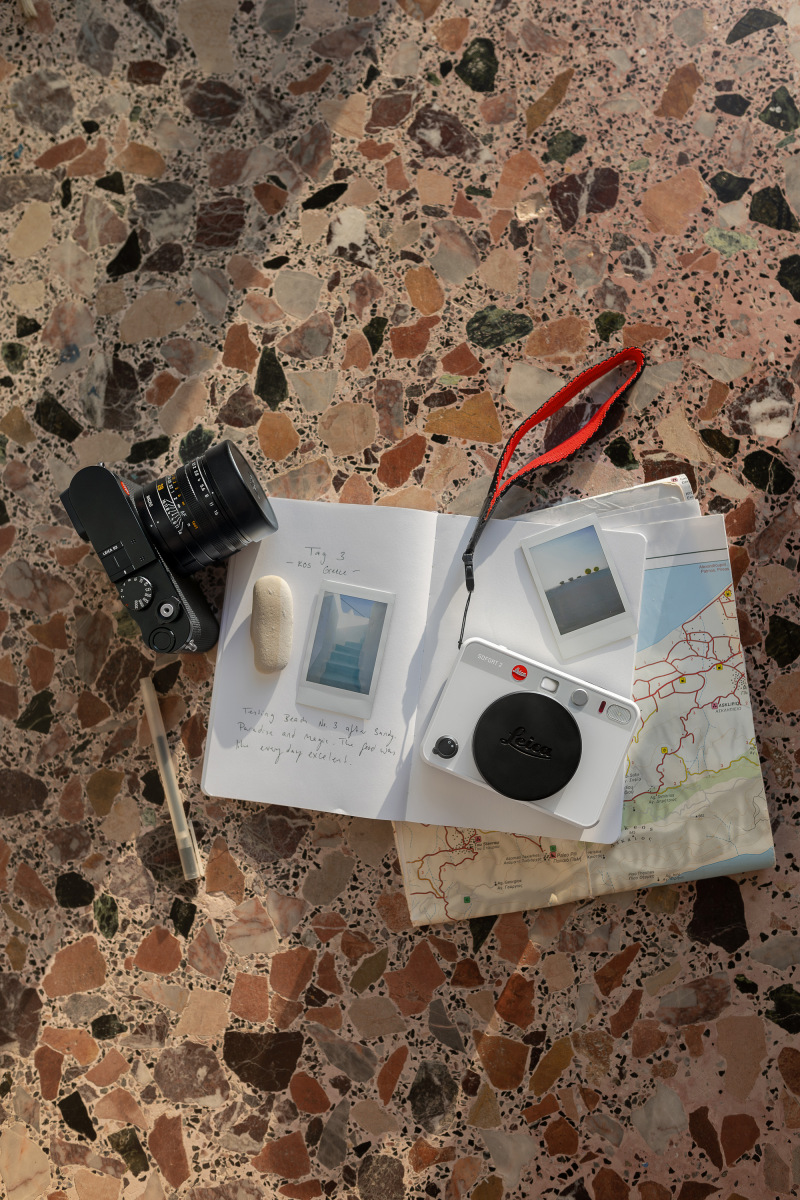 The modern, minimalist, and elegant look of the SOFORT 2 is a testament to the expertise of the company in industrial design. The Leica brand experience continues consistently with the handling of the SOFORT 2, as its user-friendly menu structure and button layout align with those of other digital Leica cameras.
What's new with the Leica SOFORT 2 is primarily the option to permanently save digital images and choose the best shots before printing them. This includes all photos on your smartphone and those taken with other Leica cameras, already stored in the gallery of the seamlessly connected Leica FOTOS App. These photos can be transferred to the camera via the app and printed as instant photos. Simply pull the manual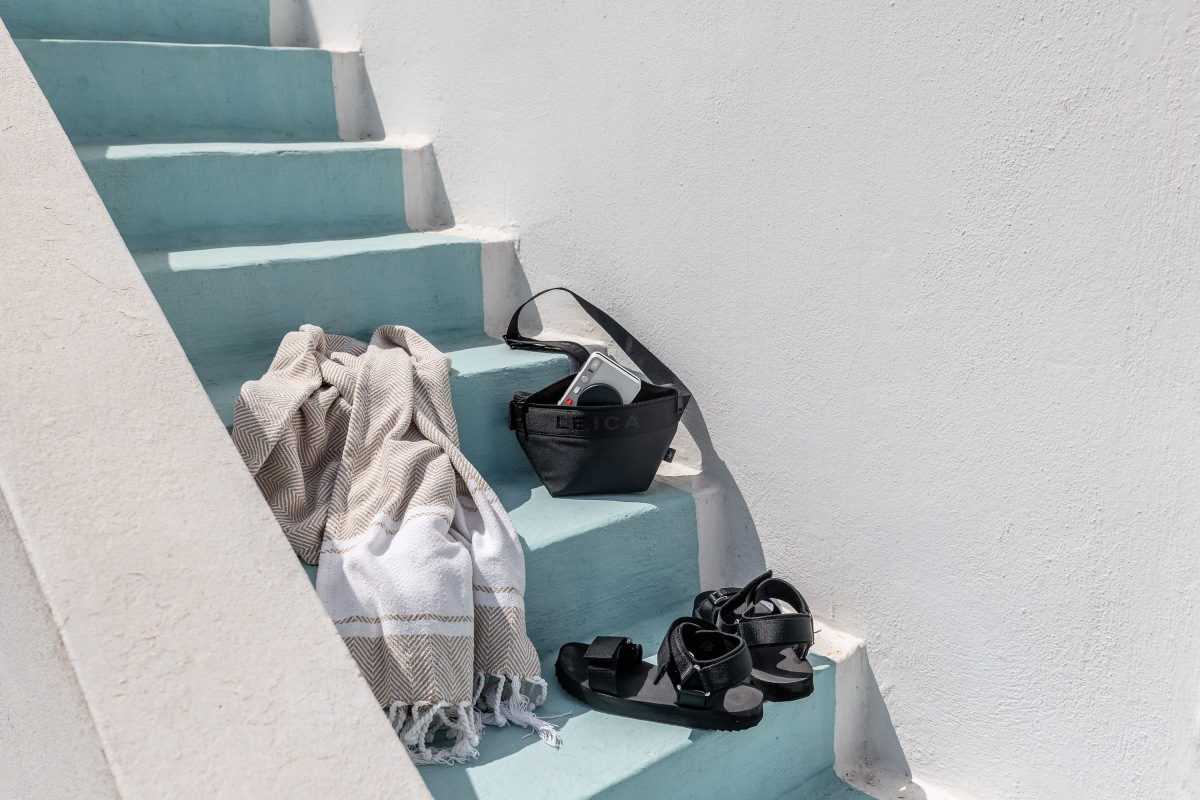 printing lever on the camera, and seconds later, you'll have the print in your hands. Leica offers exclusive photo paper with a warm-white or golden frame.
Easy to use, minimalist, and stylish. The new Leica SOFORT 2 is available in black, red, and white and presents itself as a camera that will quickly find a permanent place in family life, at events, and during travels, creating special shared experiences. Numerous fun features further assist in creatively capturing moments: the selfie mode with a separate shutter button, the landscape mode with a wide-angle character, the macro mode for close-ups from up to 3.95 inches, as well as 10 lens and 10 film effects to unleash your creativity.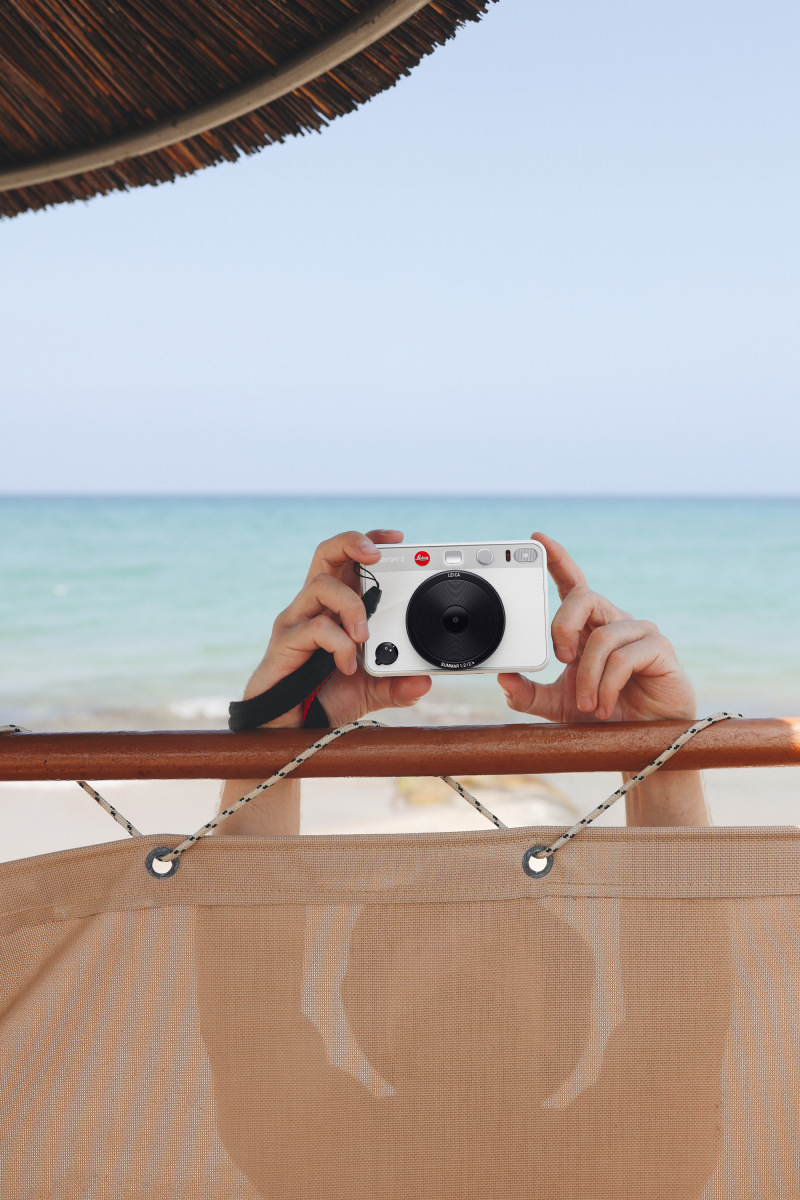 As versatile as the Leica SOFORT 2 itself are its accessories. Stylish wooden picture frames beautifully showcase the prints. Wrist straps, carrying straps, bags, and other high-quality accessories emphasize the camera's individuality and creativity – and, most importantly, the individuals who use it to capture and share special moments, whether as analog instant photos or digital moments on social media.