Ah, how I love Leica launch events. I've been to many such events over the years, but Leica somehow manages to make each one fun, entertaining and unique. The May 10 Berlin event was no different.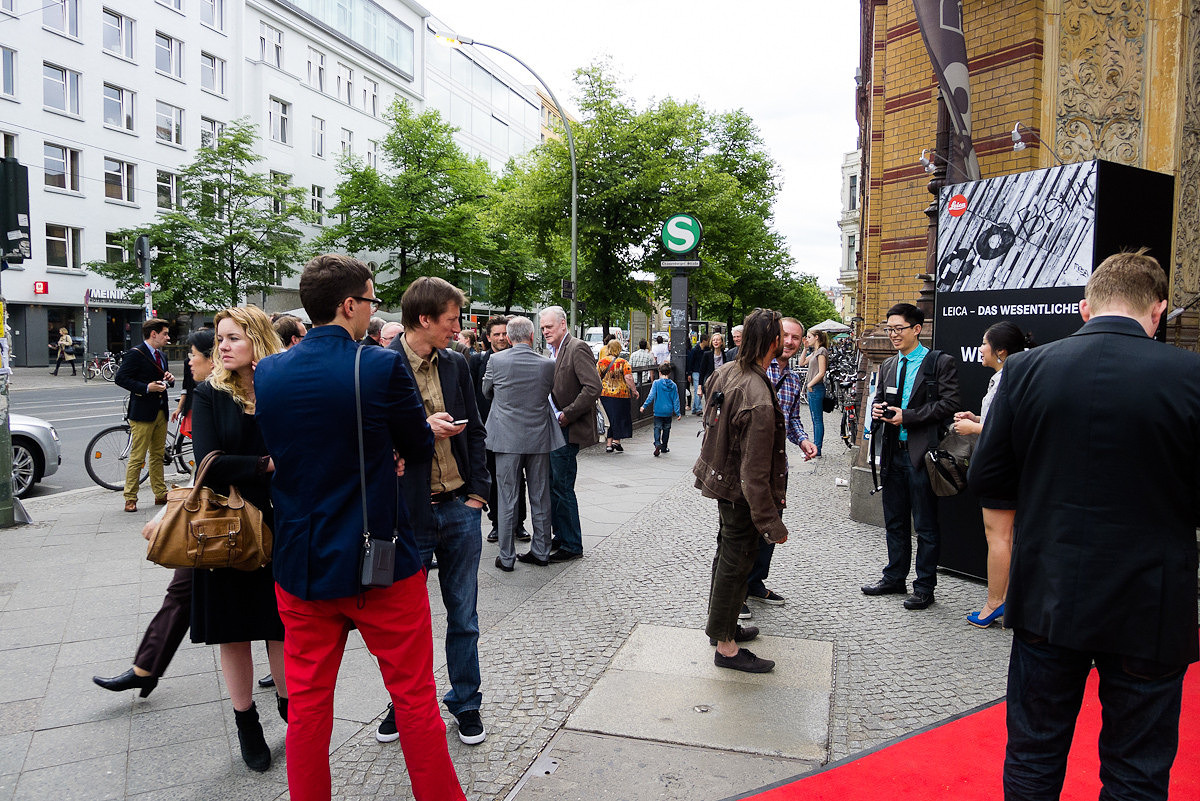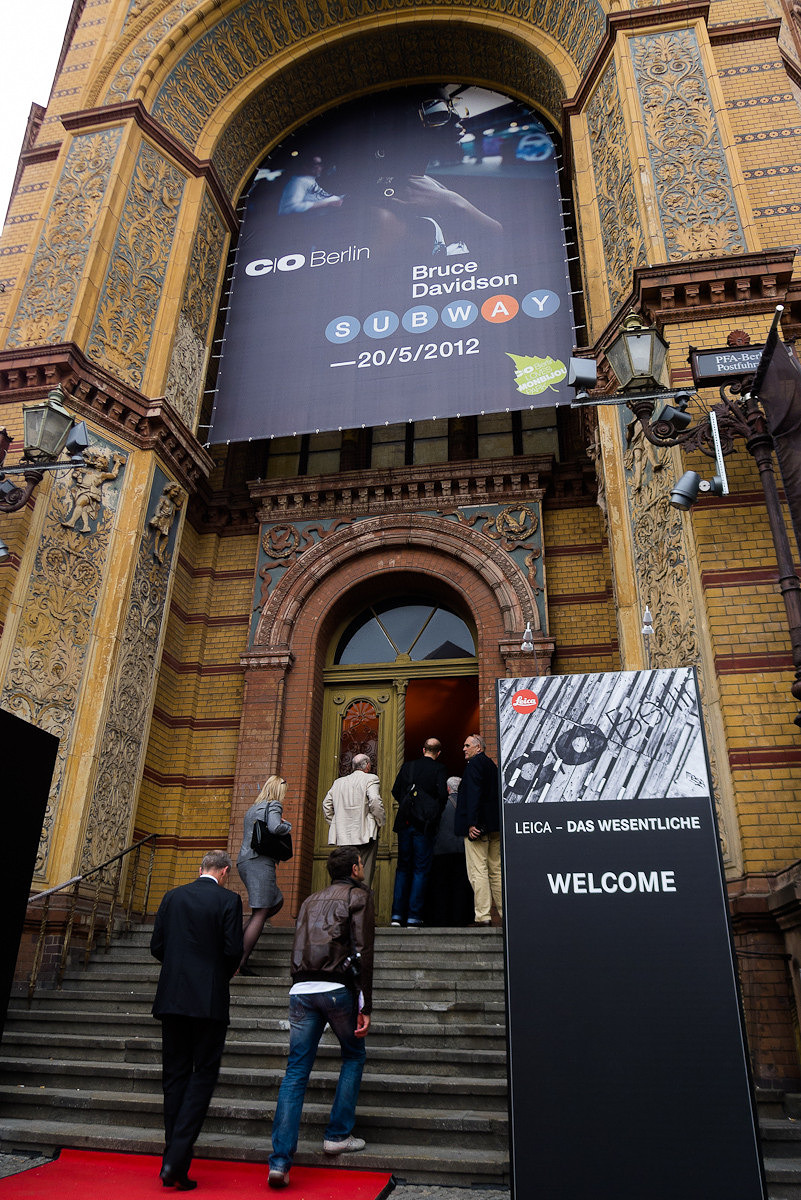 There was already a certain excitement in the air as I boarded the bus to take everyone from the Hotel Meliá to C/O Berlin where the Leica event was being held. The trip was surprisingly short, only a few minutes. We all filed out and, after all taking pictures of the front of the building (par for the course I suppose), headed inside. After being confirmed "on the list" I got a snazzy Leica USB bracelet with "Das Wesentliche" printed on it. This was my re-entry pass if I had to leave for any reason.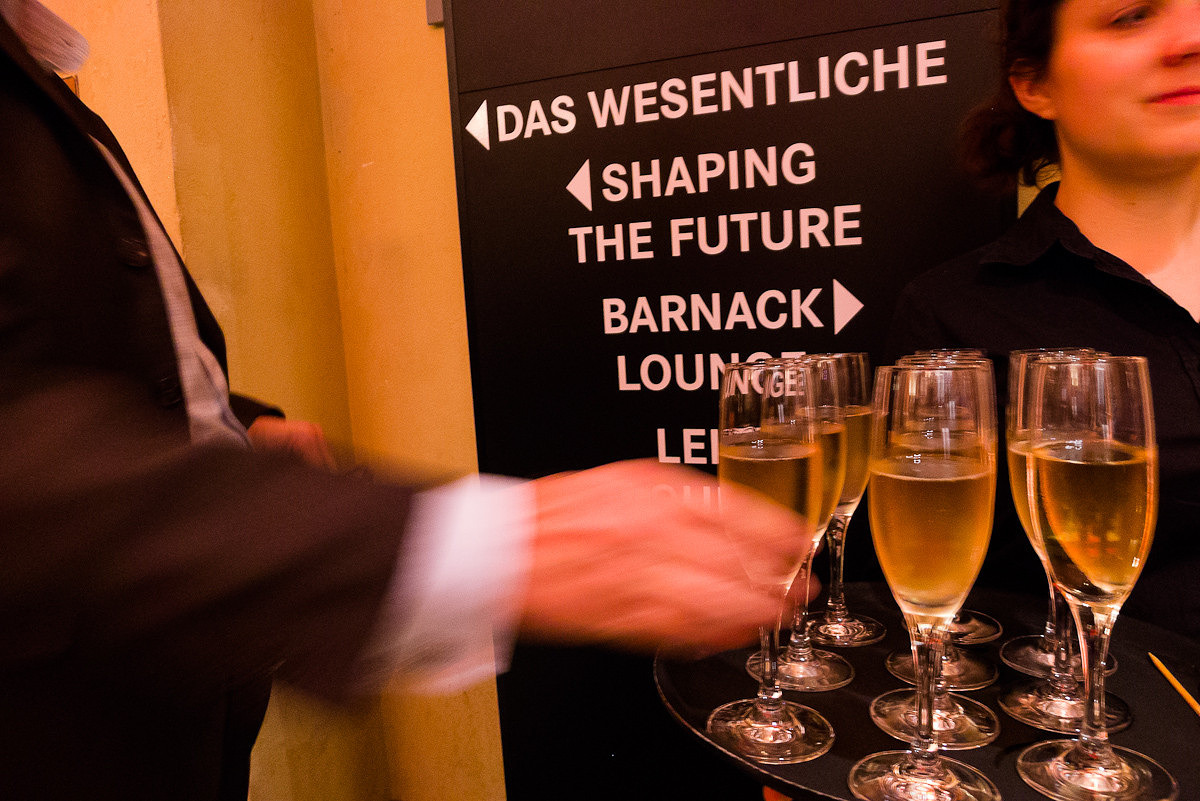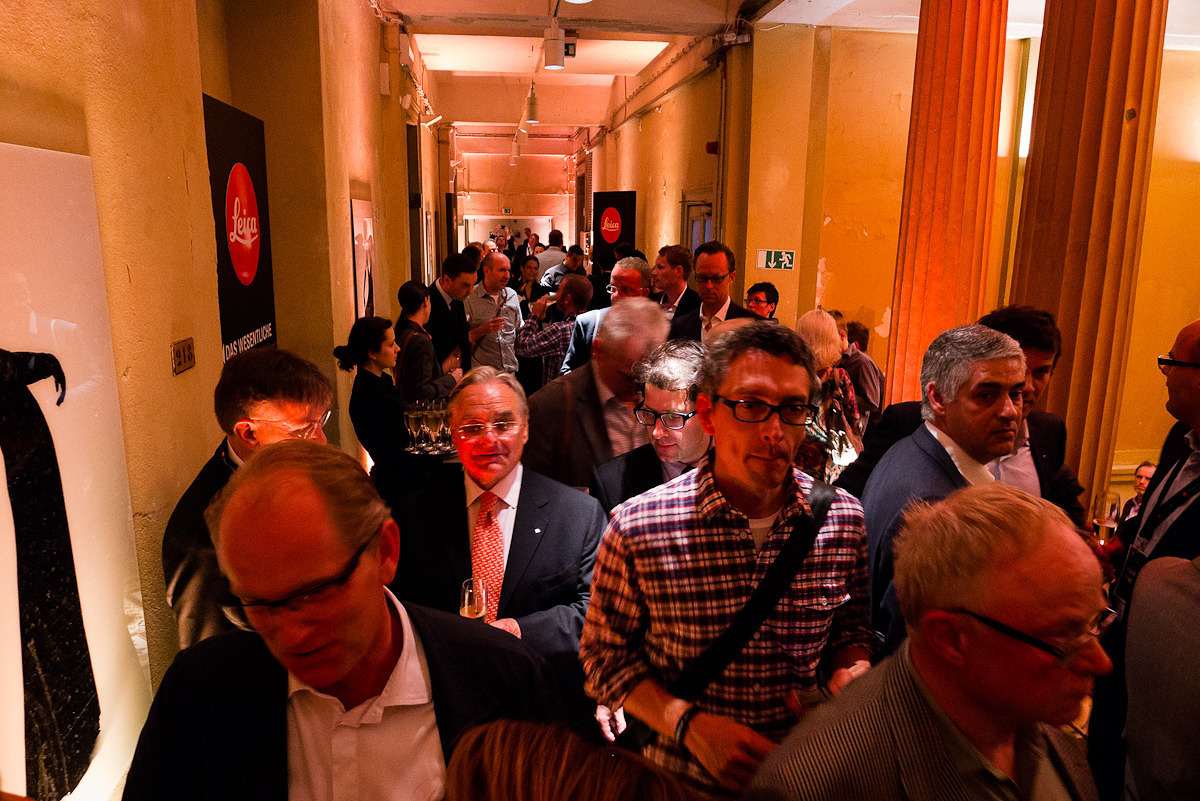 Attendees continued filing in as the champagne flowed freely, being passed around with trays of hors d'oeuvres. I immediately recognized a bunch of familiar faces as I ventured farther into the maze-like venue, both from Leica and other photo industry people I've come to know over the years. I ran into Dr. Kaufmann who was kind enough to pose for me. The composition was just too good to pass up – he was just standing right in front of a sign that read "Shaping the future" with an arrow pointing at him. Truly, Kaufmann is responsible for the great turnaround and success that Leica has been experiencing these past few years.
That being said, the sign was actually pointing to a side room where there was an architectural model of Leica's new manufacturing facility in Vila nova de Famalicão, Portugal, which Kaufmann told me will be completed later this year. Hopefully this will make a positive impact on product availability, although I wouldn't expect lens deliveries to increase dramatically until the new Wetzlar plant opens as almost all optical manufacture is in Germany.
After some more mulling around and talking to friends old and new, I made my way to the Das Wesentliche presentation area. It was totally crammed full of people and was starting to get swelteringly hot, but the program hadn't even started yet. I weaved through the crowd until I staked out a nice spot near the front. The fellow standing in front of me looked awfully familiar. Turns out it was Jonathan Slack from the UK, whom I have known for years on photo forums and who incidentally posted some lovely shots with the new M Monochrom on his website. We exchanged a few words then turned our attention to the stage.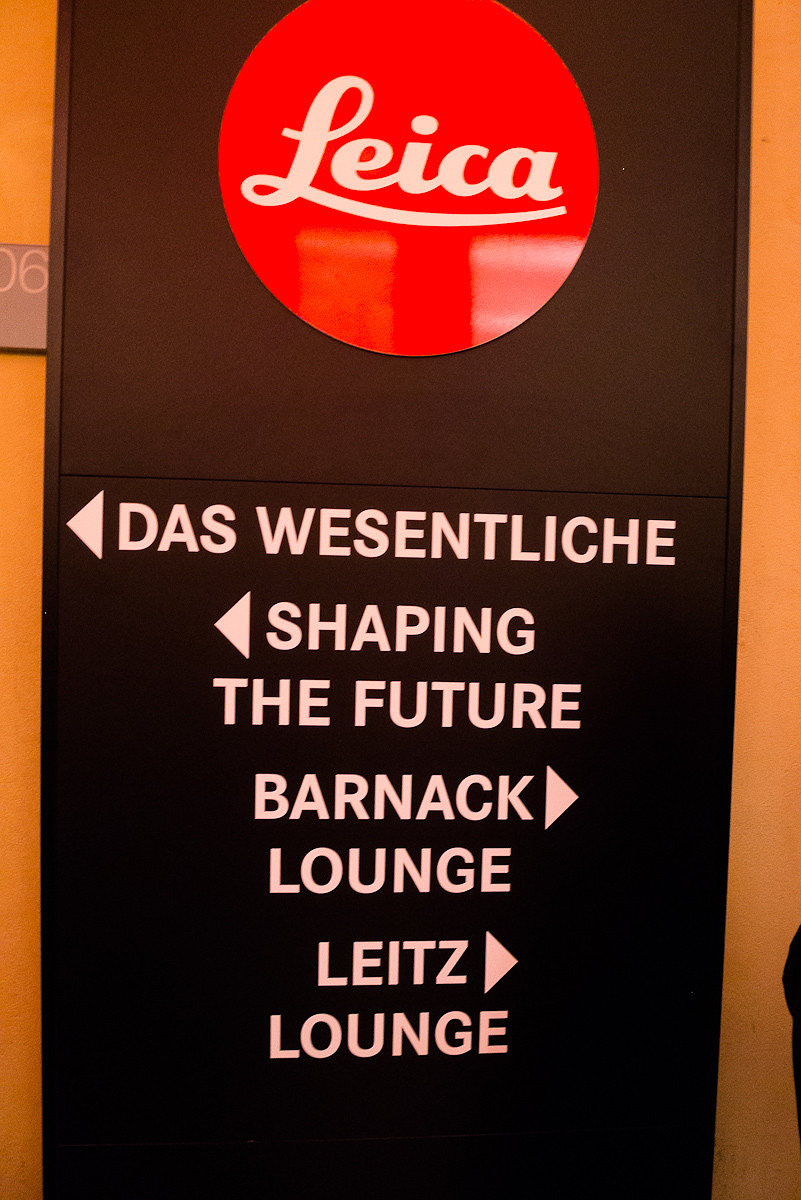 The program got underway with a short performance from the 12 Cellists of the Berlin Philharmonic, who I got to see last night.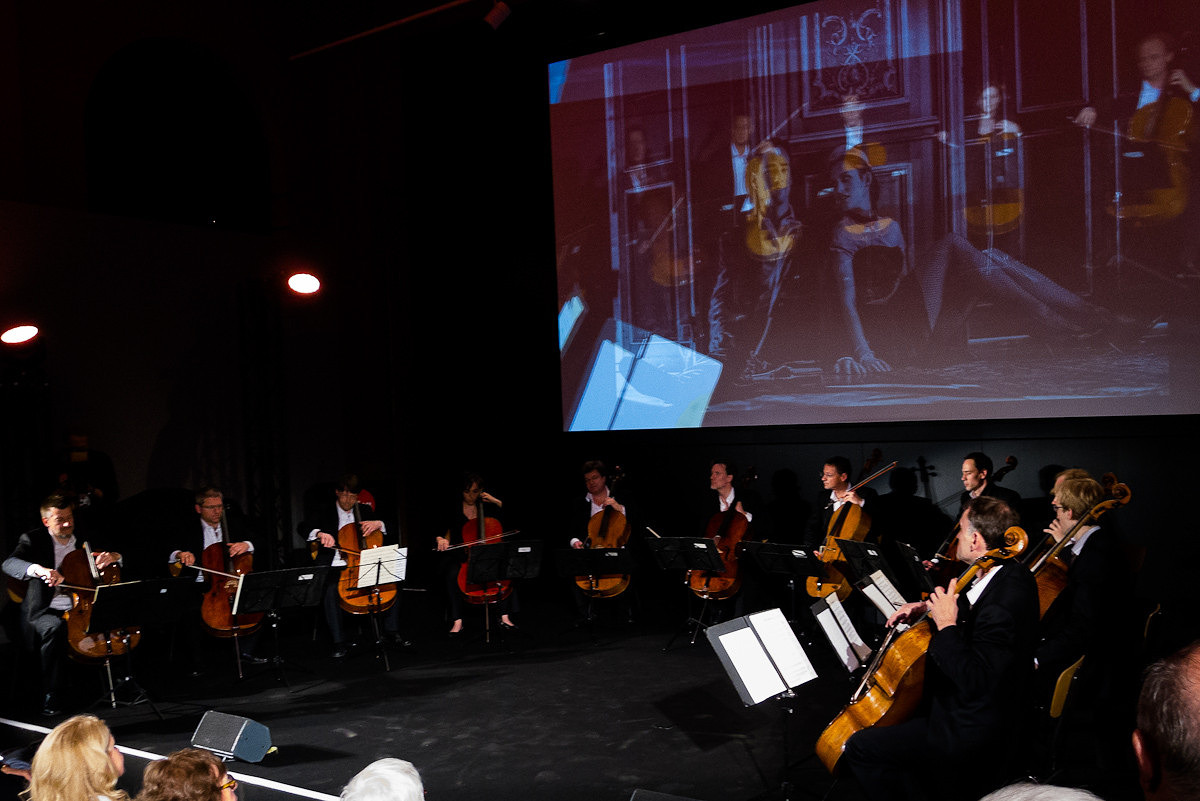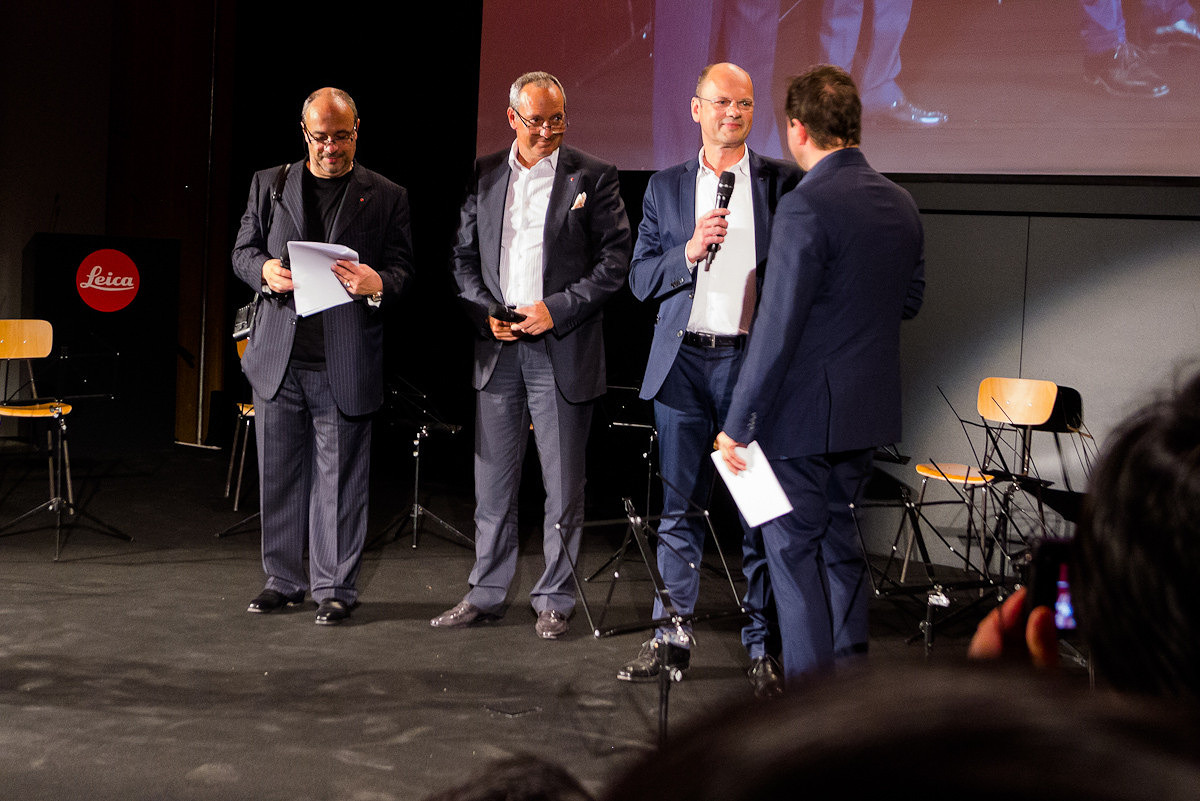 The Emcee then took the stage and brought up owner Dr. Kaufmann, CEO Alfred Schopf and the director of C/O Berlin. After a brief introduction to Das Wesentliche (the essentials) by Schopf and Kaufmann, a history of C/O Berlin (an old post office converted to a cultural arts house) by its director, Kaufmann announced the Leica Hall of Fame 2012 inductee: German photographer Barbara Klemm. She is now the first female to be given this honor. A short video was shown, then Ms. Klemm came on stage to receive a specially made M7 camera and say a few words.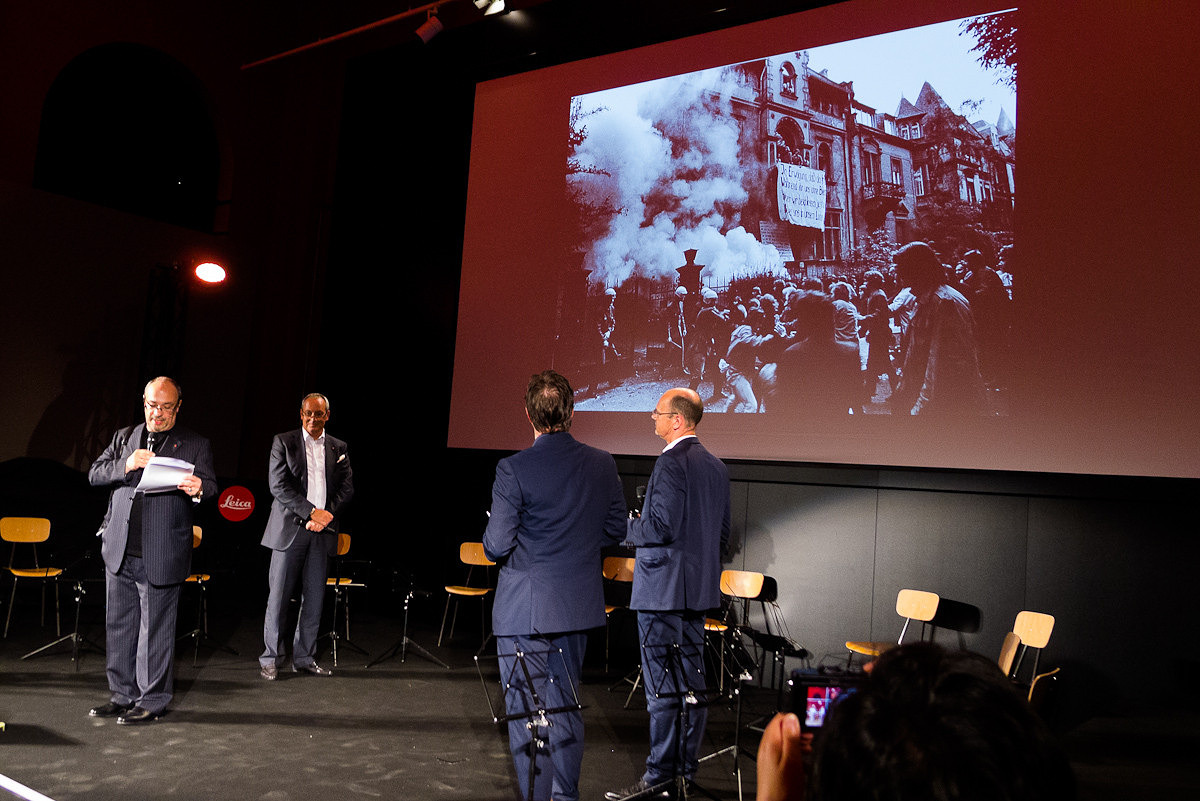 Then, after just this short series of presentations, there was an intermission so everyone could get some more food and drink. I again used the opportunity to chat with my peers and grab a drink. I spent most of the break hanging out with Andreas Jürgensen of the L-Camera-Forum, where we cooled off by an open window.
Kaufmann retook the stage and got right down to business announcing new products.
First up was the M Monochrom. No, there is no "e" on the end. Yes, it's really a B&W M camera. Simultaneous to the M Monochrom, was the APO-Summicron 50mm f/2 ASPH unveiling – it was on the camera, after all. This lens is reputedly the best 50mm ever produced for the M system, with virtually flat MTF curves and unprecedented sharpness.
 Magnum photographer Jacob Aue Sobol came up to the podium to present a slide show and offer his thoughts on using the new Monochrom camera shooting "From Moscow to Berlin", a photo essay documenting passengers on this Russian train.
Moving on, Kaufmann was joined on stage by CEO of Hermès Group, Patrick Thomas. A video montage showing meticulous craftsmanship played on the projection screen behind them.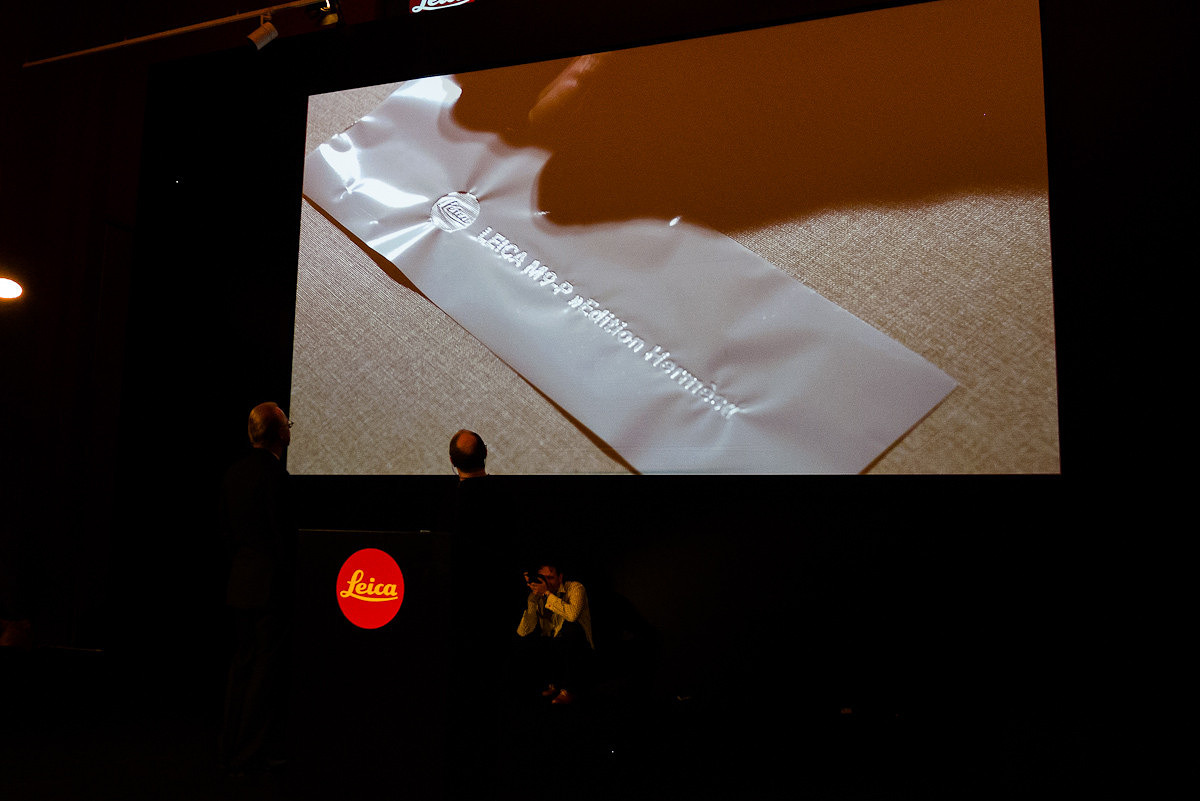 All of this was to announce the absolutely gorgeous Leica M9-P 'Edition Hermès', which will come in two sets. Set 1 includes a special silver anodized 50mm Summilux-M ASPH. This edition will be limited to 300 sets. Set 2 will come with three lenses, a 28mm Summicron-M ASPH, 50mm Noctilux-M ASPH and 90mm APO-Summicron-M, all in silver anodized finish. Only 100 of this set, dubbed the Série Limitée Jean-Louis Dumas, will be produced. Jean-Louis Dumas was the former president of Hermès and a good friend both to the current CEO Patrick Thomas as well as Leica.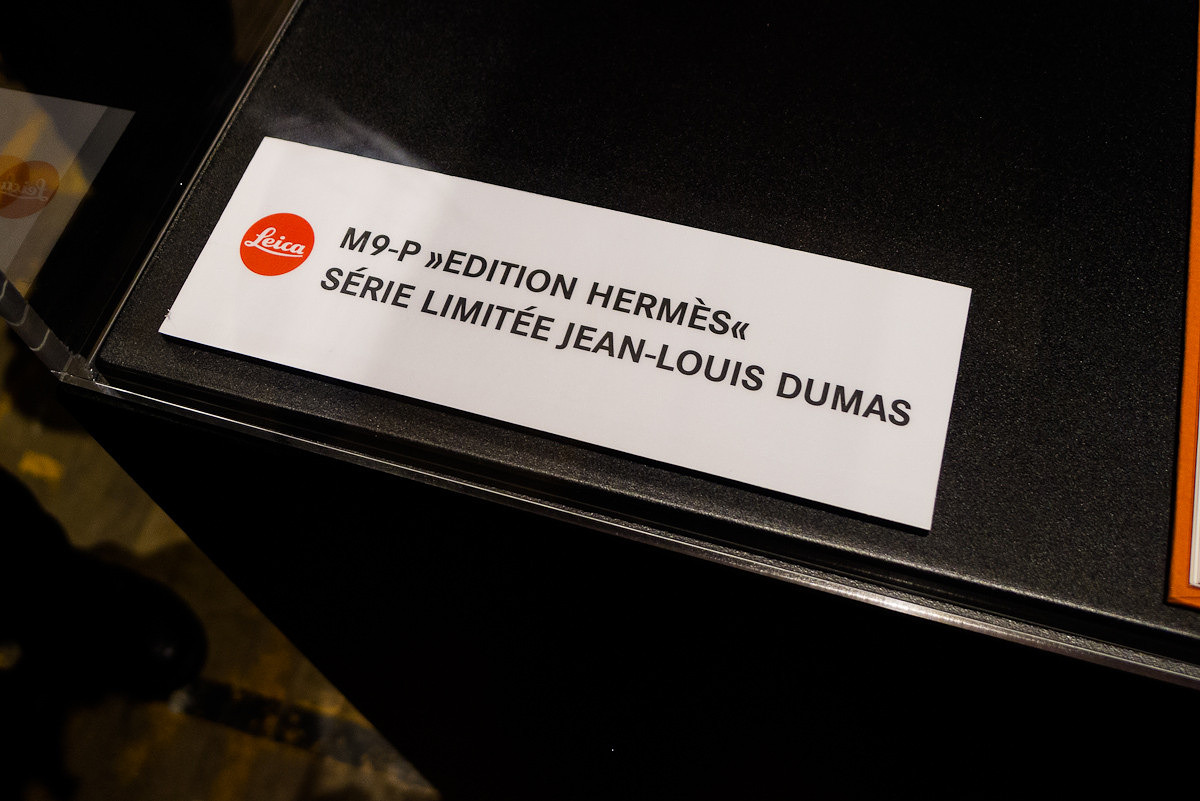 The next presentation was by none other than Seal, who offered greetings from sunny Los Angeles, CA with a shiny new silver chrome X2 around his neck. Kaufmann then expanded on Seal's intro, offering a few technical details.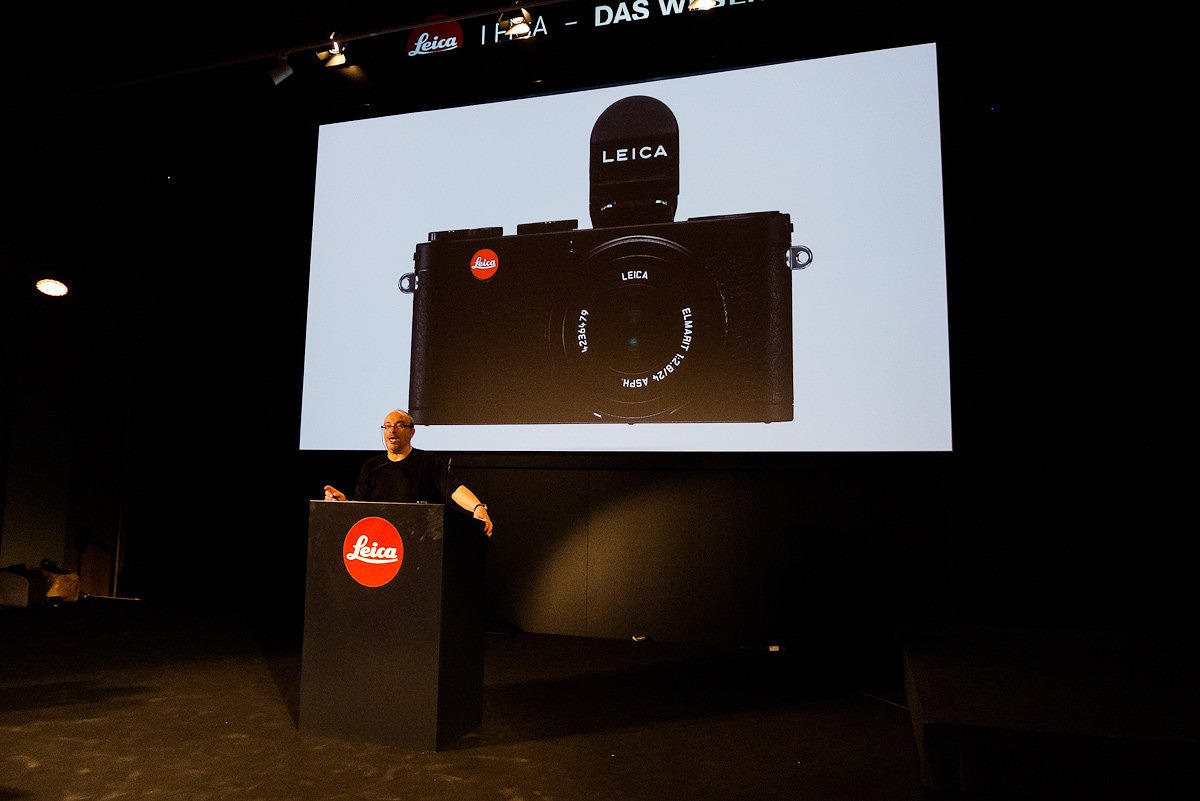 Without pause, Kaufmann moved on to an update on both construction projects. He showed images from the new Portugal facility and reiterated that it should be open in October of this year and that building permits have been secured for the new headquarters at Leitzpark in Wetzlar.
The next product announcement came as quite a surprise to me. Leica has developed an adapter for the S2 that enables it to use Hasselblad HC and HCD lenses. What is really amazing is that Leica has been able to maintain full control of the lens, meaning auto-diaphragm aperture control, leaf shutter control and auto-focus. Wow. This could really be a game changer for the S system. Almost all rental studios have HC lenses. With just a body, they could have almost all the advantages of the S2 without the investment in a full set of S lenses. Better battery life, brighter viewfinder, more stable platform, more ergonomic handling and a 1/4000th of a second focal plane shutter make the S2 a pretty attractive deal. On the other side, it opens up a range of focal lengths to existing S2 owners like a 300mm long telephoto or a 50mm moderate wide angle, both which are currently lacking in the S lens lineup.
Kaufmann then briefly touched on the new V-Lux 40, the replacement for the V-Lux 30 compact digital camera. With a 20x zoom, full HD recording and a new low noise CMOS chip, the V-Lux 40 looks like a great little camera. And, yes, I did play around with one for a few minutes.
At the back of the room, several glass display cases seem to appear out of nowhere. New products were protected against drool, but not against photos. You'd think the paparazzi had sniffed out some hot celeb, not a few cameras. It appears others were excited as I was.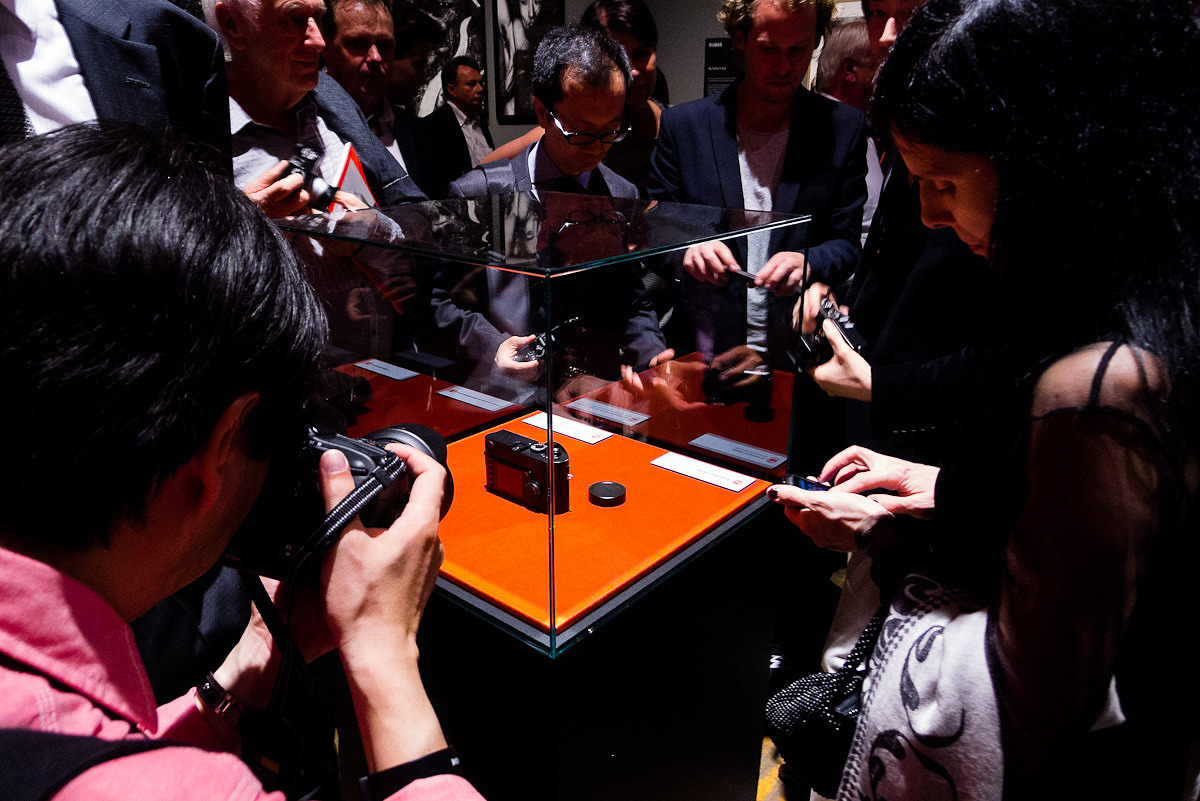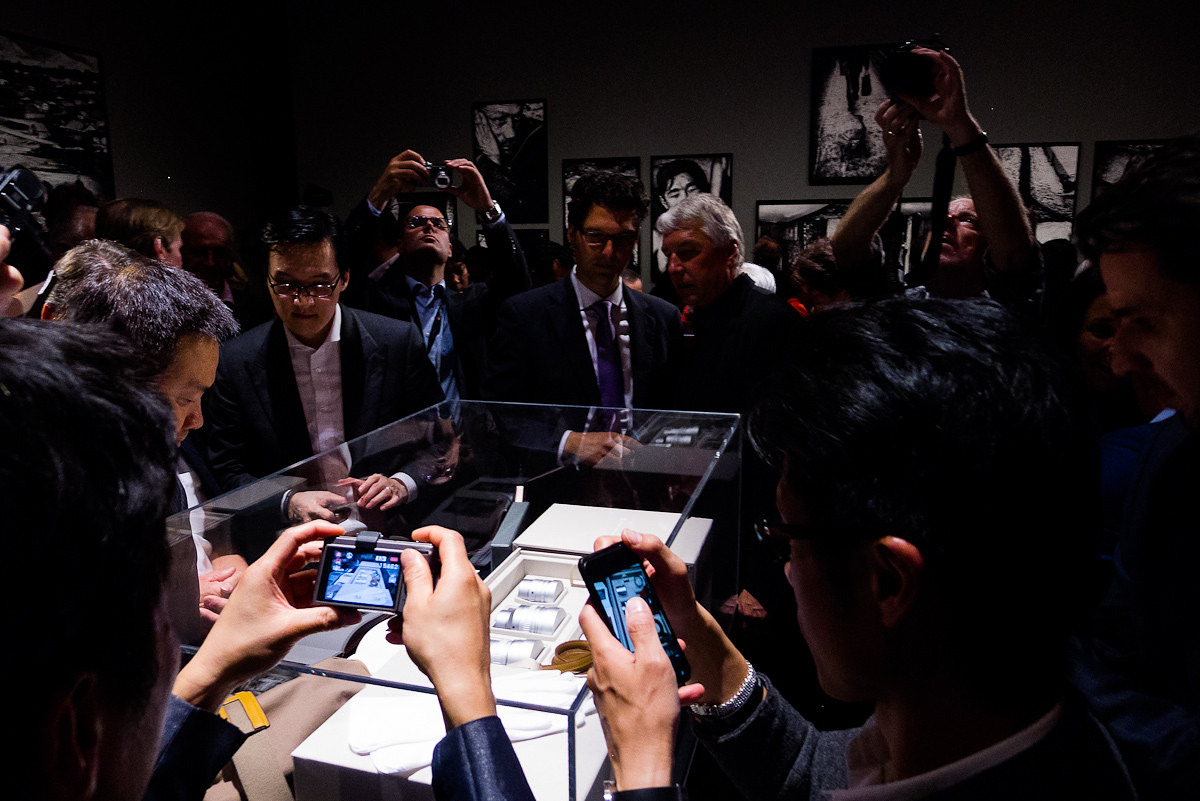 With no more announcements, we were dismissed for yet more food and drink, and to see all the products first hand in the Touch & Feel gallery. This is, of course, my favorite part. Each product family was set upon tall tables.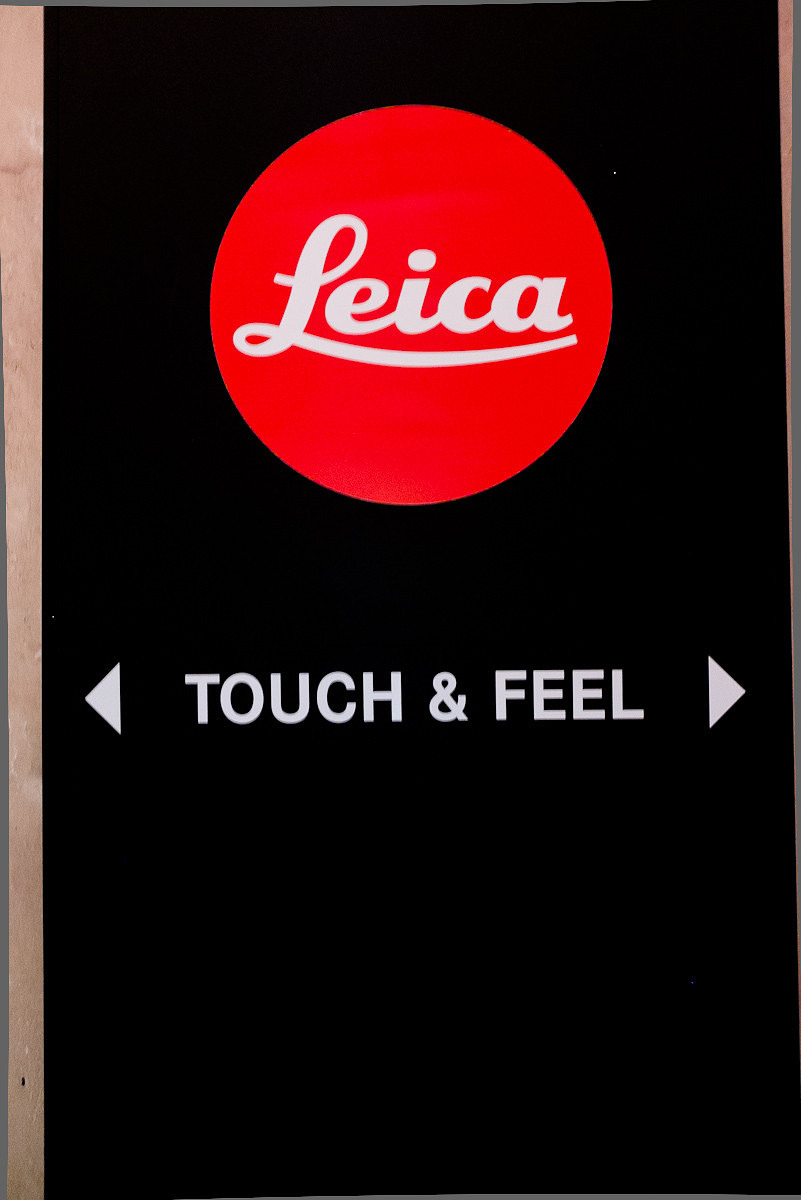 When I approached the X2 table, I was greeted with a smile from product manager Maike Harberts. For those that don't know Maike, she and I first met at Photokina 2006 when she was product manager for the R system. We had a very strange chat about larger than full-frame sensors in the next digital R camera. It became clear two years later that she had been talking about the S2, of which she was one of the primary architects. After making her mark on the S2 and handing the project over to the very capable Stephan Schulz, she moved on to reinvigorate the X system.
 Maike showed me the X2 with great enthusiasm. She is a big fan of the new silver chrome finish, and I have to agree. It looks great. The other thing I immediately noticed, and she confirmed, is that the X2 is heavier (by about 60g to be exact). It just feels more solid, more put together. The dials are stiffer (in a good way) and the AF is much quicker. Maike also showed me the new EVF-2, which now has 1.4 million pixel resolution. It is very, very good quality with a robust and large circular eye-cup. Other changes include a more refined leatherette, which is different on the black and silver models, a flash that pops up and forward to eliminate shadows from the lens, a new and very classic ever-ready case and improved processing and image display. Of course, one of the biggest changes is the new 16MP CMOS under the hood. Besides packing in a few more pixels, the high ISO performance should be pretty solid. Maike was nice enough to lend me an X2 for the rest of my time here in Berlin and I'll post more in-depth thoughts and images when I get back home.
 Jesko von Oeynhausen, the product manager for the M system, and I met just this past October at Photo Plus in NYC. He's a very cool guy and gave me the full overview of the new M gear. The M Monochrom is pure simplicity (das wesentliche, indeed). No markings, no red dot, no engraving. There is a small black-on-black engraving of "Monochrom" on the edge of the hot shoe and the usual "Leica Camera Made in Germany" printed small on the back above the LCD. That's it. The finish (the only one available) is a nice matte black chrome, similar to that of the M8, but a little nicer. Sapphire glass is also a nice touch.
Imaging performance is astounding. Jesko explained to me that due to color filter arrays (CFAs), sensor pixel noise gets blurred, resulting in smeary noise patterns on color digital cameras. The MM has no CFA, so any pixel noise is contained to a per-pixel manifestation, resulting in very small, very crisp noise yielding an extremely detailed, pleasing result. And with 14-bit capture, the MM is able to record more than 16,ooo shade of gray. Not too shabby.
 The MM is also the first 35mm digital cameras to provide an actual RAW histogram. Normally, with color cameras, there is more highlight headroom. In a three channel capture, only one or two would be blown out, but the third contains some highlight information. With a B&W capture, there is only one channel, which makes it critical that highlights be protected. I will find this out when I shoot the MM for myself, but the best practice seems to be to slightly underexpose the images (shoot to the left). With such low and pleasing noise, even at pretty high ISO settings (goes all the way to ISO 10,000), I'm guessing the DNG can take a little post processing love. I'm really looking forward to shooting with M Monochrom.
 I also got to play with the new 50 APO Cron ASPH, which is certainly nice to hold. I'm sure it's even nicer for taking pictures. The shade design is pretty neat. It twists out into position and feels great.
 And, I must say, the Hermès edition camera is just so sexy. The fit and finish is just amazing. It is less camera and more Ferrari… or perhaps Audi would be more politically correct. Walter Di Silva again contributed to this beautiful, smooth design. The leather is as supple as it gets and I caressed the top plate so much that others around the table were probably expecting a Genie to emerge from the lens mount. Even the 50 Lux gets special treatment with a black positioning dot and textured focusing ring.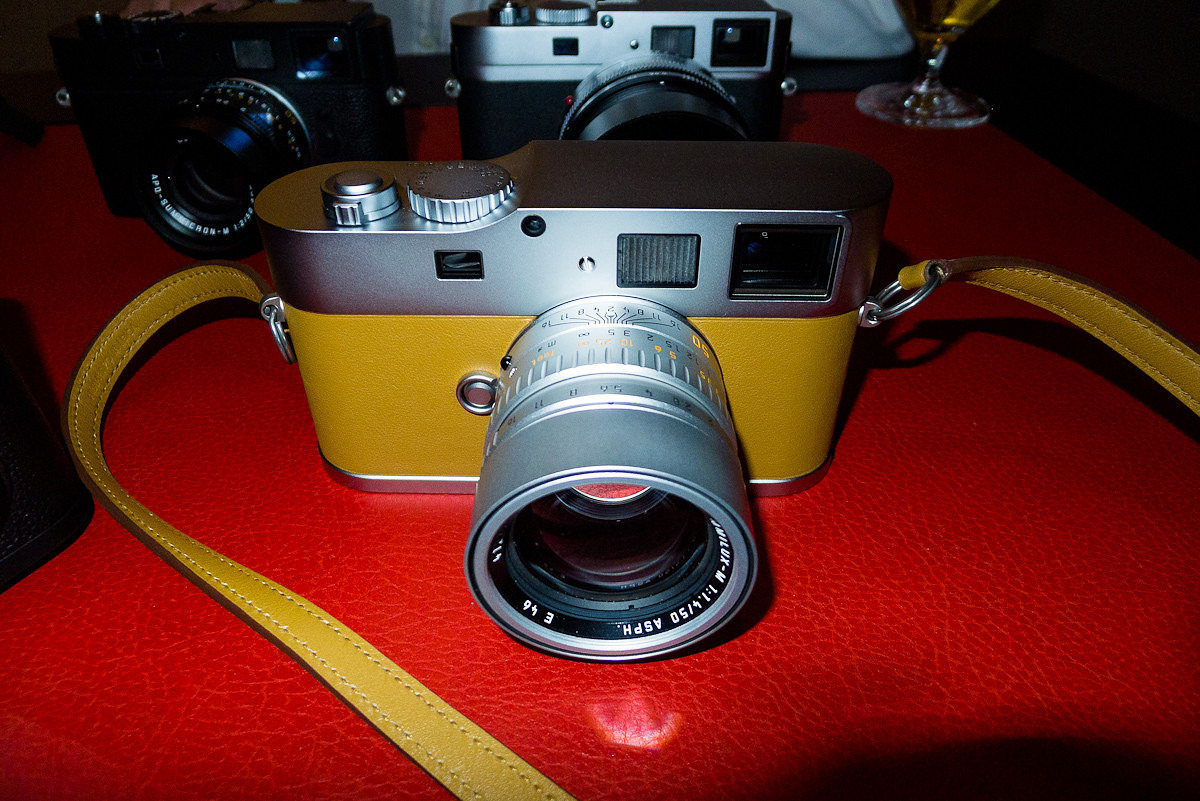 Last up on the Touch & Feel tour was the S System. There was a full range of CS lenses along with a few Hasselblad H lenses comingled in for good measure. In addition to the S to H adapter, Leica also updated the spec on the CS lenses from 1/500th to 1/1000th of a second. I popped on an SF58 flash, cranked the shutter speed up to 1/1000 and fired with the camera with the selector set to CS. The sync was perfect. Admittedly, Leica keeps pushing back the release of the CS lenses, but upping the spec might actually be worth it. I posted a test a few months back with pre-production CS lenses and I was extremely impressed. Upping the sync speed one full stop makes me rationalize that they'll be worth the extra wait. New official release date: October 2012. Oh, and the shutters in the lenses are rated for 100,000 exposures.
I then moved the flash to another body with a Hasselblad 50mm mounted via the new adapter and fired off a shot at 1/750th. Again perfect. AF and shutter performance were as if the lenses were made for the S2. Leica did a commendable job with the adapter solution. No stop-down metering, no manual focus, no compromise. As I already said, I do think the adapter is going to have a very positive effect for the S system. It provides both an easy migration path with minimal investment and the ability to flesh out an existing S lens lineup. Leica will be releasing a set of LR lens profiles for the H lenses. Without corrections, lenses like the 28 HCD and 35-90 HCD would be unusable as Hasselblad specifically designed these lenses with digital correction in mind – a bit of a different approach than what Leica does.
There was no 30-90mm or 24mm shown for the S2. I suppose we'll just have to wait a little longer on those.
After all the touching and feeling was over, everyone headed outside for some well-deserved drinks and food. The party was still going strong when I ducked out at almost 2am.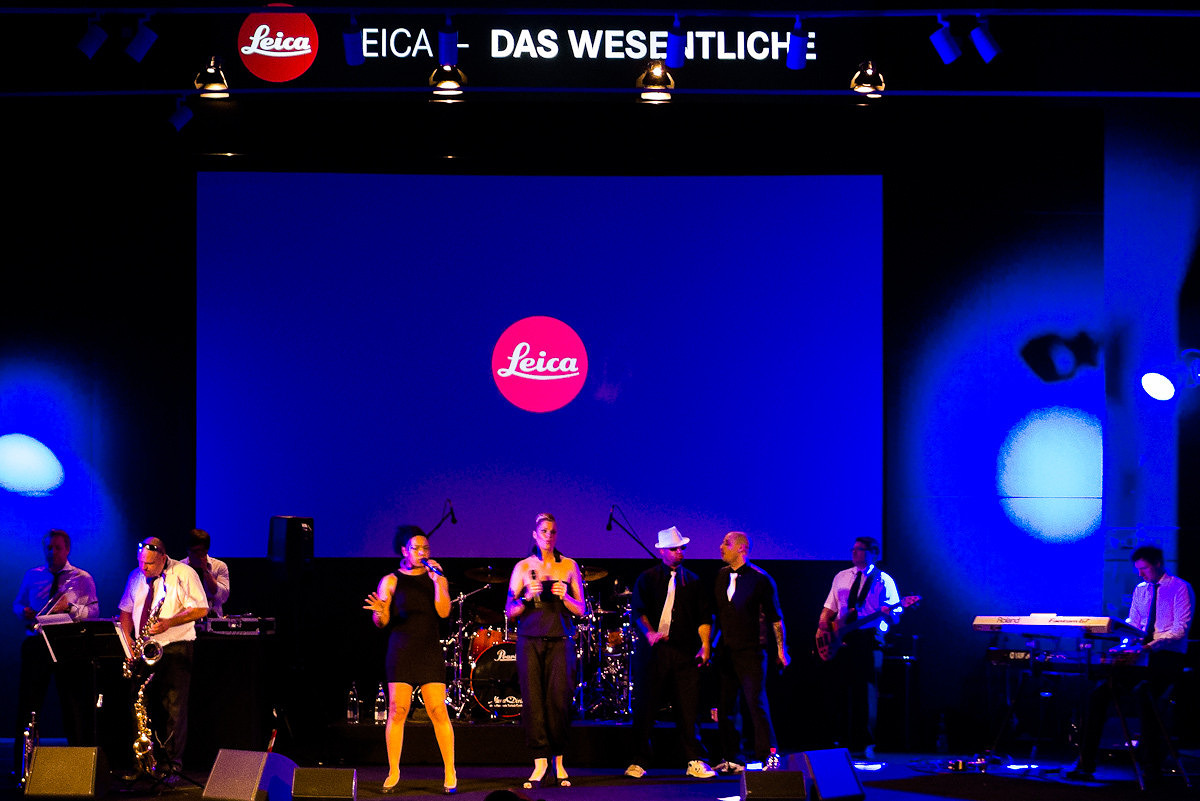 Later today, I have one-on-one interviews with Jesko von Oeynhausen and Stephan Schulz. If you have any questions you'd like me to ask, please let me know ASAP.
Look for more coverage later tonight.