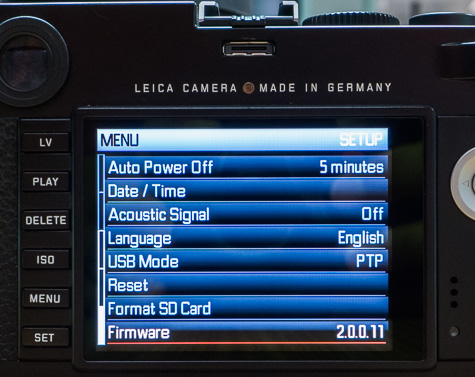 Today, Leica has released a new firmware version for the Leica M (Typ 240), version 2.0.0.11. This firmware update brings a number of requested improvements including enhancing the auto white balance and improving live view stability. Here is the official list of changes from Leica:
Improved performance of the white balance
The accuracy of the white balance presets and the auto white balance function is higher with version 2.0.0.11. This results in better skin tones and better general colour rendering.
Improved Video quality
The visibility of compression artifacts is reduced due to lower video compression.
Lens calibration
For coded Leica lenses, the image homogeneity (color shift) has been improved.
General fixes
Improved stability using Live View, both with and without EVF-2
Issue with display settings in combination with "Sharpness high" – fixed
Issue with exposures after switching the camera on – fixed
The "Auto Power Off" function showed unexpected behavior – fixed
The recording dates for video files have been incorrect occasionally – fixed
Issue with Copyright and Artist Information in EXIF Data – fixed
Improvement of general system stability
Several minor bug fixes
The new firmware, along with updating instructions can be found here: Leica M Downloads. If you have an M and performed this update, let us know in the comments your thoughts on the changes!