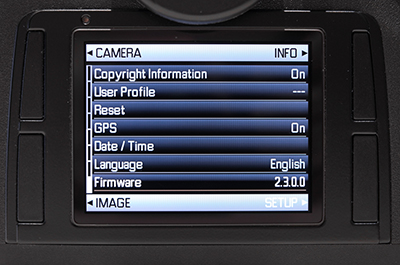 Today, Leica has released a firmware update for the Leica S (Typ 006) medium format digital SLR camera. The update includes the following features/changes:
Support the new Leica S-lens, Leica Elmarit-S 45mm f/2.8 ASPH & CS Version
New Menu Language: Korean
Improvement of tethered shooting for compressed DNG
Flash signal will be output at each exposure time over X-sync
Settings for bracketing and self-timer are now stored in the user profiles and will remain active even if the system is rebooted.
Optimized color temperature of the white point of the display
Leica Vario-Elmar-S 30-90mm f/3.5-5.6 ASPH – improvement of focus behavior
Improvement of user profiles
There is also new firmware, version, 1.3.0.0 for the S2 and S2-P cameras. Registered owners can download the firmware from the Owners' Area.
To download the new firmware for either your Leica S (Typ 006) or Leica S2, visit the Leica Owner's Area. You will need a freshly charged battery, a memory card that you can format in the camera, and a card reader.