Mirrorless or EVIL (Electronic Viewfinder Interchangeable Lens) cameras have become increasingly popular since the first Panasonic micro 4/3 systems came on the market several years ago. Sony jumped in with their NEX series and Samsung put out the NX. Olympus launched the PEN and Fuji put forth the X system. Ricoh and Pentax got in too. Nikon and Canon, not wanting to miss out, released EVIL systems as well. The Mirrorless Movement was catching on in a big way, but the originator was nowhere to be seen. Leica, after all, has always been known for the original mirrorless camera – the M. Sure, the M (Typ 240) is arguably at the top of the EVIL range, but it is still the iconic M and not exactly what this market is about, which is smaller, lighter and more tech-centered.
Rumors had been circulating for quite a while that Leica was working on, or at least thinking about, an EVIL camera. I attended a Q&A session with head of product management Stefan Daniel in 2010 where he discussed the possibility of Leica making its own EVIL camera when the technology reached a point of maturity. Many thought that last year's launch of what would be the X Vario was to be this camera. A lot of X users wanted the size and image quality of the X system, but with interchangeable lenses. What they got was a very capable and upgraded X camera with a stunning zoom lens bolted to the front.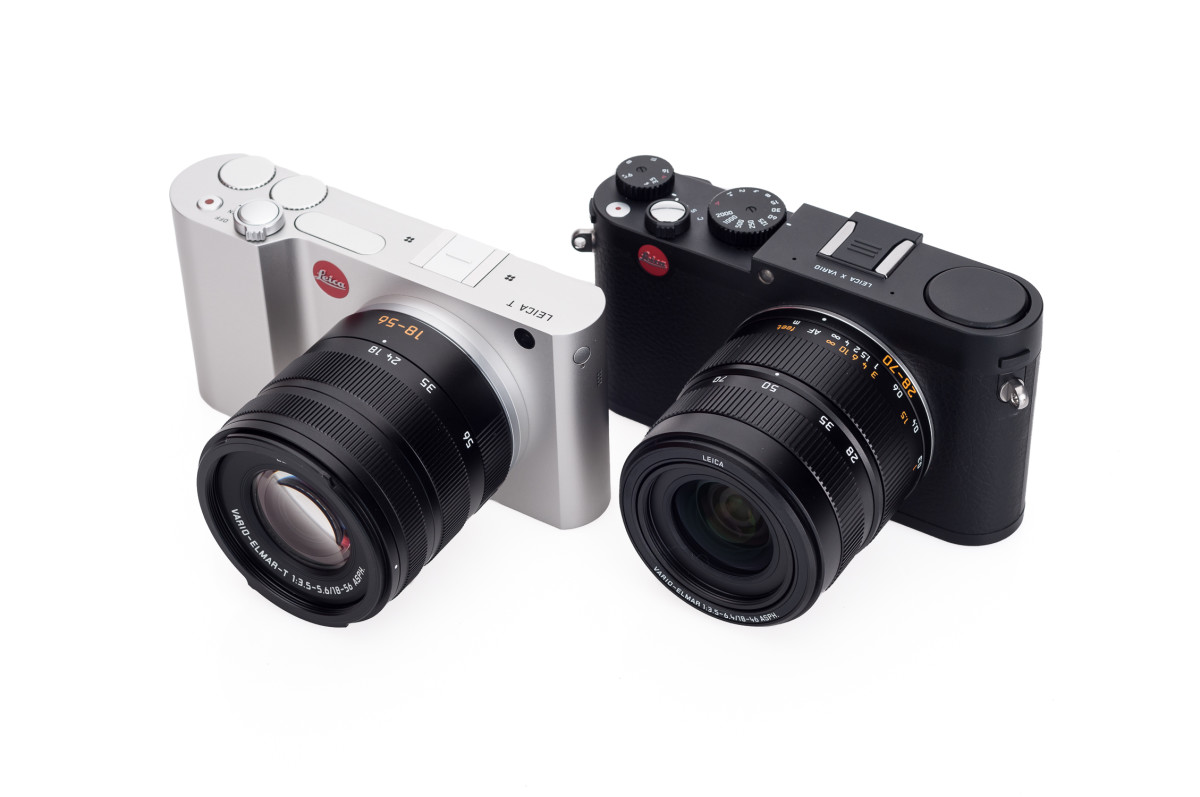 And while the X Vario (Typ 107) has proven to be a great camera in its own right, there were those that felt let down. Some wanted to use M lenses, others wanted a fast prime and still others balked at the slow aperture of the zoom lens. Personally, I really like the X Vario and carry one with me in my everyday bag, but the lack of interchangeable lenses means that X Vario wasn't a true EVIL system camera. So, while EVIL systems from other manufacturers flourished and gained users, Leica was left with a bit of a hole in their otherwise stellar and successful lineup.
Now, after watching quietly from the sidelines, Leica has decided to get in the game on their own terms. The irony is that many of the entries in this market have actually taken design cues from Leica (manual dial controls, form factor, silver top plates, faux leather coverings, optical viewfinders, scripted logo engravings, etc.). Leica, for their part, has done a complete 180 and decided to create something new, contemporary, modern and fresh. Something revolutionary, yet still a Leica.

Enter the T
Rather than adding yet another member to the X line-up, Leica has added a new letter to its growing product alphabet: T. Fitting in snugly between the X and the M, the new Leica T (Typ 701) does more than just add a lens mount to the X Vario. The entire operational concept and product design are radical departures from Leica traditionalism… Or any other camera for that matter.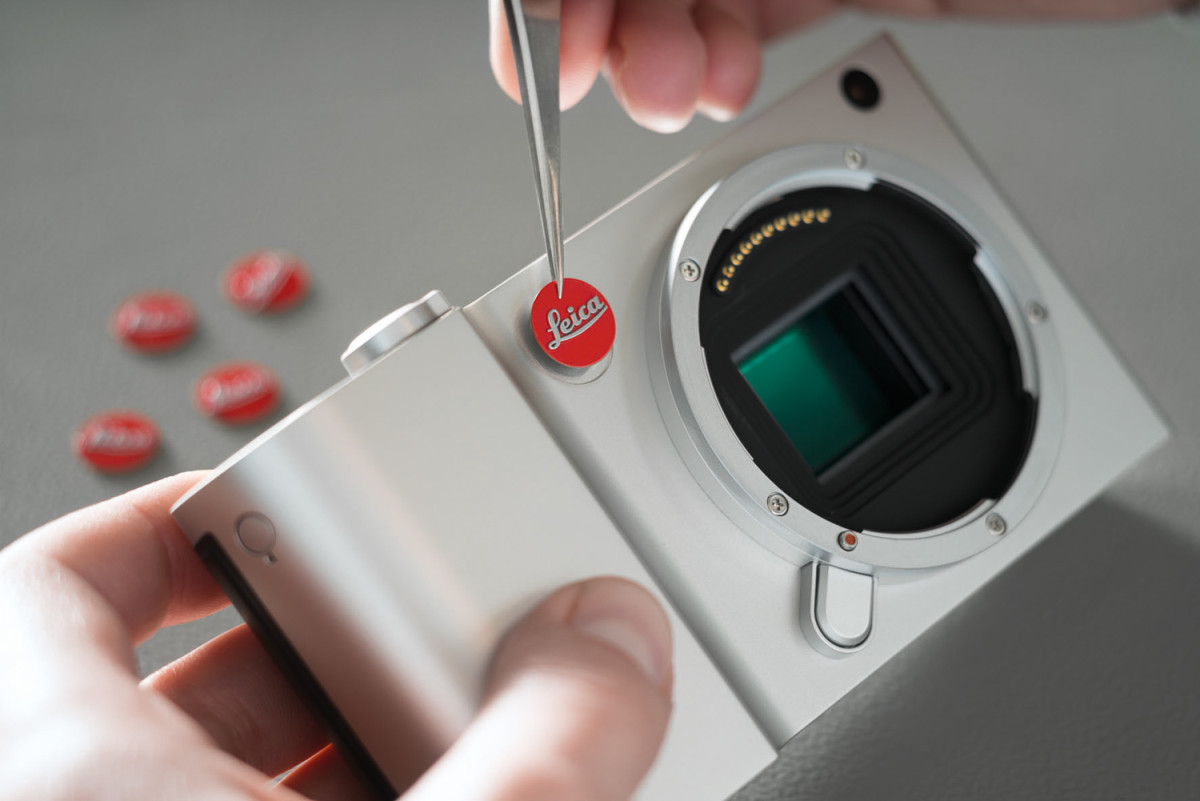 I had a chance to speak with Maike Harberts, the project manager of the new Leica T System, about the camera, how the project developed and what their goals were along the way.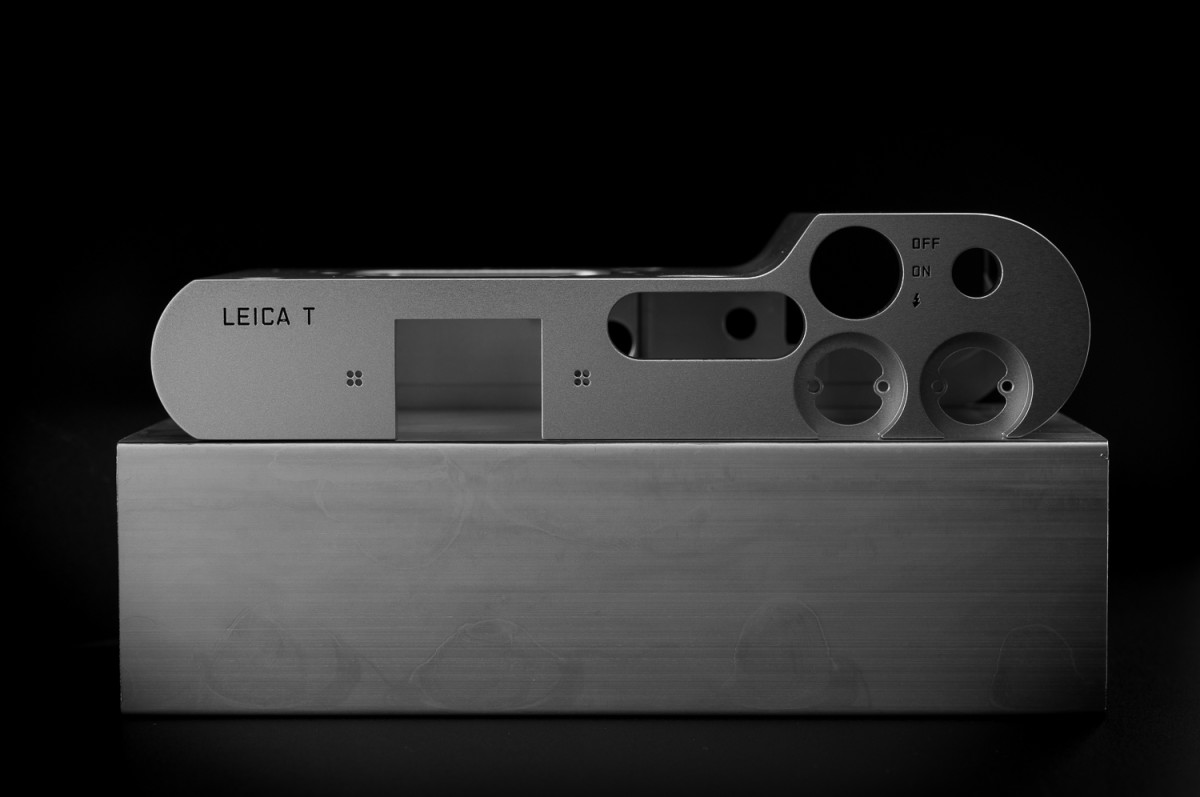 According to Maike, the EVIL camera concept had been percolating for quite some time. Initially, when the first Panasonic micro 4/3 systems came to market Leica saw some potential, but the technology and adoption rate weren't where they needed to be. Then, after the successful launch of the Sony NEX line, along with maturing technology in touchscreens, image processors and EVFs, Leica saw an opportunity to jump into a new, emerging market and make their own statement. The project officially started about two and a half years ago, but the idea had been floating around Solms for some time before then. Initially, the challenge was to create a new design that broke with Leica traditional trappings like leather coverings, strap lugs and the like, but that somehow retained the Leica DNA.
Working with AUDI Design
Leica turned again to AUDI Design, who lent their skills to the M9 Titan and the recent Leica C compact cameras. The M9 Titan was at one end of the spectrum, as this was a signature Walter de Silva creation, with AUDI taking point on that project. The T design process, by comparison, was led fervently by Maike and her team at Leica. As she explained, the Leica engineers had specific ideas and concepts, but AUDI had the skills to interpret these visions and put them to paper as actual designs. She went on to describe the working relationship. "They are a partner on one level, but they always followed Leica's rules and Leica's instincts. AUDI understands the brand of Leica very well. And if you see the T, it just emerges out of the traditional shape of the Leica M. So, it has true Leica DNA in it, just in a very modern and contemporary interpretation. We needed people to visualize our thoughts, our visions and our ideas. They did a great job and they talk our language."
 But even before that collaboration, developing the concept was the focus of many discussions. "We sat together with the designers, not for an hour, not for a day, but for days and weeks. And I discussed the concept of the T intently with them." Maike continues, "We talked about the intention and the vision of what the Leica T shall achieve, of what the Leica T should say just through its looks and through its design. What it should feel like. How it should transport the user by its shape. And how much it should be Leica without being iconic." Leica came away from this collaborative process with eight very different designs, which were then narrowed down until the final product remained.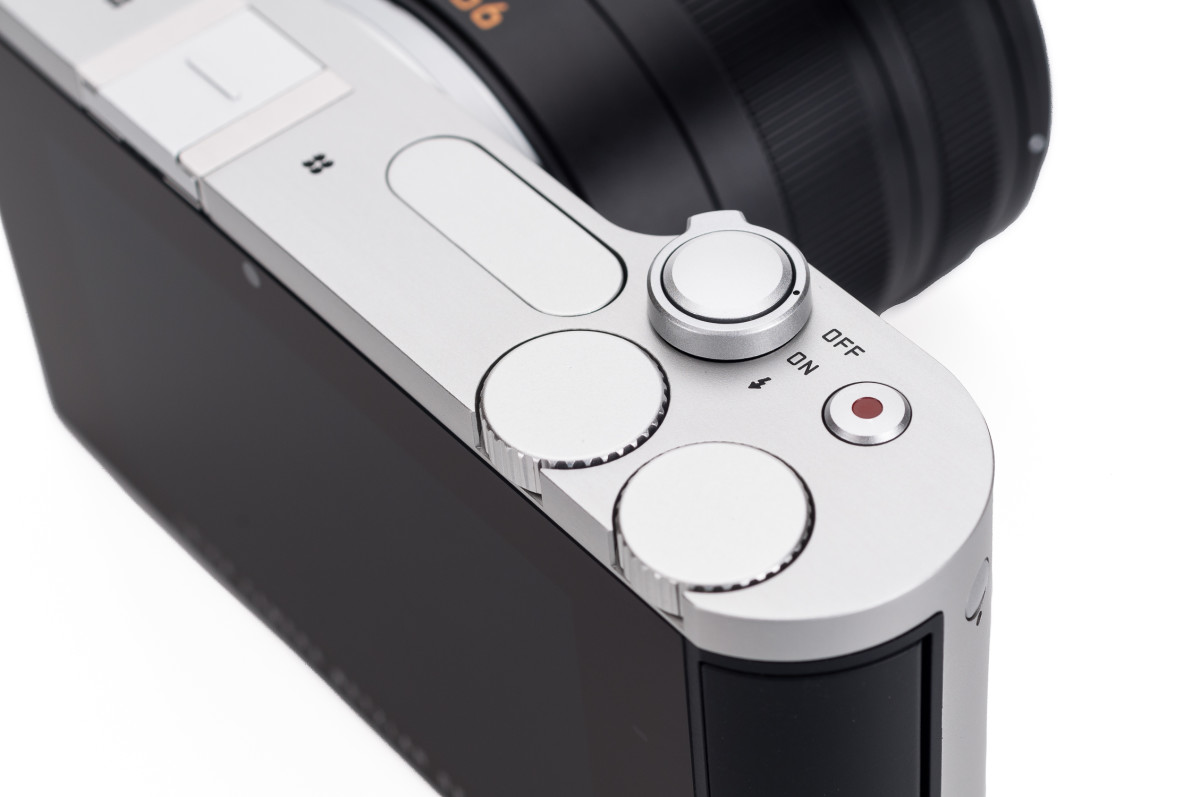 The Leica T looks like it might have emerged out of Apple, as its sleek uni-body aluminum design more echoes a MacBook Pro laptop than a camera. Even the rear of the camera evokes an uncanny likeness to a Cupertino classic. The huge 3.7" touchscreen LCD covers the entire back of the camera, sitting almost flush with the body and surrounded by a glassy black bezel. Everything is utterly top notch here. The two assignable control dials on top have just the right tactile feel. The machined aluminum hot shoe cover and unique pop-up flash create a seamless look on top, while the battery cover, with the same finish as the body, sits plumb with the bottom plate and continues the polished experience. Even the mandated compliance label is engraved in subtle white lettering right onto the metal, rather than applied as a sticker – again, similar to a MBP. But this sleek design came from Germany, not California and it is a well deserved source of pride for those behind its creation.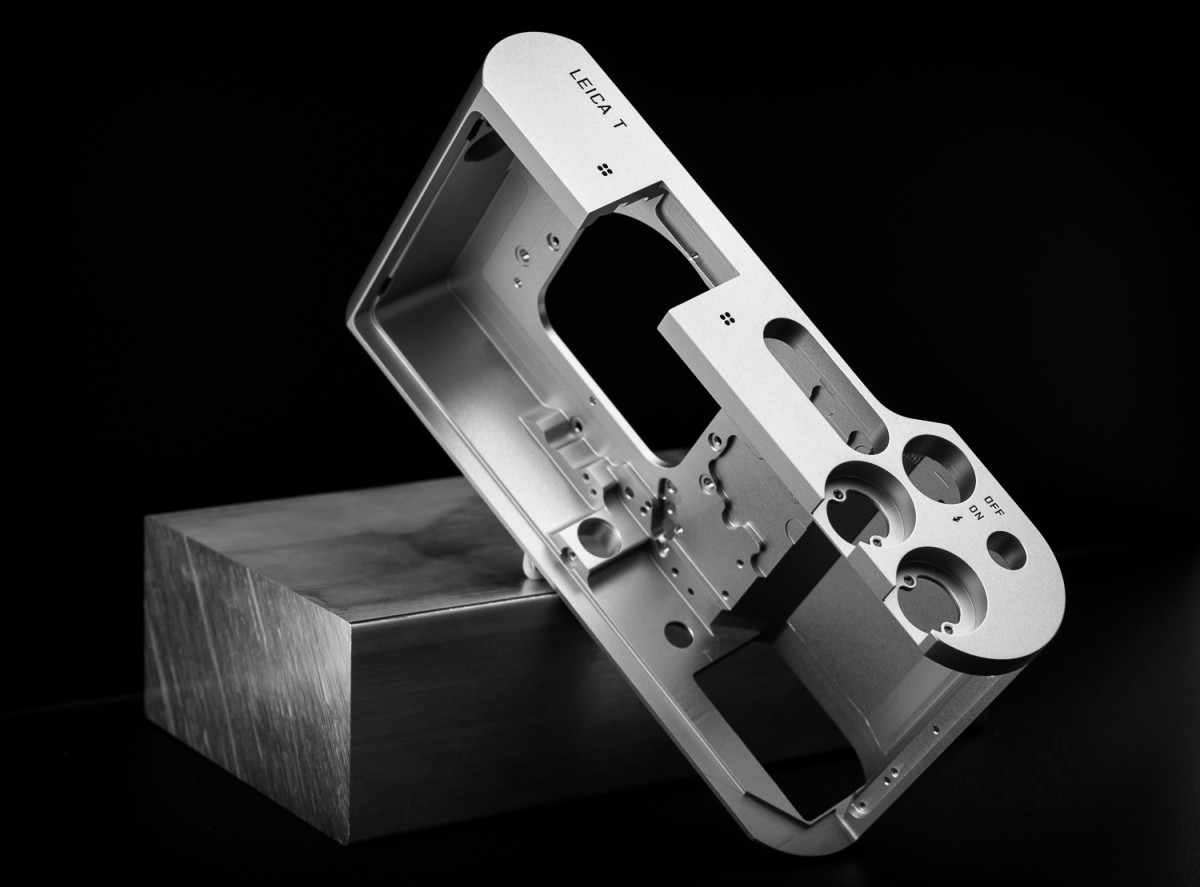 My turn to play with the camera
Leica was kind enough to send me a Leica T just in time for me to carry it along on a one-week family trip to Arizona. I had just one afternoon to examine it before our early AM flight the next day. When UPS delivered the package, I unwrapped everything with giddy expectation. My first thought was just how nice it looked, snuggled in its form-fit foam box. Then I picked it up.
The T felt cool to the touch and had a surprisingly nice heft to it. Not a heavy camera, by any means, at just under 12 ounces (339g), but the density serves as a reminder that this is an incredibly high quality product, with an attention to design and detail that is a step above any camera I've handled before. The camera feels as if it is made of a single block of solid metal, and in fact, it is. Leica starts with a 1.2kg block of solid aluminum and machines it until only 94g or about 8% of the original piece remains (the cuttings are recycled).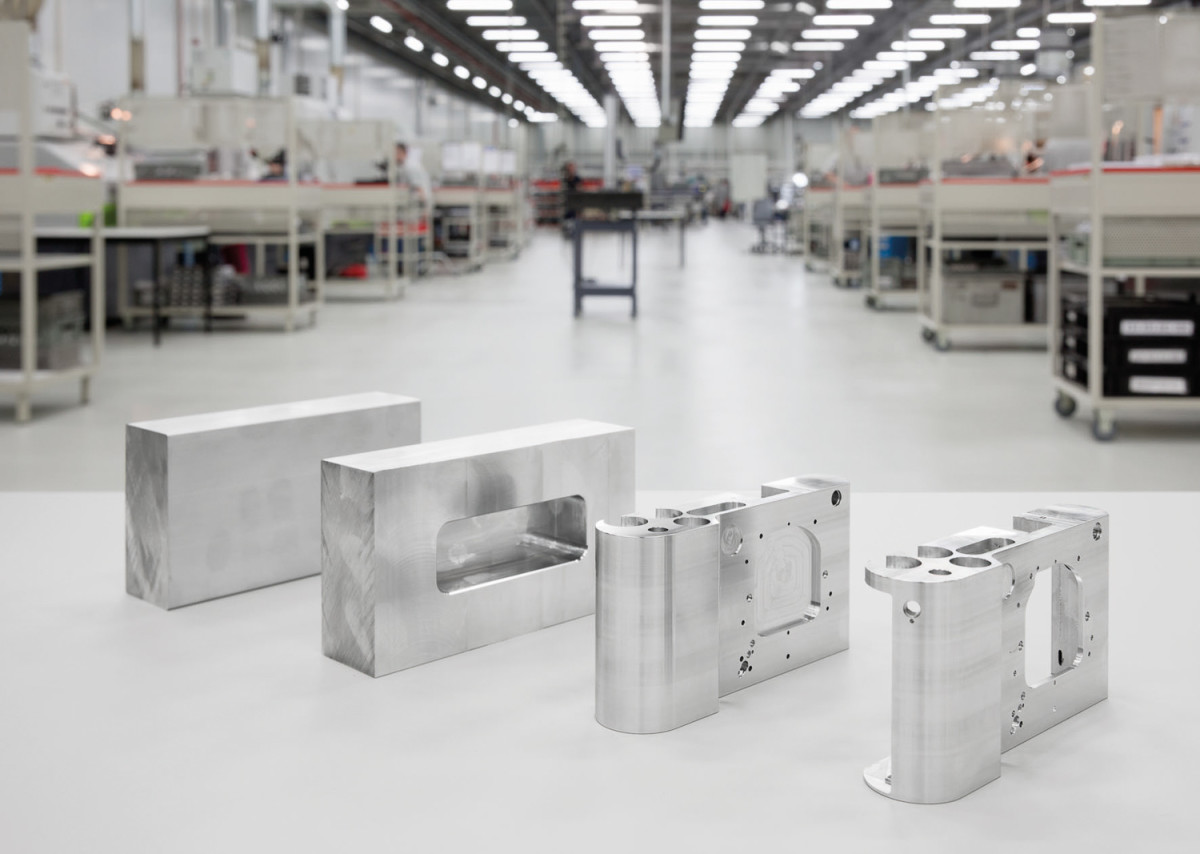 Then, after its 50 minutes on the milling machine, the chassis is hand polished for 45 more minutes to achieve a perfect finish. "We knew early on that we didn't want the traditional top-plate, leather and bottom plate that is representative of Leica cameras," Maike expounded. "We wanted to make it reduced and clean. This is how we came to think about the uni-body construction. And of course, it's a rock-solid design and just feels great."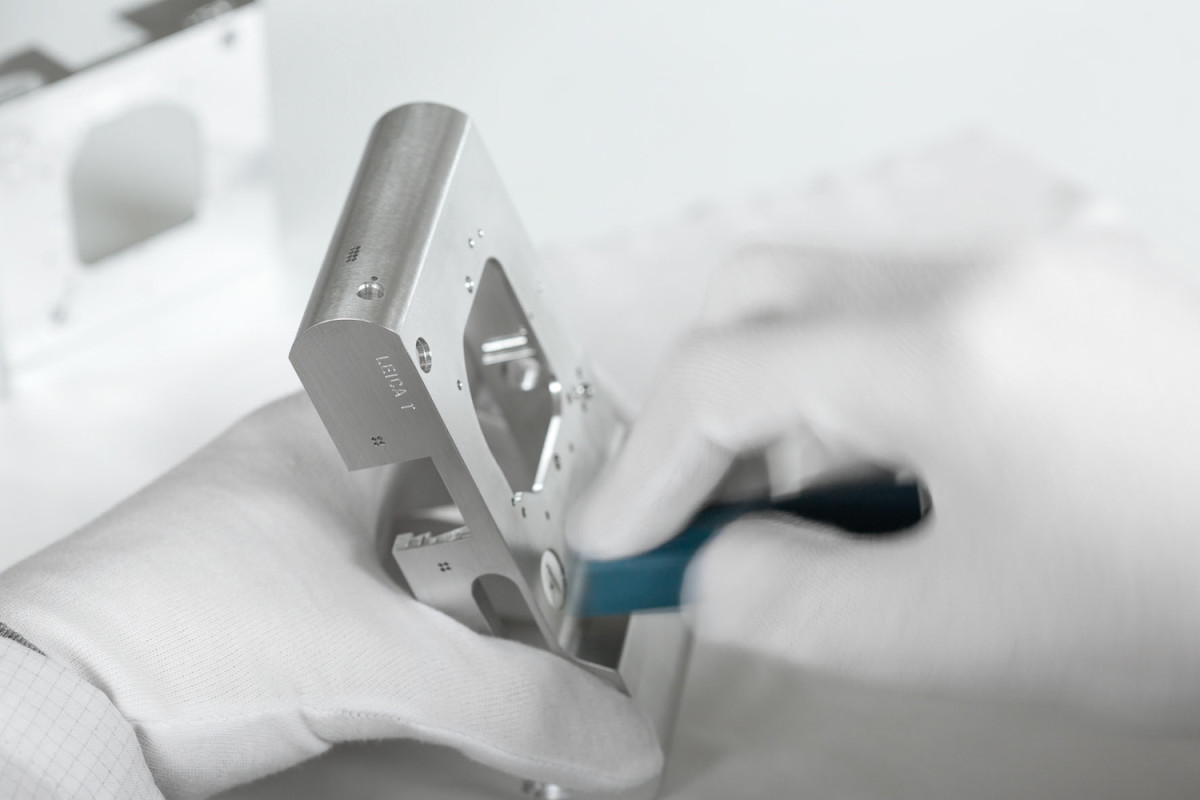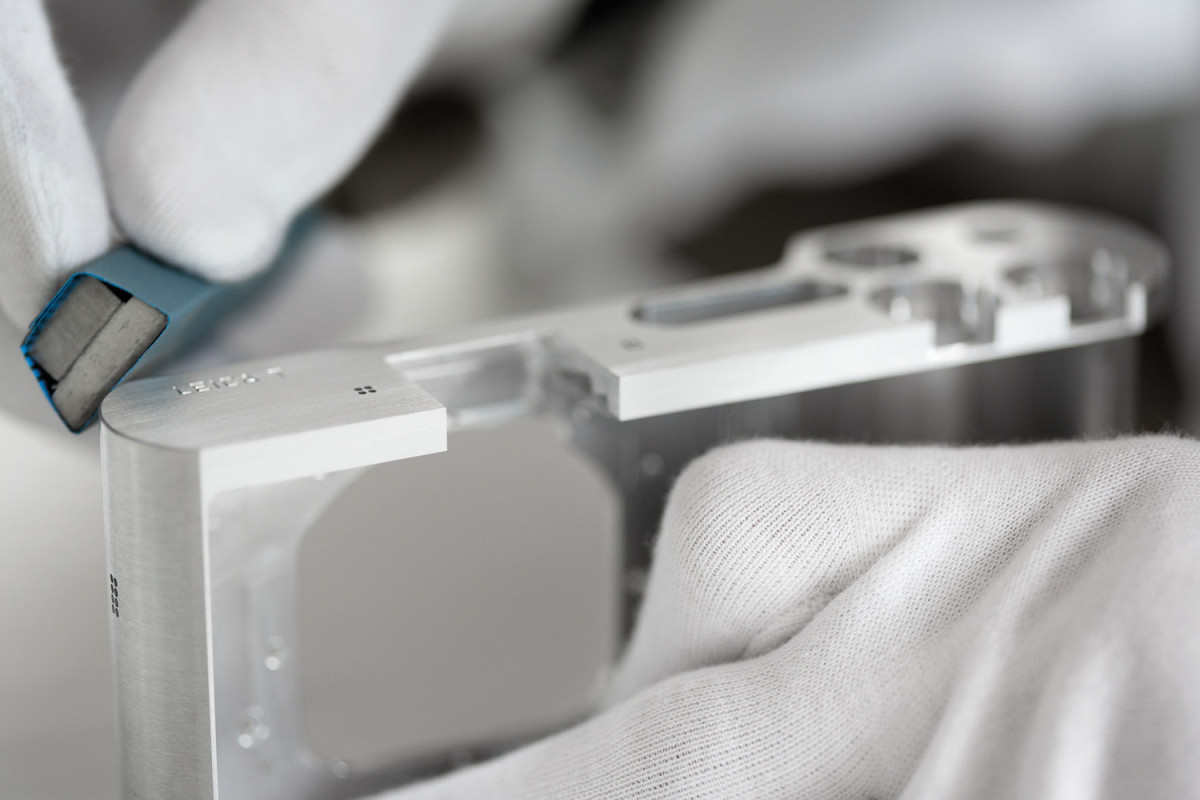 I can't argue with her there. The camera just exudes quality and is simply gorgeous to hold and look at. And, yes, for those wondering, it is made in Germany at the new Wetzlar factory, proudly signified by the writing under the rear LCD: "Leica Camera Wetzlar Germany."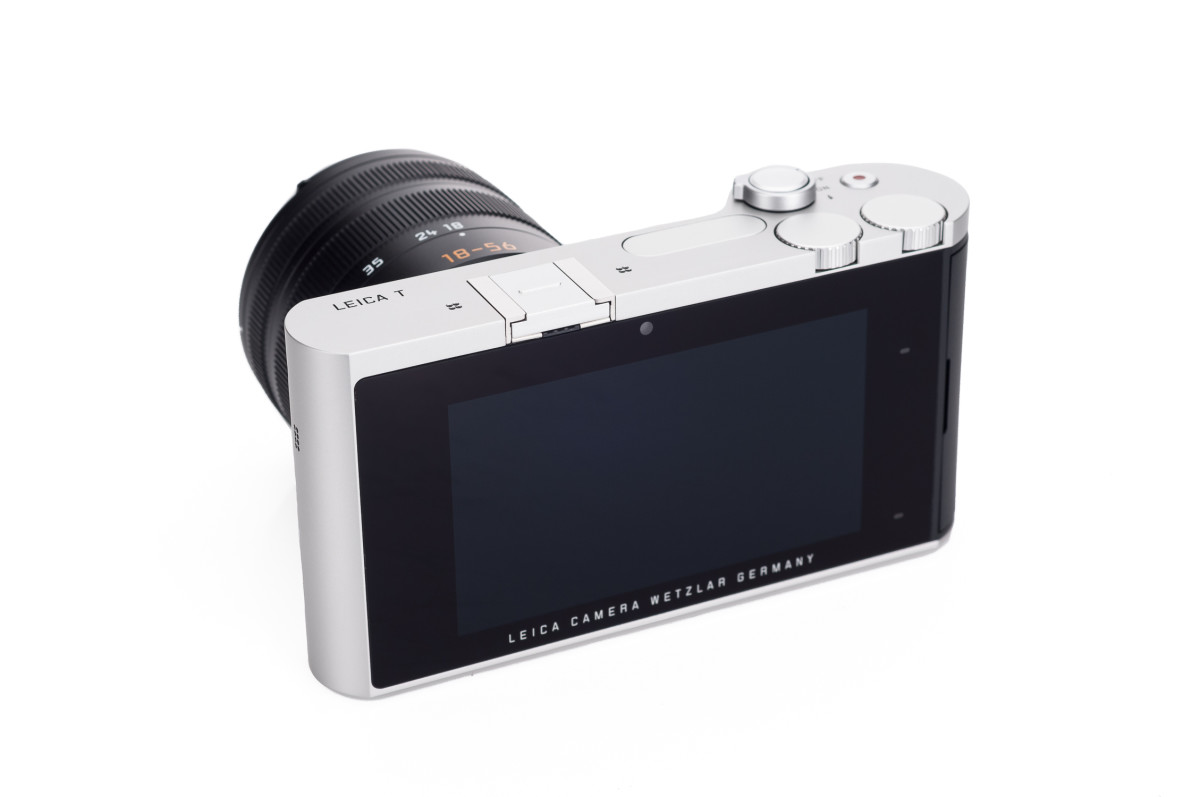 As I played with the camera, it struck me how the T is just so unique among a sea of plastic button and dial-ridden mirrorless creations that feel cobbled together by comparison. Everything on the T is deliberate. It has a design language, a consistent elegance and a purity. Leica calls this reductionism, more of the Das Wesentlichste we heard about at the M Monochrom launch – The Essentials. Leica, along with the team at AUDI Design should be commended for taking such a huge step forward in camera design and empowering the user to do more with less. Maike explained that her and her team tried to remove as much extraneous functionality as possible without sacrificing usability. This extra push to strip away nonessential items and focus on streamlining the system shines through in the end.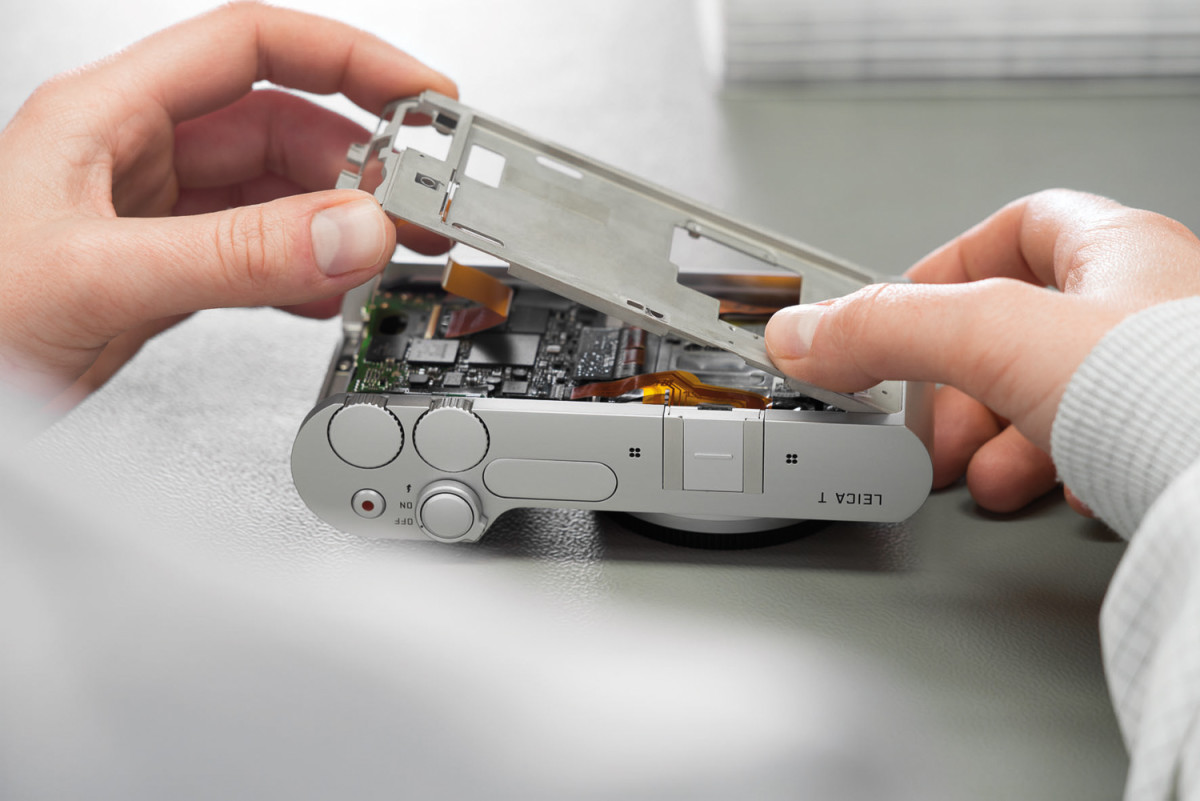 And yet, the camera is much more than just a pretty face. Leica is synonymous with image quality, especially with regards to optics and the T is no exception. The first of many lenses to come in the new autofocus T mount prove to be excellent. Two lenses will be available at launch, a midrange zoom and a wide-normal fast prime. While the lenses are in fact made in Japan, they are 100% Leica designs. Considering that Leica is already maxed out producing M and S lenses in Wetlzar and they wished to keep lens prices affordable, the choice to manufacture in Japan seems to be a prudent one. Leica engineers regularly rotate through the facility in Japan to oversee production and deploy quality control measures in line with German standards to make sure that the lenses are up to Leica's stringent expectations.
T Lenses
The Vario-Elmar-T 18-56mm f/3.5-5.6 ASPH, equivalent to a 28-84mm, feels very much akin to the phenomenal and very underrated lens on the X Vario. The lens contains ten elements in seven groups with four aspheric surfaces. At its widest setting, minimum focus distance is 0.3m, but at the longest focal length, this distance increases to 0.45m. It performs very well for close-up photography, but the X Vario's capabilities still offer a better experience with its 0.3m close focus throughout the entire focal range.
Lens performance is quite good across most of the range, but does suffer slightly from some softness at the very edges when used at the wide end. This is true of most wide-to-tele zoom designs and the softness is only at the very widest setting of 18mm.
When testing the lens against equivalent M lenses, the zoom more than held its own against lenses costing double the price, delivering crisp results at just about every setting. In fact, the Vario-Elmar-T produced incredibly sharp images from wide-open all the way up to the diffraction point, at around f/11. There was very little difference between f/3.5 and f/8 at 18mm or between f/5.6 and f/11 at the long end.
Based on my testing, the zoom just gets better as you increase focal length. The 24, 35 and 56mm settings (as well as all the positions in between the markings) are almost perfect and exhibit extraordinary sharpness and detail resolution. The zoom will cost $1,750, a bargain by Leica standards.
To give you an idea of just how good this lens is all the way into the corners, check out the crop of the very bottom left corner from this shot of this palm frond. It's pretty incredible to see this kind of quality in a zoom lens.
The Summicron-T 23mm f/2 ASPH, equivalent to a 35mm, displays performance seen only in Leica's very best lenses, posting MTFs that rival the APO-Summicron-M 50mm ASPH. Its small size and weight hide its stellar optical design. Nine elements in six groups with two aspheric surfaces are nestled in a compact package, weighing a mere 6.5oz (186g).
The 23 is a blast to use. Its bright f/2 aperture allows for very quick and precise autofocus. Wide-open, it delivers on the Leica name with buttery smooth out of focus backgrounds and pinpoint crispness at the focus point.
Stopped down, you gain very usable depth of field and complete edge-to-edge sharpness. It's a great all-around shooter if you are accustomed to primes. I often find myself shooting with just a 35 Lux on the M, so the 23 immediately fit the bill and made for a pleasant and satisfying experience. This lens will cost $1,950, a bit more than the zoom.
Of course, the lenses feel like Leica lenses, with high-quality anodized aluminum construction and the perfect amount of drag on the zoom and focus rings. The focus ring is the fly-by-wire type, but does feature a focus scale with dynamic depth-of-field indication when in MF mode, so pre-focusing is possible and fairly easy.
When in AF mode the ring has a bit of a hidden feature. Turning the ring in AF mode usually does nothing. But, if you press and hold the shutter release to lock focus (box turns green) you can then turn the ring to adjust focus manually. The camera will fire as if it locked AF without trying to reacquire. Unfortunately, there is no auto magnification focus aid when doing this, so you'll have to depend on the high-res screen or Visoflex. Even still, this is a great option for tweaking focus.
Leica has also pre-announced two more lenses, which will be shown at Photokina in September: an 11-23mm wide angle zoom, which is equivalent to a 16-35mm; and a 55-135 telephoto zoom, equivalent to an 82-202mm. These should both be welcome additions to the T system. I would also assume based on the performance of the first two T lenses, that the second two will be just as stellar.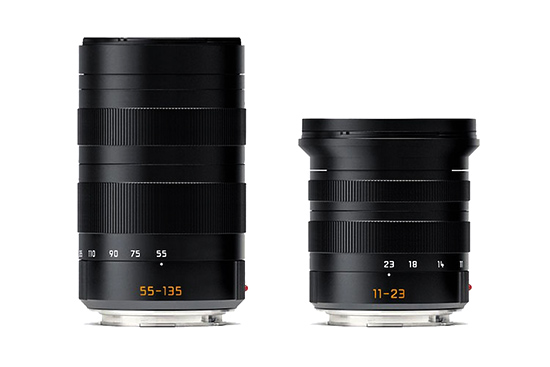 When asked about more fast prime lenses or a macro, Maike replied that "of course we have some more lenses up our sleeves for the coming years, but we can't really talk about those at this point." She then coyly added that, "smart people can imagine what Leica would do next." So, while there is no official word on an ultimate lens line-up, I certainly have my wish list.
Using Leica M lenses on the T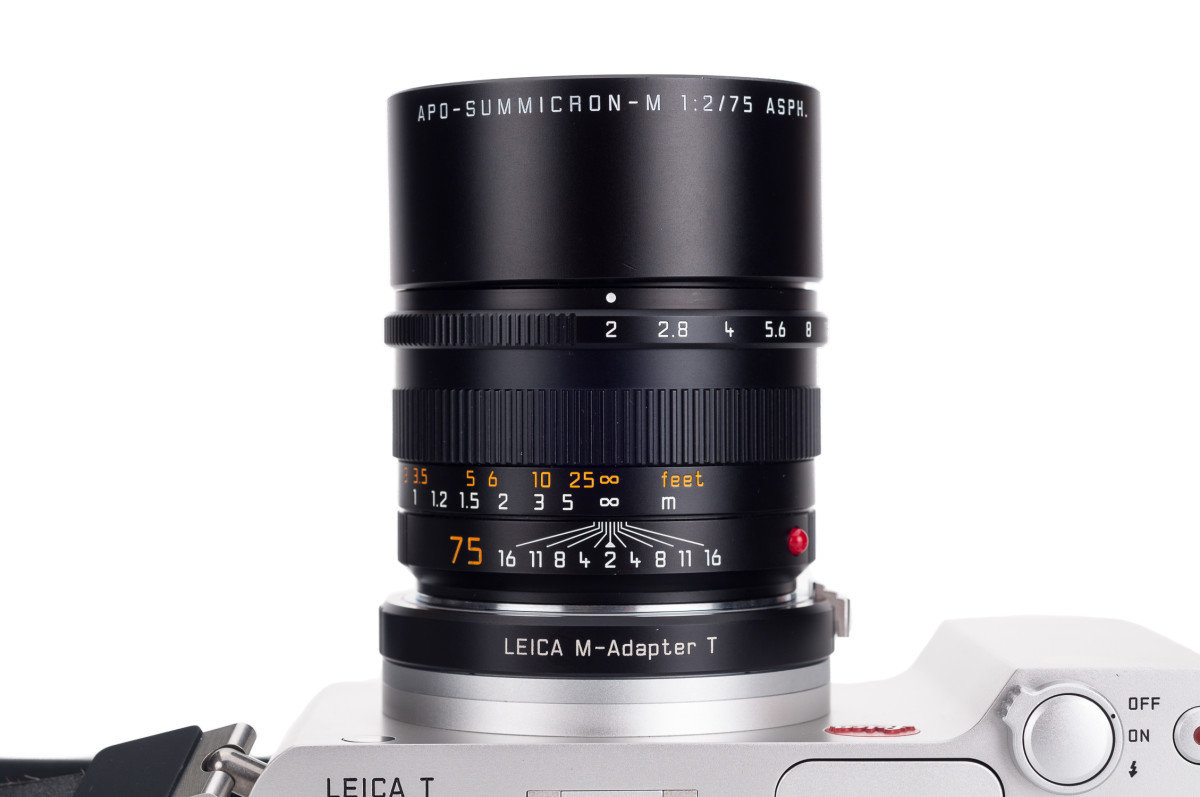 An M Adapter-T will be available as an accessory to the T for $395. Like all other Leica-made lens adapters, the M Adapter-T features solid metal construction with polished lens mounts. This one is pretty smart, too. There is a sensor on the M mount for reading the 6-bit code on lenses and communicating this information with the body by way of electrical pin contacts on the T mount side. In practice, it worked great. In Lightroom, I can see what M lens was mounted on the T for a particular image. I wonder if we'll see T-specific lens corrections for M lenses in upcoming updates for Lightroom. You can't apply full frame corrections to the lenses when they are mounted to an APS-C sensor, so Adobe and/or Leica will have to add them specifically for the T.
When you mount the adapter, the camera automatically knows that you've mounted a non-T lens and switches over to MF mode. By default, you can turn the left hand control dial to activate the focus aid, which magnifies the center of the image either 3x or 6x. I found that 3x was more than adequate for focusing.
I brought a slew of M lenses to try with the T, but didn't end up using them very often, mostly because I found the T lenses to be quite capable and very flexible. The truth is that autofocus is extremely convenient in a lot of scenarios, as is having the zoom range afforded by the Vario-T 18-56mm. There were two lenses that I made a point to try. I thought that the 50mm f/1.4 Summilux-M ASPH would make a great portrait lens on the T, and it did. Equivalent to a 75mm f/1.4, the 50 Lux performed beautifully for this quick snap of Sophia during a moment of downtime at the zoo in Tucson.
I would have liked to try the 75 f/2 APO-Summicron-M as well, as this would equate to a 112mm f/2, but I never found an opportune moment. The other lens that saw at least a little use was my trusty 90mm f/2.8 Elmarit-M. Equivalent to a 135mm f/2.8, this old favorite of mine performed flawlessly. Awesome depth, color, contrast and detail.
When I returned from my trip, I did do some testing with other M lenses like the 18mm f/3.8 Super-Elmar-M ASPH, 24mm f/3.8 Elmar-M ASPH and 35mm f/2 Summicron-M ASPH. As I mentioned earlier, the two T lenses held up very well against this awesome M glass. Yes, the fixed M primes did offer somewhat superior performance relative to the Vario-T lenses, but this is to be expected.
For its price, flexibility and size, the 18-56mm Vario-Elmar-T produces very good results. The 23mm T lens went head to head with the 24mm Elmar and was mostly able to match my favorite wide angle M lens. Given that the T lens is almost 2 stops faster, I think it's fair to say that the 23mm Summicron-T more than proved its worth.
R lenses can also be used (just need a second adapter)
I had good luck using R lenses on the T. While not officially supported, I saw no reason why I couldn't just use the M Adapter-T and the R Adapter-M. So, I did and it worked perfectly. I tried the 60mm Macro-Elmarit-R and the 180mm APO-Elmarit-R. The 60 proved to be more useful and weighed less in the bag but obviously the 180 offered reach I couldn't get otherwise.
I ended up using the 180 for some bird photography in an aviary as well as some landscapes in order to get some compression. In my opinion, telephoto lenses are quite underrated for landscape shooting.
The new touchscreen interface
The T features an entirely new and somewhat revolutionary user interface. I use the qualifier "somewhat" here as almost the entire potential user base of this camera will already be a smartphone and/or tablet user. If you have used an iPhone, Android phone or iPad, it will just be a matter of getting familiar with the placement of the different icons. The T uses a large, bright and colorful, 1.3 megapixel wide-aspect LCD touchscreen to control all functions of the camera. There are no other buttons, D-pads, or switches on the back of the camera. This just adds to the overall modernity of the T design.
One thing in particularly that struck me was that even after heavy touchscreen use, the screen doesn't seem to show fingerprints. This is quite a feat, as my iPad and my MS Surface 2 both rack up fingerprints like crazy. When I pressed Maike for the scoop on the "top secret" coating used for the T screen, she just told me that, while of course there is an anti-fingerprint coating on the screen, there is no special name for it. It was just expected that with a touchscreen, Leica engineers would try to minimize fingerprints. The screen also proved to be 100% usable in the intense Arizona desert sun. So, a win on two counts with the screen hardware.
Leica approached the concept of touch a little differently than most camera makers. Maike explained that anytime she had seen touchscreens used on other cameras, the touch was an afterthought and that buttons were placed next the screen anyway, just adding to the complexity. One of the core ideals of the T was to "fully embrace touch," and more specifically that the touch interface should simplify the experience for the user and create a new way of allowing the camera to be personalized. She was pleased that her relatively small team has been so successful at creating a completely new and simple operating concept. Indeed, after using the interface for a week of testing, I'd agree that this was quite an achievement and that I was able to easily customize the camera for my own shooting style.
I made a short video yesterday to to go over the T's new interface. Be sure to watch the video full screen in full HD for best view experience.
The shooting screen
The shooting screen, like the camera itself, is uncluttered. The live view image takes up most of the viewable area, flanked on the right-hand side by three vertically stacked icons which comprise the Right Toolbar: Exposure mode at the top, a camera icon, representing the My Camera menu in the middle, and an info toggle at the bottom, with four dots above to indicate selected view.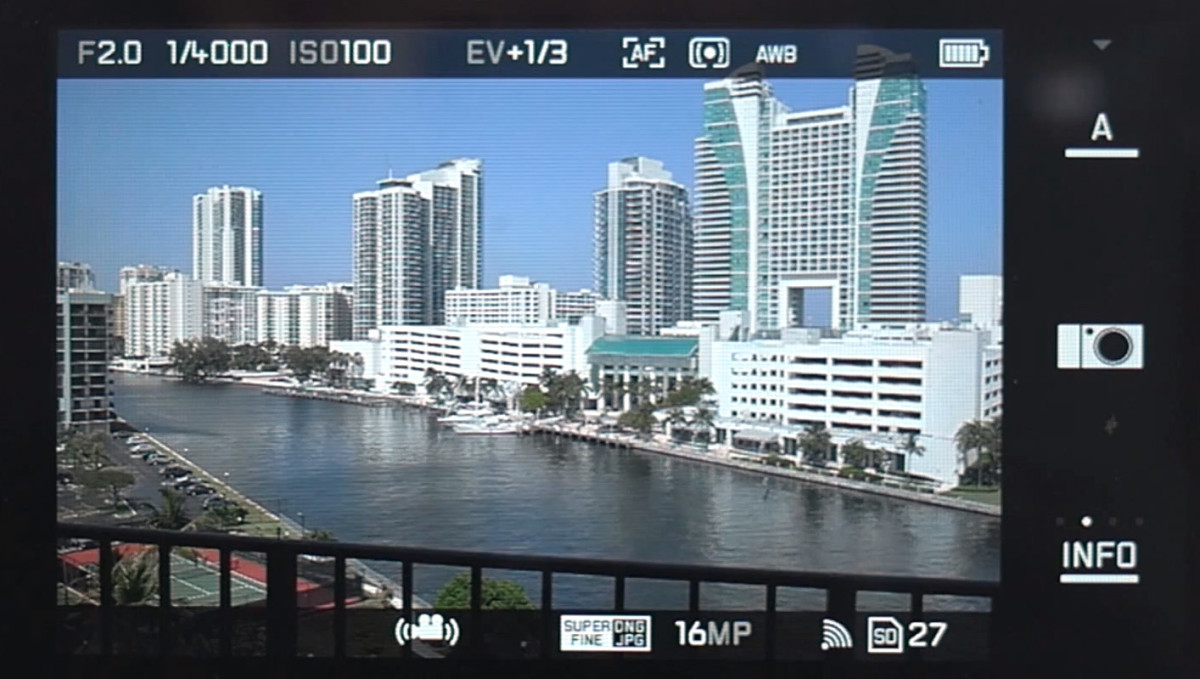 Tap the exposure mode icon and a grid displays, with large, easy to touch options (P, A, S, M and SCN). Touch one of the icons and it briefly lights up red, confirming your selection and returning you to the main shooting screen. The selected mode is indicated by letter.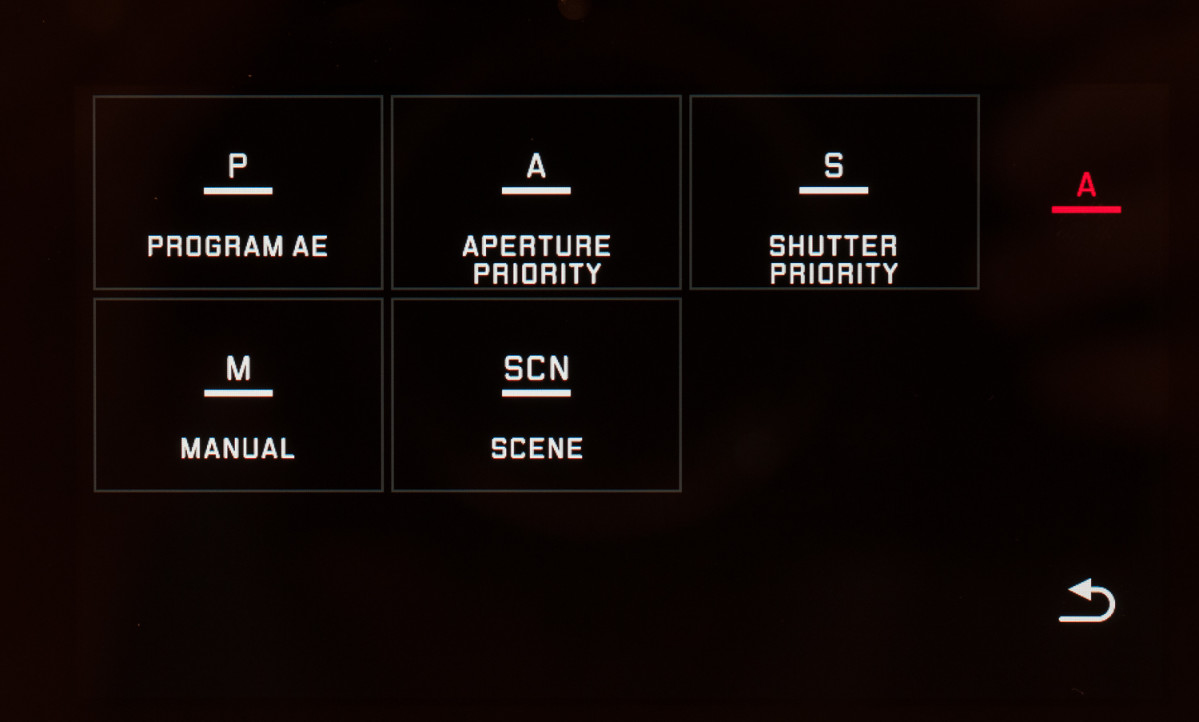 One note is that if you find yourself inadvertently activating functions or changing settings on the screen, you can actually lock the icons. To do this, swipe down with your finger over the left-hand control icons. They will grey out and become inactive until you swipe up to unlock.
My Camera Menu
The My Camera menu is similar to a quick menu. You are presented with a grid of nine large icons which fill the screen and three options on the right side for navigation. At the top, you'll find the Main menu, represented by a wrench and screwdriver icon. In the middle is a red, highlighted camera, indicating your current location. And, at the bottom is a return to previous screen option shown as a sideways U-turn arrow.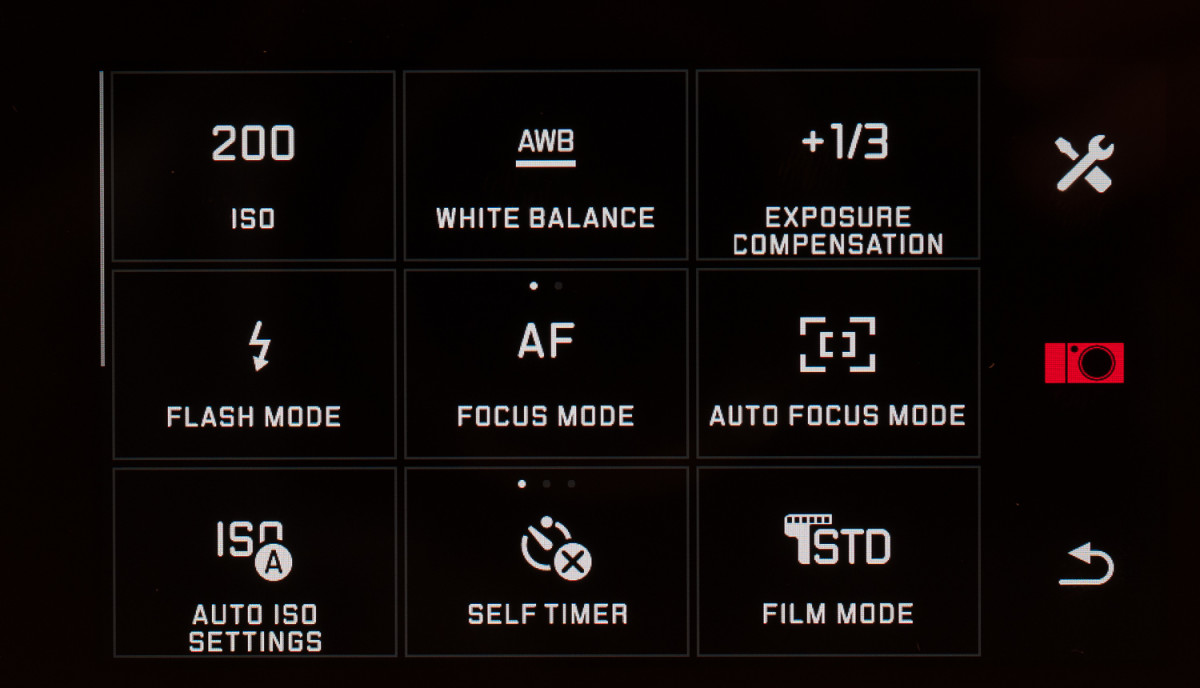 The My Camera menu is very cool. You can completely customize this screen to your liking. By pressing and holding on an icon, you can drag it around the screen to change the order, or if you don't need it (like JPG resolution setting for me), you can drag that item to a trash can icon that appears on the right hand side. So, if you want to just have your three favorite settings here, you can. Other options can be added from the Main menu into the My Camera menu by clicking the plus icon at the bottom of this menu and selecting the item from the Main menu you wish to add. You can also add from the Main menu in a similar fashion to deleting. Tap and hold an icon in the Main menu to select it, and then drag it to the right, where a red camera symbol with a plus sign appears. This will add your selection to the My Camera menu. You can actually add more than the default nine options, but the menu will have to be scrolled down to see the entire list. It still makes sense to add your most used options here as there are a lot of infrequently used settings in the Main menu. I found myself using ISO, WB, Exposure Compensation, Flash Mode, Auto ISO settings, Self Timer, Focus Mode, Auto Focus Mode, and Film Mode.
Some of the icons are fronts for deeper options, like ISO, which bring up a scrollable list. Others like self timer and focus mode toggle directly on the icon itself. This makes a lot of sense where there aren't pages of choices and keeps the interface clean and quick. These also look cool when they toggle, sliding sideways. The subtle transitional animation is a nice touch.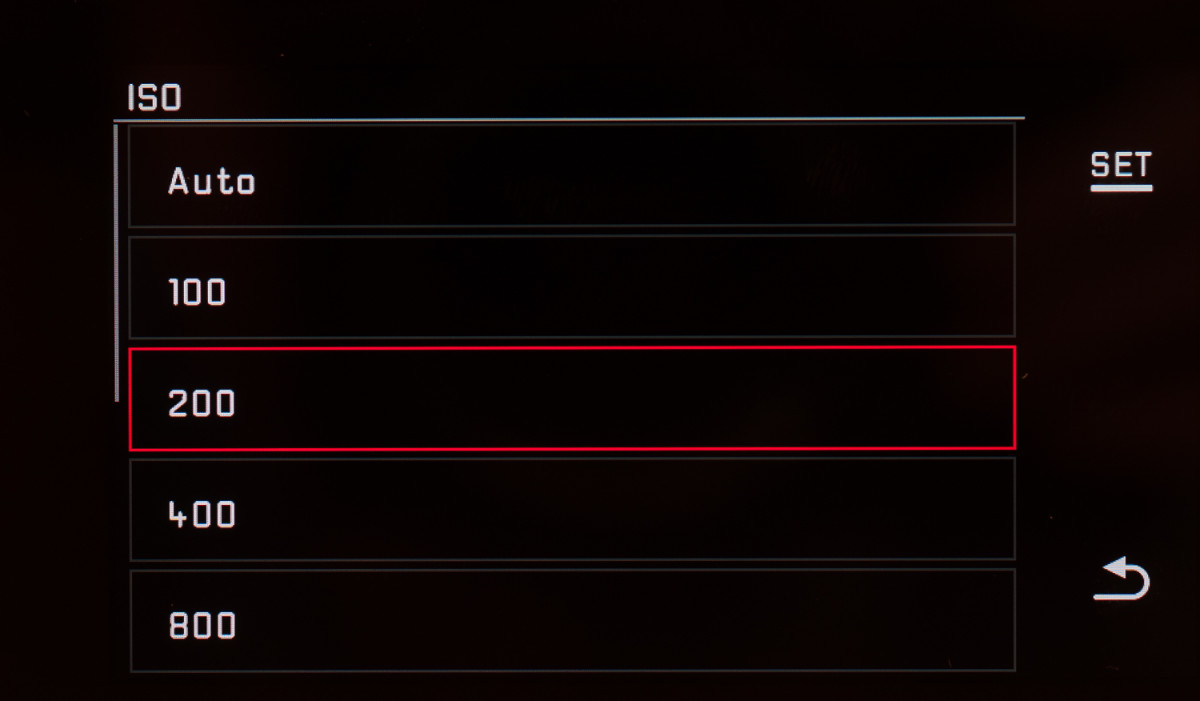 If you don't want to navigate the screen using only your fingers, you can still use the top thumbs dials to move through icons and selections. Both dials used in this capacity have the same function. You'll still have to use the SET and BACK soft buttons on the right side of the screen, but these fall nicely under your right thumb. If you use the touch controls, most settings require no further confirmation beyond pressing your selection. The most notable exception is Exposure Compensation, where a -3 to +3 horizontal scale is displayed. You can press and drag the slider box or use the top dial to choose your desired setting, but you must press the SET option in the upper right corner of the screen or the selection will not be set.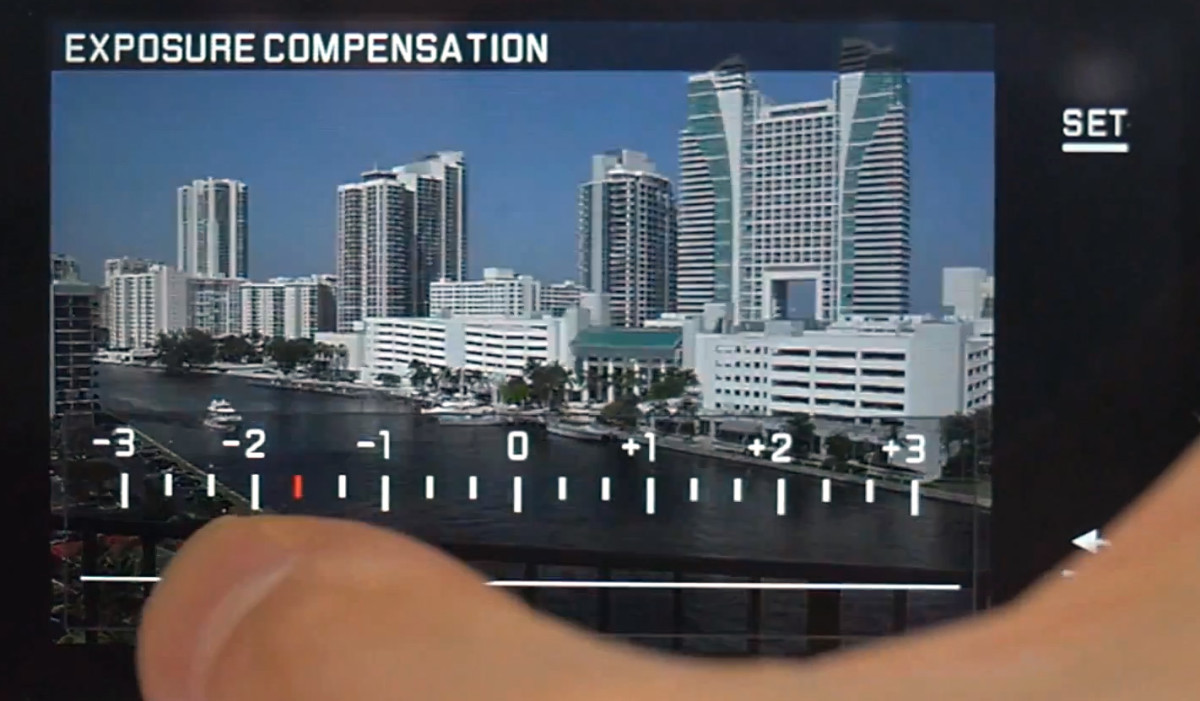 Honestly, I'd rather EV Comp be set to whatever setting I choose without having to confirm like in the X Vario. Usually, when I am using EV Comp I am in the middle of a shot and want to tweak the exposure and take another image quickly. Having to fumble with too many steps can slow you down or cause mistakes when you think that you changed a setting when in fact you didn't. An easy workaround here is to assign EV to one of the top dials which allows direct access without confirmation.
Image Playback
Image playback is quite different in the T as well. There is no playback icon or button. I looked. To enter playback mode, swipe down on the screen with your finger. The last image taken is displayed with navigation icons again on the right hand side. In this case, delete on the top indicated by a trash can, a playback menu represented by a camera with triangular play symbol on it and the requisite back arrow at the bottom.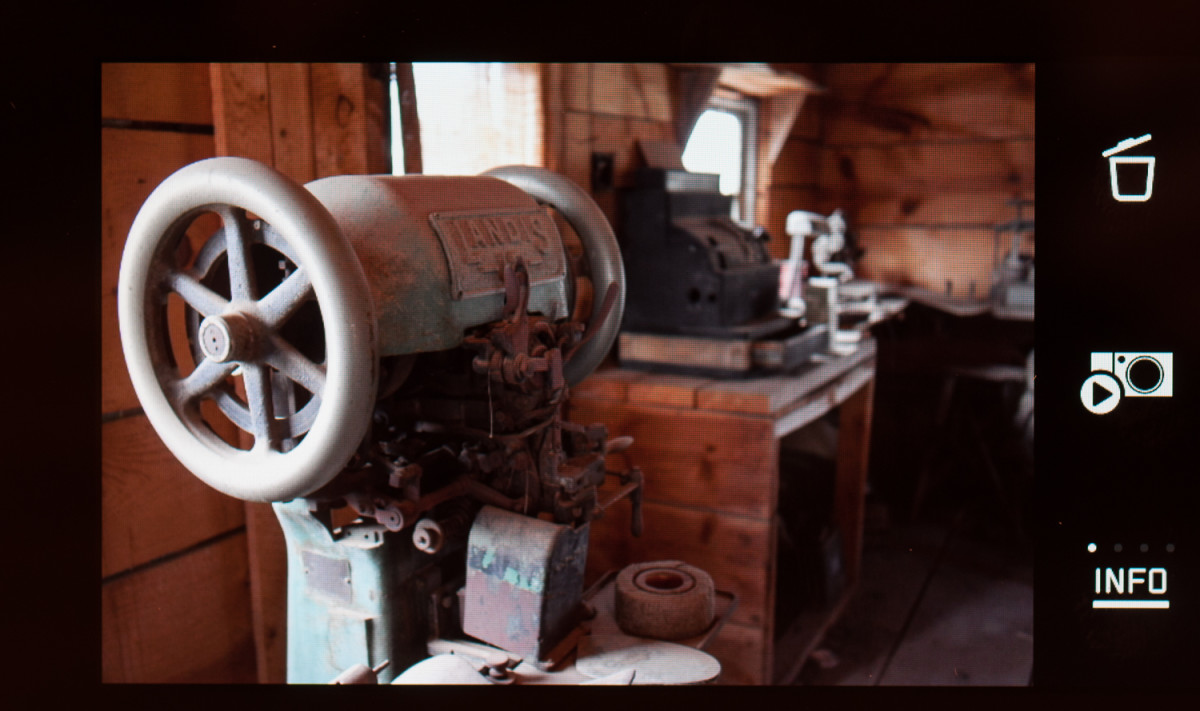 The delete function is self-explanatory. Click the trash can and you are prompted if you want to delete a single image, multiple images or all images.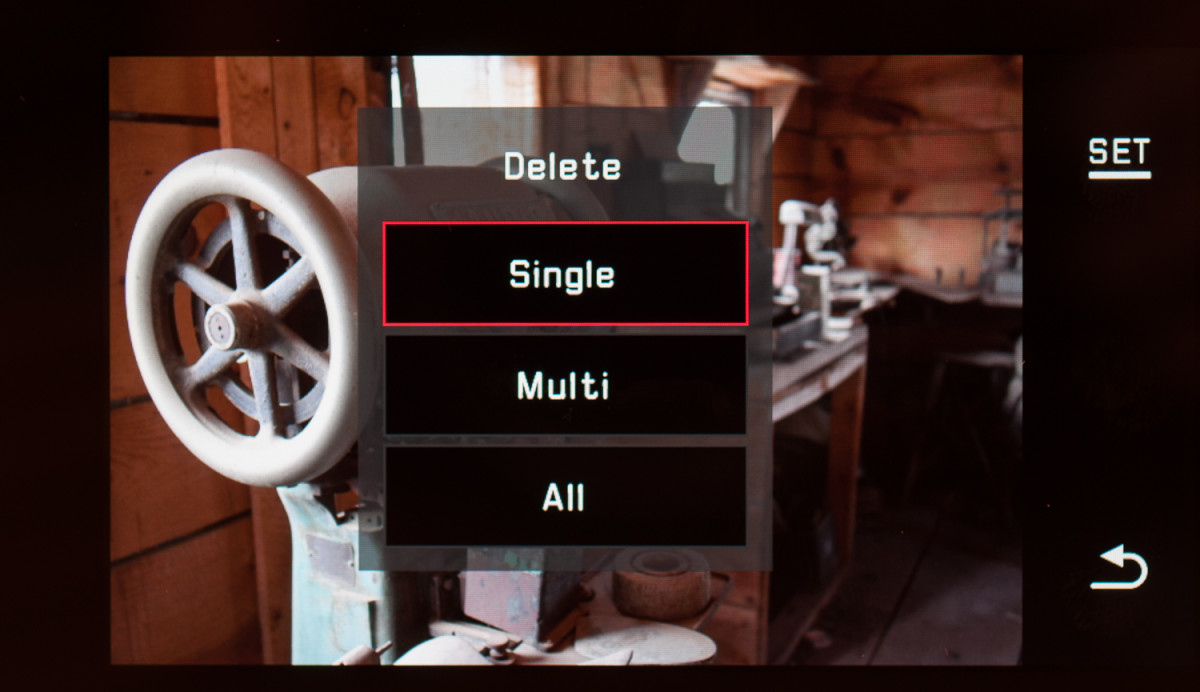 The playback menu is a little more interesting. There is a slide show function with adjustable duration and other options like displaying pictures only, video only, favorites only or all. You can tag images with stars to indicate favorites, protect images, change review from SD card to internal storage or copy selected images from one location to another. This last feature is important as the camera comes with 16GB of high-speed internal storage capacity. I used a UHS-I 600x 32GB SDXC card for my testing, but it is always nice to know that you have a decent backup in case you forget to take an extra card out with you. It's also nice to know that you won't have to go through the hassle of connecting the camera via USB to get those pictures. On the T, you can just copy images from internal memory to an SD card, or vice versa.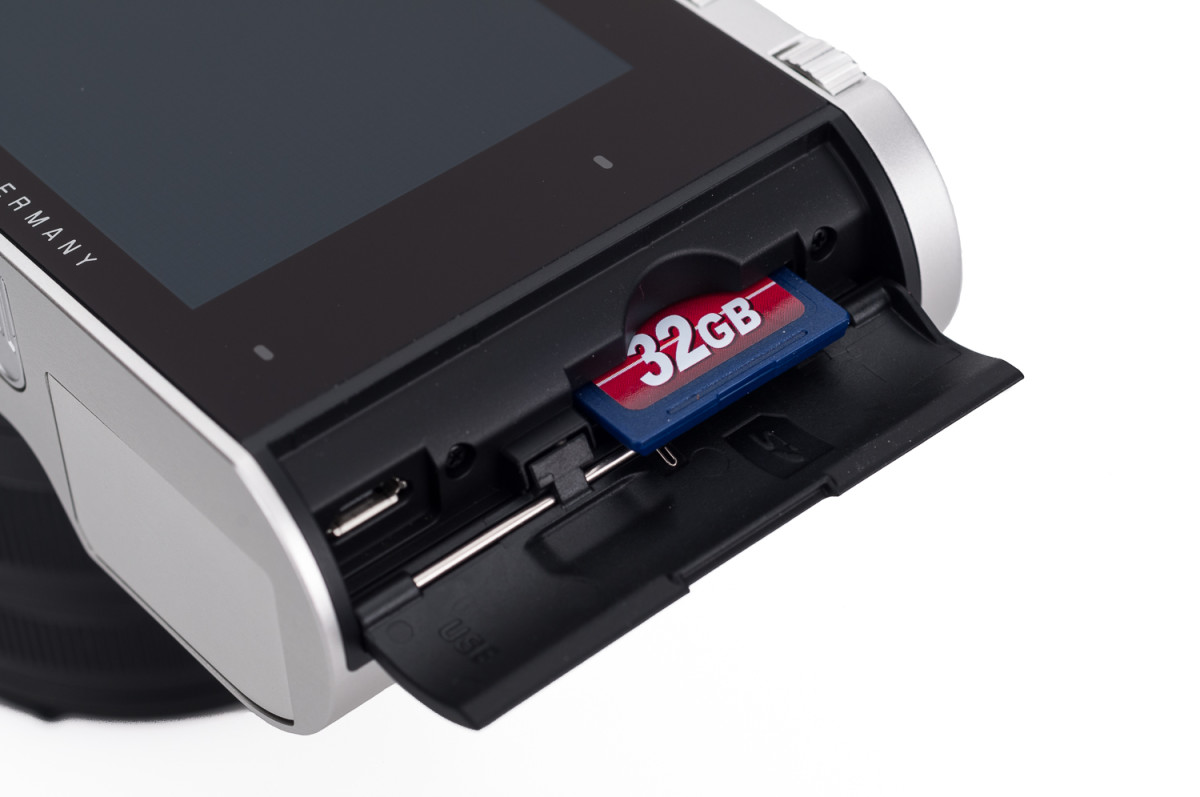 There are three methods to zoom into images. The first is just like on any other touch device. Just spread two fingers apart on the screen to enlarge and pinch together to reduce. You can also use the right hand control dial to zoom in and out. Lastly, double tap on the screen and you'll be brought to 100% view. If you double tap again, you'll see 200%. Tap a third time to return to full view. My thought here is that the second zoom level is unnecessary. I'd rather see the first double tap go to 100% and the second double tap go back to full view.
Scrolling around zoomed images is as simple as dragging around the screen with your finger. To go between pictures, either swipe side to side while in full view or use the left hand control dial. The dial also scrolls through images even when zoomed in. This is very handy for quickly comparing multiple shots with magnification to compare details or focus.
Minimizing extraneous options
Looking through the menus, you can get a little sense of the reductionist feel. Maike explained, "We constantly asked ourselves: Does our customer really need this, or can we take it out? Is it there just because it's been in every digital camera for the last 15 years and no one thought to question its purpose? One example of this is the Color Space option. 99% of our customers never use this option and never change it. Why have this feature? To me, this has no purpose and only creates confusion. So, what did we do? We got rid of it." Every step of the way, her team sought to eliminate vestigial functions and make the camera simpler to operate, without harming the user.
In spite of the elimination of unused options, certain features are expanded and more easily customized. For instance, the Film Modes work really well and have a nice degree of customization by pressing the small arrow box next to each setting. Other options give the user more control like having adjustments for controlling the color temperature of the LCD screen and Visoflex independently.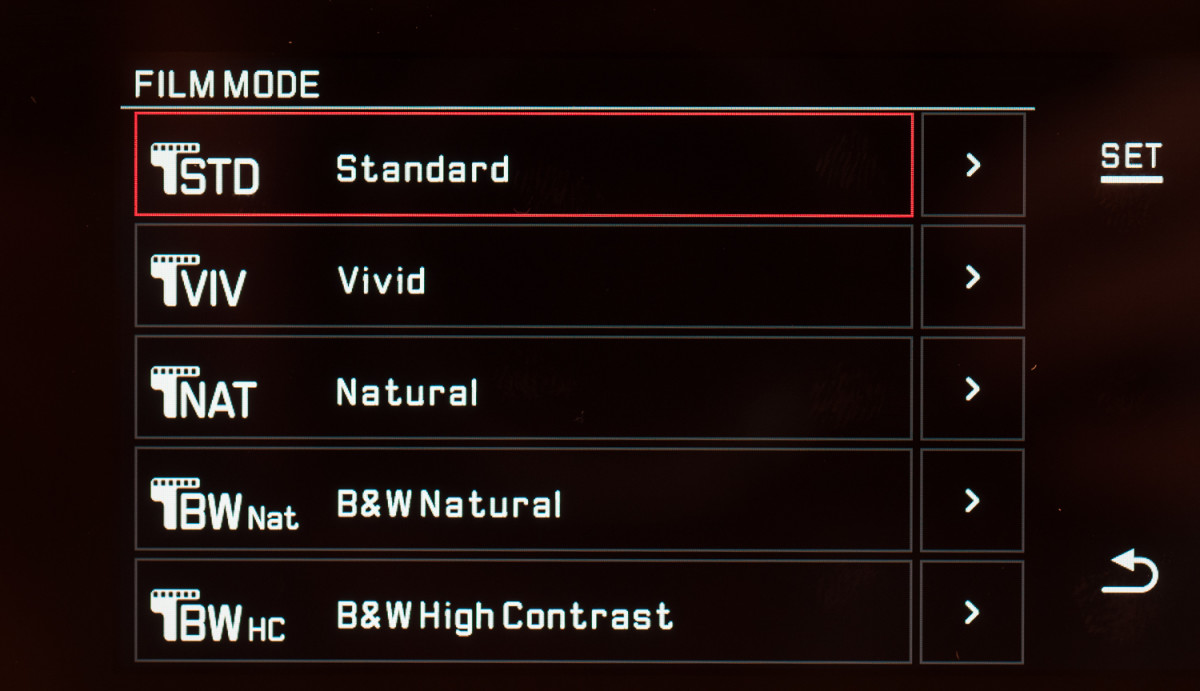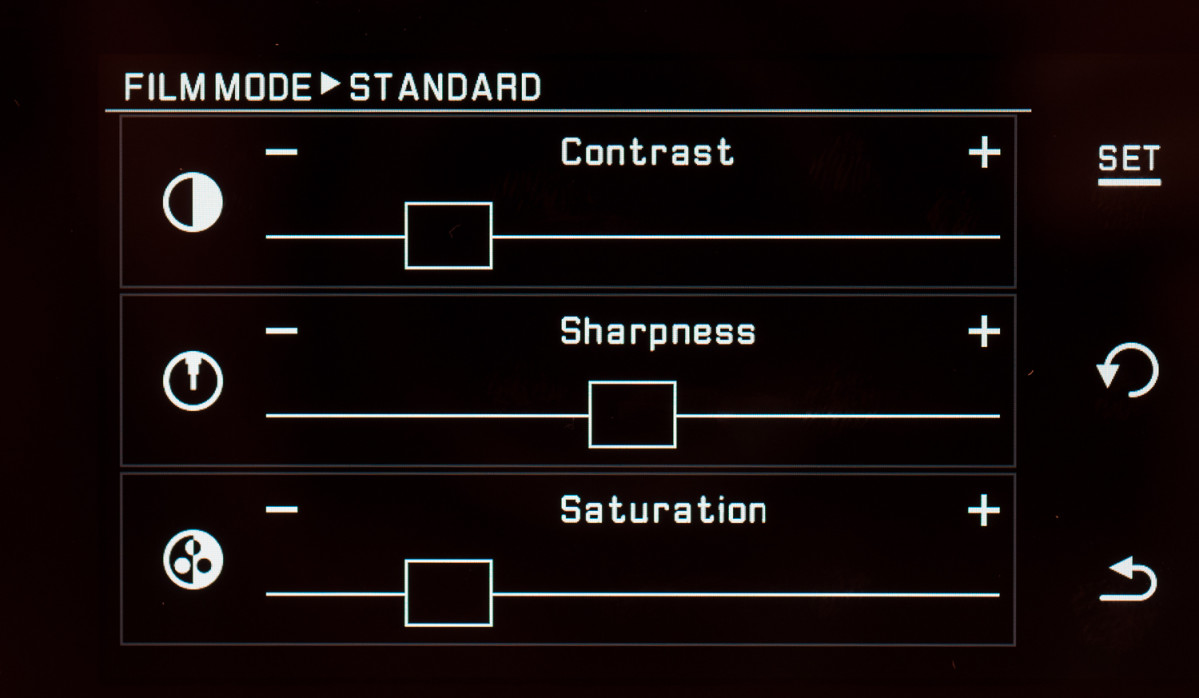 New strap
One of my favorite aspects of the new design is the novel strap and the way it connects to the body. Leica calls this an Easy-Click system. I call it revolutionary. The strap ends have an all-metal rotating swivel with a pin that gets inserted into the camera. They can spin freely 360 degrees around and pivot 180 degrees relative to the camera. The strap end never touches the camera regardless of position and because it can move so freely, the strap never gets twisted.
The design is utterly brilliant. And patented by Leica. So, don't expect to see any third party adaptations any time soon. What you can expect though, are some other colors. Leica will launch silicone rubber strap options in white, black, melon yellow and orange red. They come in either a neck strap for $79 or wrist strap for $70. There will also be matching silicone rubber sleeves called T-SNAPs in the same colors, also for $79.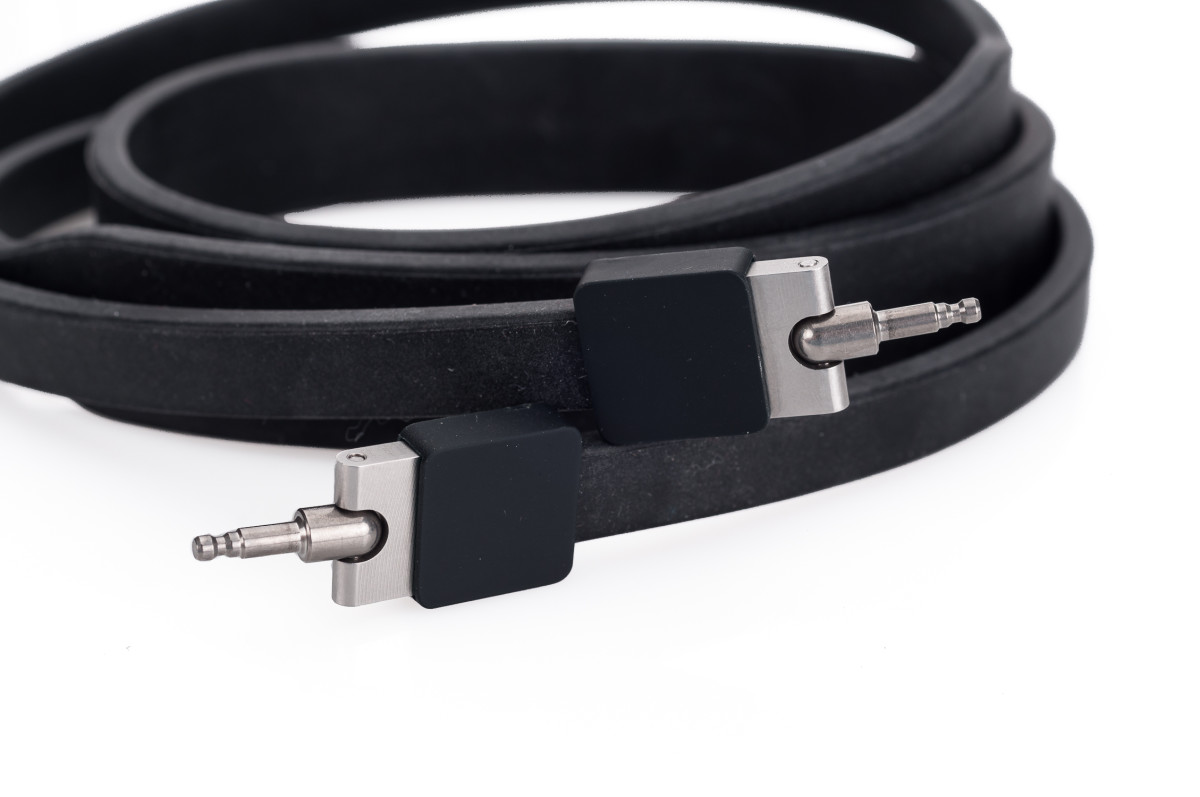 The camera comes loaded with blank covers in the strap sockets. If you take the included tool and press gently into the small hole beneath the socket, the pin with pop out. Just insert the strap pin into the socket until it clicks and you're good to go. No fiddling with rings or finicky lugs. You'll need to see this aspect of the camera to fully appreciate it. My only complaint with the strap is that although the rubber strap is grippy and comfortable, it doesn't absorb moisture or breathe at all. So, if you're in a hot and/or humid environment you may not wish to rest it directly on the back of your neck.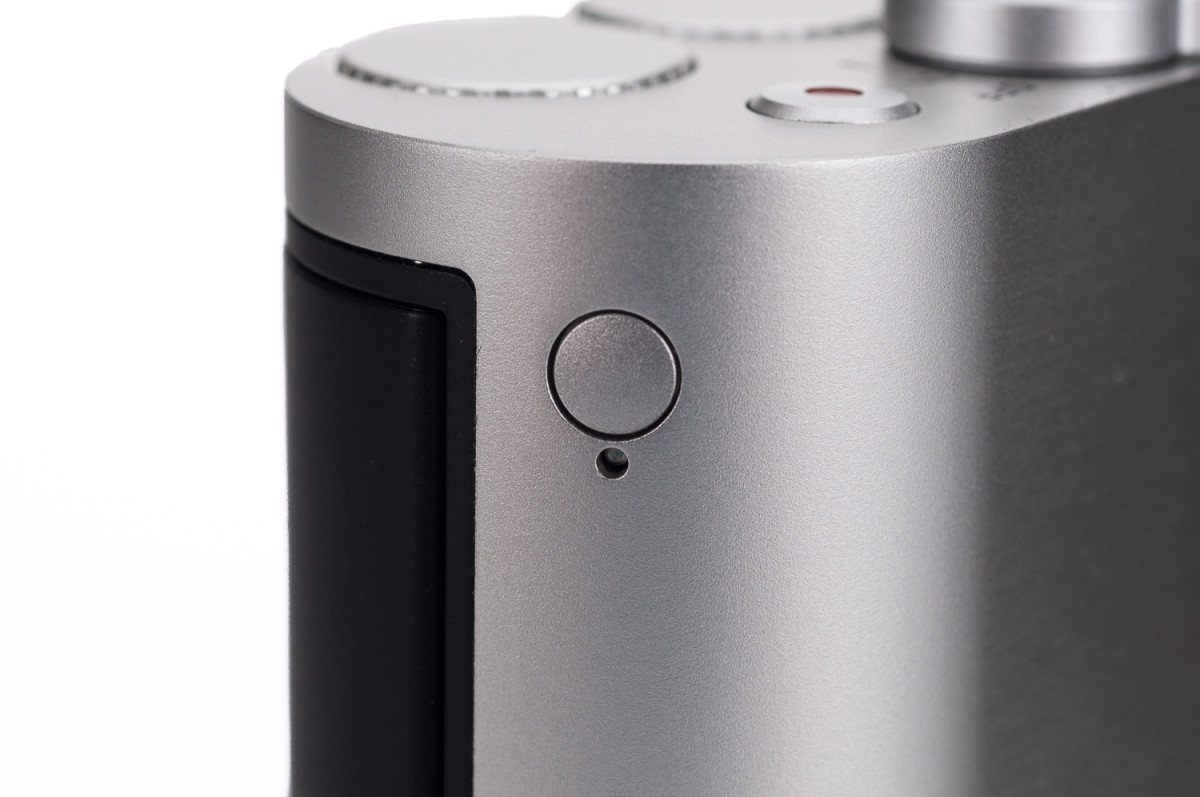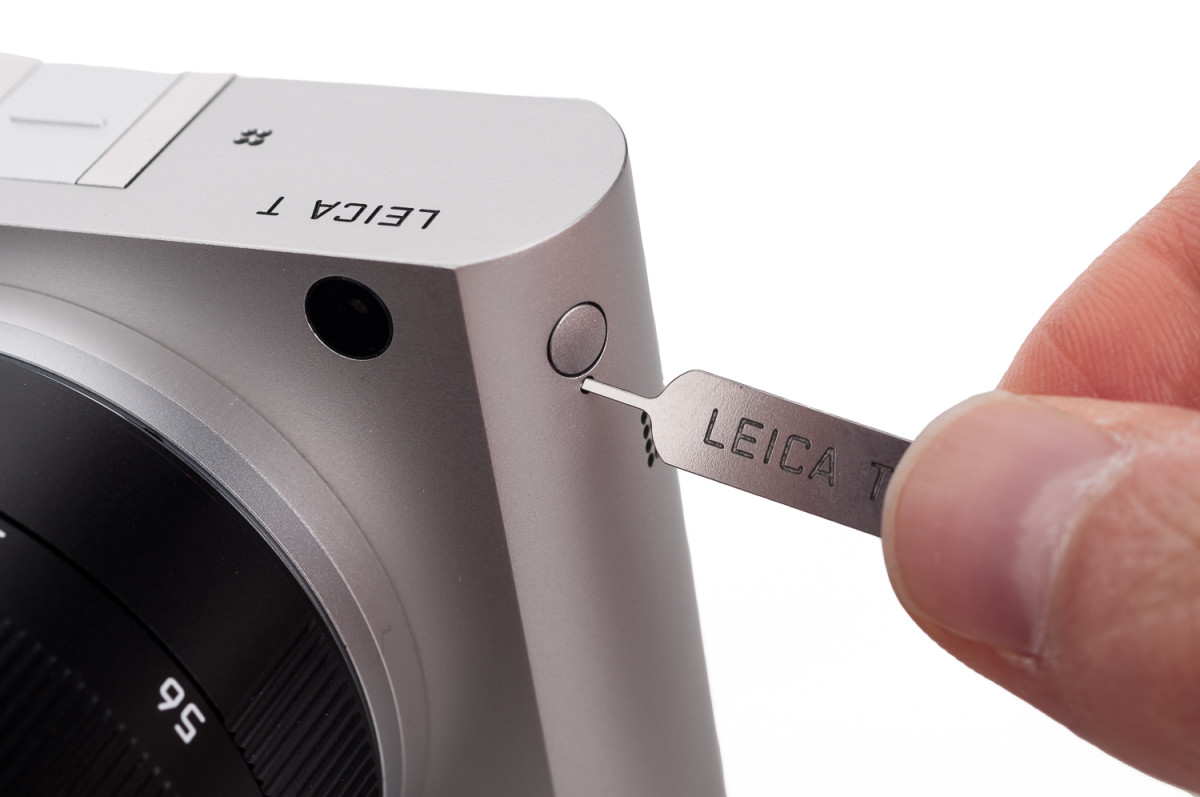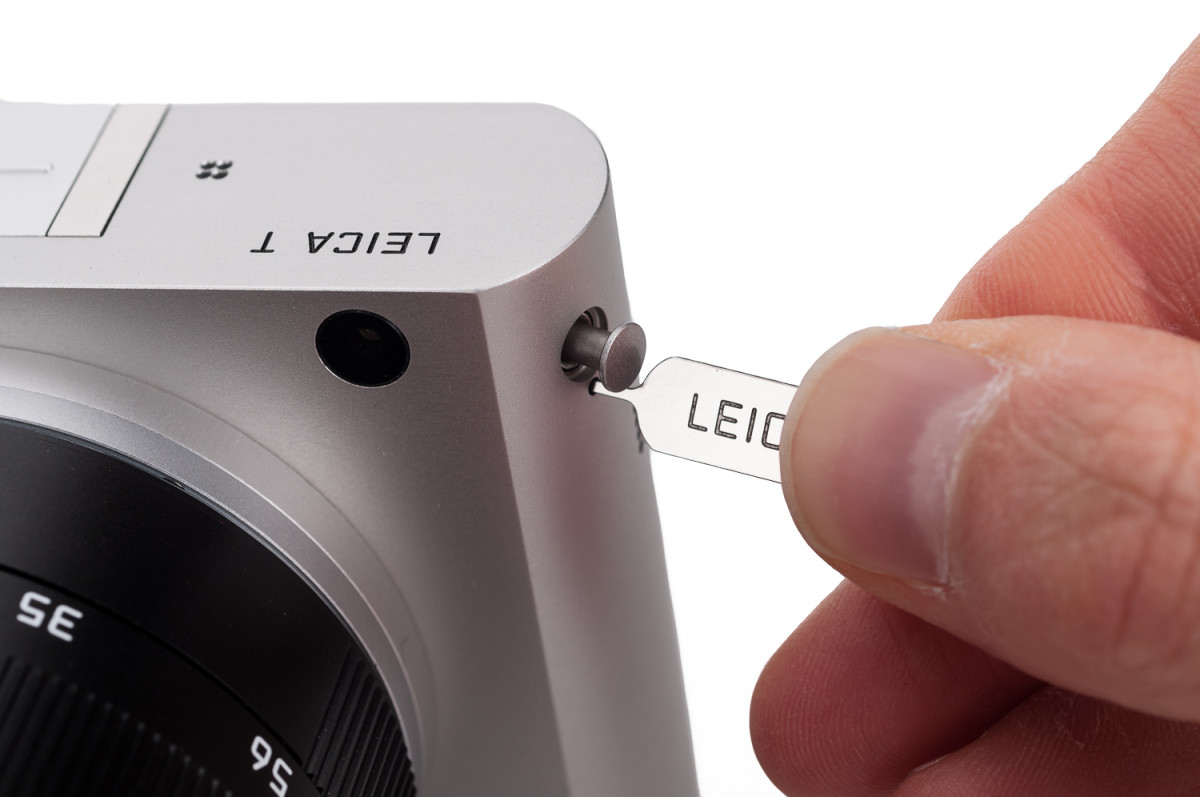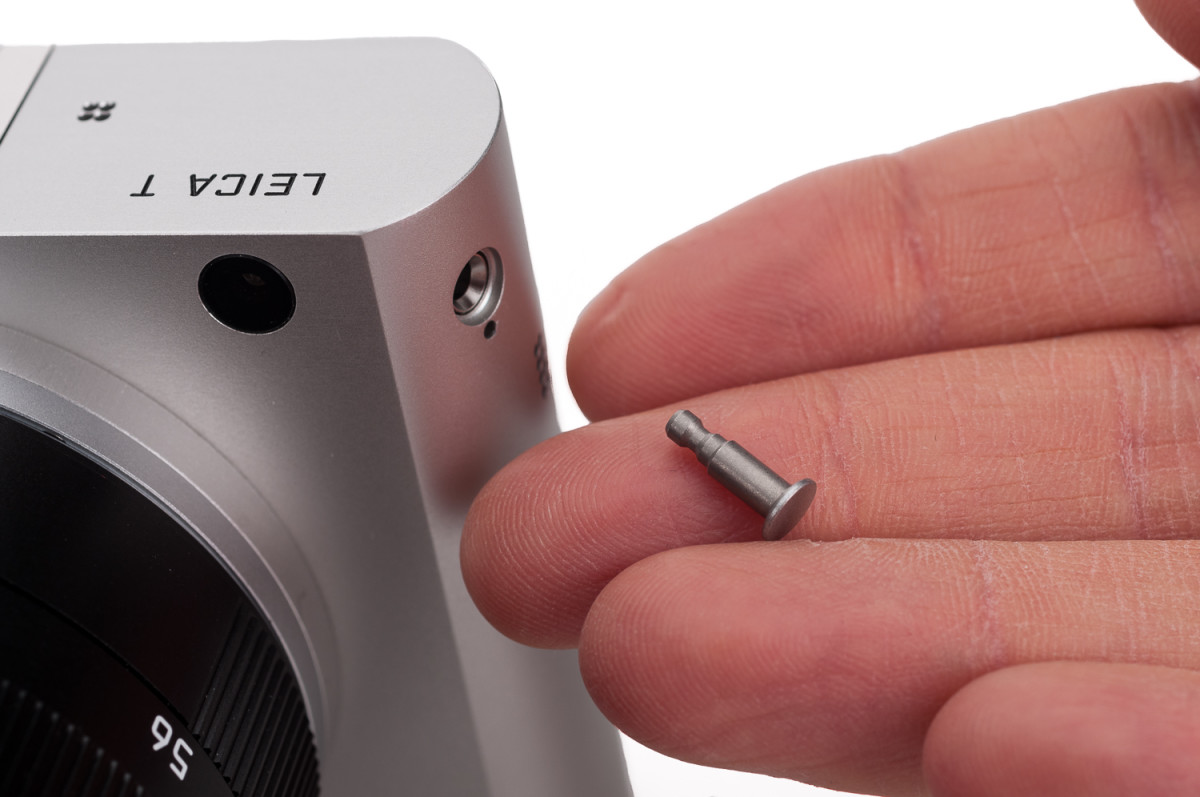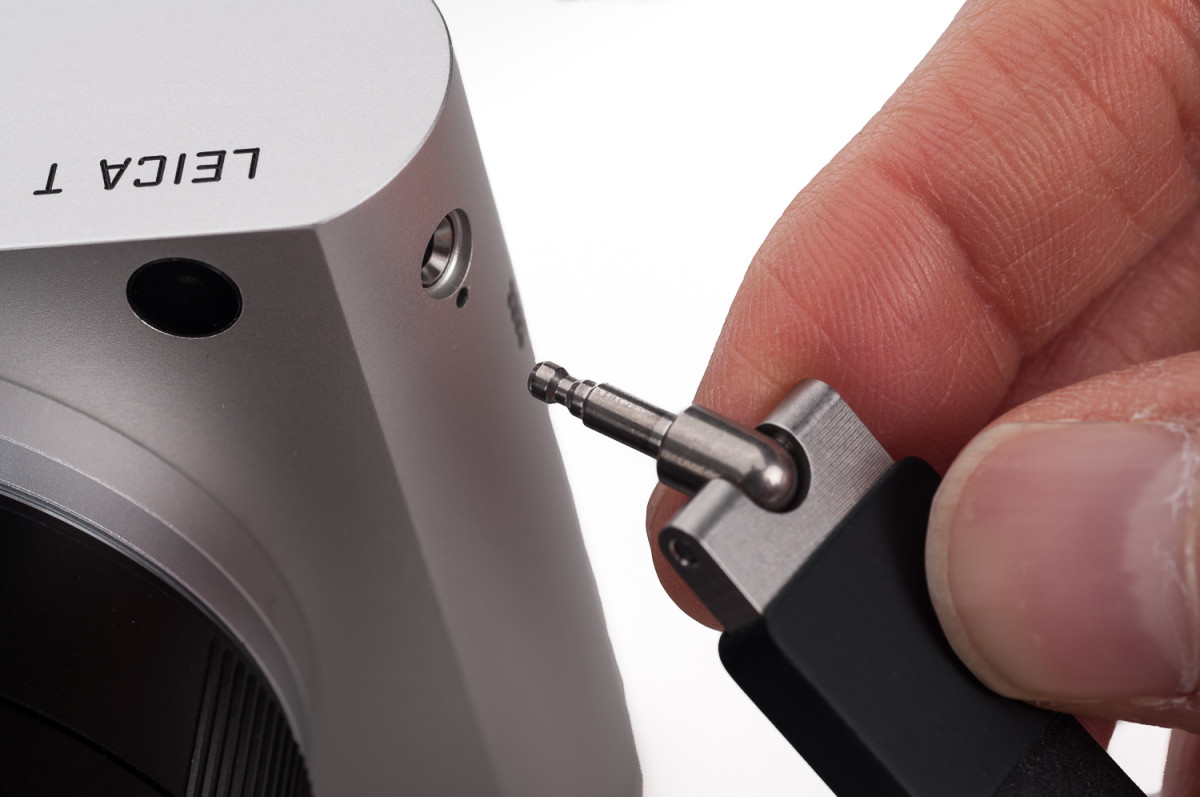 \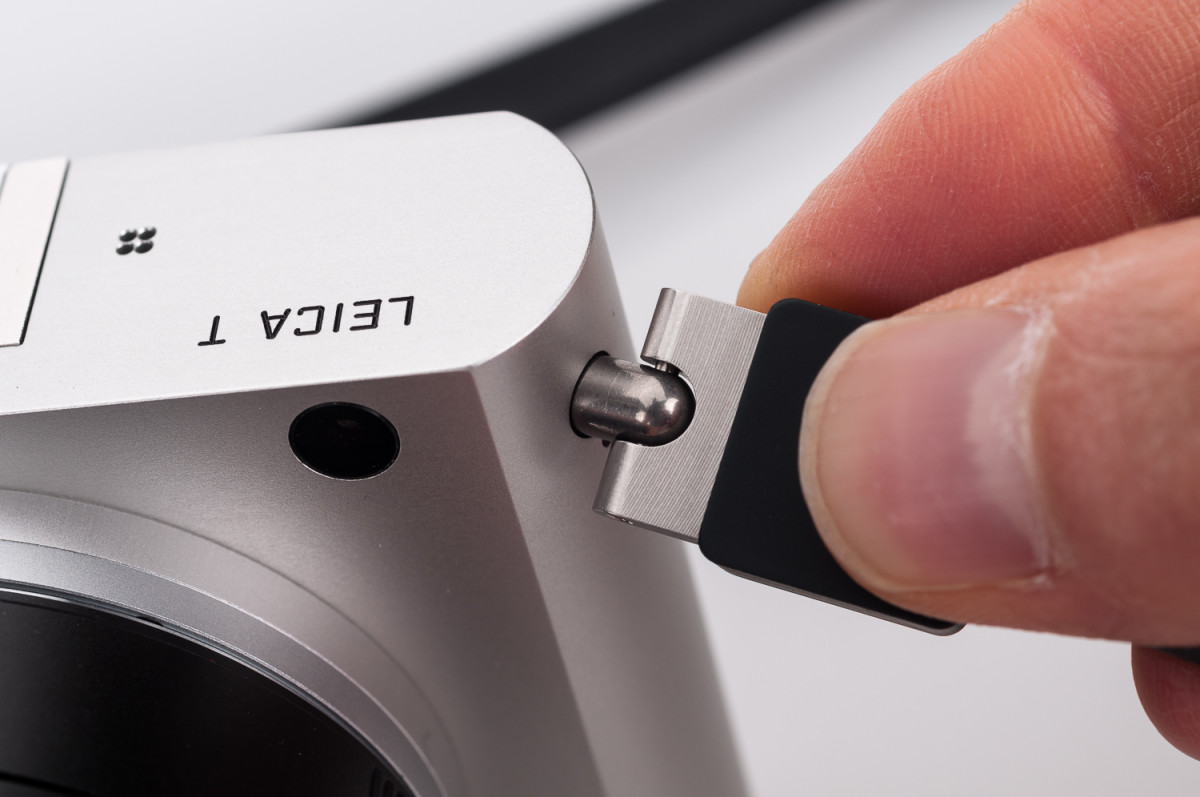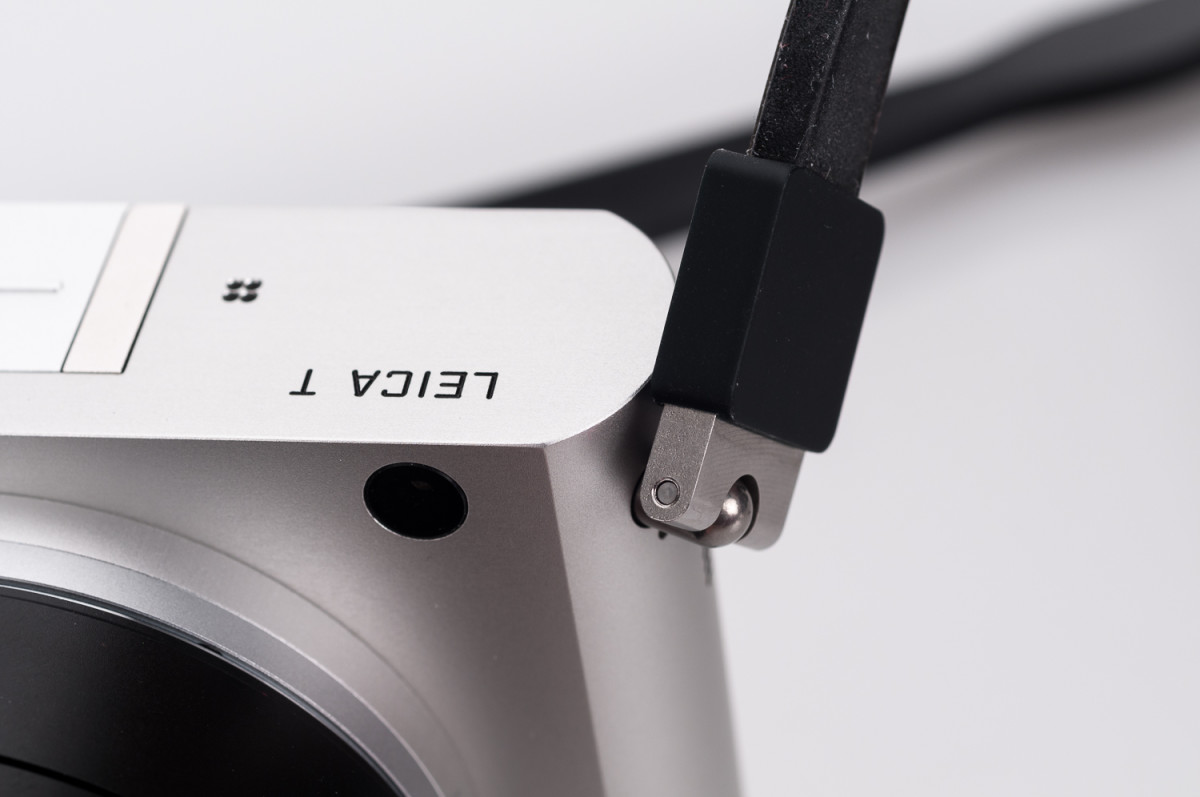 New Visoflex EVF
The new Visoflex (Typ 020) EVF (Electronic View Finder) offers up 2.4 megapixels for your viewing pleasure. The Visoflex also features a built-in GPS receiver and an optical sensor to know when you put your eye up to the viewfinder. The camera will automatically switch back and forth between the Visoflex and the LCD as you move your eye up to and away from the viewfinder. This is important as many settings must be changed only on the LCD.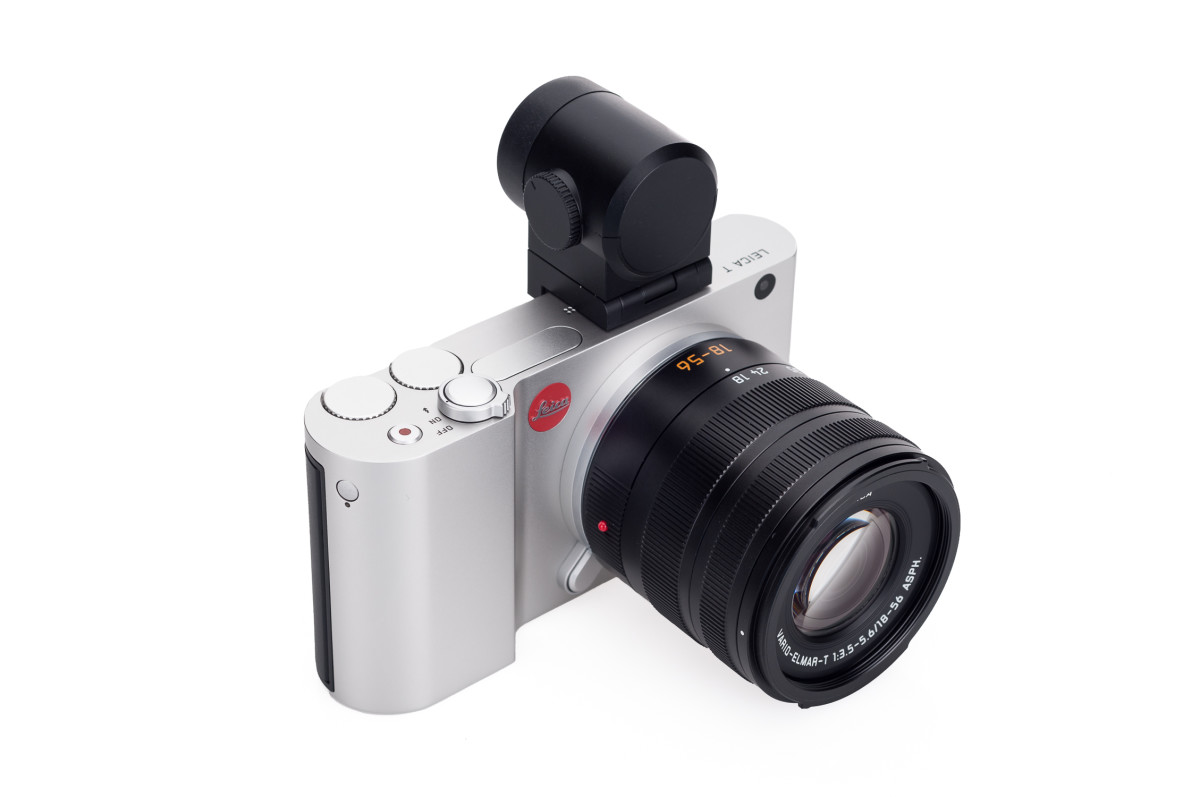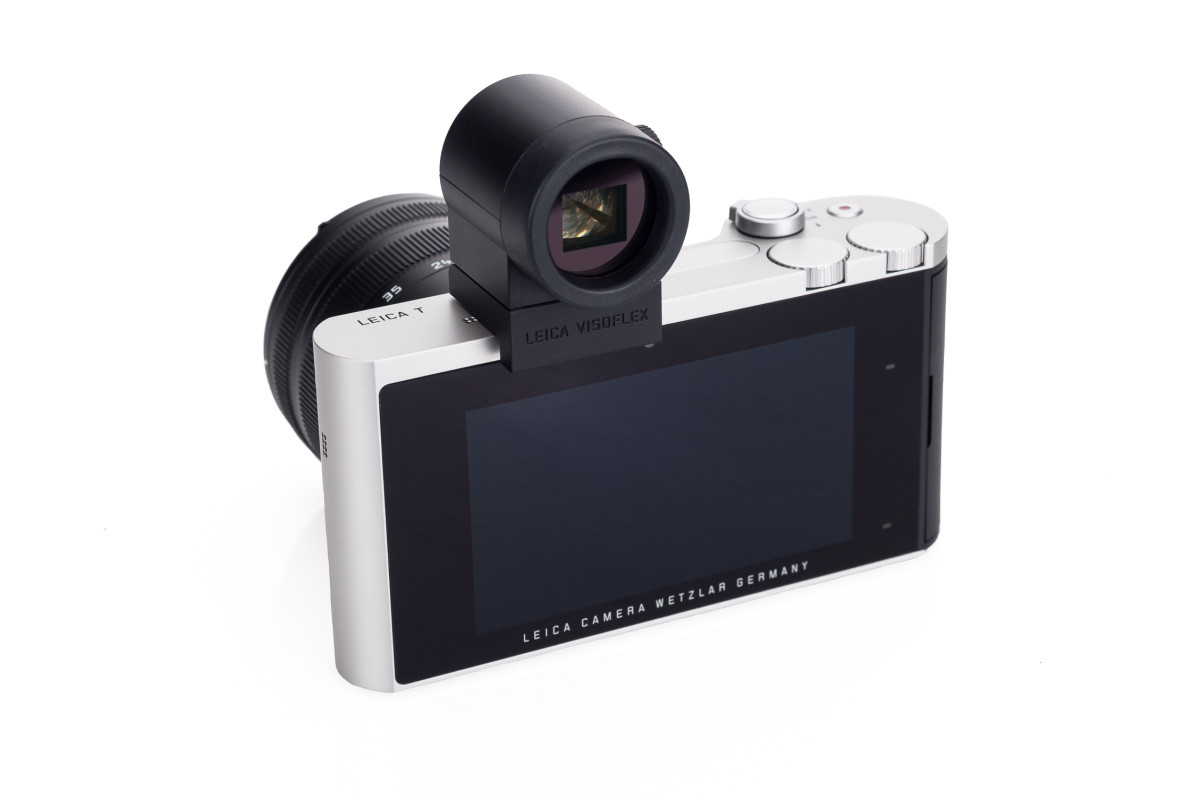 The Visoflex also swivels up to 90 degrees for a waist-level shooting perspective, great for getting down low, shooting incognito or just changing your working perspective. It's got great magnification, is bright and clear, and has a built-in diopter adjustment on the right side.
I pretty much kept the Visoflex mounted in the T at all times, even when I wasn't using it, just for the GPS functionality. Why no GPS in the camera? Well, the GPS signals can't travel through the solid aluminum body. Also, I found the Visoflex resolution to be ideal when using manual focus on the M and R lenses.
I found only one shortcoming with the Visoflex, or rather the operational concept. You can only play back images on the LCD. It is not possible to review images in the EVF beyond the auto review. This is something I do often when shooting with the M (Typ 240), especially if I'm trying to be discreet or I'm in very bright ambient lighting conditions.
Very quiet
The focus and shutter sounds on the T are extremely quiet. The focus motor in the lens is much more discreet than in the X Vario, but the shutter, being a focal plane shutter rather than a leaf shutter, is a bit more audible. Still, compared to most mirrorless cameras and all DSLRs, the T is one of the quietest available.
Along with the lack of noise in the well-damped shutter is the lack of vibration. This, combined with the solid mass of the camera body, makes for an easy hand-held shooting experience. I had no trouble hand-holding at 1/15th of a second when using the 23mm lens. When you add in decent high ISO performance, the T can deliver surprisingly sharp images in some pretty low light situations.
Battery life
Battery life, considering the need for constant readout of the sensor and driving high resolution screens, is actually very good. For most of my shooting, I was able to get through most of a day on one battery. If I was particularly trigger happy, I'd need to swap to my second battery at the end of the day.
Of course, I'd say that a second battery is a necessity. You never want to be out and about without a backup. The battery design is very similar to the one used in the Leica S. There is no door; the battery clicks into the bottom and sits flush with the baseplate. To release, flip the lever on the bottom. The battery will pop out a centimeter or two, but will not fall out. A light press up will release the safety catch and it will slide out easily.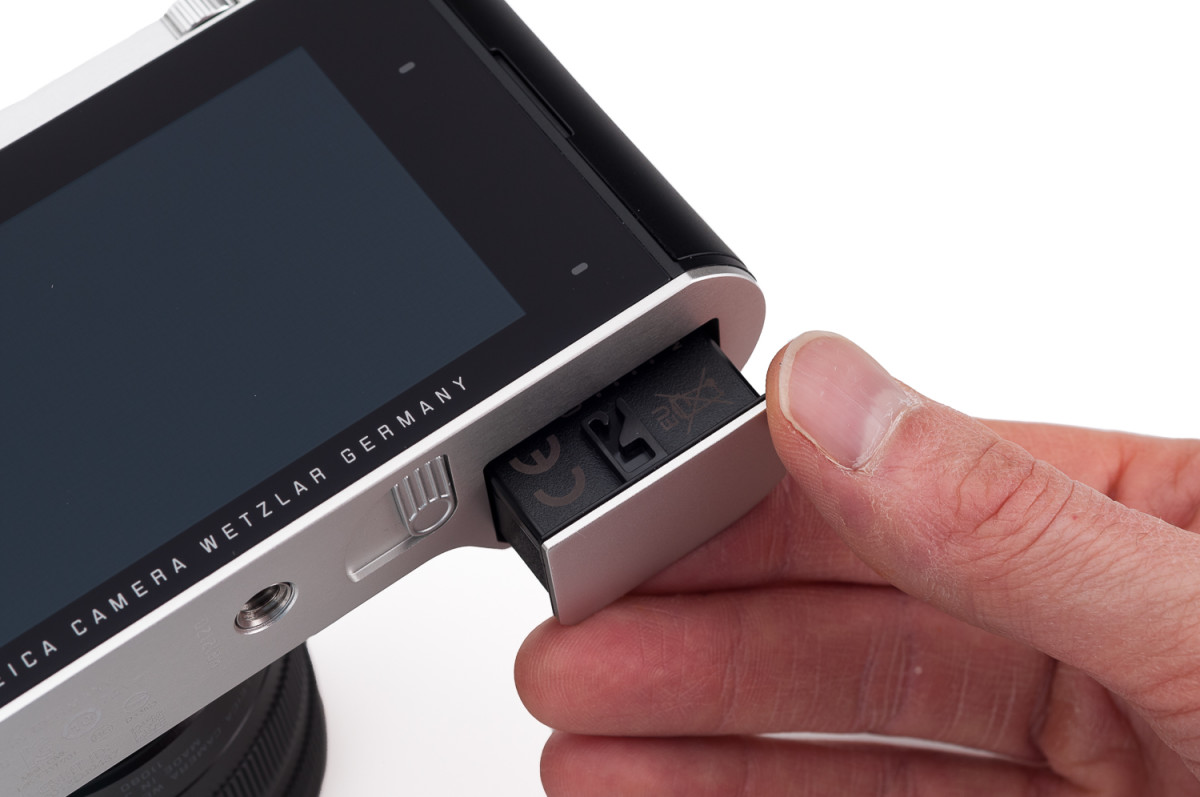 To reinsert, just press the fresh battery into the body. It will click and lock in place. The charger also features the safety catch, so you'll have to move the small slider to release the battery. You can also charge the battery in the camera via the USB cord, but I'd use this as a last resort, as the charge current is a measly 1A. In layman's terms, it will take a very long time to charge a drained cell. As it is, the standard charger takes a good two to three hours to light up green.
Auto ISO settings
I'm glad to say that Auto ISO use and flexibility has been improved dramatically from the X Vario. Max exposure times go all the way from 1 second to 1/4000th and ISO from 200 to 12500. The only shortcoming I found is that the Auto ISO algorithm will not break the rules you set, even if it is far too dark for your chosen settings.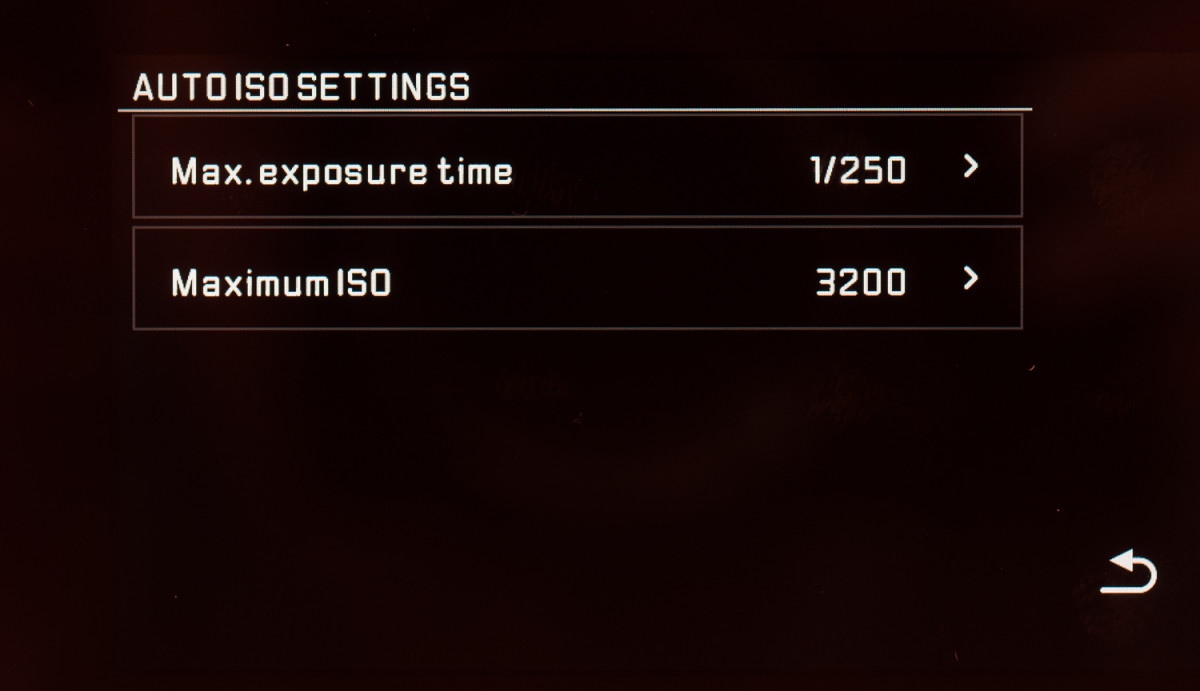 For example, let's say that you choose a max exposure time of 1/125th and a max ISO of 3200. This is a reasonable setting that should net fast enough shutter speeds and result in files with minimal noise. The problem arises when you venture into much lower light conditions. The camera will not go below 1/125th for shutter speed and not go above ISO 3200 no matter what. The resulting images will be extremely underexposed. I'd rather the algorithm ratchet up the ISO as needed to keep my shutter speed above my max, and then allow slower speeds once I've hit my ISO ceiling. In the case of my example, I'd still be at ISO 3200, but the camera would override the limits and set a longer shutter speed of 1/45th, resulting in a properly exposed image.
Pop-up flash
The pop-up flash is cool from a design standpoint. To activate it, just turn the power switch around the shutter release all the way forward. This will go past the ON position to the lightning bolt symbol for the flash. To reseat back into the camera, just press down until it clicks.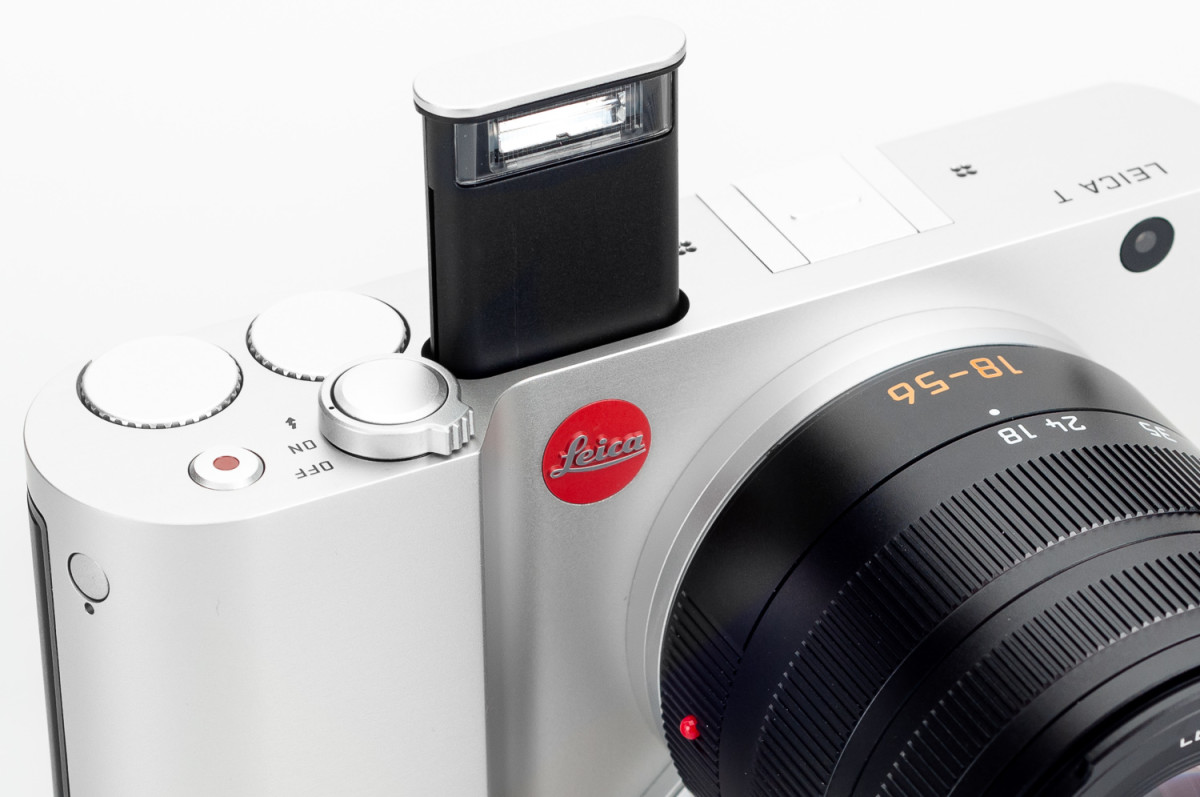 Even with the high extended positions of the pop-up flash, a shadow is still cast with 18-56mm lens at its widest position without the lens shade. The shade makes matters worse. Another issue with fill flash, especially compared with the X2 and X Vario, is that the max flash sync speed is 1/160th of a second. This is the result of using a low vibration focal plane shutter instead of the leaf shutters employed in the X cameras. With bright daylight, getting down to 1/160th can be a challenge, even at the base ISO of 100. Also, outdoor fill flash effectiveness and range will be quite limited at ISO 100 and f/11, especially with a rather anemic Guide Number of 4.5m. A possible workaround is to use an ND filter, the same as you might using fast M lenses wide-open. All that being said, I only ever used the pop-up flash to test it for this review, and never once used it in my normal course of shooting. I'm fairly confident that most users will do the same.
If you need a little more power, Leica is also introducing a new hot shoe mount flash, the SF26. If Leica nomenclature is consistent, we'd be looking at a respectable GN of 26m. The flash will be compact in size and feature a swiveling flash head (finally!).
Accessories
A number of interesting accessories will be available for the T. I already covered the Easy-Click straps in different colors as well as the T-SNAP skin covers. The T-FLAP in gray silicone rubber, which protects the top and back of the camera will sell for $50. There will be two holsters similar to the M9 Titan design. One will be made out of anodized aluminum, the other leather. Both will cost $225, but you'll have to wait until Photokina for the aluminum version. If silicone rubber skins aren't your thing, you can go with a more traditional stone grey Leather Protector half case for $140 and put it in the matching retro Leather System bag with space for camera, lenses and an iPad Mini.
Wi-Fi and Leica T iPhone/iPad app
I just got a chance to play with this app yesterday when it became available on the App Store. Setting up Wi-Fi on the T is fairly easy, but does require a WLAN or router-based connection. There doesn't seem to be a way to establish a direct connection between the camera and an iPad in the field. There is a possibility that the T might be able to join a shared Wi-Fi connection from the iPhone or iPad, but I haven't had a chance to test this functionality yet.
The app itself is pretty straightforward. You can quickly review images on the SD card or the camera's internal memory. Pictures took just a couple seconds to render out on my wife's iPad Air retina screen and looked great. You are then able to attach JPG images to an email or text message, or download the image to your iPad or iPhone's Photos. A new album, called "Leica T", is created automatically for you and the full resolution JPG is transferred.
The second main function the app serves is to act as a remote camera control. Live view from the camera is served up in real time on the iPhone or iPad screen and all shooting settings can be changed directly. You can focus by tapping anywhere in the image and take still images by pressing the shutter button, or movies by clicking the red movie button. Going back to the playback screen, you can then check out the photos you just took.
I was impressed by the speed of operation over Wi-Fi and of course, the cool factor of the app itself. I made a quick video to demonstrate the app. Please excuse the impromptu nature of the video as I literally just got the app yesterday afternoon and didn't have time to use a proper recording setup. And again, please maximize the video and play in full HD for best experience.
A couple of things that I thought could be better
In addition to some of the tweaks I outlined above, I was really only bothered by two issues and a wish. This first is that self timer goes away after each use. This is something which proved to be a nuisance in my test of the X2 and the X Vario, and continues on T. When you select self timer, it is only activated once and must be reset each and every time you wish to use it. In other words, if you are using the self timer function for long exposure triggering, you will have to go into the quick menu and activate it before each and every shot. This drives me crazy.
The second issue is pretty minor but concerned me nonetheless. The control dials require a two-step activation. I can see two reasons why the dials would be set up this way. The first is to prevent accidental settings changes. The second is that the first activation brings up the dials' respective functions. At this point, you can click on the icon to change what the dial does. Perhaps this is the best implementation, but it does slow you down just a little bit when out shooting.
The third item is a wish, and that is to lengthen the longest exposure time to 60 seconds from the current 30 seconds. I love night exposures and the only way to accomplish them is to bump ISO. But, if the camera lets me shoot a 30 second shot at ISO 3200, I'd imagine that a two minute exposure at ISO 100 would look better. This might be a limitation of the sensor, or not, so I'll leave it on my wish list. This image of the cactus below would have been better with a longer shutter speed, as I was really trying to show movement in the clouds.
Performance
Overall, the T performs very well. The touchscreen is responsive, but some practice is required to make sure you perform the gestures correctly. Also, my test camera had Beta firmware on it (v0.0), so the actual shipping firmware might improve the speed even more. But, even where it is, I feel the interface is more than adequate. Shot to shot times are good. Playback is quick and zoom is instantaneous. If you have a fast memory card like my Transcend 600x, which is rated at 90MB/s, there are no buffer issues or image freezing. Using a slower card, yes, you'll see some decrease in write and buffer performance.
Focus is especially quick with the 23mm lens mounted. The 18-56mm is fine under well-lit scenarios, but can struggle a bit to lock on in lower light and lower contrast situations. This is quite common in the contrast detect AF systems employed by EVIL cameras. Ultimately, I achieved accurate focus in just about all my test images and didn't find the AF issues to be a deal breaker.
Everything is being driven by a new image processor. I asked Maike specifically about this and the potential of using Snapdragon or Tegra ARM processors. She explained that while those chips are excellent at driving phones and tablets and running games and apps, they are not optimized for imaging performance. The processor in the T is custom-built for digital camera image processing. Imaging performance will always be Leica's top priority, even if other areas have to be sacrificed. Notably, one of these missing features is focus peaking. While this technically is possible, Maike didn't feel that it could be done well, and therefore was omitted.
Image quality
Okay, so the camera is pretty and has an awesome touchscreen interface. But what about the end result? I'm pleased to say that the image quality is what you would hope and expect from a Leica. The look and feel of the images is very close to that of the X Vario, which I think is a high standard. In spite of the 16.2MP CMOS sensor at its core, the resulting pictures have a very "CCD look" to them. Color response is excellent and very "M9-like."
Dynamic range is good with lots of recoverability in both shadows and highlights. Roll-off in bright highlights is smooth and graceful. Per-pixel sharpness and microcontrast is excellent, which makes sense, given that just like the M and S cameras, no AA filter is used on the sensor. And, unlike other files from CMOS sensors, I found that I didn't need to add much in the way of clarity (+7) or vibrance (+10) to achieve the look I was after.
But, due to the wider dynamic range, I did find myself routinely bringing my black levels down and white levels up while simultaneously opening up shadows and recovering highlights. This technique works quite well and can be seen in most of my sample images throughout the review. I've covered this topic before, but it bears repeating: I don't personally believe in judging images "out of camera with no corrections or sharpening." To me, this isn't the end result and tells me nothing about the possible quality from a given camera. I want to see how malleable the files are, how easy and consistent they are to work with and ultimately, how they look when I finalize my artistic vision for them. I will say that in 90% of my shots, I used AWB and didn't have to adjust color at all. The AWB algorithm is extremely good.
Conclusion
Leica clearly took some big risks with the bold minimalistic design and full touchscreen interface on the T. I think it's fair to say that Leica has fully committed to their reductionist philosophy after spending more than two and a half years refining the concept. They broke with not only what other camera companies were doing with EVIL designs, but also with their own Leica traditionalism and iconic design language.
In the end, Maike Harberts and her team, along with the help of AUDI Design, have created a work of true industrial art that is highly functional and a pleasure to use. The Leica T feels amazing in your hands and looks stunning even just sitting on your desk. The touchscreen interface is well-thought out and responsive. Menus and dials are fully customizable in an easy, intuitive way. Clutter is absent and style abounds. The LCD screen and EVF are top notch. Even the strap is a refreshing update with the ingenious Easy-Click system. Besides looking amazing, the T produces true Leica-quality images, with great color, tone and sharpness. The lenses combine compactness and exceptional optical performance with the convenience of auto focus.
For me, even after the initial impression of the camera has worn off, I'm captivated every time I pick it up. And for someone who enjoys smart design and remarkable image quality, isn't that the point?
The Leica T (Typ 710) Silver will be available in Silver starting May 26 for $1,850. The Leica T (Typ 701) Black should start shipping by July.
The Leica T System is available for pre-order at Leica Store Miami. You can order online at www.leicastoremiami.com or call 305-921-4433. David or any of our knowledgeable Leica experts is happy to talk with you about the camera and answer any questions you may have. If you are in the greater Miami, feel free to drop by and play with the T in person.