In July, I had a unique opportunity to test out the new Leica S (Typ 007). During brainstorming about where to go to try out the new camera, the universe kept pushing me to go to Iceland. So, with some degree of spontaneity, I decided to take the plunge.
This is primarily a field test report. You are can read my full in-depth review of the Leica S (Typ 007) here. 
Planning
With only a little more than a week to go, I starting putting together a strategy. Hotels wouldn't work due to the shooting hours and unpredictable schedule. I didn't want to bother with a tent as setup and breakdown would be a pain and take extra time. I needed a 4×4 to traverse the F roads that would take me into the more remote locations, so the camper vans that are so popular in Iceland wouldn't work. My best option seemed to be to find a 4×4 SUV that I could sleep in comfortably. After a bit of research, I found that the Land Rover LR4 had second and third row seating that folded completely flat and created a 6 foot long area behind the front seats. At 5'10", it should fit me. Instead of counting on finding restaurants along the way, which I already had heard was challenging, I opted to bring all my food with me. I stocked up on dehydrated camping meals, nuts, dried fruit, protein bars, instant oats and some homemade granola. I got an ultralight camping stove, some backpacking cookware and titanium sporks. While I wouldn't be backpacking for days on end, I still needed to stay under weight limits on my bags and I had to pack two weeks of food, along with my bed pad, sleeping bag, clothes, tripods, and everything I'd need for some serious shooting. And, traveling solo, I wouldn't be able to split the load for shared items.
I looked over a couple of eBooks on shooting in Iceland and ordered the International Photographer's map of Iceland to try to figure out how to tackle this country.
My plan was to make the loop around Iceland's Ring Road, also known as Route 1. I set my sights on taking the clockwise route, which would take me through the Snæfellsnes Peninsula, then up through the Westfjords, over the northern coast, into Mývatn, down past the magnificent waterfalls of the Northeast, traversing the East Fjords, hitting the southern sights, venturing up into Landmannalaugar in the Highlands, then making my way back to Reykjavik to depart home. I figured nine days would be enough.
As it turns out, plans change. Iceland is so incredibly photo-rich that there was no way, at my pace, that I would ever complete the loop in that timeframe. After I was two days in and still only in the Snæfellsnes Peninsula, I bailed on the original plan. I changed direction and headed southeast, doing my best to capture some of the southern sites. I never made it past Höfn in the east, leaving almost one complete half of the island unexplored and unphotographed. I'm not too bent out of shape about this. A photo trip like this isn't a race to the finish line, with quick iPhone selfies along the way. My goal was to get great images while testing out the capability and ruggedness of the S007. If I had gone a different way, if I had spent less time in each location, or if I had simply skipped some locations, then I wouldn't have gotten the pictures at the times I did. I'm at peace with my decisions and the outcome of the adventure.
To give you an idea of just how photogenic Iceland is, and how little it takes to get me to stop for pictures, I didn't even make it 1 km from the rental car pickup at the airport before pulling over to grab a couple pictures in the small town of Keflavik. From that moment on, I should have known my grand plan of making the loop was bound to fail.
Being so close the Arctic Circle, the days in Iceland are extremely long in July. Sunset is around 11:30pm with the sunrise close at its heals at 3:00am. The period in between isn't exactly night, either. It's more like the hour before a perfect sunrise, where the glow of the sun just below the horizon starts gently illuminating the night sky with a deep blue hue.
Everything you might have heard about the harsh Iceland weather is true and then some, even in the "mild" summer. While average temperatures were right around 45°F, when the wind picks up and pummels you with that wet cold air at 40 MPH, it chills you to the bone. Dressing appropriately for Iceland is critical. Eventually, everything gets completely wet. And yet, with all the water, all the time, the only item that I didn't worry about was the S. I took special pride in seeing Nikon and Canon users tucking away their pro DSLRs into zip top bags, struggling to keep their cameras dry and protected from the elements, all while I continued to tough it out with the S in torrential downpours. When walking around in the rain, I had a few concerned hikers and campers alert me to the fact that I had a camera at my side, hanging off my shoulder, soaked. I assured them that the camera could withstand far more wetness than I could and not to worry.
Water and filters or front elements are another story. While I had no qualms about the camera getting sprayed or soaked, keeping my front-facing glass droplet-free was another matter entirely. I kept four lens cloths at the ready in various pockets to wipe away water before taking a shot. In some cases, I had to give up as all my lens cloths were saturated and just served to smear water and haze all over the filters or front of the lens. One errant droplet on a wide angle lens stopped down ruins an otherwise nice image. Worse, smeared haziness looks like you're shooting through pea soup. This was my biggest challenge and one that had no easy workarounds.
For lenses, I figured I might as well bring as many as I could fit. I probably could have gotten by with the 30-90 zoom, a 24 and 180, but my obsessive nature wouldn't let me take the chance on any possible equipment failure. I'd rather have several prime lenses in the same range just in case one went belly up or, you know, fell into a glacial stream. So, I ended up with six lenses. I also got good exercise carrying them around in my backpack.
The plan was set in motion. I got my flights booked and my Land Rover reserved. I had a week to get all of my supplies, pack and try to figure out a rough shooting schedule.
Day 1 – Orienting to Iceland, stocking up, Eldborg and first shooting in Snæfellsnes  – Saturday
Flying into Keflavik airport is a bit like landing on another planet. Flat, desolate and covered in black volcanic rocks, the landscape isn't exactly inviting. The airport terminal at 8am when we landed was just as deserted as the view out of the airplane windows. Along with the rest of the weary passengers arriving from JFK, I made my way through passport control and into a different world.
I had a small list of items I needed to get my trip going. First, I got a prepaid SIM card for my unlocked phone at the Duty Free shop. Not the electronics and phone store upstairs in the food court. That would be silly, right? I found a similar situation when I attempted later to find butane camping fuel at a camping supply/outdoor store. For all those going to Iceland, I'll save you some time. You can only purchase butane canisters at gas stations.
A nice attendant from Geysir, my car rental company, greeted me after baggage claim. She led me out into the blustery and cool parking lot where the shuttle bus awaited us. As the only passenger I loaded my bags and jumped in the front seat. The diesel started up and American pop music filled the chilly interior of the van. As we backed up, I asked how long to get to the rental car office. "Just across the parking lot, " she pointed. Less than a minute later, we pulled up to the office and I got sorted out inside. Warnings about road conditions, flying gravel, volcanic ash, dust storm damage and rules about driving off-road were everywhere. I got a GPS unit and a comprehensive insurance policy that covered just about anything that could happen, short of driving off a cliff.  But, I supposed, at that point, I'd have bigger problems than car insurance.
After changing out of my street clothes and into my outdoor gear, I was certainly more comfortable and got to prepping my home for the next week and a half, a Land Rover Discovery LR4, the venerable Disco. With the rear seats folded down behind the driver's side, I made a bed from a self-inflating Therm-A-Rest mattress pad and a 20°F (-7°C) The North Face Cat's Meow mummy bag. My two rolling duffels, one with clothes and gear, the other with food and supplies for almost two weeks, got stacked on the other side. I did a full camera gear check, and converted my Kata Bumblebee camera backpack from international flight mode to ready-to-shoot mode, removing chargers, laptop, extra cables and whatnot, while arranging lenses and filters for easier access. The bag got its own seat, in the second row on the passenger side.
Next up was a supply run for the things I couldn't travel with. I got the GPS set up in English with a proper British voice and headed to the grocery store.
We are very spoiled by grocery stores in the US, where we can get anything we want almost any time of year, inexpensively. Our cereal aisle alone has hundreds of choices. Iceland is different. Very few things grow there. Everything must be flown in from somewhere else. So, when looking for fresh fruits and vegetables to supplement my dried food stores, options were a little limited. I also didn't plan on using a cold box of any kind, so everything had to be somewhat shelf-stable. I got apples, pears, melons, potatoes, some onions and a lot of 2L bottles of water.
Now, I just needed to find butane fuel for my camping stove and fluid for my Zippo lighter (although I would later learn a trick that I didn't actually need any lighter fluid, just the spark). Foolishly, I drove to the aforementioned camping supply store and walked around looking like a lost hiker. Mostly, they sold regular and sporty clothing, not much outdoor wear, which I was donning from head to toe.
A little Googling in the car and I found that the nearest N1 gas station would have me covered. I bought two 500g butane canisters, a bottle of Zippo fluid, an extra BBQ lighter and hit the road to the first campground, located north of Reykjavik. A lot of travelers will spend their first day and night in Reykjavik, but I wanted to maximize shooting every minute I was there and the road was calling.
The first thing you notice driving in Iceland is that everyone is going very slow. Not because of cultural differences, but because the speed limit on the main highway is 90 KPH, or about 50 MPH. In South Florida, this is the speed we drive on city roads, with most people driving 70-80 MPH on the highway. So, yeah, it felt really slow, especially as the large distances started to sink in.
By the time I reached the campground in Eldborg, it was mid afternoon and I was exhausted. I hadn't really slept or had a proper meal since New York, stealing just a couple hours of cramped shut eye on the short red-eye flight over. It was time to test out my sleep in the car concept, right after I got some food going.  Like much of Iceland, the campground was very cold and very windy, and only felt more so being tired and hungry.
After firing up the stove, pouring some boiling water into the zip-top silver bag and waiting the instructed 12 minutes, I was rewarded with a hot, satisfying meal. I felt like primitive man, having just discovered fire. With fire and water, I could go anywhere and stay well-fed at a moment's notice. After satisfying my food requirement, I successfully passed the sleep test as well, clocking a couple hours of slumber. When I awoke, it was still light, and time to get out and start shooting.
I got back on the main road and headed west, deeper into the Snæfellsnes Peninsula, stopping along the road whenever a scene presented itself. I didn't see many cars, maybe one every five minutes. This was fine by me. Around 8 pm, the light started getting nice and golden, and stayed that way until the sun finally set around 11:30 pm.
My plan was to take advantage of the late evening and early morning light by staying awake during these times and sleeping in the daytime. After the sun set, clouds were still clearly visible in the sky and there was an eerie blue glow across the landscape, sucking away much of the natural colors we see in full daylight. It was interesting, for sure, but perhaps not as magical as I had thought it might be.
I made it to 2am that first day, shooting along the way, then succumbed to exhaustion and near freezing temperatures in a tiny pull off next to a lava field just shy of Arnarstapi. That spot, at the foot of Snjafell, towards the southwest tip of the Snæfellsnes, proved to be one of the most bone-chillingly cold nights during my adventure. The wind was just tearing across the mostly flat lava fields and cut right through me.
I didn't have any trouble climbing in my sleeping bag, fully clothed and drifting off amidst the roar of the wind outside and the car buffeting with each strong gust. Morning wasn't too much better, especially with the blustery weather wreaking havoc on my attempts to get a flame going. But after a few tries and maneuvering my cooking setup to the leeward side of my vehicle, I was rewarded with a large bowl of steaming hot oatmeal with fruit and walnuts. I was feeling like I was ready to take on Iceland again. Lesson learned: Everything seems better after a hot meal. I'd come to count on this time and time again over the coming days.
Day 2 – Hellissandur, Kirkjufell, Run in with locals and the law – Sunday
I started west and came upon a little off road track which took me all the way to an abandoned house, close to the southern cliffs. Naturally, it started to rain, as I wandered around, exploring and shooting.
By the time I arrived at Snaefellsjokull National Park, the rain was in full force and the sunlit skies of the previous day were gone, replaced by a uniform gray storminess. I decided against a hike down to the Hellnar Arch as the conditions were just not worth the trek.
In fact, after just a few brief and unproductive photo stops, I gave up and headed up to the town of Hellissandur to take a rest at a campground. I'd grab some grub and a shower, download pictures and hope for the sun to break through. All seemed to go according to plan, as the sun started to peak through, just as I was getting back on the road. I had barely passed the city limit when I spotted a little church nestled among a huge field of purple lupines.
I took some shots and met my first Icelandic horses. They are really quite friendly and happy to have their picture taken.
And of course, I had to stop in the quaint little fishing village to take advantage of the sun breaking through the clouds. I love the textures, patterns and colors that come with maritime culture. Before arriving at the harbor, I encountered a seaside field with a large flock of birds circling. Hopping out of the car, my hopes of any pictures were quickly dashed as some feathered dive bombers started making runs at me. Clearly, this flock was not having any of my photographic antics. Luckily, I heeded their warning shots and retreated to my SUV.
But, my ultimate goal was to end up at Kirkjufell, and shoot until the sun set at what I had heard was one of the best photo spots in western Iceland. The only problem was that I got a little lost. This was due in large part to my stubborn GPS, which I think had it out for me. First, it led me up someone's private driveway (more like a grassy track). As I was stopped on this off-road track, debating whether to proceed on through a huge ditch in front of me or back up, a nice-looking lady parked her car on the road about 50m ahead of me, on the other side of the ditch, and got out. I figured she was going to ask if I was lost and offer assistance. As I rolled down my window to ask for directions, she marched closer, and I quickly realized I had figured wrong. She started waving and gesturing at me, yelling for me to "Get out!" and "Just go! Leave! NOW!" Not exactly the response I was looking for. She stood there, scowling at me, looking as if she was going to push my car off her driveway herself if I didn't get it in gear fast enough. I put my reverse off-road skills to the test and got out of there as quickly as I could, while thinking about that insurance I might have to use if I didn't stay on the double track.
Back on the paved road, I gave the GPS another shot. Bad decision. Ten minutes later, I was staring at some scary looking signs flanking a gate. I may not have understood everything, but the bold letters spelling P-R-I-S-O-N were pretty clear. While I got out my map and tried to figure out how I ended up so far off course, a prison guard/officer pulled up in a patrol car behind me and approached my driver's window. Fortunately, he was much more understanding and told me to go back to Rt 1. The irony of the whole situation is that if I had gone just another hundred meters up the road before making that first wrong turn, I would have seen the parking lot for the falls. What's life without a little adventure, right?
When I did finally arrive, I had plenty of time to fully explore both tiers of the waterfall, and from both sides (there is a small bridge at the top of the falls). Even though I spent a few hours there, it was totally worth it.
Around 1 am, I made the decision to make a beeline for the southern sights and abandon my initial plan. I'd be giving up the Westfjords and wasting time backtracking, but I couldn't risk missing out on the target-rich shooting grounds of the south. I drove as far as I could get before pulling over and taking a power nap behind the wheel. Yes, the car was off. After an hour or two, I drove the remaining hour to a small campground in Arkanes, just north of Reykjavik.
Day 3 – Gullfoss and Seljalandsfoss, The best campground – Monday
Gullfoss is one of the most recognizable waterfalls in Iceland. It's huge and triangular and most impressive. All the tourists on tour busses would agree too. So. Many. People. After a couple days with virtually no humans, the mob scene at Gullfoss was slightly overwhelming. Still, the falls were amazing and I spent a couple hours exploring the expansive site to try out all the angles.
As typical, the nice weather when I arrived quickly turned foul. I was excited to observe a full arch rainbow cross over the falls amidst the downpour, but quite disheartened seeing the hazy mess caused by water all over my front element which rendered the entire series completely unusable. It was just dumb luck that the wind was blowing right at me, horizontally, of course. No amount of lens cleaning would work in that constant onslaught of droplets. You wipe one and fifteen reappear moments later.
The weather let up slightly and I whipped up a quick meal in the parking lot. Time to get back on the road. I was heading to another legendary location, Seljalandsfoss. My objective was to arrive in time for sunset and get behind the falls for the classic shot. The kilometers dragged on as I saw incredible light all around me. I arrived just in time to catch almost complete cloud cover all the way down to the horizon. There was no sunset anymore. Ever the optimist, I grabbed my gear and darted up the path to get behind the falls, cleverly leaving my rain pants in the truck. This was, by far, the wettest environment I faced in Iceland. Fine mist blew from all directions, creating an almost impossible shooting situation. I quixotically attempted to deal with the water using my assortment of microfiber lens cloths, which didn't work. Rather than help the situation, I just succeeded in smearing hazy grossness on my filters and lens.
After realizing I had four thoroughly soaked lens cloths that were doing no good, I threw in the cloth as it were. They weren't the only thing that was soaked. My pants got the worst I think, as they were completely wet through and starting to stick to my legs. My gloves felt like I was using them to SCUBA dive and were visibly dripping. Beads of water ran down my forearms as I worked the camera. Even my waterproof boots were starting to feel damp inside, although it might just have been water running down my ankles. I felt defeated. The waterfall beat me. At the time, I didn't think I even got a decent shot. And, why the heck didn't I wear my rain pants?!
The upside was that I didn't have to venture too far to find a place to dry out and get some sleep. There was a campground right next to falls, which turned out to be one of my favorite of the trip. Up until that point, all of the campgrounds consisted of a parking area and a couple of converted metal shipping containers, which held pre-fab bathrooms. Unheated bathrooms. With puddles of water on the floor. This place had a nice little kitchen area with burners, running water, a few tables. And, it was heated and had power outlets. I sat inside, downloaded photos and dried out in the glorious warmth.
Day 4 – Skogafoss, Navy plane, Kirkjufjara – Tuesday
The next morning I started my habit of chatting with fellow campers at breakfast. I talked with a German family from Berlin who had just started their trip and a Polish couple who were at the tail end of a two week journey. We all enjoyed our meal in the comfort of the heated kitchen.
I heard that there was a cool little waterfall hidden in a canyon behind the campground. So, before trying to tackle my nemesis for Round 2, I decided to give it a go. And, I remembered my rain pants. Making my way through the miniature canyon, I carefully walked in a shallow creek flowing from the falls until the walls opened up to a small clearing where sunlight beamed down and illuminated the white flowing water. Worth the two minute hike from the campground. I quickly set up and shot the cascade, even jumping on top of the boulder to take a self portrait using the 12 second self timer.
Approaching Seljalandsfoss in my SUV, I decided to just keep going. Maybe it was the shame of the previous night, or maybe it was the hordes of tourists piling off of busses standing in any potential shot I could imagine, but I reasoned that it just wasn't worth the time, effort or wetness. So, I proceeded on to Skogafoss, another whistle stop on the tourist route, but a pretty waterfall that could be easily accessed, nonetheless. En route, I pulled off the road and made friends with some more Icelandic horses, who wanted nothing more than me to pet them. Or, maybe they figured I had food. Either way, they were friendly and more than willing to pose for me.
Skogafoss was another beautiful location overrun with an army of meandering tourists, completely oblivious to anyone attempting to take pictures. I was actually starting to get irritated, as I stood in the river up to my ankles, balancing on some larger river stones, waiting for a brief window of opportunity to get a human-free shot of the falls. Just as the area around the base started to clear out, like clockwork, a new group would slowly saunter up, stopping every few steps to take selfies. I started thinking that maybe the more remote spots that required hours of hiking up steep terrain might be a better bet. I did eventually get my shot, loaded back up and made my escape.
Just up the road, luscious purple lupines were in full bloom, blanketing the landscape for miles on end. Yes, I stopped. I even got out of the car and tromped through the fields.
Next up was a downed DC-3 US Navy plane that crashed in the 1970's. I know that a lot of people have photographed it, but I didn't care. I still wanted to take my crack at the plane. Like some of the best spots in Iceland, there is not much signage, just GPS coordinates, so I plugged the numbers in and found a tiny gate on the side of the main road, which led to a marked off-road 4km gravel track towards the ocean. A few other photographers were already working the scene, but it wasn't a big deal to work around them. I tried some different angles, mostly with the 45, then tossed the 24 on for some interiors.
The S007 really got to show off its dynamic range here. Totally shadowed interior with brightly lit views out the windows. In post, the almost black interior came to life with a little (okay, a lot) of shadow recovery, while preserving the scene out the window openings. Before heading back to the main road, I took the Land Rover down to the black sand beach and got a unique view of the plane, alone in the vast landscape.
From there is was off to the famed Kirkjufjara beach. The weather decided to turn nasty. Big surprise. But, it made for some active waves. I trudged down to the beach, passing signs warning of my imminent demise from falling rocks, strong currents and drowning. Awesome.
The beach was amazing. There was no sand, just smooth black rocks that looked very much like river stones.
I attempted to photograph the waves crashing on the beach. The 120 was serviceable for this task although I found that pre-focusing was the best approach. I selected a point where the waves would start to break and waited for the right moment. As I watched a particularly strong series of waves hit the beach, one continued advancing past the wet-dry divide. And, I kept watching as it got closer and closer and eventually right up to my feet, then continued to rise up to my shins. There was a sheer cliff wall behind me and no escape. I feebly attempted to hop up to avoid the inevitable, before landing right back in the swell and feeling the icy cold rush of water instantly filling my boots. Ugh. I took nature's subtle hint and moved farther down the cliff where the beach widened considerably.
I got back to shooting, but then had a troubling thought as I noticed that the way I came in along the narrow stretch of beach where I got swamped was the only way back out. What if the tide was coming in, not going out? I grabbed for my phone to check the tidal situation, only to come up empty handed. I had left it charging in the Rover. This wasn't looking good. No picture is worth the potential of getting marooned with no communication, no food or water, and sopping wet feet while getting pelted with raindrops propelled by gale-force gusts. I went back to the car for safety and dry shoes.
The silver lining was that right next to the parking lot was a little puffin nesting area. I mounted the 180 and inched my way as close as I could get without scaring the little birds off, snapping a few decent shots in the process.
I spent the night in a campground right in the middle of Vik, which was an interesting experience. The lights didn't work in the indoor common area and I really doubt there was any heat ever. So, I sat there eating my dinner, bundled up, watching my breath illuminated by candlelight, editing images on the MBP, while raindrops provided a soundtrack on the uninsulated wood roof above.
Day 5 – Vik, F208, Arriving at Basecamp – Wednesday
The following morning was a fun one. I topped up the tank and ventured onto the famed F208, the southern F road approach to Landmannalaugar. The roughly 30 mile trip should take about two hours to traverse. Of course, that's a non-photographer estimate. It took me the better part of six hours, as I stopped to take in and capture the amazing sights. Besides the great shooting along the way, the F208 was some of the most fun I've had on four wheels, anywhere.
The Land Rover crushed those trails. I was hitting mud ruts at 70 KPH with a big 'ol smile on my face. And when I had to ford the roughly dozen river crossings, I'd just hit the button on the dash that activated the air suspension to get a few more inches of clearance. With automatic traction control, a dynamically locking differential and the torque of the turbo diesel, it didn't feel much different than driving on dry land.
Coming in to Basecamp, it seems like they saved the deepest crossing for last. I imagine it's like a rite of passage. Literally. You can't drive into camp without traversing a small river. Kids gather on the sides filming videos with their phones. Turns out that it's actually a bit of local entertainment.
Situated in an open valley with colorful mountains on all sides, Basecamp itself is like a little bustling city, with a bit of a frontier outpost feel to it. Driving in, you immediately notice some of the most serious off-road vehicles you've ever seen flanking both sides of the "road". After finding a decently level spot (sliding to one side at night isn't fun) to park the Disco, I grabbed the S with 45 and set about getting the lay of the land.  On the other side of the road, past a chain barrier to keep the trucks out, a sprawling sea of tents of every possible shape and size took up most of camp, everything from a single claustrophobic bivy sack to an expedition tent with full table settings and heaters befit for Napoleon staging his next offensive, and everything in between.
Standing at the end of the parking area, were two olive grab painted school busses, converted to a trading post meets convenience store, called the Mountain Mall. What a great place. I popped in and got some fresh bananas, some tea bags and a new container of oats to replenish my stores. I also upgraded my headgear with a thick ribbed wool cap from 66 Degrees North, the famed Icelandic extreme clothing company.
Once past the tents there were several wooden structures, the search and rescue station, ranger house, information desk, bathrooms and The Hut, along with a semi-enclosed shelter with tables for cooking and eating. I arrived around dinner time and the place was hopping, with every possible table and sitting surface occupied, camp stoves cooking away, fire pits ablaze. I made some mac n' cheese while chatting up a nice fellow from Hamburg.
On the other edge of camp, past the parking area, was a levy, which I climbed to watch the sunset lighting up the mountains. After a short walk on top of the levy, past the edge of camp, I came to a makeshift horse corral of some stakes and wire. While making some hairy friends, two girls were taking iPhone snaps of each other. Of course, I offered to take their picture in front of the horses so they could have one together. One of them asked if I'd like one of myself. I said sure, handed off the camera and hoped for the best. She did a nice job.
My photographer's name was Kate and she and her friend had come from Ireland to do a five day backpacking trip. But, they were waylaid. An unexpected snowstorm came through a couple days earlier and dumped 1.5 meters of powder right in the middle of their intended path. In July. Trail markings were no longer visible and the sleeping huts were closed. They planned to wait and see what the park rangers were going to advise. I wished her good luck and set about my nightly ritual of charging and downloading.
Day 6 – Landmannalaugar, Dip in the hot pot – Thursday
So the plan was to get up early, take a short 6 km hike, then be back to camp in time to get out of the Highlands by nighttime. Again, times given for hikes don't account for the meanderings and lollygagging of photographers. The hike itself was nice, winding through lava fields, great clear views of the mountains, around an active geothermal vent and back along a river valley. Unlike every day up until that point, the sun came out in full force, the wind calmed and it got hot. Well, at least it felt hot when hiking with 40 lbs of camera gear and a few extra layers. I got down to just my wool zip top and stowed my jacket and shell.
At around the halfway point, I decided to take a little break, have a snack and enjoy the view without the camera. A few bites into my protein bar, I felt something all too familiar. A droplet. Then another. And another. The wind picked up and the sun went into hiding as the temperature quickly plummeted 20 degrees before I could even put my half-eaten bar back in my bag and don my extra layers. It rained all the way back to Basecamp. My poor backpack was see-through again, but I was sure glad to have taken proper attire with me. No matter how nice it looks in Iceland, nasty weather is just a moment away, especially in the Highlands.
As I rolled back into Basecamp, the usual hustle and bustle was on, just wetter. I walked up to the search and rescue hut to find the guys in good spirits having a little barbeque and enjoying their life raft hot tub, filled with geothermally heated spring water. While capturing scenes of camp life, one of the guys' dog decided to make friends with me. She was wet and matted, and smelled, well, like wet dog. I was sure that I wasn't in much better shape, having hiked and shot for the previous three hours in a rainstorm. She dropped a black, mostly round lava rock at my feet.
We played fetch. I asked the owner, "how far can she see the rock? They all look the same." He shot back a response, laughing "How far can you throw? She's got you now. There's no escape now!" That was one determined dog, but just as my arm felt like it was going to fall off from chucking that rock all over camp, she got curious with the kids in the hot tub. Then, the poor dog got hurled into the water by her loving owner. Everyone thought this was hilarious.
The S&R guys were great. They told me the deal with the license plates nailed to their hut. "Those are from all the cars we've rescued around here." I was thankful to have had the Rover and not need their help, although there was always the return trip. And, apparently, that day was a good one. They didn't have to rescue anyone, even in the bad weather. So, spirits were high. The guys were also nice enough to give me some aluminum foil so I could cook up my potatoes. In the cold and wet, steaming hot fire roasted potatoes was about the best thing I could imagine.
I went to the truck, deposited all my gear except for the camera with a 45, grabbed my cooking stuff and bag of potatoes, stuffed the folded foil into my pocket and went to find some hot coals. Except in the rain, no one was cooking on coals like the night before. I finally found one pit with some heat. A father and son from Denmark were trying to get their dinner of rice and tikka masala going, but weren't having much luck. There just wasn't enough heat and every raindrop just cooled the coals further. Considering I had my foil-wrapped spuds roasting in the coals and wouldn't be needing it, I offered them my stove. Theirs had been confiscated at airport security because of butane residue.
I had saved their dinner, so they invited me to join them. I grabbed my potatoes, smashed them a bit with my spork, added in salt, pepper, garlic and oregano (doesn't everyone carry spices in their camping supplies?), and we made our way to the covered picnic area. It all felt very homey. There I was, sitting with this super nice family, a husband and wife, their two daughters and two sons, one of whom I had already chatted with. They offered me some of their boxed red wine in a cup, which I was told was "mostly clean." I gladly accepted. Dinner was great, and I realized that everything tastes better in Iceland, especially after a week of freeze-dried camping meals. The potatoes were some of the best I had ever had. Even the box wine was delicious.
There was still a chance of getting on the road before nightfall. That was, until the energetic matriarch decreed that with full bellies, it was time to go into the hot pot. She turned her gaze towards me and said, matter-of-factly, "you're coming too." I had my doubts about this. I live in Miami and usually won't go swimming unless the air temperature is in the 80s. "Come on! We go in, all together." She added, pumping her fist in the air proudly, "like real Vikings!!" How could I refuse? I changed into my trunks and flip flops in the car, braced myself against the brisk evening air and walked the decked path through the cold, soggy marsh to the hot springs. The goosebumps subsided once I eased into the sumptuously warm water. I settled in, right near the fresh flow of the hot spring. It felt incredible to be engulfed in warmth.
As I was relaxing, a British fellow next to me asked me what I was doing in Iceland. I told him I was a photographer and was just there to travel around and take pictures. You? "Oh, I'm a photographer, too." Cool. He explained that he was on a workshop that had been backpacking through the mountains. A local professional landscape photographer in Miami, Paul Macellini, had told me about a guy from England who leads these extreme backpacking photo trips where they hike like 10-15 miles a day and carry just the bare essentials. His name is Alex Nail. "Yeah, that's me. I'm Alex." Small world, right? I had just been studying this guy's gear list and packing recommendations for my own Iceland trip maybe a week earlier and there I was, in the middle of nowhere, sharing a hot soak with the same dude. From there, we were fast friends. I met his workshop participants, also bathing in the hot pot and talked photography, Iceland, and more. Around 11pm, and just getting dried off, I realized that I would be spending another night in Basecamp. It was worth it.
Day 7 – Back on F208, Arriving at Jökulsárlón – Friday
The following morning, I was preparing my standard oatmeal in the picnic area. My Irish friend Kate called out, so I joined her. Turns out she was still stuck in Basecamp and had decided to just make the best of it. I was intrigued to hear more about Ireland, and she wanted to know more about the USA. We finished breakfast while comparing cultural notes and giving travel suggestions. After washing my dishes, I headed back to pack up the truck and get on the road. She would be going out for some day hiking. Before parting ways, though, I asked if I could take a quick portrait, to which she agreed. I really liked the environmental feel that the 45 gave.
The F208 was just as fun heading out as it was coming in, but this time, I didn't stop. I needed to get to Jökulsárlón, a location described on my map as "One of the most photogenic spots in the world." This was home to two stunning locations, the glacial lagoon and the ice beach.
I arrived at the ice lagoon in time for sunset. The only problem is there was no sun. No sky, even. Everything was enveloped in a thick fog. I ran into some hikers pitching a tent for the night. They said that by Sunday, the hazy weather should clear and there should be some actual sunsets again. It was Friday. I was leaving early Monday morning. Some simple calendar math told me I wasn't going to be shooting any more sunsets while I was in Iceland.
As it turned out, the overcast weather turned out to be a great opportunity to get some unique images of the lagoon. While it was really quite cold, nearing freezing, I was totally comfortable. There was no rain and better yet, no wind whatsoever. The air was eerily still. The only sounds were the slight gurgling noises of the icebergs floating gently in the lagoon and the faint cracking and creaking of ice. Every so often, a thundering boom and crash would break the silence. This was the glacier calving in the distance, retreating a little more and creating a new iceberg. The other thing that struck me was the smell, which I can't really place, except to call it an iceberg odor. Not unpleasant, just something I'd not experienced before. I wondered if all the little trapped bubbles of thousands of year-old air escaping from the melting glacier contributed to this.
I got to photographing. The 180 was going to have to take the reigns for most of the shooting as the icebergs were far from the shoreline where I started out. I used a tripod, but quickly noticed that long exposures weren't going to be possible. Even though the surface of the lagoon was like a mirror, there must have been underlying currents. The icebergs were constantly in motion. Smaller pieces of ice closer to shore zipped by without nary a ripple.
Walking along the beach, I headed towards the glacier. As I got further along, a greater concentration of ice was scattered about, closer to shore. I swapped out the 180 for some wide glass and tried to work quickly. My subjects were in constant motion. I also gave the 120 a shot, taking some macro detail macro shots.
I was the only human on that beach, with the exception of the one couple who pitched camp at the other end of the lagoon. It was a pleasant change to have the entire place to myself. I took my time, working different compositions. And, if the sun set, I couldn't tell. The only indication of the time was that the light level dropped slightly and became very blue. I continued shooting, making my way back to the car park, where I'd decided to camp for the night. I did my usual download and charge and was amped up for the morning. I was right where I wanted to be.
Day 8 –Jökulsárlón, Stokksness, Höfn – Saturday
No commute that morning. Already having a fairly good idea of the what the lagoon would have in store for me, I wanted to scout out the beach. There were indeed large and small chunks of ice strewn about the beach, just like in the pictures. Alright, it wasn't just a winter thing. First, I wanted to take advantage of the different lighting conditions to get another perspective of the lagoon, so I braved the jammed packed parking lot at the little visitor center.
It's amazing how much of a different character the ice takes on with different illumination. The water wasn't as still, nor was it quiet, as it had been all by my lonesome the previous night. Between a bustling parking lot, the amphibious boat tours, Zodiaks weaving between the icebergs and kids tossing rocks into the water, let's just say it wasn't as peaceful. Beautiful, yes, but not serene by any stretch. I just shot handheld while strolling down the shore. The pinkish sky contrasted nicely with the blue-green water and different colors of the icebergs.
From there, it was back to the ice beach. I donned my neoprene stockingfoot waders, which I hauled all the way just for this one shoot, and tromped to the surf in search of glistening ice. All the lovely little shards and globes from just a couple hours prior were gone, taken by the sea. The beach was empty. Ever the optimist, I figured there must be something further down the beach, so I walked. And walked. And walked a little more. Eventually, my trekking paid off. I found some lovely beached bergs waiting to be photographed.
It was quite liberating, especially after the episode in Vik, to be able to galavant around in the surf, impervious in my waterproof gear. Granted, my feet were a little chilly, standing in the 35°F water. To take shots of the waves crashing over the icebergs, I would set up and wait for the right wave, the big ones, that would look the most impressive. When one would come along, I'd fire off a sequence then brace for impact. Just as the wave totally engulfed the ice chunks, it did the same to me moments later. With my back turned, I did my best not to get knocked over. I had my hard shell on over the waders, so there was really no way I was going to get wet, and other than my face, I didn't. The S007 didn't complain about a little saltwater. So, we kept going. I'm glad I brought the waders even though they took up a good portion of my duffel.
I was fascinated how each iceberg was so unique and different from all the others, especially considering they all originated from the same glacier just a short distance away. The seawater gently melting them away shined up their glassy, frozen surfaces. I changed out for the 120 Macro once more and tried to capture the icy nuances before me.
After my arctic water bathing experience, I explored the fishing town of Höfn, which I reasoned was fairly large, as it had three gas stations, some hotels, restaurants, and two grocery stores. After being in the boondocks for a week, a town with 2,000 residents was practically a metropolis.
From there it was off to Stokksnes to see if I could find a decent sunset location. Again, there was no sunset, but I did enjoy the views there. I just had to accept that that was my last chance at a beautiful Icelandic explosion of the color in the sky (sunset). I parked at a campground heading into town, made my dinner and looked at images. It seemed the trip was coming to a close.
Day 9 – Heading back to Reykjavik – Sunday
When I awoke, I was surprised by two things. First, it was sunny out. As in, I could actually see a giant glowing fireball in the sky. Second, it was getting pretty darned hot in my sleeping bag. Opening the car door, I was greeted with the most perfect morning. No rain. 55°F. No heavy jacket required.
Everyone at camp was having a leisurely breakfast, enjoying the gorgeous weather. One hiker told me this was the first morning she had seen the sun unobscured in weeks. I guess that couple at the ice lagoon was right. The light was going to be magical…just in time for me to leave. It's a photographer's curse, I swear.
Knowing that I couldn't carry any of the fresh food I had picked up when I arrived in Iceland back to the US, I set about either sharing it or giving it away. I cut up a cantaloupe and shared it with some of my tablemates. At the next table, I donated a bag of fresh walnuts I had brought from the farmer's market at home, lending some cinnamon to their porridge and found takers for some onions, cherry tomatoes and pears that I hadn't eaten.You'd think I was giving away gold bars. Everyone was so appreciative, tentative even, about taking fresh food. "Are you sure you don't need it?" I felt like they could use this stuff more than me for the following 24 hours I'd be in Iceland. And it was good travel Karma.
In exchange, I did ask if I could shoot some portraits, but there certainly wasn't any strict quid pro quo going on. David (one of the only names I actually remembered, sadly) was underway on a much more difficult challenge than I had embarked on. The Seattle resident was running the entire ring road, pushing all of his supplies in a Bob jogging stroller he got off of Craigslist. By that Sunday morning, he was ten days into his journey that had started in Reykjavik. I actually saw him jogging on the road the night before, in the rain. At the time, I wondered what kind of father runs with a baby in that kind of weather, but figured everything is relative in Iceland. I shared how I saw him and he cracked up. "Yeah," he said through laughing, "everyone thinks I'm pushing a baby. Some people have even stopped to ask if I need any help."
At my table I had a nice chat with two travelers, a young man from France and Celine, a student from Geneva. He had been in Iceland for a few months, tending sheep on a farm in exchange for food and a room. This allowed him to travel around and take some excursions. He was especially proud of his traditionally-patterned Icelandic sweater, which was hand knit by the family he worked for. Back home in France, his own family had kept sheep so this was old hat.
The young student from Switzerland had been backpacking for a month, spending all of her time in the northeast and East Fjords. She was flying back home one day after me and was starting to worry about how she'd get back to Reykjavik in time. I offered her a ride all the way, but warned her that I stopped to take pictures. A lot. Excitedly, Celine broke down her tent and packed her ruck. I realized, too, that I needed to break down my setup too to make room for her stuff in the back of the Land Rover.
Soon, we were striking back west. And, the skies were just perfect. I asked Celine if she had seen the ice beach during her travels. She hadn't even heard of such a place. This was just not acceptable, so I stopped at the lagoon and ice beach so she could experience them before heading back home. We pulled off to the side of the road whenever either one of us saw a photo op. It was good to have a copilot for the all-day ride back.
As the hours passed, we ended up driving into what was turning into the most amazing golden light. As we got closer to Reykjavik, we were both hit by the shock of urban civilization. There were so many cars, people and buildings. After so long away from all the hustle and bustle, an uneasiness set in. I'm no stranger to cities or traffic. There are about five million people living in South Florida and I feel right at home in New York, Boston or Chicago. But the peace, serenity and small community of global travelers dynamic was just so comforting, even amidst the harsh environment of Iceland, or perhaps even more so because of it.
I dropped Celine at her hostel and walked to the center of Reykjavik to grab a falafel. Real food tasted awesome. From there, it was back to Keflavik to return the car and check into a hotel for the night. No sleeping in the car. Of course, I got sidetracked by the stunning sunset that was starting to play out and zigzagged through the narrow city streets to get to the harbor with my camera for a few last images.
Day 10 – Flying home  – Monday
As I emptied the Land Rover in the rental car parking lot, stuffing my life for the previous week and a half into two duffel bags, the most gorgeous all-night sunset blazed across the horizon. From my time there, I hadn't seen that kind of color during the night. As I stood, gazing at the incredible sight of the orange and blue streaks slicing across the night sky at 1 in the morning, a bit of sadness set in. I'd be leaving Iceland in a matter of hours.
I was looking forward to the hotel room I had booked, adjacent to the airport though. The thought of a real bed and a real shower in a heated room alleviated some of my sorrow. As it worked out, I'd only have a few hours to recoup and rest before checking in to head home, but I made the most of it. I think I stood in the warm water for at least 30 minutes. No coins to feed or waiting for half the campground to use one shower stall. Feeling clean and warm, laying down on the soft pillow and comforter on the lush bed was heaven. Too bad the wake up call from the front desk came so soon.
As I gathered my bags, the sunrise that had eluded me during my stay was staring at me from my fourth story window. Next time. I was heading home.
Looking back
The grueling conditions in Iceland put everything to the test and showed me very quickly what I could count on and what I couldn't. The Leica S (Typ 007) withstood my constant punishment of water, water and more water. It held up to rain, waterfall mist and saltwater spray from crashing waves. I didn't baby it whatsoever. No bags or covers. I carried it around no matter the situation. It never complained. It refused to function at anything less than 100%. And, I had no issues using the camera in such wet, cold conditions. All the controls on the camera can be operated with gloves, even soaking wet, freezing ones. Or, with numb bare fingers when I realized that gloves saturated with frigid water probably did more harm than good and removed them.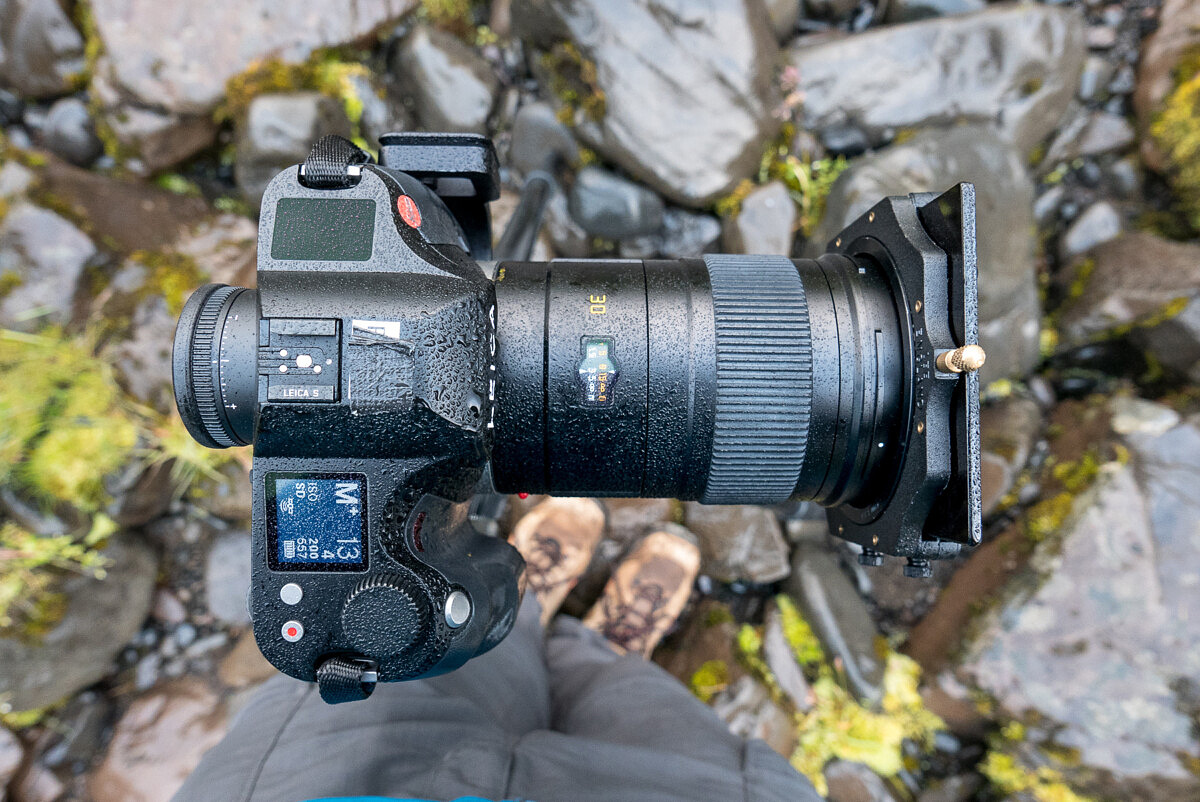 My Gitzo tripods withstood my usual abuse, only sacrificing a rubber foot to the Icelandic wilderness. Luckily, I brought two, a 2-Series Mountaineer and a 3-Series Systematic, just in case of failure. The rubber feet are interchangeable between the two, so I was able to swap these out depending on the shooting situation. For heads, I used my standard Gitzo GH3780 center ball and an Arca Swiss D4, each about 50% of the time. The D4 was a little added experiment and was loaned to me by a friend to try out. Both worked well.
The previously waterproof Ecco hiking boots that I've counted on for years became a lot less waterproof after getting filled with freezing seawater. I meant to buy and take silica packs with me. You know, the ones that come in everything and tell you not to eat them. In spite of looking everywhere, I was never able to locate any in Iceland. These would have made quick work of drying out the inside of my boots. Instead, I tried blasting the foot well heater in the car and placed the boots under the vent. Luckily, I had the foresight to pack backup trail shoes. Not waterproof, by any stretch, but dry.
My North Face hiking pants gave up on trying to block water from soaking through. Next time, I'll invest in a pair of solid Gore-Tex hiking pants. Merino wool baselayers and socks kept me as comfortable as could be expected given the damp conditions. Having only discovered wool just a few years ago (give me a break, I grew up in Miami), I swear by it. Smartwool, Icebreaker and Ibex line my gear drawer and join me on any outdoor adventure. My Arc'Teryx Atom insulating layers and Beta shell were standouts, keeping my core warm and dry. Arc'Teryx is like the Leica of the outdoor gear world, with impeccable finish, nothing extraneous and offering the highest performance. I can see why they have such a loyal following. My Beta AR shell felt like a suit of armor, protecting me from the elements without ever wavering.
Sometimes it's the little things that count, especially things you are counting on for survival. The Optimus Crux stove was awesome. At less than 3 oz (70g), it cranked out more than 10,000 BTU, boiling a cup of water in about one minute, and getting me that much closer to a hot meal. This tiny little guy became my savior.
Then, of course, was the Land Rover. The LR4 was more than just my transportation. It was my home, my kitchen, my fortress. Being able to drive anywhere without worry allowed me to get shots that I wouldn't have been able to otherwise. I drove on black sand beaches, through muddy mountain tracks, across rivers, and more. The Disco took every last bit of punishment doled out and kept on going strong. Each night, I would use the diesel engine as a generator, charging up my S batteries for the next day of shooting while I downloaded and did a quick edit on the MacBook Pro. This would have been challenging without access to power whenever I needed it.
Because I was driving and shooting, I stopped constantly. After checking behind me and seeing that the nearest car was barely a speck on the distant horizon, I'd jam the brakes, hit the hazards, roll the window down and squeeze off a few frames before putting the Disco back into gear and moving on. I kept an alternate focal length in the center console for quick lens changes. If there were more cars around, I'd pull off on the side of the road, which was often approaching a 45 degree grade in some spots. Only once did I think the truck might actually tip over. That one wasn't much fun. For particularly good shots, I got out of the car.
All in all, Iceland was incredible. The weather and light didn't always cooperate, but still made for a fantastic shooting environment. SUV camping worked out well and I didn't starve. And, while this was primarily a shoot-till-you-drop photo trip, I enjoyed meeting people along the way, encountering and chatting with far more than I highlighted here. The camaraderie was great and many times made Icelandic campgrounds feel like a United Nations retreat. We were all there for similar reasons, be they personal challenges, taking pictures, or just experiencing such a unique place. I can't wait to go back, see some of my favorite locations in different light and make it all the way around the ring road. Now, it's just a matter of deciding whether to lead a workshop or take the family on a camping trip.
Be sure to check out my full in-depth review of the Leica S (Typ 007). More sample images and technical details of the camera await.
If you are interested in purchasing a Leica S (Typ 007), please consider supporting this site by doing so at Leica Store Miami. Thanks!