Leica has been setting benchmarks in photography for over 100 years. From the Ur-Leica, the first successful 35mm film camera, to the M8, the first mainstream digital rangefinder, to the Leica S2, the first medium format digital camera built from the ground-up as an ergonomic SLR, Leica has always been ahead of its time. And now, Leica is the first to produce a dedicated underwater camera with an APS-C sensor, the Leica X-U (Typ 113).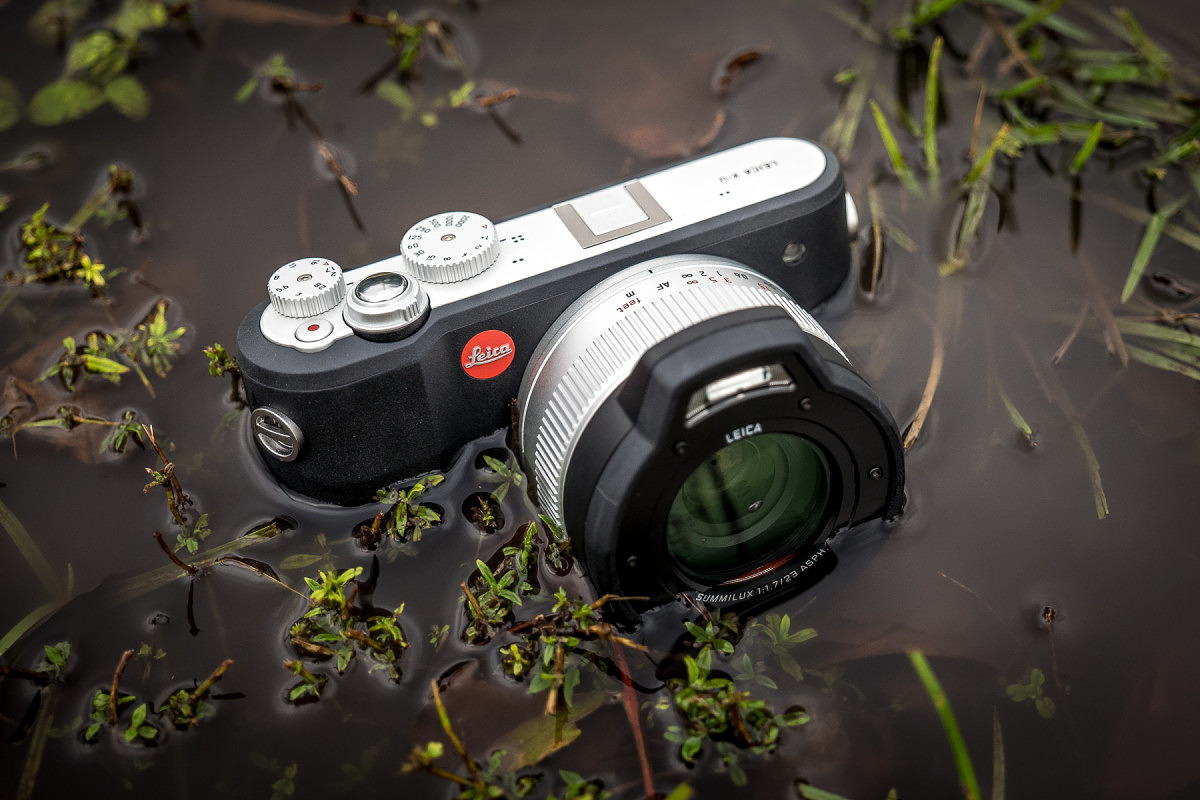 The Leica X-U is an adventure camera: shockproof, dustproof, waterproof; created to withstand the most extreme environments. Leica took the proven X (Typ 113) and outfitted it to brave the elements. For those of you familiar with the original Leica X (Typ 113), you can expect the same image excellent quality and, for the most part, the same user interface. Both cameras house identical 16MP APS-C CMOS sensor and 23mm f/1.7 Summilux lens (35mm equivalent).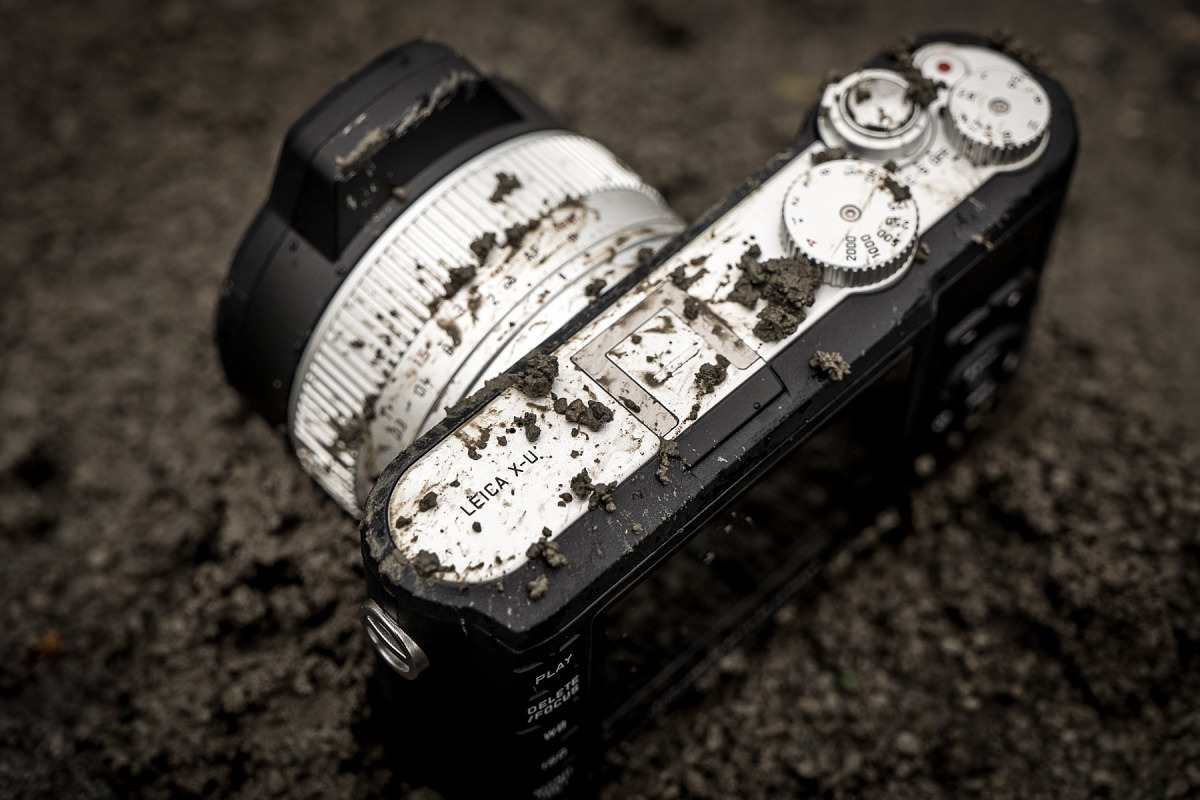 There are, however, a few fundamental differences between the two. Overall, the X-U is a bit bigger than its land-locked counter part. This is in part because of its durable TPE (thermoplastic elastomer) armoring, but also because it features larger dials. This was actually well-thought out on Leica's part. When you're wearing ski or diving gloves and aren't as dexterous as you may otherwise be, larger dials are easier to access and adjust. The down directional pad is now labeled with a "UW." This button quickly toggles the camera's Underwater mode on and off. Underwater mode corrects for color cast and the distortion caused by shooting through water, all in-camera. Another significant difference is the placement of the flash. Because light doesn't travel as far in water, Leica moved the flash to the front of the lens. This gives the flash a little more reach underwater and eliminates the chance of creating any lens shadows when photographing close up.
Shockproof.
The X-U's rubber-coated armoring allows it to withstand falls up 1.2m (4ft) onto a hard surface. I can already think of several instances when this would be convenient. Mountain biking and horseback riding are both activities I've done in the past where I opted out of bringing a camera. Too much vibration and the risk of taking a fall outweighed any desire to shoot.
Dustproof.
Living in South Florida, I like to think of this as Sandproof. Every beach outing brings up the perpetual dilemma: to bring a camera or not bring a camera? Beach days make for great photo opportunities, but sand and saltwater make for a great way to destroy your camera. The X-U puts this question to rest.
Waterproof.
Up until now, the range of dedicated underwater cameras for recreational use has been limited. Without resorting to a professional underwater housing for an SLR, consumers have been limited to compact cameras such as the Olympus Tough series, GoPro, or the Nikon 1 AW1, a mirrorless system with a 1-inch sensor. This leaves a bit of a gap (actually, a huge gap) for those of us who want an underwater camera with exceptional image quality but don't want to deal with bulky and expensive underwater housings for a better system.
The Leica X-U boasts an APS-C sensor – that's roughly 3x larger than the Nikon 1 AW1 and a staggering 12x larger than most underwater compact cameras and the top of the line GoPro. In all honesty, there really is no comparison. Leica, once again, has created a camera that is in a class of its own. For those of you not as familiar with sensor sizes: the larger the sensor, the better. Larger sensors generally mean larger pixels. Larger pixels mean better image quality as they allow several advantages: higher ISO capabilities, more dynamic range (i.e. less washed-out highlights and smeary shadows) and overall better image quality. I imagine when photographing underwater when lighting is less than ideal, the benefits of a larger sensor become even more critical.
The X-U is rated for a maximum depth of 15 meters (60 feet) for up to 60 minutes, making it ideal for shallow dives and snorkeling. Serious divers going deeper than 15 meters, unfortunately, will have to stick with their underwater housing. But, for practical purposes, most underwater photography happens within 50 ft of the surface, as light levels drop dramatically the deeper you go. No light, no pictures. At least not without large auxiliary strobes.
Snorkeling in Key Largo
Enough about numbers and specs – how did the camera actually feel and perform? The X-U was conveniently announced just a week before my brother, Eddie, was set to visit me here in Miami. My family, including Eddie, lives in Minnesota. Temperatures reach -20 F this time of year, making it a perfect time  of year to visit your sister in sunny South Florida. This was going to be my brother's fourth Miami adventure. His trips are always short, no more than a long weekend, and they're invariably jam-packed. I'm always eager for him to come – he's one of the few people who shares the sense of adventure and whose energy level rivals my own. The first time he visited, we ran a 6-mile obstacle race, drove a motorcycle to Key West, and then went sky diving. Another one of our adventures involved hopping a cheap Spirit flight to the Dominican Republic, taking a precarious boat ride to see whales, and horseback riding on the coast. Marketed as an "adventure" camera, the X-U was no doubt the perfect option for whatever our weekend had in store this time around.
First up on our itinerary was snorkeling at John Pennekamp Coral Reef State Park, South Florida's hottest dive spot and one of the only living coral reefs in the United States. Only an hour outside of Miami, the reefs at Pennekamp are practically in my backyard. Before we even got our flippers in the water, I had several people ask about the X-U. "Is that an underwater camera?" Morgan, the boat hand asked. "Sure is." She went on to tell me how the housing for her consumer-level Canon Rebel would cost nearly 4k. Case and point.
I am by no means a professional diver/snorkeler and have little experience photographing underwater, but I gave it a go – and learned quite a bit. Photographing underwater is a completely different ballgame. One snorkeling trip was definitely not enough time to get the hang of it, but hopefully, my images can be useful and give some insight into the performance and quality of the camera. I'd love to see what an experienced underwater photographer could do with the Leica X-U.
The first thing I learned – I should have ditched the wetsuit. Due to jellyfish and water temperature, it was recommended we wear wetsuits. They were thick, cheap and unbelievably buoyant. The reef was relatively shallow, maybe 15 feet, and offered a good opportunity to get up close and personal with colorful parrotfish, angelfish, brain coral, barracudas – even a nurse shark or two. I tried again and again to dive below to the ocean floor and get closer, but with no weight belt, I was fighting a losing battle. I was stuck on the surface, floating around like a wayward buoy, taking images only from above.
After conceding to photograph from above, I got into the groove of things. I targeted taller corals that nearly reached the water's surface. It was a clear day and the sunlight breaking through the surface of the water was ample enough to allow a low ISO and decent shutter speed. I toggled the camera into Underwater Mode and shot aperture priority, leaving the f-stop at f/5.6 or f/8. Another challenge I found was trying to keep steady in the water. Often times, I'd focus on a specific point, but by the time I locked focus and composed, the fish was gone or the current had swayed me out of position. Keeping the aperture stopped down allowed me some depth of field to work with in case I or the subject moved between focus and capture.
Eventually I handed the camera over to my brother. He's a bit heavier than I am and was able to dive deeper and get a better perspective. He got some great shots considering he's an engineer, not a photographer.
On our way back to land, my brother and I quickly peeked through the files on my camera and his GoPro. At first glance, his GoPro images seemed so much more vibrant and colorful and for a moment I felt a little disappointed. But, I didn't dwell on it. I was eager to load the RAW files onto my iMac and see what I could do with them. That's another perk – no other dedicated underwater camera shoots in RAW – only JPEG. Even though we had 25 foot visibility the day we went snorkeling, the water did have some level of "cloudiness" – sand and bubbles being kicked up by the 40 other snorkelers on our boat. Out of camera, the RAW files were a little flat, but this isn't unusual for Leica; they prefer to keep the most dynamic range possible and allow users to determine the level of contrast. I added a little clarity and tone curve to my files and was incredibly happy with the results.
Fort Lauderdale Beach
We started day two of our weekend adventure off at Fort Lauderdale beach. The water was a little rough that day. I wasted no time diving in with the X-U and trying to get my best wave shot. Once again, I faced a bit of a learning curve as I had never photographed the inside of a wave before. I learned a few valuable lessons. First, pre-focus. Second, timing is everything. Third, shoot in continuous because your timing will almost never be perfect. It took quite a few tries – I even shot some interesting frames in between – but I finally got my wave shot.
Homestead-Miami Speedway
We spent our afternoon at the Homestead-Miami Speedway as guests during a track event. Our friend frequently participates in track days with his Z06 Corvette and invited us to come along for the ride. Who doesn't love flying down a straightaway at 150 mph? Photographing racing didn't exactly offer an opportunity to test the camera against the elements, but it did allow me to play with shutter speeds and practice panning.
When I wasn't on the track, I wandered around the nearly-empty speedway and took advantage of the golden hour. If you've seen any images from the Leica X (Typ 113), you'll already know the camera handles color beautifully. There's something to be said about that "Leica Look."
12 Hours of Sebring & the Savage Race
After the weekend, my brother headed back to Minnesota, but my adventures with the X-U were certainly not over.  A few weeks later, I put the camera to the ultimate test: the Savage Race. Call it what you like – an obstacle course race, a mud run, an adventure race. I call it nearly 8 miles of mud and glory. This would test the camera against every element: a polar ice plunge, a 15-foot high dive, a ring of fire, and, of course, plenty of mud.
The Savage Race took place in Dade City, Florida, a nearly four-hour drive from Miami. Conveniently, the race took place the same weekend as the 12 Hours of Sebring, which is exactly halfway between Miami and Dade City. Perfect: Sebring on Saturday, Savage Race on Sunday.
Once again, I found myself at the track with the Leica X-U. Unfortunately this time, I didn't have the same pit access, and 35mm didn't really cut it for photographing the actual race. I did, however, get to test out the X-U using high ISO's at night. The 12 Hours of Sebring makes for some interesting street photography.
So now the fun part: the Savage Race. For the most part, I carried the X-U in my hand, secured by the Leica Outdoor Neoprene Wrist Strap. When needed, I stored the camera in a very fashionable fanny pack around my waist or handed the camera to a friend. This allowed me to climb obstacles without worrying about the camera ending up at the bottom of a mud pit.
The first photo opportunity was the ice bath, or the "Shriveled Richard" as Savage has officially named it. After the X-U and I took the plunge (and survived), we hung out and waited for other racers to emerge from the arctic hell and capture their expressions. This is how it went for 7.5 miles. I'd sprint ahead and complete an obstacle, find the best photo position, then wait for my friends and other racers to run by.
Final Thoughts
The adventure industry is booming and there is demand for a high quality, element-proof camera. Leica has taken a giant leap forward by creating a dedicated adventure camera with professional image quality and optics. The Lieca X-U (Typ 113) lends itself to every sort of rugged activity without compromising image quality. Whether you're into extreme sports or simply want a beach-proof camera for your family vacations, the X-U offers carefree shooting for photographers of all levels. I hope this is just the first of many adventure cameras Leica will produce. I can't wait to see what future rugged cameras Leica comes out with – perhaps a Q-U (Typ 116)? Hey, I can dream, can't I?
The Leica X-U (Typ 113) is $2,950 and is available for order at Leica Store Miami.