Developing an entirely new lens lineup is no easy task. For the recently released SL, Leica focused their initial efforts on quickly launching high quality zooms for the system, in an attempt to cover the largest possible focal length range for the greatest number of users. This move makes a lot of sense. Between the original 24-90 and the new 90-280 that I'll be reviewing here, SL users are now covered from 24mm all the way up to 280mm. With the upcoming 50mm f/1.4 Summilux-SL, the pendulum might swing the other way as Peter Karbe and his team start rolling out top-notch fast prime glass.
Traditionally, zoom lenses have been a compromise compared to fixed primes. They can be larger, heavier, and often, optically inferior. Now, while the Leica 90-280mm APO-Vario-Elmarit-SL is not a small or light lens, I can say without any reservation that this lens is most certainly not inferior when it comes to resolving power, sharpness, or any other measure of optical quality.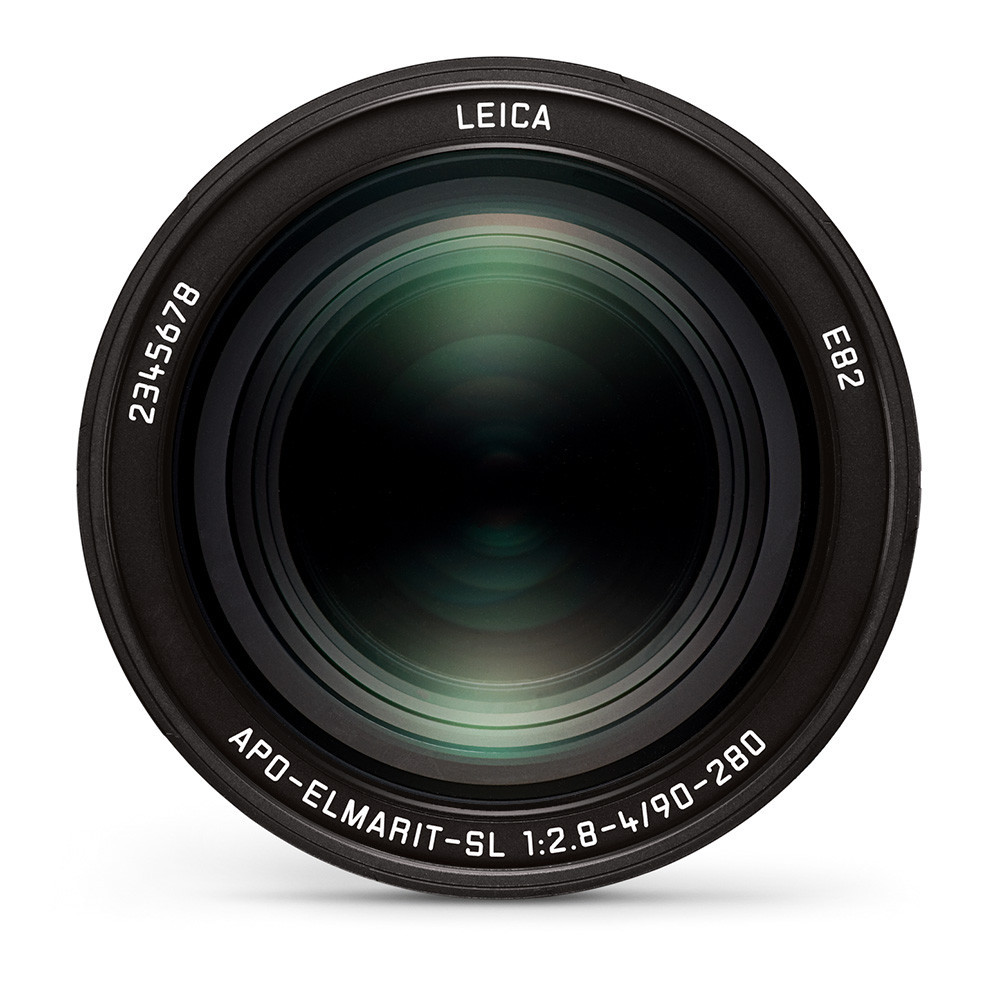 Just like its smaller sibling, the 24-90, the 90-280 tele zoom is exemplary. At all focal lengths, all distances and all apertures. I am used to incredible optics from Leica, but even I'm having a hard time coming to grips with exactly how the optical team in Wetzlar has been able to make such stunningly capable zooms. If you read my Leica SL (Typ 601) review, where I shot most of the images with the 24-90 zoom, you already know my conclusions there – namely that the standard offering is the best zoom lens I had ever used, from Leica or otherwise.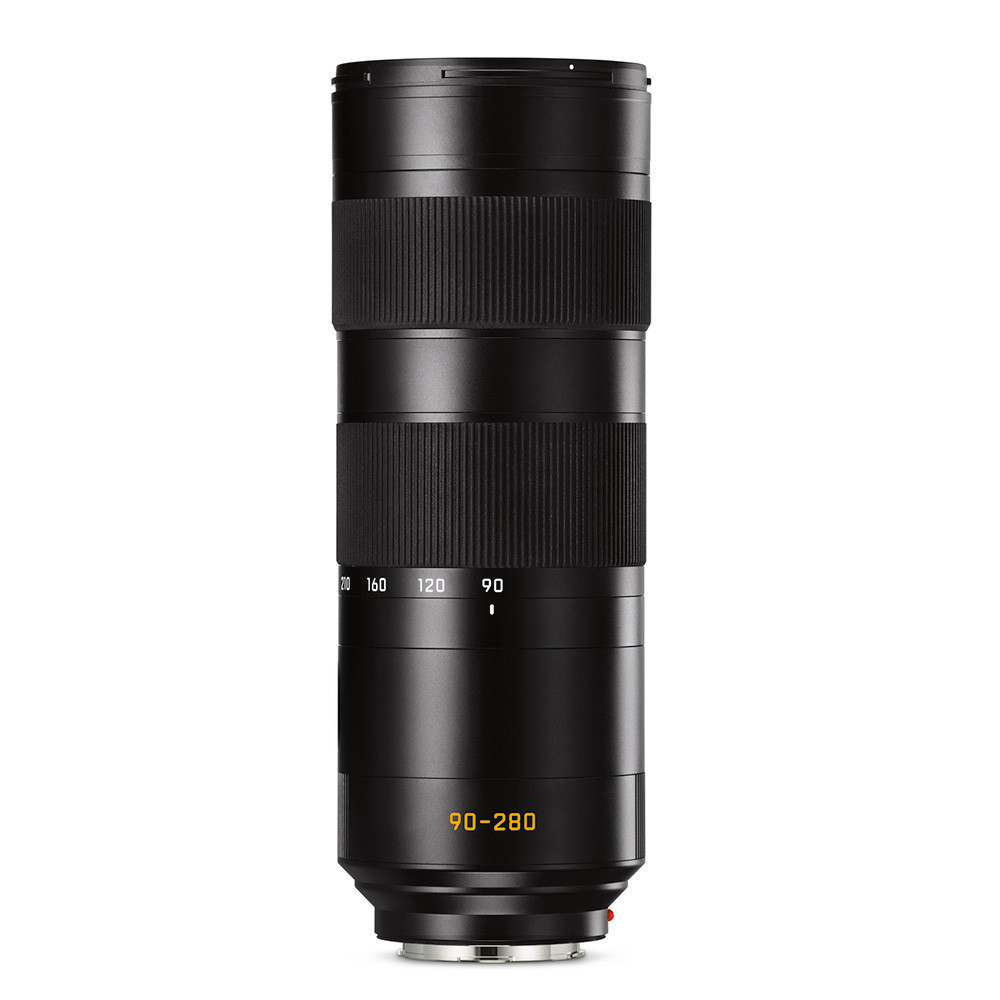 The 90-280 might be even better. Seriously. This is not hyperbole. Take a look at the MTFs and you'll see that this lens is resolving 40 lp/mm at 80-90% contrast wide open at all focal lengths. And those curves stay mostly flat across the chart, meaning edge-to-edge performance shouldn't be far off that of the center.
Build Quality and Design
The 90-280 is built like a tank. A very nice, sleek-looking cylindrical tank, but a tank nonetheless. It feels incredibly solid and amazingly well put together. No plastic can be found here, just smooth, cool anodized machined aluminum encircling a straight tubular body, with wide, grippy rubber focus and zoom rings breaking up the jet fuselage-like aesthetic. Like the SL, the lens is minimalistic. There are white engraved markings for 90, 120, 160, 210 and 280 focal lengths on the zoom ring, in addition to the 90-280 moniker in yellow on the top side, just in front of the mount. And that's it, matching up nicely with the uncluttered SL body.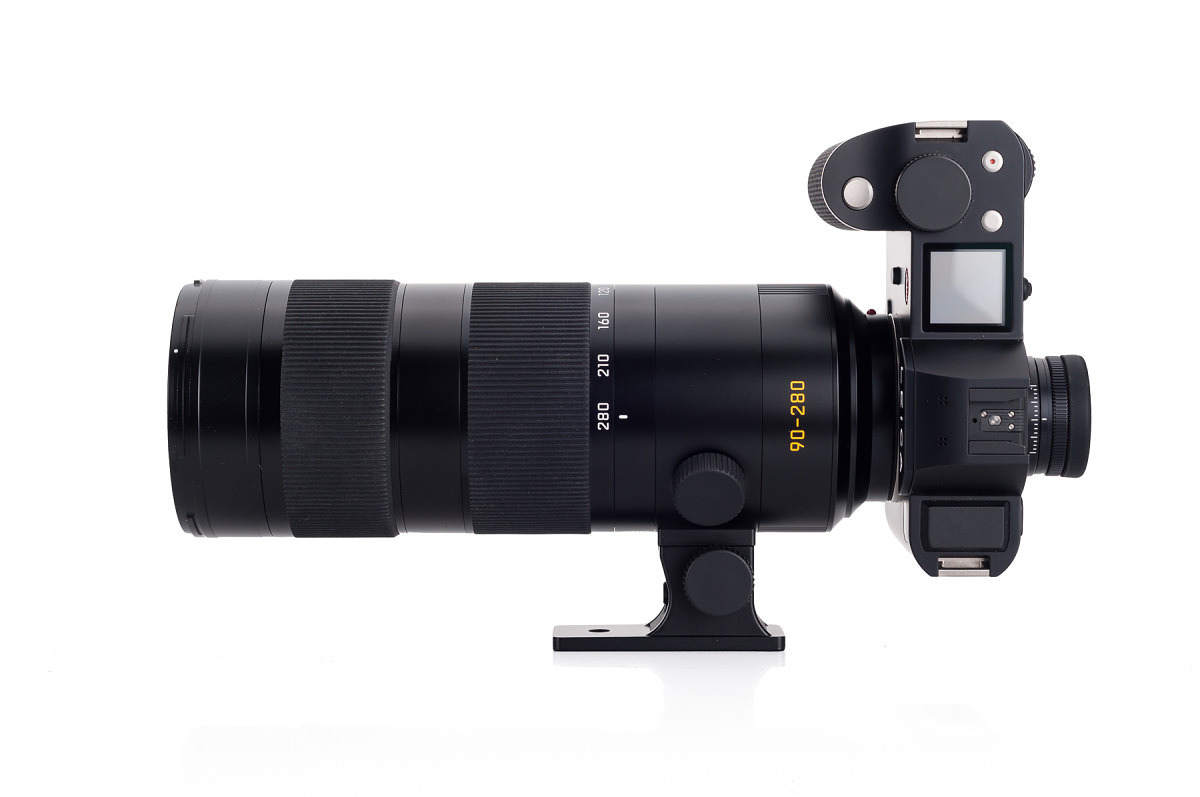 On the bottom of the lens is a removable tripod foot, mounted to a rotating collar. The collar sits flush with the lens barrel (making it easy to miss from above), with a knob on the left side to lock and unlock, and features positive detents at 90 degree intervals. This simplifies flipping the setup to a vertical orientation, and back, on an already leveled tripod head. To detach the foot, which can act as a quick release on a monopod, turn the release knob and press the safety release button on the front side, then slide forward.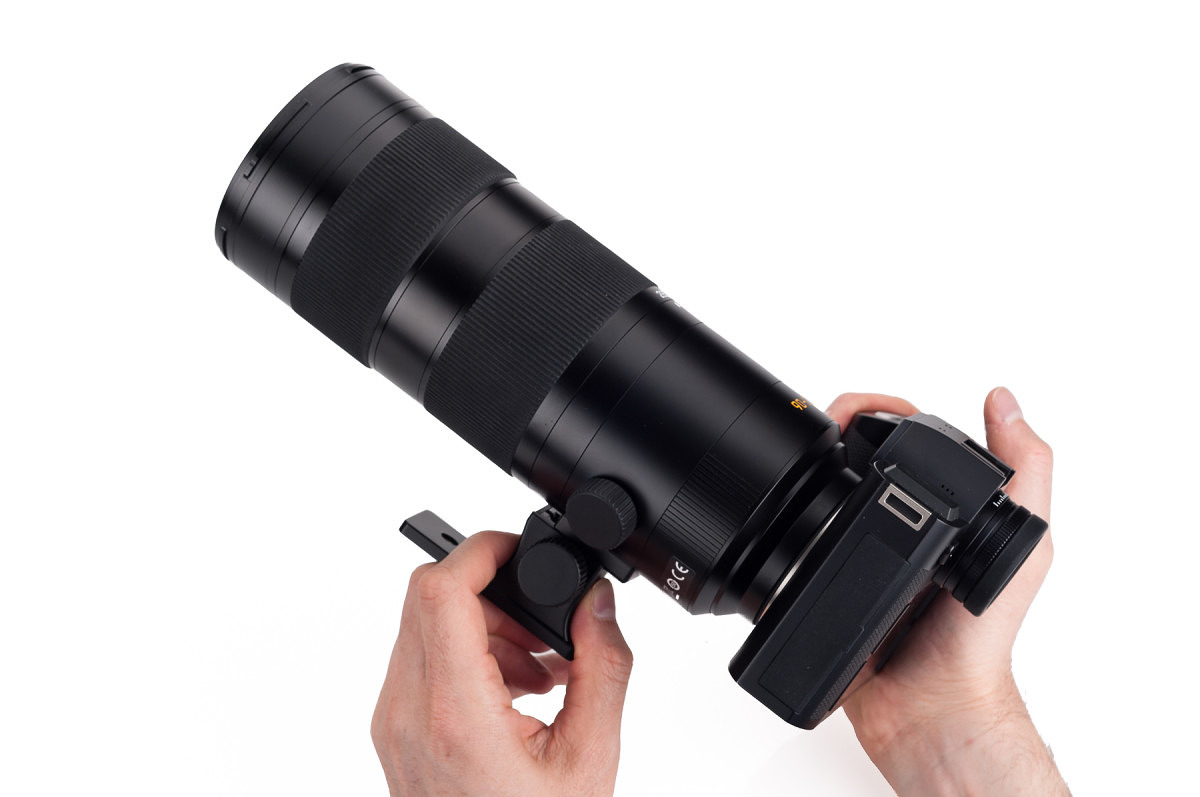 For hand-held shooting, the foot can dig into your hand, but this is easily addressed. I found that either rotating it out of the way, or even better, just removing it altogether made for a much more comfortable experience.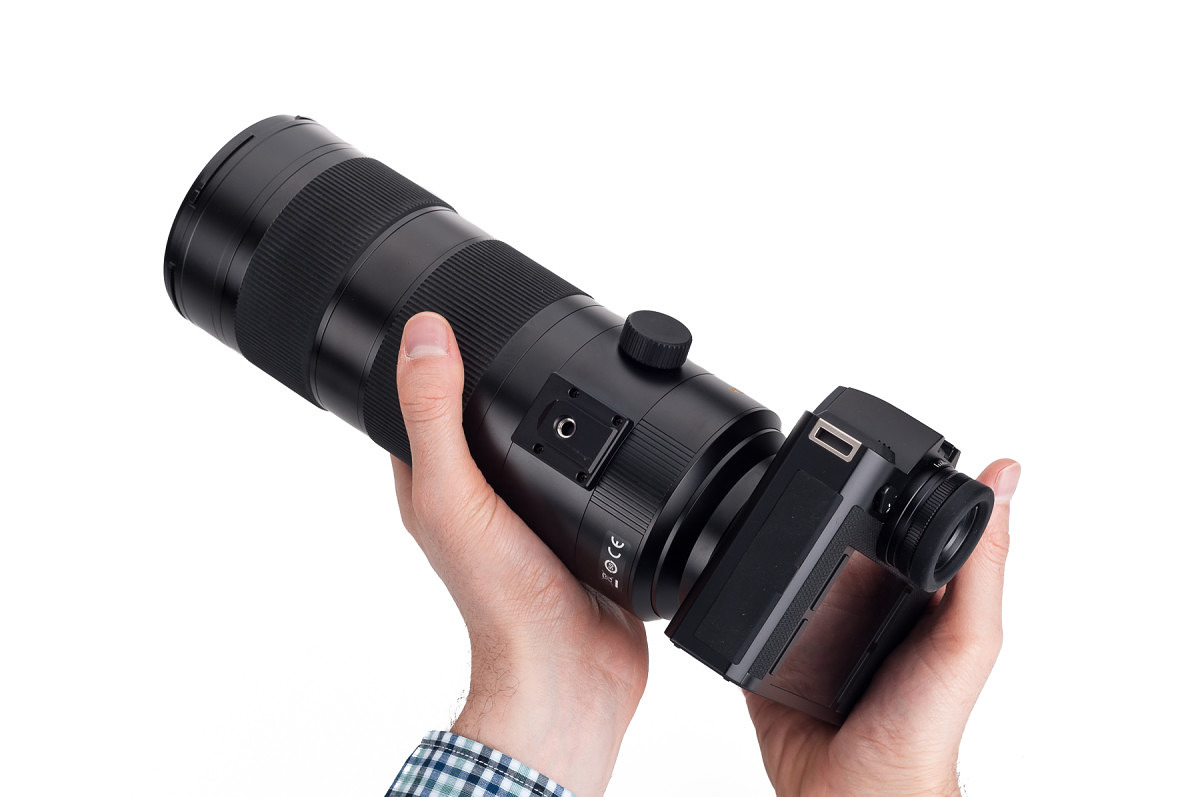 Like all SL lenses, the focus ring is a fly-by-wire type, but with no discernible control lag it's difficult to tell in operation. Manual focus speed is proportional to the speed in which you turn the ring. Turn rapidly and focus speed will increase, covering a longer distance than the amount you dialed in, making manual focus changes over a long range extremely efficient. For fine tuning, slow, small movements will correspond to very precise adjustments. The rings are far enough away from the camera to provide good balance and weight distribution front-to-back, but not so far as to overtax your left arm.
Zoom throw also strikes a nice proportion between granularity and speed. In hand-held operation, I was able to quickly find the desired focal length without struggling or having to reposition my hand placement. As I'd expect on a Leica lens, drag and tactile feedback on both rings is just right.
Close focus is excellent. At the short end, you can shoot as close as 0.6m (2 ft) resulting in a 1:4.8 reproduction ratio. Zoom the lens and minimum focus distance increases gradually until topping out at 1.4m (4.6 ft), still yielding a very respectable 1:5 ratio. And remember, the minimum distance is measured from the focal plane, not from the front of the lens.
Under the hood, the lens is packing 23 elements in 17 moving groups. Out of these, seven elements are made from glasses with anomalous partial dispersion for the minimization of chromatic aberrations, resulting in a true apochromatic design. Yep. That APO label isn't just marketing.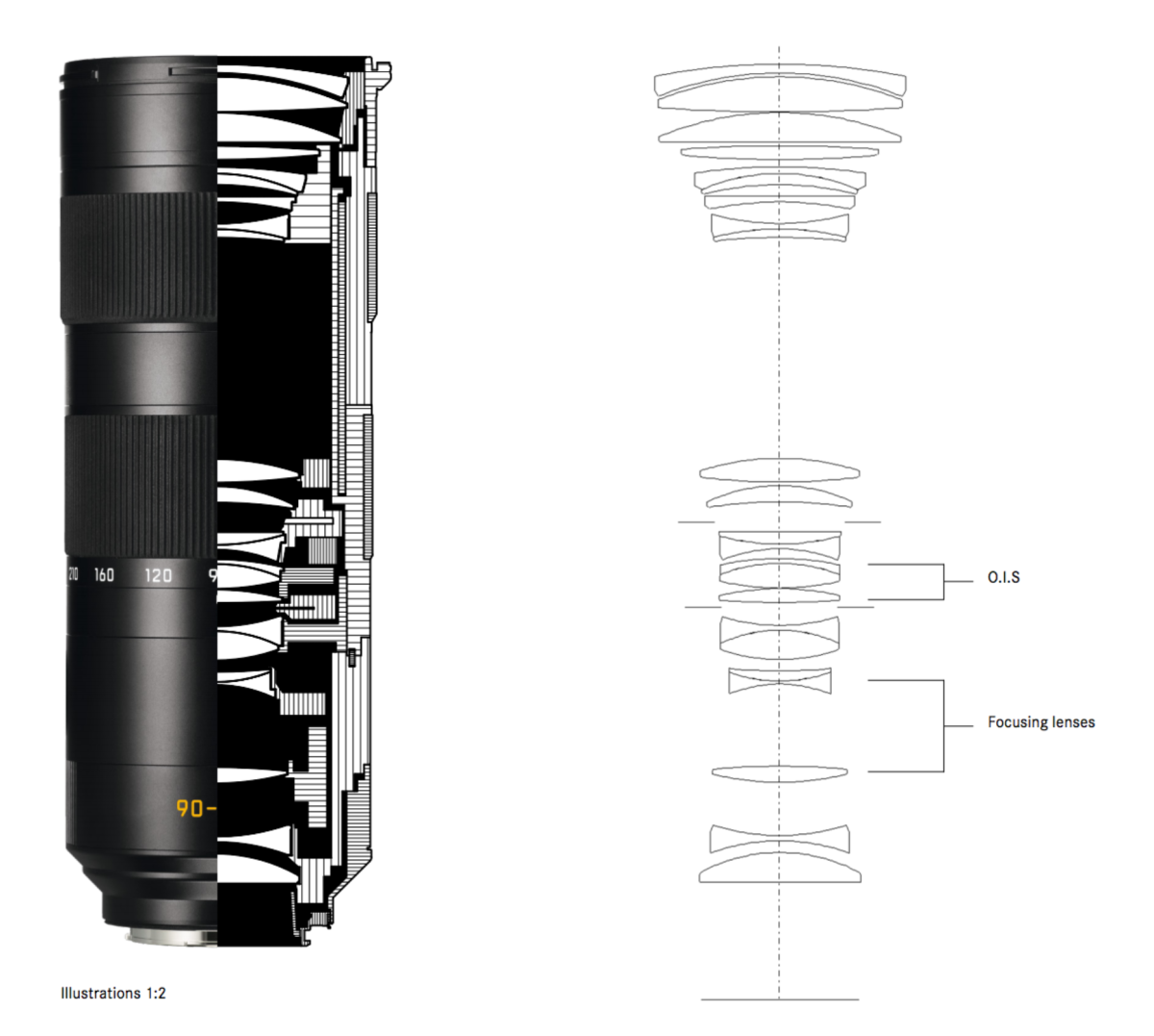 All focusing and zooming is internal, keeping the barrel length in check. Leica has employed a new double internal focusing design whereby two lightweight elements move towards each other to achieve incredibly nimble and almost silent autofocus. These are driven by high power linear stepper motors. Rounding out the build, numerous interior gaskets and seals allow the lens to stand up to the toughest wet or dusty conditions, protecting all the optical goodness within.
Size
The 90-280 is large, especially for Leica M users accustomed to E39 and E46 filter thread sizes. For Leica S users, the perception might be different, but the tele zoom is still a fair amount longer and heavier than the 180 APO for the S.
By the numbers, the 90-280 measures 238mm in length, is 88mm at its widest diameter, uses an E82 filter thread and weighs in at 1.7 kg, or just shy of 4 lbs for those not on the metric system. Not helping matters is the fact than the compact SL (Typ 601) body gets dwarfed with the lens mounted, making the lens look even more gargantuan.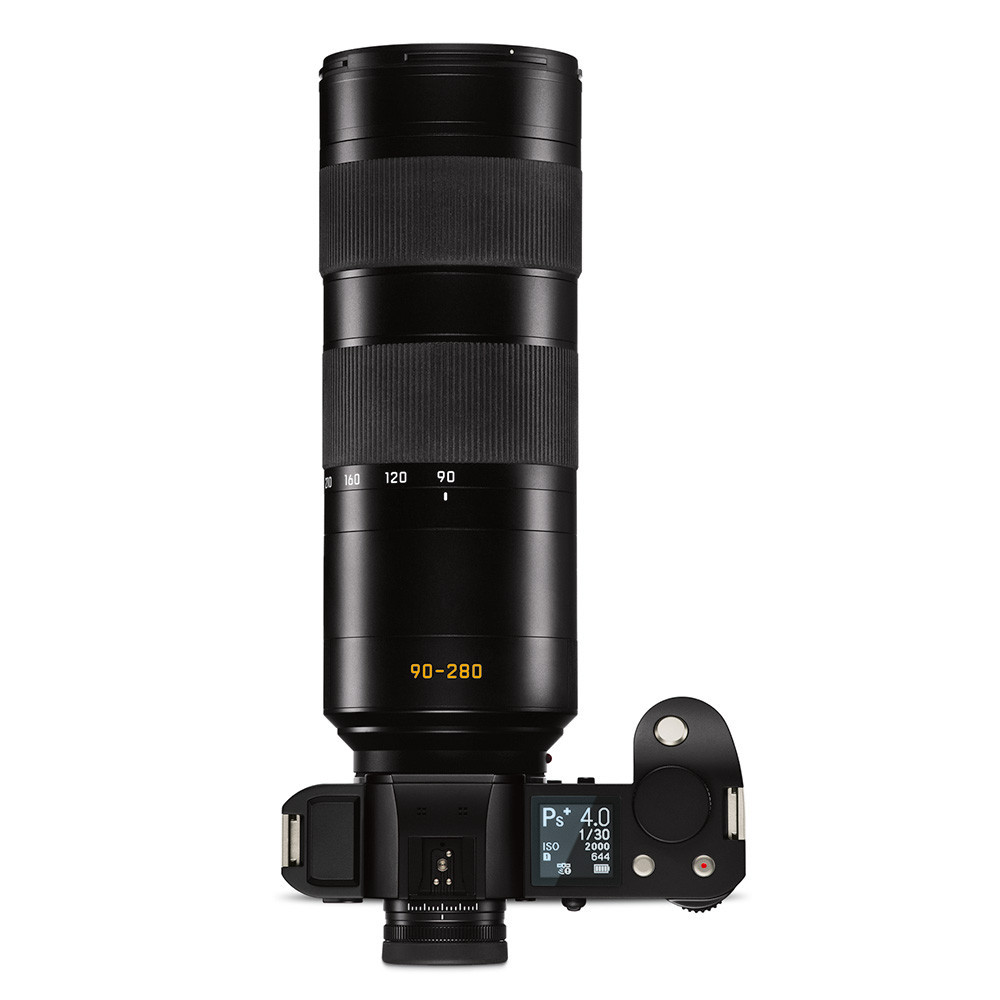 But before we bash Leica's latest offering, for a fair comparison, let's take a look at the insanely popular and ubiquitous 70-200mm f/2.8 lenses from Nikon and Canon. Both tip the scales at around 1.5 kg, so 1.7 kg isn't crazy for a lens that is 1) constructed entirely out of metal with Leica build quality and 2) offers a 40% longer focal length at the long end. And for those thinking that the Leica zoom is massively longer, it's not. The Nikon measures 206mm (8.1") while the Leica is 238mm (9.3"). Again, considering this is a 280mm lens, not a 200mm, an extra inch (25mm) is not unreasonable.
In context, the Leica lens is actually quite svelte while offering a more useful focal length range.
Getting the lens to test
I didn't have much of an opportunity to shoot anything meaningful when I received the 90-280. There was lots going on at the office and I just couldn't break away to play hooky. But I did want to get a feel for rough performance and handling, and couldn't resist the new shiny toy sitting on my desk, begging to be played with. So, for your viewing pleasure, here's my first shots with the lens: one of the radio tower down the street to test infinity and a close-up of writing on a junked wooden palette for minimum distance. Both of these were shot wide open at 280mm handheld. Uninteresting, but extremely sharp.
With the banal testing out of the way, I shot a few raindrop-covered leaves around the office parking lot as I headed inside to get back to work. Play time was over. I wouldn't have a chance to get out for some serious shooting until the weekend, but upon loading the images up in Lightroom, I was pleased with the beautiful rendering of deep greens under the flat lighting of the ominous overcast gray sky, and incredibly impressed by the level of fine detail in my wide-open 280mm tests.
Contemplating where to use the lens in order to give it a good workout, I figured a lot of potential users of the 90-280 would be looking to do some wildlife photography or perhaps shoot some sports. Without access to any sporting events and little-to-no experience doing so anyway, sports was off the table. Now, if the opportunity presents itself in the future for some action photography, I'd be all down for giving it a whirl.
So, with one free day to test out the lens, I hedged my bets and decided to head to Butterfly World in Coconut Creek. The facility has a large free-flight rainforest-like butterfly aviary, a smaller aviary featuring tropical birds, and lovely gardens. If you like butterflies, this is the place to go. 
As a warm up, I took the dog out for a walk around my neighborhood just after sunrise, with the SL and 90-280 slung over my shoulder. With the lens hanging straight down from the camera, which was resting on my hip, the rig was actually a lot lighter feeling than I was expecting. I worked on capturing details and the residual overnight dew/drizzle in the low-slung, warm morning light. After lunch, I drove up to Butterfly World with my 9-year old daughter, Sophia, in tow.
For anyone who has attempted photographing butterflies on a hot day (86ºF) they can attest to how agile you must be to capture these beautiful little creatures. Sophia, remembering something from third grade science class, put it best when I expressed my concern about the heat. "They are like molecules," she proclaimed. "They move fast when it's hot." True enough. I went on to explain to her that I prefer to photograph butterflies with cooler temps, where they are focused on warming up their tiny cold-blooded bodies in the sun, and I'm not sweating my face off.
In many ways, this was actually a perfect test. Fast moving and very small wildlife. Oppressive heat and humidity. A heavy setup that would tax my energy and possibly even my will to live as I chased my subjects around. Fun, right?
I tried to use a monopod, taking advantage of the built-in tripod collar, but for butterflies, it just proved to be cumbersome and slowed me down. So, I switched to handholding and stayed that way for the remainder of the day. With such an effective IS system, my reason for the monopod wasn't one of stability. Rather, I was trying to save my arms the task of holding the SL and 90-280 at eye level or above, especially in the aforementioned heat. Turns out that I survived and got some nice captures to boot.
The reproduction ratio across the zoom range is fairly consistent, so my choice of focal length became more dependent on my distance to the subject than anything else. With a variable minimum focus distance, I often adjusted the zoom to back off the focal length in order to achieve focus on some of my winged subjects. Taking the extra time to step back or forward with my feet would have guaranteed a missed shot. They just didn't sit still that long. When I spotted a landing, I'd frame up the shot and tap the rear button for AF. If I was outside the focus range, backing off the focal length a little would remedy the issue and allow the SL to quickly and silently nail focus.
Leaving the main butterfly aviary, we made our way to the maze garden and tropical bird aviary. If I thought the butterflies moved quickly (they do), the little finches, hummingbirds and other tiny tropical birds (they could fit in the palm of your hand) move much faster and have less patience for the likes of photographers like me. I put to use the same techniques I had been employing for the butterflies, but had to be more careful about where to focus.
The 90-280 at close range doesn't have much depth of field and I wanted to avoid blurry bird parts. For most of my shooting, I stopped down to f/5.6 rather than try to shoot everything wide-open. This change provided a slightly greater DOF without negatively impacting background bokeh.
Along the way, I took advantage of some subjects of the non-moving variety. And while the 90-280 isn't a macro lens, it did a respectable job with my attempts at flower photography and allowed a generous working distance to avoid casting shadows.
After an afternoon of "dash, kneel, shoot, repeat" at Butterfly World, I was looking forward to poring over the fruits of my labor to see just what this lens could do.
One more test
With a healthy sampling of real world images ready for evaluation, I took to the street (alleyway would be more precise) in order to shoot some not very exciting flat field tests of a fence at each marked focal length from wide-open through f/11 (theoretical diffraction limit for 6µm sensors). I actually looked for a brick wall and couldn't find one in the land of cinder block construction and knockdown stucco (aka South Florida), so the wood fence would have to do.
I'm not usually a fan of these types of tests as they are not demonstrative of real world conditions, but found this was a worthwhile exercise to help in my evaluation. I decided not to publish the results, if only due to the fact that they are mind-numbingly boring, especially given how similar the images look across aperture ranges at each focal length. Read on for my findings.
Image quality impressions
As I exuberantly exclaimed in my introduction, the 90-280 offers outstanding imaging performance, but let's talk some specifics.
In many zoom designs, quality tends to peak somewhere in the middle of the range, falling off towards the ends. From 120mm all the way up to 280mm, the corners are sharp from wide-open on. 90mm seems to be the weakest for extreme corner performance, but not by much. Stop down just one or two stops and the corners sharpen up considerably.
Across all focal lengths, the center barely gets sharper by stopping down from full aperture. I couldn't see any measurable distortion, although I didn't shoot a grid test target to verify.
My fence tests basically showed in practical terms what the MTFs represented, so there weren't any surprises here. In actual use, the 90-280 and SL pumps out gorgeous images. They have fantastic depth, presence, and richness. Fine details are showcased with stunning micro contrast and insanely high resolving power. Bokeh is nice and creamy, but isn't going to make denizens of the Noctilux envious. Still, subjects are beautifully isolated and removed from distracting backgrounds with aplomb.
The worst that can be said about the lens is that there is some vignetting, manifesting at shorter focal lengths as a general darkening of the frame. Mind you, this isn't the nasty localized black corner type. In fact, I only noticed it when reviewing my fence tests in sequence. If you are so inclined, it can be easily removed in LR, but I didn't find the vignetting to be objectionable, especially in my real world shots, and as such didn't use any vignetting correction for the images posted here. For demanding applications like art reproduction or landscape, you'd be stopped down anyway and there wouldn't be any vignetting.
Image Stabilization
The IS works great. Nary an image during my test shooting was ruined due to motion blur, at least not on the camera end. I had great luck at 1/100th and 1/125th shutter speeds, and could see the subtle float in the viewfinder steadying my shaky tired arms. Of course, with fast moving subjects, it's always best to try to get at least a 1/250th to freeze small movements, and I did find that my shots with slightly faster speeds were sharper. 
I'm not sure I could pull off the Herculean feat of handholding at 1/4 of a second like I did with the 24-90, but for grins I decided to see how the lens might handle a reasonable hand-held speed, but not one you should be using for a 280mm. Here's a grab shot wide-open at 280mm, hand-held at 1/60th of a second and ISO 6400. Yes, it was extremely dark. Color me impressed.
One more really cool feature built in to the SL and 90-280 is that the camera will detect if you are quickly panning and in what plane. The SL will proceed to disable IS in that direction, allowing you to do some motion panning at slower speeds without having to manually turn off IS in the menu.
Final thoughts
The Leica 90-280mm APO-Vario-Elmarit-SL offers a fantastic combination of rock solid handling, stunning optical performance, lightening fast AF speed and very effective IS. It is a perfect follow-up to the exceptional 24-90mm Vario-Elmarit-SL ASPH. For those looking for more reach with true Leica quality, look no further. Paired on the SL, this lens will deliver the goods to those willing to wield it. The 90-280 is priced at $6,395 and has already started shipping ahead of schedule. To order, contact Leica Store Miami.