Obviously, there has been a great deal of interest in the new Leica M. Many people that I talk to here in Cologne think that the M is the standout product of this Photokina. Essentially, it is everything that M9 users have been asking for. Offering faster operation, longer battery life, well-implemented live view with focus peaking, a high resolution scratch-resistant LCD, optional EVF and keeping the time-tested optical rangefinder, LED illuminated frame lines, expanded ISO range with lower noise, improved menu interface, built-in virtual horizon, SDXC support, 50% faster continuous shooting, bigger buffer, ability to use with PC sync cord (via grip), ability to power camera externally (via grip), weather sealing, and more. Leica also saw fit to offer users features they didn't ask for like full HD video capability and GPS (also with grip). It's quite an extensive punch list and I think that Leica should be commended on offering all these new features and improvements, all the while keeping the camera true to its heritage. The design is classic, yet modern and the ergonomics are just perfect. Leica engineers actually worked with Audi design specifically for styling and ergonomics.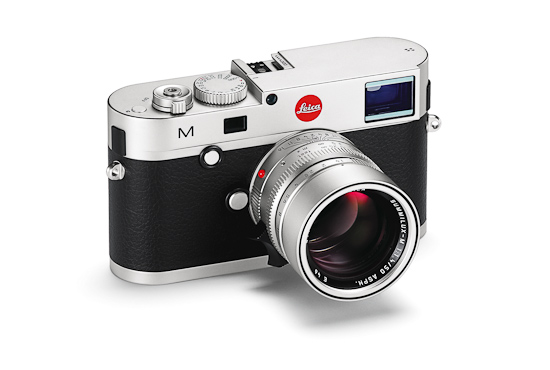 Oh, and R users finally will get a full-frame Leica digital solution as promised. If you follow the link, you'll find the transcript of a Q&A session with director of product management Stefan Daniel from exactly two years ago. Leica knew then what they wanted to produce, even in the very early stages, and it shows from his answers and strong hints.
I had the opportunity to sit down with Jesko von Oeynhausen on Thursday and discuss the M in more detail. I will be posting the full video when I return back to the US early next week, but did want to provide answers to questions that I've been receiving. We also discusses a few items off-camera, as we didn't want to have a two hour video.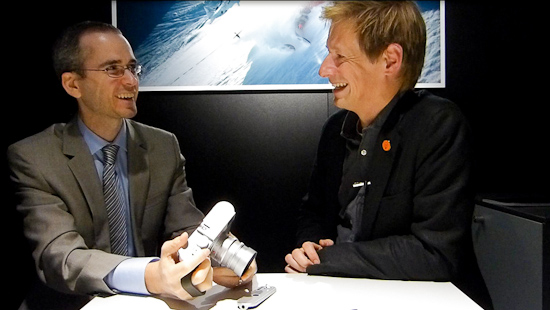 Does the new M use a different battery than the M9?
Yes, the new M battery is actually two M9 battery cells combined in series, doubling the voltage. This allows live view functioning, but the sensor, Maestro ASIC processor and electronics are all more power efficient than the M9.Even with live view, users should at least the same amount of pictures, most likely more. Using the camera in classic rangefinder mode, without live view, you can expect more than three times more images.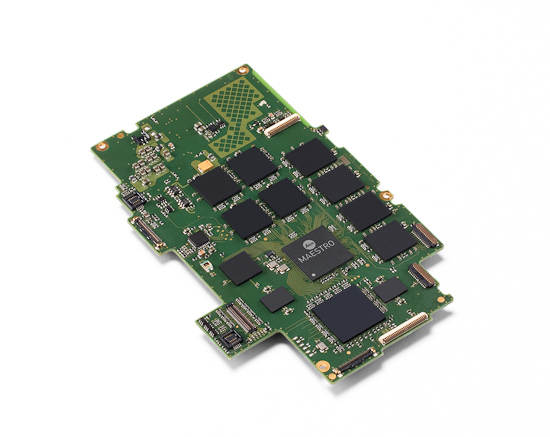 How much improvement will there be in noise and DR with the CMOS?
It's difficult to say now, before the firmware and sensor calibration is totally tweaked. I get the impression though, that the noise is at least a couple stops better than the M9 and that the M offers a little better DR as well. Again, we will have to judge when the files are made available.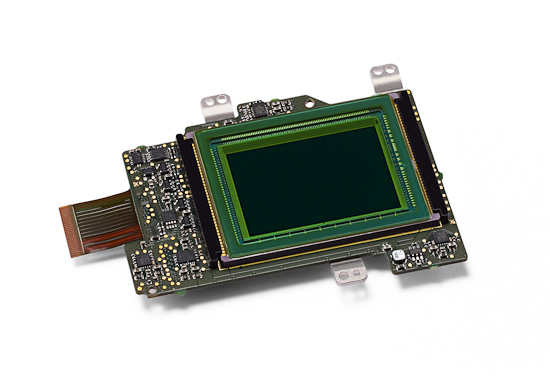 Will image quality or "look" be sacrificed with the move from CCD to CMOS?
I seriously doubt this. Leica is, and has always been, committed to delivering that "Leica-look" and best possible image quality, even if it meant product delays. With all the digital Leicas I've used over the years, from the DMR to the S2 and M Monochrom, image quality has never been lacking. It's like reviewing the latest crop of lenses that Leica has been releasing these last several years. There's almost no point in quibbling as each one is just as stellar as the next. I'm starting to feel the same way about camera image quality. I just trust Leica to get it right. Sure, there was that whole IR debacle with the M8, but we can blame Kodak for that, and, with the filters the image quality was (and still is) excellent.
Are there ANY other differences with the M-E vs. M9 other than the lack of a frame line preview lever and USB port?
No. Those are the differences. And, the M-E comes in an anthracite finish with contrasting dials.
Is image review available in the EVF (like on the X2)?
Yes, you can review images in the EVF. In fact, when shooting through the EVF, this is the default behavior for image review. Keep in mind, though, that menus are only available on the rear LCD, not in the EVF regardless of mode.
How does the Gorilla glass compare in durability to the sapphire glass?
The Gorilla Glass is not quite as strong, but is probably 90% as much. It is also much less expensive, which keeps the cost of the camera down.
Why did Leica omit the frame line preview lever in the M?
The frame line preview lever was removed for cost savings. Very few were using the feature and it adds a complexity and associated cost to manufacture.
What is the buffer size shooting compressed and uncompressed DNG?
14 images in a burst using DNG compressed (3 fps), then another 20 or so at 1.5 fps.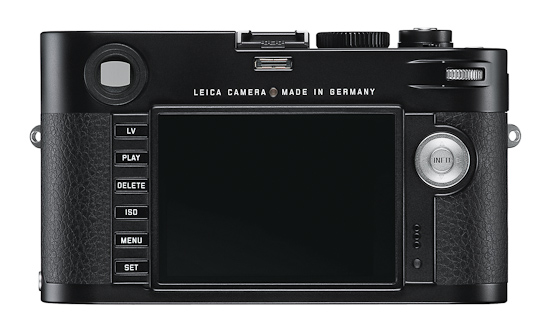 The new silver D-pad on the back of the camera is nice, but will Leica ever make it in black for black paint cameras?
Probably not. This was just a style choice.
Will either of the hand grips be available in silver, or just black?
Only black will be offered.
How about the EVF? Will this be offered in silver?
No. Just black.
What is the longest exposure available in bulb?
60 seconds at base ISO. The main goal is image quality, and Leica is unwilling to sacrifice quality for longer exposure time. For most applications, 60 seconds should be plenty. In cases of astrophotography, exposure stacking would be a better option, anyway.
Are there any plans for an electronic shutter release for the grip?
No plans for this.
Can you shoot tethered and have access to live view thru Image Shuttle?
No LV to computer. Leica really wanted to do this, but it was not technically possible.
Any options for some kind of tethered video?
No. Same as above.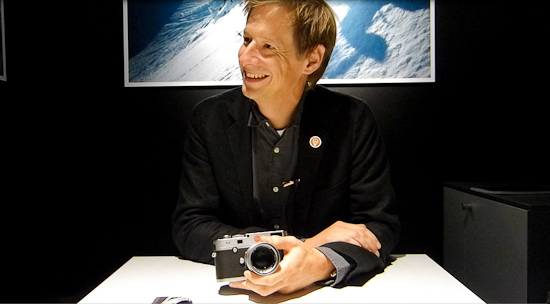 Can still images be shot while capturing video?
Yes. The M was designed primarily as a still camera. So, you can always take a full resolution still image. The video will blank out and you will hear the shutter fire. After the shutter reopens (~1/2 sec), the video will resume.
What are the details on weather sealing? Is the lens mount sealed in any way?
The lens mount is not sealed. Usually lenses would have a gasket on mount, but no M lenses have this. The lenses themselves are built to such tight tolerances and have oil between the parts, which works to create a kind of sealing. The problem was never with the lenses. It has always been with bodies.
Why wasn't automatic sensor cleaning included?
There was not enough room. Including a cleaning system would have made the camera thicker, which works against the design goal and the desire to maintain the same M dimensions.
Is there is still a manual lens selection in the menu for non-six bit coded M lenses?
Yes, same as on the M9.
Will you have to select the R lens you are using every time you mount the R adapter?
If you are just using one R lens, it will be remembered from the last time you used it. Obviously, if you are changing multiple R lenses, they will have to be selected each time.
What happens if I mount an M-Adapter-R on an M9?
It works, but because there is no rangefinder coupling or live view, focus will be purely trial and error.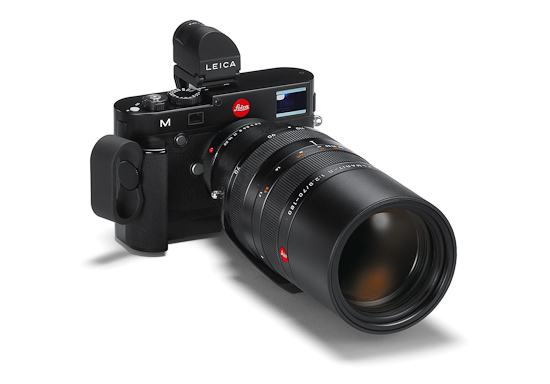 Are there any R lenses that cannot be used? Or that they don't recommend?
No. All lenses from 15mm to 800mm can be used without any problems.
What about R extension tubes and teleconverters?
Yes, these can be used as well without limitation.
Will video FPS settings be part of the user presets so you don't always have to switch from 25 to 24fps, for example?
Yes. Video settings are stored in user presets.
Is the bottom plate on the M larger than the M9? How does overall body size/weight compare?
The Leica M does use a different bottom plate, but it less than 1mm wider from front to back. Overall, the camera is a few mm thinner than the M9 when measured from lens mount to the surface of LCD. In practice, there is no real distinguishable difference. The M does feel a little heavier, though. And it should, given that it has a double-sized battery, larger LCD, beefier electronics and more metal (rather than plastic) used.
Realistically, how will the M Monochrom compare to the M at similar ISO's, given the M's resolution increase and lower noise CMOS sensor
Noise will look different as there is no interpolation or color noise on the M Monochrom. On the flip side, the initial quality from the M at high ISO has been outstanding, but final comparisons haven't been done.
If you haven't already, you can check out my full review on the M Monochrom here, and the ISO noise test I did between it and the M9 here. When I can get my hands on the Leica M, I will be publishing a similar test.
Stay tuned for the full video for even more information on the new M.