Today, Leica has expanded their APS-C offerings with a new interchangeable lens mirroless system camera – the Leica CL. With similar specifications to the recently launched Leica TL2, the CL trades in the pure modern unibody design of the TL2 for more iconic styling. Leica DNA abounds with the CL's black anodized machined aluminum top and bottom plates, elegant black leather covering and simple control layout.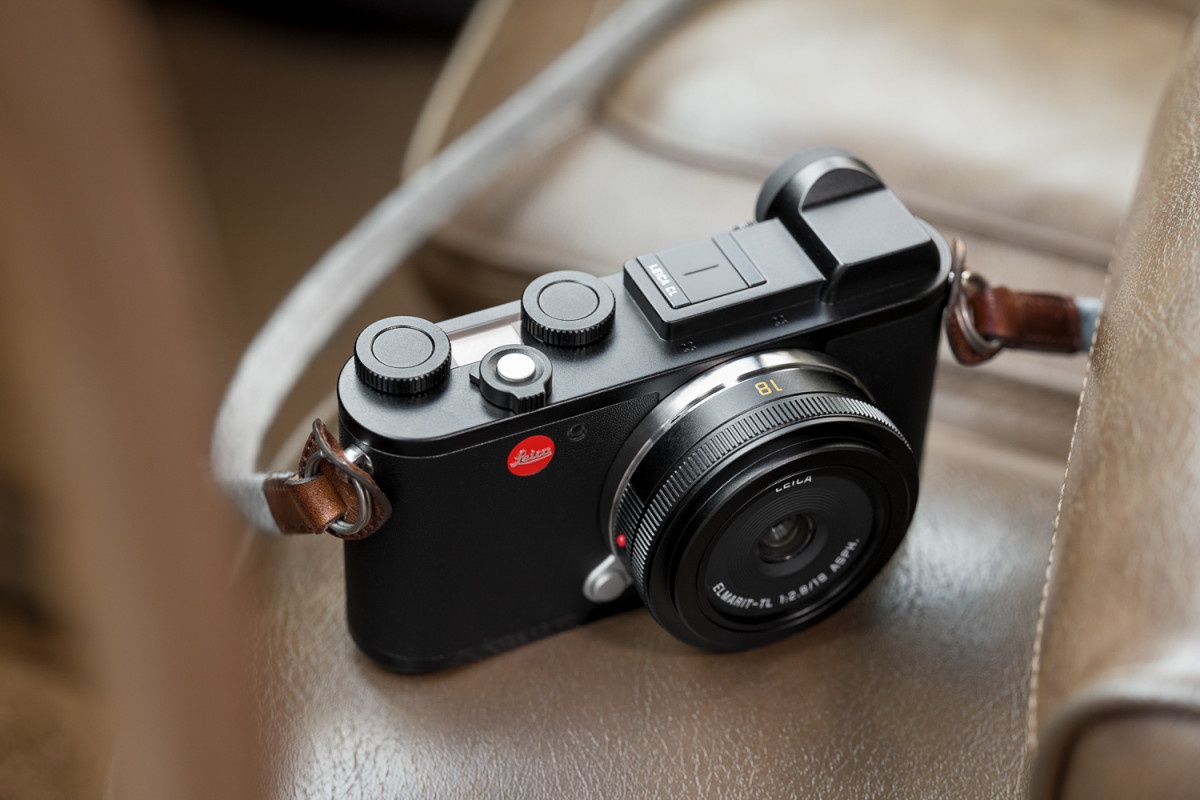 Still sporting the same 24 megapixel APS-C sensor, Maestro II processor and L mount, the CL features a more traditional body design with three rear buttons and direction pad like its big brother, the M10. And, instead of needing an add-on EVF, the CL has one built-in, with the same specs as the add-on 2.4 MP Visoflex 020 that's used on the M10 and TL2.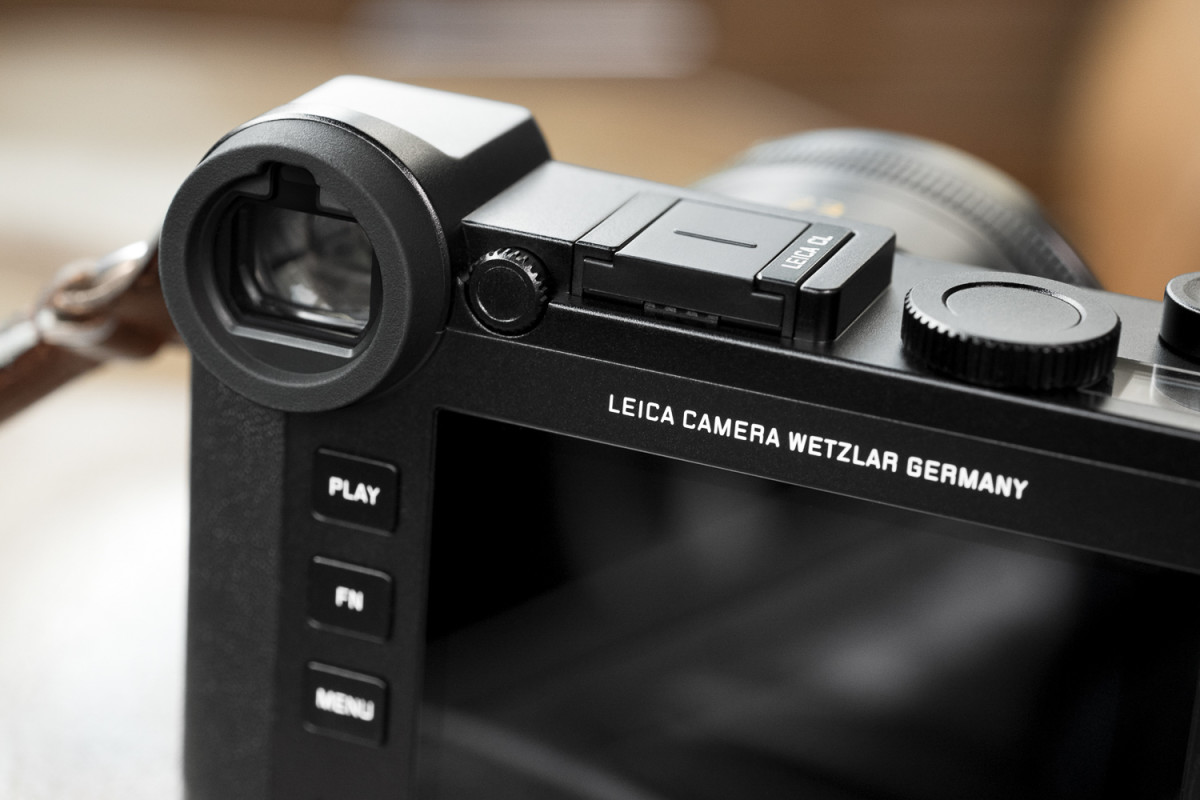 The top is graced by a two dials, a shutter release/on-off switch, and a small monochrome LCD. The top display shows the selected aperture and shutter speed along with other basic info, as the two control dials have no markings on them. In the center of both dials there are user-assignable function buttons. This is a clever way to handle multiple adjustments with a very simple control interface, and follows Leica's rallying cry of delivering Das Wesentliche, or the Essentials.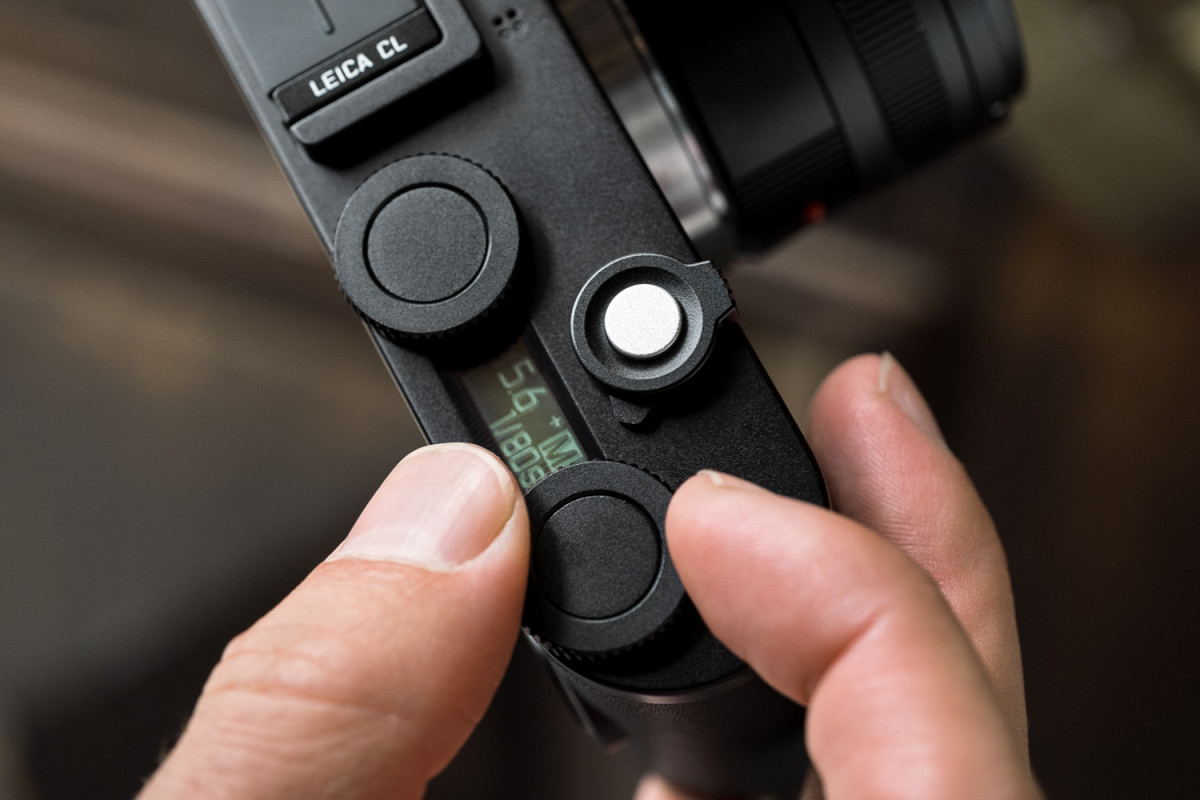 The CL seems like a natural evolution for Leica. And while the X line has quietly gone by the wayside, the CL appears to pick up where the X left off, and compliments the TL2 nicely. Where the TL2 is minimal and futuristic, both in design and function, the CL reminds us of Leica's past. It evokes feelings of the Leica screw mount cameras from the  1930s, yet bears familiar resemblances to its modern-day kin, the Q and M10.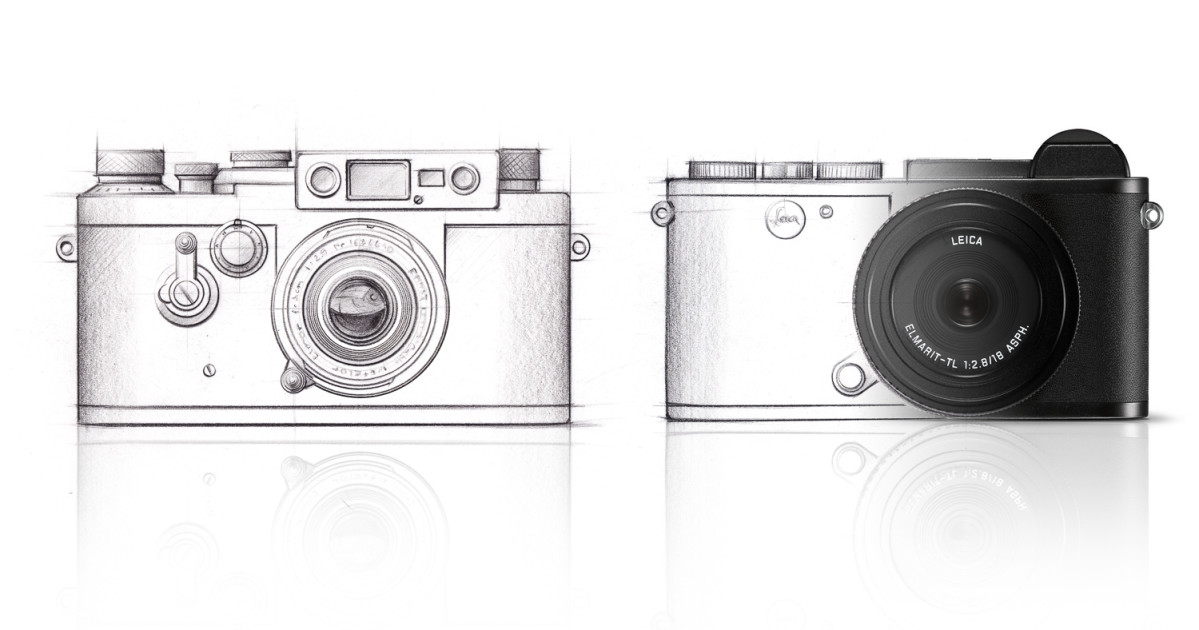 The Leica CL is slated to start shipping by the end of this month (November 2017) and is priced at $2,795 for the body only. There are two kits available as well. For those wanting the smallest possible package, the CL Prime Kit includes the 18mm f/2.8 Elmamrit-TL pancake lens, which was also announced today, for $3,795. For those wanting the convenience of a standard zoom the CL Vario Kit comes bundled with the 18-56mm Vario-Elmar-TL for $3,995. Both kits represent a decent savings over buying a la carte, $295 and $450, respectively.
The CL and both CL kits are now available for pre-order at Leica Store Miami by clicking one of the links below, emailing info@leicastoremiami.com, or by calling 305-921-4433.
LLeica CL, black anodized finish – $2,795
Leica CL Prime Kit with Elmarit-TL 18mm – $3,795
Leica CL Vario Kit with Vario-Elmar-TL 18-56mm – $3,995
Image Gallery
Comparison Between CL and TL2
Leica CL

Leica TL2
Resolution
24 MP @ max 10fps<
24 MP @ max 20fps
Video
4k @ 30fps, Full HD@30/60fps
4K @ 30fps, Full HD@60fps, Slomo
AF Fields
49
49
Display
3", 1.04 million pixels, Top-Display
3.7", 1.3 million pixels
Storage Memory
No Internal, SD cards (UHS-II)
32 GB Internal; SD cards (UHS-II)
ISO
100-50,000
100-50,000
fps
10 fps with mechanical, 10 fps with
electronic shutter
7 fps with mechanical 20 fps with electronic shutter
Shutter speed
Mechanical up to 1/8000s, Electronic up to 1/25,000s
Mechanical up to 1/4000s; Electronic up to 1/40,000s
EVF
Built-in: 2.36 MP, magnification:
0.74x, eye relief: 20 mm adjustable
+/-4 diopters, with eye sensor for automatic switching
Optional; 2.4 MP
Interfaces
WiFi
USB-C 3.0; HDMI 1.4; WiFi
Touch Screen
Yes, touch & gesture control
Depending on function (swipe, tap, etc.) up to 8 times faster than T/ TL
Tech Specs
| | | |
| --- | --- | --- |
| Lens Mount | | Leica L bayonet with contact strip for communication between lens and camera |
| Compatible lenses | | Lenses with Leica L-Mount, Leica M/R lenses using the Leica M-Adapter L/R-Adapter L |
| Sensor | | APS-C sized CMOS sensor (23.6 x 15.7 mm) with 24.96/24.24 million pixels (total/effective), aspect ratio 3:2 |
| Photo Resolution | | DNG: 6016 x 4014 Pixels (24 Megapixels), JPEG: optional 6000 x 4000 Pixels (24 Megapixels), or 4272 x 2856 Pixels (12 Megapixels), or 3024 x 2016 Pixels (6 Megapixels) |
| Photo file formats/compression rates | | DNG, JPG or DNG + JPG |
| Video Recording Format | | MP4 |
| Video resolution / frame rate | | 4K 30 fps, full HD 60 or 30 fps, HD 30 fps |
| Video recording time | | Depending on ambient or housing temperature video recordings are possible up to a maximum length of 29 minutes, maximum file size is 4 GB, if a recording exceeds this limit, the respective part is automatically stored in another file |
| Storage media | | SD/SDHC/SDXC memory cards, multimedia cards, UHS II-standard is supported (32GB internal memory) |
| ISO range | | Automatic, ISO 100 to ISO 50000 |
| White balance | | Automatic, presets for daylight, cloudy, halogen lighting, shadow, electronic flash, two memory slots for manually metered settings, manual color temperature setting |
| Autofocus system | | Contrast based, 49 points |
| Autofocus metering methods | | Single point, multiple point, spot, face detection, touch AF |
| Exposure modes | | Program AE, aperture priority AE, shutter priority AE, manual exposure setting, scene mode, video |
| Exposure metering | | Multi-zone, center-weighted, spot |
| Exposure compensation | | ±3 EV in 1/3 EV increments |
| Automatic bracketing | | Three pictures in graduations up to ±3 EV, adjustable in 1/3 EV increments |
| Shutter speed range | | 30 s to 1⁄25000 s (up to 1⁄8000 s with mechanical shutter, higher speeds with electronic shutter) |
| Burst shooting | | Max. approx. 10 fps with mechanical shutter, 10fps with electronic shutter function, max. approx. 33 pictures (DNG + JPG) and max. approx. 140 pictures (JPG only) at full speed, then depending on memory card properties |
| Flash modes | | Adjustable with attached, system compatible flash (no built-in flash) |
| Flash exposure compensation | | ±3 EV in 1/3 EV increments |
| Flash synchronization | | 1/180 s |
| Recommended Flash Unit | | Leica SF 40 flash |
| Monitor | | 3" TFT LCD, 1.04MP, touch and gesture control possible |
| Top Display | | Resolution: 128 × 58 pixels |
| Self timer | | Selectable delay time 2 or 12 s |
| Wi-Fi | | IEEE 802.11b/g/n, WLAN-compatible WPA™/WPA2™ |
| Power supply | | Leica BP-DC12 lithium ion battery, rated voltage 7.2 V, capacity 1200 mAh (min.) (based on CIPA standard): approx. 220 pictures, charging time (after total discharge): approx. 140 min. Manufacturers: Panasonic Energy (Wuxi) Co., Ltd, made in China |
| Viewfinder | | Resolution: 2.36 MP, magnification: 0.74×, ± 4 diopter settings, with eye-sensor for automatic switching between viewfinder and monitor |
| Body | | Top plate and baseplate in machined and anodized aluminum, magnesium front and rear shell |
| Tripod thread | | A 1/4 DIN 4503 (1/4") |
| Dimensions | | 131× 78 × 45 mm |
| Weight | | 403 g/353 g (with/without battery) |
| Software | | Leica CL App (remote control and image transfer, free download from Apple™ App-Store™/Google™ Play Store™) |
| Warranty | | 2 years |
Press Release
Leica Camera expands its APS-C System product portfolio with the introduction of the Leica CL, a camera which combines Leica's classic design with ease of use. The Leica CL's compact design with exceptional picture quality enables a photography experience unique to Leica.
The Leica CL is an intuitive camera with a built-in high-resolution electronic viewfinder and all essential controls conveniently located on its top plate, designed to be used with L-mount lenses. Atop the camera are two dials, with customizable buttons in each center, for setting the aperture, shutter speed, ISO value, exposure compensation and shooting mode – making it convenient for the photographer to take pictures without taking their eye away from the viewfinder. An additional display on the top plate instantly provides all relevant photographic settings at a glance. The user has total control at their fingertips when taking pictures with the Leica CL, and the perfectly tuned pressure point of the shutter release brings it all together with a satisfying haptic click.
The expansive range of TL lenses and accessories such as the M-Adapter L, R-Adapter L, flashes, straps and camera protector options all enhance the shooting experience with the Leica CL while providing the user with more options for creativity.
To coincide with the launch of this new camera, Leica Camera is expanding its portfolio of TL lenses with the introduction of the Leica Elmarit-TL 18 mm f/2.8 ASPH, the smallest wide-angle APS pancake lens in the market, in black or silver anodized.
The Leica CL, black anodized finish, Leica Elmarit-TL 18 mm f/2.8 ASPH and Leica CL Kits will begin shipping from late November 2017.
IMPORTANT FEATURES
World's most tactile APS-C System Camera
Compatible with all Leica TL & SL lenses
Adaptable to use Leica M and R lenses
Built-in electronic viewfinder, 2.34 MP resolution and 0.74x magnification
Locking mechanical diopter adjustment
Fast Auto Focus performance with a 49-point AF system
24MP APS-C sized sensor
ISO range of 100-50,000
Maestro II processor
Fast touch and gesture responsiveness for optional touchscreen controls
Mechanical shutter speed max. of 1/8,000
Electronic shutter speed max. of 1/25,000
Option for full-time electronic shutter, making the shutter completely noiseless
Quick burst shooting up to 10 fps with either mechanical shutter or electronic shutter
DNG+JPG shooting for up to 33 shots in continuous burst
Focus peaking and magnification for manual focus aid
4K video recording @ 30fps
1080p Full-HD video recording @ 30/60fps
Compact all-metal body with anodized aluminum top and bottom cover
Built-in Wi-Fi
Made in Germany
BENEFITS
Fast performance in all parameters
Best-in-class image quality in every way, particularly in low-light
Selection of extraordinary autofocus TL-Lenses, offering a wide range of focal lengths and speeds
An innovative modern system that also permits access to the legendary M and R lenses via adapters
Outstanding craftsmanship featuring a black anodized top and bottom cover with leather cladding
Fast and easy use via the top display
User-customizable menus and controls
Easy operation with all adjustments made and viewed on the top display
Adjustable diopter wheel and eye sensor for automatic switching
Traditional design
User-friendly
CL-App on Apple App Store and Google Play makes it easy to share pictures via Wi-Fi hotspot feature
Wide range of additional technical and style accessories including flashes, filters, camera protectors and carrying straps are available