Earlier this summer we wrote about Nitecore's range of Leica-compatible USB battery chargers. There was one major problem with the charger lineup at the time though: nothing for the M10! Until now. At last, Nitecore has released a USB battery charger for the M10 (and M10-P of course) which has a few cool features that users will appreciate.
If you're not completely familiar with what makes these chargers so useful, I'd recommend taking a look at my previous post, where I break down everything you need to know about Nitecore USB chargers: Nitecore USB Chargers for Leica Batteries Offer Maximum Flexibility.
Features and Functions
As its name suggests, the Nitecore USB Dual Battery Charger ULM10 Pro for Leica M10 & M10-P charges two M10 batteries at once via USB cable. Unlike Nitecore's other chargers which feature a short, built-in USB cable that isn't really long enough by itself for much, the ULM10 Pro has a removable micro USB cord. This means you can use a charging cable that is the right length for your particular need, if the 30 inch (12 cm) included cable isn't ideal. I've been using the Anker PowerLine+ Micro USB Cable with good luck, thanks to its super-durable construction. There is a small channel in the back of the charger to seat the cable during use which lets the charger sit flat.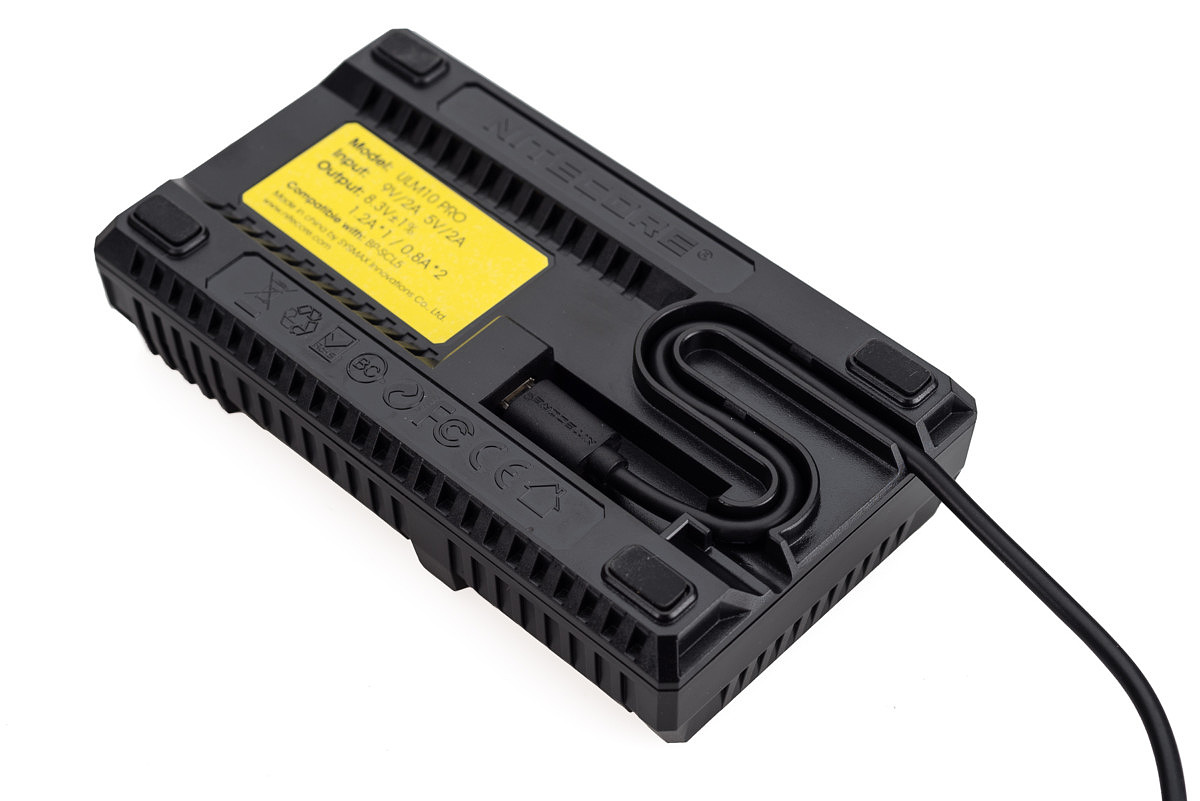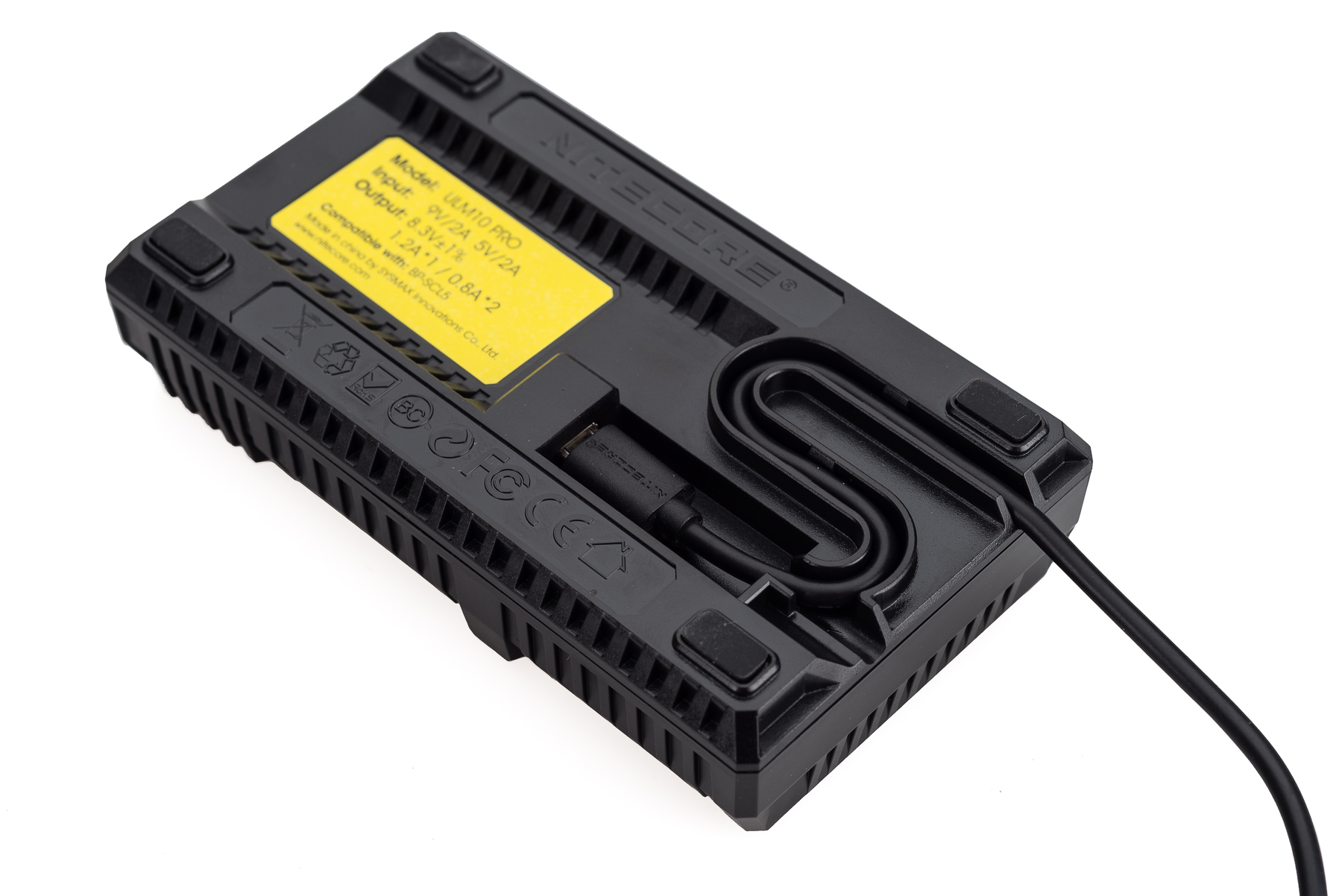 Size and Weight
Compared to the "stock" M10 charger that comes with a new M10/M10-P, the Nitecore ULM10 Pro is not too much bigger. Here is a chart comparing the key dimensions and weight: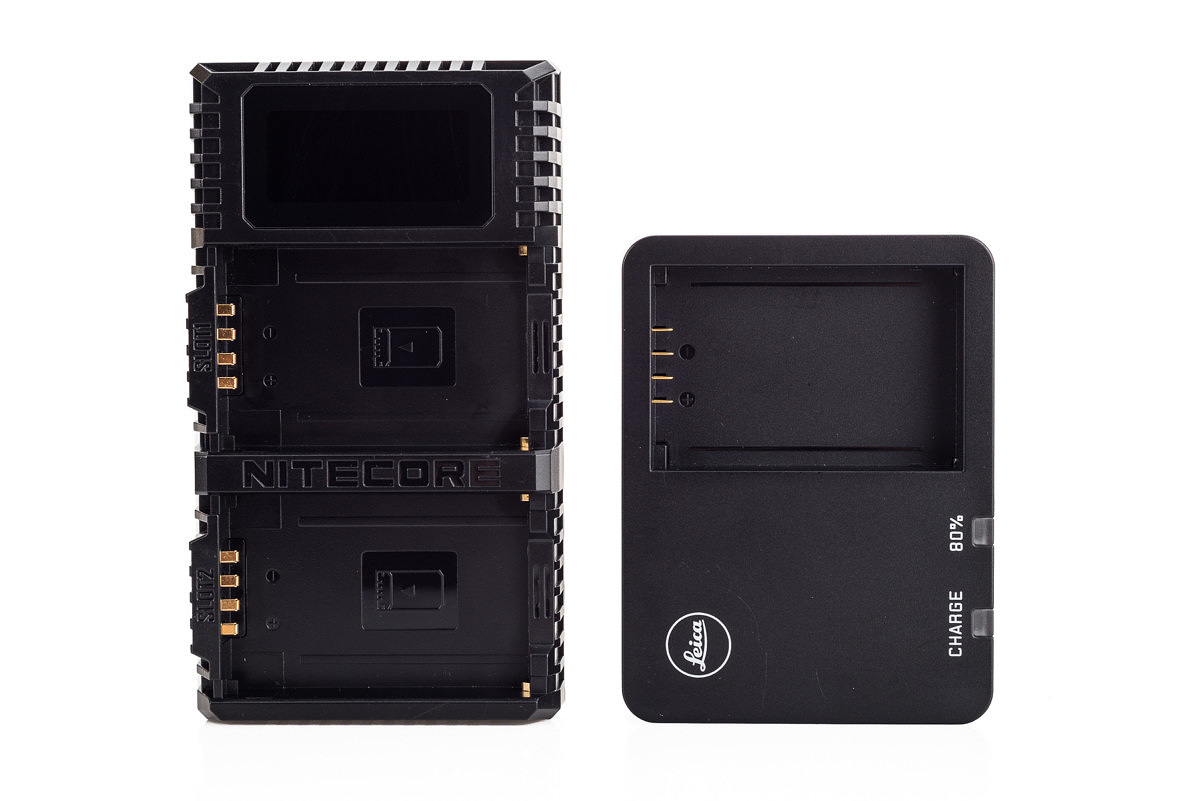 As you can see, the main difference is that the ULM10 is 34mm longer than Leica's charger, which makes sense when you consider that it charges two batteries instead of one. Thankfully it comes in a bit lighter. It would be nice to see Nitecore also make a single battery charger for the M10, similar to their other models, so hopefully that's something we'll see at some point.
Charging Capability
The ULM10 Pro features "QC 2.0" technology, which allows it to charge two batteries simultaneously when attached to a compatible power supply. You'll know you are getting the full QC 2.0 potential of the charger when "Quick Charge" shows up on the LCD screen. Otherwise, one battery is charged at a time. As with Nitecore's other chargers, the LCD screen will tell you how much current is flowing into each battery, which informs you how close you are to reaching the ULM10 Pro's maximum current of 1,200mA (one battery, QC 2.0) 800mA (two batteries, QC 2.0) or 700mA (either one or two batteries without QC 2.0).
From my testing, a fully drained M10 battery charges in two hours at 700 mA using the Nitecore USB Wall Outlet Power Adapter. This is actually a bit slower than Leica's own charger, which performs the same task in about 1 hour and 40 minutes. That makes sense when you read the specs on the Leica charger, as it has a maximum current of 1000 mA. Using an Anker USB Adapter that is QC 2.0-compatible, I was able to reduce the charge time of one battery to 1 hour and 25 minutes from completely dead to 100%. That is quite impressive, especially since it's rare I let my batteries get to 0%, which means charging from even 10-15% would take an hour or less to full.
Final Thoughts
There is no doubt I'll never be bringing the standard M10 charger with me anywhere again. With its ability to charge two batteries, provide detailed information about the battery status and flexibility of charging sources, the ULM10 Pro will have a permanent place in my M-system kit. Priced affordably at $60 (the same as Nitecore's other Leica-specific chargers), the ULM10 Pro is available now at Leica Store Miami: