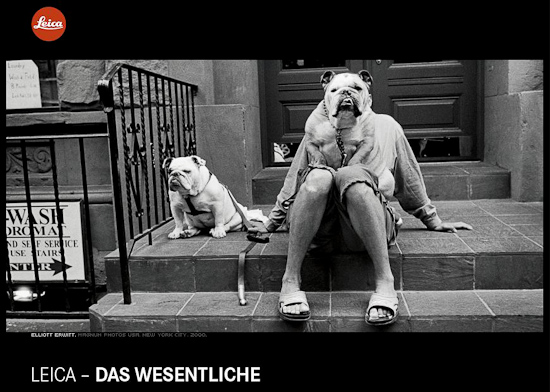 Leica has been even more secretive than usual lately. Many of my readers and customers assumed with my past early access to the M8, M9, MM, S2, etc. that I knew something about what was coming. Well, I can now honestly say that I really had no idea. And you know what? It was a lot of fun speculating and trying to predict what Leica was going to unveil at this event. And, it was equally exciting standing there next to the stage as the new products were revealed.
Near the South Entrance to the Koelnmesse, ladies in bright orange traffic vests holding Leica signs were directing attendees toward a tent set up in a parking lot. After I had passed into the tent and presented my ticket, I received a very snazzy Leica Das Wesentliche rubber wristband. I've still got it on and I think I'll probably continue to do so throughout the show. It really does make the ultimate fashion statement.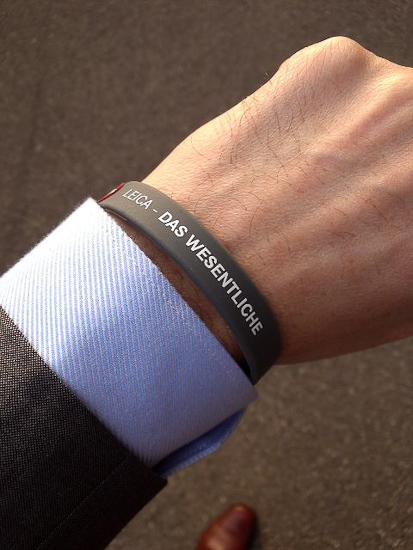 Getting off the freight elevator, I made my way into the enormous Hall 1. I wrote earlier that Leica is taking the entirety of Hall 1. Their booth this year is about 54,000 sq ft, roughly ten times the size of the one they had two years ago at the last Photokina. And, with such a big space, I guess they figured they might as fill it up for this event. In spite of the voluminous room, eager attendees were packed in wall-to-wall. I saw no shortage of familiar faces and made my rounds before staking claim to a spot just off to the side of the presentation stage.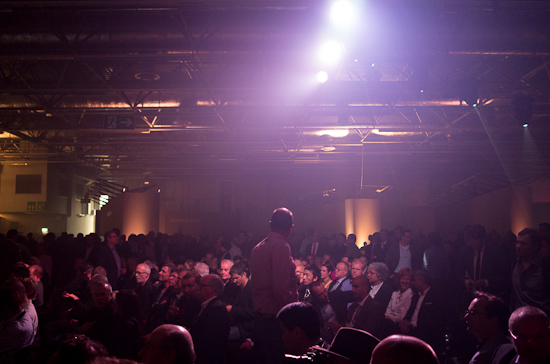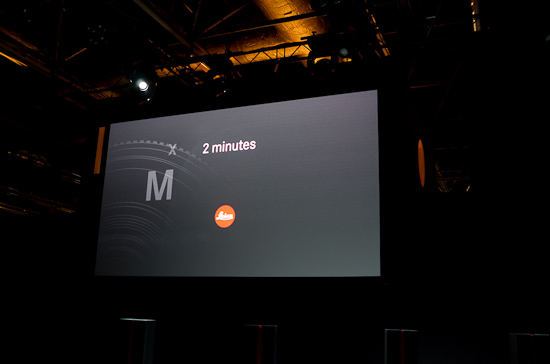 The large screen behind the stage, flashed a countdown every minute until finally, the emcee took the floor. The German TV personality cracked a few jokes and brought up Leica CEO Alfred Schopf. Schopf cracked a few of his own jokes ("CEO stands for Chief Entertainment Officer") before getting down to business.
He started talking about Leica's 99th anniversary. As Schopf pointed out, most companies would wait another year to celebrate their centennial. Leica, he explained, is not an ordinary company. He went on to explain that the number 9 is also a significant one to Leica. On 9/9/9, nine new products were announced, including the M9. So, a 99 year celebration seemed fitting. To commemorate, a special coffee table book has been made. Originally, it was supposed to have 99 photographs, but once in the design, this number was cast aside and forgotten in favor of great design. From Leica heritage to iconic photographs, the book looks really nice.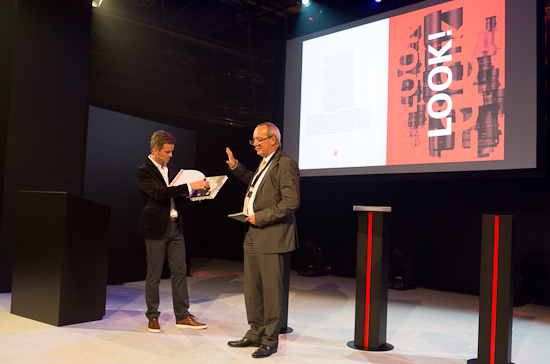 Next, Karin Kaufmann, Dr. Andreas Kaufmann's wife got up on stage. Apparently, Andreas wasn't feeling too well, which was a shame, as he always brings a certain flair as master of ceremonies. Karin explained that Andreas had always wanted to "change the world" after he had attended protests in 1968 against the conflict in Vietnam. One of the images that changed his outlook on the world was Nick Ut's Pulitzer prize winning photograph of a family fleeing a napalm attack. This year marks the 40th anniversary of this shot.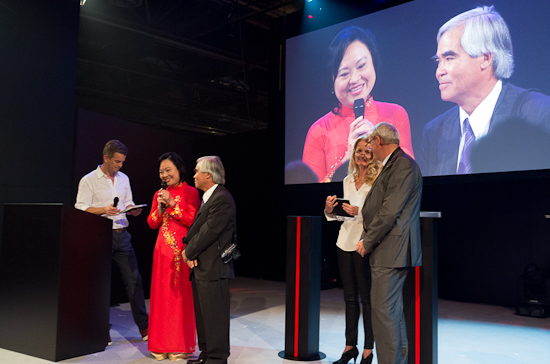 Then, after this story, she invited Nick Ut and Kim Phuc, the girl in the photo, to join her on stage. Almost immediately, a huge crowd gathered in front of the stage with cameras firing off like the paparazzi at the Oscars.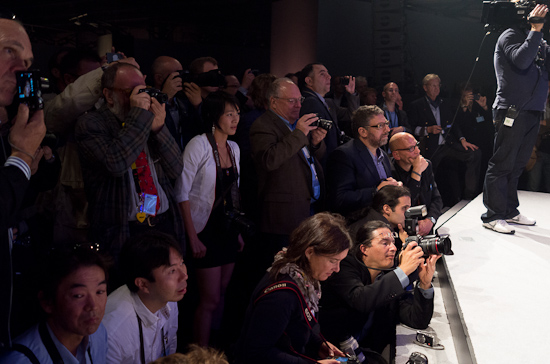 Ut was presented with the Leica Hall of Fame award for his lifelong work with Leica in the creation of powerful images. Nick explained that his first thought was rescuing Kim and the other children. Immediately after taking the now-famous photo, he rushed her off to a hospital in Saigon, where she stayed for 14 months, barely surviving the burns covering her back. Phuc now runs a foundation that helps children who are victims of war. Hers was truly a story of rebirth and hope in the midst of despair. And, if this wasn't enough to hear their story recounted in their own words, they were then joined on stage by another war photography legend, David Burnett.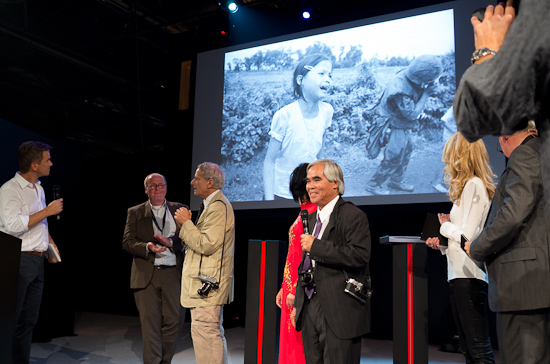 He was standing next to Ut at the time. Burnett showed some of his own images on screen while explaining more how they saved those children. According to Burnett, he missed the shot because he was reloading. They had no idea this going to change the attitude of the Vietnam War the world over, but rather, it was just another day in the life of a war correspondent, documenting the action.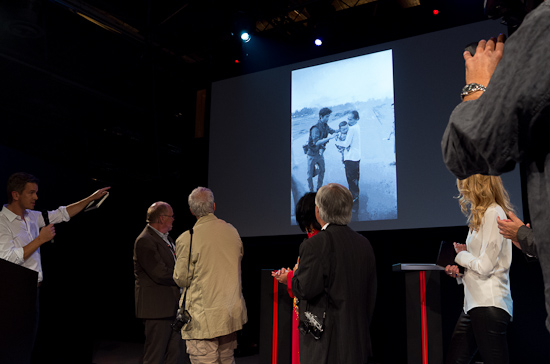 Then, past Leica Hall of Fame recipients Steve McCurry and Barbara Klemm came up as well. McCurry talked about the famous photo of the girl in Pakistan that graced the cover of National Geographic. Years later, he tracked her down and offered her compensation for the use of her image, which had been printed hundreds of thousands of times, but for which she never had received a cent. Klemm discussed her experience shooting world leaders over the course of her career. Unfortunately, the discussion was in German so I can't recall the exact sentiments.
All together, they had a brief discussion about photojournalism. Mrs. Kaufmann had prefaced her presentation to say that there were many notable guests in attendance, but I was surprised by the sheer caliber of these photographic legends. Everyone then gathered to have pictures taken by the throng of photographers in front of the stage, then Mrs. Kaufmann went on about the gallery exhibitions in the rear of the event space.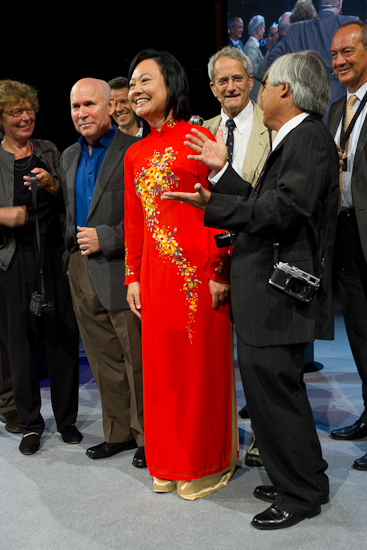 In the past, Photokina had used the space to exhibit various photography, but this year, the entire space is dedicated to Leica photographers. Twenty photographers have been highlighted, each with their own exhibit in the gallery space. From Elliot Erwitt to Nick Ut to Platon, this is a not-to-miss collection of some truly amazing work. And with the intro, the lights in the gallery area came to life. We had an hour to get more food and drink and to admire the great photographic works in the gallery.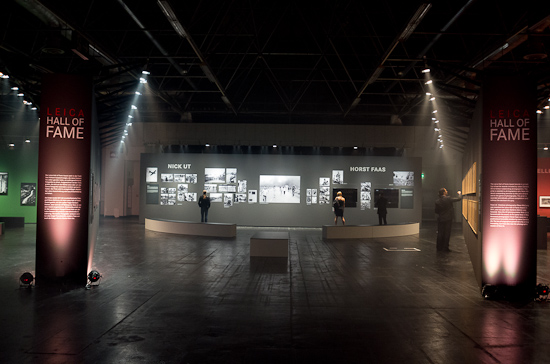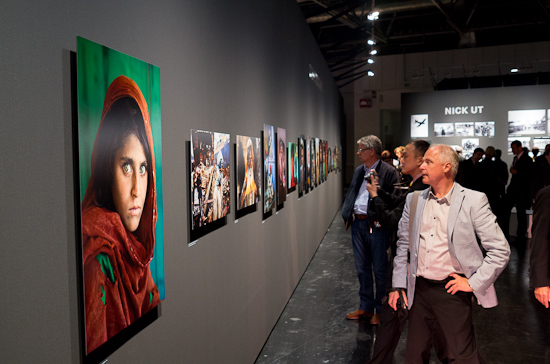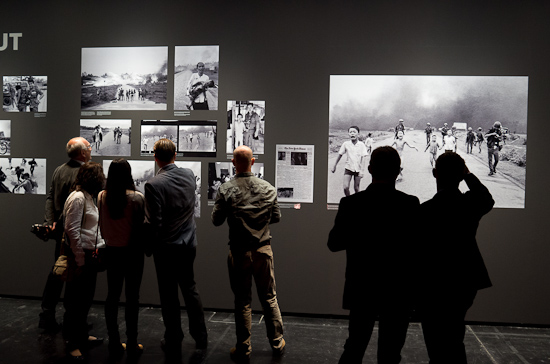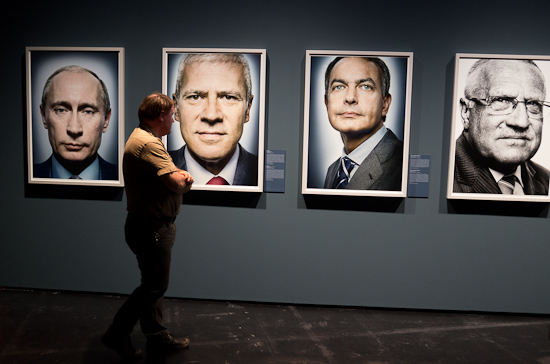 Even though I was anxious to hear about the new products, I felt the program so far had been really extraordinary. The wait would be over soon so I wandered around, enjoying the great photography displayed and chatting up a few old friends like Christian Erhardt, former VP of Leica USA.
Kelsey Fain, S-System Specialist with Christian Erhardt, former VP Leica USA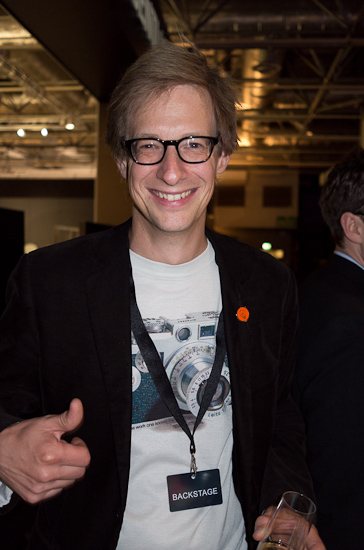 Jesko von Oeynhausen, product manager for M
The countdown started again on the big screen. I retook my position in front of the stage. This was the big news and I didn't want to miss a thing. This time around, the throng of photographers decided to stake their claims in the front as well.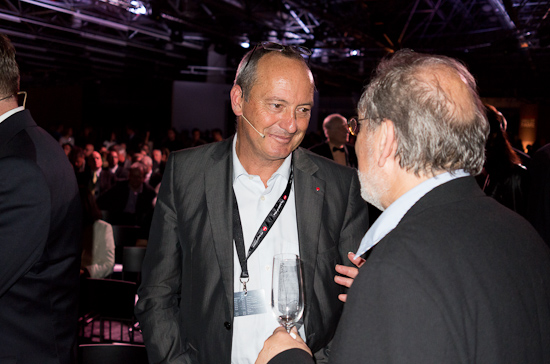 Schopf retook the stage. Since 2009, Leica's product strategy has proven to be extremely successful and the company has been rewarded with profitability and growth. There were so many new products for 2012 that Leica decided to introduce some in May and the rest at Photokina. The two May products, the M Monochrom and the X2, have been doing very well.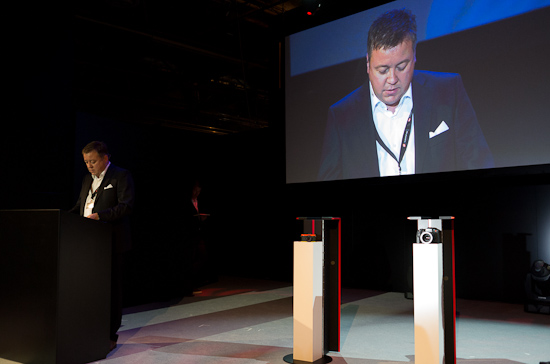 At this point, head of product management Stefan Daniel came up to talk about the new products while Schopf played Vanna White, opening each of the four pedestals with a new product inside. Leica collaborated with famous British fashion designer Paul Smith to create a special, limited edition. The Leica X2 Edition Paul Smith is a very boldly British styled camera. With a daring orange top plate, lime green base plate with British racing green leather in between and contrasting black controls, the run of 1500 cameras is certainly not for everyone.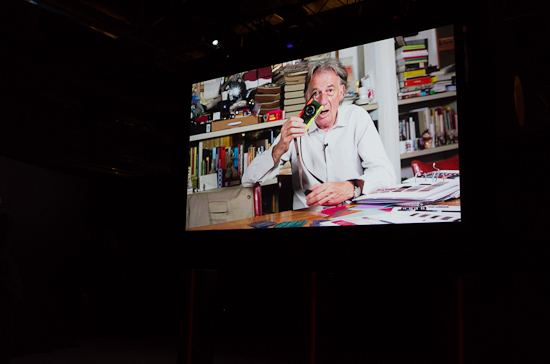 Paul Smith via video intro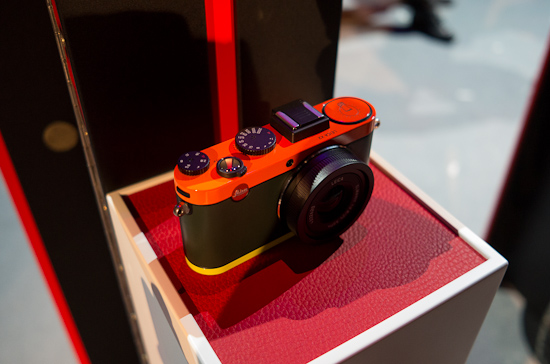 But, for those looking for a really wild and unique design of an amazingly good camera (see my
full X2 review for more), it just might fit the bill. The Paul Smith Edition will only be available at Leica Stores and Boutiques. Pricing is not available at this time. Also new is the X2 a la carte program. I'll get more details on this later in the week.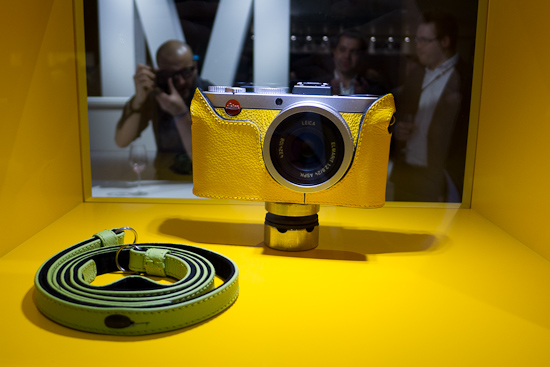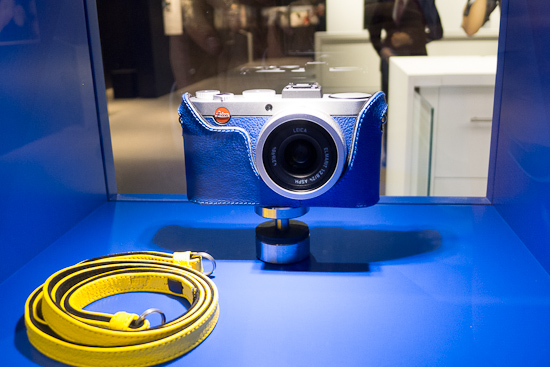 Next up, the New S. Not an S3, mind you, but just The New Leica S. The New S has been upgraded all around. Featuring double the RAM at 2GB, the camera now has a much deeper buffer than the S2, and is capable of shooting up to 32 continuous images at 1.5 fps without slowing down. This is class leading. Also new is the completely revamped AF system with white balance sensor, the 3" 920,000 pixel LCD with Gorilla Glass and full sRGB color gamut, brand new sensor board with extended ISO range from 100-1600, increased viewfinder coverage, new 5-way controller on the rear of the camera, built-in auto-level, standard GPS and lighter chassis. The new S camera also has a brand new menu and on screen control structure.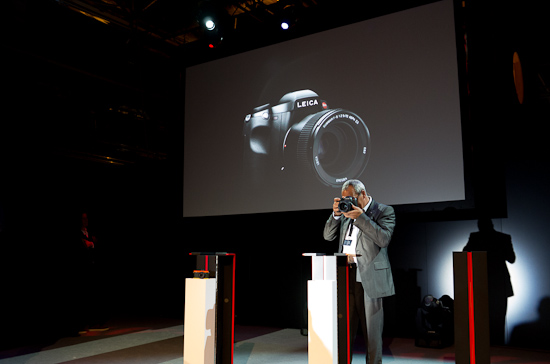 Also new are three lenses: the Super-Elmar-S 24mm f/3.5 ASPH, Vario-Elmar-S 30-90mm f/3.5-5.6 ASPH and TS-APO-Elmar-S 120mm. This will now bring the total to eight lenses, with five of these also available soon in CS version. Additionally, the Leica ELPRO-S 180mm macro close-up attachment will be available for the 180mm APO, giving the lens much more flexibility.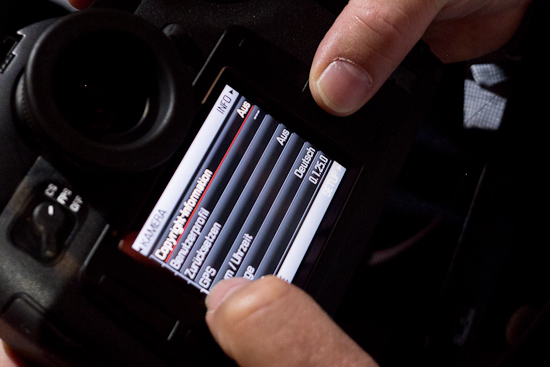 New S LCD and menu
I will be taking a much closer look at the S System and the camera while at Photokina.
Two down, two to go. In the third mystery pedestal was the Leica M-E, or the Essential edition of the M. Finished in two tone "panda" with silver control dials and anthracite gray top and bottom plates, the M-E features the same 18MP sensor as the M9, but does away with the fame preview lever and the USB socket. These were two rarely used items in the M9, but a good way to cut the cost. The M-E will offer a cleaner M9-like experience for $5,450.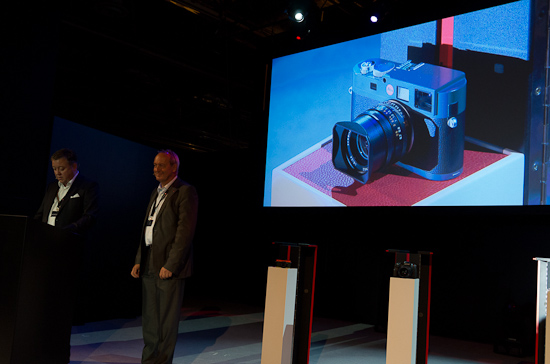 Instead of Stefan announcing the final product, Dr. Kaufmann came up to the podium. Clearly, he was feeling better and wanted to save the best for last in the spirit of Steve Jobs. He proudly proclaimed that there was no M10 and had a good little chuckle. "Well, it's not called the M10," he went on, "It is just the New M!" As he explained, there have been over sixty years of M cameras but they have all been Ms. Now, and in the future, the M and S cameras will just be called the M and the S. After mulling it over the last few hours, I'm okay with the new naming. It works for the Apple Mac Book Pro, for instance. Or for many car models. I'm sure it will be fine.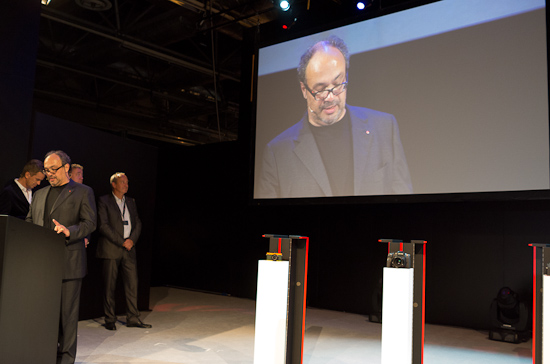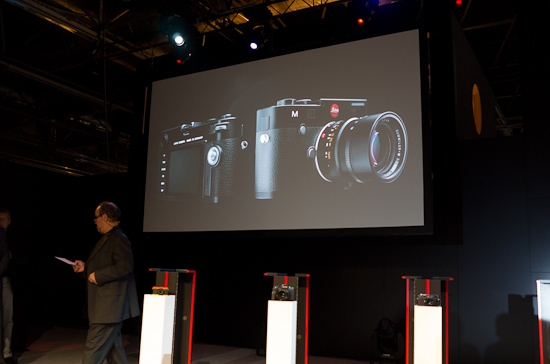 The New M has a specially made full frame 24MP CMOS sensor, Maestro image processing chip from the S system, live view, the same 3" 920k LCD from the S, live view, live view focusing, focus peaking, 1080p video recording, LED-lit frame lines in the optical rangefinder, a new menu system, added quick buttons and thumb wheel for exposure comp, and full weather sealing. And, of course, lest we forget the new R adapter. This was indeed the EVIL solution that Stefan was alluding to two years ago. As with the S, I will cover the new M in depth later this week.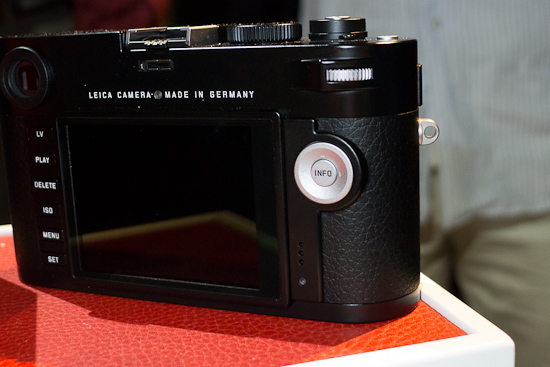 For a super exclusive camera, Jonathan Ive, Apple's chief designer will be creating a one-off Leica M camera to be sold at an auction for charity. I have a feeling this is going to go for a lot. I'm curious with what Mr. Ive comes up with.
And, with that, the product announcements were over and the party was in full swing. No M lenses and the various compact digitals like the V-Lux 4 and D-Lux 6 were mentioned. Clearly, the event was focused on core products Made In Germany.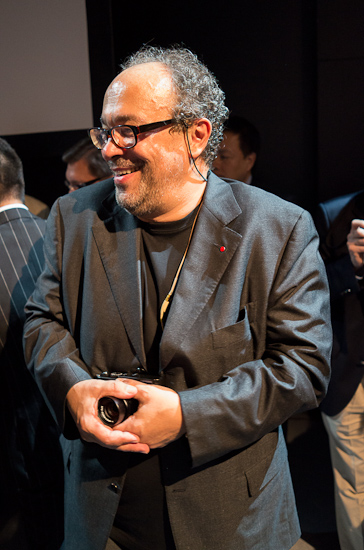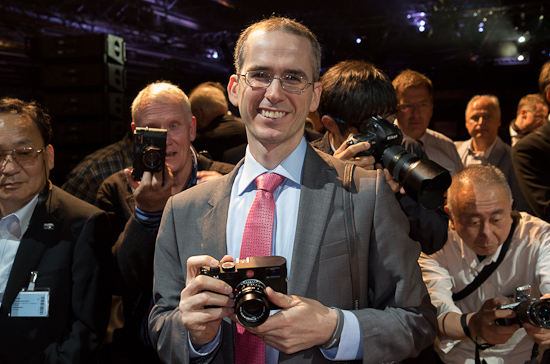 Me, holding Leica M
Immediately, that horde of photographers camped out in front of the stage swarmed around the new products. I got a chance to hold the cameras briefly, but not long enough to draw any conclusions. Fear not, though, I'll have plenty of opportunity at the booth. I also got to meet Nick Ut and have a photo with him. I'm not usually a sucker for celebrity but this guy is a legend and it was an honor to meet him. Too bad I didn't have a book to sign.
Everyone's fun was broken up by staff clearing away the new models along with their pedestals. Then, a band started to set up. Perfectly normal I thought. They had some local band in Berlin at the end of the party. Well, a few minutes later, when Seal came out, I wasn't the only one shocked. He did a full set, which was amazing. That guy can really sing. In between songs he waxed poetic about the common bond of photography and his passion for Leica. Clearly, everyone in attendance thoroughly enjoyed the show. Seal finished his set and disappeared.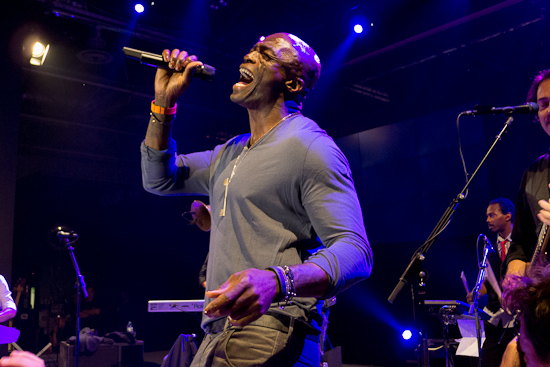 The DJ came out and the party was still hopping, when I decided to call it a night around 1am and head back to my hotel.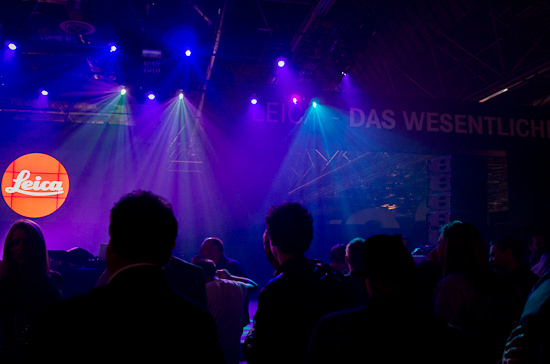 After the long night and some serious jet lag, I think I'm going to sleep in just a little, then head to Photokina. So far, I'm really impressed with the Leica offerings and can't wait to get hands on at the show today. Stay tuned for more updates here on Red Dot Forum and on Twitter (@RedDotForum).