This week Leica rolled out their Leica Family & Friends Program. Running now through October 31, 2022, the program rewards current Leica owners, and their friends, with some nice discounts on SL-System cameras and lenses. The process is straightforward and looks to be a welcome option for anyone considering moving in to the SL, upgrading their current camera, adding some lenses, or even a second body.
If you already own an eligible Leica product which we've listed below, you can activate a set of discount vouchers in your Leica Account online. These vouchers are then good for $650 off a new SL2 Body, SL2 + 24-70mm Bundle, SL2-S Body or SL2-S + 24-70 Bundle; and $500 off any SL Prime lens. The only rule is you can only use one voucher per new SL body or lens.
Vouchers can also be shared with up to five family members and friends who don't already own an eligible Leica camera but are considering the jump to Leica. To do so, a link is provided which will allow the receiver to create their own account and vouchers.
Eligible Products
All Leica SL Bodies – SL (Typ 601), SL2, SL2-S
All Leica CL Bodies – Black, Silver, Special Editions
All Leica TL Bodies – T (Typ 701), TL, TL2
All Leica Q Bodies – Q (Typ 116), Q Titanium, Q-P, Q2, Q2 Monochrom, Special Editions
All Leica M Analog Bodies – M6, M7, MP, M-A, etc.
All Leica M Digital Bodies – M8, M9, M9-P, M (Typ 240), M Monochrom, M10, M10-P, M10-R, M11, etc.
The Process
To get started, go to the Leica Family & Friends landing page. If you have an existing account, go ahead and log in. Otherwise, you can create a new one by clicking "Register Now." Once you have an eligible product registered, you'll see a link to "Activate vouchers." For those setting up a new account, you'll want to register at least one eligible product by serial number, then come back to the landing page.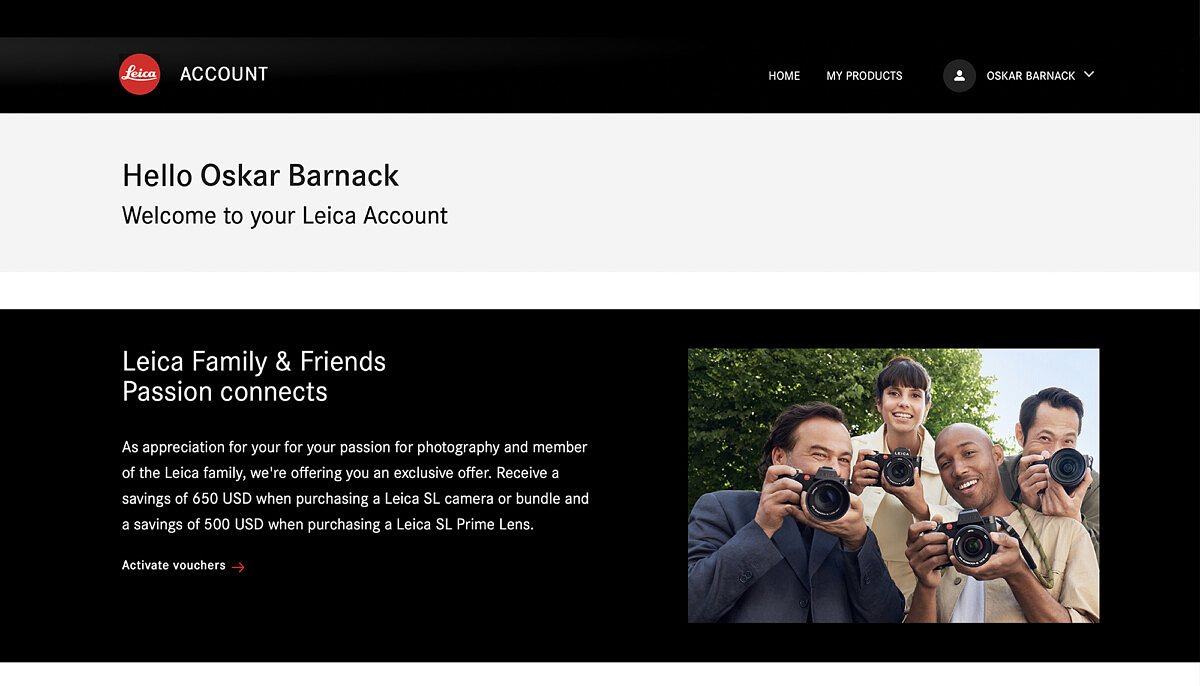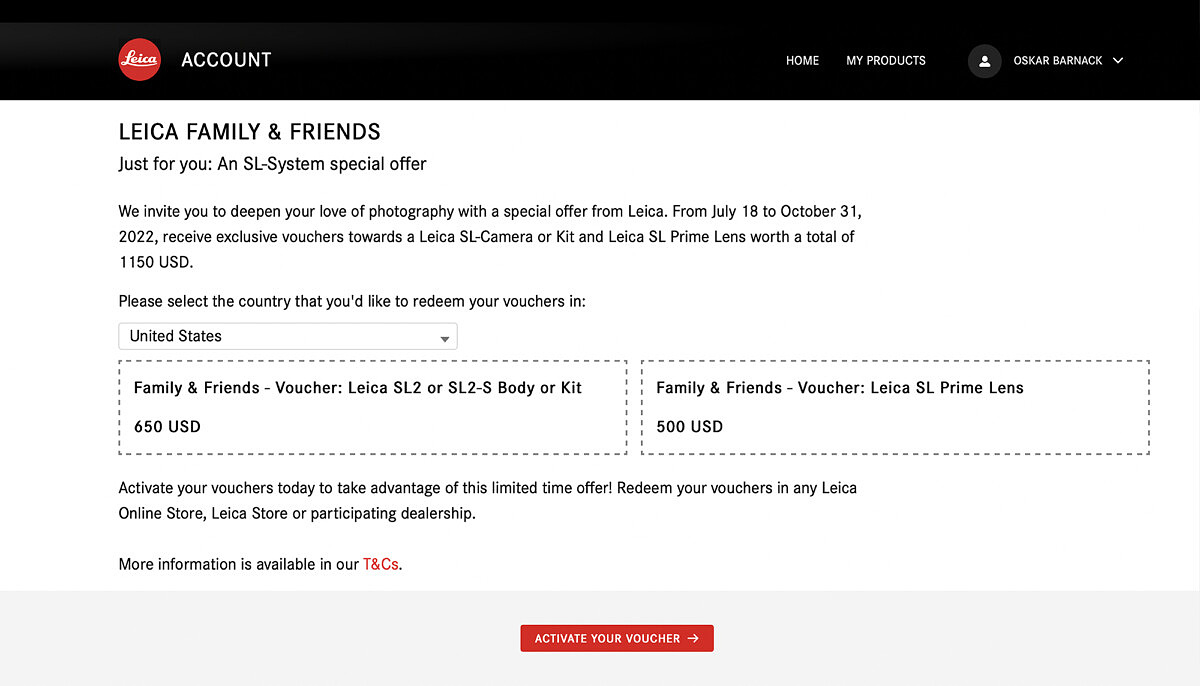 On the activation page, you'll be asked to confirm country where you'll be redeeming the vouchers. If you're setting up your account for the first time, you'll be asked to confirm your email. The website will send you an email, which you need to confirm. Until you confirm the email, the vouchers will show greyed out and will be marked as pending. If you don't see the email, make sure to check your SPAM, Junk or Clutter folders. Agree to terms and conditions the click "Activate Now."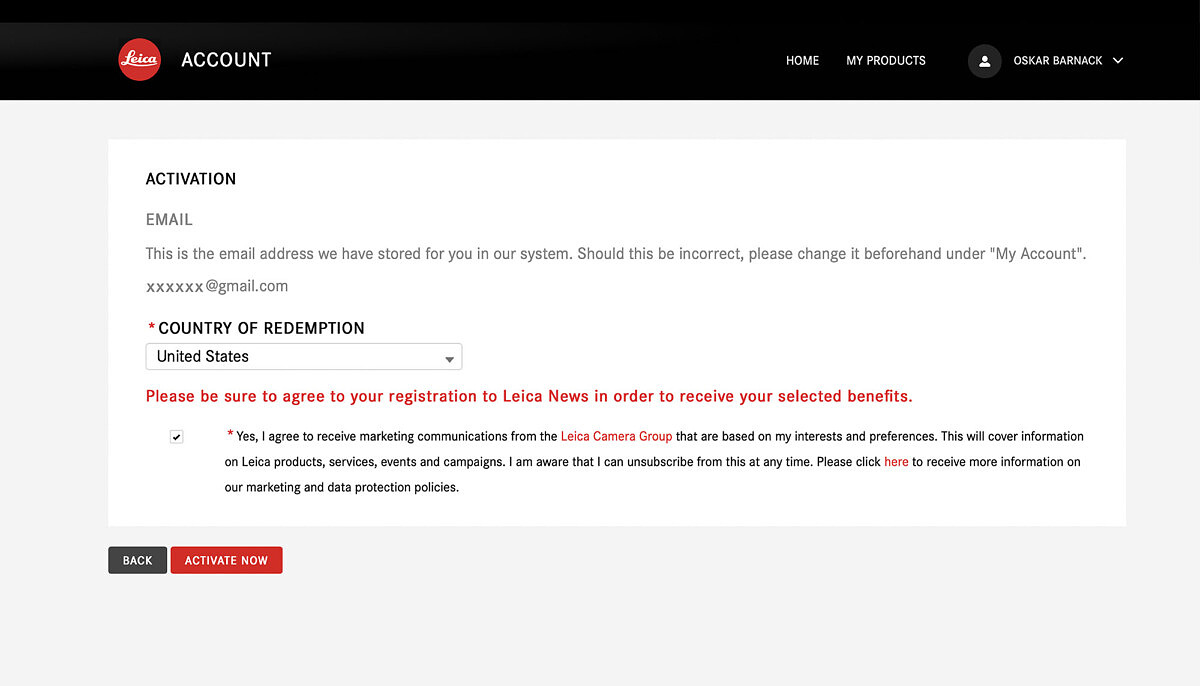 Once you confirm the email and the activation is complete, you'll be presented with your vouchers, one good for $650 off an SL body or bundle, and another for $500 off any SL prime lens.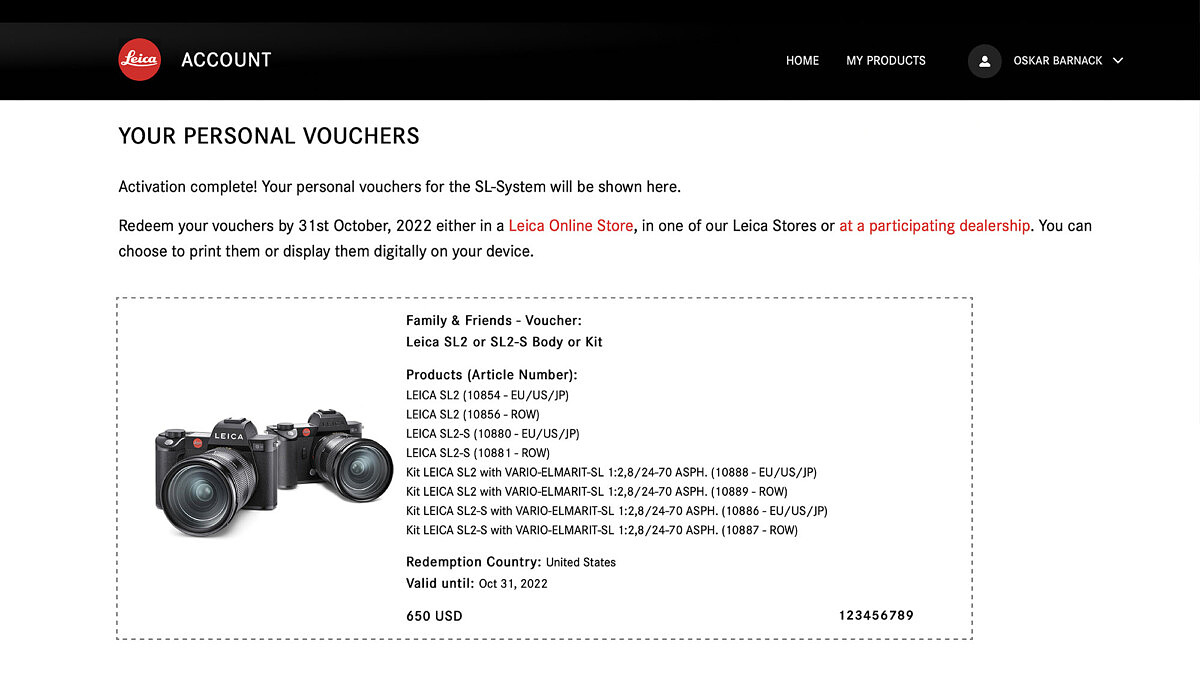 And of course, as the program name suggests, you'll then be provided a unique link you can share with up to five family members or friends who can use the vouchers.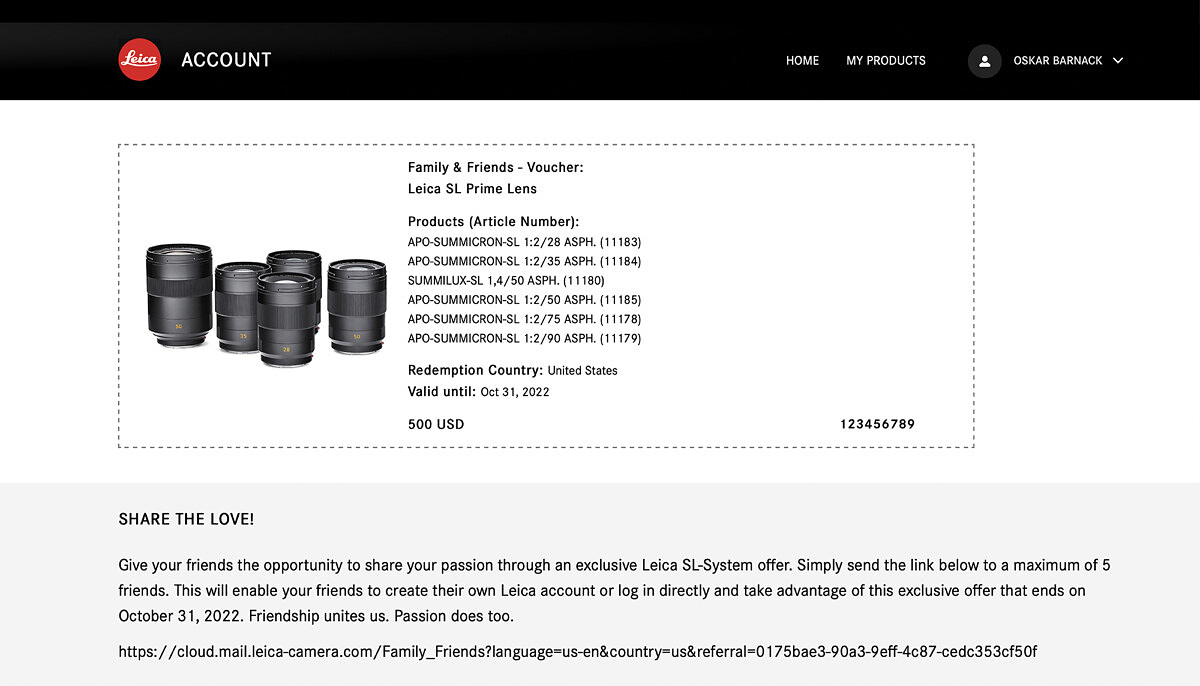 Clicking on that link will take your family or friends to a page that looks like this. They will then be prompted to "Activate Your Voucher."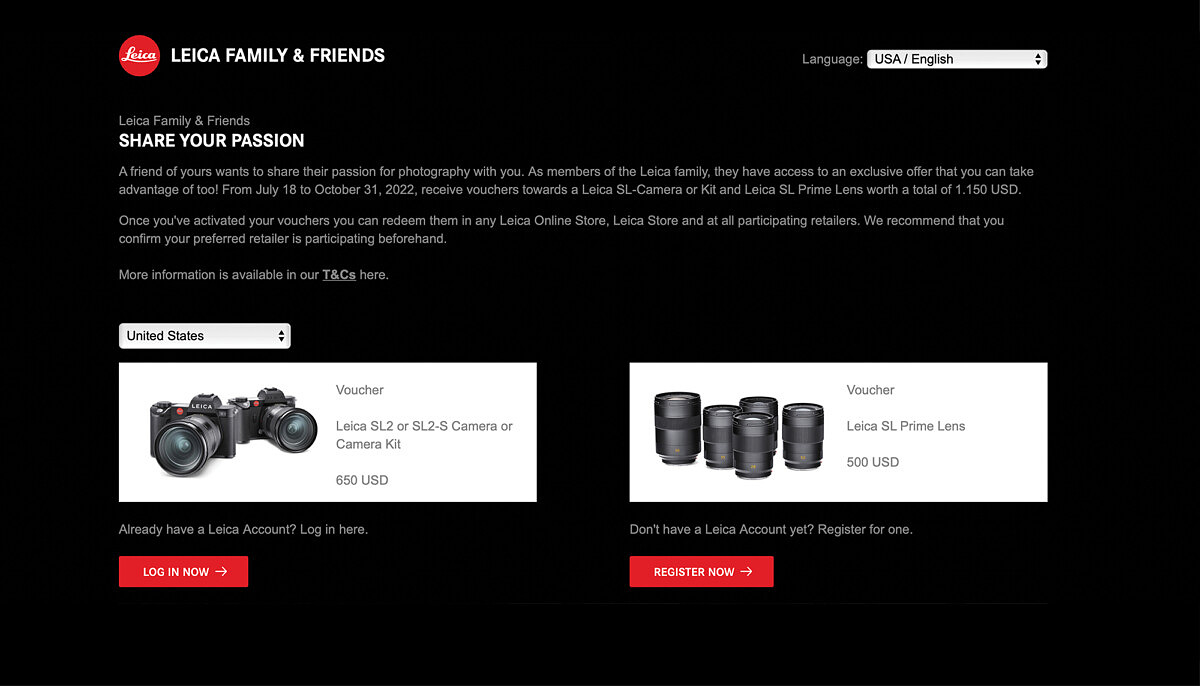 Using the Vouchers
The vouchers can be printed out for in-person transactions, forwarded in email form, or simply presented to a Leica Store or Leica dealer. If using at www.leicastoremiami.com, you can write "Family and Friends Voucher" along with the unique voucher code during checkout in the notes field. Your voucher number will be confirmed and applied and your total will be adjusted before processing and shipping your order. If you have any questions about the promotion, feel free to call 305-921-4433 or email info@leicastoremiami.com.
The Fine Print
Both pre-owned and brand-new registered products are eligible for vouchers.
This program can only be activated through the Leica Account via the Leica Camera website. Customers without a voucher are not eligible for this promotion.
First time purchases of an SL-system body during the promotion don't qualify either. Customers may purchase their first SL body, register this purchase, and receive a voucher set for a SL prime lens and/or second SL body/bundle.
The program runs from July 18, 2022 through October 31, 2022 and only covers cameras or lenses purchased during this timeframe. Vouchers must be used at time of purchase.
Vouchers can't be accumulated to buy single new products. One voucher for one single eligible purchase. Voucher expires once redeemed.