Leica just posted this teaser on their website for a new camera. The "Mini M" doesn't have an official name yet, but is shown sitting between the new M Typ 240 and the X2, which Leica apparently classifies as the Micro M. The announcement is set for June 11 and the only detail that is for certain is that the camera is made in Germnay, just like the X2 and M 240.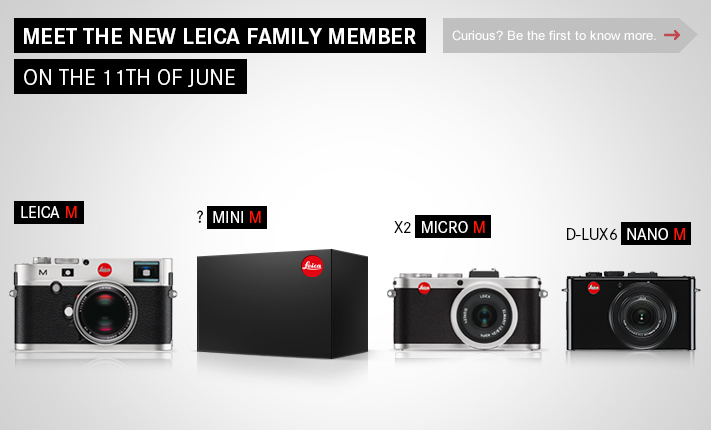 What could this camera be? We have a few guesses (and these are just guesses, trust us):
Leica's take on the Sony RX-1
Perhaps Leica will take the full frame 24MP MaxCMOS sensor from the M Typ 240 and put it into an LCD-only compact body with a fixed AF lens. This would effectively make it both a big brother to the X2 with a larger sensor but similar design sensibilities as well as a little sibling for the M, sharing the same sensor but without interchangeable lenses or an optical viewfinder.
A scaled-down M camera
Or, maybe the Mini M will be exactly that: a smaller M akin to the Leica CL with either a smaller rangefinder base or just live view and no optical finder. This camera might still take M lenses making it an effective second body or lower-end starter body for new entrants into the Leica world. If this is the direction Leica goes, it would be interesting to see if a cropped sensor would be used, or the same 24MP full frame chip.
An M camera without a rangefinder
And still another possibility is that Leica could come out with an MD version of the M Type 240. The cost could certainly be brought down without the complexity of an optical rangefinder/viewfinder system. In this case, an EVF could be put in its place. I'm not sure the "mini" moniker fits this approach as a camera like this wouldn't really be much smaller.
The reality is that these are all just guesses. We'll all find out for sure what the Mini M will be in less than three weeks. Expect full coverage and details here on Red Dot Forum.
In the meantime, Leica Store Miami is taking pre-orders for the new Mini M. Just email info@leicastoremiami.com to get on the list.