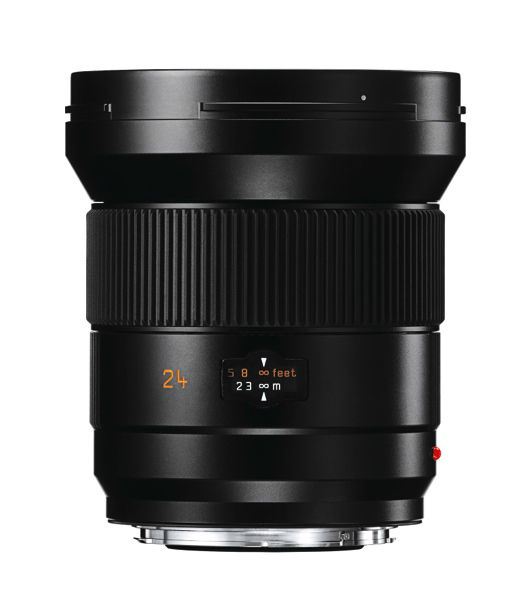 Today, Leica has announced the new Leica SUPER-ELMAR-S 24 MM F/3.5 ASPH. for the Leica S-System:
Solms, Germany (September 17, 2012) – Leica Camera has expanded the Leica S medium format system with the addition of a new lens, the Leica Super-Elmar-S 24 mm f/3.5 ASPH. Corresponding to a focal length of 19 mm in terms of 35 mm photography, this super-wide-angle lens guarantees excellent imaging quality. Ideal for not only landscape and architectural photography but also for indoor photography and many other applications, the lens shows very high contrast rendition and maximum resolution at the highest aperture.
As the result of the unusually complex construction of its focusing system, the Leica Super-Elmar-S 24 mm f/3.5 ASPH. offers superior imaging performance from the point of closest focus to infinity throughout the entire focusing range. During focusing, only the middle group of three lenses is moved. Concurrently, one of the lenses is moved independently as a floating element and guarantees optimum ray paths at every setting.
With an optical system comprising 12 lenses in ten groups, Leica's optical design engineers have
achieved extraordinarily high freedom from distortion for such a wide-angle lens. Five of the lenses are manufactured from glasses with anomalous partial dispersion to prevent negative effects, such as chromatic aberration. Two aspherical lenses located behind the iris and the aspherical surface of the front lens minimize monochromatic aberrations.
The Leica Super-Elmar-S 24 mm f/3.5 ASPH. is distinguished by rugged, enduring design and
construction that guarantees years of dependability, even with frequent use. Featuring an extremely robust bayonet mount and fully sealed against dust and spray, the new release ensures maximum dependability even under the harshest shooting conditions.
With the addition of the Super-Elmar-S 24 mm f/3.5 ASPH., the current S-System lens portfolio
offers a total of eight lenses (five of which will also be available in CS versions with a central shutter),ensuring superior imaging quality for all areas of photography.
The Leica Super-Elmar S 24 mm f/3.5 ASPH. is supplied complete with a lens hood specially
optimized for its optical system. It will be available from selected Leica dealers in November 2012.
The Leica Super-Elmar-S 1:3.5/24mm ASPH will be priced at $7,450.