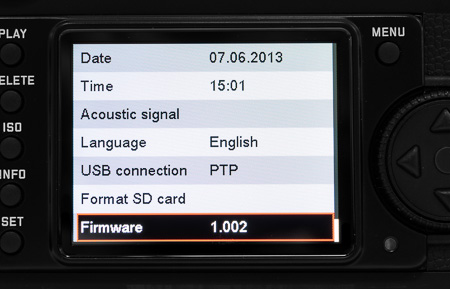 Leica has released their first firmware update for the Leica M Monochrom, version 1.002. The firmware update offers the following improvements:
Bugfix to improve stability in "Discreet-Mode
Linguistic improvements in French, Italian
Improved stability when the camera is connected to USB
The firmware is available for download on the Monochrom Downloads Page on Leica's website.
Instructions for updating the Leica M Monochrom Firmware
Format an SD memory card in your Leica M Monochrom.
Turn off the camera and insert the card into an SD card reader – either integrated or connected to your computer. (A reader is required for firmware updates).
Download the firmware file from the Leica M Monochrom site using the "UPDATES" link and unzip the file.
Save the unzipped file Mm-1_002.upm at the top level of the card's folder structure.
Remove the card properly from your card reader, insert the card into the camera and close the bottom cover.
Turn on the camera using the main switch. Confirm the prompt that appears in the monitor as to whether you want to update the firmware on the camera to version 1.002.
The update process takes around 180s. You will then be prompted to restart the camera using the main switch.
Turn the camera off and back on again.
Notes:
If the battery does not have sufficient charge, you will see a corresponding warning message.
If you update the firmware on your M Monochrom, the camera will be set back to the default settings. This also applies to the folder and file numbers.
Also the User profiles will be deleted. Please make a note of the settings in the user profiles before you run the update, so that you can reset them manually.