Today, Leica has announced a new addition to its camera lineup: the Q2 Monochrom. Based on the outstanding and hugely popular Leica Q2, this is Leica's first black and white full-frame autofocus compact digital camera. Sharing the design platform of its color sibling, the Q2 Monochrom offers the same benefits users of the Q2 have come to appreciate: lightweight-yet-solid build, crystal-clear built-in 3.68MP OLED EVF, weather and dust sealing, fast and accurate autofocus, intuitive operation, responsive touchscreen interface, 4K video recording and German craftsmanship. Both cameras boast the exceptional, fixed Summilux 28mm f/1.7 ASPH lens as well as packing an impressive 47 megapixel full frame CMOS sensor.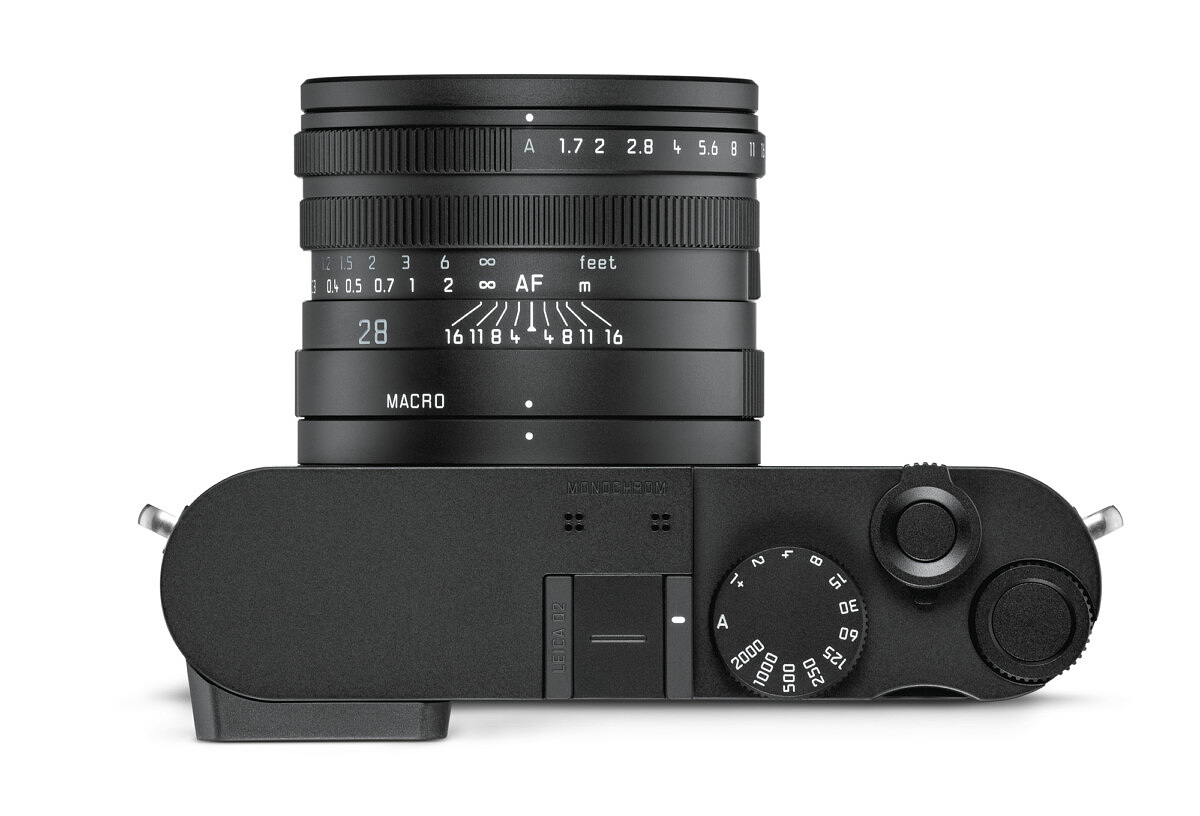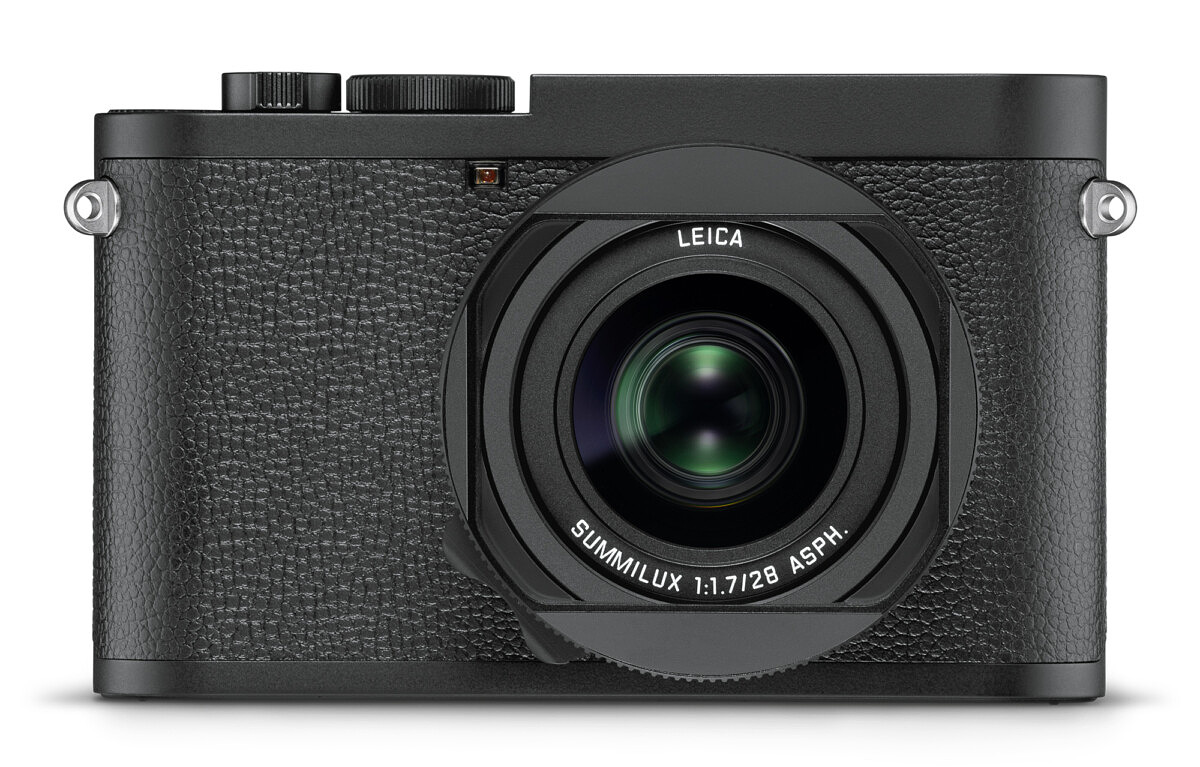 While built on the same underlying pixel architecture as the Q2, the sensor in the Q2 Monochrom is new, with a redesigned microlens array and an expanded ISO range of 100-100,000.
Styling gets some major revisions as well. The Q2 Monochrom is finished in a discrete matte black paint, with the same classy black mid-grain leatherette cladding used on the M10 Monochrom. There's no red Leica dot on the front, nor any script engraving on the top, simply MONOCHROM etched in black-on-black in front of the hot shoe. All the markings on the lens and on the shutter speed dial are completely monochromatic, with shades of gray instead of the more traditional colors used on the standard Q2.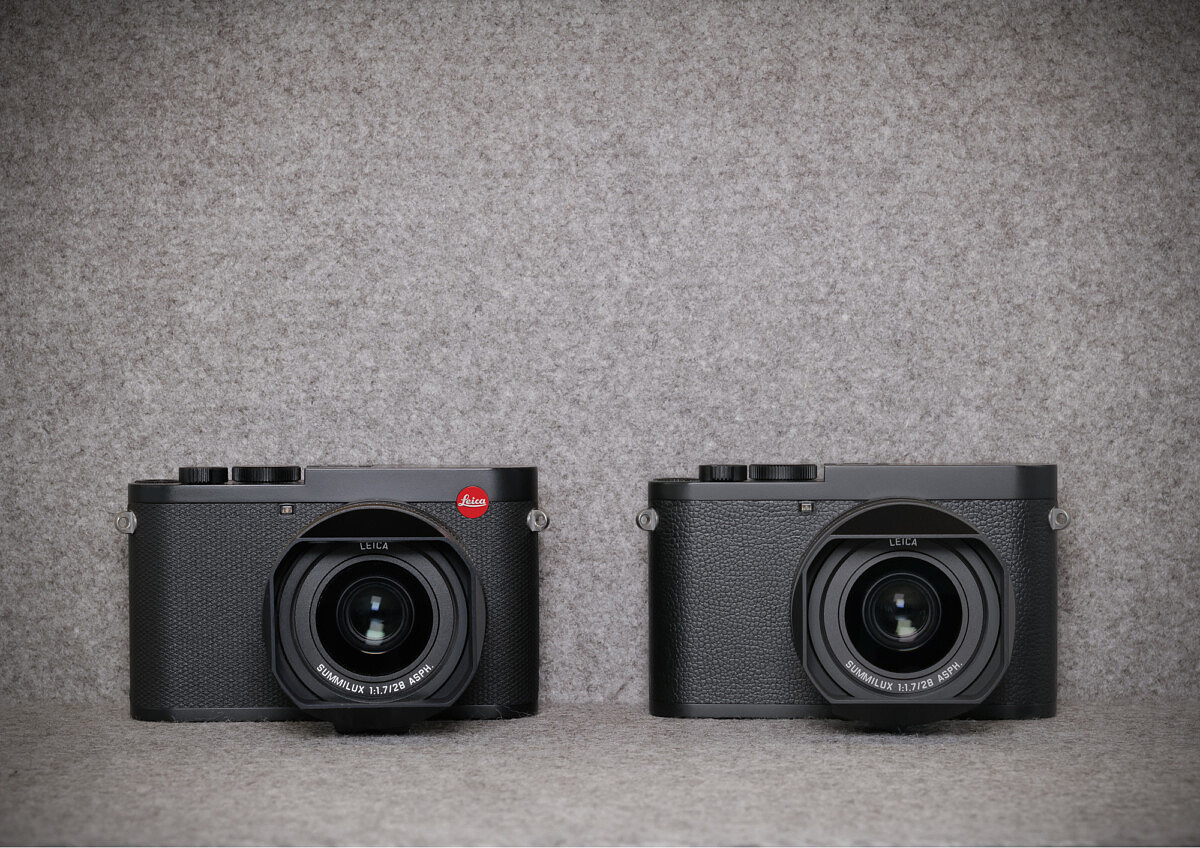 Compared to Q2
| | | |
| --- | --- | --- |
| | Leica Q2 | Leica Q2 Monochrom |
| Resolution | 47 megapixels, color | 47 megapixels, B&W |
| ISO Range | 50-50,000 | 100-100,000 |
| Finish | Semi-gloss black anodized | Matte black |
| Engravings | Colored | No coloring |
| Color Filter Use | No | Yes, for contrast effects |
| Leica Logo | Yes, on front | No |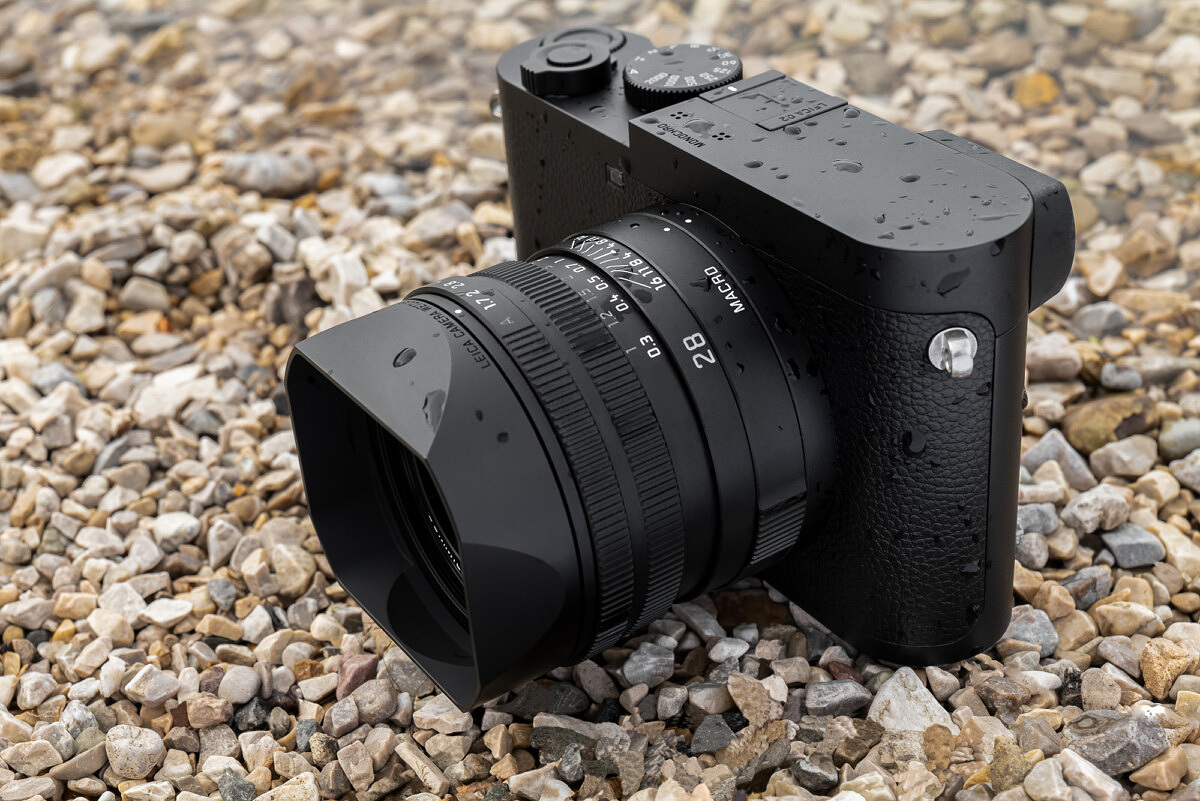 Not Leica's first Monochrom
Of course, the Q2 Monochrom isn't Leica's first black and white digital camera. Leica surprised the world back in May 2012 when they announced the original M Monochom, based on the color M9. The camera proved its worth, demonstrating a significant advantage for black and white photography. And as multiple generations of Monochrom M cameras have continued to be released, most recently the M10 Monochrom earlier this year, many wondered if other systems might ever get the Monochrom treatment. And now, with the Q2 Monochrom, those looking for a pure black and white digital camera experience with the benefit of autofocus now have an excellent choice.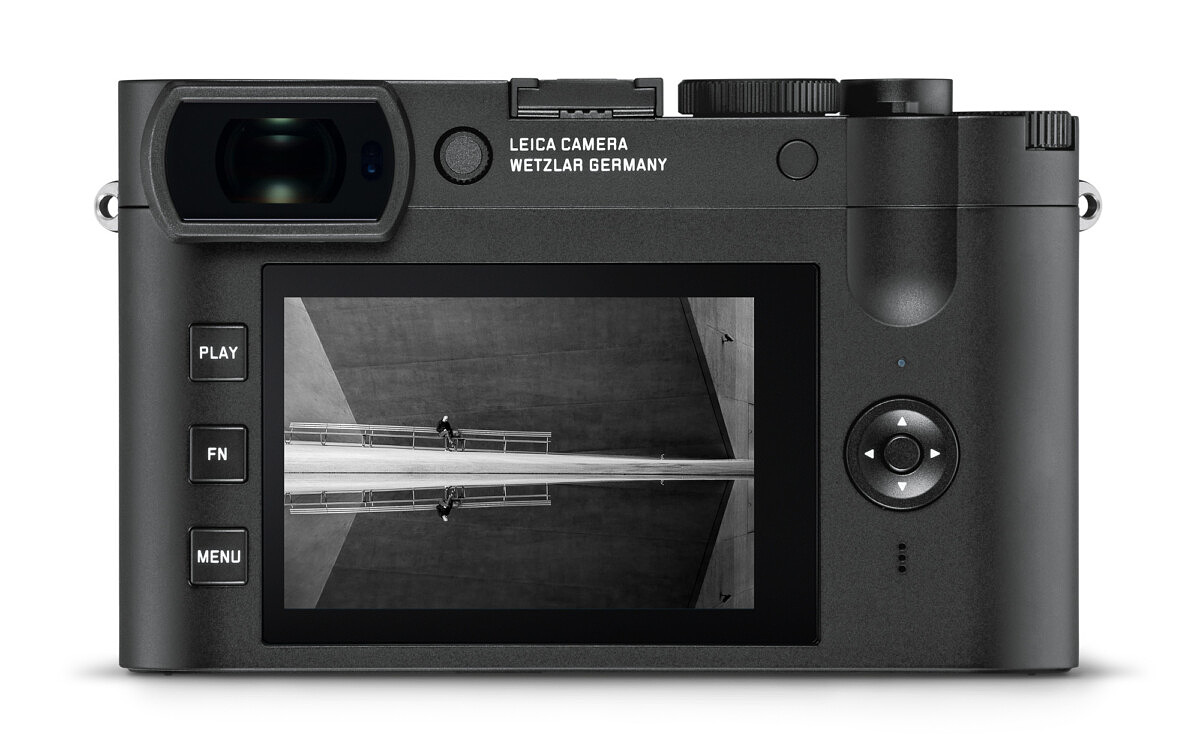 Advantages of Monochrom sensor
I've covered this topic in great detail in the past and highly recommend checking out my latest B&W ISO Showdown, where you can see the M10 Monochrom, along with the previous generation M246 Monochrom, matched up against both the M10-P and SL2 converted to B&W at every ISO. The bottom line is that due to the lack of a Bayer color filter array, a monochrome camera offers around 1.5-2 stops better high ISO performance, while also producing sharper, more detailed images. When it comes to the Q2 Monochrom, you can expect the same advantage over the Q2. Of course, we'll be putting this theory to the test and publishing the results.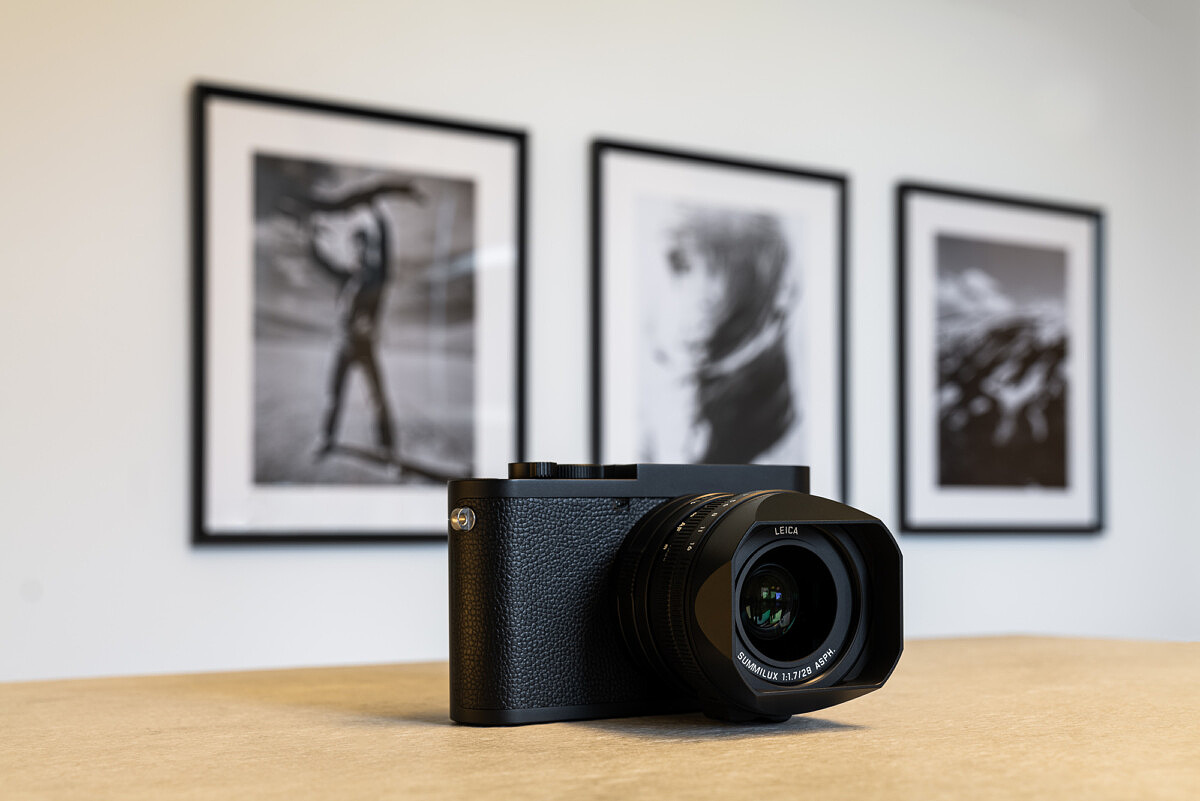 Leica also offering new 49mm color filters and matching handgrip
Along with the introduction of the Q2 Monochrom, Leica will now offer orange, yellow and green color filters in 49mm filter size. Unlike a color digital camera where color channels can be mixed to produce different B&W rendering during conversion, the Q2 Monochrom sensor only captures in grayscale. By using color filters, you can change the contrast and tonality of the image during capture. Here's a quick rundown of what each filter does:
Green filter – Darkens warm tones and lightens green
Yellow filter – Blue skies are darkened, warm tones and greens are lightened slightly
Orange filter – Blue skies darkened more, while warm tones and skin colors are lightened more.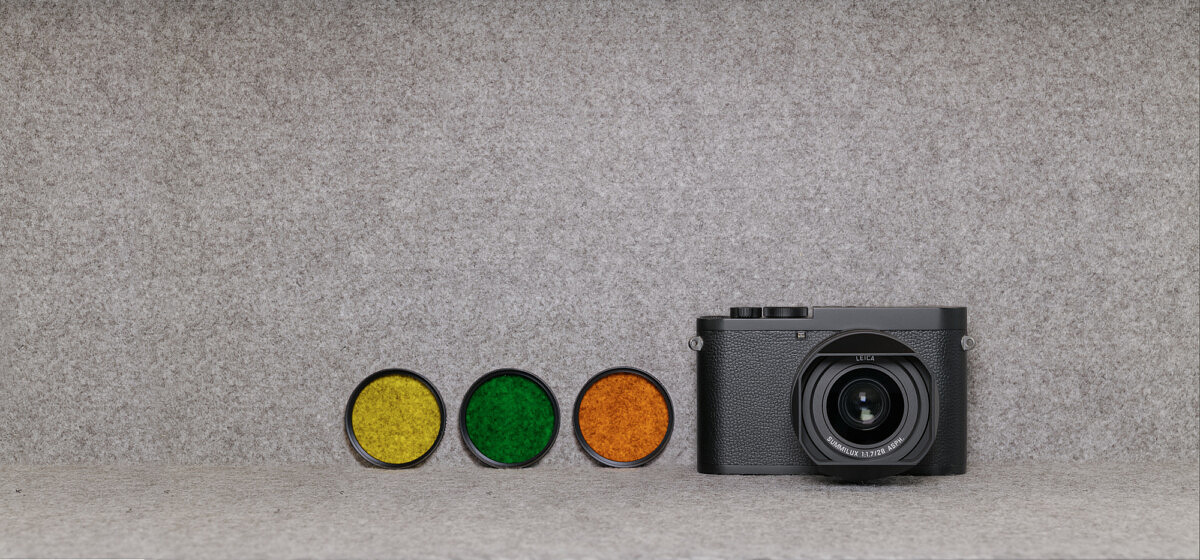 And to match the unique matte black finish and mid-grain leatherette, an Leica is offering an all-new handgrip. Pair it with a Thumbs Up or Leica Thumb Support and a wrist strap, and you've got an awesome one-handed street setup that's secure and steady.
Pricing, Ordering and Availability
Initial deliveries of the Leica Q2 Monochrom will start within the next week for a price of $5,995. As with any major Leica camera launch, supply will be probably be limited for a number of months. If you are interested in ordering the Q2 Monochrom, you can do so at Leica Store Miami by clicking the button below, calling 305-921-4433 or sending an email to info@leicastoremiami.com. If you are interested in trading in any other Leica equipment towards the purchase of the Q2 Monochrom, you can note it during the pre-order process.
Leica Sample Images
Leica has provided a nice selection of sample images from the new Q2 Monochrom which you can see larger by clicking on the thumbnails below. The images really show off dynamic range, high ISO capability and the unique rendering of the 28mm Summilux lens.
My turn with the Q2 Monochrom
I was lucky enough to receive a camera a couple days ago and was able to go out and take the camera for a spin myself. Unfortunately, my time was limited as Tropical Store Eta decided to make landfall in South Florida just as I was gearing up for some serious shooting. But even during my limited time using the camera, I was extremely impressed by the ease of use and the imaging prowess of the Q2 Monochrom. Click on the thumbnails to see a larger view.
Philipp Weinmann Gallery
And for even more sample images, Leica Ambassador Philipp Weinmann shot some striking street photography images in Germany with new camera.
Press Release
Embrace the Soul of Photography
Leica Camera is excited to announce a brand new groundbreaking addition to the storied Leica Monochrom family of cameras. The Leica Q2 Monochrom bridges the gap between technical innovations and modern features to the historic legacy of black & white photography tracing back through Leica's heritage. This is the only camera of its kind: the first full frame compact camera ever to be made with a dedicated monochrome sensor – bringing with it much of the fan-favorite features of the Leica Q2 with welcome refinements to its design and style.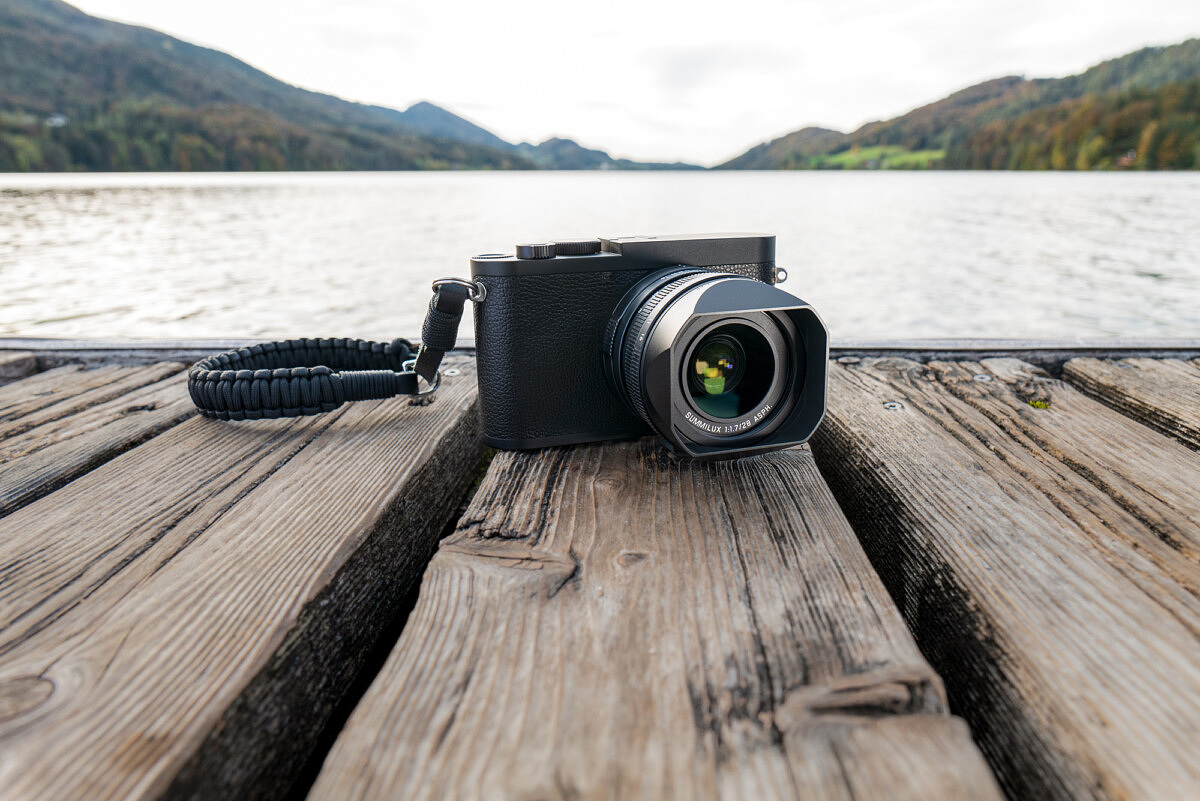 The Leica Q2 Monochrom touts a brand new 47 megapixel full frame monochrome sensor based on its sibling model, the Leica Q2. Amazing sharpness, detail and resolution combines with a higher dynamic range to give photographers the best black & white image quality that is more accessible and approachable than ever before thanks to the easy-to-use, fast auto-focusing Q2 Monochrom. The expanded ISO range of 100-100,000 with the Summilux 28 f/1.7 ASPH. lens enables photographers to capture stills and 4K video in any light, and all the amazing functionality improvements of the Q2 – such as weather sealing and the OLED viewfinder – remain on tap to encourage users to bring the Q2 Monochrom anywhere and tackle any task.
Features at a glance:
New 47mp full frame black and white sensor for stills and 4K video
ISO range of 100 – 100,000
Matte black paint finish and monochromatic engravings/design with mid-grain leatherette
The most accessible, approachable and capable Leica Monochrom camera
Weather sealing, Fast and accurate AF, 3.68mp OLED EVF, German craftsmanship and Intuitive handling of the Q2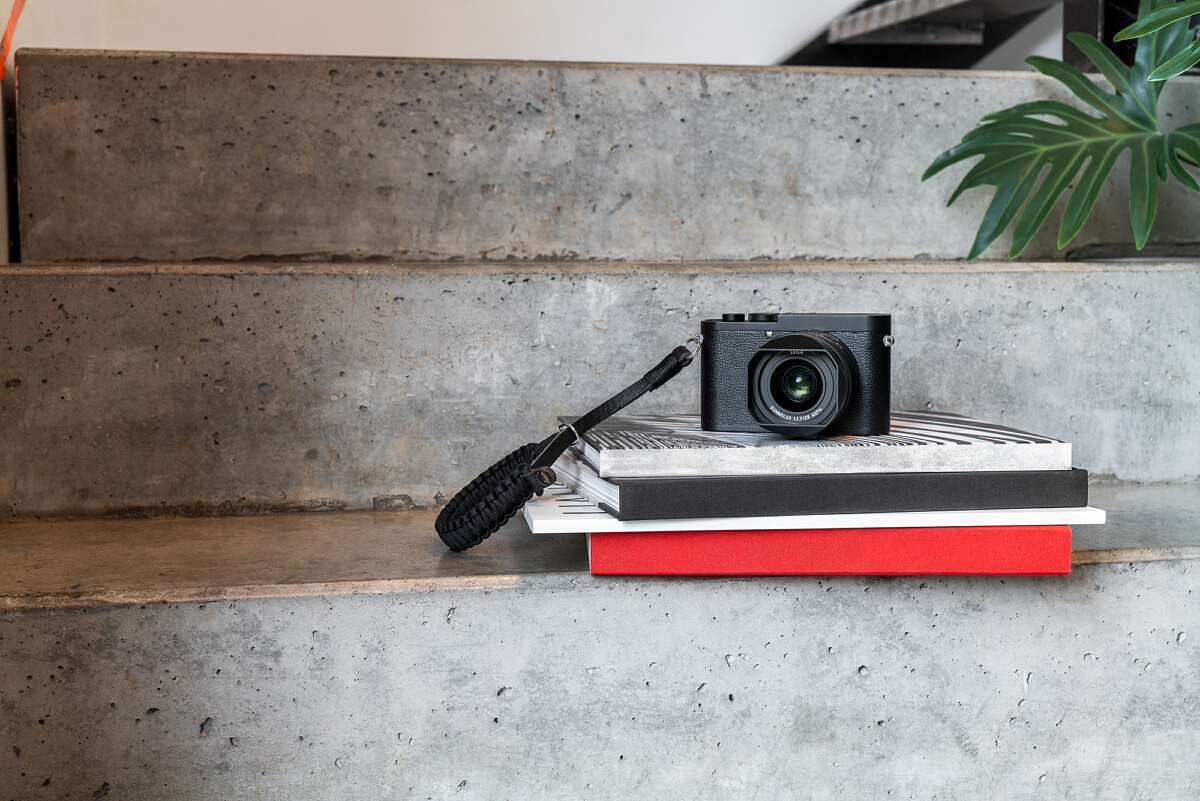 Tech Specs
| | | |
| --- | --- | --- |
| Camera type | | Digital 35mm compact camera, fixed focal length |
| Format / aspect ratio | | 24 x 36mm / 3:2 |
| Lens | | Leica Summilux 28mm f/1.7 ASPH, 11 elements in 9 groups, 3 aspherical elements |
| Digital zoom | | 28mm, 35mm, 50mm, 75mm |
| Image stabilization | | Optical shake compensation system for still picture and video exposures |
| Aperture range | | 1.7 to 16 in 1⁄3 EV increments |
| Image sensor/resolution | | Full frame black-and-white CMOS sensor, 50.4/47.3 million pixels (total/effective), without color and low-pass filter |
| Dynamic range | | 13 stops at ISO 200 |
| Color depth | | 14-bit |
| Photo file formats | | |
| Selectable | | DNG, DNG + JPEG, JPEG |
| DNG/JPEG resolution | | |
| DNG | | 8368×558446.7MP |
| JPG – L | | |
| 28mm (native) | | 8368×558446.7MP (47) |
| 35mm (digital zoom) | | 6704×447230.0MP (30) |
| 50mm (digital zoom) | | 4668×312814.7MP (15) |
| 75mm (digital zoom) | | 3136×20966.6MP (7) |
| JPG – M | | |
| 28mm (native) | | 6000x400024MP (24) |
| 35mm (digital zoom) | | 4800×320015.4MP (15) |
| 50mm (digital zoom) | | 3360×22407.4MP (8) |
| 75mm (digital zoom) | | 2240×14963.4MP (3) |
| JPG – S | | |
| 28mm (native) | | 4272×284812.2MP (12) |
| 35mm (digital zoom) | | 3424×22887.8MP (8) |
| 50mm (digital zoom) | | 2400×16003.8MP (4) |
| 75mm (digital zoom) | | 1600×10721.7MP (2) |
| Video recording formats | | MP4 (Cine 4K- 4096×2160 / 4K(UHD) – 3840×2160 /Full HD – 1920×1080) |
| Video resolution/frame rate | | 4K: 30 or 24 fps / Cine4K: 24 fps / Full HD 24, 30, 60 or 120 fps |
| Audio recording format | | AAC |
| Microphone | | Stereo |
| Speaker | | Mono |
| Storage media | | SD/SDHC/SDXC memory cardsRecommended: UHS II memory cards |
| ISO settings | | Automatic, ISO 100, ISO 200, ISO 400, ISO 800, ISO 1600, ISO 3200, ISO 6400, ISO 12500, ISO 25000, ISO 50000, ISO 100000 |
| White balance | | Not applicable |
| Color spaces | | Not applicable |
| JPG settings | | Contrast, sharpness (5 steps each) Color tint: Sepia, blue, selenium (2 steps each – low / high) / OFF |
| Focusing | | |
| Working range | | 30 cm to ∞, close focus distance 17cm in macro mode |
| Settings | | Automatic (autofocus) or manual focusing. Loupe function and edge highlighting (focus peaking) in four colors available as focusing aids in manual focusing mode |
| Autofocus modes | | AFS (shutter release only after successful focusing), AFC (shutter release possible at any time), AF setting can be saved |
| Autofocus metering modes | | Single zone (225 fields), multi-field, face recognition |
| Exposure modes | | Program AE, aperture priority, shutter speed priority and manual setting |
| Scene modes | | Not applicable |
| Exposure metering modes | | Multi-segment, center-weighted, spot |
| Exposure compensation | | ± 3 EV in 1/3-EV increments |
| Automatic exposure bracketing | | 3 or 5 exposures in steps of up to 3 EV, can be set in 1⁄3 EV increments |
| Shutter type | | Choice of mechanical, electronic or hybrid |
| Shutter speeds | | 60 s to 1⁄2000 s with mechanical shutter, 1 s to 1⁄40000 s with electronic shutter, in 1/3 increments, Flash synchronization up to 1⁄500 s, linear flash with all shutter speeds faster than 1⁄500 s (with HSS-capable SCA 3002 flash units). |
| Continuous shooting | | Choice of 10/5/3 fps (H/M/L) |
| Self-timer delay | | 2 or 12 seconds |
| OLED viewfinder Resolution | | 1280 x 960 pixels x 3 colors (= 3.68 megapixels). Viewfinder image: approx. 100%, aspect ratio: 4:3, eye-relief: 21 mm. Adjustable between -4 and +3 diopters, with eye-sensor for switching between viewfinder and monitor screen |
| Monitor screen | | 3″ TFT LCD monitor screen with approx. 1,040,000 image dots, touch control capability |
| WLAN | | IEEE 802.11b/g/n compliant (standard WLAN protocol), channels 1-11, encryption method: WLAN-compatible WPA™/WPA2™ encryption; access mode: infrastructure mode |
| Bluetooth | | Bluetooth LE |
| Power supply | | Leica BP-SCL4 lithium-ion battery, rated voltage: 7.2V, capacity: 1860 mAh |
| Charger | | Rated voltage 8.4 V; capacity at least 1860 mAh (according to CIPA standard): ca. 400 exposures; charging time: approx. 180 min.; battery charger: 100–240 V, 50/60 Hz, 0.25 A, with adapters |
| Exposures per battery charge | | Approx. 370 |
| Body | | Robust, lightweight magnesium alloy construction |
| Lens filter thread | | E49 (49mm) |
| Tripod attachment | | A 1/4 DIN 4503 (1/4″ thread). |
| Dimensions (W x H x D) | | 130 mm x 80 mm x 91.9 mm |
| Weight | | 734 g / 652 g (with / without battery) |
| Package includes | | Camera, carrying strap, lens hood, lens cap, accessory shoe cover, battery charger, mains power cable (EU, US, local power cable), USB cable |
| Software | | Leica FOTOS App |