Here's the latest news from Leica on the progress of the new corporate headquarters and factory to be built at Leitz Park in Wetzlar. I saw these same renderings last month when Dr. Kaufmann spoke at the LHSA Annual Meeting in Pittsburgh. The new rounded design is a departure from the original plan presented at Photokina, which called for two separate buildings, a rectangular factory and a more organically shaped museum and visitor center. The new design combines both into one larger, more integrated building. At nearly 300,000 square feet, the new headquarters is roughly twice the size of the current factory in Solms.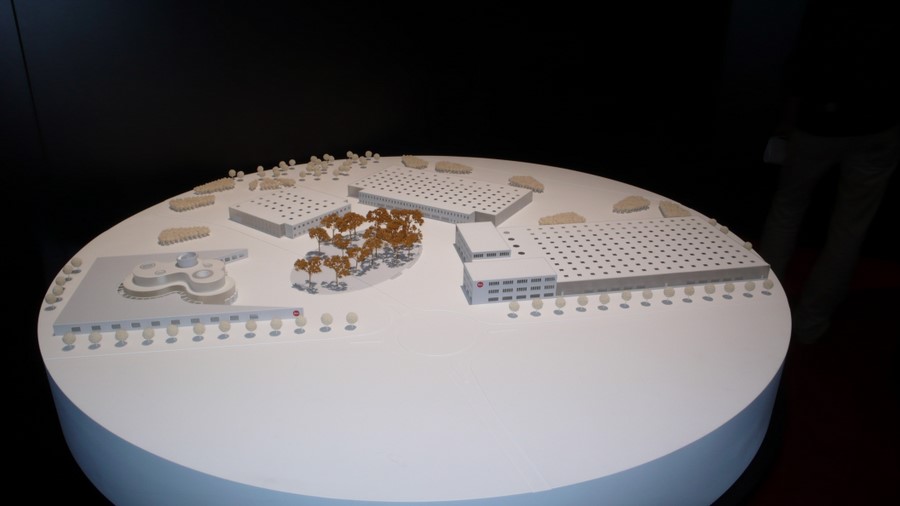 Architectural model from Photokina 2008, showing visitor center on left and factory on right
Kaufmann explained that they had wanted to start constructing this factory in 2009. But, because of the global economic meltdown, the banks would only loan Leica the funds if he deposited 100% of the loan amount in cash as collateral. Kaufmann quipped, "If I could give them 100% of the amount in cash, why would I need a loan? I could just pay for the construction myself." So, they waited. Now, the time is right, banks are loaning money again with much more reasonable conditions and the extra production capacity is desperately needed.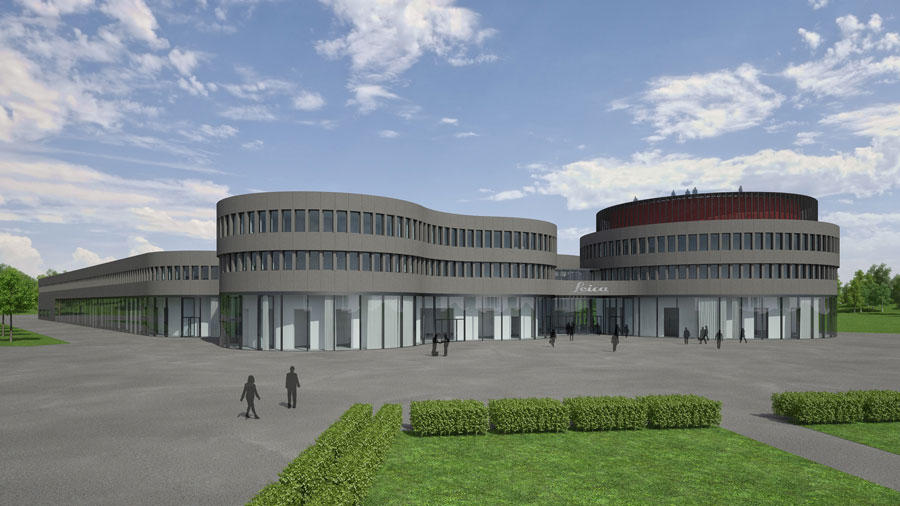 Bottom line: this is good news. Demand for Leica product is at an all-time high and Leica is maxed out on production at their current Solms factory, resulting in long wait times for lenses like the 50mm f/1.4 Summillux ASPH and 50mm f/0.95 Noctilux. With a new, totally modern and streamlined facility, they should be able to ramp up and fill the demand.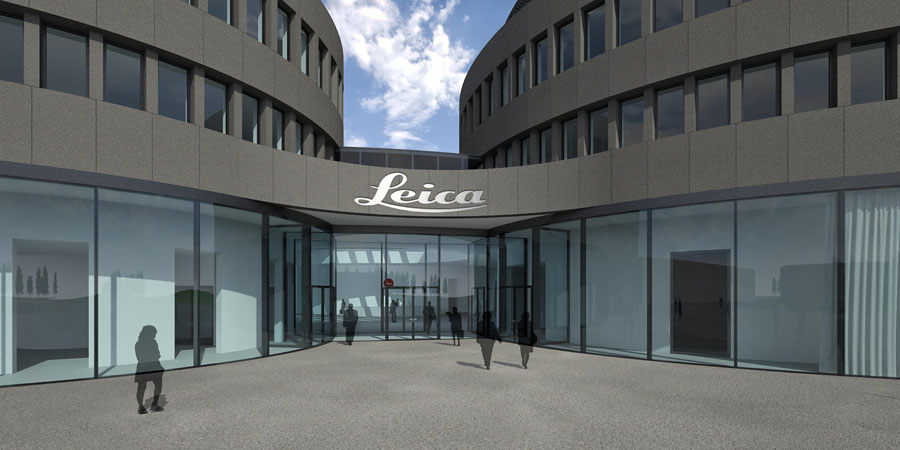 The press release follows:
Building application submitted: an important step in the planning of the new Leica Camera AG facilities
November 20, 2011
Leitz-Park GmbH, the developer of the new Leica Camera AG company headquarters in the Leitz Park in Wetzlar, submitted the building application to the local authorities in Wetzlar on Wednesday. If all goes well, construction should begin in April 2012, and the building is scheduled to be completed by November 2013. The building has a projected ground plan area of around 27,000 m2 (290,000 sq ft).
On completion, Leica Camera AG will be relocating production, administration and customer service from Solms to the new facilities in Wetzlar. The new headquarters will also offer manufacturing and assembly areas with public viewing opportunities, a Leica Museum, a store, a photo studio and a restaurant for visitors. The past, present and future of the art of photography and the Leica products inseparably linked to its evolution are brought together here in the form of a unique experience.
The building, which will also be the new workplace of over 600 members of the Leica staff, will be constructed in line with the latest energy-efficiency standards. In addition to two combined heat and power generation systems and geothermal energy exploitation for central heating and cooling, the roof area will be almost entirely used for photovoltaic power generation. A monitoring system will also guarantee minimisation of the building's operating costs. A central plaza will create a binding element between the new headquarters of Leica Camera AG and the affiliated Weller Feintechnik GmbH and ViaOptic GmbH facilities already located in the Leitz Park. According to information provided by Karin Rehn-Kaufmann, proprietor of the Leica Galerie Salzburg and representative of the Leitz Park investor, Dr Andreas Kaufmann's ACM Projektentwicklung GmbH, actively involved in the management committee of the construction project, the new facilities are a sign of the company's clear commitment to the city of Wetzlar. In the words of Karin Rehn-Kaufmann, 'Wetzlar is the birthplace of the Leica legend. The scheduled relocation of the company to the Leitz Park in 2013 has therefore been an affair of the heart for our family ever since the beginning of our work at Leica. Now, 100 years after the construction of the first "Leitz-Kamera", the Ur-Leica, Leica is returning to its roots. This is a clear signal for the future for the city of Wetzlar and the locally based optical industries. Leica maintains its strong links to Wetzlar, the home of the German optical industry.'
Alfred Schopf, chairman of the Executive Board at Leica Camera AG: 'The new Leica Camera AG facilities and the relocation to Wetzlar are another milestone in the history of our company. Leica will be moving to a state-of-the-art manufacturing and administrative complex that more than satisfies the requirements of environmental and workplace standards. Substantial parts of our future headquarters will be accessible to visitors and customers, allowing them unique insights into the history of Leica Camera AG, its products and the work of Leica photographers. Current planning foresees the closure of the facilities in Solms at the end of 2013, after completion of the move to Wetzlar. However, should further developments in the ongoing strong demand for our products reveal that a continuation of production in Solms makes good business sense, this schedule could possibly be revised.'