Today, Leica has announced the highly anticipated M11 Monochrom. Now in its fourth generation, the purpose-built black and white digital camera from Leica is based off the exceptional M11 digital rangefinder platform. Under the hood, the 60-megapixel BSI CMOS sensor delivers 14-bit images with 15-stops of dynamic range, with no interpolation or per-pixel gain, due to the omission of the Bayer color filter array. Thanks to its dual-gain architecture, the sensitivity range goes all the way from a true base ISO of 125 all the way up to an eye-watering ISO 200,000.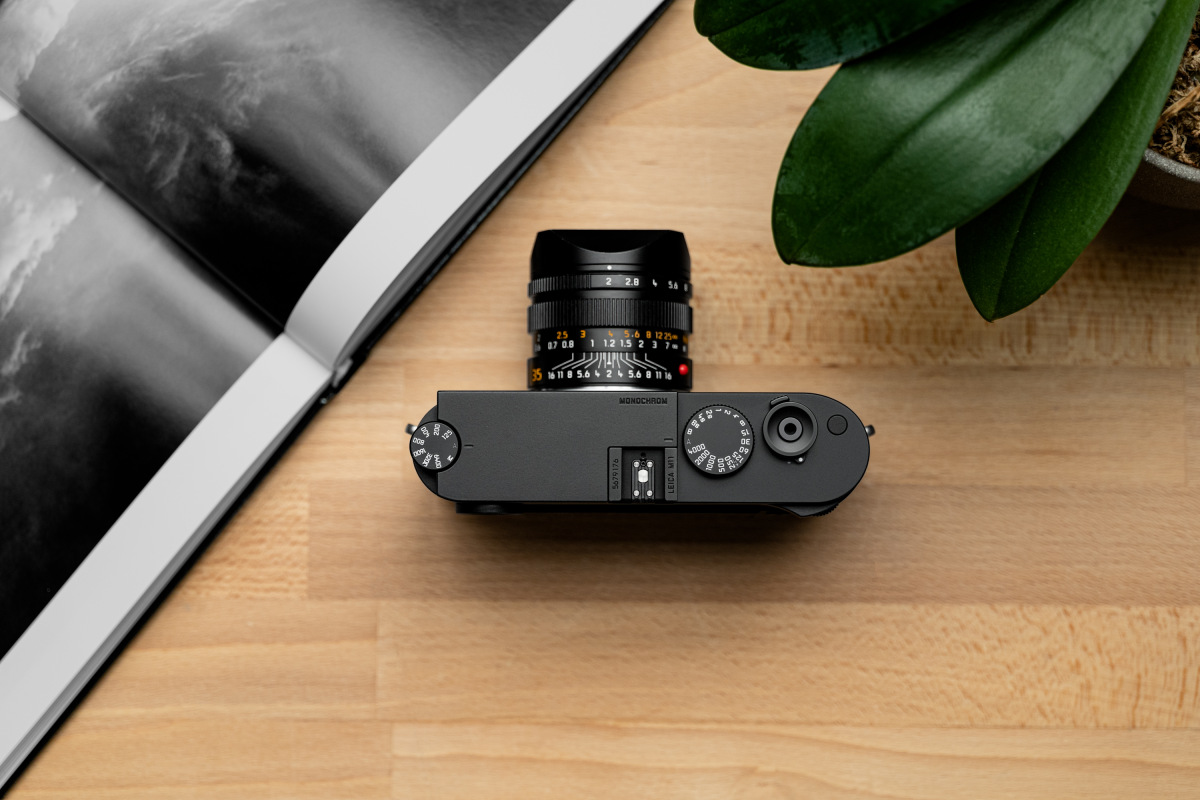 For styling, the M11 Monochrom is as subdued as ever. Understated durable matte black paint and textured black leatherette cladding come standard. The shutter release, lens lock button and top function button are all finished in flat black rather than contrasting chrome as on the M11. There is no script or red dot logo to be found, only a subtle, black-on-black engraving that simply reads 'MONOCHROM' in front of the black hot shoe on the top plate. Even the dials are devoid of color. No red 'A' markings on the shutter speed or ISO dial – just a simple gray to separate this choice from the other white-painted engraved numbers. The camera looks to be all business.
Like the black variant of the M11, the M11 Monochrom utilizes aluminum construction, rather than brass, making is significantly lighter than its predecessor. The 110g difference translates to an immediately-noticeable 20% reduction in overall heft, making the M11M very comfortable to use.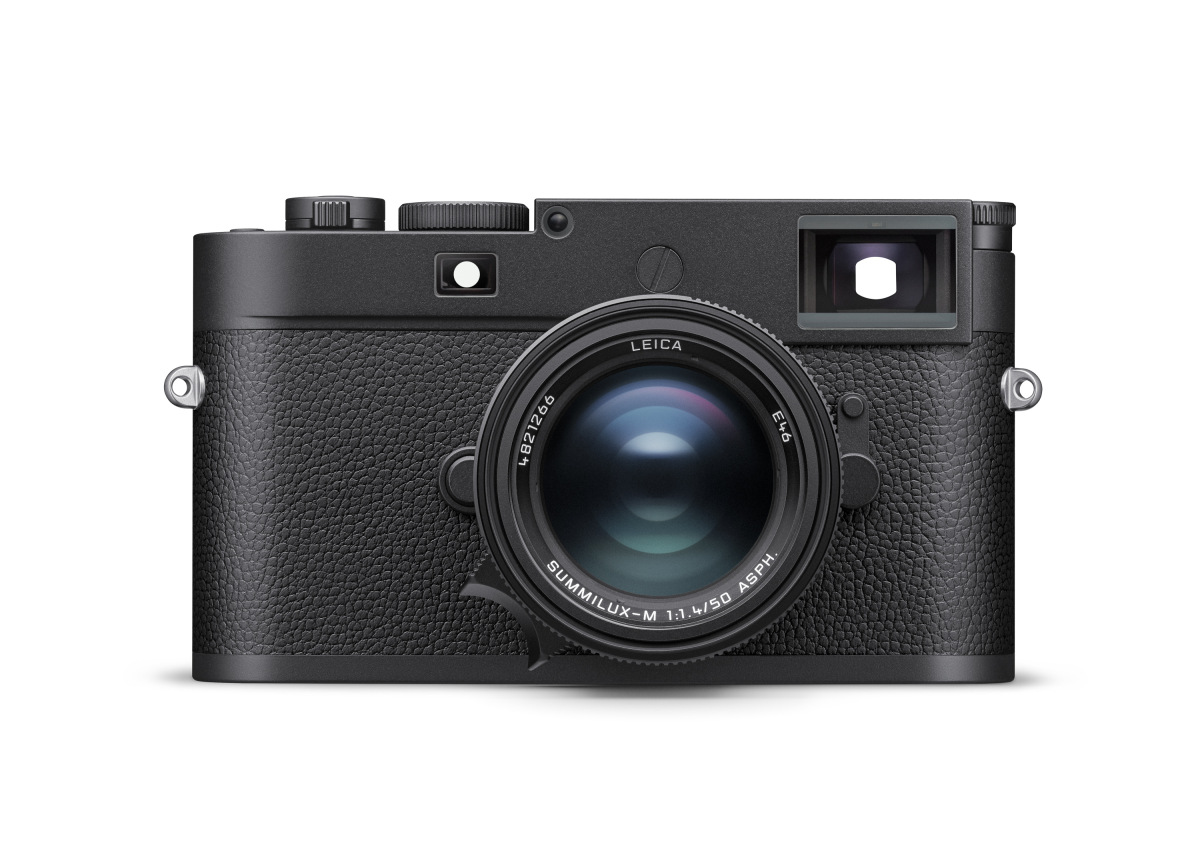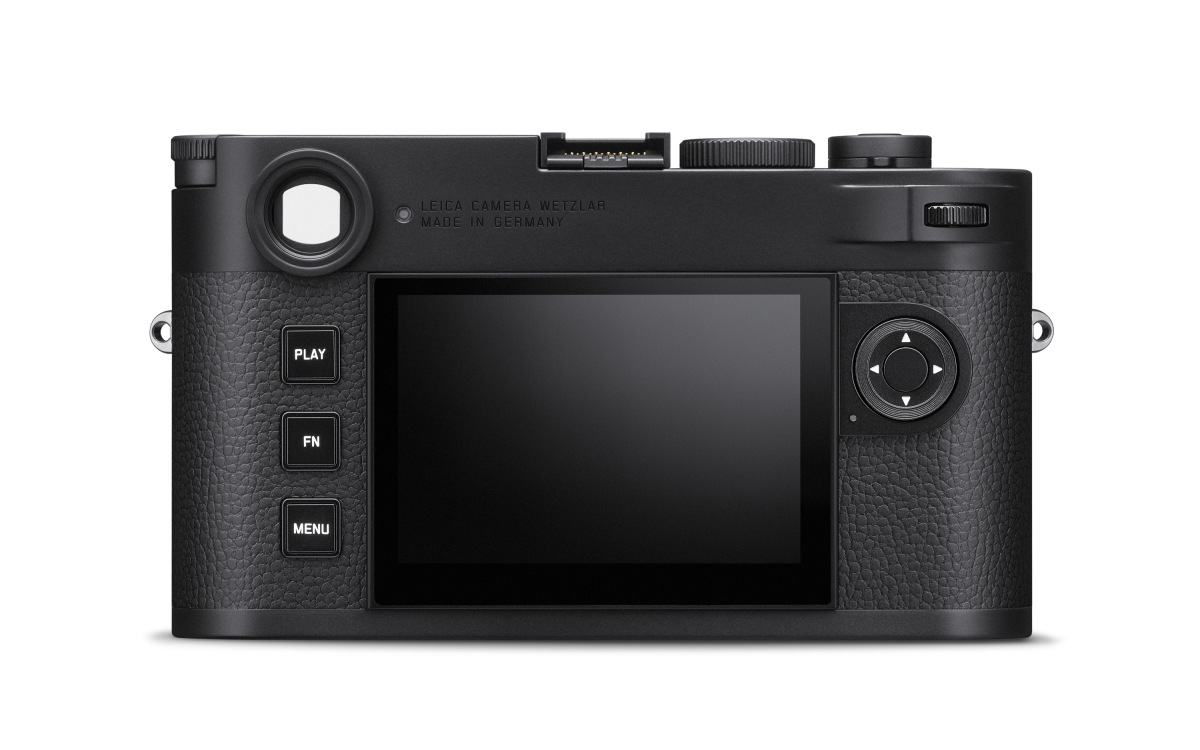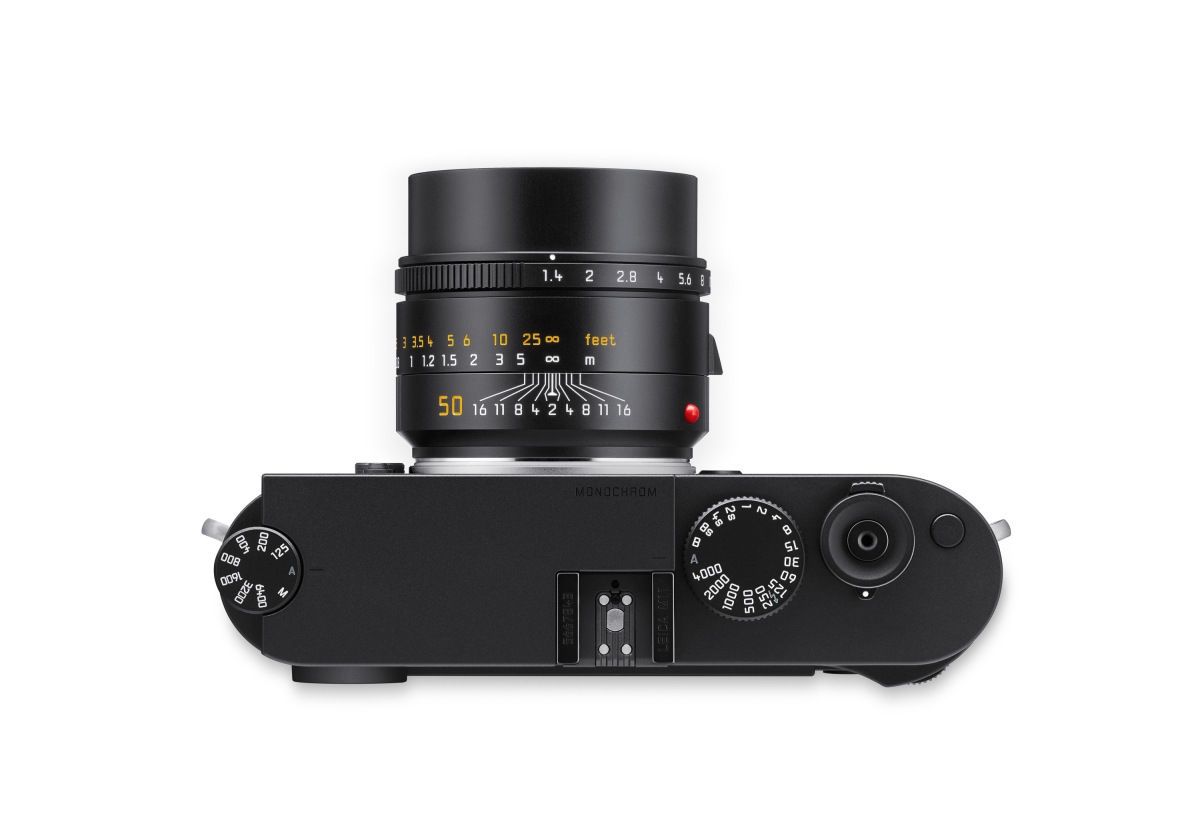 A very welcome update, the M11 Monochrom also sports a sapphire glass screen covering over the rear LCD. This rugged, scratch-resistant surface protects the camera, but also looks crystal clear and doesn't interfere with touchscreen functionality. The last camera with sapphire glass was two generations back with the M Monochrom (Typ 246), so great to see Leica bring this premium upgrade to M11M.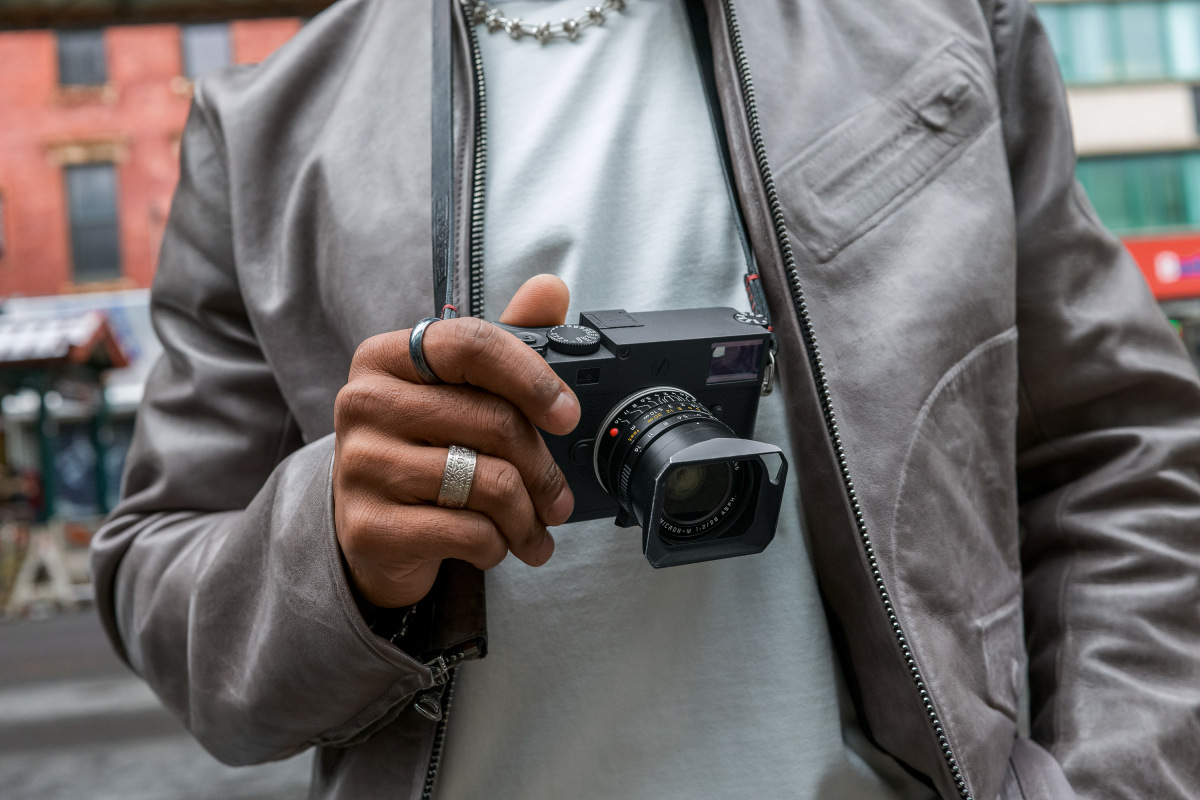 Technology-wise, the M11 Monochrom gets all the goodies from the M11 and then some. Maestro III processor, 3GB buffer memory, electronic shutter, sensor-based metering, triple resolution selection, UHS-II card compatibility, USB-C charging and data, updated Wifi and Bluetooth connectivity, Apple MFi certification, enhanced power efficiency, three assignable custom function buttons, 2.3 megapixel rear LCD, electronically stabilized live view and 256GB of internal memory all add up to a seamless shooting experience.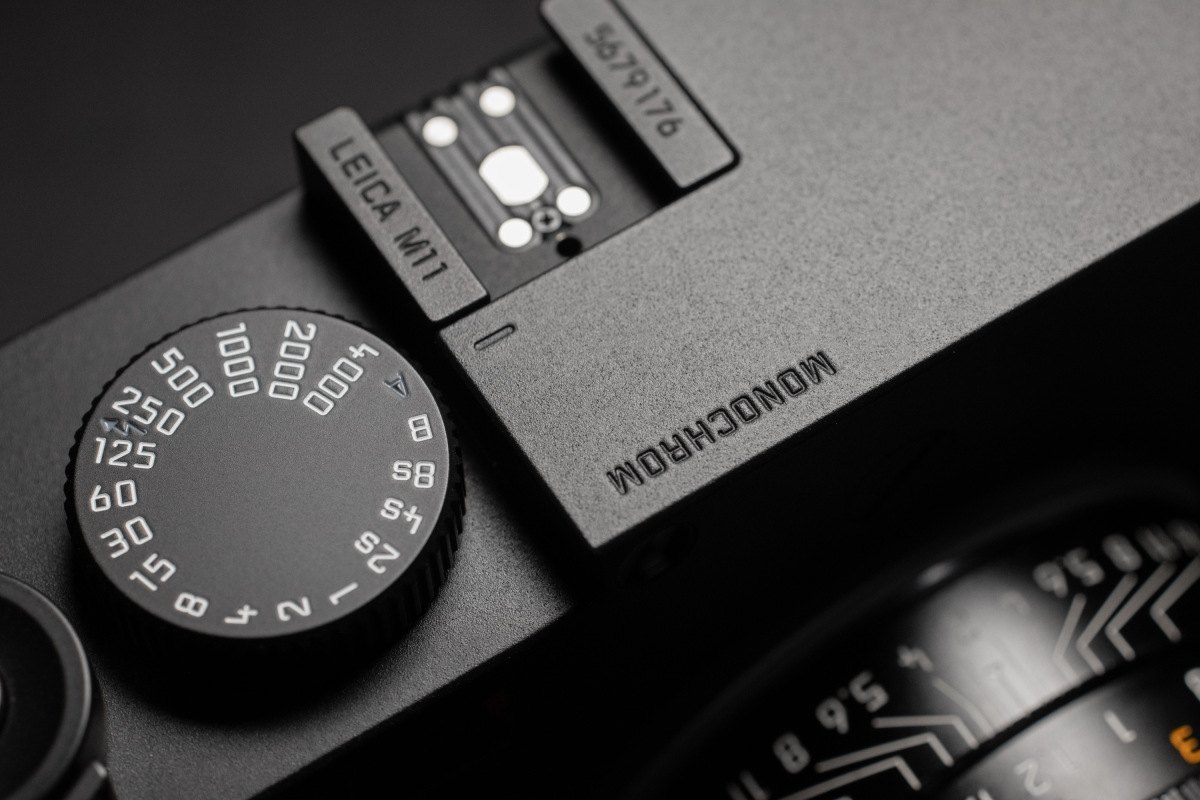 And just like the M11, the M11 Monochrom bids farewell to the venerable removable baseplate. Instead, the camera features a similar bottom-load battery with release lever as the SL2 and Q2. Drop the battery to find the SD card slot underneath. This design also allows for use with the new M11 Handgrip, which includes an Acra-Swiss compatible rail along its bottom edge. Removing the handgrip isn't necessary to change batteries or SD cards – a hinged rubber cover allows easy access.
The new BP-SCL7 battery used in the M11, and now the M11 Monochrom, offers almost the same capacity as the BP-SCL4 from the SL2, a solid 1800mAh at the same 8.4v, yielding 13.32Wh. For comparison, the M10M's BP-SCL5 is rated at 1100mAh at 8.25v for a total of 8.2Wh, an impressive 63% increase in total battery power. Side-by-side, the difference is obvious with the new battery showing its pumped-up proportions, but so is the practical battery life. Combined with advances in power efficiency, the M11M can get you through a full day of shooting on a single battery.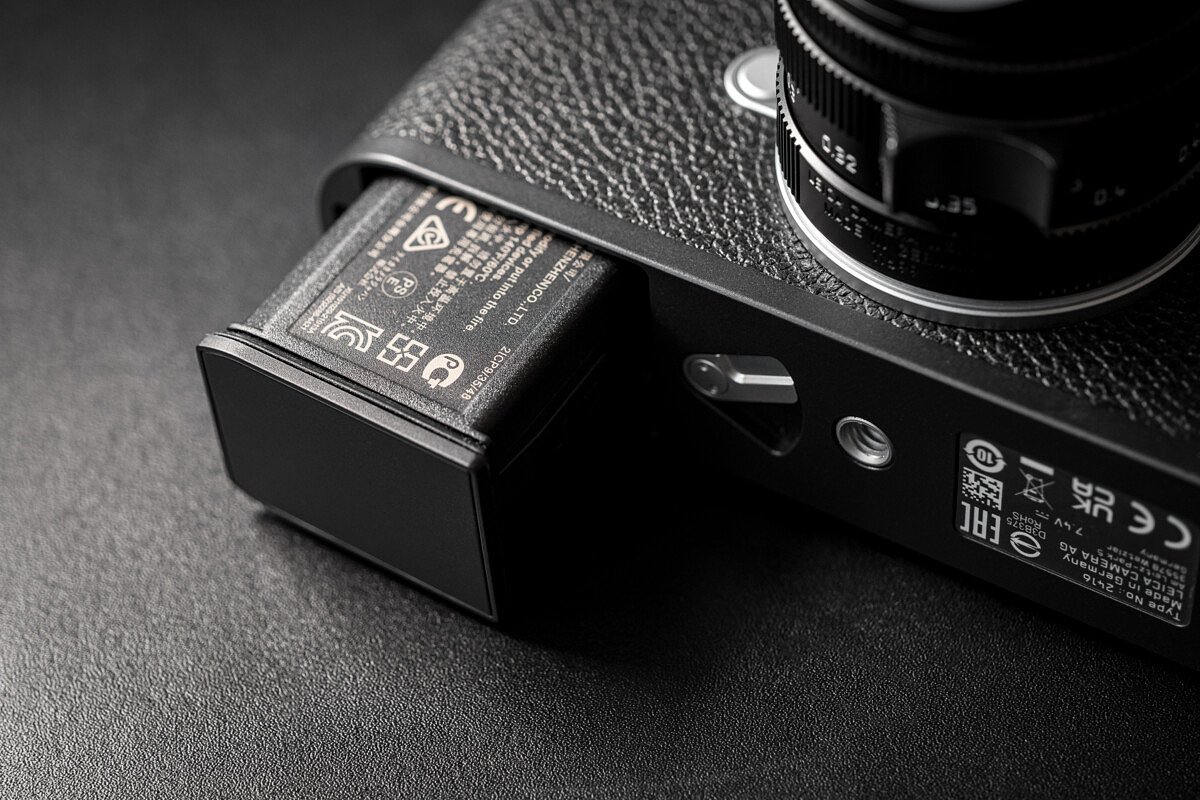 Launched with the M11, and compatible with the M11M, the Visoflex 2 electronic viewfinder provides a fantastic live view experience. The latest EVF offers up a 3.68-megapixel OLED panel, built-in -4 to +3 adjustable diopter, ample eye relief and three positioning steps at 0°, 45° and 90°. The all-metal housing feels premium and the image inside looks incredible.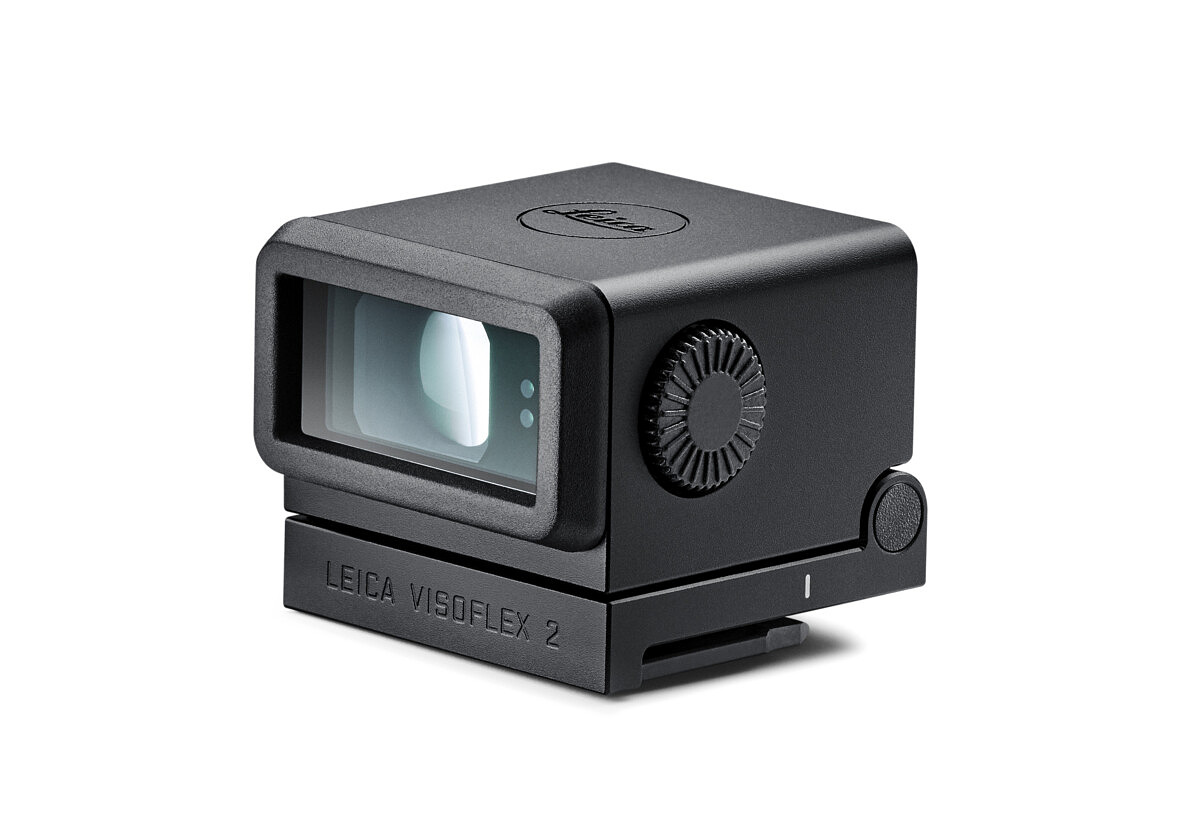 With all the feature additions, performance improvements and enhanced image quality, the M11 Monochrom sets a new standard for black and white photography. Now in its fourth generation, the Leica M Monochrom continues the Monochrom legacy by making meaningful upgrades where it counts while staying true to what makes the Leica M an iconic camera.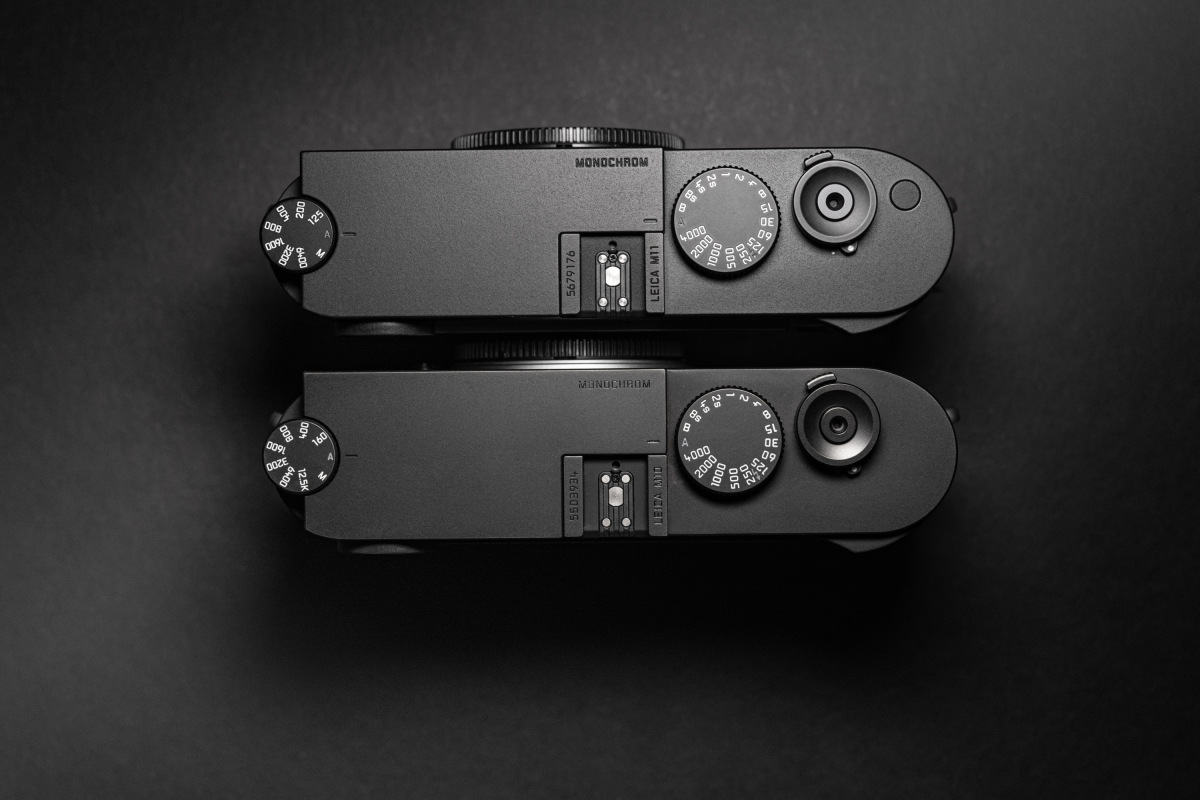 M11M vs M10M
Here's a brief rundown of the key feature differences between the M10 Monochrom and the M11 Monochrom. For even more detail, check out our upcoming M11 Monochrom review, here on Red Dot Forum.
| | | |
| --- | --- | --- |
| | Leica M11 Mono | Leica M10 Mono |
| Sensor | 60.3MP BSI CMOS | 40.89MP CMOS |
| Processor | Maestro III | Maestro II |
| ISO Range | 125 – 200,000 | 160 – 100,000 |
| Variable Resolution | Yes – L – 60.3MP / M – 30MP / S – 18MP | No |
| Fastest Shutter Speed | 1/16,000th sec | 1/4,000th sec |
| Longest Shutter Speed | 60 minutes | 16 minutes |
| Electronic Shutter | Yes | No |
| LCD Screen | 2.95″, 2.33 million dots (sapphire glass) | 3″, 1.04 million dots |
| Buffer | 3GB | 2GB |
| Buffer Depth | 15 DNG at 60.3MP, 30 at 36MP, ∞ at 18MP | 10 DNG at 40.89MP |
| Internal Storage | 256GB | None |
| SD Card Speed | UHS-II | UHS-I |
| USB Charging & Tethering | Yes via USB-C | None |
| Battery Capacity | 1,800 mAh | 1,100 mAh |
| Weight (black finish) | 542 grams | 680 grams |
| Custom FN Buttons | 3 | None |
| Digital Zoom | Yes: 1.3x & 1.8x | None |
| Bluetooth | Yes, v4.2 | None |
| Electronic Live View Resolution | 3.68 million dots | 2.4 million dots |
| Electronic Live View Stabilization | Yes | No |
Four generations of M Monochrom
Leica M Monochrom (M9M)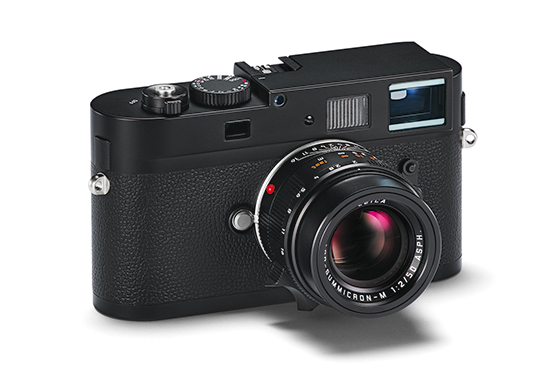 Introduced May 10, 2012
Based on Leica M9
18MP CCD Sensor
ISO 320- 10,000
(Read the review here)
Leica M Monochrom (Typ 246)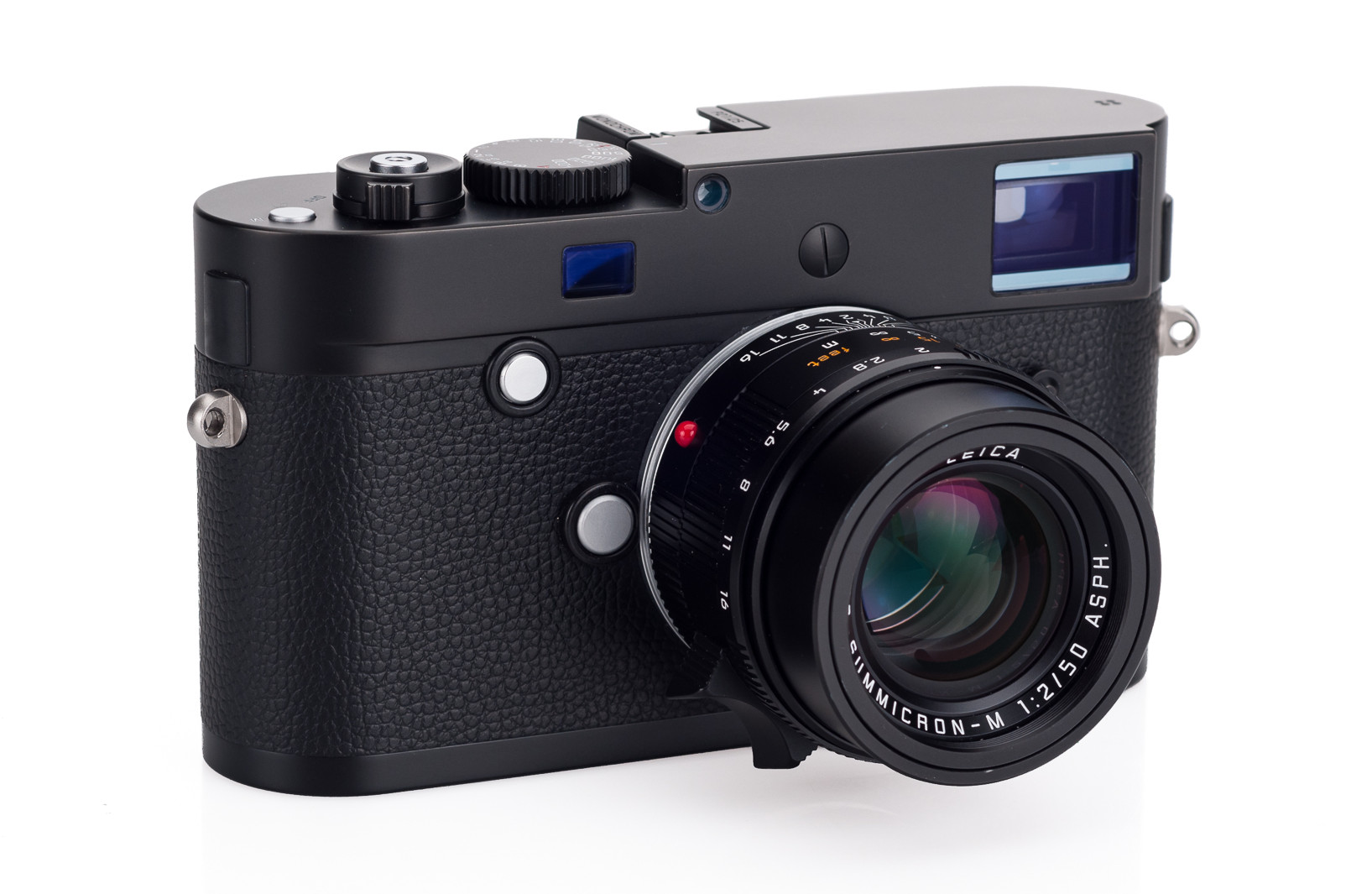 Introduced April 30, 2015
Based on Leica M (Typ 240)
24MP CMOS Sensor
ISO 320- 25,600
(Read the review here)
Leica M10 Monochrom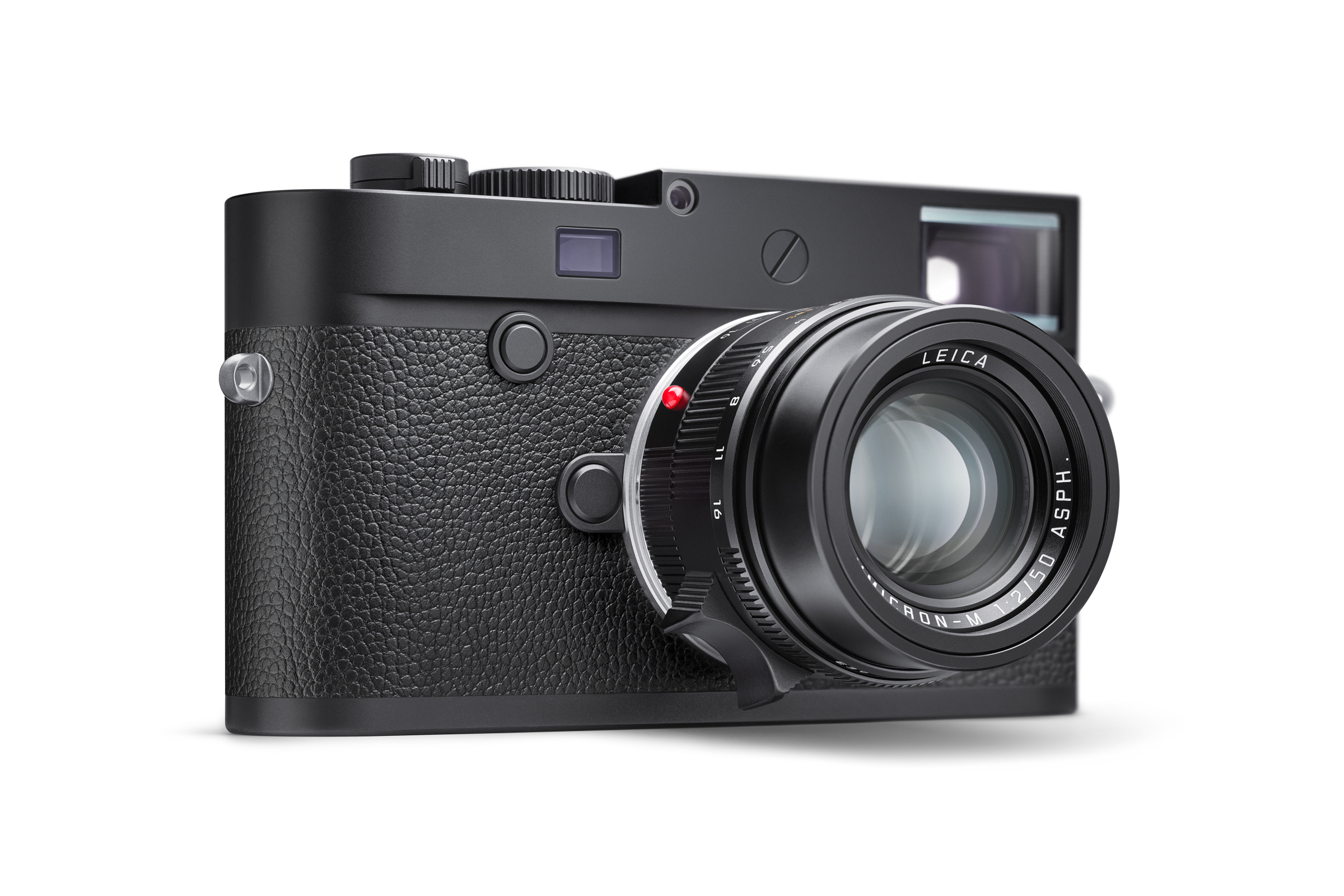 Introduced Jan 17, 2020
Based on Leica M10
40MP CMOS Sensor
ISO 160 – 100,000
M11 Monochrom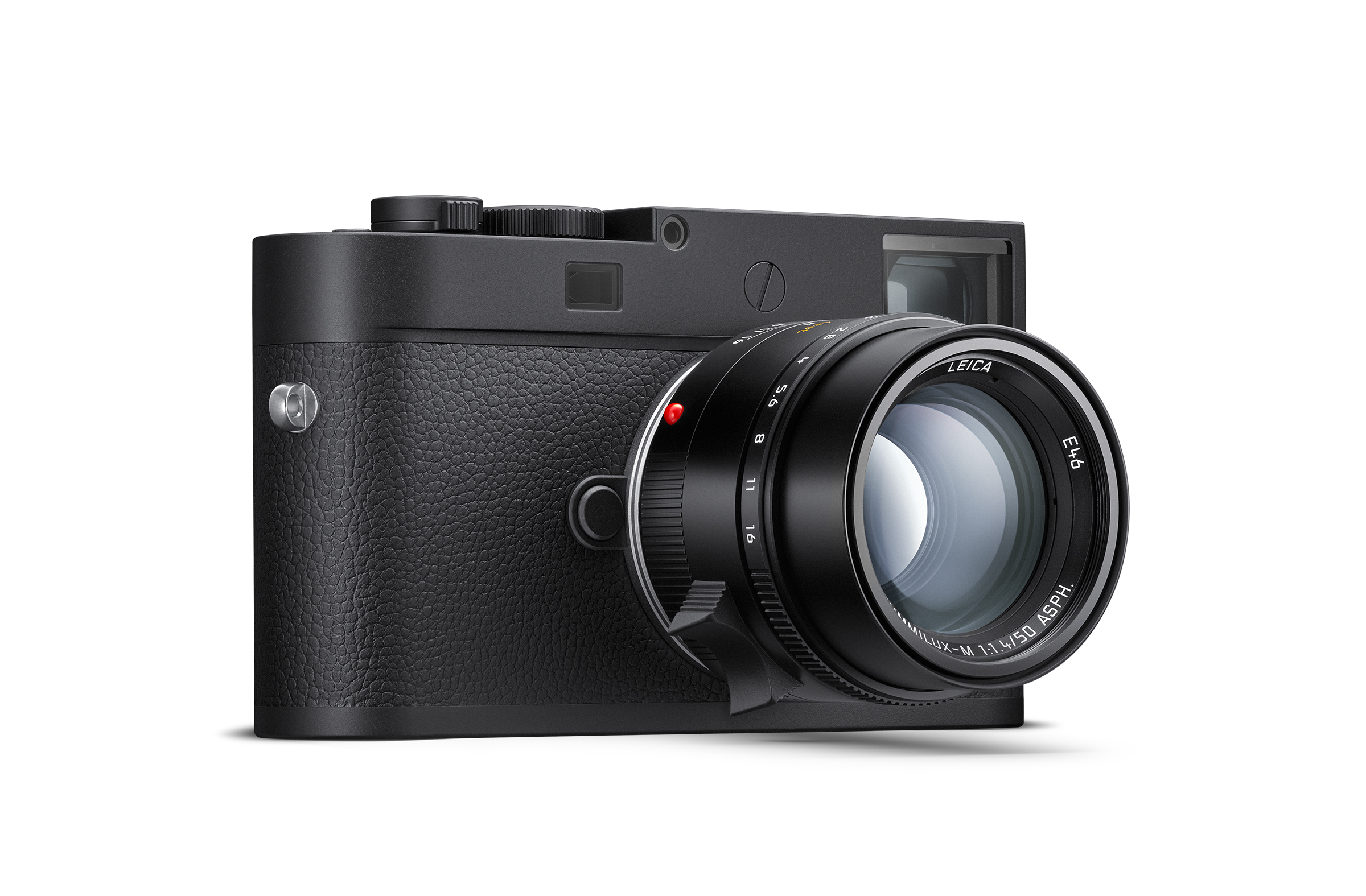 Introduced Apr 13, 2023
Based on Leica M11
60MP BSI CMOS Sensor
ISO 125 – 200,000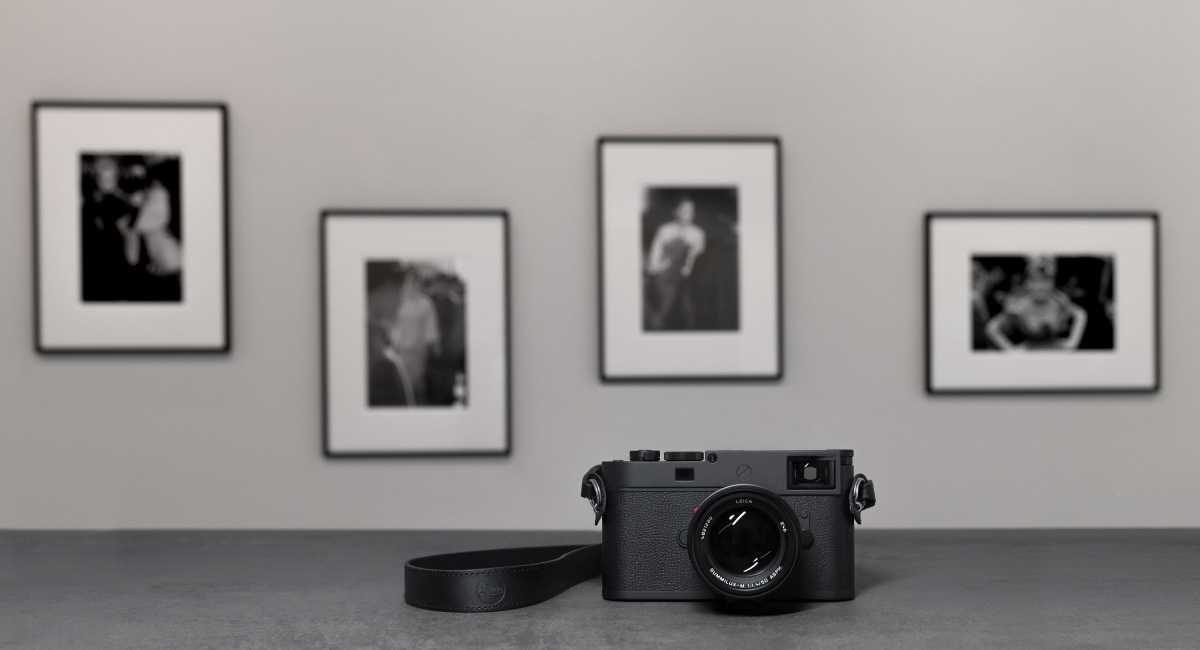 Pricing, Availability and Ordering
Initial deliveries of the Leica M11 Monochrom will start within the next week for a price of $9,195. As with any major Leica camera launch, supply will be extremely limited for a number of months. If you are interested in ordering the M11 Monochrom, you can do so at Leica Store Miami by clicking the button below, calling 305-921-4433 or sending an email to info@leicastoremiami.com. If you are interested in trading in any other Leica equipment towards the purchase of the M11 Monochrom, you can indicate so on the pre-order form.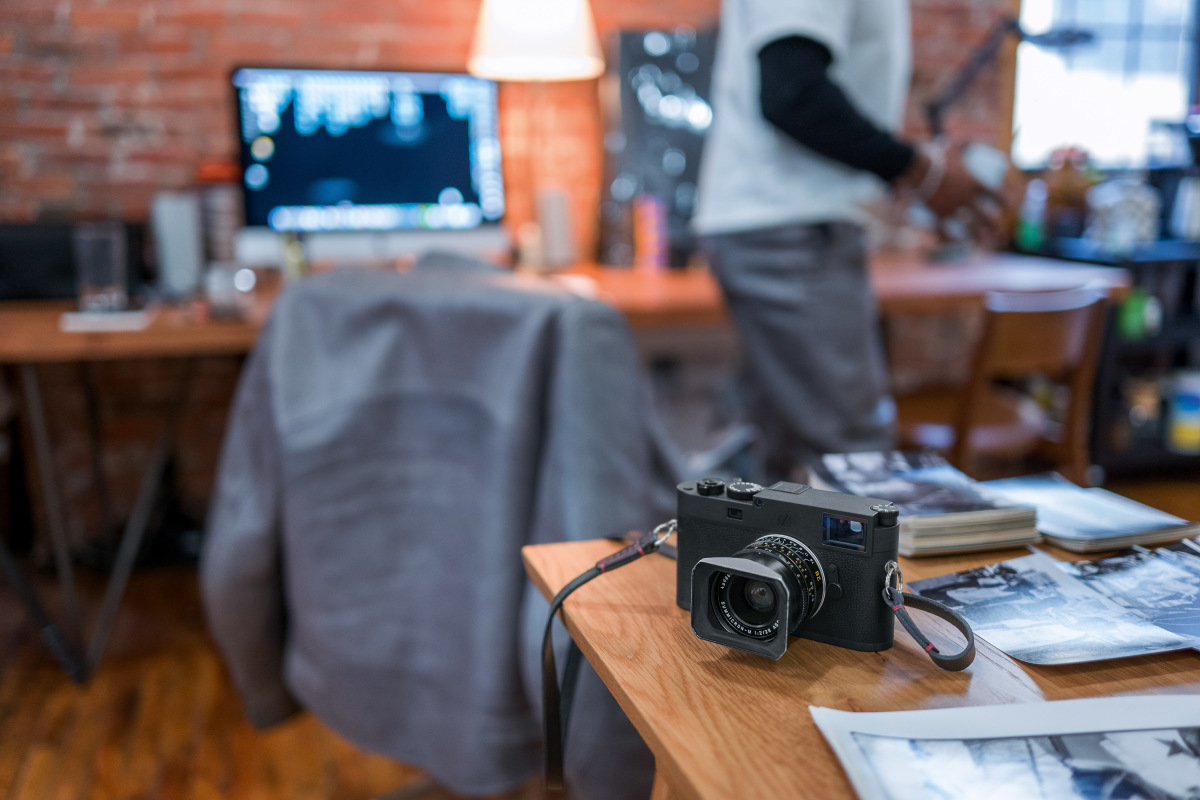 Tech Specs
Type no.
2416
Order No.
20208
Camera type
Digital camera system with rangefinder
Lens mount
Leica M bayonet with additional sensor for 6-bit encoding
Sensor
Monochrome BSI CMOS sensor, pixel pitch: 3.76 μm, 35 mm: 9528 x 6328 pixels (60.3 MP)
Sensor Filter
UV/IR filter, no low-pass filter
Image resolution
The entire sensor surface will always be used irrespective of format and resolution. Digital Zoom 1.3x and 1.8x available (always based on L-DNG or L-JPG)
Processor
Leica Maestro series (Maestro III)
File formats
DNG (raw data, loss-free compression), DNG + JPG, JPG (DCF, Exif 2.30)
DNG
L-DNG 60.3 MP 9536 x 6336 pixels
M-DNG 36.5 MP 7424 x 4936 pixels
S-DNG 18.4 MP 5280 x 3506 pixels
JPG
L-JPG 60.1 MP 9504 x 6320 pixels
M-JPG 36.2 MP 7392 x 4896 pixels
S-JPG 18.2 MP 5248 x 3472 pixels
File Size
Depending on resolution and picture content
DNG
L-DNG approx. 70–120 MB
M-DNG approx. 40–70 MB
S-DNG approx. 20–40 MB
JPG
L-JPG approx. 15–30 MB
L-JPG approx. 15–30 MB
S-JPG approx. 5–9 MB
Color depth
DNG: 14 Bit, JPG: 8 Bit
Color space
sRGB in JPG
Buffer memory
3 GB
Pictures in Series
L-DNG: 15
M-DNG: 30
S-DNG: Unlimited
Storage Medium
UHS-II (recommended), UHS-I, SD/SDHC/SDXC memory card (SDXC cards up to 2 TB)
256GB Internal memory
Viewfinder
Large, bright-line rangefinder with automatic parallax compensation, suitable for -0.5 dpt; optional corrective lenses available: -3 to +3 dpt
Viewfinder Display
Four-digit digital display with items show on the top and bottom, Image field limiter: two lit frames: 35 mm + 135 mm, 28 mm + 90 mm, 50 mm + 75 mm (automatic switchover when lens is attached)
Parallax compensation
The horizontal and vertical difference between viewfinder and lens is compensated automatically in line with the relevant focus setting. Congruence of viewfinder and actual image. The size of the bright-line frame matches the distance:
– at 2 m: the exact sensor size of approx. 23.9 x 35.8 mm
– at infinity: (depending on focal length) approx. 7.3% (28 mm) to 18% (135 mm) – less than 2 m: less than sensor size
Viewfinder magnification
x0.73 (all lenses)
Large-base rangefinder
Split or superimposed image rangefinder shown as a bright field at the center of the viewfinder image
Focus range
70 cm to ∞
Focus mode
Manual (focus assist functions Magnification and Focus Peaking available)
LCD panel
2.95" (Active Matrix TFT), sapphire glass, 2,332,800 dots, format 3:2, touch control available
Shutter type
Electronically controlled focal plane shutter and electronic shutter function
Shutter speeds
Mech. shutter: 60 min to 1⁄4000 s
Electro. shutter function: 60 s to 1⁄16000 s
Flash Synch: up to 1⁄180 s
Optional noise reduction via additional "black picture" (can be disabled)
Shutter button
Two-stage (1st stage: activation of the camera electronics including exposure metering and metering memory lock, 2nd stage: taking the picture)
Self-timer
Delay time: 2 s or 12 s
Drive Mode
Single, Continuous – Low Speed (3 fps), Continuous – High Speed (4.5 fps), Interval Shooting, Exposure Bracketing
Exposure metering
TTL (exposure metering through the lens)
Metering principle
Exposure metering is done by the image sensor for all exposure metering methods (in Live View mode and in rangefinder mode)
Exposure metering
Spot, Center-Weighted, Highlight-Weighted, Multi-Field
Exposure modes
Aperture priority mode (A): Automatic shutter speed control with manual aperture preselection, Manual (M): manual setting for shutter speed and aperture
Exposure compensation
±3 EV in 1⁄3 EV increments
Automatic bracketing
3 or 5 shots, graduations between shoots up to 3 EV, in 1⁄3 EV increments, additional optional exposure compensation: up to ±3 EV
ISO sensitivity range
Auto ISO: ISO 125 (native) to ISO 200 000, also available in flash mode Manual: ISO 125 to ISO 200 000
White balance
N/A
Flash sync time
1⁄180s, slower shutter speeds available, automatic switchover to TTL linear flash mode with HSS-compatible Leica system flash units if sync time is undercut
Flash exposure metering
Using center-weighted TTL pre-flash metering with Leica flash units (SF 26, SF 40, SF 58, SF 60, SF 64) or with system-compatible flash units, remote controlled flash SF C1
Flash exposure compensation
SF 40: ±2 EV in 1⁄2 EV increments, SF 60: ±2 EV in 1⁄3 EV increments, Other: ±3 EV in 1⁄3 EV increments
Displays in flash mode (in the viewfinder only)
Flash icon: Connection of an external flash unit
Interfaces
ISO accessory shoe with additional control contacts for Leica flash units and Leica Visoflex 2 viewfinder (optional accessory)
USB 3.1 Gen1 Typ-C (5 Gbs)
WLAN
The Leica FOTOS app is required to use the WLAN function. The Leica app is available from the Apple App StoreTM or the Google Play StoreTM. 2.4 GHz/5 GHz* dual band IEEE802.11 a/b/g/n/ac Wave2 WLAN (standard WLAN protocol), encryption method: WLAN-compatible WPATM/WPA2TM, access method: infrastructure mode
Bluetooth
Bluetooth v4.2 BR/EDR/LE, BR/DR-channel 1-79, LE-channel 0-39 (2402–2480 MHz)
GPS
Geotagging via Leica FOTOS app using Bluetooth
Menu languages
English, German, French, Italian, Spanish, Russian, Japanese, Simplified Chinese, Traditional Chinese, Korean, Portuguese
Rechargeable battery (Leica BP-SCL7)
Li-Ion (Lithium-Polymer) rechargeable battery, rated voltage: 7.4 V / capacity: 1800 mAh, Charging voltage/current: DC 1000 mAh, 7.4 V, operating conditions: +10°C to +35°C (charging) / +0°C to +40°C (discharged)
Battery Life
Approx. 700 shots (in accordance with CIPA Standard) up to approx. 1,700 shots (Leica adapted shooting cycle – rangefinder use only)
Charger (Leica BC-SCL7)
Input: USB-C DC 5 V, 2 A, output: DC 8.4 V, 1 A, operating conditions: +10°C to +35°C
Power pack (Leica ACA-SCL7)
Input: AC 110 V – 240 V ~ 50/60 Hz, 0.3 A, output: DC 5 V, 2 A, operating conditions: +10°C to +35°C
USB Power supply
When in standby mode or Off: USB charging function, When On: USB power supply and intermittent charging
Material
Full-metal housing made of magnesium and aluminum, leatherette cover
Silver: full-metal housing made of magnesium and brass, leatherette cover
Operating temperature
+0 to +40°C
Tripod thread
A 1⁄4 DIN 4503 (1⁄4") with stainless steel in the base
Dimensions
139 x 38.5 x 80mm
Weight
Approx. 542 g/461 g (with/without battery)
Press Release
Leica Camera Unveils the M11 Monochrom
A commitment to the timeless art of black & white photography, the Leica M11 Monochrom delivers exceptional images in a symphony of light and shadows
Teaneck, NJ April 13th 2023. Leica Camera, a brand that has challenged the status quo in pursuit of chasing light for authentic visual stories, announces the launch of the Leica M11 Monochrom, demonstrating the brand's commitment to exceptional black & white photography. Featuring a dedicated monochrome multi-resolution full-frame BSI sensor, this camera is a masterstroke in engineering, capturing images solely through the interplay of light and shadow. By focusing on these fundamental elements, Leica empowers visual storytellers to create images that engage the viewer's imagination and creative prowess through a newly designed sensor which sees only variations in luminosity.
Leica's commitment to innovation is further underscored by its previous forays into minimalist design, such as releasing a digital camera without an LCD screen, and introducing the first camera featuring a monochrome sensor in 2012, the Leica M Monochrom. These unconventional decisions exemplify the brand's unyielding dedication to providing photographers with tools that inspire creativity, while eliminating distractions.
The Leica M11 Monochrom is more than just a camera – it is an artistic instrument crafted with unparalleled precision. The all-metal body, high-quality aluminum top
plate, sapphire glass display, leatherette covering, and scratch-resistant black finish contribute to the camera's timeless appeal. Details such as the omission of the Leica logo and dark chrome-plated coating of the optical viewfinder accentuate the camera's understated, iconic design.
The technical advancements of the Leica M11 Monochrom deliver raw files in the DNG format or JPEGs with a resolution of either 60, 36 or 18 megapixels. In combination with the expanded ISO range of 125 to 200,000, the camera unlocks creative freedom beyond the rise and fall of the sun. As a result, creators are able to capture images with an unprecedented rendition of even the finest details, an exceptionally natural-looking definition even in difficult light conditions and an extremely low noise even in the high ISO range.
Additionally, the internal memory has been extended to 256 GB. This expansion not only increases the total number of images that can be recorded in combination with the photographer's own memory cards, but also provides back up opportunities with larger memory card sizes. Via Bluetooth or the USB-C port, pictures can be quickly and easily transferred to the Leica FOTOS app and processed further from there. The Leica M11 Monochrom is a certified Apple "Made for iPhone and iPad" accessory and offers unique options with the included Leica FOTOS cable.
The Leica M11 Monochrom is built on a tradition of excellence, from a legacy of exquisite craftsmanship, innovation, and iconic design to the ethos of the Leica M family: "Made in Germany" with a focus on the essentials: Das Wesentliche.