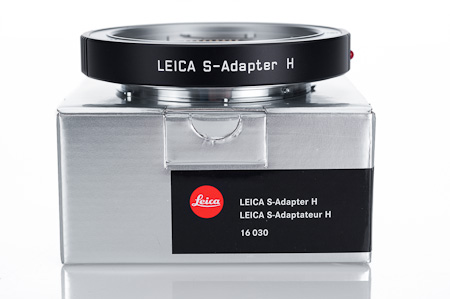 As of July 16, the Leica S-Adapter H has begun to ship in very small quantities in the United States. This is great news for S system users looking to expand their options for lens selection. Personally, I am looking forward to testing the Hasselblad HC 300mm f/4.5 and the HC 100mm f/2.2.
We will be getting our hands on various Hasselblad H lenses over the coming weeks, and will be posting our results here on Red Dot Forum. We welcome anyone using this adapter to participate in the ongoing forum discussion and share their own experiences with various Hasselblad H lenses.
We also want to mention that to use this adapter properly on your Leica S2, you want to make sure that the latest firmware, 1.0.3.3, is installed. For more information about that firmware update, visit this page.
Also important to note is that earlier this month Leica announced H lenses profiles for Adobe Lightroom and Photoshop so if you plan on using this adapter, downloading the profiles would be a great way to get the best results from the H lenses.