Today, Leica has released a significant update to its FOTOS mobile app for iOS and Android. Many of the updates were developed based on user requests, which is always great to see. One of the most notable additions is the ability for any Bluetooth-enabled Leica camera, inducing the SL2, Q2 and the current lineup of compact cameras, to receive GPS data from the user's phone, which will then be embedded in the image files' metadata. To download the FOTOS app update, head to the Apple App Store for iOS or the Google Play Store for Android.
New Features
Here's a quick rundown of the new features in Version 2.1. Keep reading on for more details on each one.
Improved Geotagging: Images can now be geotagged whenever the shutter is pressed on the camera while paired to Leica FOTOS 2.1. This feature can only be executed on cameras with Bluetooth.
Small Previews: A new option for smaller file size downloads for easier sharing is now available.
Remote Settings: Camera settings in the Remote function are now always synchronized with the app, both when connecting and disconnecting the camera.
Improved loading of photos in the background
Always-on Screen: While remote recording videos, the smartphone display will remain on.
Download Progress: Shows downloaded photos.
Extended Settings Options: For Leica M10, M10-P and M10 Monochrom.
Date & Time Sync: For all up-to-date Leica M10 cameras.
Adobe Photoshop Lightroom Integration is now part of the free version of Leica FOTOS
Camera firmware v2.0 for the Leica C-Lux, D-Lux 7 and V-Lux 5 allow for easier pairing with the Leica FOTOS 2.1 app: The same Leica FOTOS menu interface established with the Leica SL2 and Q2 have now been implemented in these cameras with firmware 2.0.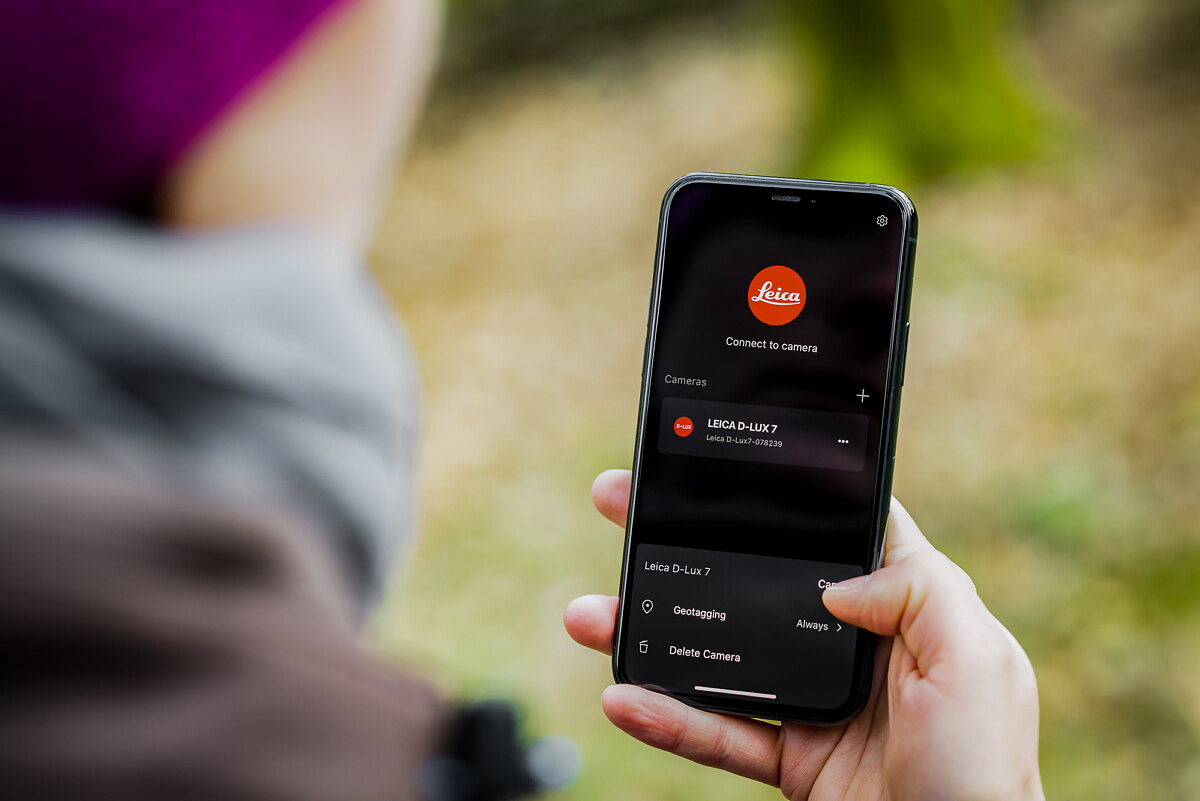 Geotagging
First made available with Leica FOTOS 1.3 in July 2019, Geotagging has been limited to photos taken with the Remote function in the app. After much user feedback, we are improving this feature to allow Geotagging for every photo taken by the camera. Whenever a photo is taken, the camera "asks" the mobile device for the current location and the camera saves it to the metadata. Due to the need for a low power connection between camera and mobile devices, this feature can only be used with Bluetooth-enabled Leica cameras: the Leica SL2, Leica Q2, Leica D-Lux 7, Leica C-Lux and Leica V-Lux 5.
There are two methods for operating the new Geotagging feature in Leica FOTOS 2.1:
While in the app: As soon as Leica FOTOS is opened all connected Bluetooth cameras can get Geotags
Always [Beta]: Geotagging always works, even when your mobile device is locked – this option is currently in Public Beta

To enable Geotagging, tap the menu icon with the 3 dots and tap on Geotagging. Choose between "While in the app" and "Always [Beta]". Make sure to confirm the system alert with "Allow While Using the App". When opting-in for the Always [Beta] option, make sure to confirm the system alert that you "Allow Always".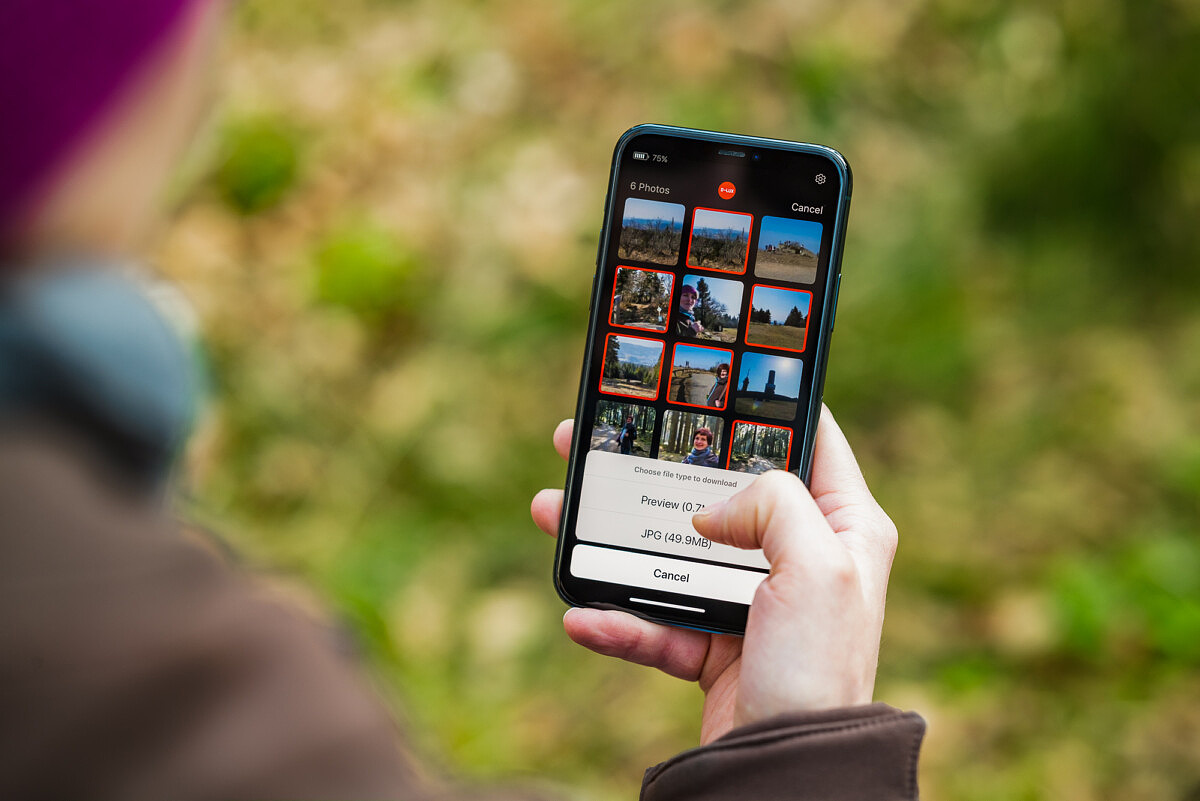 Small Previews
Another feature often requested by Leica FOTOS users has been smaller image sizes to quickly download multiple photos for faster sharing on social media. With Leica FOTOS 2.1 users can choose Previews in addition to JPG, DNG and DNG+JPG. Previews are tiny versions of the JPG made for viewing and sharing on social media. In regards to image size, Previews have a Full HD (1920 x 1080) resolution with less than a megabyte in size. Therefore, downloading or sharing Previews is more than 10x faster than JPGs and more than 50x faster than DNGs. There are two things to keep in mind when it comes to these Small Previews:
Download multiple formats: Only when downloading Small Previews is it possible to download a second format which then shows up in the Leica Gallery
No metadata: As Small Previews are designed for social media, there is no metadata like exposure or location data attached to the photo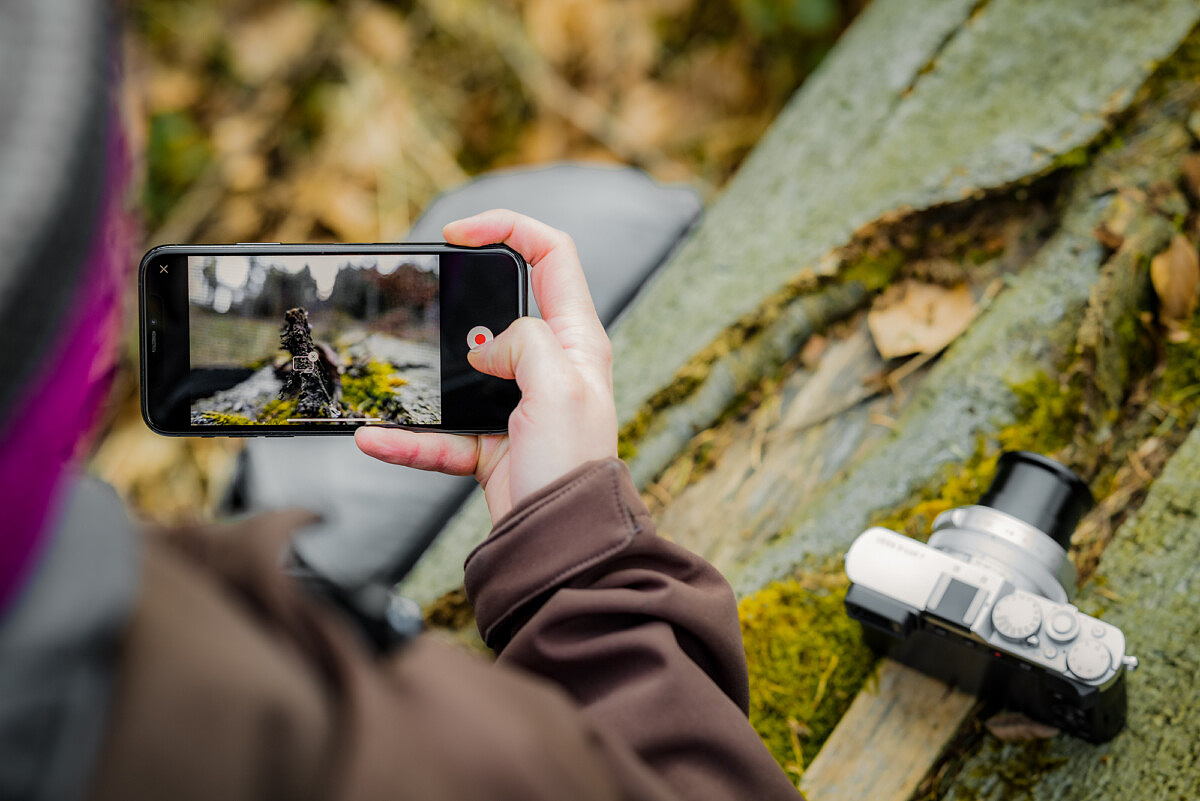 Remote Settings
Based on further feedback, the Remote shooting function has been changed to better reflect the needs of users. Previous versions of Leica FOTOS would set the camera into Program-Auto exposure mode. Now with Leica FOTOS 2.1 all camera settings already dialed in on the camera (manual exposure, aperture priority, exposure compensation, etc.) will be maintained upon connecting to the Remote function. Settings adjusted through the Remote will also be carried back to the camera upon disconnecting from the app, with the only exception being exposure values that have dedicated hardware controls on the camera such as the ISO dial on Leica M10 cameras.
This new method of maintaining remote settings in sync offers two further improvements: Self Timer and Tracking AF in Video are now both possible in the remote function.