Today, Leica Camera is proud to announce the Leica M-P (Typ 240) 'grip' by Rolf Sachs Set which consists of a Leica M-P (Typ 240) with a rubber cladding with raised dot structures and a Leica Summilux-M 35mm f/1.4 ASPH with special engravings. Only 79 sets will be made, available exclusively from Leica Stores and Boutiques worldwide from October 31, 2016. In addition to the specially designed Leica M-P (Typ 240) and the Leica Summilux-M 35mm, the set also consists of a Leica SF 40 Flash, Cotton Carrying Strap, Cleaning Cloth and Cleaning Brushes.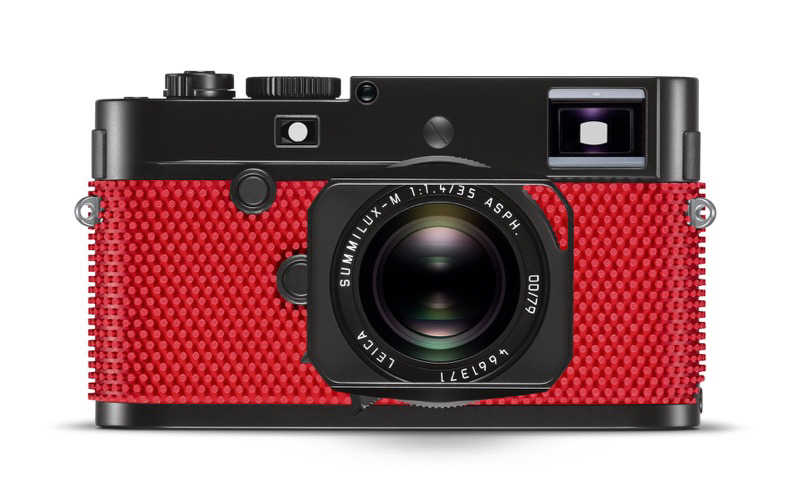 Rolf Sachs who designed the set said, "For many photographers over many years, the Leica M has been a passionate love affair! Its functionality and iconic design attracts me as an artist and an avid user. I am thrilled for the opportunity to 'undress' the camera and create a new look, surprising as much as functional. Applying a material that has never before been used as an easy-to-grip camera surface, created a striking aesthetic and a unique tactility."
KEY BENEFITS & FEATURES – Leica M-P (Typ 240) 'grip' by Rolf Sachs Set:
Very exclusive, only 79 sets available worldwide
Exclusive look – all buttons and function wheels with black finish and red engravings on the top of the camera
Unique red rubber cladding with raised dot structure based on a table tennis paddle
Special engravings, 'Rolf Sachs' on rear of body and special edition number on accessory shoe
Set is presented in a black outdoor hard case which has additional storage space for more accessories. Case will protect set when used for shipping
Technical features identical to the standard production Leica M-P (Typ 240)
All accessories for Leica M-P (Typ 240) are compatible except multifunctional handgrip and standard handgrip
With only 79 sets being produced worldwide, supply is limited. The set is priced at $14,950 and will be available late-October 2016.
Leica Store Miami has the set available for pre-order here. You can pre-order on the website, give them a call at 305-921-4433, or email info@leicastoremiami.com.